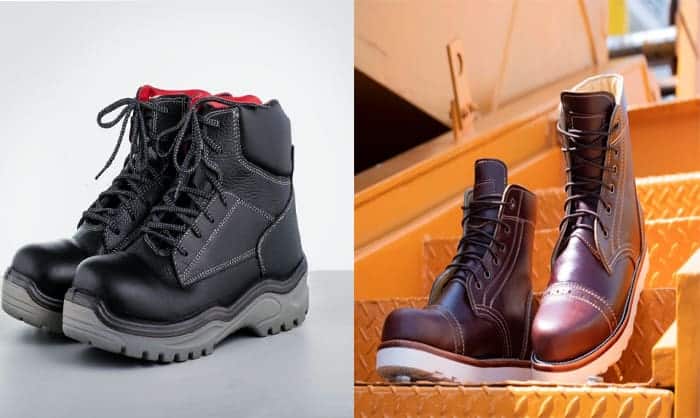 There are many factors to consider when buying work boots, such as the material, design, and boot height. You might be surprised at how much a few more inches can affect the boot functions. It is because the height determines airflow, ankle support, flexibility, and protection level of one boot.
The two common boot heights are 6 and 8 inch. At first glance, there isn't much difference besides what is already said in the name, 6 inch boots and 8 inch boots. However, once digging in, you will find the whole world of difference between the two.
In this article, we will make a detailed comparison of 6 inch vs 8 inch work boots, along with tips on choosing the right ones for your job requirements. Briefly, 8 inch boots have more protection properties while being less flexible and a bit heavier. But what protection functions exactly? Dive in to learn more.
How to Know Boot Heights
The height of a boot is measured from the boot mouth to the bottom of the heel. You can always know the height by reading labels on the products or measuring them with a tape measure. Another helpful tip is to count the number of eyelets to tell the boot height.
In general, 6 inch boots have 7 to 8 pairs of eyelets, and 8 inch boots have 8 to 9. If the shoes' uppers have lace-to-toe construction (boots that lace from the top to almost the toe), you should add 2 to 3 pairs of eyelets.
If you already own a pair of work boots that you enjoy, take your time to do accurate measurements to determine their heights. That is the easiest way to tell what boot height is for you.
8 inch vs 6 inch Boots: Flexibility and Comfort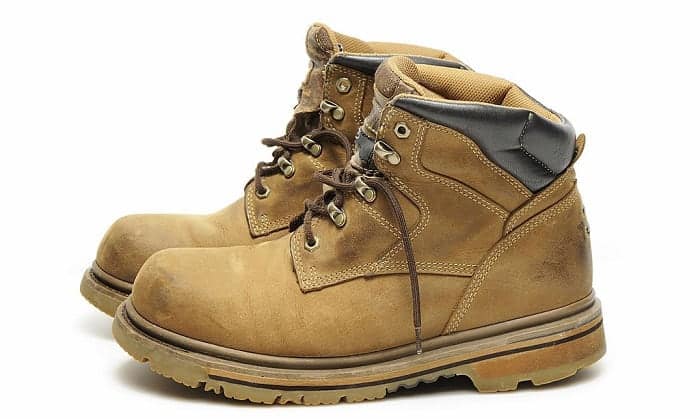 Flexibility: The short and quick answer is 6 inch boots provide more flexibility. The low neck allows you to put on and take off the shoes more easily. You can wear these boots to the office with a suit, then use them for outdoor work, or even a night out. These go well with almost everything in your wardrobe. The way I see it, they are a great all-around choice, you can do just about anything with them on. However, remember that a 6-inch boot is good for lighter manual labor only, heavy-duty jobs require 8 or 10 inch boots.
Weight: It depends on the safety features, but generally, 8 inch boots are heavier. If you are new to heavy-duty safety work gear, wearing heavy work boots all day can lead to sore legs, back pain, or other serious symptoms like repetitive strain injury and plantar fasciitis. 6 inch boots will help you slowly get into the zone.
Air circulation: It is easy to see that the lower neck allows better air circulation. However, on 8 inch boots, designers add vent holes near the arches of your feet to improve airflow. If boot breathability concerns you, make sure you look for the vent hole features when purchasing. The heights do not affect the breathability of the boots much, it's mostly about the materials.
Comfort: Both boot styles offer an equal level of comfort as long as they are the right size and design for you. For example, if you have wide feet, go for boots with wide square or round toes. If you experienced plantar fasciitis before, know that work boots are specially designed for plantar fasciitis on the market. Other than that, to maximize comfort, here is how work boots should fit you when you try them on:
The heel: When you first try on new boots, the heel feels a bit stiff, that's normal. Because the nature of leather is to stretch over time, new boots will loosen up and fit your heel better after a few wears. On the other hand, when walking in old boots, you should never experience heel slippage.
The toes: When you stand, the toes should touch the boots lightly, not push against them.
The width and instep: Even with new boots, the width and instep should fit well. The wrong width and instep can cause your feet to constantly rub against the boot, which leads to chafing and blisters.
Owing to the safety features, work boots can feel uncomfortable. You should enhance their comfort by wearing thick socks, heel pads, heel cushions, or even inserting an extra cushioning footbed if necessary.
6 inch vs 8 inch Boots: Safety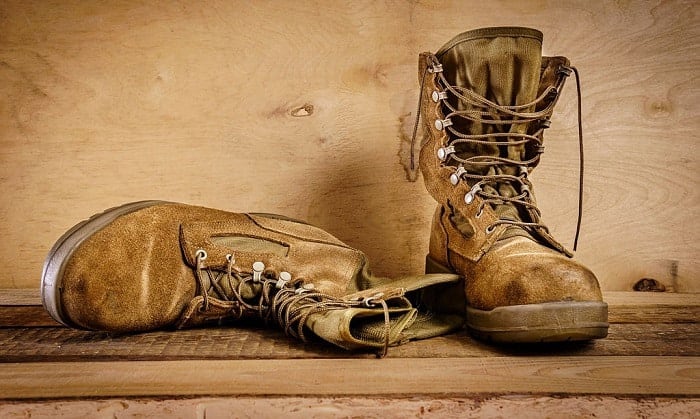 These two boot styles have many similar safety properties. For example, a steel or composite toe cap to prevent injuries from falling objects, a half-size or full-size shank to protect the feet against punctures, a heat-resistant outsole, etc. These features vary depending on the end purpose of the boots. The products' labels and descriptions will tell you exactly what those boots are about. So read them carefully to make sure they meet your job requirements. Remember that safety is the reason why we wear work boots.
Besides, these boots offer different levels of safety in:
Ankle support and protection: 6 inch boots give you decent ankle support and protection, but not as much as you will get from 8 inch ones. If you experience health problems with ankles, 8 inch boots are better. Also, those who have to stand and walk for long hours should opt for 8 inch boots. Otherwise, 6 inch boots are a great choice for daily wear.
Weather protection: If you work in wet and humid conditions (logging industries, frozen cargos, frozen food factories,…), this safety feature is crucial. Both boot styles can be water-resistant as long as they are made of waterproof materials. However, due to the higher neck, 8 inch boots provide more protection and warmth for your feet. Plus, when you walk on wet and uneven terrain, water and other liquids stand fewer chances to get into the shoes through the boot mouth.
As a general rule, 8 inch work boots provide better protection for your feet. They are designed to offer extra safety against all types of hazards at workplaces. If your work involves heavy-duty equipment like chainsaws, angle grinders, and other heavy machines, we recommend 8, or even 10 inch work boots to assure safety.
What Boots are for your Job
The OSHA (Occupational Safety and Health Administration) published strict standards for footwear at workplaces. Footwear with toe protection must be worn at all times at hazardous workplaces. The safety toe protective boots must meet these requirements – leather uppers, oil and slip-resistant soles, with the impact resistance rate being 75, and the compression resistance rate being 75. Before purchasing work boots, whether 6 or 8 inch, you should make sure they meet these requirements.
1. Construction workers
Being a construction worker, you will find 6 inch composite toe boots more convenient when working at commercial construction sites. It is because they are lightweight, flexible, and mobile while providing necessary protection. Most foot injuries from construction sites are from punctures and compression. Therefore, the high neck is not compulsory. For construction workers, we recommend 6 inch boots with toe caps and shanks.
2. Loggers
As a logger, you must regularly deal with falling objects, flying debris, or scratches from the wood. It is when the high neck comes in handy. 8 inch boots will help support your ankle when walking on uneven terrain and carrying heavy loads. Moreover, in humid conditions, the high neck that fits your ankle snugly will lock out all moisture. Sometimes even 8 inch boots are not enough for loggers, please consider higher boots if necessary.
3. Oil rig workers
Working in the oil industry, you will need safety toe boots that are waterproof, and more importantly, oil-resistant. The number one injuries at oil rig worksites are slips and falls. The three most used materials to make slip-resistant outsoles are rubber, ethylene-vinyl acetate (EVA), and thermoplastic polyurethane (TPU). Look for these outsole materials when you need safety boots. Boot heights do not really matter here. But if you work offshore, the weather will be cold most of the time, 8 inch boots can offer more warmth and protection.
Conclusion
There you have it! All of the differences between 6 inch vs 8 inch work boots. Designers always have their reasons for designing a certain style. Learning about the styles' properties and purposes will help maximize the potential each time you wear safety boots.
We hope you've gathered enough information to choose the most appropriate footwear for yourself. Leave a comment should you have further questions. We are more than glad to help. Look forward to seeing you then!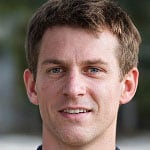 Having worked in the field of personal protective equipment for over two decades, Andrew Carnegie is a specialist in the field.
At EDC, he strives to improve performance efficiency and promote workplace safety for EDC's readers and customers. He also researches the most up-to-date equipment that has earned relevant accreditation for use in a wide range of industries and specialties.