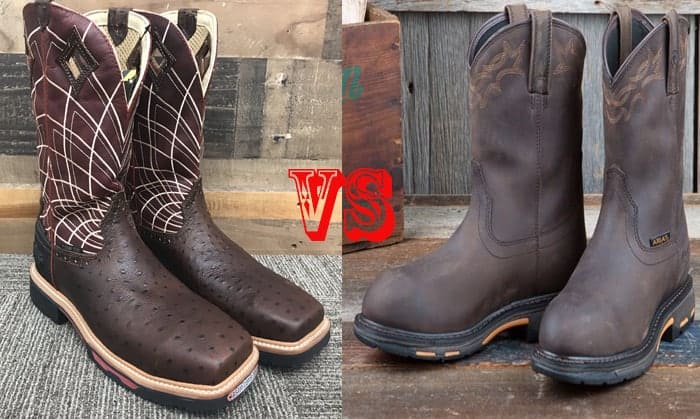 When it comes to purchasing work boots, there are many factors you will need to consider. First of all, the boots must have specific safety features and technologies that meet your job requirements. Secondly, the fitting should be perfect and the design must meet your personal style. Finally, choose a brand that you can trust.
If you are searching for a great brand, let me tell you the fact that there are a number of good brands on the market. However, Ariat and Justin remain the most reliable and popular. It is because they offer a wide range of high-quality products at reasonable prices. They do differ from each other a lot, though.
The products of each brand undergo distinctive manufacturing processes. Also, their materials are from different sources. Even though they offer an equal level of comfort and durability, there is a world of difference in their technologies.
In this article, we will provide detailed comparisons of Ariat vs Justin work boots. Plus, we will weigh up some of their best-sellers like Justin J-max boots and Ariat groundbreaker pull-on boots. Dive in to learn more.
A Brief History of Ariat and Justin Work Boots
1. Justin Work Boots
The history of Justin Boots started about 140 years ago. In 1877, young Herman Joseph Justin left his hometown, boarded a train to Texas to begin his dream of becoming a bootmaker. He worked many different jobs for a living. In 1879, with 35$, the name Justin Boots was born. With his talent, Justin went from the owner of a small local custom boot shop to a well-known boot designer for movie stars and presidents after several years. From there, the business began to expand. By 1915, Justin Boots were available in 36 states and 4 other countries.
Fast forward to now, the brand remains iconic with each product being hand-crafted from the finest leathers and materials.
2. Ariat Work Boots
Ariat International was founded in 1933. Though having a shorter history compared to Justin Boots, the brand was the first to raise awareness of specific technologies for athletic footwear. Nowadays, Ariat Boots produce many types of outdoor and work boots. The company stands by their values of innovation, integrity, and quality.
Justin vs Ariat Work Boots: Production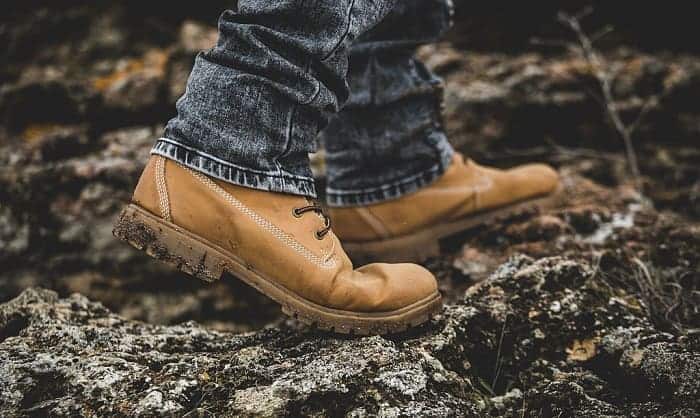 1. Justin boots
According to Justin Boots' quality commitment, their products are from the finest global materials and handcrafted by skillful boot-makers in the USA. The materials might come from various sources and different countries. However, they set high standards for their partners. Frequently testing the ethics, reliability, and merit of the partners to ensure the materials' quality upholds the standard of the West.
2. Ariat boots
Many American brands outsource to foreign factories to cut costs and mass production, Ariat included. Their primary production facilities are in China, Italy, and Mexico. Still, their designed apartment and some other facilities are in the US.
The brand has a commitment to sustainability. That is why one of their product lines, Eco Ryders & Eco Cruiser shoes, replace regular plastic in the shoes' soles with a durable foam made from algae. It is the fastest-growing plant on Earth, which is threatening other ecosystems. This is a great idea to reduce the amount of plastic used in production. Additionally, the brand offers high-quality repairs, from zipper to sole replacements. It is for wearers to make the most out of one pair of boots.
Ariat vs Justin Boots: Fitting
The next comparison Ariat boots vs Justin boots fits as this factor is crucial when it comes to working boots. Owing to their sturdiness, weight and safety features, the wrong size of work boots can cause blisters and chafe within a few hours of use. In the long term, it can lead to symptoms like repetitive strain injury or plantar fasciitis.
If you plan to buy boots in stores, here is how work boots should fit when you try them on:
The heel: Wearing new boots normally feels a bit stiff for the heel. Due to the stretching nature of leather, new boots will loosen up and fit the heel better after a few wears. With that being said, old boots' heels should fit snugly and cause no heel slippage.
The toes: When you walk, your toes should lightly touch the shoes, not push against them.
The width and instep: Both with old and new boots, the width and instep should fit snugly. The wrong width can cause one or both sides of your feet to rub against the boot, leading to blisters constantly.
If you plan to buy work boots online, know that both Ariat and Justin boots tend to run larger. For a better fit, order one-half size smaller. We recommend measuring your feet carefully. Then use the provided shoe size charts on their websites before ordering. Don't assume your current shoe size is the correct one.
In terms of fitting, there's not much difference between the brands. It's more about the shoe designs. Keep reading as we will discuss some particular products later on.
Justin vs Ariat Boots: Durability, Comfort, and Safety Features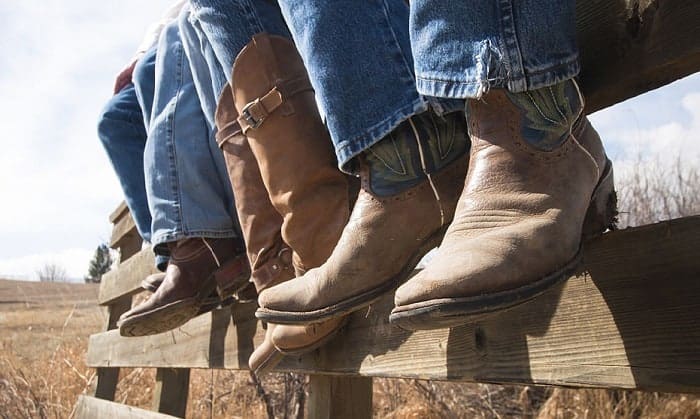 Both brands' boots are built to last and offer a high level of comfort. However, their methods and technologies are different.
1. Justin Boots
Shank: Instead of steel, some of their boots feature fiberglass shank, which is much lighter than metal. Also, fiberglass offers greater shock absorption. Not all of Justin work boots come with a shank, though.
Insole: Their Ortholite® insoles provide more durability, stability, and breathability. Also, these are anti-bacteria and removable.
Outsole: They partner with Vibram® for high-performance rubber outsoles. These outsoles are slip-resistant. More so, it is resistant to heat, chipping, chemicals and oil. Therefore, they are excellent for outdoor work.
Toe cap: The brand offers both steel and composite toe cap shoes. They all have the ability to secure the foot against impact and compression. Hence, you'll be assured of foot protection.
2. Ariat Boots
Shank: Ariat Boots offer many shank materials like flexible nylon, fiberglass, and steel. But like Justin Boots, not all Ariat boots come with a shank. Instead, Ariat Boots offer a metal-free SWEN-FLEX® midsole for protection against punctures.
Insole: A unique feature of Ariat boots is their cushioned gel insole footbed. The gel provides excellent foot support and stability. Thanks to the insoles' rebound, it is comfortable to be in their safety boots all day long.
Outsole: The brand features a heavy-duty Duratread™ outsole for maximum oil and slip resistance. The 90° heel offers heel stability and reduces foot fatigue.
Toe cap: The toe cap safety feature of Ariat Boots comes in multiple materials varied from carbon, composite to steel. The brand is well-known for its Ariat square steel-toe boots. All of them meet ASTM F2413-18 standards for safety toe protection.
Besides these typical properties of safety boots, both Ariat and Justin offer many other boot options, such as waterproof, wide square toe (for those with wide feet), electric hazard protection, ect. Please learn about your job safety requirements carefully to choose the appropriate work boots.
Some of Their Popular Designs
1. Justin George Strait Boots
For those with wide feet, Justin George Strait Boots are great options. As the name implies, the brand partnered with George Strait, an iconic American singer, and songwriter. This product line is based on the singer's timeless Western style, featuring a high neck from 11" to 13", and a wide square or round toe.
These boots are designed for comfort, flexibility, and mobility. They come with removable cushioning footbeds, flexible leather, and rubber outsoles.
2. Justin J-Max boots
Justin Original J-Max Work Boots are the brand's signature. These are hundred percent from leather with a rubber sole. Since rubber is lightweight, Justin J-Max Boots are perfect for jobs that require standing and walking for long hours like construction, factory, warehouse, or farm. Also, Justin's boots have waxed laces to prevent liquid spills from getting into the shoes through the laces.
3. Ariat groundbreaker pull-on boots
These are one of the best steel-toe work boots on the market. With a Duratread™ outsole, they are resistant to even high acidity compounds. In addition to that, the full-grain leather materials and mesh lining help the boots to be more breathable.
Ariat is also well-known for its Patriot Cowboy Boots, watch this video about these Cowboy boots: I Actually Used The Ariat Patriot Cowboy Boots for thorough reviews.
Conclusion
That's it, all of the main differences between Ariat vs Justin work boots. Despite being founded much later, Ariat runs very closely to Justin's work boots in the race of commercial safety, great protection, and high-quality boots due to their advanced technologies.
Several posts are talking about the comparison between these work boots. Still, we hope you've gathered enough information to choose the right brand for your style. If you have further questions, kindly leave a comment in the section below. We will get to them as soon as we can. Look forward to seeing you then!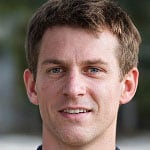 Having worked in the field of personal protective equipment for over two decades, Andrew Carnegie is a specialist in the field.
At EDC, he strives to improve performance efficiency and promote workplace safety for EDC's readers and customers. He also researches the most up-to-date equipment that has earned relevant accreditation for use in a wide range of industries and specialties.