Do you live in an older house, probably one built in the 70s or early 80s? If your answer is yes, then you probably do not know that your house can potentially give you cancer. During those years, builders have used asbestos as their insulation of choice. It is because aside from being cheap, it was also great at keeping warmth inside the house.
It can keep the cold out. Asbestos was also great at soundproofing. Moreover, it is fireproof. People loved the wonder material that is asbestos – that is until scientists discovered that it deteriorates after several years. Once it does, it releases very fine asbestos fibers in the air.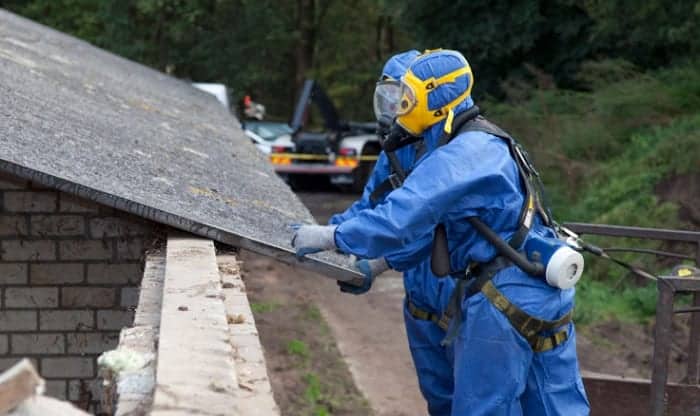 When inhaled, these tiny fibers can cause all sorts of respiratory ailments that can also lead to cancer, causing the need for the best asbestos respirator. When the medical professionals found out about this, they lobbied to outlaw the use of the stuff
If you suspect that there is asbestos in your home and you think that you can do the remediation by yourself and a couple of your buddies, it is best to equip yourselves with personal safety equipment to keep yourselves safe during the duration of the project.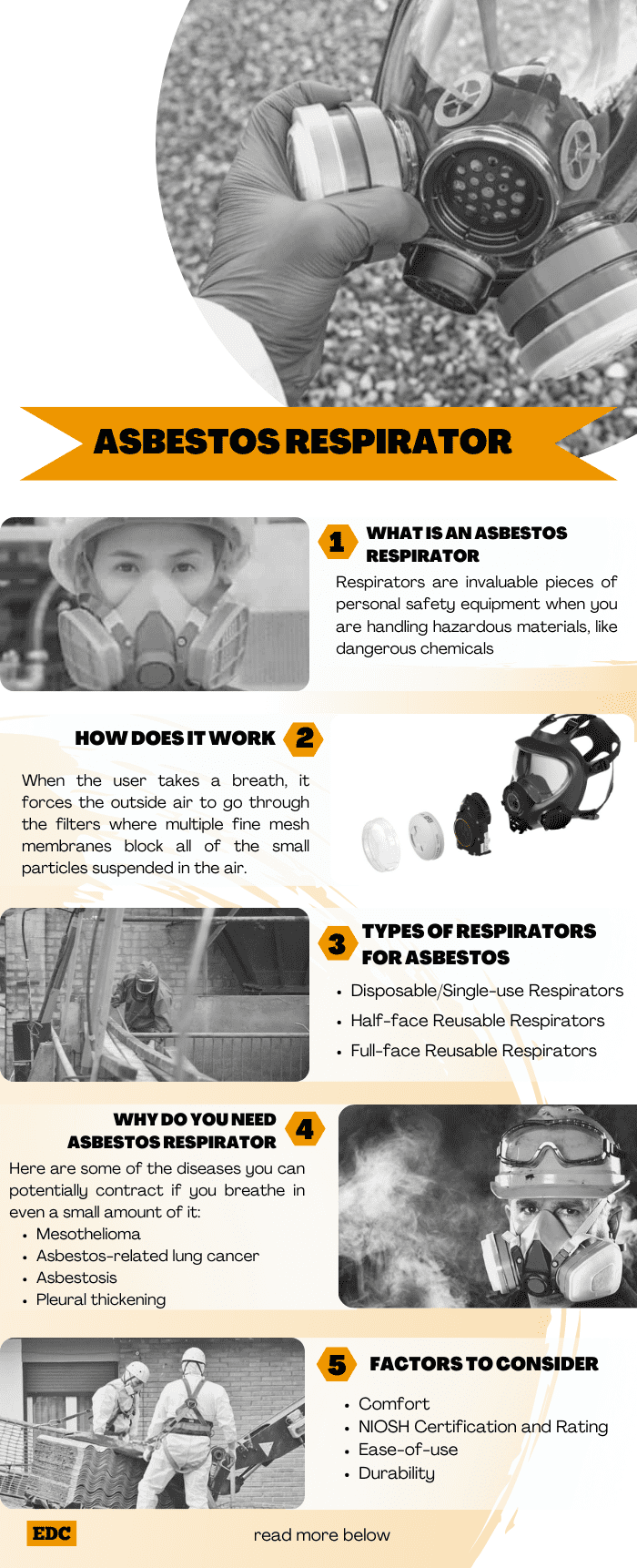 The most important piece of kit you need to invest in is an effective asbestos respirator. Some incredible choices include:
8 Best Respirators for Asbestos Reviews of 2023
1. GVS SPR457 Elipse P100 Half Mask Respirator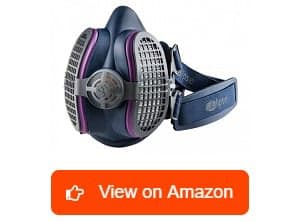 Although this asbestos breathing mask looks unusual, especially for people who are used to 3M respirators, this is one of the most ergonomically designed in its class if you can find one that perfectly fits. The designers of this face mask took the needs of the users into the heart when coming up with the concept for this mask.
They prioritized visibility and comfort. I like the curved filters quite a lot. They have a large surface area so I can breathe without much restriction but they still effectively blocked out all irritants in the air. These include the fine asbestos fibers that tend to fill the air when doing asbestos removal.
Speaking of the filters, you need not worry if they are not under the name brand that you are used to. They are still NIOSH-approved and rated as P100, which is as best as they could come. I also like that this is very easy to use.
For instance, if you want to replace the filters, just twist the plastic locking knob to release the plastic frame that holds the filters in place. Pry open the plastic frame and peel off the used filters. Insert brand new filters into the respirator.
Ensure that the gasket of the filters is inserted completely inside the recess before closing the plastic frame. I am also glad that this product came with a lot of extras. The most thoughtful free item included in the package is the handy carrying case for the respirator.
This carrying case protects the respirator from getting too dirty while allowing you to take the respirator anywhere and use it anytime needed. Moreover, the package comes with an opaque, resealable plastic bag in case you need to store away the respirator for future use.
The only complaint I have is that this mask for asbestos uses proprietary-shaped filters so it cannot use other brands. Although GVS is not an unknown brand by any means, it is still not as famous as the other big-name brands like 3M. This makes it hard to locate shops that carry the brand, so finding spare filters and other parts will be a chore.
What We Like
Features a unique design that makes a better fit for most people
Comes with wide NIOSH-approved particle filters
Has easy-to-use features
Does not restrict the user's breathing that much, if at all
Comes with a lot of extras
What We Don't Like
Uses proprietary filters, making it harder to procure extras and limit choices on filters
The problem with using proprietary filters is that you can only use said products. However, because the filters provided by GSV are already quite efficient at their job, then I think that it is alright to stick with them.
2. 3M Half Face-piece Respirator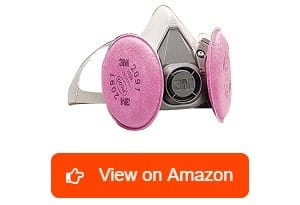 The first asbestos mask that we will be reviewing is this professional-grade half-face respirator by 3M. The first thing that I immediately noticed about this respirator is the unusual material used for the face mask. It is not the usual silicone that other respirators used.
This material is called thermoplastic elastomer, also called TPE. It is softer than most silicone compounds, so it easily conformed to the shape of my face and created a good seal.
Another feature that I like about this asbestos respirator mask is that it uses the bayonet connectors for the filters. Aside from promoting ease in installing the replacement filters, this also means that you can use the other filters made by 3M and the other brands that use the same connector.
This makes this respirator very versatile. With that in mind, I can safely say this is not a respirator that is exclusively for dealing with asbestos. Another reason I like this respirator is that it also came with a pair of particle filters approved by the NIOSH and given a rating of P100.
In a nutshell, these pink pancake filters have the potential of filtering all solid particles in the air. Everything that is no smaller than 0.3 microns can pass through them. For reference, the average width of asbestos fibers is anywhere from 1 to 10 microns.
Aside from the benefits mentioned, I also like that this asbestos removal mask is very lightweight. Even with the filters on, most people will not even realize the weight of this mask on their faces.
I thoroughly enjoyed using this respirator because it does feel like I am not wearing a respirator on my face. There were a couple of times when I forgot that I was wearing it and continued to do other tasks.
I have but one complaint about this 3M 6000 lead and asbestos respirator and that is I felt like I had a harder time breathing the longer I have the mask on, especially during hot days.
When I am using this mask, it gets uncomfortable after an hour, so I have to take short breaks to help me catch my breath. This would have been great if this issue could be resolved.
What We Like
Much more lightweight and softer than other respirators
Makes a good seal around the nose and mouth
Came with a pair of efficient P100 filters
Works well against asbestos dust
Compatible with all the other 3M asbestos respirator cartridge and those made by other brands
What We Don't Like
Gets a bit hot inside the mask after a while
Though unfortunately, the 3M did not use a more efficient exhalation valve for this asbestos face mask, it is still one of the most comfortable to wear. Also, the filters that came with the entire package is very good at blocking asbestos dust.
3. INCLY Full Face Respirator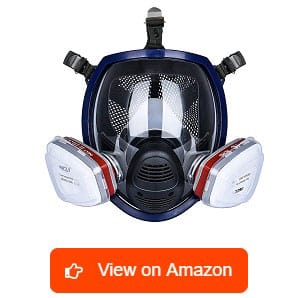 I have to admit that the reason I got this full-face respirator was that the package includes more cotton filters than other brands. Apart from that, it comes with filter covers, filter cartridges, gloves, ear plugs, and storage. The best part is that it has a text and picture manual to guide first-time users.
Thankfully, I was not simply blinded by the generous package offerings. The quality of the facepiece is superb as the soft silicone edge prevents the stiff parts of the mask from rubbing against my face. At the same time, it seals perfectly to block out impurities that could potentially enter from the sides. Plus, the anti-fog lens gives me a clear view of everything.
Also, the filters in the kit are apt for chemical, welding, manufacturing, construction, and many other industrial applications. It can filter out asbestos, ether, vapor, acetone, and many more! I'm especially delighted that it is compatible with other brands of filters. At any rate, it does not make breathing difficult.
Although I use different types of gloves for my work, the set's two-piece gloves come in handy for light tasks. Meanwhile, the storage bag and box are useful. They help me avoid damages and keep the items organized. To be honest, I cannot think of any issue other than the lack of smaller sizes. I know some people who find this respirator for asbestos a tad too big.
What We Like
High-quality protection for many applications
Includes plenty of filters and accessories
The silicone edge is soft and non-irritating
Comes with a pouch
Promotes easy breathing
What We Don't Like
Does not fit small head sizes
As a whole, this respirator set offers reliable protection so you do not compromise your health when exposed to asbestos. Beyond that, it can keep you safe against dust particles, vapor, and toxic chemicals.
4. Breath Buddy Respirator Mask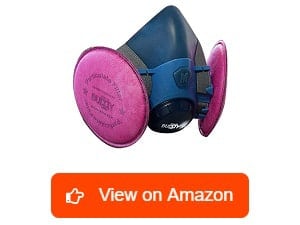 The feature that I liked the most about the Breath Buddy safety mask for asbestos is the filter that came with it. It passed stringent international standards and is equivalent to NIOSH rating P100, or N95 asbestos filters at the very least (which is still a good rating).
Now, even though these are very efficient filters, I hardly feel any breathing resistance when I am wearing the mask. There are many times that I have forgotten that I am wearing a respirator – that is how comfortable this is.
Another reason why I consider this as one great choice for the best mask for asbestos is its exhalation valve. It works well in letting out all the carbon dioxide, heat, and moisture that came from my breath. It is always a treat to work while wearing this mask as it is always cool and dry underneath it. This adds to one's work efficiency.
Furthermore, the exhalation valve has a cover that directs my breath downwards so that my safety goggles will not fog up. Even though this respirator came with its pair of disposable filters, it can still use other brands. This is important when you need to use the respirator immediately.
You do not have time to go online shopping and the only filters in the hardware stores nearby are from another brand. Although I do recommend that you stock up on Breath Buddy pancake filters because they are that good, having the versatility to use other brands is always good.
I like it when brands provide extra items with their products. In this case, you are getting a good pair of safety glasses. With this kit, you can start working the moment you open the packaging as you already have everything you will need.
The safety glasses are also designed to fit perfectly over the respirator and very comfortable to wear. Although I have not experienced it firsthand, some people say that the filters of their Breath Buddy respirators are always popping out, which is quite scary when you are dealing with hazardous materials like asbestos.
However, this seems to be a factory defect, which means they could be sent back for a replacement unit.
What We Like
Does not restrict breathing in any way
Features a very effective one-way exhaust valve
Comes with a pair of nice safety glasses
Can use filters from different brands
Lightweight and soft to the touch
What We Don't Like
The filters tend to pop out if not fixed tightly.
The nice thing about Breath Buddy's respirators is that they are backed up by great customer service. When one brings up the issue about the filters coming out, they will not hesitate to give a replacement straight away or a refund if preferred.
5. 3M Rugged Comfort Half Facepiece Respirator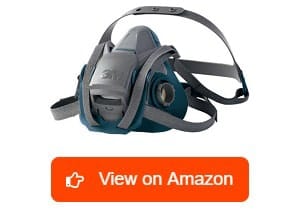 This is probably the easiest to use and the top-rated respirator mask for asbestos on this list. One just needs to drop the mask over the face cradling the back of the head with the upper harness and then attaching both ends of the bottom straps to fix the respirator in place. This whole process takes a couple of seconds.
The mask also has a quick-latch feature that allows you to drop down the mask temporarily using only one hand and put it back on when it is time to work again. Although this respirator is made for heavy-duty purposes, it is soft and comfortable, which allows you to work for a longer time without any discomfort whatsoever.
The straps and the face mask are made of soft yet very durable silicone. It does not contain any latex so there is no chance of getting an allergic reaction. I also like the low-profile design of this respirator. With it being close to the face, you can also use it for welding, metal grinding, or any other tasks that require the use of a face shield.
The mask will not interfere with other safety gears like safety goggles and even welding masks as it is set low on the face and does not bulge outwards so much. The proprietary 3M Cool Flow exhaust valve is also used in this product and it is as reliable as ever. Even on particularly hot days, the inside of the respirator rarely felt hot and clammy.
It is always nice and dry so breathing is always easy and unrestricted. Moreover, the outlet of the valve is directed downward so it does not fog up my safety goggles.
The only thing that I found that is less than exceptional about this respirator is that its sizing is a bit tricky. If you are using a medium on your old brand of respirator, you will find that the medium with this brand is a bit smaller. You will do better wearing a large size.
What We Like
Has a quick-latch feature, so you can easily drop down the mask when not needed
Features a secure yet easy-to-wear head harness
Can be put on and off in just seconds and faster once you are already used to it
Low profile – can be used with welding masks and most safety goggles
Comes equipped with the 3M Cool Flow exhale valve
What We Don't Like
Sizing system is a bit off.
Although it can be a bit of a struggle to find the right fit, this respirator is one of the best that you will find. It is a great choice for professionals because it has a lot of features that will benefit them greatly.
6. 3M Full Face 6800 Respirator Kit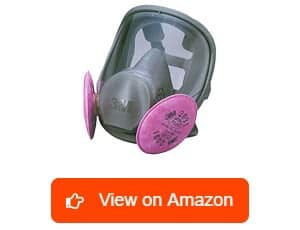 As the name implies, this is a complete kit that you can start using immediately after opening the packaging. Aside from the full-face respirator itself, this kit also contains two pairs of asbestos respirator filter (the popular 3M pink pancakes) that are NIOSH-certified P100.
These filters have a 99.97% efficiency, which is well suited for asbestos removal. For a full-face respirator, this product was surprisingly light. Despite its size, I barely felt its weight on my face at all when I wore it. Aside from being lightweight, it is also almost perfectly balanced.
Even with filter cartridges, this full-face respirator never felt like it was lopsided. The center of gravity fell right in the middle, which made wearing it a joy. Speaking of the face shield, it is quite large and clear. What I liked about it is that it almost wraps around the side of my head, thus giving me quite a large field of view.
My peripheral vision is not even blocked that much. Also, 3M made it a point to improve the shape of the lens so that it does not skew my vision when I am glancing from left to right. In other full-face respirators, your vision gets a bit distorted when you look through the apex of the lens's curvature.
The lens is also impact-resistant, which is very handy when doing asbestos removal/remediation because you will be doing a bit of a demolition job, and you will most likely have some pieces of debris fly at your face.
Aside from removing asbestos, I have also tried using this respirator when I am grinding the excess welds and doing metalwork. It worked great at protecting my face from the sparks. I have heard that this mask is also great for woodturning.
The only thing that I wished was present in this respirator is a voice diaphragm. Seeing as this is a full-face mask, this should have provided a way for the wearer to speak with co-workers.
It is almost impossible for me to talk while wearing this, which is fine most of the time since I always seem to be working alone. However, when I am working with someone else, I would like to chat from time to time just to break the monotony.
What We Like
Comes in a complete kit that is ready to go
Lightweight and perfectly balanced, making it comfortable to wear
Features a large and clear face shield for a wide field of view
Features a lens made of impact-resistant polycarbonate
Comes equipped with a large Cool Flow valve that keeps the insides dry and relatively cool
What We Don't Like
Does not have a voice diaphragm
Probably the reason why this respirator does not come with a voice diaphragm is that it will make it unnecessarily bulky, which I think would be a shame seeing as this low-profile respirator is almost perfect the way it is right now.
7. North Safety 770030L 7700 Half Mask Respirator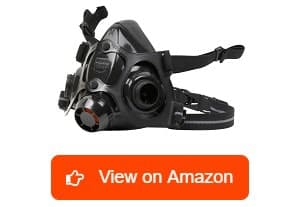 Admittedly, when I first saw this respirator I thought that it was cool-looking; it looks like something out of a sci-fi movie. However, upon using it, I discovered that it was comfy, too. The soft, silicone face mask does not require that much pressure to form to the shape of my face and create a good seal.
It is also so light that there were occasions wherein I forgot that I was wearing it. A big part of why this respirator is so comfortable is the head harness. The top headband includes a cradle for the back of my head. This ensures that the respirator is always in the right position and provides a wider area to distribute the weight evenly.
The bottom straps are just for keeping the respirator securely in place. Another design feature that I liked is the way it has such a low profile. Unlike the old respirators five or so years ago, this one does not stick out so much that it blocks my view. It also lets me wear whatever safety goggles or glasses I want.
It does not get in the way nor does it lose its seal. I also loved that there is hardly any breathing resistance. With some of the respirators that I tested, I had to struggle to get a good breath. Because of the resistance, the air that goes inside gets a bit hot.
With this respirator, it is almost as if there are no filters attached. I can breathe normally and without any resistance whatsoever. Speaking of filters, the only complaint I have is that there are no included filters in the package.
This would not be too much of a hassle if you want to buy this respirator in a brick and mortar shop since you will find out immediately that you have to buy separate filters. It is when you order them online that you will get the unpleasant surprise that you should have ordered filters too.
What We Like
Soft and comfortable and easily makes a seal around the nose and mouth
Lightweight and balanced, making it comfortable to wear
Little to no breathing resistance
Works well with almost all brands of safety goggles and glasses
The low-profile design makes it compatible for use with welding masks and other protective screens
What We Don't Like
Does not come with filters included in the package
The issue with the missing filters can be solved by buying any brand of pancake or filter cartridge that can fit this respirator (which fortunately includes many different brands), so you should not let this small issue keep you from getting this efficient PPE.
8. 3M 6300 Half Face-piece Reusable Respirator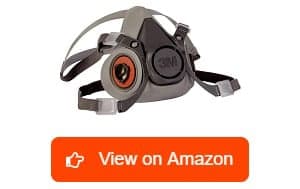 The feature of this respirator that I liked is that it can be disassembled for easier cleaning. The other masks that I have used will need cotton buds to clean the numerous nooks and crannies but with this product, it just needs to be dismantled, making it easier to clean thoroughly.
I also love the silicone head harness. The top strap has a cradle for the back of the head that does not only keep the respirator from sliding down my face but also makes it easy to wear.
You just need to place the cradle at the back of the head and side mask down into the right position then wrap the bottom strap around your neck and join the clasps together. The whole process takes just a couple of seconds.
Of course, this respirator also comes with 3M's proprietary Cool Flow valve that lets out almost all of the heat and moisture that came from my breath. Although it can still be pretty warm in the mask during particularly balmy days, the mask stays dry and relatively cool inside on regular days.
I can work for hours straight without feeling the need to take off the mask for some fresh air. Another neat feature that this respirator is capable but I did not get to test is its compatibility for use with supplied air. Even though many people might not be able to use this feature, it is still good to know that it can do this in case the need arises.
The only issue that I have about this respirator is that you cannot talk without taking it completely off. There is no voice diaphragm. It also does not have a drop-down feature so that you can just remove the mask for a couple of seconds to talk with someone.
What We Like
Can be disassembled for thorough cleaning
Comes equipped with a four-point head harness with a cradle for your head
Features a soft silicone face seal that is not just very comfortable but also creates a good seal
Ideal for use with a supplied air system; the positive pressure retention is excellent.
Comes equipped with an effective exhaust valve that keeps the inside of the mask very cool and dry
What We Don't Like
There is no voice diaphragm so it is almost impossible for the wearer to talk.
The lack of a voice diaphragm does take a few points off of this respirator but this is still quite a good respirator that can be used for asbestos and other hazardous materials.
3M Safety 142-6291 6000 Half Face-piece Respirator Assembly (Outdated)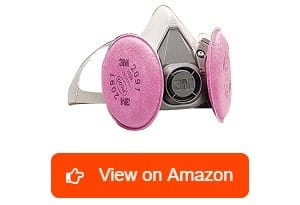 This is one of the simplest and most affordable choices for a reusable asbestos-rated mask in the market right now. It is primarily made of soft silicone, making it very lightweight and somewhat comfortable to wear. Although this is not the best in terms of comfort, it is quite passable for something that you can wear for regular use.
This respirator uses the same strap design that most 3M respirators use, which means that it is easy to wear and remove. I like that this respirator only takes four steps to put on.
First, place the top strap cradle around the back of your head. Second, pull the mask down your face. Third, pull the bottom strap behind your head and connect the clasps. Finally, tighten the straps to get the perfect fit.
This respirator also comes with 3M's patented Cool Flow outflow valve. This helps keep the inside cool and dry, even when the temperature is a bit on the balmy side. This respirator valve effectively draws out the exhaled air and the moisture coming from my breath to keep the inside of the mask comfortable.
This mask does not only accept 3M filters. You can also use those made by other brands. This is one of the features that I always look for in a respirator not only because there are many more affordable alternatives but also because there are times when you need replacement filters without getting the brand that you originally wanted to use.
The thing that I did not like about this 3M asbestos respirator is that it does not come with free filters, not even the low-cost particulate filters. Moreover, the straps are not as soft as that of the other 3M respirators. The harness on this one can get uncomfortable and dig into the skin after a while.
What We Like
Affordable but still durable
Can use different brands of filters other than just 3M's
Comes equipped with an effective outflow valve
Quick and easy to wear and take off
What We Don't Like
Straps tend to be uncomfortable after an hour or so
For its price, a bit of discomfort should be allowable, especially when you think about all the benefits that this surprisingly good respirator comes with.
UOPASD Organic Vapor Respirator (Outdated)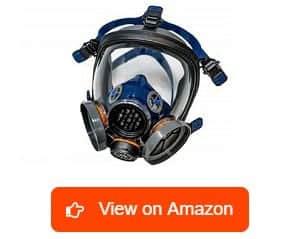 What most people do not know is that it is not just the nose and mouth that get irritated by the fine fibers released by asbestos. The eyes and skin are also prone to irritation. With this full-face asbestos protection mask, you do not have to wear a separate pair of safety goggles so your face is completely protected.
It comes with a full-face seal made of soft silicone. This completely isolates the face of the user from the outside air and the irritants suspended in it. The face shield is made of high-impact polycarbonate plastic. This face shield is also impact-resistant and scratch-resistant.
It can protect the wearer from debris and larger particles that might hit the face and the eyes. Moreover, there is more than enough room inside the mask for my glasses, although getting a complete seal around the face is a bit hard with the temples of my glasses in the way.
I also appreciate that this respirator mask has five straps to keep it secure. I have had problems with certain asbestos full face mask brands that would slide down my face or get a bit crooked with just the slightest nudge. This respirator has five straps. The fifth one goes over the head to keep the mask from sliding down.
It also cradles the head and spreads the weight of the respirator more evenly. Another neat feature is the large passive voice diaphragm. This neat little inclusion allows you to speak clearly to others on the job site.
This is important because it lets you communicate with others without placing your health in danger since you do not need to lift your mask to talk. The only thing that I did not like about this product is that it does not come apart for easier cleaning.
There are so many straps that it will take some time to clean them all completely. Also, they get in the way when wiping the rest of the mask. If there was some way to remove the straps temporarily then it would be great.
What We Like
Features a large clear face shield for total protection
Comes with a large passive diaphragm for voice transmission
Equipped with a wide silicone face seal that conforms to the shape of the face
Has a five-strap harness for a secure and comfortable fit
Comes with a limited, 100% satisfaction guarantee
Even though this respirator takes a bit of time to clean properly, this is a small price to pay if you look at all the benefits that you stand to receive if you buy this product. It is a good addition to everyone's PPE collection.
Safety Works SWX00320 Respirator (Outdated)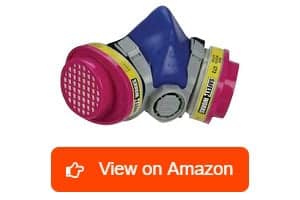 If you are looking for real heavy-duty asbestos face masks then you will want the Safety Works SWX00320 Respirator. It comes with two, beefy yet low-profile NIOSH-approved, P100 rated filter cartridges. Although the P100 asbestos filters look quite big, they do not block the wearer's vision by that much.
You might not be able to tell just by looking at its picture but this respirator's face seal is soft and flexible. Unlike other respirators, even most of the expensive ones, the nose piece of this one is very soft and readily conforms to the shape of the bridge of the nose for a complete seal and maximum comfort.
The filters that come with the package work efficiently. Because they are rated P100, this means that even the finest of asbestos fibers will not be able to force their way through the filters. Aside from being very effective at blocking out fine particles in the air, the filters can also last quite a long time.
Depending on how often you use them, the filter cartridges can last for one year to three. This means you do not have to replace the filters for quite longer. I also liked this respirator's large exhalation valve, which is very good at keeping the inside of the mask cool and dry.
Because of its size, the valve could almost immediately remove the moisture and heat from my breath and direct them out and downward, which keeps my protective eye gear fog-free. The thing that I did not like about this respirator is that it is significantly heavier than most half-face respirators available.
It also happens to be the heaviest mask on this list. Even though the face seal is soft and comfortable, I can still feel the weight of the mask after I have worn it for an hour or so.
What We Like
The soft and flexible silicone face seal
Has a large exhalation valve that works efficiently
Comes with heavy-duty but low-profile organic vapor and particulate matter filter cartridge
Can filter almost 100% of all solid particles in the air
Comes with almost everything that you will need to start working
Even though this mask is a bit too heavy for most folks, it does work efficiently and the filters can last for quite a long time. These are good enough reasons for you to at least consider getting this respirator.
What is an Asbestos Respirator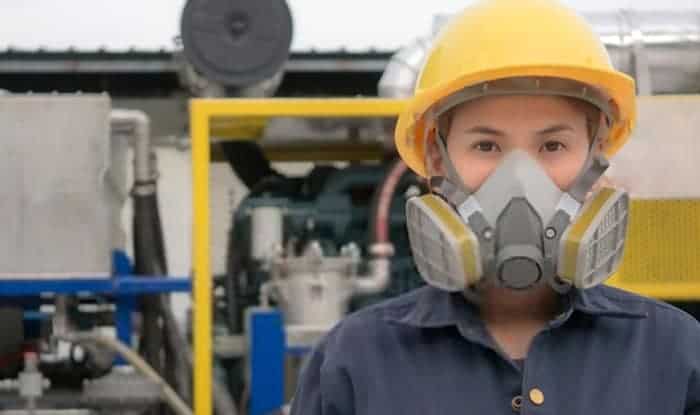 There is no such thing as a commercially-available respirator built specifically for dealing with asbestos dust but there are plenty of those that can filter this harmful substance and more. Modern respirators use filters that are so efficient that they can block almost 100% of all the solid particles in the air.
For instance, a P100 rated filter can block particulate matter that is wider than 0.3 microns. On average, asbestos fibers measure around 1 micron wide, which means that P100 filters can block most asbestos fibers (the smaller ones are very rare, and only come in trace amounts so they cannot do as much damage when inhaled).
When you are wearing respirators equipped with N95 or P100 filters, you can work on asbestos removal and be confident that you will not inhale even a single fiber of this harmful substance.
In essence, you can call any proper respirator that uses efficient filters as asbestos respirators but keep in mind that it can protect you against other stuff as well.
How Does It Work
Respirators are invaluable pieces of personal safety equipment when you are handling hazardous materials, like dangerous chemicals and of course, when conducting asbestos removal. These masks help protect the wearer's respiratory system by blocking the harmful elements from getting into the nose and/or mouth.
The respirator mask itself helps by creating a complete seal around the nose and mouth. The face seal is usually made of a soft, flexible, and non-porous material. In the past, these were made using natural latex but nowadays, hypoallergenic silicone is the material of choice for respirators.
The mask needs to conform to the shape of the user's face to create a complete seal so that not even a trace of airborne irritants can get inside the mask. The real workhorses of respirator masks are the filters. These are attached to the respirators and they are the only way that air can get inside the mask.
Before the air can get into the mask for the wearer to breathe, it must first go through the filters' membranes. When the user takes a breath, it forces the outside air to go through the filters where multiple fine mesh membranes block all of the small particles suspended in the air.
Filters these days are so efficient that they can filter almost all of the microscopic particles that are in the air and only letting out pure and clean air inside the respirator for the user to breathe in.
Types of Respirators for Asbestos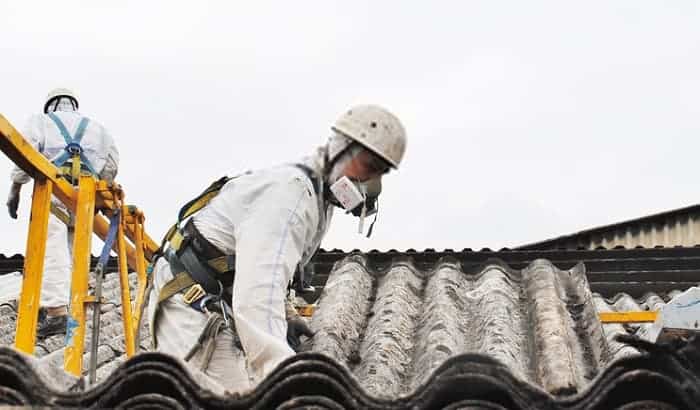 There are technically two major types of respirators – the supplied-air respirators and the air-purifying respirators. The supplied air respirators are not that common and only used in very serious and dangerous situations like hazardous chemical leaks, forest fires, and other situations wherein there is very little to no breathable air in the area.
Air-purifying respirators are the more common type. These respirators are the ones that force air through filters to take away the harmful elements before they reach the nose and/or mouth of the wearers. Air-purifying respirators can also be categorized into several different types:
Disposable/Single-use Respirators – These are the most common air-purifying respirators. You can find these used by almost everyone, including civilians, law enforcers and even scientists working in laboratories. These are made of fibrous materials. The mask itself is also the filter element.
Half-face Reusable Respirators – These are the ones that professionals use. These come with face masks that are made of silicone. They are created in a way that you have to attach disposable filters before using them. Since these only cover half of the face, you will still need to wear eye protection.
Full-face Reusable Respirators – These are the ultimate choices in terms of breathing protection. Aside from having face masks, there is also a clear shield that covers your entire face. This respirator is often used in hazardous environments, the kinds of places where people are required to wear full hazmat suits before they go inside.
The face shield is usually made of impact-resistant, scratch-resistant and fog-proof polycarbonate, which is important because there are instances when hazardous debris might come flying straight towards your face.
Why Do You Need Asbestos Respirator
You should not conduct asbestos removal without wearing proper safety gear, most especially breathing protection. You are placing your life in peril when you even just go inside a room that contains asbestos. To convince you further about the importance of face protection when dealing with asbestos, here are some of the diseases you can potentially contract if you breathe in even a small amount of it.
Mesothelioma – This is a type of cancer that affects the lungs' inner lining, which is called the pleura, and also the inner lining of the lower digestive tract, which is called the peritoneum. It is almost always caused by extensive exposure to asbestos.
Unfortunately, in most cases, by the time doctors diagnose people with mesothelioma, cancer has progressed to a stage where it is fatal. This disease strikes quickly and from the shadows, those who contract this disease are almost always killed by it.
Asbestos-related lung cancer – This type of lung cancer looks almost identical to cancer caused by smoking. Many people who get this are often caught by surprise as not all of them smoke cigarettes. People who are diagnosed with mesothelioma are often suffering from lung cancer as well
Asbestosis – This is a condition characterized by serious scarring in the lungs brought about by heavy exposure to asbestos over an extended period, often amounting to years. The scarring is caused by the millions of tiny and sharp asbestos fibers scraping against the lungs and causing millions of tiny scratches.
When this condition worsens, it can lead to progressively increasing shortness of breath. If left untreated, it can also lead to death.
Pleural thickening – This is a condition that happens after the person is subjected to heavy asbestos exposure. This illness is characterized by the thickening and inflammation of the pleura, which is the inner lining of the lungs.
If this ailment is left untreated and the swelling worsens, it can put pressure on the lungs, thus not letting it expand as much as it could before. This is the reason for the shortness of breath and discomfort when breathing.
These are only some of the many different illnesses that you might get when you are exposed to heavy concentrations of asbestos fibers. If you are planning on doing your asbestos removal, make sure that you get the best breathing protection you can afford.
Buying Guide
Since there are thousands of different brands and models of respirators out in the market today, choosing the one that you should use can be pretty difficult. To assist you in making the right choice, here are some of the most important qualities that you need to consider when browsing the aisles looking for your respirator.
Comfort – Since you are required to wear the respirator for the entire time that you will be staying inside the asbestos-affected area then you should at least make sure that you get a comfortable one. Look for the ones that have the softest face masks, or face seals if you will be getting a full-face respirator.
Not only does the soft silicone material feel good on the skin but it will also create a better seal around your nose and mouth. This can guarantee you that not even a trace of asbestos can get inside.
NIOSH Certification and Rating – The NIOSH (National Institute for Occupational Safety and Health) is the governing body responsible for testing and certifying breathing protection devices such as dust masks and respirators.
When you are shopping for dust masks, always look for the markings that state that the respirator is NIOSH certified. Also, look for the respirator's rating. For asbestos, look for the ones that are rated N95 or P100.
Ease-of-use – A good respirator should not be overly complicated – even the half-face and full-face masks. The respirator should be easy to wear and take off. It should just take a couple of steps for one to wear the mask and get it properly adjusted and fit perfectly. Additionally, replacing used filters should also take no more than two steps.
Durability – Disposable respirators should ideally be disposed of after a single-use. On the other hand, if they are only used lightly, you should avoid using them more than three times.
On the subject of reusable respirators, they should be easy to clean and maintain. They should also be able to last for at least a year or two of regular use without the silicone parts drying out and cracking.
Care and Maintenance
It does not take much to take care of the best asbestos respirators. You just need some clean water and a clean piece of cloth. After every use, take a damp clean cloth and wipe the entire surface of the respirator until all of the dust is gone.
If you are using a full-face respirator, do not use soapy water on the face shield as this will damage the anti-fog coating. Just use clean water to rinse the surface and dry it using a clean piece of soft fabric, preferably a microfiber towel.
If you will be storing the reusable respirator for future use, remove and dispose of the old filters. Clean the respirator and dry it then place it inside a resealable plastic bag. Store it in a cool and dry place.
If you are storing leftover pieces of disposable respirators, just place them in an opaque plastic bag and store them in a cool and dry location.
Frequently Asked Questions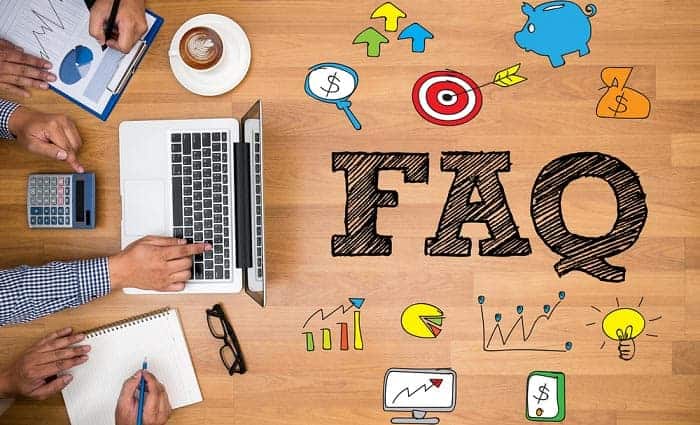 Will a respirator protect against asbestos?
Yes, provided the respirator uses filters that are NIOSH rated as N95 or P100. These filters are capable of blocking almost 100% of all airborne solid particles. Anything bigger than 0.3 microns will not get through these filters. Asbestos fibers, on average, measure 1 micron wide so they will be blocked by N95 and P100 filters easily.
How to use the respirator?
Disposable respirators are very easy to use. Just place the mask over your nose and mouth, put the elastic straps behind your head then adjust the nose clip to create a good seal. After using the respirator, you should dispose of it properly, especially if you used it on a hazardous material like asbestos.
Reusable respirators are also worn similarly. However, you have to adjust the straps to make a good seal around the nose and mouth. Moreover, you will need to replace the filters once they are full.
Is asbestos exposure always fatal?
It depends on the level of exposure. To date, asbestos is still used for building construction. In a UK study, statistics show that about 5000 workers yearly die due to asbestos exposure. On the other hand, the US recorded almost 40,000 deaths in 2016.
According to health experts, light and short-term exposure rarely lead to disease. Even one-time exposure from a DIY renovation is not considered life-threatening. But note that multiple short-term exposures can add up, putting the worker's health at considerable risk. Studies show that about 20 workers die weekly due to past exposures.
Typically, construction, renovation, and demolition workers are among those who are most exposed to asbestos, which is why wearing respirators are crucial. During disasters or demolition, however, the damaged buildings may release asbestos fibers into the air. When inhaled, it can be fatal.
How long does the asbestos respirator last?
Filters for asbestos such as the P100 have varying expiration dates depending on the manufacturer.
For instance, Honeywell's website states that there is no shelf life for full-face asbestos respirator cartridge filters. By contrast, 3M prescribes a shelf life for its facepiece for asbestos removal or disposable asbestos mask. Normally, this can be found on the packaging and User Instruction.
If the respirator or asbestos dust mask is not labeled with a shelf life, 3M recommends checking the date of manufacturing, which is printed on the box or shipper case. The brand also encourages buyers to call their hotlines to get help in interpreting the shelf life.
As for the reusable facepiece, proper cleaning and maintenance can prevent deterioration. Furthermore, it ensures that the facepiece is free from contamination when you wear it the next day to work.
What is the warranty?
Most brands provide up to six months' warranty against factory defects. If your product fails and it is not due to human error, the manufacturer will offer you a complete refund or a brand new replacement item.
However, some companies offer a limited, satisfaction guarantee. This means that if you are not impressed with the product, the manufacturer will give you a complete refund, no questions asked.
Where to buy asbestos respirators?
You can find a healthy amount of choices in big-box outlet stores like Walmart. The great thing about shopping in brick and mortar stores is that you can physically hold the item in your hands and inspect it thoroughly before you pay for it.
However, if you want more choices and compare prices from different sellers, you can do your shopping online using any one of the many online retailers. It is most likely that you can get better deals online but the downside is that you will have to wait a long time for the item to get delivered.
Conclusion
If possible, you should let professionals deal with asbestos removal and remediation but if the asbestos is not that much, you can maybe do it yourself. Just make sure that you use the best respirator that you can buy.
Even if just a bit of asbestos fibers make their way inside your body, they already have the potential to cause all kinds of serious illnesses, most of which are fatal. Don't gamble with your life when handling dangerous materials like asbestos. Get the best asbestos respirator that you can as this might save your life.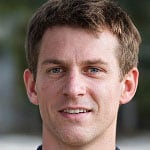 Having worked in the field of personal protective equipment for over two decades, Andrew Carnegie is a specialist in the field.
At EDC, he strives to improve performance efficiency and promote workplace safety for EDC's readers and customers. He also researches the most up-to-date equipment that has earned relevant accreditation for use in a wide range of industries and specialties.