Are you a newbie to welding? Well, the first thing that needs to be a priority is your safety. Just starting welding chore means paying heed to safety measures that any experienced welder will agree with.
All those sparks and UV rays around you splattering can be dangerous to face while minutely using the welding machine. Thus, the first thing that hit my mind was buying the best beginner welding helmet. This reduces the requirement for and even does away with the expense of going for tinted goggles and face masks for buffing, grinding, and cutting. As the adage goes, handle with care.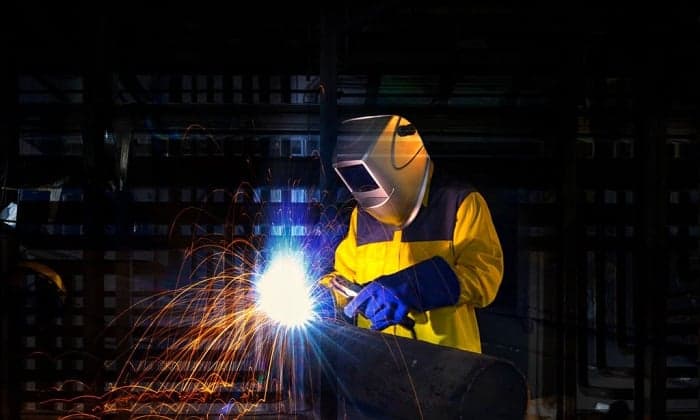 Apart from this, various other features in a helmet are equally important that makes the welding convenient and smooth process. It includes durability, lightweight, shade setting, viewing area are a few of those features.
So, if you want to carry your welding task with accuracy, do not forget to buy the welding helmet that suffices your needs. I'll guide you in choosing the right model with the right features. Novice welders in the lookout of a decent and good quality helmet will surely find these options useful.
Here, I listed the top-rated welding helmets for beginners that I personally and are also hit amongst several users.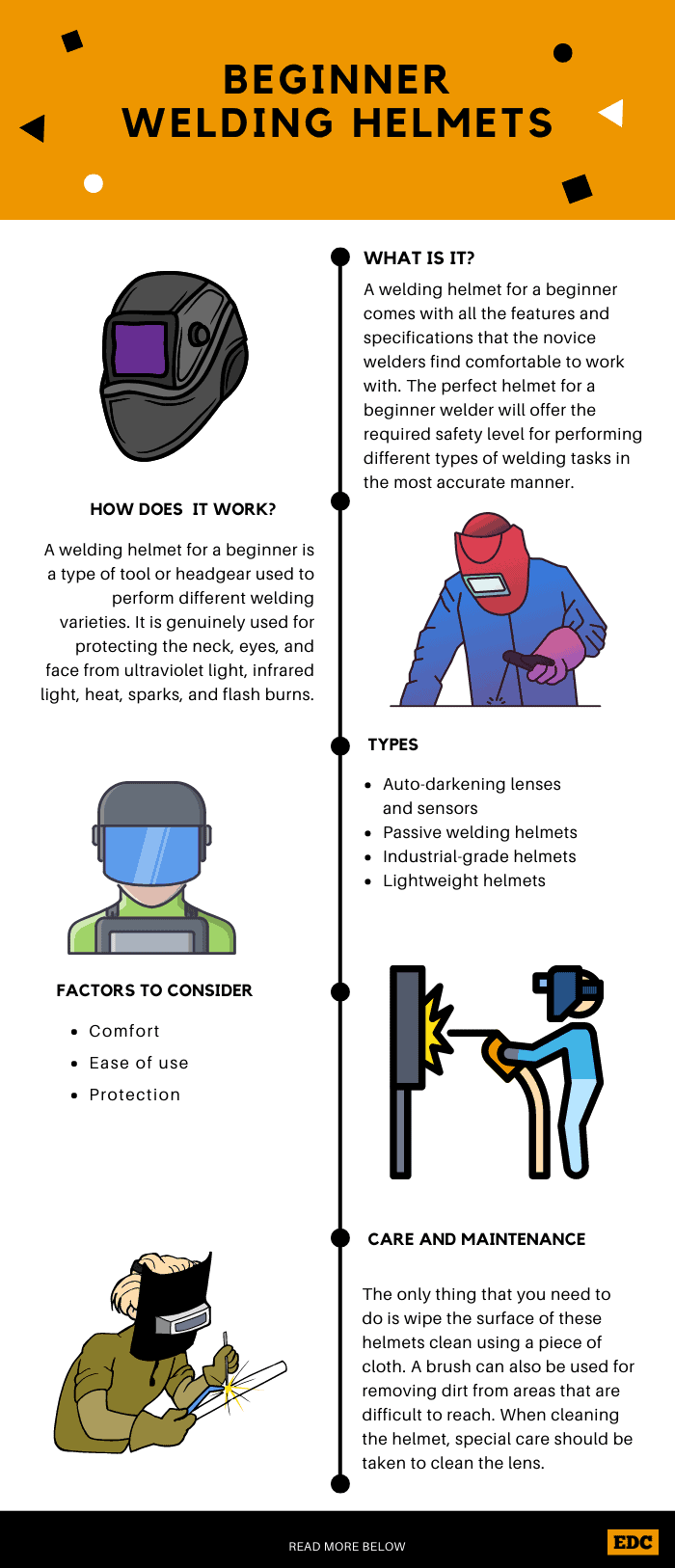 Top-Rated Beginner Welding Helmet Reviews of 2023
1. Yeswelder LYG-L500A Welding Helmet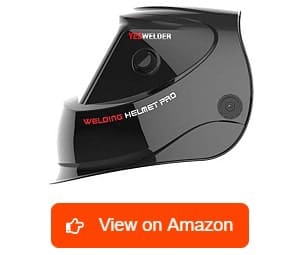 If you ask me, then the Yeswelder True Color Solar Powered Welding Helmet would be my first choice when choosing a budget welding helmet as a novice welder. The helmet can well be used for MIG, TIG, Plasma, arc welding, and other functions. Thus, beginners who are in the lookout of multi-functional headgear, this one is your ideal choice.
Priced low, yet this perfectly designed helmet comes with the majority of the features and virtues of the more expensive products available in the market. For instance, its top-end optical clarity with 1-1-1-2 ratings is worth mentioning as it's commonly found in more expensive models.
The Yeswelder helmet weighing at 1.95 lbs, is way more comfortable and a lighter product to wear for long hours of manual task without any pressure. Further, it has a generous lens area of 3.93 by 1.67 inches, which is quite wide for clear visibility and better working experience. I bet you can view original and neutral colors through the helmet's lens as the true color feature has been used herein.
You can activate the auto-darkening feature or ADF lens quite swiftly without spoiling your welding task. To my surprise, the auto-darkening response time of the product is quite fast at 1/10000th second.
Also to be noted is the auto-darkening functionality, which is executed using solar energy. Interchangeably, for times when there is less sunshine, a lithium-ion battery has been provided with an average life span of 3000 hours. So, I am never out of battery while working.
There's just one thing that disappoints me about this helmet, its lack of robustness. It means you will sooner need to buy a new one.
What We Like
Lens clarity is exceptional
True color technology
Available at a great price
Light in weight
For novice welders who do not know much about welding and the other functions related to the process, it would be a great idea to go for this helmet. All these features make it one of the best beginner welding helmets.
2. Lincoln Electric K3034-4 Welding Helmet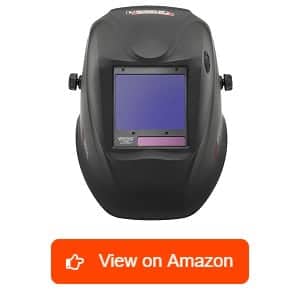 As far as I know, there is no other name as trusted as Lincoln Electric in manufacturing the top-rated of welding helmets for beginners. If you are looking for a helmet that offers complete peace of mind regarding eye protection, then the Lincoln Electric Viking 3350 welding helmet would be the right choice for you.
The helmet completely shields my eyes with the help of its exclusive 4C lens technology. This helps me increase the clarity on view and color significantly. While reducing eye strain, it also assists me in controlling my work for great weld quality.
Above everything else, the Lincoln welding helmet comes with a large viewing area of 12.5 square inches. Beginners who find it challenging to see what they are welding can appreciate this exclusive feature to work with accuracy under a clearer view. So, no more distraction during the welding sessions.
This headgear is not only comfortable during the task but even reduces pressure on your head. Thanks to its perfectly balanced design. As a result, you'll witness that your work procedure is speeded up.
Last but not least, there is an instant and low-profile external grind button to shift from grind to welding mode as per your requirement. This is a significant benefit as it helps in saving a lot of time. Yes, of course, increased productivity is another factor.
But exceptional features always come with a price, and this helmet is nothing different. Since it has a plethora of exclusive features on offer, it might be an expensive buy for someone on a budget.
What We Like
4C lens technology for eyes protection
Helps to create higher weld quality
Superb optical clarity
Balanced and comfortable design
Large viewing area
The Lincoln electric welding helmet is probably my top recommendation for both professional and beginner welders looking to minimize their efforts during welding sessions. This fully functional welding helmet is worth purchase if the price is not a concern.
3. Tooliom TL-M800D Welding Helmet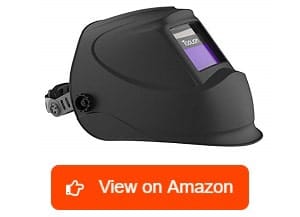 When welding for you is about practicing, then the Tooliom soldering helmet is definitely a great choice. This auto-darkening headgear offers a clear welding vision and even a comfortably padded fitting during welding sessions.
It has been intricately designed for a better fit and maximum support. The multiple adjustment settings have been provided to suit the personal preferences for maximum comfort. Other impressive internal attributes include IR/UV protection to keep the eyes completely safe.
The super-large viewing area of this helmet is also worth mentioning. It is sufficiently large to ensure more excellent performance and a brighter view. And yes, the helmet complies with international standards of safety and is compatible with MAG, MIG, TIG, and MMA.
Additionally, both magnifying and cheater lenses can be installed by those who require vision corrections. How can I forget the True Color technology used in this welding tool that offers a clear welding vision? This helps you in seeing their workpieces clearly and in locating welding points accurately.
There are both grind and weld modes available for which the shade levels can be duly adjusted. Hence, I highly recommend this product for its exclusive features.
Besides, this helmet is also light in weight so you do not need to keep lifting the hood all the time while on move. You can easily wear it for more than 9 to 10 hours without feeling exhausted. Hence, work comfortably for a more extended period.
However, its auto-darkening feature might be a bit slow at times. Tooliom needs to work on improving this feature.
What We Like
Compatible with MAG, MIG, TIG, and MMA
Light in weight
Offers excellent comfort
True Color technology for a clear view
Features both grind and weld modes
What We Don't Like
Auto-darkening feature not up to the mark
Ultimate versatility is what you can expect from this super-cool welding tool. It has a lens that makes way for complete customization of the shade level for varied applications.
4. Hobart 770286 Welding Helmet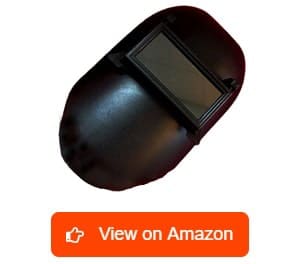 Beginner welders like spending their time learning welding skills and improving their welding techniques. Thus, I recommend the Hobart Flip Front welding helmet, which is in no way an overly complex mask. The functions of this helmet are relatively easy to use.
It is a simple and old-style headcover that will, however, help beginner welders use their time most productively and efficiently. This aver welding helmet takes the major and minor complications out of completing the welding task. There are no settings that you need to adjust neither anything to figure out.
You will get a crisp view while working while the helmet on, thanks to its flip front lens. The only thing you need to keep in mind is flipping it back down during the welding session after you flipped it up to see your result.
What's more, the Hobart Flip Front welding helmet falls in an affordable category that new welders can buy to start their learning experience without even thinking of losing money. This is why I believe it is one of the top-tier beginner welding headgears that money can buy.
What disappointed me? This mask's single shade range is not sufficient for varied welding environments and different varieties of welding.
What We Like
Improves welding techniques
The flip-front lens offers a clear view
Reasonable range of helmet
Ease to operate
What We Don't Like
Not suitable for varied welding environments
You neither will get confused with exclusive settings nor will feel fussy while wearing it as happens with too large to handle welding helmets. Hence, I can confidently say it's one of the most sophisticated welding helmets in the market. Simply wear it on your head and start with your welding sessions! That's it!
5. Antra AH7-360-7321 Welding Helmet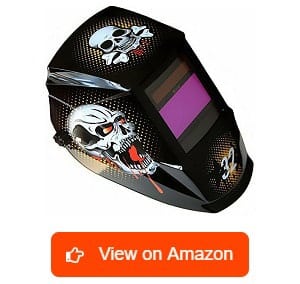 This welding helmet for beginner available from Antra is one of the top-quality models from this brand. The adjustment knob of the AH7 helmet is located in its interiors that offer improved protection from adverse welding environments.
This feature has been done to ensure that the exterior adjusters do not get damaged due to welding collisions and spatters in the workplace. Therefore, this helmet is suitable for various kinds of jobs such as MIG, TIG and plasma cutting.
There are four different arc sensors in this product that give my eyes perfect protection during welding. For beginners who are scared to carry the task initially can go for this welding helmet as the 9" length of this helmet will also keep your neck and torso safe.
Also, there are a total of 13 passive shade filters, which makes the cutting process much smoother by providing a crisp view of every condition. Besides, a sensitive knob exists inside the helmet to quickly change the setting. Hence, you'll get a totally hassle-free experience.
The battery testing button and battery level indicator on this product are other features I am fond of as they help me understand the amount of battery used up. Its automatic power-off attribute delays turn off for approximately ten minutes; thus, you will not be wasting the battery power.
The sensors in this helmet make it responsive towards detecting light, and it is also perfect for grinding applications. Whether you are looking to use a magnifying lens or a cheater lens, this helmet gives you the option of equipping it with almost any variety. I love it because it is highly reliable as it keeps the eyes away from any kind of harm.
I had a serious concern about its durability factor that is also confirmed by other existing customers of the helmet.
What We Like
Perfectly suitable for MIG, TIG and plasma cutting
Adjustments remain protected within
Delay settings well in place
Wide and crisp viewing area
Batteries are replaceable
Antra has actually made some good improvisations through this helmet series. On the plus side, the model is well-suited for beginners who want to hone their skills initially.
6. Jackson Safety W10 HSL 100 Welding Helmet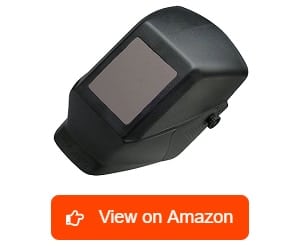 If you have just entered the welding world and are looking to work traditionally, I would recommend this passive welding tool from Jackson Safety. This comfortable and durable helmet will make your welding work faster for you. There's a lot more to boast about this helmet.
Firstly, this particular item has an elegant design structure giving a smart appearance to the wearer. It is my go-to option whenever I need to wear helmets in welding locations that are not very large as the helmet has a sleek design.
Further, it features an extended front part that gives added protection. In other words, the helmet offers complete protection from serious health hazards like fumes, sparks, and face burns.
There is a grind mode on this helmet and digital controls for switching between delay and sensitivity. Not to mention, a giant viewing screen enables you to see the item clearly for the precise cut and welding process. Hence, it is a multi-functional helmet, fulfilling every need of a welder to work correctly.
If only you can ignore one problem in it which I experienced while using it for a long time, is that the helmet is heavy on the head. So, you may have to remove it often to give some relief to their heads amid the welding process.
What We Like
Durable welding helmet
Easy on pocket
Offers complete protection
Sleek and smart design
Digital controls make switching easier
Considering the decently-sized viewing area of this helmet and its slim shell, I would definitely recommend this product for novice welders. This helmet can be one of the top-tier choices for welding in confined or tight spaces. No doubt, it is a value for money helmet.
7. Foowoo E-93Z Welding Helmet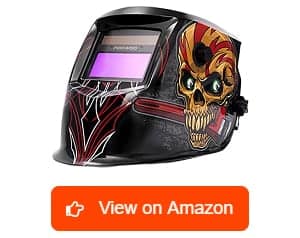 I find this solar powered welding helmet from Foowoo quite similar to the high-range helmets in the market. It is a flexible and lightweight helmet, perfect for amateur welders on the road to hone their skills.
Its connection piece is fantastic, and it offers a very comfortable fit on your head. This flexible feel of the helmet makes it easier to use while protecting oneself from hard knocks. And yes, it also works perfectly fine when I need to squeeze my head into the tightest of spaces.
The graphic printing on this helmet appeals to me and, hopefully, to the other young customers as well. I find the high-quality painting on this helmet really impressive. It is so intricately and carefully done that it can easily withstand the heat and scratches of the welding job. Hence, it continues to look good even after several years of use.
Furthermore, this helmet's lens with 1/1/1/2 optical clarity offers clear welding vision making the helmet better than the many affordable helmets out there.
One thing that I really did not like about this helmet is that it comes unassembled, and putting the pieces together is a struggle without required instructions. Then again, it even lacks the durability needed to be used for industrial welding purposes.
What We Like
Flexible helmet
Light in weight and very comfortable
Graphics are good
Resistant to scratches and heat
Affordably priced with clear vision
What We Don't Like
Assembly is difficult
Not fit for industrial purpose
It is a low-priced and simple welding helmet for beginners, making it the right choice for beginner level welders whose sole purpose is to practice the welding techniques.
8. Jackson Safety BH3 Welding Helmet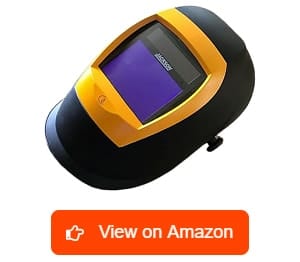 If you take my personal opinion into account, I would say it would not be a bad deal for you. As a novice welder to go for the Jackson Safety BH3 welding helmet will prove the right decision.
Generally speaking, I have a lot of great things to say about this product. Since it comes in a very well-thought-of curved design, besides giving great visibility, the helmet deflects the welding fumes coming your way. This design also helps to reduce fogging and heat build-up while wearing the device.
Moreover, the adjustment settings of this headgear are simply easy to use. You can adjust the distance between the mask and their faces. This feature comes in handy if they want to use a respirator or the ones with glasses on. Overall, it offers a complete comfort factor, much-needed for any beginner.
As expected, this item even meets the standard safety requirements. I would like you to note that its auto-darkening welding tool is one of the most trusted in the market. Hence, the ADF lens will offer you more ease of use and great effectiveness.
The helmet is powered only through solar cells, which means you do not need to purchase batteries. I personally find this a bit troubling because I like using both options. But then it is ultimately your personal choice.
What We Like
Awesome visibility
Provides great effectiveness
Solar-powered
The curved design causes less fogging
Comfortable to use
What We Don't Like
Only works on solar battery
If a few complaints about the grinding mode's unavailability and the high price of the product are kept aside, there can be nothing better than this helmet from Jackson Safety. It is light in weight and offers excellent clarity, what else a novice welder needs.
9. Instapark GX-500S Welding Helmet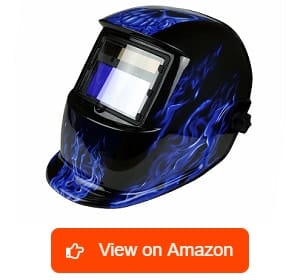 The next welding tool in my list worth-mentioning is this Instapark ADF – a perfectly suitable option for novice welders. This is a very well-designed and executed auto-darkening helmet that makes use of solar power to function effectively.
There are a plethora of reasons why it is called the most adjustable headgear presently available in the market. You can easily customize it and change it the way you want. Further, its generous viewing area of 3.94 by 3.86 inches won't let you miss welding even the tiniest spot. That's why I highly recommend it for the beginners.
The helmet comes with all vital adjustment settings in its exteriors, making it highly useful and convenient. The shades and the lens of this fantastic helmet can actually offer exceptional work experience. They are fully automatic, allowing you to work in details without stopping in between.
I also appreciate the safety it offers in potentially dangerous work environments. It is due to the sensors that detect flashes and arc and even darken the filter for ensuring complete protection for your eyes.
The battery life of the product is approximately 3500 hours to 5000 hours, making way for long welding sessions. The auto-darkening attribute is specifically advantageous for the ones who are into going outdoors and indoors in the middle of their welding work.
I also love the amazing carry bag available with the package that helps to store the helmet properly. There's even a lens protector. Since it makes use of solar power, a charger comes with the helmet.
Nevertheless, I find the controls of this helmet a bit oversensitive. The auto-darkening feature can be suddenly turned off while working under direct sunlight.
What We Like
Fully automatic shades and lense
Offers wide view with full adjustability
Sensors detect arc and flashes
Up to 5000 hrs of battery power
Comes with a carry bag
Overall, I find this welding helmet a good value for money product. It has all the standard features required in a welding helmet known to offer complete safety and high-performance levels.
10. Koolwoom Auto Darkening Welding Helmet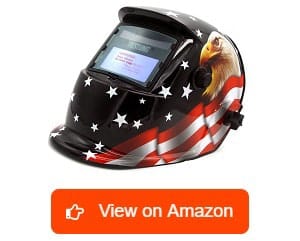 I really appreciate how this solar power and auto-darkening welding tool has been designed to offer me enhanced performance experience. Boasting of superior performance, flexibility, and durability, Koolwoom helmets are one name that you can trust when it comes to availing exceptional value and complete welding protection.
The biggest highlight of this product is that it's a full eye protection gear for welders. Also, this product offers complete operational comfort because of its lightweight structure. Thus, you won't feel any stress on your head or eyes while working for a longer time.
This solar-powered welding tool offers a highly responsive lens switching speed of around 1/25, 000 second making the switch from darkness to brightness a breeze. The highly adjustable delay settings are also equally useful when it comes to availing improved switching speed.
The product's top-quality optical filter comes with a total of 16 layers completely filters the infrared and UV rays, offering your eyes a safer environment. The improvised optics in 1/1/1/2 denomination deliver maximum clarity and minimized eye exhaustion. Additionally, it comes with a replacement cover lens and a digital welding filter for improved protection.
This stick welding helmet comes with a large ratchet that offers a size adjustment option. Besides, it comes with five pins for adjusting the viewing angles. The sole purpose of this helmet seems to provide total comfort while working.
However, the adjustment delay settings is a drawback as it slows down the welding process. So, in my view, it may irritate certain beginners who prefer to work at speed.
What We Like
Offers maximum comfort
Adjustable structure and design
Quick switching ease
Offers enhanced protection
I6 layers optical filter
What We Don't Like
Adjustment setting is slow
Since it is highly customizable and the feature-rich welding helmet keeps your eyes safe and maximum performance level, I would recommend it for novice welders.
11. Tacklife PAH04D Welding Helmet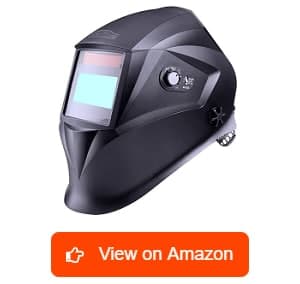 This helmet from Tacklife comes with all the features needed for providing maximum protection while handling welding chores. To begin with, I fell in love with the sturdy and modern design that gives it a stylish look.
Its passive filter features a non-temporary shade along with an auto-darkening LCD shutter. Besides, the optical clarity offered by this gear merely is unmatchable. Therefore, the helmet not just protects the eyes but even offers a complete range. You can rely on this helmet to achieve the most eye-pleasing results.
Apart from that, the helmet covers the head up to the neck, offering protection from harmful UV rays and infrared light and splatters during the welding procedure. Conclusively, I will say that this headgear meets all the required standards of safety.
The headgear is every beginner's partner when it comes to handling multitasking plasma cutting, grinding, abrasive wheels, and other bulk welding activities. This easy to use welding tool features a touch switch for controlling different welding and grinding functions. So, there's no need for welders to remove the helmet repeatedly to make proper adjustments.
For novice welders on a tight welding helmet buying budget, this might not be the most suitable choice because of its high price. Also, the head part of this helmet is quite heavy, making it inconvenient to wear for a longer time.
What We Like
Complete safety for the neck and the eyes.
Versatile helmet perfect for grinding and cutting.
Reduced strain on the eyes
Stylish design and sturdy
What We Don't Like
Heavy head part
Expensive
I highly recommend this welding helmet for beginners because its features will always offer an easy operation system. This headgear is every beginner's partner when it comes to handling multitasking activities. Thus, value for money!
12. Tanox ADF-206S Welding Helmet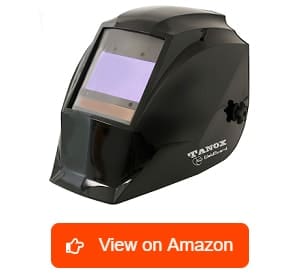 It's not just an affordable helmet but also a basic welding helmet for the beginners. The top-tier thing that I like about this product is that it comes with a fantastic pair of 16 inch Kevlar gloves. This adds more value to the product.
This is a very comfortable item with perfect clarity while at a great price. Thus, it works as an excellent choice for beginner welders who are on a tight budget. Another great feature of this item is its sturdy hat adapter.
This helmet's viewing area is quite generous, and the auto-darkening feature is sufficiently sensitive for TIG welding. It goes down to approximately 5 amps. In fact, its auto-darkening feature works for both outdoor and indoor welding jobs. Hence, you get a clear view while performing the task in any condition.
Tanox has equipped this welder's helmet with four various arc sensors, so it offers broad-scale protection from the infrared lights and UV rays generated during the welding sessions. The headband that comes with this product is quite comfortable.
When I worked in the welding and construction industries, I realized the significance of the grinding mode in a welding helmet. Here, the Tanox lags behind that can pose problems for some people.
What We Like
Generous viewing area
Comes with free welding gloves
Auto-darkening feature reacts fast
Great functionality
What We Don't Like
Grinding mode not available
Tighterners need improvement
While the Tanox ADF Series welding helmet is a superb buy for me, I find its issues a little overwhelming for the beginners.
What is a Welding Helmet for Beginners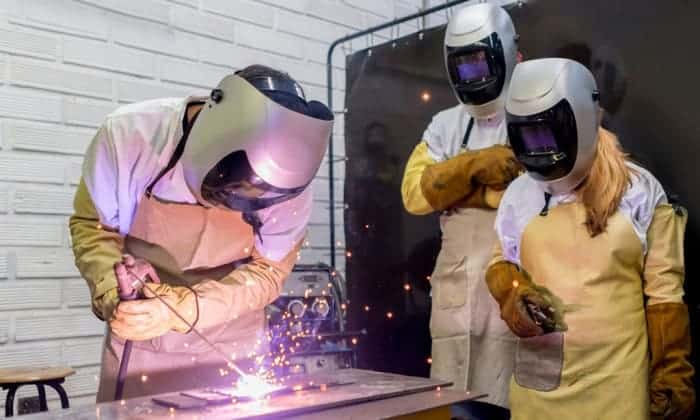 A welding helmet for a beginner comes with all the features and specifications that the novice welders find comfortable to work with. The perfect helmet for a beginner welder will offer the required safety level for performing different types of welding tasks in the most accurate manner. The helmet should not just protect the welder's eyes but even his or her neck and face.
How Does a Welding Helmet for Beginners Work
A welding helmet for a beginner is a type of tool or headgear used to perform different welding varieties. It is genuinely used for protecting the neck, eyes, and face from ultraviolet light, infrared light, heat, sparks, and flash burns.
The majority of these helmets come with windows covered with filters called lens shades. It is through these windows that the welders can view their work. Even helmets that come with auto-darkening features make it easier for the welders to switch from light to dark without straining the eyes.
Types of Beginner Welding Helmets
There are different varieties of beginner welding helmets available for novice welders. However, the ones that come with auto-darkening lenses and sensors that can sense arc start are probably the best. Even passive welding helmets are a great tool for beginners in welding.
The industrial-grade helmets might not be an excellent choice for beginners because they come with advanced features and settings. Novice welders might not be able to adjust the settings correctly, resulting in loss of time and effort. It also works to go for helmets that stay in position during and even after the welding sessions, considering the beginners generally have less experience in this field.
Besides, lightweight helmets are also a top priority because they help in minimizing strain on the neck and the eyes. This further helps in reducing exhaustion and increasing comfort. Also, check out these stickers to make your welding helmet more decorative.
Why Do You Need a Welding Helmet for Beginners
A welding helmet for beginners is necessarily required because it is one of the most important safety tools. The ones who have just started with welding should definitely consider going for the supreme quality helmets that meet the international safety standards.
This can help the novice welders in staying healthy even if they are taking up difficult-to-execute welding jobs. Considering the dangers of welding, beginners should always take the best precautions, and investing in a top-quality helmet is the first step of the process.
Buying Guide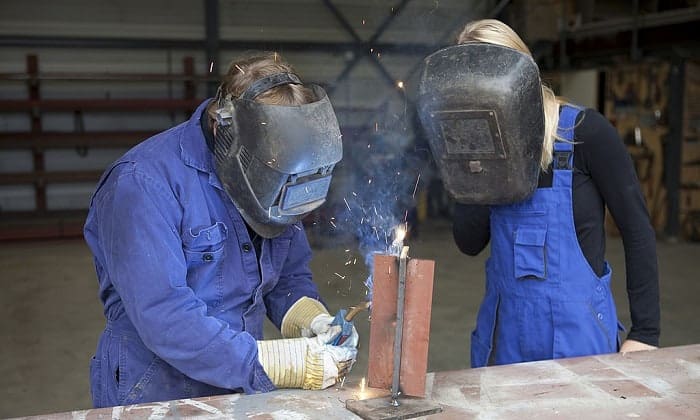 There are different varieties of welding helmets available across the market. This makes it very difficult to get hold of the top-quality helmets for beginners into welding. After going through several reviews, I have narrowed down some of the most significant features that should be factored in when choosing the right beginner welding helmet.
In this brief buyer's guide, I will be discussing those attributes in short so that you get a clear understanding of the features you need to prioritize when searching for your very first welding headgear.
Comfort: So, you know that you will be wearing the headgear on your head for several years, right? What if the helmet is not comfortable? It will result in fatigue, and chances are you would not like to wear it the next day. So, it always works to go for a comfortable helmet that offers the right fit. If you want your helmet to be comfortable, make sure it is light weighted and sets in perfectly on your head.
Ease of use: There are many things that you need to learn when you are setting your hands at welding for the very first time. You will have to understand the tools, the materials, and the electrodes you will be working with. This is already a lot of stuff to get in. Hence, you should avoid complicating things by going for a complicated headgear. Always work on getting a helmet that can be used quickly and conveniently.
Protection: Protection or safety is probably one of the most important things to consider when going for a beginner welding helmet. Make sure the helmet you are choosing offers top quality eye, neck, and head protection.
Care and Maintenance
Beginner welding helmets, both auto-darkening and passive ones, should be cleaned regularly. Cleaning these helmets is a pretty easy task. The only thing that you need to do is wipe the surface of these helmets clean using a piece of cloth. A brush can also be used for removing dirt from areas that are difficult to reach. When cleaning the helmet, special care should be taken to clean the lens.
Frequently Asked Questions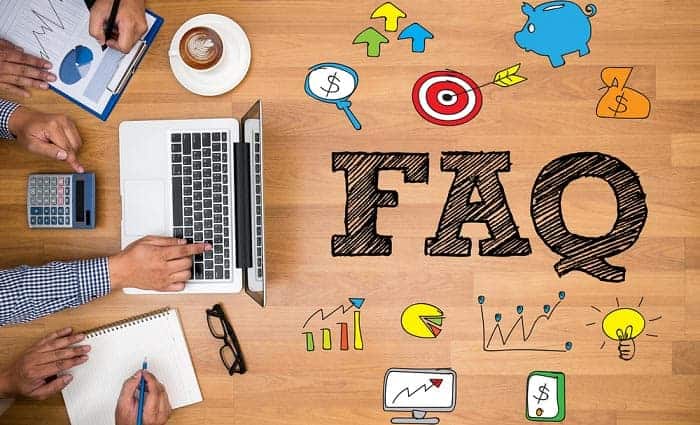 How much should I spend on a welding helmet?
Deciding how much money you should spend depends on whether you weld as a hobby or as a professional. Another thing you should consider is how often you usually weld. So even as a hobbyist, you may want to invest in an expensive welding helmet if you spend lots of time on these tasks.
Generally, a welding hood can cost as low as $20 while top-rated welding helmets have price tags over $300. That's not even the end of it; high-end products can set you back $3000. Even so, you'll get a decent true color welding helmet at roughly $80 that features an HD lens that allows you to see colors akin to what the naked eyes see.
When buying your first welding helmet for work, look for the appropriate features that suit your usual tasks. For instance, you should consider buying a welding helmet for MIG if most of your tasks use more amps. This means that the headgear should have a wider shade range
Are cheap auto-darkening welding helmets safe?
Yes, wearing any auto-darkening welding helmet, regardless of the price, is better than none. Therefore, one should look for this feature when looking for the top-tier welding helmet for the money they're willing to spend. Besides, the technology has been honed and improved significantly, so even cheap products are perfectly safe.
That said, whether you're buying top welding helmets or cheaper ones, you need to remember that higher amperage requires a darker shade. However, if your task demands precise heat management, you'll be better off with a welding helmet with a lower shade range that can detect the low amperage.
As such, if you choose a low-profile welding helmet, it's not just the price or style that you should be looking at. Checking the amp and shade range is equally necessary to ensure that the device is useful for the task.
What is the difference between auto-darkening and welding helmets?
There are two types on the market, namely auto-darkening and passive welding helmets.
Essentially, the passive helmet features a lens with a fixed dark tint (usually #10) and additional UV/IF protection. In other words, it doesn't change color, regardless of how bright the lit torch is. Therefore, you'll have to manually remove the protective helmet in order to inspect your welds.
An auto-darkening helmet, as the name suggests, is more advanced. It 'senses' the welding arc light to activate the liquid crystal filter and darken the lens. While a brand of welding helmets may offer models with varying shades, the most common range is from #8 to #13.
What are the most popular beginner welding helmet brands?
If you go by my opinion, then there are three good helmet brands that you can completely trust when buying a beginner welding helmet. These three brands are Hobart, Lincoln, and Miller. I would also suggest going for the helmets that come from Jackson Safety.
I have always been a fan of the welding helmets that come from Miller mainly because they are light weighted, functional, neat, and durable. But if you want complete eye protection, I would recommend the ones that come from Hobart. They are really cheap, and their auto-darkening feature also works fine.
How to use it?
Using a welding helmet for a beginner is not a difficult task. The control settings on the auto-darkening helmets should be used properly so that adjustments are made regarding delays and light sensitivity.
Conclusion
On the whole, for the ones who are in the lookout of the best beginner welding helmet, going for a product that is excellent value for money is always a wise decision. But then, you must also consider that only because you want something within an affordable range does not mean that you will compromise on the quality of the helmets. No, you can't afford to do so as a beginner. Always go through customer reviews and even use your very own diligence for making the right purchase.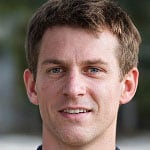 Having worked in the field of personal protective equipment for over two decades, Andrew Carnegie is a specialist in the field.
At EDC, he strives to improve performance efficiency and promote workplace safety for EDC's readers and customers. He also researches the most up-to-date equipment that has earned relevant accreditation for use in a wide range of industries and specialties.