Whether you care to admit it or not, we're waging a constant battle against mud every time we step outside, especially if you regularly do hiking or farming. And what more once the interseason rolls in?
From mud, muck, and slime to slop, glop, and grime, have you ever wondered why there are so many terms for these undesirables? Well, to me, it's just so we really know what we're dealing with. Didn't Sun Tzu say we should know our enemy?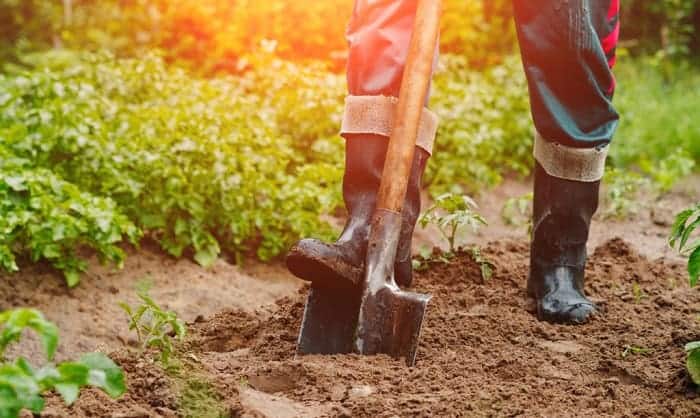 The good news? You don't have to go through all that trouble with the best boots for working in mud. Any icky invader that latches on to you won't stand a chance — and this without compromising comfort and traction.
Can I say the same for the selections featured in this review? I'll just say that you're more likely to end up on the winning side with them on.
Best Boot for Working in Mud Reviews of 2023
1. LaCrosse Men's 18″ Grange Hunting Boot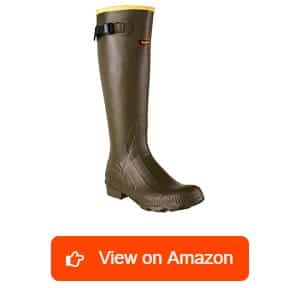 The design radiates "heavy-duty", which shouldn't really be a surprise considering the decades of continued use and production already under the Grange's belt. It's practically a classic.
These boots readily give an "I mean business" sort of vibe, which is what I immediately loved about them when I got hold of them. That said, this is obviously footwear designed by creators who know what to expect in the outdoors. The cleated outsole provides the kind of traction I look for every time I step on mud — it erases any fear of slipping, and I've tried these boots out on the chunkiest mud clumps out there.
Thanks to the soft rubber sole, they also deliver the trademark LaCrosse comfort and breathability you look for once you've worn their kickers. And do I really need to expound on the utter durability of the materials? Have had mine for 3 years and they still look fresh.
The lack of insulation can be a pro or a con. But I've found that going non-insulated is usually a smarter choice since pure rubber gets pretty hot enough already. Besides, you can always put something on to warm your feet.
I also got a kick out of the camouflage mossy oak design that I got. I'm glad LaCrosse took the time to exercise some artistic flair, even if it's obviously for camouflage purposes. I wore these boots when I went forest bathing in the Olympic National Park, and they just felt right at home. Haven't tried doing light jogging in the mud with them, but I'm sure they won't let me down. 
As for its disadvantages, I'd have to say that it's quite a struggle to take these sizable boots off once you put them on. This is from someone who has tried a lot of rubber mud boots before and owns boots that come off ridiculously easy and hassle-free.
What We Like
Unmatched traction
Very durable design
LaCrosse trademark comfort and breathability
Non-insulated
Eye-catching, original aesthetics
What We Don't Like
A bit more difficult to take off than most boots
These time-tested boots can effortlessly keep mud off you and the quality of the materials more than make up for the lofty price tag. 
2. Tingley 31151 Economy Kneed Boot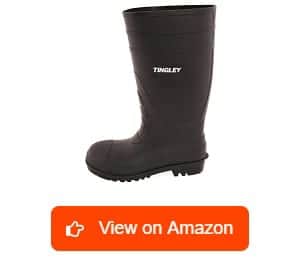 Low-end mud work boots don't necessarily have to place last every time, and this Tingley pair certainly earns its spot here. It's budget-friendliness and value-for-money done right for this kind of footgear.
If there's a pair that satisfies the criteria of rubber boots for farm work, these boots meet them all. Hardcore farming is all about getting down and dirty, minus, as much as possible, the fanciness. As one who has done agricultural work, I can attest that I don't want to have to spend more than $20 for boots that will be splattered and even buried in muck most times of the day.
I love the thicker build of these kickers as much as the terrifically designed cleated outsoles. It satisfies both my durability and traction requirements, and I'm more than willing to back the product's claims as far as the two are concerned. I don't do farm work often, but I've used these boots most of the time. I've built raised beds, done occasional tractor work, and mucked out barns.
The injection-molded construction boosts the waterproof features impressively. They look securely fastened to me and don't appear to be showing signs of detaching even with regular use. That said, I've only had mine for 6 months.
These boots aren't all rainbows and butterflies. For one, it gives off a less-than-desirable, gasoline-like odor that it definitely could do without. I highly suspect it's one of the chemicals used to treat the rubber. It takes some getting used to but not exactly a major hitch.
What We Like
Terrific traction
Thicker than most rubber boots for added durability
Adequately waterproof
Budget-friendly
What We Don't Like
Has a lingering "off" smell
If you're
looking for good work boots
for mud designed to take a beating and for actual working, then these should be at the top of your list.
3. TideWe Rubber Neoprene Boots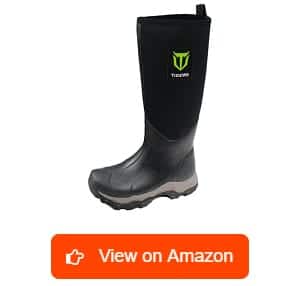 These boots provide the answer to the winter problem plus the muck and wetness associated with it. I'll take comfort and solid grip any day when trudging through snow, mud, and slippery surfaces, and these boots have plenty of both.
I'm not really a fan of hunting (an activity the TideWe brand is perennially connected to) but decided that the head-turning positive feedback of these boots just couldn't be denied. It's also a winter boot, after all, and I decided that it wouldn't hurt to get boots for mud and water associated with the said season. I'm glad I did because I soon discovered that they make great boots for fishing as well.
First off, they can ward off water and handle muck exceptionally well. I've waded through fairly shallow and deep waters with these on, especially when I'm out fishing. Just ace waterproofing in my book.
The same goes for mud traction even in places where there are mud plus puddles involved. I never once felt like these boots would give out and make me slip even if I'm walking in the wettest of tracks. So kudos to the anti-slip outsole, since I reckon that's where plenty of traction comes from.
I'm also a fan of the noticeable lack of the usual weight I expect from these boots. That's always welcome if you're up against thicker mud. I was doubly amazed that the same pleasant attributes extend to the cozy, insulated interior.
I know I've said before that I prefer non-insulated boots because you never know how hot it can get nowadays. But I'm willing to make an exception on these, as in the other products featured here, because they don't bring about that stuffy feeling you get from most insulated footwear. The icing on the cake is the kick plate, which makes it convenient to take off.
I'm not too sure about the durability because mine already has visible cuts and scrapes, unfortunately.
What We Like
Excellent traction on any surface
Above-average waterproofing
Lightweight
Kick plate for easy removal
Comfortable and with proper insulation
These boots can baby your feet in the harshest surface you can face outdoors, making their sheer versatility a sure sign of their cost-effectiveness.
4. Dunlop 8677611 Chesapeake Boots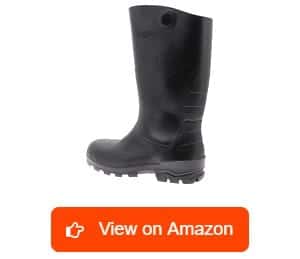 These boots offer enough versatility to make impressive footwear for outdoor work and more technical ones like construction and roofing.
For their added protection, it's hard to top boots with safety steel toes, and that feature is definitely a ready plus for me. That said, this is definitely one of the boots I tested the most. I started in my yard, where there's an unused raised bed with leftover soil from last season — perfect for mud creation.
I immediately felt the boots' strong grip. I ran the entire length of the bed (which is rather large) and even hopped a few times. No slippage whatsoever happened.
Naturally, I tested the steel toe as well. I used a thick wooden beam that has been in my stock room for a year now. I let her drop on the steel toe exactly. Good thing I pulled it off the first time, and the boot shrugged it off because I never felt a thing.
Going back to the outsole, the product really delivered in the waterproofing feature with the design they incorporated. The deep treads provide the same kind of feeling I get when I have my TideWe pair on. I wear these boots when farming, hiking, and the few wet and flooded excursions and they are characterized by 100% dry feet every time. Furthermore, the overall design and material of the shaft and outsole make the boots easy to clean with just a jet of water from a hose.
I had a bit of an issue with the sizing of this boot the first time I ordered. I had to return it because it felt too small for the size I normally order. Also, even though it's a steel toe boot, it's just average in durability as I'm noticing damage on the soles already.
What We Like
Very strong outsole grip
Equally solid steel toe design
Outstanding waterproofing
Easy to clean
What We Don't Like
Sizing can be an issue
Average durability
This Dunlop footwear delivers more than what you'd expect from waterproof mud boots and, for that, I salute it.
5. Hisea ONEXSX02BL39S Men's Work Boots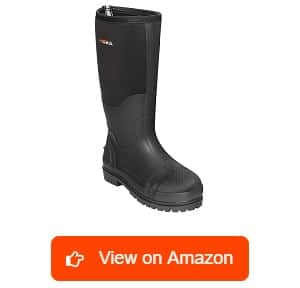 Hisea's work boots are the footwear to beat in terms of traction and toughness. Indeed, these are boots that are at the pinnacle of quality and cost-effectiveness once you become acquainted with their features.
These boots' spectacular tread design merits a closer look. You'll see that they're made of more "open" chambers. Overall, it's a more aggressive tread design that imparts the kind of grip we all look for in boots when traversing mud and skiddy roads.
This has technically become my go-to footwear for any outdoor activity I do for the said reason. I've negotiated extra slippery surfaces and muddy patches with these boots one and even took them out one time when temperatures dipped to -27 °C and the streets have frozen over. The reinforced anti-sole slip works like a miracle, that much I'm sure of.
I also like that the neoprene material lends itself to keeping the boots' overall weight down. It may be heavy for some, but since I have the opportunity to compare, I can safely say it's lighter than most of the boots I own. Comfort and waterproofing are decent, but not worth highlighting, unlike its other qualities. The rubber feels softer, though, which is something my legs and feet crave for.
These kickers have been part of my arsenal for close to 2 years now and they're still going strong. Looks like the lifetime warranty does prove its worth. You can say whatever you want about lifetime warranties, but to me, they always provide solid proof of an item's quality.
The comfort is one reason I was not too fond of these boots; I soon discovered that I got blisters when I started wearing them regularly. I ended up buying insoles to address them. I do have to make it clear that this is a largely personal, isolated experience.
What We Like
Outstanding traction
Tread design keeps mud from building up
Proven durability
Lightweight
Lifetime warranty
No matter how banal this may sound, this Hisea pair delivers what everyone wants in the best boots for muddy conditions and then some! It's the safest option if you're still unsure of what to buy due to the pros mentioned above.
6. Muck WET-998K-TN-050 Wetland Boots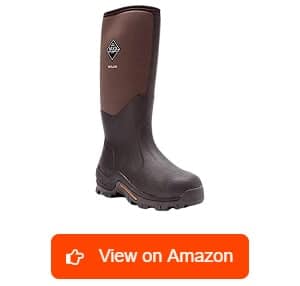 For a long-standing boot brand that could not be more candid about its specialty, Muck's premium field boots live up to its creator's reputation. These field footwears can keep the mud in check, in more ways than one, and do so for a long time.
I'm going to say outright that I've been using these boots for 5 years now, making them the oldest shoes, in terms of ownership duration, in this list. That should give you a crystal-clear idea about what kind of durability you can expect from these boots. Do keep in mind that I maintain it regularly.
During the first few days of use, I immediately felt that this was one of the more all-around boots in my collection. It's not insulated, sure, but it gives off a certain warmth that doesn't go overboard. I'd think twice about wearing it during the hotter summer months, but I wouldn't mind making it my default outdoor footgear for any weather condition — it's just that reliable.
The sturdy yet relatively soft footbed complements the air mesh lining of the boots' interior, making me consider it as one of the most comfortable mud boots I've worn. Haven't tested the waterproof capabilities extensively since I mostly use this for daily chores on the farm and walking on slippery trails. But they feel adequate to me since they keep my feet dry and even sweat-free most of the time.
While I did say that these boots are more breathable than most, they don't do that well for lengthy walks and hikes. I once wore these kickers on a two-hour hike in Green Mountain National Forest, and the result was sore feet for a few days. I don't recommend this for any kind of trail that involves ascending or climbing.
What We Like
Proven durability and longevity
Versatile, can be worn for most types of weather conditions
Satisfactory comfort and breathability
Decent traction
Sufficiently waterproof
The best rubber boots for mud should be judged not only based on their traction and comfort but durability as well. I believe the Muck Wetland deserves the spotlight for its ability to last long despite consistent usage and exposure to dirt and mud.
7. TideWe Rubber Boots for Multi-Season
Versatility is an often overlooked quality in rubber boots for mud. This TideWe multiseason model shows you what that is all about while making your feet feel pampered all throughout.
This is another footgear I rely on when I'm fishing. While I did say they are versatile, I've found that they work very well in flooded areas and shallow ponds, beaches, and even coastal regions where the tide tends to rise almost to knee-deep levels. I don't advise you to be adventurous if you want to keep your feet dry.
They're not insulated, too, but impart a palpable warmth that lets me wear them until late September and even well past the first few weeks of October, as far as Vermont weather is concerned. I once stood for 30 minutes straight on a muddy shoreline in Kent Lake with ankle-deep water with these kickers on, and they managed to keep my feet bone-dry the whole time. I found I only need to pair it with the right foot warmers to truly enjoy its "multi-season" benefits.
The traction is great — I've seen better but I'll still place it at the above-average position since I can still feel the stability I look for every time I negotiate muck-infested waters with them. I seldom use them as winter boots, but I can vouch for their performance in this regard in the few times I wore them for the said season. Obviously, they're not insulated, and I have boots that are so there's that as well.
Another aspect I adored is the comfort and the pronounced flexibility that I felt the first time I took a step with them on. Though I haven't tried hiking with it yet, I'm going to go ahead and say that I likely won't feel the same strain I usually get with mud work boots with these cradling my feet. Even so, like my Tingley pair, I wish this didn't have a stubborn bad-smelling rubber odor.
What We Like
Comfy and dry
Excellent waterproofing
Ideal for any kind of weather with the right socks
Sufficient grip for most conditions
Flexes well
What We Don't Like
Has a strong rubber smell
Is my TideWe favoritism starting to show? Well, can you blame me that the brand keeps creating stellar outdoor footwear? If you want versatile, all-weather footwear with out-of-the-box comfort, this particular model beats the rest.
8. Muck Boots Warm Weather Work Boot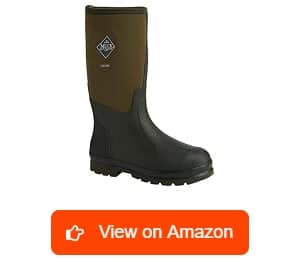 Muck's astounding neoprene and rubber combination could not shine brighter in this model. It's a boot that is ready to take on anything the outdoor throws at it.
Now we're getting to the real meat of this list. And if you're a little disappointed by the "soft toe" feature, don't be. It uses a triple toe reinforcement, whose sheer hardness I can attest to.
Make no mistake, I haven't let a car run over it yet to test its protective capability. But they've had their baptism of fire when a rather heavy barrel fell on my foot once while cleaning the barn. I still felt the impact but there was no pain, lingering or otherwise, after the incident — I wouldn't bet on them with a chainsaw, though.
Muck was also apparently more generous in the amount of rubber they incorporated in this pair's sole. I can say the same thing for the quality of the treads, which have a superb grip on most surfaces I've exposed them to, though I have to make it clear that I seldom use these boots compared to others I own. I promptly discerned that the sheer quality of the materials was what ballooned the price tag.
I'm not too sure about the fabric lining that claims to be antimicrobial. It keeps my feet dry, and the overall breathability of the material is worth highlighting if we're talking about overall comfort. However, it's hard to investigate the anti-germ feature unless, perhaps, I get my feet looked at by actual lab experts. I won't be holding my breath expecting the feature to work as written, to be sure.
What We Like
Superior durability and protection
Superb grip
High-quality materials
Relatively more comfortable thanks to better breathability
What We Don't Like
The antimicrobial lining is questionable
Very few boots for mud can stack up to the Muck Chore, and I would even go so far as to say that not a lot in this list can as well. For a few more bucks, you'll get assured quality with this pair.
9. ArcticShield AS-M100-B-8 Outdoor Boots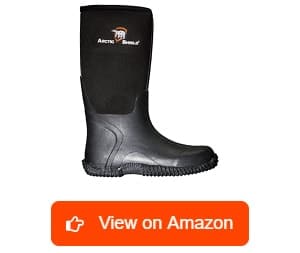 Hiking and hunting couldn't be more fun with these made-for-the-outdoors boots. They're made for wintry conditions and won't buckle when pitted against mud and water, too.
As I've said above, I don't usually go hunting, and these boots were my constant footgear every time I went since I only ever hunt during the winter. The camo makes it ideal for hunting during the season, and those excursions proved to me this pair's outstanding insulation.
I've worn these boots in places where temperatures dipped to -30 °C. The warmth was retained, to say the least. Adding an extra layer of socks should maintain sufficient heat if temperatures drop further.
I can confirm that these boots are relatively more lightweight. It's most probably because of the neoprene and rubber combination, which has also been the trend in outdoor boots for years. I also like that I often overlook the fact that I've had these boots for 2 years now, longevity not even some of the Muck models I've had can boast of achieving.
And, yes, they do well on mud, too. Admittedly, I haven't exposed these boots to dirt and mire as much as my other footgear, but they had good grip in all the times I wear them. My only concern with this pair is that, though it's durable, it's obviously thinner all the way around.
What We Like
Good traction, especially on wet roads
Better-than-average insulation
Comparatively lighter
Made to last
Arcticshield can rival long-established brands like Muck with this offering alone due to its ability to surpass the latter in essential outdoor footwear factors.
10. Bogs 60142obsolete-M Classic High Boot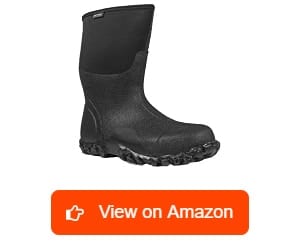 Wearing these Bogs winter boots is like having your feet wrapped in a nice, cozy blanket wherever you may be.
I've had the privilege to use these boots quite extensively now and can prove that they're not just for rain and snow. I waded through swamps, walked on fields, hiked woods, and traversed ankle-deep snow with these boots on, and they provided stellar insulation and traction every time. Thanks to its form-fitting upper and treaded outsole, we can have steady steps in all wet conditions.
Eventually, mine became worn out before long. I used them for 3 years, which is already more than a bargain for me. I've since bought a new pair and am loving the decision for obvious reasons. Every time I walked in the snow with these boots on, I never once felt cold feet and I also don't recall any instance of leaking.
I can also confirm that the self-cleaning outsole works like a charm. These repel mud better than most outdoor footwear I've worn. It's a splendid bonus as it helps me save on water for cleaning.
The major downside for me is the very tight contour fit. The instep at the tongue, in particular, feels too narrow for my comfort. Not only is this a bit uncomfortable, but it also makes it difficult to take the boots off.
What We Like
Stellar traction
Handles rough terrain well
Excellent insulation and waterproof features
Outsole actively prevents mud buildup
It's the boot to get if you want unequaled waterproofing and insulation without falling short on traction for various kinds of terrain.
11. Twisted X MWBS001 Steel Toe Mud Boots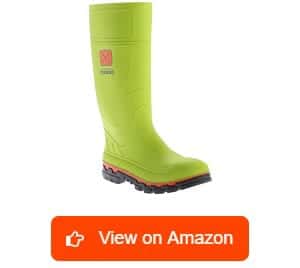 Characterized by vibrant yellow colors that would make Wolverine proud, Twisted's X's steel toe mud boots obviously wish to stand out. Does it succeed? I'll just say that I was pleasantly surprised by factors that go beyond its daring style.
The almost cartoonish, easy-going style of these boots almost teases you the comfort you can expect once you slip them on. I'm glad I gave them a try since this pair is probably one of the most comfortable slip on mud boots I've worn. The comfort mostly stems from a fine mix of topnotch fit, insulation, and a relatively softer footbed that doesn't sacrifice stability.
I've done a little bit of construction work with these boots and have immersed them in flooded areas a couple of times. The steel toe is always welcome for added protection and for kicking debris out of the way. I've done that with these boots and that part is still intact and spotless. They also kept my feet dry all the time, and for me, that's sufficient proof of their waterproofing ability.
On the topic of traction, I feel the grip of the outsoles is adequate. I can candidly say that there are others with better traction on wet surfaces, but when it comes to mud, these still deserve the praise it gets. Even so, it feels quite flimsy, which makes me doubt its durability.
What We Like
Top-tier comfort and stability
Better mud traction
Eye-catching design
Sufficiently waterproof
Steel toe
What We Don't Like
Subpar traction on wet surfaces
Feels flimsy
Matter-of-factly features marry standout style with this Twisted X offering. If that's what floats your boat, then these boots might be a perfect fit.
12. Western Chief 2100727P Rain Boot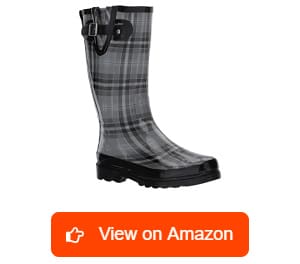 Who says boots designed for women should be all girly and steer clear of dirt and mud? These Western Chief rain boots may be brimming with that classic equestrian appeal but don't underestimate their ability to get down and dirty.
Indeed, what sets these boots apart is that they can make do without appearing overly manly just to deliver the usual benefits of good mud boots. Mind you, I don't own one myself, and a female colleague of mine just happened to fall head over heels in love with it to the point that she convinced me to include it here. I'll be detailing why exactly in the points she made below.
First and foremost, she absolutely liked their designs that cater mainly to feminine tastes; she got the one with polka dots. For a utility boot that lasts long and provides all-day comfort, that definitely hits the bull's eye, at least, as far as its largely female clientele is concerned. Women don't want to lug around heavy boots for hours, and this pair is practically the answer to their prayers.
Going back to comfort, it might not contain a memory foam footbed, but she likes that it's enough to keep her feet from getting sore after hours of gardening. The rubber's evidently thicker, too, and the soles are firmly attached — both of which are tell-tale signs of the shoes' water-repelling feature. Nonetheless, she did say that the boots feel too wide around her calves, which drags its score down a bit.
What We Like
Cute, stylish designs
Adequately comfortable
Made to last
Lightweight
Proven waterproof
What We Don't Like
Might be too large for some people
These are lightweight waterproof work boots made to satisfy women's preferences and requirements. They're cute and are ideal for walks in the rain or getting dirty in the garden.
Types of Boots for Working in Mud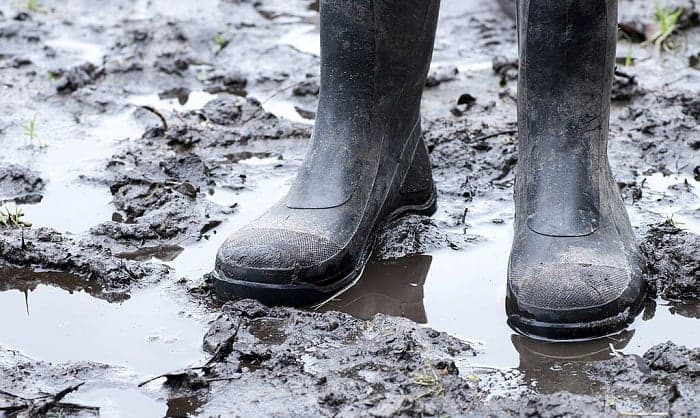 While boots for mud may seem like they belong in a separate category already, they can still be further subdivided into footwear that can handle mud well. By this, I mean that they are shoes with outsoles that can ensure a solid grip on mucky surfaces or have long shafts that protect the lower part of the legs from possible splattering. Here's a rundown of the kinds of boots that fall under the mud boot umbrella.
Mud Boots – Also known as outdoor boots, work boots, or rain boots, these are boots that are made specifically for muddy and wet conditions. In the past, these boots were normally made of rubber, but now you can see many varieties that use a combination of neoprene and rubber to keep the weight down and even boost comfort. It would be a surprise if kickers claim to be mud boots but lack a long and wide shaft that provides complete protection from the mud.
Hiking Boots – While these boots usually lack the lengthy shaft associated with boots for mud, a lot of them are still equipped with the necessary outsoles that boost traction against mud and puddles normally encountered while hiking.
Gardening Boots – This footwear is closely related to mud boots in that they share plenty of essential features. It's just that these boots are usually more casual than your average mud boots and are obviously intended for a single purpose. They are also usually not too serious when delivering the kind of protection and durability expected from outdoor footwear.
Snow and Winter Boots – While there are subtle differences between the two, they share a lot of similarities not limited to their ability to provide mud and snow traction. The most obvious is the insulation they naturally contain to keep your feet from getting cold. To talk about them would require a separate post in itself, especially if we're going to dive into the types widely used at present like Thinsulate, Primaloft, and Omni-Heat, to cite a few.
Hunting Boots – These kickers are usually defined by the camouflages they sport. As in other boots for working in mud mentioned here, a lot of their features overlap — they're simply designed and sold by brands that choose to concentrate on this type of activity.
Buying Guide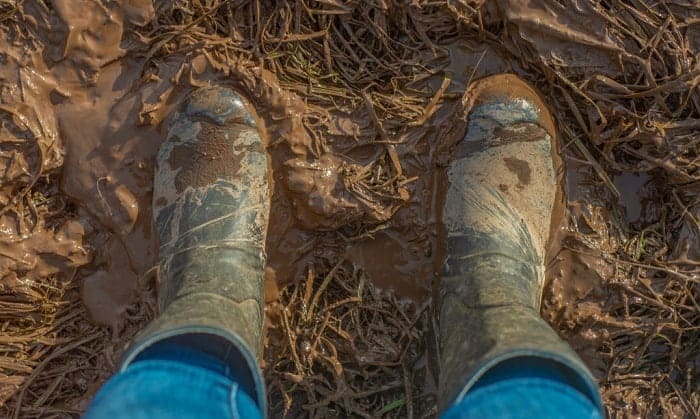 When buying mudding boots, you have to be mindful of a number of factors. They're not many, and you definitely don't need to overcomplicate things as long as you keep them in mind.
Traction
This feature should be your number-one priority if you want boots that can handle slippery surfaces. Look at how the outsoles are designed. Are they appropriately cleated so as to provide maximum grip? Be on the lookout for those that use reinforced anti-slip technology. They often give you the best traction not only limited to mud but also other environmental factors that could cause slippage.
Comfort
Does the insole feel hard or doesn't stay in place? You might want to think twice about buying boots like these since they'll only ever mean sore feet. That, or consider replacing it with something you're more comfortable with, like a memory foam one. If you plan to use your footwear for long walks and hikes, refrain from overlooking this.
Fit and flexibility also come into play here. As much as possible, you should aim for boots that don't fit too tight to avoid blisters and, again, painful feet. Too much space or too wide shafts, on the other hand, is not exactly comfy, too. This is why I appreciate boots that come with adjustable ankle fit locks.
Durability
What kind of rubber is used on the boot? Does it contain neoprene to make the boot more resistant to water damage and temperature changes? How thick is the boot? The material used and how it is utilized are what determines how long your footwear will last.
Waterproofing
Is the outsole securely attached to the footbed to prevent any kind of leakage? How thick is the rubber used on the sole and what is its overall quality? These are but some of the questions you need to have answered by the brand if you want to keep your feet dry.
Insulation
You'd have to decide whether you can bear the heat produced by boots with integrated insulation. In my experience, non-insulated boots make better everyday mud boots you can use regardless of the season since I can always add foot warmers.
However, if temperatures drop drastically in your area, then you might want to prioritize insulation. Look for boots that have "heat-resistant" insulation since they often actively keep your body's warmth at optimal levels, without keeping it warm.
Cleaning
Are the cleats and chambers of the outsoles designed to wick away mud and water to prevent their buildup? Open-chambered soles tend to perform better in this regard because they make cleaning less of a hassle.
Care and Maintenance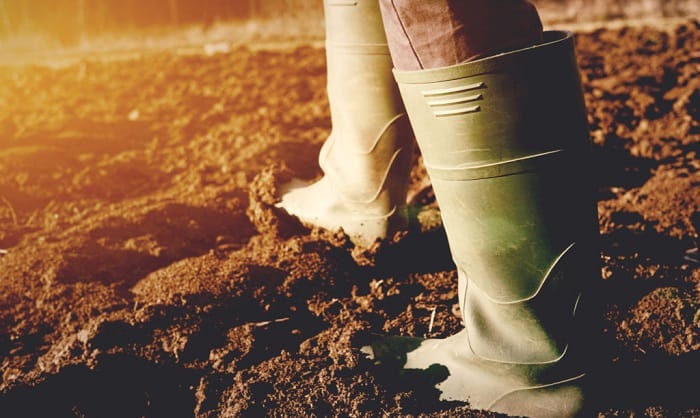 Obviously, if you want your outdoor boots to last long, you'll need to take the time to regularly clean and keep them in shape. You don't want fixed dirt on these boots as much as possible because even high-end models with dual layers of reinforcements will inevitably degrade faster if you don't polish them.
Always make time to clean the boots after use
Especially if you already see a significant buildup of mud and dirt on any part of the boot. Even seemingly minor stains should be promptly removed with a clean brush or sponge with a few drops of soap (dishwashing should do in most cases).
Store them properly and avoid exposing them to heat sources for long hours
Since you'll be handling mostly rubber in this case, know that this type of material tends to get damaged and crack if it is exposed to high temperatures (e.g. on the surface of radiators, direct sunlight, or in heated closets) for extended durations. Keep them in a cool, dry location that has minimal to zero sources of light. Even the most expensive and highest-quality rubber in the world is not immune to this weakness so be sure to remember this.
How to Effectively Clean Your Boots' Exterior and Interior
Regardless of how the boots' outsoles are designed or how much stubborn mud is wedged between each groove, you can rely on the following steps to get them off the soles in no time.
If the mud has already dried, make sure to re-soak it with a hose. Afterward, use a stick to scrape the larger clumps of mud off the soles. Once you've gotten rid of the chunks, use a coarse brush to remove any remaining clusters.
In most cases, the first step won't remove all the mud. If this happens, let the mud that can't be removed easily to dry. When it does, you can use a scraper to remove the dried mud.
Any lingering mud can be taken care of by clapping the boots' soles together. Do this procedure until any significant clumps are no longer visible.
Mud that remains stuck can now be wiped off using a clean wet cloth. It should be able to easily remove the muck still stuck on the grooves or edges.
Use a second dry cloth to wipe the soles. Once done, you can now dry the boots, making sure their soles are exposed to warm air. Don't let them sit in direct sunlight for too long.
As for the boots' interior, you need to be concerned about the interior lining since it's the part that tends to smell bad and can even harbor the dreaded fungus responsible for Athlete's foot. You should also consider the possibility of soil making its way there.
Most boots' linings can handle strong laundry detergents. You can use around a teaspoon of Tide detergent mixed with 2 cups of warm water to take care of this. Dip a clean cloth into this mixture, then use it to clean the whole boots' interior. Grab another clean cloth, soak in warm water, then wipe away the solution you applied with it.
Conclusion
The best boots for working in mud can put traction on the highest pedestal, comfort, flexibility, and insulation at a close second, and wrap everything up with a sturdy layer of durability. Style? It's all up to you. Utility always comes first with these boots, after all. In the end, as long as the boots meet these criteria, your mud worries will always take a back seat — and will, in all likelihood, remain stuck there for good.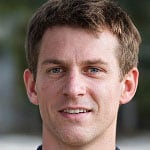 Having worked in the field of personal protective equipment for over two decades, Andrew Carnegie is a specialist in the field.
At EDC, he strives to improve performance efficiency and promote workplace safety for EDC's readers and customers. He also researches the most up-to-date equipment that has earned relevant accreditation for use in a wide range of industries and specialties.