A cantilever tool box is used for keeping all kinds of tools secure and even well-organized. The most specific use of a cantilever tool box is to carry tools around from one location to another.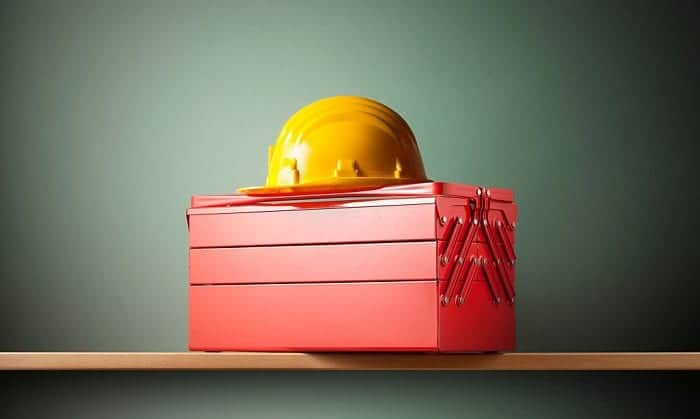 The cantilever tool box is one of the most useful products for professional contractors and handymen. Giving full access to required gear, these tool box can be used for storing drill bits, screws, and various other tools. The greatest advantage of buying these tool boxes is the potential of organizing the smaller parts and tools to find them easily.
So, what's the best cantilever tool box? There are different factors that play an important role in selecting the perfect cantilever tool box aptly suited for regular chores. From versatility to their specifications, it is necessary to accumulate proper information about these tool boxes before buying them. These cantilever tool boxes I've reviewed herein will help you find the relevant one for your work.
Top-rated Cantilever Tool Box Reviews
1. Goplus 20-Inch Metal Tool Box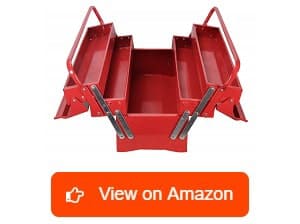 The first tool box in the reviewing list is the one from Goplus – which is considered as one of the top-tier cantilever tool boxes. This metal cantilever tool box not only offers sufficient storage space but also comes with 4 upper trays for storing small tools and a large and deep lower tray for the bigger tools.
You can even use the upper bin in the form of an organizer for keeping all small hand tools secure and well-organized. With the ability to store tools up to the weight of 66lbs, this hand carried cantilever tool chest is always worth the purchase for individuals with a large number of tools.
The easy to carry tool chest is made of heavy-duty cantilever steel and thus boasts of solid construction to last for a long time. The full-length handle of this hand carry cantilever box is made of steel, which further makes it easier for the users to handle the box and the contents within.
Finished with red powder-coated paint, this product does not show signs of wear off very soon. It even speaks of great versatility as it can be used at workshops, home, and office. The smooth exterior surface of the box makes it easy to be cleaned and maintained.
The only issue I found in this easy to carry tool box is its latches. The latches are quite weak in their design. Keeping this issue aside, there is no other problem, and the hand carried cantilever product can handle almost all tools and manage heavy weights quite easily.
What We Like
Easily accessible with 5 trays
Easy to maintain hand carry cantilever chest
Convenient and durable handle
Solid metal tool box construction
Perfect storage space
Overall, this cantilever tool box from Goplus is one of the best aids, especially maintenance professionals. It is a good hand carried cantilever tool box option for storing varied parts and tools like screwdrivers, wrenches, and drill bits with several organizers.
2. Trusco ST-350-B Tool Box
Next on my list is the heavy-duty Trusco ST350 tool box made of rugged gauge, welded, and stamped steel. This cantilever steel tool box features a hole right in the center for the padlock.
I love its eye-catching color and durable enamel! The construction design of this ST350 tool box has been engineered in a way to offer several years of undisturbed service. And yes, you get it at a much more affordable price compared to the other similar tool boxes available in the market.
Speaking of its features, the ST350 top-rated cantilever tool box itself is light in its weight at only 5lbs but offers a lot of storage space. The topmost tray of this 2 level tool box offers plenty of storage options for tools. Furthermore, there is even 2 level storage that aids in storing big tools like hammers.
I highly recommend this two level tool box for its smooth and easy to use open and close system without the presence of sharp edges. It also comes with an in-built lock and key system, making it one of the best tool boxes for professionals.
The two upper trays feature removable dividers made of metal. The little dividers of ST350 tool organizer give users the option of storing small parts such as batteries, nuts, nails, and screws.
The only problem with this product is you cannot leave it out in the rain. If you are looking to keep water out of this box, you will have to place rubber seals on its lid. The size of the product is also small.
What We Like
Lightweight 2 level tool box
Gorgeous cantilever steel construction
Reasonable price
Offer great storage space
What We Don't Like
Water resistance can be a problem
Small size
Even though these cantilever steel tool boxes are small in size, they are still the ideal product for individuals who are in the lookout of an easy to open and close unit.
3. Homak Industrial BW00210180 Tool box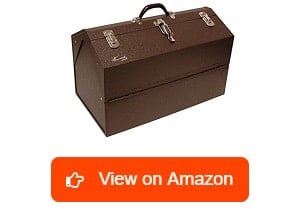 Yet another great cantilever steel tool box is the one from the house of Homak. It comes loaded with several features that can prove to be of good use.
The tool chest is made entirely of steel, which offers it a heavy-duty appearance and long-lasting feel. Besides, the cantilever steel tool box used for making this product gives it a strong industrial finish, which is perfect for individuals involved in carrying heavy tools.
My most preferable feature of this cantilever steel tool box is its shelving system. There are four shelves included for natural movement and better organization of tools. The bottom features a large storage area that can be used for organizing extensive accessories and tools.
The triple-clasp feature of this unit works perfectly while gliding smoothly when the stored-in tools are required. This pad-lockable design makes this cantilever steel tool box one of the most secure cantilever tool boxes currently available in the market.
The metal tool box can easily be locked, and the keys can be carried along. This feature ensures that all the contents are safe all the time. Fortunately, for me, these tool boxes have been very durable. The 0.8mm metallic thickness of the product adds to its sturdiness.
The brown powder coating protects the cantilever steel tool box from corrosion and even makes it highly efficient. Weighing just 18.25lbs, this is probably the best cantilever tool box for professionals who need to carry around many tools and accessories from one place to another.
Using this tool box can be a bit daunting because it gets weighty when fully packed. Also, the color of the item is a bit dull.
What We Like
Several storage shelves
Large bottom for storing many tools
Triple clasp feature
Anti-corrosive
What We Don't Like
Slightly weight
Dull color
Overall, this cantilever tool box is perfect for storing a lot of tools and carrying more weight.
4. Keter 17186819 Tool Box
Exclusive and durable, I bet that this 18 inch cantilever tool box from Keter will make your life easier. The unique cantilever mechanism of this product is what I like the most. It makes way for a better tool organization.
Yet another feature that I appreciate about this unit is its clear lid that allows you to see all the components and parts within the box. Additionally, you get to use 18 trays that offer sufficient storage space for different types of tools and accessories.
And yes, how can I forget to mention that all the 18 bins can easily be removed. This makes it easier for you to fit in tools of varied shapes and sizes. Moreover, the big latches made of top quality metal keep the item secure and closed at all times.
Not to mention, the durable handle that makes it easy for you to carry around huge loads from one place to another. The 18 inch box works efficiently when used as an electrician's troubleshooting chest. This is mainly because it can store a large number of diagnostic tools and connectors.
But the 18 inch size of cantilever tool box makes it a bit smaller in size than the other standard cantilever tool boxes available in the market. I could use it only for organizing my wood screws, brads, bits, and finish nails.
What We Like
18 removable bins for perfect storage
Metal latches ensure great durability
A long-lasting handle can take up heavy loads
Has a clear lid
Exclusive cantilever mechanism
For the ones looking to invest in a safe tool box for electronic tools and accessories, then purchasing this 18 inch cantilever tool box from Keter is the best.
5. Stalwart 75-MJ5051B Tool Box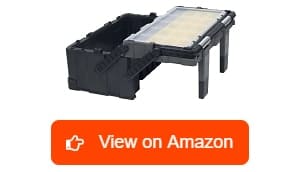 I think there is no other cantilever tool box in the market that is as good and as versatile as this 22 inch contractor-grade tool chest from Stalwart.
The best thing I like about this product is that it can be used for organizing both small bits and screws along with big tools. The topmost tier of this unit features 15 dividers that can easily be removed. These compartments can be used for storing and organizing small screws and tools.
Talking about the lid, its separate top lid is completely transparent for you to view the contents within. Moreover, the clear lid opens in a way that both the tiers can easily be accessed. The tip tray even features legs that do not let the tool box tip over.
Polypropylene and stainless steel have been used for making this 22 inch tool box offering it a solid construction. Not to forget, the stainless steel handle that offers a strong and comfortable grip. Hence, this unit can handle the weights of heavy tools when completely loaded.
Well, at the same time, since this product is made of both steel and plastic, its body might not be durable enough. Excluding this only drawback, there is not much that I do not like about this item.
What We Like
Comfortable and strong handle grip
Perfect storage space
Dividers can be removed for easy storage
Ideal for organizing both small and big tools
Transparent top lid
What We Don't Like
Does not has a durable body
I highly recommend this 22 inch tool box from Stalwart, especially for those who need to hand carry several screws and other small items from one place to another regularly.
6. Ganchun 17-Inch Tool Box
If you are in the lookout of a plastic cantilever tool box, then go for this 17-inch multipurpose, 3-layer tool box from Ganchun. This foldable, 3-layer trays will offer you larger storage space while helping you perfectly organize all your tools.
Like the previous product, the top plastic cover of this unit is completely transparent and can hold a large number of small tools and parts. There are also stainless steel latches with strong bearing potential and durable service life.
What I love most about this tool box is its thick folding rod that makes it long-lasting and sturdy. Also, this plastic tool box is light in weight and features shallow shelves for perfect tool organization.
On the other hand, one thing I would like you to note about Ganchun is that its products come with stringent quality assurance. Moreover, this brand offers top-level customer service for any problems you face with the use of this tool box.
The product will help you organize your all hand tools in a neat and tidy way. As for me, this unit really fitted my budget. I appreciate that it fully expands in tier format while the lid feels sturdy and lays flat.
The only drawback is that I just placed a small pry bar and a hammer in its lower section that pretty much filled the space. So, I found it perfect as a tackle box but not as a cantilever tool box. In addition, the top needs to be pulled all the way over and back before accessing any of the stored tools in this product.
What We Like
3 tier storage
Transparent top plastic cover
Durable latches made of stainless steel
Thick folding rod
Shallow shelves for more storage
What We Don't Like
More of a tackle box
Does not offer a lot of storage space
Overall, I find this tool box perfect for storing small tools. If heavy tools and their transportation from one place to another are your concern, then this might not be the right product for you. But then if you are an avid DIYer, then there's nothing better than this.
7. Husky 25 in. Cantilever Tool Box
If space and mobility are two of the major concerns for you, then this tool box from Husky might be the right choice for you. Its extendable handle and all-terrain wheels make way for the easy transportation of tools from one location to another.
Regarding storage, there are 18 dividers available so this is why this tool box will definitely offer you lots of storage space. Moreover, the 25 inches length of the product is a major advantage. As having such a great storage capacity and size makes this set perfect for all big and small assignments.
At the beginning, I found the plastic construction a bit worrying. But later, it worked for me well because its shell is well-built with varied strength improvisations. There's even a double latch system for safe and secure closure. This ensures the proper protection of the tools stored within. Not to forget the handle that offers a soft grip.
Another thing that grabbed my attention is the versatility of this cantilever tool box as I can stack in it different tools for bigger jobs. It can be of perfect use for individuals looking for top quality mobile tool organizers. This plastic cantilever tool box is one of the best tools for professionals who need to move around without making any compromises on mobility.
Durable and hard quality plastic is used for making this tool chest. The plastic absorbs small impacts very easily while keeping the tools safe. Then there are integrated organizers in the top lid when opened.
The only problem I find in this product is the rigid design that can make it susceptible to easy damage. Some budget-conscious buyers might find the product a bit expensive.
What We Like
All-terrain wheels for great mobility
Has a great storage capacity and size
Handle offers a soft and comfortable grip
What We Don't Like
Little expensive
Rigid design is prone to large scale damage
Overall, I found this product to be one of the best plastic cantilever tool boxes available in the market right now. Its portability is what I like the most and thus highly recommend it to interested users as well!
8. Westward 10J171 Tool Box
If you are looking for portable tool boxes that have been specifically designed to offer a heavy-duty and durable solution for keeping tools organized, then this product from Westward is for you.
I truly appreciate its steel construction and powder-coated finishing which help in resisting corrosion and scratches. Like other products, the padlock hasp of this cantilever steel tool box is yet another beauty of the product, making way for improved security of the stored contents.
On the other hand, this hand carried cantilever offers you with five trays for better storing. Thus, you can keep all your tools perfectly organized in this heavy-duty cantilever tool box made entirely of steel. Furthermore, this American made tool box is perfect for storing crafting, beading, crocheting, and knitting essentials.
Yes, you can even use this cantilever steel tool box for storing instrumental tools. It has got more than enough space for all your requirements. This well-built unit has proved to be very useful and durable hand carry cantilever over time.
The one and the only negative associated with the use of this unit is the steel construction that might render it imperfect for storing larger tools.
What We Like
Durable and heavy-duty organization chest
Perfect for storing and carrying hobby tools
Steel construction for impact-resistant tool storage
Possesses sufficient space for storing different tools
Well-built storage cantilever tool box
What We Don't Like
Steel construction might not work well for storing big tools
Highly recommended but not for those in possession of a large number of heavy-duty tools. If you stay at home and indulge in different projects or hobbies, then use this hand carried cantilever steel tool box for storing all your essentials!
9. Stalwart 75-3082A Tool Box
Lightweight design and great construction are features of the Stalwart cantilever two trays tool box. Also, its perfect blend of hard quality metal and plastic construction makes it one of the right cantilever tool boxes in this list.
It has an 18-inch wide main storage divider offering sufficient space for storing tools of different varieties. I love the three storage layers provided by the tool box, with the two layers on top meant for storing and organizing smaller tools.
There are organizers and trays available in varied sizes to make tool storage and organization a breeze for the users. Moreover, the top tier of trays is transparent so you do not need to open the box for accessing. No, do not consider it to be a weak tool chest only because this tool box is made of plastic.
Regarding material, you may think this is a weak tool box because it is made of plastic. But that's not true in this case. As it is proven that the Stalwart tool box has the potential of handling a lot of weight when fully loaded. Furthermore, its long handle right on top makes handling the unit a breeze.
Nevertheless, there's one thing I would like to point out to the manufacturers of this product, and that is the plastic quality could have been better. Rest everything is well up to the mark!
What We Like
Good built and design
Offers sufficient storage space
Lightweight construction
Perfect for storing small tools
Storage trays and organizers come in different sizes
What We Don't Like
The plastic quality could have been better
I highly recommend these tool boxes for those who find it perfectly fine to use plastic products. This will be a great purchase for you if you want nothing but ideal durability and performance.
10. Keter Cantilever-Style Organizer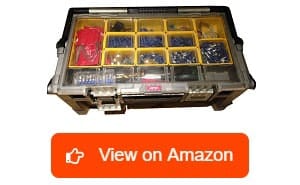 Dissimilar to the perfect cantilever tool boxes I have reviewed above, this tool box is made of high quality plastic rendering it strong and sturdy.
Well, yet another thing I would like you to note about this unit from Keter is its metallic latches that make way for easy storage. I also love the fact that this box can be locked up quickly. And yes, it can even be carried from one place to another very easily.
This reliable cantilever tool box features large storage space with a total of 27 removable dividers. Specially, the bins have been specifically designed in two varied sizes for holding items in different shapes and weights. Its multi-level design and large lower storage space are other features that have appealed to me a lot.
How can I ever forget the clear lid that provides an easy view of the contents without opening the box? Yet another feature that has added to the benefits gained by these tool boxes, which is
made of polycarbonate plastic. The lid plastic is not just unbreakable but even long-lasting if cared for properly.
There's yet another thing that I like about this unit, and that is its back leg support mechanism that prevents the tool box from tripping or tilting when being used. Finally, the handle of these tool boxes is made of metallic alloy that is strong and heavy-duty to hold the box content. The soft grip of the handle makes it easy for the users to hand carry the box around.
There's a downside is its latches cannot be locked. This means you cannot remain assured of the security and safety of their tools. Next, I was not too fond of the fact that this unit is not made of top quality steel casing.
What We Like
Has back support legs
Made of high quality plastic
Soft grip handle offers ease of access
Has polycarbonate clear lid
Strong metal latches
What We Don't Like
Latches cannot be locked
Steel casing not of top-notch quality
This plastic tool box is ideal for individuals who do not indulge in heavy assignments. Your regular working equipment can best be stored in this unit.
11. Jetech 21 Inch Cantilever Tool Box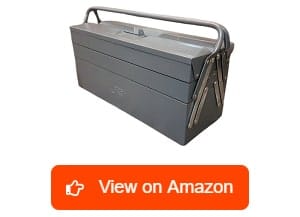 Personally speaking, I am an avid fan of Jetech tool boxes mainly because the company boasts of an all-inclusive range of products with the focus being on delivering industrial-grade items. The same goes for this 21 inches metal cantilever tool box that is way better than a Kennedy cantilever tool box.
Yes, you got it right! You might be wondering how did I mention the Kennedy tool boxes all of a sudden, right? It's because the metal tool boxes from Jetech have always been closely compared to the ones from Kennedy.
Here, I would like to point out that this Jetech 21 inch metal tool box is way better than the one from Kennedy in that it is made entirely of high quality metal. I think this is the ultimate metal tool box you need to organize all your tools in perfect order.
The cold-reduced cantilever steel construction of this unit ensures a long and durable service life. Additionally, there are 5 foldable trays making it convenient for you to quickly choose the parts or the tools they.
The box surface is coated in zinc phosphate rendering it corrosion and rust-resistant. How can I forget to mention the full-length handles that offer an improved grip? Thanks to handles, this large and easy to carry tool box comes with high load-bearing ability making it perfect for storing both large and small tools.
The top features a lock hole enabling users to lock the unit for complete safety. Last but not least, the dimensions of these metal tool boxes are perfectly suited for the tools I use, and I think it will work for you as well.
Nevertheless, the only issue I have with this product is the area around the lock hole is extremely thin and flimsy. Also, I wouldn't say I liked its design a lot, but overall, I am delighted with the features of this unit. I bet you will love this metal tool box at first glance!
What We Like
Made of sturdy carbon steel sheets
Has retractable design and foldable trays
Long handles offer a comfortable grip
A corrosion and rust-resistant tool box
High load bearing perfect for storing large and small tools
What We Don't Like
Lock hole area in flimsy
The design is not good
Overall, I like this large and easy to carry tool box and recommend it to be used by professionals with several tools.
12. GROZ Cantilever Tool Box
Get organized with this heavy-duty, super light and super strong tool box made entirely of aluminum. Furthermore, having rust-proof and weather-proof features, this box is seen as the best tool box.
The powder-coated finishing of this unit is yet another thing that I love. On the other hand, this set is full spread visibility and has 5 trays that make way for easy storage of varied tools and supplies. Moreover, the trays do not come with overlapping compartments. Thus, users get extra space for tool storage. The unit is completely lockable, which means that all the contents will remain safe.
With a load-bearing potential of 110lbs, this is a super-strong tool box available in an ultra-lightweight design. Aluminum die-cast solid construction of the unit makes it super light but sturdy and strong at the same time.
It is even theft-proof with a padlock alternative right on top. Full-spread visibility is rendered by the extra-large dividers or compartments.
I did not find any negative points about this item except the aluminum construction that might make it unsuitable for varied conditions and environments.
What We Like
Rust proof and weatherproof
Has a padlock alternative right on top
Super light but strong and durable
What We Don't Like
Aluminum die-cast construction might not be suitable for varied environments
The reason why I recommend this tool box is because of its solid construction, 5 trays, and durability. It is one of the best cantilever tool chests for budget-conscious buyers.
13. Custom Shop Folding Storage Box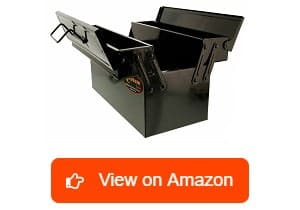 You might be amazed to know, but the Custom Shop Metal Folding Tool Storage Box is perfect for pin strippers who need to hand carry different varieties of supplies. Smaller than those shoeboxes available in the market, this metal tool box is perfect for handymen and professionals.
It looks cool and speaks of great craftsmanship. The bottom part of the product is sufficiently large for holding different tools. I used it for storing my cleaners and brushes. What about you? It has enough space for storing different varieties of tools.
Nevertheless, there are a couple of things that did not go well with me, and they are the design and the handles of the unit. Both these features could have been better.
What We Like
Perfect metal tool box to carry around small tools
The bottom is spacious enough for storing larger tools
What We Don't Like
Design is not good
Handles could have been better
I loved the way it has been constructed. The sufficient storage capacity of this metal tool box makes it an exclusive product. Perfectly sized and great value tool box for my requirements. Hopefully, it will function well for your requirements as well.
14. Laser 3487 Tool Box
This smart and classic cantilever tool box appears last on my list of the best tool boxes. But do not take it for granted because it appears last. This high quality product has way more to offer than you might have ever imagined.
Having 7 cantilever dividers make it the perfect storage solution for different spares and tools. Then there's a padlocking hole in the lid offering extra security to the contents within.
The sturdy construction of the metal tool box will last for a long time. It boasts of an excellent finish while the cantilever mechanism works great.
Also, this metal tool box is available within an affordable range, which means it would be a great buy for the budget-conscious individuals.
There is one thing to note about this tool box, and that is if the contents are not parked well or if they are forced, the metal shall bend.
What We Like
Padlock hole offers extra security to box contents
Affordably-priced
Perfect storage solution
I truly recommend this unit because it comes with seven trays allowing the users to move and store a lot of tools very easily. It is the perfect product for storing drill bits and screws. If you are the owner of a shed, garage, or workshop, then this would be the perfect tool organizer for you.
What Is a Cantilever Tool Box
A cantilever tool box is a unit that allows the users to overhang their tools without the requirement of exotic bracing. Earlier, these tool boxes were made of high quality wood, but now they are made using plastic and metal.
This has increased the durability of these tool boxes. Moreover, you can find them in varied sizes, and they are easy to carry around as well.
How Does It Work
Cantilever tool boxes are used for storing, organizing, and protecting different tools. These are found in professional and exclusive designs and even come with several shelves. The ones with individual shelves allow the users to organize their tools effectively and efficiently.
These are compact boxes with wide openings to preview all the tools stored in at the same time. They make the perfect tool boxes for painters, carpenters, and other professionals who need to hand carry different types of tools.
The cantilevers in these units open up in the form of a bridge from a certain fixed position. Hence, all the shelves are displayed, making it easier for the users to pick the tools they require. These units even have handles allowing the users to hand carry them comfortably from one place to another.
Types of Cantilever Tool Boxes
There are different varieties of cantilever tools boxes available in the market. These include:
Hand carry tool boxes can be easy to carry around. These can be stored under workbenches and in closets.
Stationary tool boxes have the ability to hold all kinds of small and big tools. Moving these boxes might be a bit challenging.
Combination tool boxes that come with combined tool storage and workbench.
Why Do You Need a Cantilever Tool Box
I needed my cantilever tool box for free safety. Since these tool boxes come with a lot of shelves that open up simultaneously, they can be the perfect option for storing all kinds of tools.
These tool boxes can be used for organizing smaller and larger tools while keeping them safe and secure at the same time. Moreover, all of your tools can be easy to carry around with these tool boxes. That is why they are of the best use for professionals like remodel constructors, carpenters, AC repairs, makeup artists, painters, and carpenters.
Buying Guide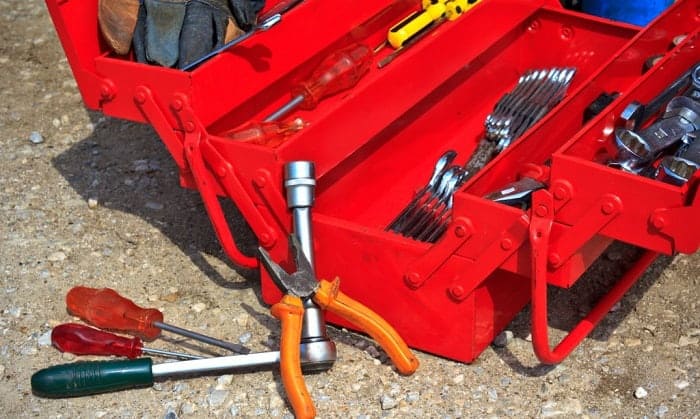 Before buying a cantilever tool box, I would suggest considering some important points. The considerations I have detailed below will also be valid for your purchase of various other products.
Of course, you need to know how a cantilever tool box works, but then you also require a fantastic guideline before going out and buying one for yourself. I am here to help you out with the right guidance on tool boxes.
Here, I will be talking about some main considerations like:
Color coating
Construction material
Portability
Waterproof
Storage type
Weight
Portability
Price
Speaking of construction material, cantilever tool boxes made of steel are considered the most cantilever tool box. This is because cantilever steel construction is not just durable but even lighter in weight. Nevertheless, you must check the construction quality of tool boxes.
Even the plastic tool boxes are of high quality, but they do not offer great durability. There are even manufacturers that produce aluminum units. Cantilever tool boxes also need to be water-resistant.
Yes, I said that cantilever tool chests could be made of aluminum, steel, or plastic, but water-resistance is an important requisite. You might have to work on rainy days, and water on the tools might result in rust.
It is important to consider color coating because the right kind of coating avoids rust and corrosion. Yet another important factor to consider when buying a cantilever tool organizer is the type of storage offered.
Checking out the storage space available on the tool boxes is also vital. This is because insufficient space might make it impossible for you to fit all your tools into the box. Moreover, consider weight capacity, which means the amount of tool weight that can be conveniently carried by the box.
Tool box portability is an important consideration as well. The ones in ergonomic designs are always a great buy as you can easy to carry all of your tools from one place to another. When it comes to design, always consider super light tool boxes as they render greater portability.
Last but not least, price is an important concern, as was the case with me. I had a limited cantilever tool box buying budget, and I could not afford to go out of this budget. Thankfully, proper research and understanding of the factors to consider with this purchase helped me make an informed decision.
The same is recommended for you as well. I would like you to review the top-rated cantilever tool box and choose one that best suits your budget.
Care and Maintenance
Professionals into using cantilever tool boxes should know how to take care of and maintain their units. The tool box can be kept dry and clean by using a cloth for removing dust. Make sure you do not wash tool boxes with water, as it might result in rust.
If you want your tool box to last for a long time, I recommend not stacking it with many tools. The slide-out trays mechanism of the tool chest should also be cleaned regularly.
Proper maintenance and care can help you get smooth performance while saving your money, time, and tools.
Frequently Asked Questions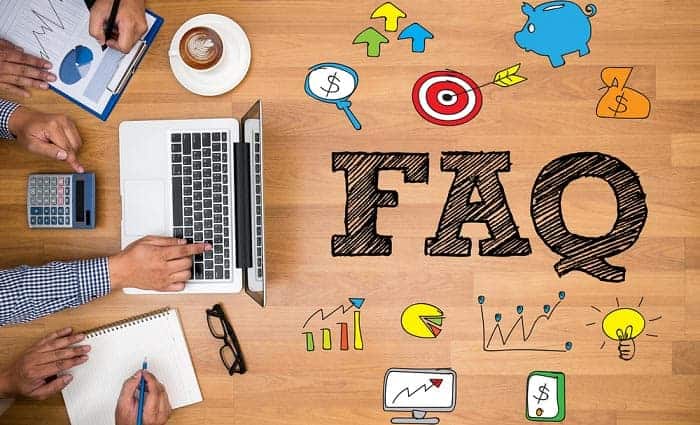 What are the most popular cantilever tool box brands?
Several brands are manufacturing and designing the best cantilever tool chests. Homak Industrial is known for making the best and most durable cantilever tool boxes with several dividers and compartments.
The tool boxes from Trusco like Trusco st 350 can be installed very easily. The majority of them feature internal trays that slide out when opened. The ones available from Jetech and Ganchun are also popular for their cantilever mechanism and top-quality construction.
The portable tool box from Goplus features several compartments and shelves for convenient access of parts and tools. They are generally powder-coated to offer a great finish.
How to use it?
Cantilever tool boxes are perfectly suitable for a dynamic range of assignments and work applications. These tool boxes can be used very easily for office work, home-based repairs, and even big assignments like roofing installation and other systems.
How much does a cantilever toolbox weigh?
Features like size, design, and material often dictate the weight of a cantilever toolbox. To give you a clearer idea, let's use the products I reviewed as examples.
Westward's steel cantilever storage box is 22.8" long, 15" tall, and about 10.6" in depth, and it weighs 23 pounds.
By contrast, Husky's plastic cantilever mobile job toolbox is bigger as it measures 26.02" long, 17.32" tall, and 15.28" in depth. Yet, it weighs only 16.32 pounds.
Let me also highlight that it's not made of just about any plastic, but a heavy-duty one! On top of that, it has wheels and extendable handles that add to the overall weight.
That said, not all metals are created equal. For instance, the alloy Excel cantilever toolbox is about 19.5" long, 11.4" high, and 7.9" deep but it only weighs 12.1 pounds. Meanwhile, Laser's cantilever organizer is 22.05 long, 10.63" high, and 7.95" deep.
If you think about it, the dimensions are roughly the same as Excel's but the Laser is only 1.1 pounds! Moreover, users say that the metal isn't a sturdy kind.
How long does a cantilever toolbox last?
It is not impossible to find an antiquated Snap-on cantilever toolbox or Blue Point cantilever toolbox in thrift shops and vintage stores. This goes to show that, with proper care, your toolbox can still be useful after decades.
Of course, I'm generalizing. Plastic storage is a different story. If your plastic toolbox, however cheap it may be, is only sitting on the shelf in your garage, it will probably last long. Using it to work and transporting it to different places will 'beat it up,' especially when it is carrying hefty tools. In a year or two, parts of it will break up.
The same can be said for rolling cantilever toolbox types. While there are durable steel and plastic storage systems on wheels, their lifespan will depend on how you use them.
If you bought a high-end cantilever toolbox on wheels and you don't keep the casters lubricated, then it will flutter!
What is the warranty?
Every brand provides guidelines that outline its terms and conditions in its warranties, which are published online. More often than not, no two companies offer the exact same warranties. You will notice that Craftsman has very different terms compared to GoPlus.
In most cases, well-established brands offer generous after-sales services like free repairs or replacements. However, be mindful that the warranty differs from one product to another even if they came from the same brand. Furthermore, the coverage may be limited to specific countries.
Unfortunately, most of the terms published online are filled with jargon. If you have questions, I recommend reaching out to the brand's sales rep either through their hotline, email or by visiting its physical shop near you.
Conclusion
It is always crucial to store work tools in a safe and secure location. This can be made possible only by using the right cantilever tool box. These special storage tool boxes with several compartments are durable enough to last a lifetime without causing any trouble.
They come with strategic compartments making it easy for the users to go about with their varied assignments without taking much time and effort. This is all about the best cantilever tool box. I hope through this review, you will have some ideas for the ideal tool box. So it is time for you to make the choice and start shopping!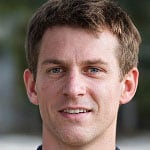 Having worked in the field of personal protective equipment for over two decades, Andrew Carnegie is a specialist in the field.
At EDC, he strives to improve performance efficiency and promote workplace safety for EDC's readers and customers. He also researches the most up-to-date equipment that has earned relevant accreditation for use in a wide range of industries and specialties.