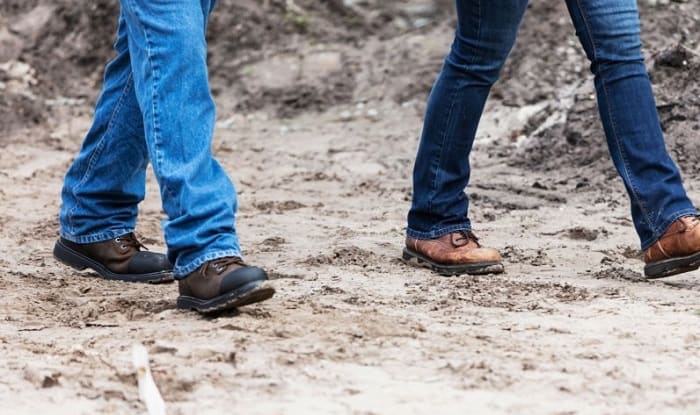 For some types of jobs, wearing steel-toe boots may seem a little over the top. Moreover, passing through the metal detectors in your workplace every day can be inconvenient for you. Besides the heaviness that can weigh you down, the toe box will make your feet cold in the snow. Under such conditions, composite toe boots are recommended.
Before you go shoe-shopping, check the following features to ensure that you get the best composite toe work boots for the job:
Protective features: Composite toe is typically made of non-metallic materials like Kevlar, fiberglass, plastics, or carbon fiber. Just like the steel toe cap, it must have an ASTM rating to be considered safe against impact and compression. You may also need electrical hazard protection, static dissipative, as well as chemical, oil, puncture, or slip-resistant outsole. Work boots usually have a mix of these safety features.
Upper material: Conventional work boots are often made of full-grain leather, which is known for its durability and comfort. These days, however, shoe designers combine rubber and textiles like suede, leather, mesh, or ripstop. Meanwhile, the interiors are lined with breathable fabric linings or insulation to boost comfort during extreme weather conditions.
Size and fit: The size of your sneakers can be different from the size you need for safety toe boots. By nature, safety toe caps are rigid that are impossible to break in. Don't worry, most brands offer shoe sizes in length and width, while Keen boots design asymmetrical toe boxes if one of your feet is larger than the other. For a more comfortable fit, you need to make sure that your toes do not touch the toe box regardless of your movement.
Searching with the keywords "work boots composite toe" will give you thousands of results and conflicting opinions. In this article, I will clarify some of these in my review of the eleven pairs of work boots. If you don't know which one to choose, read my advice under the "Buying Guide" section.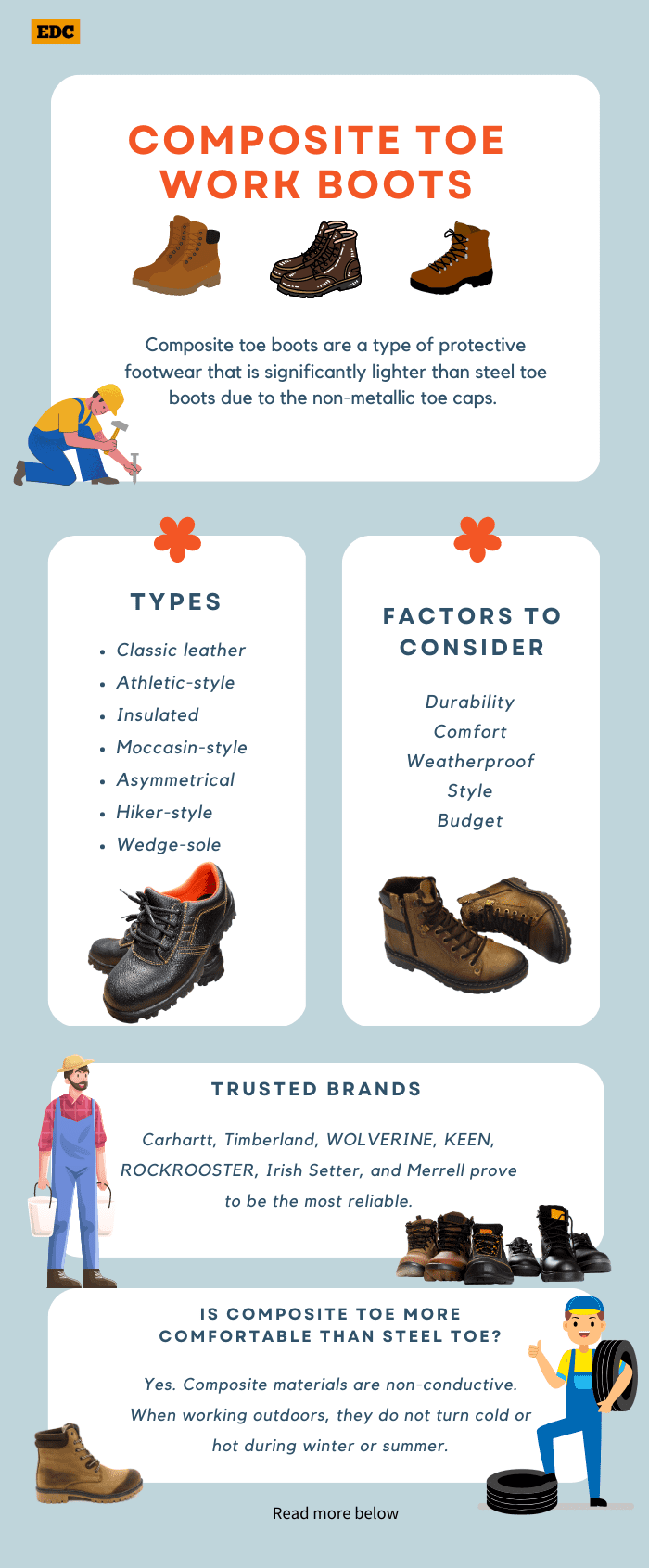 Best Composite Toe Boots Reviews
1. Carhartt CMF6361 6″ Composite Toe Boot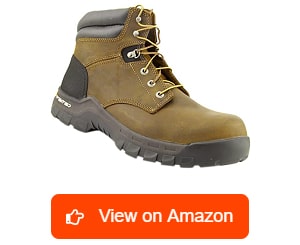 Industrial workers love these top-rated composite toe work boots primarily for their comfort and protection. As for me, I'm a fan of their shock-absorbing insoles and midsoles that conjointly provide a cushion. Because I'm always standing for more than ten hours, they help relieve fatigue, allowing me to accomplish more during my shift. Featuring FastDry linings, my feet can stay dry and sweat-free despite performing physically demanding tasks.
Meanwhile, the ASTM-rated composite toe caps are tough and therefore capable of protecting my feet against workplace hazards. At the same time, they give my toes some wiggle room. Suitable for those who work with electricity, the work boots can provide secondary underfoot protection against electrical circuits of up to 18,000 volts under dry conditions. For good measure, the boots are equipped with heel bumpers that resist abrasion.
Designed with Rugged Flex technology, the rubber outsoles bend with my feet as I walk. Let me also add that I have walked on freshly-mopped concrete floors, snowy pavements, puddles, and uneven terrain in these boots. So far, I have never struggled to keep my balance because they are slip-resistant. What I find inconvenient is that the laces could not maintain the knots I tied so I had to stop whatever I'm doing and redo them.
What We Like
Comfortable for long hours of work
Keeps the feet free from sweat
Has composite safety toe caps
Has reliable electrical hazard protection
The outsoles can bend as you walk
Excellent slip resistance
What We Don't Like
The shoelaces need improvement
With these composite toe work boots, you will never have to sacrifice comfort just to get strong protection. In other words, you can focus on work and let the footwear take care of your feet.
2. Timberland PRO TB092641214 Composite Toe Work Boot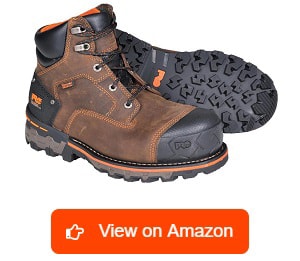 Looking at these waterproof composite toe work boots can make anyone think that they are clunky. For those who have not tried them before, let me be the first one to tell you that they are anything but heavy. Yet, this does not affect their performance in any way. If there's anything, its lightweight design contributes to the overall comfort.
In conjunction with the Anti-Fatigue technology, this footwear relieves the soreness of long hours of marching on the concrete floors. Thanks to the slip, and oil-resistant outsoles, I don't slide whenever I cross an icy surface and uneven terrain. Plus, it provides good ankle and heel support, as well as a fiberglass shank for better stability.
Furthermore, the uppers, rubber toe protectors, and soles are abrasion-resistant, thereby enabling the boots to withstand harsh, rugged environments. Apart from protecting against electrical hazards, these boots have asymmetrical composite toes that meet the ASTM standards. I find this impressive since not many workwear companies manufacture boots for asymmetrical feet.
As the product name implies, this footwear has a waterproof membrane to block the water out. Despite having a moisture-wicking lining, wearing this makes my feet sweat during intensely hot weather. That's why I use them only when it rains or snows.
What We Like
Weighs lighter than it looks
Ideal for slippery or rough terrains
Features asymmetrical toe caps
Complies with ASTM standards
Superb waterproof construction
What We Don't Like
The boots feel too warm during summer
Engineered for people who work in wet or icy environments, this pair of Timberland boots easily becomes the most favoriet composite toe boots under the waterproof category. Regardless of the terrain, you can count on them to support and stabilize your feet as you walk.
3. WOLVERINE W10717 Composite Toe Work Boot

While there are several lightweight composite toe boots in the market, the Wolverine Overpass boot is a formidable contender. The rubber outsole may look burly but it does not add much to the weight. Impressively, it can resist abrasion and chemicals besides preventing slipping accidents. Alongside the ASTM-rated toe protection, it also acts as a barrier against electrical hazards.
For the kind of work that I do, these safety features are sufficient. But for all that, it's the comfort that I appreciate the most. Designed with contour welt construction, the footwear is durable yet flexible. Coupled with the Ortholite footbeds, the midsoles absorb shock when in every step of the way. As such, my legs and knees don't feel sore even after a long day at work. When I'm climbing a ladder, the nylon shank prevents the boot from bending.
These composite toe work boots are made of waterproof leather uppers that can keep my feet dry whenever I walk on puddles. Even with the moisture-wicking lining, I still sweat because they feel especially warm during the hottest times of the month. Maybe they are more suitable for cool weather conditions. Also, they will take about a week or two to break in. After this period, the uppers and soles begin to bend more until it becomes uber comfy.
What We Like
Lightweight and comfortable for walking
Has abrasion, chemical, and slip-resistant rubber outsole
Includes protection against electric hazards
Has ASTM-rated composite toe cap
Highly durable construction
Reliable waterproof footwear
What We Don't Like
Needs one or two weeks to break-in
Makes the feet feel too warm on hot days
4. Timberland PRO TB0A1S5M001 Composite Toe Work Boot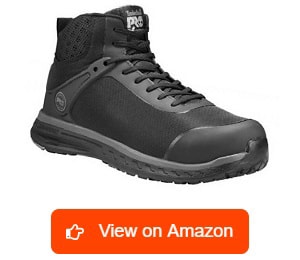 Coming in at number four is another pair of Timberland boots. What sets them apart from the rest is the sneaker-like design. Composed of abrasion-resistant ripstop, they are so much lighter. On top of that, the footbeds are soft and shock-absorbent. As expected, it feels like I'm donning my tennis shoes, which is why they instantly became my go-to work boots for summer. Besides, I can even run fast when I wear them.
Despite that, these work boots are highly capable of protecting my feet. Case in point: The asymmetrical composite toe cap and the electrostatic-dissipative comply with the ASTM standards. What's more, the rubber outsole is slip, heat, abrasion, and oil-resistant. Considering these features, I can see that they can be useful for those working in delivery service, warehouse, restaurant, hospital, or similar industries.
Inside the work boots, the moisture-wicking lining keeps my feet dry, while the antimicrobial treatment ensures that they are odor-free. Made with cement construction and fiberglass shank, the work boot is durable, flexible, and supportive. Although stylishness is the least of my priorities, I like the modern, stylish look. However, I just wish that the treads did not wear down too soon. But perhaps it is not going to be an issue if you're not relying on it at work.
What We Like
Looks and feels like wearing sneakers
Has cushy shock-absorbent footbeds
Has ASTM-rated protective toe caps
Ideal for warehouse, delivery or similar industries
Keeps the feet dry and fights odor
What We Don't Like
The treads tend to wear down quickly
Indeed, these
lightweight composite toe work boots
are perfect for those who need protection, comfort, and style. With sneaker-like qualities, they enable you to stand, walk or run while simultaneously maintaining a dry environment and odor-free for your feet.
5. Carhartt CME6351 Ground Force Composite Toe Boot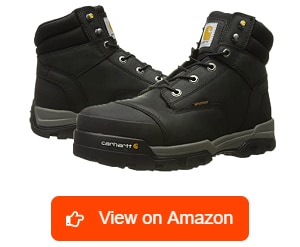 Whether I'm at the job site or in the office, these composite toe boots do not look out of place. The design is akin to urban sneakers but there's more to it than meets the eye. Fashioned with a waterproof membrane, they effectively keep my feet dry under wet conditions. Moreover, the cement-constructed Ground Force increases the traction of the rubber outsole while maintaining flexibility.
Both the composite toe and reinforced heel boost the impact resistance. At the same time, it protects against accidental contact with an electrical circuit of up to 18000 volts. Still, safety is just one of the many strong points of these particular work boots. Equally impressive is the durability that allows them to withstand rugged work environments.
In an industrial environment, comfort is also one of my priorities and I'm glad they also provide it. For instance, the footbed offers arch support while its softness lets me carry on with my task without discomfort. Apart from that, the interior is clad in odor-fighting and moisture-wicking lining for good foot hygiene.
Based on experience, the heel area seems to be a little rigid and it rubs hard on my skin, especially during the first time I wore them. So much so that I had to put on bandages before I put on the boots. After a while, they started to break in.
What We Like
Good for the job site or office work
Suitable for wet environments
Made with composite toe and reinforced heel
Provides arch support
Has odor-proof moisture-wicking lining
What We Don't Like
The heel area needs more time to break-in
Rated as one of the top-rated composite toe boots, this pair has features that never cease to amaze me. Having said that, I think they are versatile in terms of style and function.
6. KEEN Utility K1021467 Composite Toe Work Boot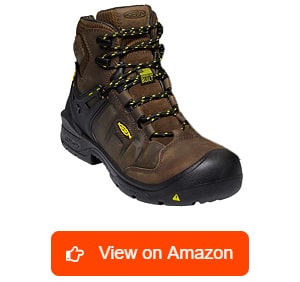 If you are having trouble looking for the perfect asymmetrical composite toes, then check out this pair of Keen boots. Aside from that, the footwear can serve as a secondary protection against potential electric shock. Not to mention, it is also tested and proven to be slip and oil-resistant. All of these protective features comply with the ASTM standards. What I like about work boots the most is that they can take a lot of beating.
To me, the design and the performance reminded me of hiker-style boots. For one, the combination of its lightweight construction and flexibility enables me to walk with ease on concrete floors or rugged terrains. For another, the Konnectfit heel-capture system locks my heels in place and minimizes friction, which often causes my feet to feel warm unnecessarily. The fact that the laces can stay tied throughout the day makes them even more secure.
Due to its waterproof design,
this footwear is also ideal for outdoor jobs such as landscaping or gardening
. Nevertheless, they are versatile so any worker who needs protection can use them. My only gripe is that the insoles are hard and uncomfortable. Since the original footbeds are removable, I can replace them without altering the fit. If it were not for this, I would give these work boots a perfect score.
What We Like
Has ASTM-rated protection for workplace hazards
Withstands intense movement and harsh environment
Feels light and flexible for walking
Locks the heel in place
Comes with well-designed shoelaces
Can keep the feet dry when it rains
What We Don't Like
The insoles need improvement
Excellent for outdoor work, these lightweight work boots with composite toe caps perform like hiking shoes. Apart from their ability to flex, they lock your heels in place to provide better support and stability.
7. Timberland PRO TB0A1RU5001 Composite Work Boot
Moving on to the next safety boots on our list, this pair comes in four different color options. While most of us don't often think about style, I think it's nice to get something other than black. That said, let's not forget about the most important feature, which is the ASTM-compliant toe cap. It is light yet sturdy enough to safeguard my feet against impact and compression. Furthermore, the footwear can serve as an underfoot barrier against live circuits.
Aside from the protection, the boot features the so-called "Independent Suspension Network". I'm not going to bore you with jargon but what this means is that it makes the outsole capable of providing support and comfort. Not to mention, the rubber is also heat, abrasion, oil, and slip-resistant. Coupled with the shock-absorbent footbed, I feel like I'm walking on clouds. When I sweat, I rely on the antimicrobial-treated moisture-wicking lining to keep my feet fresh.
In my observation, the leather around the toe starts showing some scratch marks. Admittedly, my job can be rough on the clothing but I just one to point out that this never happened with the other Timberland composite toe work boots I've worn. Although it did not affect their general performance, it would have been nice to have leather boots that look smooth and shiny.
What We Like
Offered in four different colors
Equipped with ASTM-compliant protection
Has supportive and lightweight outsoles
Helps you keep your feet fresh and odor-free
Very comfortable to walk in
What We Don't Like
The toe area gets scratched easily
Do you spend long hours on your feet? In addition to protection against work hazards, these work boots will help you alleviate foot fatigue and the strains on your knees and legs.
8. Rockrooster Woodland Composite Toe Waterproof Work Boot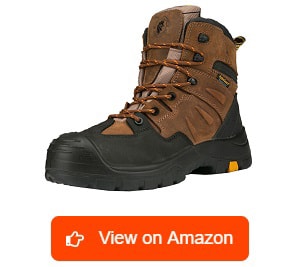 With these work boots, budget-conscious workers will no longer have to settle for less than what they deserve. Let me just highlight the fact that the rugged full-grain leather uppers and slip-resistant outsoles help me prepare for the harsh weather conditions.
Another noteworthy feature is the carbon fiber toe, making the footwear significantly lighter than a steel toe boot. Besides the hard-wearing quality, it complies with the ASTM standards so I can prevent work-related injuries. Consequently, it became increasingly popular among workers in the landscaping, maintenance, and construction industries.
Built with shock-absorbing insoles, I don't strain my feet, knees, and legs when I walk all day. Naturally, this enables me to perform more tasks since I'm less tired. Under cold and wet conditions, the waterproof membrane keeps my feet warm and dry. Moreover, it can control odor and prevent bacteria from breeding inside.
Given that they are waterproof, I'm afraid that these composite toe work boots do not possess the breathability I need for a hot day. Apart from that, finding the correct size can be challenging since they are not consistent with the standard shoe sizes we know. Well, this is one of the tricky bits of online shopping. Be sure to familiarize yourself with the shop's return and exchange policies in case you ordered the wrong size.
What We Like
Affordable lace-up leather boot
Suitable for cold and wet conditions
Includes ASTM-compliant protection
The shock-absorbing insoles minimize fatigue
Helps fight bacteria and odor
What We Don't Like
Lacks breathability for hot conditions
Confusing size charts
If budget is a concern, then these are the top-tier composite toe boots for you. In terms of quality, I assure you that you can get the same level of protection and comfort as their expensive counterparts can offer.
9. Irish Setter 83632 Men's Wingshooter Work Boot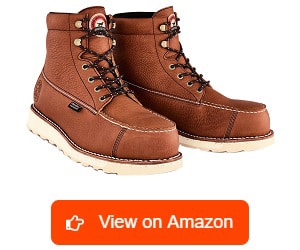 Full-grain leather is durable and comfortable. If you look at this pair of moccasin-style work boots, however, it also seems remarkably classy. I can wear these work boots to the job site, office, or camping. At the same time, they do not fall short in protection. Inside, the ASTM-rated non-metallic safety toes shield the feet against falling or rolling objects. Not to mention, the waterproof construction makes them perfect for rainy days.
Another feature that makes it stand out is the heat and slip-resistant wedge sole. Aside from its ability to shed debris on its own, it aids in distributing the weight evenly across the foot to relieve the pressure points. When I'm moving up and down the ladder, the steel shank prevents the boot from bending. Plus, it can block out sharp objects from puncturing. For optimal comfort, it includes a removable footbed that I find surprisingly cushy.
As you can see, these work boots are packed with so many nifty features. I sometimes wonder if they all made the footwear heavy. Don't worry, I got used to it and I'm sure you will do, too. Overall, I'm beyond satisfied with the performance. Knowing that these boots can last years, I will not be buying another pair any time soon.
What We Like
Can be worn in the office, job site, or camping
Features non-metallic safety toe
Distributes pressure evenly across the feet
Equipped with a steel shank
Has a soft removable footbed
What We Don't Like
Weighs heavier than most boots
Judging by its functionality and durability, it stands to reason that this pair seems to be the most ver
10. Carhartt CMF8389 Composite Toe Work Boot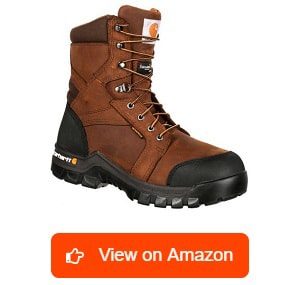 Characterized by their long shafts, these insulated boots are designed to provide support and stability. In my case, I tend to wear them when I need to walk on sloped surfaces or rough terrains. Under freezing temperatures, the 400gm 3M Thinsulate warms my feet while the waterproof construction prevents liquids from infiltrating.
Just like the other Carhartt boots I reviewed, this one comes with a moisture-wicking lining to ensure all-day freshness. Thanks to the soft insoles, I can walk for as long as I want without hurting my feet. Moreover, the outsoles are made with Rugged Flex technology to bend properly while curbing slipping accidents.
For those who need protection, the composite toe is ASTM-compliant, which makes this footwear appropriate for workers at the farm, warehouse, and other industrial settings. In addition to that, the work boot can safeguard your feet against possible electrocution.
Let me give you a heads-up: These work boots feel stiff at first and it has taken me some time to break them in. After more than a week, they finally softened up. The other thing that I don't like about them is the shoelaces. For tough protective footwear, I expected them to be just as heavy-duty but what I got instead was delicate.
What We Like
Offers stability and support
Warms the feet in freezing temperatures
Exceptional waterproof construction
Keeps your feet sweat-free
Has ASTM-compliant composite toe
Shields your feet against electrical hazards
What We Don't Like
Can be tough to break-in
Has weak shoelaces
As you prepare for the winter, consider checking out these well-designed insulated boots. Apart from keeping your feet warm, they are well-equipped with protective features that contribute to minimizing work-related hazards.
11. Merrell Work Mid Waterproof Composite Toe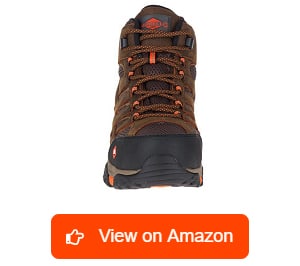 Best known for their outdoor gear, Merrell has come up with a line of composite toe boots that many people love to wear even when camping. Nevertheless, I find them most useful in my line of work. Since I'm often exposed to the elements, I depend on their waterproof construction to prevent my feet from getting wet. When it's hot and humid, the moisture-wicking mesh lining takes care of my sweat.
Where safety is concerned, I'm fascinated at how the design incorporated the safety toes without making the boot heavy nor sacrificing durability. After all, these boots meet the standard in both impact and compression, as well as electrical safety. Meanwhile, the rubber outsoles give me a strong grip on wet surfaces, which helps avert injuries. Hence, I think they are suitable for jobs at the warehouse, light manufacturing, or landscaping.
Walking all day can take a toll on my feet but the rubberized midsoles ease the pressure. However, I'm not a fan of the insoles. They feel rather thin, which is neither cushy nor supportive. Anyway, this is a minor issue. Apart from all the good things I mentioned, I never had any issues with the factory shoelaces because they don't loosen up once they are tied. This is a huge deal for me because most work boots have substandard shoelaces.
What We Like
Reliable waterproof construction
Can wick away sweat
Has lightweight yet durable safety toes
Has ASTM-rated electrical safety
Provides high traction outsoles
Shoelaces tie up securely
No doubt, these composite toe boots are an excellent choice for indoor and outdoor work. Furthermore, they provide strong and dependable protection without adding too much weight to the footwear.
What Is a Pair of Composite Toe Work Boots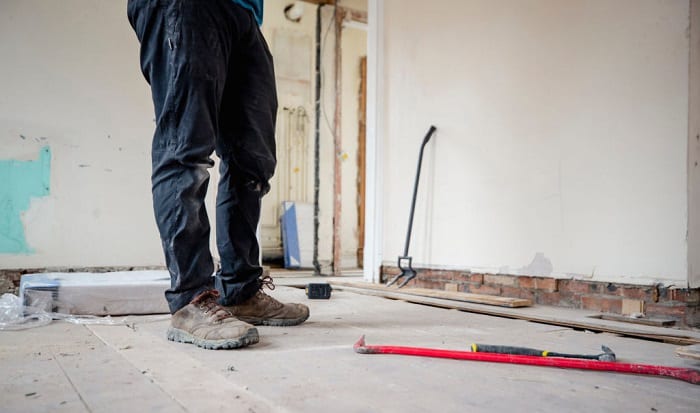 Composite toe boots are a type of protective footwear that is significantly lighter than steel toe boots due to the non-metallic toe caps. Worn by mechanics, farmers, electricians, or similar professions, the work boot must undergo the same testing to meet the safety standards stipulated under the American Society for Testing and Materials or ASTM.
Types of Composite Toe Work Boots
We are living past the era where all work boots look the same. As technology continues to advance, we see new inventions and changes in the workplace. This translates to new specialized jobs, as well as demand for specialized footwear.
Classic leather composite toe work boot
Athletic-style composite toe boot
Insulated composite toe boot
Moccasin-style composite toe boot
Asymmetrical composite toe work boot
Hiker-style composite toe work boot
Wedge-sole composite toe boot
Why Do You Need Composite Toe Work Boots
Let me begin by stating that steel toe boots and composite toe boots are created for different purposes. Instead of asking which one is better, you must assess the type of risks related to your job to determine whether composite toe work boots are appropriate or not.
Nevertheless, composite safety toe boots are a great option if you are always on your feet because they are lighter than alloy or steel. Although the difference may be small, the extra weight you get in steel-toe work boots can be felt over extended periods of walking.
Secondly, donning and doffing your steel toe work boots each time you pass metal detectors can be tedious. With a composite toe, you can just walk right through without setting them off. Furthermore, the composite material will not turn hot or cold under extreme weather conditions, which is why they are more comfortable.
Buying Guide
Now that we have seen the pros and cons of the eleven composite toe work boots, we will dig deeper into other aspects that will affect your decision. Upon reading different blogs, reviews, and forums like Reddit, I noticed that many people from different professions have some things in common. Besides budget, they put a premium on durability and comfort when looking for safety-toe work boots. In any case, here are the things that you need to think about before buying:
Composite safety toe boots are composed of different materials that work together to give you protection and comfort as you accomplish your tasks. Even with superior materials, the boot construction must be heavy-duty for the footwear to serve its function. Never underestimate a small hole in your work boot as it can expose your feet to harmful chemicals.
Goodyear welt construction is the gold standard in terms of durability. Plus, it is easier to repair. However, cement construction is more affordable.
People are generally more productive when they feel comfortable with what they wear. Hence, workwear brands are making a conscious effort to improve their designs. Most composite toe boots have padded collars and tongues to not cause blisters when they rub on your skin.
On the other hand, the insole and midsole can absorb the shock in each step you take and cushion your feet as you stand for long hours. Roomier toe box prevents your toes from clumping, which can be extremely painful.
If your work involves dealing with extreme weather conditions, then you will need to pay more attention to the materials that make up the work boot. Granted, composite materials do not conduct heat but the breathable mesh linings can help your feet stay fresh during summer. When it rains, the waterproof leather uppers can prevent moisture from penetrating the footwear.
On the flip side, winter can be unforgiving in certain parts of the planet. It is not enough to simply wear winter socks and ordinary safety boots, nor wear just about any insulated work boots. You need to make sure that insulation weight is appropriate to the temperature in your area.
Style is another concern since some workers need to look dressy in front of clients and do a site visit on the same day. These days, it is not impossible to find good-looking composite toe boots that can go well with a smart-casual outfit. Their safety features meet the ASTM rating and the materials provide the same level of comfort that is necessary for long hours of fieldwork. Just make sure to consult your employer's dress code to see what is acceptable in your workplace.
We can go on and on talking about brands and features. In the end, our budget can get in the way. Not all of us can afford Red Wing composite toe work boots. The good news is that it is not hard to find a pair regardless of the price tag. In case you didn't notice, the brands and shoe models featured in these articles range from low to high-priced to cater to different budgets. Rest assured, their overall quality meets industry standards.
Care and Maintenance
The methods for cleaning and maintaining work boots with composite safety toe caps widely vary depending on the materials. Most brands provide instructions on how to properly care for the footwear so be sure to read and follow the prescribed methods. While there are how-to videos online, these tutorials may not apply to the unique materials that the brand has used. Hence, it's not a bad idea to get the cleaning kits sold by the manufacturer.
Frequently Asked Questions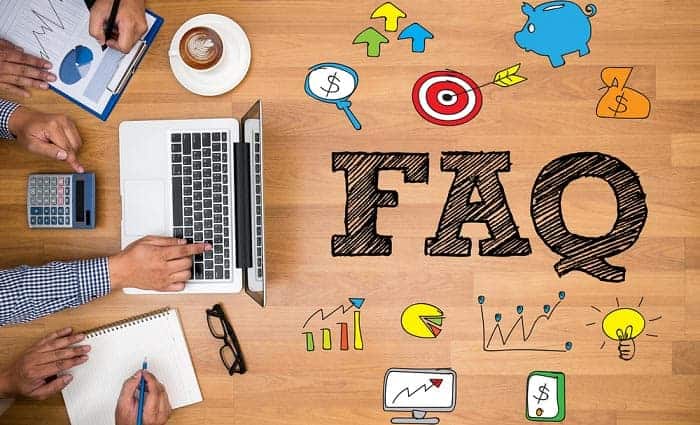 What is the most trusted composite toe work boots brands?
From steel toe to soft toe, I only trust a handful of brands of safety work boots that I have tried. Based on my experience, the design and quality of the composite toe boots made by Carhartt, Timberland, WOLVERINE, KEEN, ROCKROOSTER, Irish Setter, and Merrell prove to be the most reliable. Caterpillar boots are just as popular. Plus, I know some of my buddies are vouching for Carolina boots. I have not tried them but feel free to check them out if you are looking for other options.
Is composite toe more comfortable than steel toe?
If we focus on the properties of composite and steel, the quick answer is yes. Composite materials are non-conductive. When working outdoors, they do not turn cold or hot during winter or summer.
The composite toe is lighter in terms of weight, thereby reducing the weight you carry as you walk. But keep in mind that materials like thick rubber outsoles and uppers can add weight. Some composite toe work boots can be as heavy as steel toes. Be sure to factor in the construction and materials when you're shoe-shopping.
What are composite toe boots good for?
Composite toe boots are a good choice for jobs where steel toe caps can be a tad too much. Besides, when it comes to protection, it's not always all or nothing and the composite toe is sort of an in-between.
For instance, electricians don't handle bricks or heavy machinery, or not every day. However, they still need protection against the electric hazard, as well as compression and impact. Airport workers, technicians, and laborers in light manufacturing facilities are not specifically required to wear steel toe boots but toe protection is nice to have.
Do composite toe boots hurt your feet?
Not necessarily, but composite toe work boots can hurt your feet when the size you bought is incorrect. Another possible reason is that the work boot has thin padding around the toe box. As a result, wearing them for over 10 hours will cause some discomfort.
Is composite toe OSHA approved?
Yes and no. Most composite toe boots are approved by Occupational Safety and Health Standards, or OSHA, which means they have undergone rigorous testing. However, the cheap ones are not, so beware!
How much weight can a composite toe boot withstand?
Believe it or not, the composite safety toe cap can withstand up to 200J without cracking. Meanwhile, it can also hold a weight of up to 1.1 metric tons. Indeed, this type of safety toe boot can protect your feet against falling objects.
Conclusion
By now, I'm sure you have a better understanding of what composite toe work boots are and what they are for. Aside from allowing you to pass through metal detectors, they provide adequate toe protection against various workplace hazards.
As ironic as it sounds, the market is saturated with poorly-made safety footwear that does not meet the OSHA or ASTM standards. Trying out a brand that you have never heard of can pose a huge risk at work. If you're not sure about the quality of a particular work boot you're checking out, you can always read online reviews and recommendations like this one. This way, you can determine the best composite toe work boots for your job.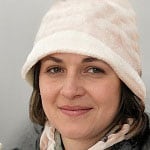 Veronica is our content editor. She is a talent in delivery. Her main work is editing and writing articles that are both informative and simple to follow. She is in charge of synthesizing our understanding of what personal protection equipment (PPE) is needed in each job, how to best apply it, and how to visualize that equipment.