To increase your working efficiency in different types of construction sites, you need to reduce the time wasted on searching for gears and going back and forth to seek them. This is where good quality tool belts prove to be highly efficient.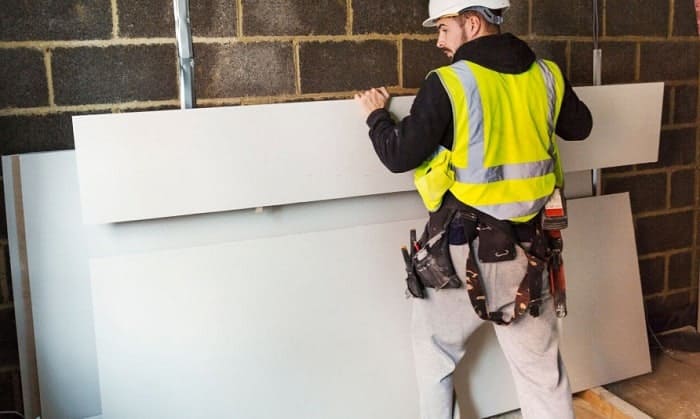 If you are looking for a good drywall tool belt to increase your working productivity, you may have searched a lot only to be confused with the abundance of options. But I have created this guide to make things extremely easy for you.
Here I have reviewed some of the best drywall tool belts available in the market along with some additional information that might help you with the buying process. By the end of this article, I hope you are able to decide what kind of tool belt you need for your working environment.
12 Top-Rated Drywall Tool Belt Reviews of 2023
Following are some of the best choices you have for tool belts in the market today.
1. Gatorback B145 Carpenter Tool Belt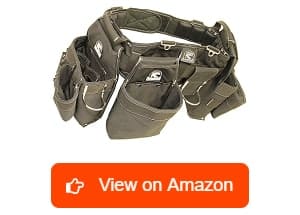 This Gatorback B145 sheetrock tool belt comes with tons of helpful features, justifying its place on my list. This tool belt not only offers you comfort and sweat-free when using it, but also offers you high breathability. This is all thanks to a patented air channel design and an ultra-breathable material.
When it comes to the durability of the tool belt, you will not be disappointed as well. It is designed using heavy-duty 1250 DuraTek nylon material, which keeps the material rugged yet light. Moreover, each stress point on the belt and pouches is riveted, and bar tracked to make sure it lasts for a long time. Talking about this Gatorback B145's warranty, you get a 1 year detect free warranty with this unit.
For storage space, it is clear to see that this tool belt comes with too many pockets for better storing. Specially, on the right side, you have a carpenter tool pouch along with a hammer loop. On the left side, there is a seven-pocket fastener tool pouch featuring pockets. Additionally, there is also an 8-inches deep center pouch. Each pocket has enough space that you can comfortably reach in and take your stuff out without spillage.
The manufacturer has layered the interior of the pouches with plastic lining to retain its shape. So you will not experience any kind of sagging with this Gatorback B145 tool belt. I was also very impressed by how the pouches are sewn to provide sturdiness. Last but not least, the boxes in this drywall belt are designed to ensure the pouch remains open and protected from tears.
The issue that I experienced is its velcro. It does not come with a strong velcro attachment as mine kept coming off after a few frequent uses. Also, I wish the nail pouches were a little bigger to accommodate more of them.
What We Like
Built from 1250 DuraTek nylon material for longevity
A patented air channel design and ultra-breathable material for high comfortable
Interior plastic lining to prevent sagging
One year defect-free warranty by the company
Offers great storage space
What We Don't Like
Velcro keeps coming off after short use
Would have liked if the nail pouches were bigger
Overall, This Gatorback B145 is a well-thought-out tool belt. It comes with many great features which definitely make it become your companion for a long time.
2. OX Tools Leather Drywall Tool Belt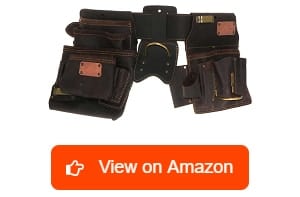 For all those who are looking for a good quality tool belt, this grain leather tool belt by OX Tools is worth considering. You can hardly go wrong with a high-quality leather product in this segment. Whether it is style, comfort, or durability, this device has got it all covered. And this leather-made tool stands true to almost all its claims.
To begin with, the manufacturer has added a contract back-tack stitching along with metal rivet reinforcement. This is implemented to add to the longevity of the tool belt. Moreover, the use of high quality material, together with a solid design structure, makes this leather tool a reliable addition to your workstation.
Along with tough builds, I am also impressed with the way the manufacturer has designed and laid out different pouches. This tool belt comes with 22 pockets to keep all sorts of different tools. With such accessibility, you do not need to go back and forth just to fetch the equipment.
If you are someone who works in harsh conditions, then it would be a great tool for you to carry because its riveted design does not let the belt go anywhere. Additionally, when you are dealing with heavy-duty handling tasks, the leather apron would come handy as it offers extensive space and a separate pocket for Jab Saw.
There are other great things about this tool. Firstly, it keeps you comfortable while you perform heavy tasks. As the belt is padded with a soft material so you will feel comfortable wearing the belt even after hours. Secondly, this tool belt fits good to different-sized people. During winters, you could be wearing layers of clothing, and the belt would still fit you fine without making you feel uncomfortable. It's pricey but worth it!
But the only issue I have with this tool belt is the small nail holders. If you are doing some heavy tasks that require a lot of nails, then you would have a hard time with it.
What We Like
Made using high-quality grain leather material
The belt offers good fitting to different sized people
The strong material can withstand the harsh conditions
The padded belt makes it comfortable to wear.
What We Don't Like
The nail pouches were too small to carry comfortably.
This high quality drywall tool pouch is the perfect choice for professional workers. While it comes with a bit of a heavy price tag, you will get your money's worth.
3. Occidental Leather 5070 Drywall Pouch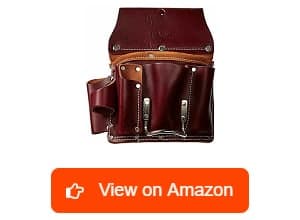 Another tool belt that I really enjoyed using is this Occidental Leather drywall set. It is one of the popular brands available in the market and has been offering great tool belts for years now. From looks, structure to quality and comfort, the manufacturer has taken care of all important aspects of a drywall pouch belt.
The leather materials are rugged but smooth to touch. It only comes in one large size, which can be used for versatile applications. In appearance, the leather looks refined and sort of stuffed, but it is impressively lightweight.
Overall, there are 11 tool holders and pockets for your convenience on this drywall pouch setup. There are sections for metal snips, circle cutter, knife, and saw. The tool belt weighs 1.4 pounds along with measurement, including 12x10x16 inches.
On the other hand, the pouch features a metal hammer loop in the face to help you in carrying heavy tools like a hammer. The hammer holder is placed in a way that is accessible by both right and left-hand users. Moreover, the knife pockets are layered with epoxy to offer strong resistance to tear.
The only flaw that I found in the tool belt is the missing tape holder. And also, if you are on a budget, then this may not be a suitable option for you.
What We Like
High-quality leather material for durability
11 pockets and tool holders
Lightweight design for comfortable use
Epoxy layer for maximum tear resistance
If you are looking for a good quality tool belt and can afford to go mid-range, this is the one for you. With enough compartment space and good strong durability, it is a great investment.
4. Custom Leathercraft K485R1 Drywaller Belt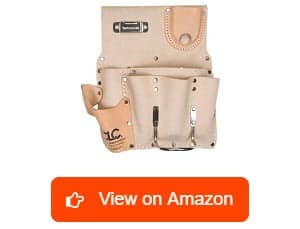 This drywall belt by CLC Custom Leathercraft is a tool belt that is suitable for standard drywall working. Although it is a smaller drywall tool kit in comparison to many other products, it is certainly useful due to its impressive design. With chrome-tanned top grain leather, this belt has a clean and attractive appearance.
What brings this tool belt to the list of top-rated drywall tool belts is that it features a seven pocket drywall tool to carry different working devices. There is a hammer loop that is secured in the front. Additionally, there is a leather holder that is capable of fitting measuring tape of up to 30 inches. In this pouch, you can secure a saw, hammer, screwdriver, sharpening stone, and measuring tape. Regarding the warranty, this tool belt comes with a warranty of one year.
You also need not worry about the tool belt continuously sliding down your waist, as the tool belt comes with a 3-¾ inches wide belt. You can secure it properly and get going with your work. Plus, the weight of this alternative is just 0.32 ounces. That means it won't add unnecessary heaviness while doing tough jobs.
However, I did find the leather material to be stiffer than necessary. It makes it hard for you to flex the pouch.
What We Like
Leather material that adds to the visual appeal
Comes with seven pockets for holding equipment
Offers one year manufacturer's warranty
3-¾ inches wide belt for comfortable securing
A lightweight tool belt
What We Don't Like
The leather material may be too stiff
If you need a drywall tool pouch for standard use, then you can try this one. It comes with basic features and is comfortable to wear. But remember that the material is a bit stiff. So you will have to adjust with it.
5. Bucket Boss 50100 Drywall Tool Belt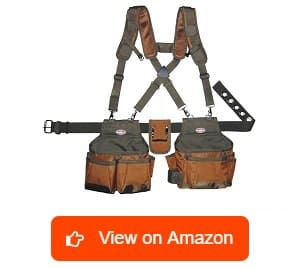 The next tool belt on my list is a well-known drywall tool belt, owing to the strong market reputation of Bucket Boss. This US-based company has been designing and developing valuable and most comfortable tool belts since 1987 when two of its founders realized how a bucket can come in handy during construction tasks. They then designed a belt to handle the tools. Currently, the brand offers 100 different products for various needs.
This Airlift tool bag kit is specially constructed to cater to the needs of the carpenter with its great design. Additionally, the barrel-bottom is reinforced with heavy-duty pouches that provide additional carrying capacity. The great thing is that there is a built-in steel hammer container along with an additional loop that can be used to put a long handle design tool.
There is also an adjustable suspender system that can be disconnected from the belt, and it comes with a chest retaining strap. This helps you avoid the problem of back pain. This tool belt also allows the adjustment of the waist belt up to 52-inches via heavy steel grommets as per the wearers' waist sizes. So when it comes to providing support, this tool has got you covered.
The only issue that I have with this tool belt is the stitching. It lacks the reinforcement required to bear the wear and tear of daily use.
What We Like
There is sufficient space to put tools
The pouches are strong to carry heavy equipment
Infinity belt system that is also adjustable
What We Don't Like
The lack of reinforced stitches can impact durability.
This tool belt is considered as the most favorite drywall tool belt; well-designed and comes with tons of interesting and useful features. And the great part is you get all this at an affordable price.
6. OX Tools Drywall Tool Pouch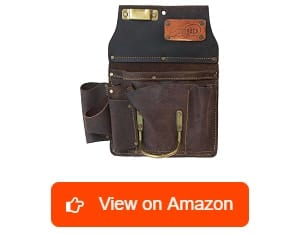 My next choice would be the oil-tanned drywall tool pouch by OX Tools. It is manufactured using heavy-duty rivet reinforcement on the vital stress point. This adds to the durability, strength, and further increases the longevity of the rig. The company has also integrated double stitching that keeps the pockets intact even with extensive weights. The strong structure and high-quality material are what make this tool belt popular among professional drywall workers.
Apart from the toughness, the tool pouch offers maximum usability as well. There are twelve pockets where you can store different types of working equipment. I also liked the space that each compartment is provided with. This makes sure that you do not have to go back forth just to fetch tools.
Coming to the comfort aspect, this drywall tool patch also leaves you to impress here. Since, the belt is padded with soft material, so you would not feel any harshness of this otherwise tough-looking pouch. It is one of the significant reasons why it has secured its place as the best drywall tool belt pouch. Furthermore, it allows you to wear the belt for a longer duration.
Considering that it is made using oil-tanned, the pouch can get dirty rather quickly. Moreover, nail pouches are quite narrow, so you could struggle here.
What We Like
Made from high-quality material for strength
The use of heavy-duty rivet reinforcement adds durability
12 pockets give optimum capacity
A soft belt padding makes the pouch comfortable to wear
What We Don't Like
The narrow nail pocket creates a certain difficulty
Oil-tanned leather is more prone to dirt
If you are someone who has to work in harsh working conditions constantly, then this could be the right drywall tool belt for you. With high-quality material and more than enough space in each compartment, this tool belt is designed to make your work easier. But remember that you will have to deal with a narrow nail pocket.
7. Occidental Leather 8580 Tool Bag Kit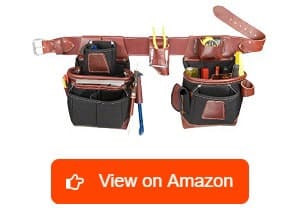 Occidental Leather is a brand that is reckoned for manufacturing premium leather belts for drywall hanging tools. And, its 8580 M FatLip model is one of the popular offerings in the portfolio.
Right off the bat, I liked how the product comes in the different size options; from small to xxx-large. Hence, depending on the intensity of work and waist sizes, users can easily find their suitable size.
This product comes with the padded two-ply that keeps the bag in shape while working. It also has a NoSpill tool holder system, which keeps the shape of the bag intact, thereby protecting any spillage.
The bags are designed using industrial nylon fabric, which offers strong resistance to wear and tear. That is why this product offers exceptional durability and can easily withstand the abuse of harsh working conditions. Furthermore, the two-layer padding further adds to the strength of this product. The corner reinforcement integrated into the product ensures that the product lasts for a long time and you get your money's worth.
On the other hand, the multiple spacious compartments allow you to hold a lot of tools, eliminating the need to go back and forth. The belt is also comfortable to wear and comes with various hoops for different size options.
The problem that I faced with this product is that it tends to leave a stain on your clothes after you have worn, especially if you sweat too much.
What We Like
There are different size options for a customized selection
Comes with 2 play padding to secure the shape
Comfortable leather belt for longer usage
Features multiple spacious compartments to carry more tools
What We Don't Like
Tend to leave a stain on your clothes
Other than staining issues, this product is specially designed for heavy-duty drywall works. The manufacturer has taken care of all important aspects to design a belt that will allow you to have comfortable working experience. Overall, this is the most favorite drywall tool belt for everyone.
8. Gatorback Carpenter Tool Belt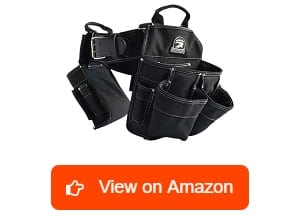 Gatorback has designed this product for people who perform heavy-duty drywall work. If you are looking for breathable and no-moisture feel, then this kit has got your covered. Impressively it comes in six different sizes. The smallest size accommodates waist between 26 and 31 inches, whereas the highest size (3XL) accommodates waist size between 50 and 55 inches. So no matter what size you are, there is a perfect fit for you here.
Talking about storing space, there are 2 pouches.The right pouch comes with seven pockets, whereas the left pouch has four pockets and 2 slots. Overall you get 13 compartments that are a mix of small and large pouches that are spacious enough to put all different sized tools. Additionally, this product has an extra layer of heavy-duty nylon webbing to add resistance.
The tool kit is designed using DuraTek 1250 fabric bar-tack stitching, accompanied by metal rivets and high-density web-core. As a result, it makes this tool belt become more durable and long-lasting. In order to enhance its fitting, the double metal buckle is also added to this product to give the pouch a more secure fit.
Another great thing about this product is the padded belt. It is made from breathable fabric so even if you sweat while working, there would not be much discomfort.
One thing that I did not like about this product is the stickiness of the velcro. It tends to get loose after only a few uses.
What We Like
Riveted and bar-tack stitch for security
Offers different sizes to fit waist sizes
An additional layer of heavy-duty nylon webbing adds resistance
11 spacious compartments are divided into two pouches
Sweat-less and breather leather belt for lasting and comfortable wear
What We Don't Like
Stronger velcro attachments would have been better
When it comes to strength, the product will leave you impressed. It is spacious and well-designed to offer comfortable wear during heavy-duty drywall working.
9. Bucket Boss 54483SP Drywall Bag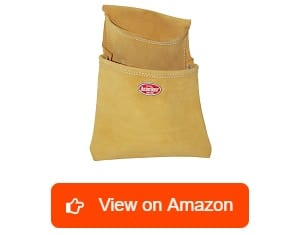 The last product on my list caters to people who do not work with lots of heavy equipment and are looking for a standard tool bag for regular drywall installation tasks. This Bucket Boss product is manufactured using a heavy-duty suede material build, which is strongly stitched for durability.
It comes with two large pockets in the back and front to put in your tools. Even though this product does not offer you many pockets compared to the rest, it is still sufficient enough to store tools. As these two large pockets are deep enough to hold many large hand tools. Thus, you can easily put in all your necessary items in the pockets.
Weighing 10.4 ounces and measuring 12.8x 9.3x 1 inches, the product has enough strength and capacity for everyday construction tasks. The company offers a two years warranty on the product, which reflects its quality. Plus, there are reinforced rivets that keep the pocket in place irrespective of how much weight you put into it.
As it does not come with compartments, it can make things a bit messy. Moreover, I also find the lack of comfort belt a major drawback in the product.
What We Like
Suede leather construction to bear heavy-duty work
Two spacious pockets for tools
Strongly stitched for durability
Additional reinforced rivets
Comes with two years of warranty
What We Don't Like
Added compartments would have been better
Does not come with a belt
This is a standard product with good features and specifications. The suede material and strong stitching will ensure that it lasts you for a long time period. But you need to consider its lack of pockets and belt before investing your money into it.
10. Leather Gold 3450 Farmer's Rig Tool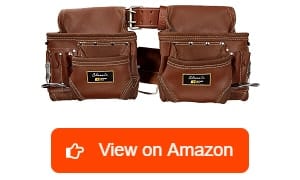 The next tool belt on my list is quite popular as it is made from real cowhide leather. This material is reckoned for its high ability to withstand heavy use for a long time. Many popular brands in the industry use this material to keep their production cost lower but still offer the high quality of products. So, by purchasing this tool belt, you will get a good quality tool belt at a lower price rate.
Another reason why this tool belt is on my list due to the kind of flexibility it provides. The tool belt comes with ten compartments in various sizes, along with three hammer hangers. The ten pockets are added into 2 main compartments that seamlessly slide across the belt. In addition, these pouches can be detached from the belt, so you get to decide where you want their placement.
A problem with high compartment bags is that people are always worried about their things falling off as the belt tends to swing while working. Luckily, it is not an issue of this tool belt. Because there are double prongs as well as two rows of holes that ensure that the bags do not swing or fall off during the work.
Lastly, the waist belt can accommodate thirty to forty-five inches. So if you are someone between this measurement, then this belt is for you.
I would have liked the belt more if it was more adjustable and accommodating in terms of size.
What We Like
Each pocket has a lot of room for tools
The double prongs ensure the bags stays in place
High-quality leather material that can withstand heavy work
There ten compartments and three hammer hangers
What We Don't Like
The belt could have more size options
The quality and productivity of this material stand true to what the manufacturer has claimed. From the quality of the material, strength of the stitches to the sturdy structure, and deep pockets, everything makes this tool belt a worthwhile investment.
11. Kraft Tool WL096 Drywall Tool Pouch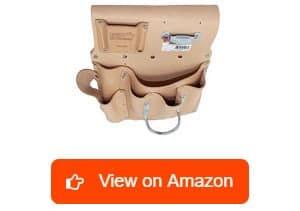 I have another great leather-made tool belt by Kraft Tool. With a light brown appearance, it is an attractive looking tool belt. It comes with various wide compartments to carry different kinds of tools. There is a tool attached to the front that can be used to hang the hammer. This will make the overall usage of the product more convenient. On the top, there is a section for a tape holder as well. The leather material makes the pouch appear strong and heavy as well.
Despite having so much space, this tool belt weighs merely one pound, so it is extremely easy to carry. Moreover, with the dimensions of 15x15x4 inches, you get a decent space to carry your tools. As this tool belt is designed for drywall workers, it can withstand heavy working conditions.
The product offers multiple colors from which you can choose according to your preference. Hence, you will not have to worry about the lighter shade getting dirty because you have a choice to pick the darker one.
A major drawback of this tool belt is that it does not come with a comfort belt. So you have to purchase it separately. This would be a hassle for customers since they can get an all-inclusive product in the same price range. I also found the hammer holder to be a bit small compared to other products on my list.
What We Like
Various wide compartments for storage space
Made using good quality leather material
Lightweight design for ease of use
Spacious sections for easy carriage
What We Don't Like
The pouch does not come with a belt, making it unfriendly from price point
The hammer holder is a bit small
If you are looking for a standard drywall tool bag, then this is a decent product to own. It offers a good feature in the given price range, but the lack of a belt can be a major disadvantage.
12. ToolPro Drywall Pouch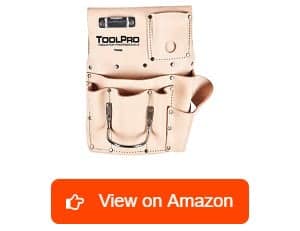 The next product on my list is by a popular brand ToolPro. This tool pouch is made from premium quality grain leather material, adding to the durability of the product.
There are a total of six compartments along with a tape holder to add in different kinds of tools like an impact driver. A steel loop is also added to hang hammers. So you will not have to think about which tool to carry and which to leave because you can put all of them in it.
This particular bag is designed for right-handed people. I like the heavy-duty stitching and the addition of nickel-plated hardware. These features make the pouch stronger and long-lasting.
Compared to other products in the market, this tool belt is considered as a light product as the overall tool belt's weigh weighs 15.8 ounces. On the other hand, the product's dimension measures around 11.2x 8.1x 2 inches so it gives enough space in each section to put in tools.
One interesting thing about this product is its color. Different from other products in this list, this one comes in pink color. Thus, it is not surprising that this product definitely attracts more females.
Among the things that I do not like is the fact that it does not come with a belt. There is a loop to put in the belt, but you will have to get it separately. Another thing is that this product is not for left-hand workers.
What We Like
Made from premium top-grain leather material.
Six spacious compartments to add multiple tools.
Heavy-duty stitching with nickel-plated to offer durability.
Good layout for maximum convenience.
What We Don't Like
Only suitable for right-handed people
Does not come with the belt
If you are looking for a standard tool bag for normal drywall work, then you can consider this left handed drywall tool pouch product. It is made using high-quality material and offers good space to put in your tools.
What is a Drywall Tool Belt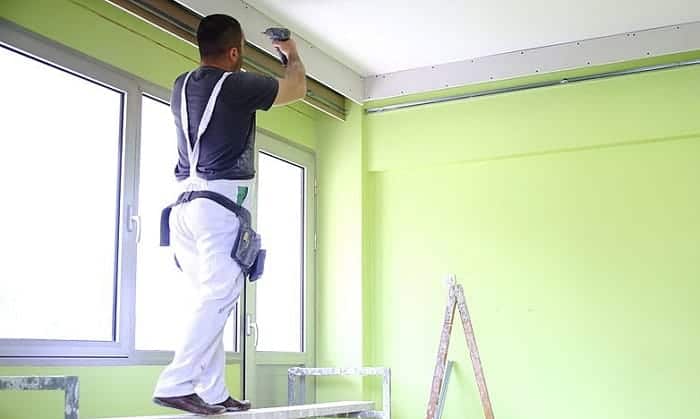 A tool belt is basically a belt attached with small pouches or bags that allows you to carry all sorts of working tools. It enables you to keep your tools organized and proves to be handy while you are working. You will spend less time going back and forth to fetch your tools and more time getting the work done. These tool kits come with various pockets and pouches, allowing you to work faster, safer, and more efficiently.
How Does It Work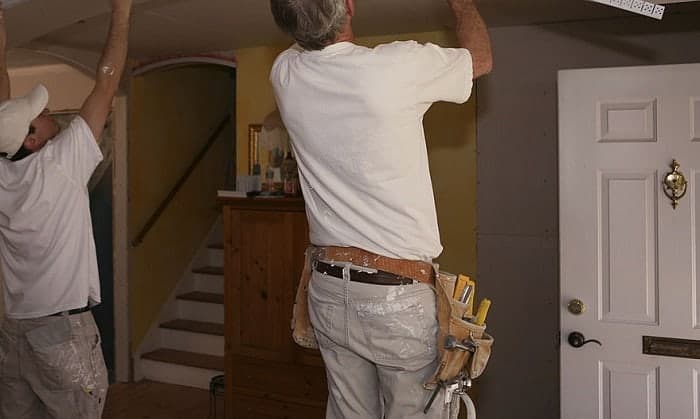 Drywall workers tend to need multiple tools to perform their daily tasks like the drywall installation, and tool belts are designed to provide them with maximum ease and efficiency. These belts come with pouches that typically have compartments in them. These allow you to store different kinds of tools. The more compartments a tool belt has, the better it will be for you, granted that there is enough space in each of them.
Moreover, they also come with a tape holder and hammer holder. The core idea of a drywall tool belt is to offer you an organized way to store and carry your tools and increase your working efficiency.
Types of Drywall Tool Belt Pouches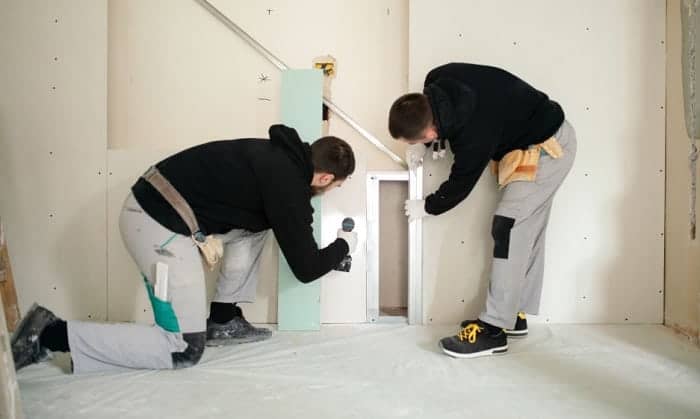 Following are the types of drywall tool belts that you will come across
Pouch
Pouch belts are those that are held on your waist but come with only one pouch that is placed at the front. It can either be plain design or come with pockets inside. Moreover, these are generally detachable from the main belt and come with a handle design on top so that you can use them independently.
Suspender
If you are carrying a lot of tools, then a suspender would be a great option for you. These are perfect options for reducing the weight of the tool from the waist. It comes with a strap added on the belt that goes through the shoulder and back to provide even weight distribution. Some even come with little pouches on the shoulder straps to provide additional storage space.
Apron
When you need a product that protects your tools as well as your clothes, then you should go for the apron tool belt. These types of tool belts are made using heavy canvas, but they are extremely comfortable to wear. These also come with plenty of compartments to keep all your tools safely. Moreover, there are straps on both the shoulders and the waist that facilitate equal weight distribution.
Advantages of Using a Tool Belt
There are many reasons you need a good tool belt, and below are some of those important reasons
Save Space – Tools spread on your workstation tend to take up a lot of space. When there are too many materials on the table, you will end up spending too much time fumbling to find the right tool. A tool belt assists you to save space and is a great way to keep your essential tools close to you while working.
Work Quicker – Since all the tools you need are within your reach; so it is no doubt that you save a lot of time. You can carry it wherever you go without any hassle. Considering that you do not have to juggle with tools, you get to work faster and more efficiently.
No More Losing Tools – When your tools are just placed on your worktop, it increases the chances of them getting misplaced. You might have picked up for some work and left it there without realizing it. Now next time when you need it, you spend a lot of time searching for it. When all your tools are placed on the tool tox, you do not have to worry about missing items. Just take them out when you need them and place them back safely and securely.
Offers Versatile Applications – A tool belt can be used by anyone who works with tools constantly. Whether you are a construction worker, professional mechanic, or a DIY enthusiast, a tool belt kit is suitable for different types of workers.
How To choose the most Suitable Tool Belt
When you invest your hard-earned money in a tool belt, you expect it to get the money's worth. It is imperative that you carefully assess essential factors and make an informed decision. Following are some of the important caveats that you have to keep in mind –
Quality
When it comes to quality, you need to check the kind of stitching and rivets that a product offers. Moreover, the kind of material the bag uses is also a vital factor. Choose a product that comes with a lot of compartments and pockets so that all your tools can accommodate it. Additionally, sections will also ensure that everything inside the bag stays organized.
If the belt is heavy, then you would not feel comfortable wearing it for a long time period. Leather is one of the most sought after materials in these belts due to its strength. And when you choose a belt made out of quality material, you can assure its durability as well.
Access to Customization
Customization features will allow you to make most of your tool belt. If you are a lefty, go for tool bags that offer accessibility from either side. Choosing ambidextrous rigs are a great idea and have a universal appeal. Choose the one that comes with dedicated compartments for tools, especially hammers, nails, measuring tape, etc. Many of those hinged metal hammer holders are very fragile and tend to break quite easily. Instead, you can go for a leather or metal hammer loop. It is stronger and lasts you longer than those hinged holders.
Right For Your Job
Another crucial factor that you need to consider is whether or not the bag you have selected caters to your working purpose. Ensure that the compartments have enough room to accommodate all the tools that you use regularly.
The weight-bearing capacity is also something that you should look into. If the bag is already bulky and you put in your tool, it is going to be uncomfortably bulky around your waist. This would result in discomfort while working for a long period of time.
Make sure that the product has good structure and utilized the space more efficiently, making it comfortable. Moreover, consider the design that does not sag as the tool tends to fall off from it. There are tool bags that come with additional layering to keep the shape intact so that when you bend or move around, the tool stays safely inside.
Comfort and Breathability
Working for hours in harsh weather conditions is not an easy task. This is why, when looking at a tool belt, you should consider the comfort it provides.
Choose belts that are made from soft materials so that you do not get irritated in between. Moreover, a padded suspender featuring air channel design is what you should look for optimum breathability. Moisture-wicking material is also a good choice as it will control the impact of sweat on the product. It is designed to absorb sweat and moisture while you are working.
The Correct Size of the Belt
Typically, these belts come with different size options; however, some features 'one-size-fits-all' design. Considering the size guide provided by the manufacturer before buying the product.
A good brand often provides multiple size options to cater to broader customer needs. If it does not rest comfortably around your waist, then get a replacement. Moreover, ensure that the belt is padded with a soft material so that they are comfortable to wear for a long working hour. Check that the holders for hammers, pliers, and tapes are strong enough to last for a long time.
Budget
The kind of money you can spend on a tool bag is also an important factor to deal with. From very cheap belt bags to the ones with high price tags, the options for you are in abundance. If you are on a budget, you can search and find affordable options as well. But make sure you don't compromise on the quality while saving a few bucks.
How To Properly Care For Drywall Tool Belt?
Taking proper care of your tool belt will allow you to get the most out of your investment. Cleaning it regularly allows you to keep it appearing like it's new. Before using, check for any rips, splits, or any such sign that may hinder the function of the tool. Also, examine the buckle and loops for any signs of damage.
Cleaning the Tool Belt
If you have a leather drywall tool pouch, you must have a waterproof dressing and special conditioner to prevent the material from drying out or cracking. Belts made from other materials are safe to be cleaned with water and left to dry naturally.
But make sure you do not expose it to heat by placing the tool belt into the dryer. Never place the tool belt, irrespective of the material, directly into the sunlight for a long duration as it can create damage.
Below are some useful cleaning tips
Remove dirt or dust from the leather tool belt using a soft-bristle brush or shoe cleaning brush.
There are special creams and conditioners available for leather drywall pouches. Use them occasionally to keep the belt as good as new.
Store the tool belt in a cool and dry place.
Never expose the belt in direct sunlight or extreme heat.
Wipe down any wet stains immediately using a piece of cloth before they turn dry and become hard to take out.
If you work in a damp condition regularly, then select a waterproof tool belt. And ensure you keep them away from chemicals as well as solvent. Do not overcrowd the pockets with drywall tools as it will increase the chances of the tear. Additionally, make sure that the sharp sides of the tools do not come in direct contact with belt material and result in a tear.
Frequently Asked Questions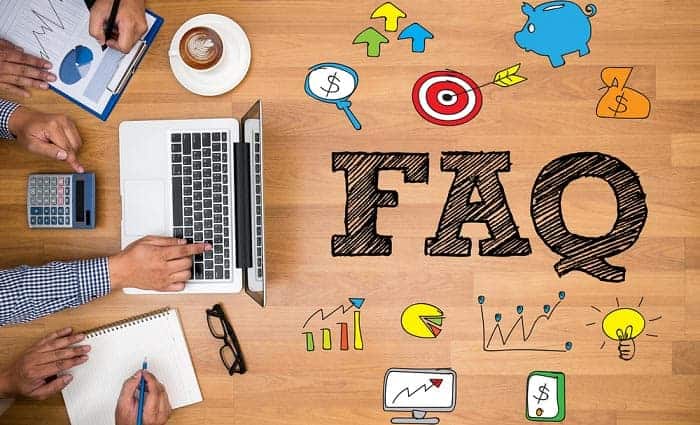 In this section, I am answering some of the most frequently asked questions about tool belt
What are the most popular drywall tool belt brands?
With a plethora of options out there, choosing the right brand of tool kit can be quite perplexing. Based on my research, some of the best brands that you rely on include –
Gatorback
OX Tools
Occidental Leather
CLC Custom Leathercraft
Bucket Boss
Leather Gold
Kraft Tool
ToolPro
Bucket Boss
How To Use a Drywall Tool Belt?
The first thing to do after you have bought the tool belt is to check the belt for the defect thoroughly. If there are none and the size is fine, then only move on to figure out how to use it.
Although there is no rocket science in figuring out how to wear this, little understanding of detail can protect from mishaps. And using the product the right way will also help in increasing its lifespan. Suspender tool belts especially may appear complicated to use, but if the product comes with a clear instruction manual, you should not have any problem.
You need to classify your tools into particular categories and place them in the pouches in an organized manner. This will reduce the hassle while working. You would be able to reach the tool directly instead of fumbling around. These belts come with a secure loop that goes around your waist. Make sure you secure it tightly enough so that it is snug and comfortable.
Where to Buy a Drywall Tool Belt?
When it comes to the tool belt, choosing a proper fit is extremely important. So if you have the convenience of going to a local store and try the belt, you should do that. Besides, when you are at the store, you harness the expertise of the salesperson and select a more suitable model.
But the advantage of choosing online stores is that you get more options to select from. All you have to do is be mindful of the size you choose. And, with just a few clicks, your belt will reach your doorsteps without a few clicks.
Where should your drywall tool belt sit?
Perhaps your instinct tells you that the drywall finishing tool bags should be facing forward. After all, if you wear vests or aprons, most of the pockets are in the front. However, this is not the case for tool belts!
Whether you're using a right or left handed drywall pouch, your tools need to be at the back. In fact, no drywall tool brand would design a belt with pouches at the front. That's because you need to leave the frontside of your belt free of any items that could dig into your stomach or slip out when you bend over.
How can I make my drywall tool belt smaller?
It depends on the brand and model of your belt. For instance, the Occidental Leather drywall pouch manufacturer has released an Adjust-to-Fit ToolBelt. As the name implies, the design enables the user to modify the length of the belt.
All you have to do is to pull the webbing at the back of the keeper strap and suspender loop then un-thread it from the metal Oxy Lock two times. This should release the webbing and allow you to pull apart the two sides of the belt easily.
Once you achieved the desired length, put the nylon webbing back into the Oxy Lock and slip it back into the keeper strap and under the suspender attachment. Lastly, conceal it behind the tool and hammer holder.
Note that other brands may have different designs and mechanisms so be sure to consult their salesperson or check their websites.
How long do drywall tool belts last?
Typically, a leather tool pouch and belt can last decades if you maintain them well. By contrast, nylon and polyester drywall tool organizer designs can only last up to 5 years. Canvas tool belts, on the other hand, typically last only a year or two.
What Are The Key Features That You Should Look Into A Tool Belt?
Some of the important features to look in a tool belt
Some belts come with a quick-release feature. This eliminates the hassle of constantly adjusting the tool belt. Moreover, buckles snap together, easily allowing more feasibility to the wearer.
Full-grain leather material is tough, comfortable, and water-resistant. Suede material is also tough; however, it is not resistant to water. You can choose synthetics such as nylon, including attractive, light, and durable.
There is a fixed number of pockets to look for in a tool belt. Count the number of tools you require to store and then choose the product that offers sufficient space for the same.
What Do You Mean By The Warranty Policy?
The warranty policy depends on a different company. Generally, the warranty period is mentioned in the product description. And for more detailed information, you can get in touch with the customer support team. Companies generally accept the request to return or exchange when there is a defect, which is the manufacturer's fault.
Who Should Use a Tool Belt?
The tool belt is designed for individuals who need a secure bag to carry their tools for work. It is similar to other tool organizers. It is an invaluable investment for a drywaller to get most out of his or her working hours.
When you need any tool, you can easily access it from the bag that is fastened around your waist. People working in fields like automotive repairing, roofing, construction, engineering, etc. are the ones that majorly invest in a tool belt.
How Much Does a Tool Belt Cost?
The price of the tool belt can vary on different factors, including the features, brands, material used, etc. There is a tool belt that comes under $50. These generally have one pick perfect for DIY projects of household chores. Then in the second segment, you have belts that cost between $50 and $150.
These are mid-ranged belts and come with a lot of options. They generally have pouches on each side and feature versatile specifications. Some of them are even customizable as per your requirements. Last is the premium range, which goes over $150 and designed to provide the utmost comfort and durability. These are designed for heavy-duty use and come with adjustable straps and belts.
Conclusion
On the whole, a tool belt allows you to function conveniently and efficiently. It is important that you put in effort and consideration when selecting a tool belt. This product maximizes efficiency. So don't stick for the first belt that seems 'okay.' Instead, you should select a tool belt that caters to your needs perfectly.
Above, I have shared an informative review of some of the best drywall tool belts available in the market. In addition to that, you will also find tons of other additional information that will make your buying process easier.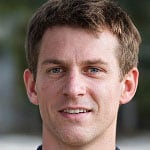 Having worked in the field of personal protective equipment for over two decades, Andrew Carnegie is a specialist in the field.
At EDC, he strives to improve performance efficiency and promote workplace safety for EDC's readers and customers. He also researches the most up-to-date equipment that has earned relevant accreditation for use in a wide range of industries and specialties.