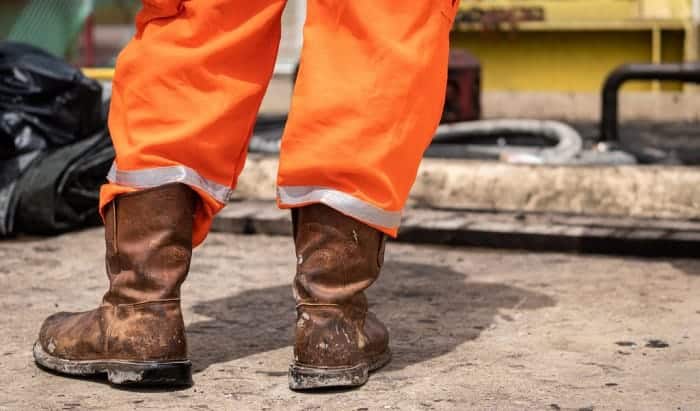 Firefighting is not for the faint-hearted. To survive and thrive in this occupation, you need to stand up to the scariest tasks while making sure that you are protected. With the wrong boots, the long hours of work can have adverse effects on your feet.
Essentially, fire personnel wear either station boots, bunker boots, or wildland boots. Before I share some of the best firefighter boots in the market, let's go through the three attributes you need to look for:
Safety: Firefighter boots go through stringent tests that are prescribed by the NFPA. The performance tests are different for bunker and wildland boots. In any case, the goal is to determine if the footwear remains functional against heat and protects against hazards like electrocution, punctures, falling objects, abrasions, slipping accidents, and so on.
Comfort: You can lose your focus if your footwear feels tight or if the collar is rubbing against your skin. Stiff outsoles and uppers can also restrict the movement of your feet. Be sure to get a flexible pair of boots and consider both the length and the width of the footwear when you are checking out shoe sizes. If you have foot conditions that you need to address, make it a point to get the appropriate footwear or insoles.
Durability: It is useless to wear boots with steel toes, electrical hazard protection, or high-traction outsoles if they break apart while you're in the middle of an emergency. As the fire rages and structures collapse, you need boots to perform their best. That being said, you still need to do your part in cleaning and maintaining them so they are in mint condition.
Beyond protection, comfort and durability are important since you will be spending a few hours, a full day, or more to put out fires. In this article, I've compiled and reviewed a variety of fire-fighting boots and put together a "Buying Guide" to help you decide which one to purchase.

Top 12 Firefighter Boots Reviews of 2023
1. Danner 18054 Wildland Tactical Firefighter Boots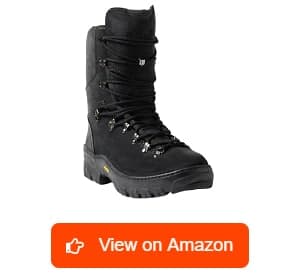 Blending the best qualities of the hiking and NFPA-certified footwear, Danner puts its best foot forward with these tactical wildland firefighter boots. Made of fire-resistant leather, the durable uppers boost comfort with breathable mesh linings. Since they are EH-certified, I can count on these boots to keep me safe against electrical hazards. With the slip-resistant outsoles, I can maintain traction in the muddiest grounds and steepest slopes under hot and cold temperatures.
Drawing inspiration from mountaineers, these lightweight boots can flex, allowing my feet to move freely. I can even run quickly when I wear them. The steel shanks effectively keep me stable while the shaft provides ample support for my ankle. Despite all the work that I've put this footwear through, the design ensures that they will not fall apart while I'm on duty.
Considering all the features, I can assure that these boots will give you optimal protection and comfort to navigate disasters in the wilderness. In addition to all the benefits, they are offered in narrow, medium, and wide sizes, which lets me choose the perfect fit in both length and width.
Unfortunately, the original laces are not as strong as the footwear so I decided to replace them with my preferred brand.
What We Like
Has durable fire-resistant uppers
Good for extreme cold and hot temperatures
Provides superb traction for rugged terrains
Reliable heavy-duty construction
Excellent heel and ankle support
Comes in narrow, medium, and wide sizes
What We Don't Like
The original shoelaces seem brittle
Crafted for wildland firefighters, these boots give your feet superior protection, support, and comfort so you can focus on performing your job. Moreover, the durable construction guarantees that the boots will hold up in any terrain and weather conditions.
2. Viking VW90 Men's Firefighter Felt Lined Boot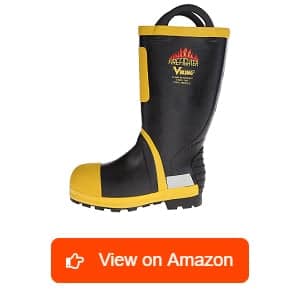 The words "comfortable" and "firefighting boots" are rarely seen in the same sentence but this pair will prove you wrong. The gumboots are flexible enough to allow for a wide range of motions. I can confirm this since I am able to squat, kneel, walk, and run without feeling any stiffness or tightness.
Even if I stand and walk on concrete all day, the ergonomic orthotic insoles minimize fatigue. At the same time, the boots come with superb ankle and heel support to prevent sprains when I need to cross mounds of debris. Plus, the ASTM-compliant toe caps and midsoles are made of steel, both of which protect my feet from all sides against punctures, cuttings, and the impact of falling objects.
Lined with thermal insulation, the interiors will not get too warm when I'm close to a heat source. Likewise, the rubber uppers are both chemical-resistant and fire retardant to reduce the material's ability to ignite. To top it off, these boots are electric shock-resistant. Thus, they are suitable for structural firefighting and rescue.
Whenever I put on these boots, I just hold on to the straps and pull them. The straps are quite heavy-duty so they don't come off despite the numerous times that I pulled them. Still, I wish that this model comes in wide options to accommodate a more diverse market.
What We Like
Can flex to let your feet move freely
Has comfortable insoles
Can help prevent ankle sprains
Made of chemical resistant and fire retardant rubber
Appropriate for firefighting in urban areas
What We Don't Like
Does not offer wide options
Arguably one of the most comfortable structural firefighting boots, this pair of gumboots alleviates the soreness that comes with being on your feet for long hours. Furthermore, the footwear offers reliable protection to keep you safe against all sorts of hazards.
3. Thorogood Trooper Men's Gen-flex2 Series 8″ Tactical Jump Boot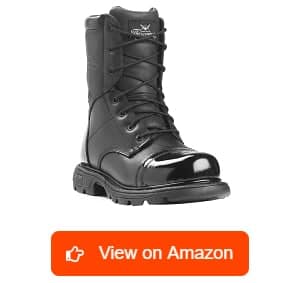 Worn by responders, military, and law enforcers, this footwear has the makings of a good pair of station boots. Built for long shifts and physically demanding jobs, the uppers are flexible enough to allow my feet and ankles to move freely. Apart from their superb slip-resistance, the outsoles bend with ease as I walk or run. Because they are light, these boots' performance is akin to hiking shoes.
Unlike most work boots, this pair has cushy and supportive insoles. Although they are removable, I don't have any intentions of replacing them any time soon. Even if I decide to change the footbeds, I can do so without changing the way the boots fit. Anyway, I love that they are true to size since I never have to return the footwear. In case you need a wide size, then you're in luck since the brand offers this option too.
Thanks to the Goodyear storm welt construction, the boots are extremely durable. Apart from that, this type of fabrication reinforces the footwear's waterproof protection. Perhaps the only thing that I don't like about these boots is that they are noisy. At the station, this noise can distract those who need to focus on their work. Still, I don't think this is a big deal given that this pair offers more benefits.
What We Like
Lets your feet move freely
Has excellent slip-resistant outsoles
Provides comfortable insoles
Offers wide options
Highly durable construction
Has superb waterproof capabilities
The verdict? By all standards, these boots are indeed one of the most trusted firefighter duty boots. If you need to work extra hours or run the extra mile, they will keep your feet comfy all day long.
4. Bates 5″ Tactical Sport Comp Toe-M Side Zip Boot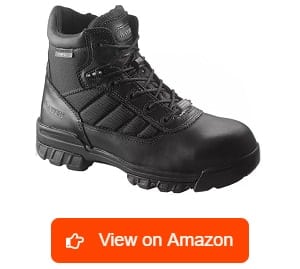 If you are required to wear safety toes at the station, then check out this pair of tactical boots. Favored by troops and first responders, the footwear provides ample protection with its electrical hazard protection and ASTM-rated composite toe, which makes it airport-friendly. Not to mention, the rubber outsoles have kept me sure-footed when I walk on wet surfaces.
These boots do not fall short on comfort. I find them surprisingly lighter than most tactical footwear. Furthermore, the sizes are available in extra wide options. But whatever you choose, I assure you that the toe boxes are spacious. As such, my toes can spread naturally, and they do not rub on the hard composite material.
Besides the shoelaces, the boots feature side zippers and velcros. They help me put on and remove the footwear in record time and let me adjust the fitting of the uppers correctly. While this pair appears thick, the moisture-wicking lining keeps my feet fresh even on hot days. Best of all, they are built to last long.
But like most boots, the insoles can still be improved as they lack the softness that I need to stand for long hours. However, this observation is based on my preference. The good news is that they are not glued to the shoes so you can replace them with your go-to brand if you don't like them.
What We Like
Appropriate for work and drills at the station
Has ASTM-rated protective features
Weighs lighter than most tactical boots
Has spacious toe box
Keeps the feet fresh throughout the day
What We Don't Like
The insoles lack softness
For station boots, you can opt for this pair as it features protective features that have passed the ASTM standards. Offering wide options, you can choose the size that suits your feet well.
5. Rocky FQ0002173 Alpha Force Zipper Waterproof Duty Boot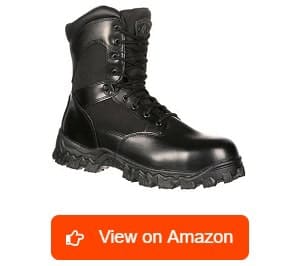 When you're at the fire station performing your daily duty, you will need to wear service boots like this pair of Rocky Alpha Force. Many law enforcers and first responders swear by this footwear's durability. Knowing it can survive more than half a decade of harsh work conditions, this is undoubtedly worth your money.
Equipped with side zippers, I can remove them quickly and don my turnout gear. With a combination of fabric and full-grain leather, the uppers keep my feet sweat-free and simultaneously provide waterproof protection. On wet and slippery surfaces, the grippy outsoles help me maintain my balance.
What makes this pair unique is that the brand's trademark Air-Port footbed. Capable of absorbing the shock and reverting to its original shape, my feet receive all the support and comfort they need. In conjunction with a lightweight design, I can move faster and conserve energy. Hence, I'm always ready for any emergency.
The only caveat is that these boots' break-in period can take up to a week. Once I got past that stage, they became extremely cushy. It's not a real issue since some boots can take even longer to break-in. Considering the footwear's price tag and quality, the "pros" of these boots definitely outweigh that one "con."
What We Like
Can last years of extreme work conditions
Easy to put on and remove
Has superb waterproof protection
Provides grippy outsoles
Has supportive and comfortable footbeds
Keeps the feet sweat-free
What We Don't Like
Needs to be broken in for about a week
If you take the time to break the boots in, you will experience comfort like no other. Furthermore, the lightweight design will make long and arduous work easier on your feet.
6. Reebok RB8894 Men's Rapid Response Boot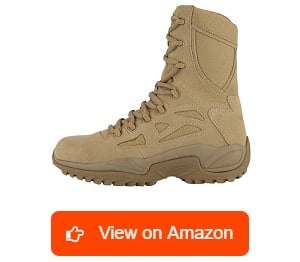 While these tactical boots are designed for the military, law enforcers, and first responders, I think their quality can pass off for your day-to-day work at the fire station. Their chunky uppers and outsoles may make you think that they are heavy but, believe it or not, I have put quite a lot of mileage on these boots. That says a lot about this pair's lightweight and comfortable design.
Like most of the boots I reviewed here, this one features side zippers that let me wear and remove the boots swiftly. Besides providing support, the flexible uppers allow my feet to move naturally. On top of that, the shock-absorbing midsole and cushy footbed work together to reduce foot fatigue. As a result, I can walk and run without any struggle.
Things can be unpredictable when responding to non-fire emergencies. So, it's nice to know that these boots have electrical hazard protection. Featuring ASTM-compliant composite toes, my feet will not have to bear the impact of falling objects. Their outsoles are aggressively grippy, which keeps me from slipping while I walk on wet concrete floors.
Sadly, these tactical boots are not waterproof. However, if you don't have to work under wet conditions, this will not be an issue.
What We Like
Ideal for station duty
Weighs lighter than you can imagine
Promotes natural movement
Has shock-absorbing footbeds and midsoles
The outsoles are very grippy
Has ASTM-rated steel toes
What We Don't Like
The boots are not waterproof
There is no reason to doubt why many firefighters consider this pair one of the top-rated fire station boots. Even though they are loaded with safety features, I guarantee you that they will not weigh you down throughout a long shift.
7. ROCKROOSTER Work Boots for Men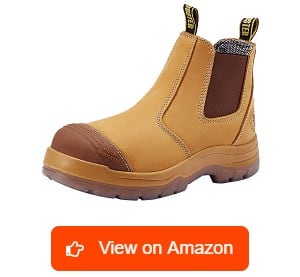 During an emergency, a split second can mean life and death, which is why some opt for these slip-on station boots for firefighters. The easy on-and-off significantly reduces the amount of time that is usually taken up by tying and untying the shoelaces. Thanks to the elastic gusset, I can stretch the opening wider to let my foot in. Then, they snap back to securely hold and support my ankle as I walk.
Since this pair falls under the "work boots" category, I also benefit from the ASTM-certified steel toe protection and its static dissipative capabilities. Aside from that, the slip-resistant outsoles prove to be highly effective in preventing me from slipping as I traverse muddy terrains and slippery floors. Thus, I don't mind wearing these slip-on station boots for non-fire calls.
Made of full-grain leather, the uppers are water-resistant yet my feet stay fresh despite the long hours of work. In addition to the moisture-wicking capabilities, the CoolMax technology keeps the interiors warm during cold days and vice-versa.
Like most boots made by this brand, choosing the right size can be challenging. Although the manufacturer provides detailed instructions on how to determine the correct size on the e-commerce sites, I still got the wrong size. Just be sure to read the return policies before buying these boots.
What We Like
Very easy to wear and remove
Provides ankle support
Has ASTM-rated protection
Can be worn as station boots
Keeps the feet warm during the cold days
Every second counts even when you're responding to a non-fire emergency, so you can make sure you're on time with these easy-to-wear firefighter steel toe boots. Regardless of the weather, you can depend on this footwear to keep your feet free of sweat all day.
8. Thorogood 834-7991 Men's Trooper Gen-Flex2 Series 8″ Waterproof Tactical Side Zip Boot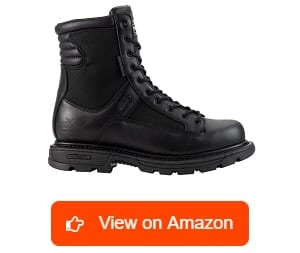 Suitable for the tasks, drills, and fitness training at the fire station, these Thorogood tactical boots are an industry-wide favorite. When I need to rush to the scene, I can wear these boots quickly thanks to the side zippers. Yet, they can also be worn for non-fire emergencies since they are light and comfy for walking and running.
As long as I'm wearing them, my feet feel less sore after a long day at work. While the original footbeds are comfortable, I like that they are removable. This way, I can replace them when they wear down or if I need something more supportive without altering the fitting. In any case, I like that the toe area is sufficiently wide so my forefeet and toes are not clumped inside.
While these boots are waterproof, the Goodyear storm welt construction improves the water resistance further by making a tighter seal. Another benefit is that it makes the boots more durable. Even in harsh weather, my feet are dry inside. Plus, I don't have to worry about them breaking apart in the middle of an emergency or training.
Another unique feature is the Gen-flex outsoles that effectively prevent slipping when I'm walking on slick or wet surfaces. However, they squeak a lot, which can be annoying.
What We Like
Ideal for the station and non-fire emergencies
The side zippers let you wear the boots faster
Comes with comfortable footbeds
Superior waterproof design
Light and comfy for long hours of work
Has slip-resistant outsoles
Deemed as one of the best firefighter station boots, this pair lets you move quickly as you conduct drills and respond to emergencies. With its superior waterproof design, you can wade through the storm without getting your feet wet.
9. Bates ENFORCER 8 Inch-W Women's Tactical Sport Side-Zip Boot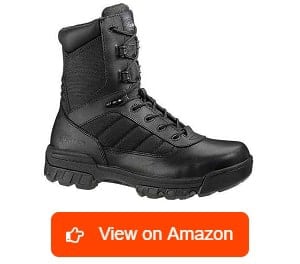 As one of Bate's best-sellers, this pair exemplifies the features that make up the most favorite women's station footwear. Due to their versatile design, these tactical boots are also popular among the ladies who work in security, law enforcement, and emergency services. More than that, I know many who choose them for their durability.
If you walk on concrete floors for twelve hours, I'm sure that you will love the flexible cushioned midsoles and removable insoles. Together, they bolster and comfort the feet to make long shifts more bearable. Where safety is concerned, the rubber outsoles effectively prevent slipping accidents.
On hot days, you can forget about sweat-drenched socks since the interiors have moisture-wicking mesh linings. Aside from that, the combination of leather and nylon ensures optimal breathability. Overall, these boots do not weigh much, which will help you move faster. If you have to respond to an emergency and wear your boots quickly, then you will surely benefit from the side zippers.
The only issue that most of the wearers reported is that the boots take more than a week to break in. Also, the original laces are short. But it is not too big of a problem since you can replace them with your preferred brand. Other than that, I think these boots are fantastic for those who are always on their feet.
What We Like
Ideal for physically demanding jobs
Very lightweight and flexible
Rubber outsoles are slip-resistant
Provides good cushioning
Allows you to move quickly
What We Don't Like
Takes more than a week to break-in
Has short shoelaces
Thanks to their amazing durability, you can enjoy these boots' flexible and comfortable design for years. If your job involves walking for extended periods on concrete, your feet will stay fresh due to its breathable materials.
10. Ariat 12276033 Sierra Work Boots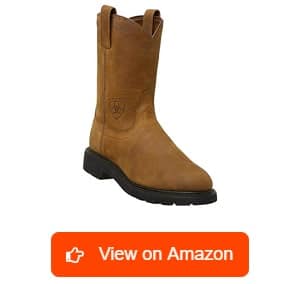 While these may not be exactly considered as your typical slip-on duty boots, many firefighters love the slip-on design. As such, it allows them to quickly remove the footwear when changing to turnout gear. Even though the boots appear bulky, I guarantee that they are light. I have already used them to perform my daily tasks at the station, and they never weighed me down.
Since they have slip-resistant outsoles, I have also worn these boots as I trekked the outdoors. One of their strongest points, however, is the ATS technology that helps improve stability and comfort. This helps me move with better agility. In addition, the well-cushioned footbeds alleviate the fatigue that comes with long hours of standing and walking. Meanwhile, the tall shafts support my ankles but they also protect them from abrasion.
Aside from the boots' superb functionality, I love the durability and stylish design. Outside of duty, I can wear them when I'm running errands, meeting friends, or doing outdoor activities. Despite offering wide options, they seem to run narrow around the toe area. If you ask me, they are not too tight. Still, each pair of feet is different so not everyone will find these boots a good fit.
What We Like
Highly versatile work boots
Easy to slip on and off
Boosts stability and comfort
Provides support to the ankles
Has durable yet stylish design
What We Don't Like
The work boots run narrow
Besides the easy-to-slip design, this footwear is durable and comfortable for physically demanding jobs. If I could have only one pair of boots for everyday use, it would be this one! Whether I'm at the fire station, trekking, or having dinner with friends, the style can match any outfit and purpose.
11. CQR Men's Military Tactical Boots
At an affordable price, I'm impressed that these tactical boots have all the qualities comparable to their expensive counterparts. In terms of style, they sport a modernistic design that goes with uniforms. Besides, they will not look out of place with casual outfits. What's more, the uppers are made of dirt-proof Duratex fabric, which makes cleaning and maintenance super easy. Hence, it helps in prolonging the lifespan of the footwear.
Functionality-wise, the boots boast shafts that protect my ankles against abrasions and keep them supported when I trek rough terrains. The rubber outsoles help me maintain a good grip when walking on slippery concrete. If you intend to use this pair as fire-duty boots, you will like the eyelet system and side zippers. Not only do they let you adjust the fitting, they also allow you to remove the shoes quickly so you can change to structural boots.
Rain or shine, I prefer wearing just one pair for my station duty but these boots are not waterproof so I have to put on a different pair when it's raining hard. During winter, however, they work just fine as long as I wear thermal socks. Another issue that I found is that the soles bend whenever I climb the ladders. On the flip side, they are extremely comfortable for long walks.
What We Like
Sports a modern style
Very easy to clean and maintain
Has supportive and protective shafts
Lets you wear and remove quickly
Provides good traction
Comfortable for long walks
What We Don't Like
Lacks waterproof capabilities
The soles bend when climbing on ladders
Under the budget-friendly category, I'd say that these are the most affordable firefighter-duty boots. If you're working at the station waiting for an emergency call, you can take advantage of the comfort they provide.
12. Oakley 11190-02E-6 Men's SI Light Patrol Boots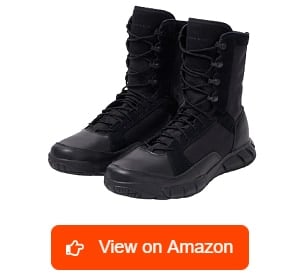 Coming from the makers of the finest eyewear, Oakley is also manufacturing stellar-quality patrol boots. Judging by the features of this footwear, I can see that they are just as perfect for station duty. For instance, the rugged outsoles are astonishingly grippy. I can walk on slippery concrete without falling and getting injured.
Next, the combination of the leather, suede, and canvas for the uppers is not just stylish modern but functional too. Apart from making the boots feel light, the materials are breathable. However, this is further improved by the Medial eyelets that enhance the ventilation. That's why I like wearing them on extremely hot days.
Generally speaking, the footwear is flexible, allowing my feet and ankles to move more naturally when I run or squat. On top of that, the boots are equipped with soft and supportive midsoles and insoles.
The only thing that's missing in these boots is the side zippers! While the shoelaces are easy to adjust, I need extra time to loosen them up when I need to change footwear. Furthermore, the shafts are on the soft side so they do not support my ankles the way hiking boots do. I think they are more appropriate for long hours of walking and standing.
What We Like
Equipped with superb non-skid outsoles
Made of lightweight yet durable materials
Has Medial eyelets for better ventilation
Provides supportive midsoles and insoles
Easy to adjust laces
What We Don't Like
No side-zippers
Lacks support around the ankles
Excellent for the hot summer days, these boots are well-ventilated so your feet can stay fresh all day at the station. Built with lightweight and flexible materials, you can save your energy from making the footwear bend as you move.
What Is a Pair of Firefighter Boots
Firefighter boots are the footwear that fire personnel wear either at the station or while putting out the fire in urban and wildland settings. While the hazards that firefighters face are more or less the same, the type of fire can dictate the boots that they must wear.
As the name suggests, fire station duty boots are commonly worn when responders are at the fire station or performing non-fire emergencies. Some fire stations require safety toe work boots while others are more lenient and allow firefighters service boots.
Meanwhile, the bunker or turnout boots are intended for urban firefighting. Besides the safety toe, these boots feature electrical hazard protection and slip and puncture-resistant outsoles. Usually, this type of footwear is made of rubber. These days, however, you can also find bunker boots made of leather.
On the other hand, wildland boots are designed with high traction outsoles for rough terrains. In some cases, firefighters spend days extinguishing the fire. Hence, the footwear must be both durable and comfortable. Usually, these boots are welted leather with vapor barrier linings.
How Does It Work
Firefighter boots must pass a series of tests prescribed by the American Society for Testing and Materials (ASTM) and the National Fire Protection Association (NFPA).
For starters, the safety toes must comply with the ASTM standards for impact and compression, whether it is made of steel or composite. In conjunction with rubber outsoles, your feet will be protected against cutting, puncturing, falling, or rolling objects on every side. Moreover, the outsoles should be slip-resistant so you don't slip or fall when you step on wet surfaces or uneven ground.
Electrical hazard protection is also important since you could be dealing with open electrical circuits if you are inside a building. Furthermore, each part of footwear must not melt or fall apart when exposed to high heat so you can continue working regardless of where you are in the scene of an emergency.
Types of firefighter boots
There are many acceptable designs of footwear for fire personnel but the features are somewhat close to any work boot. Whether you need station boots, bunker boots, or wildland boots, these are the different styles you can find in the market:
Fire retardant rubber boots
Tactical firefighter boots
Slip-on ankle-high work boots
Patrol boots
Wellington boots
Why Do You Need Firefighter Boots
Even though your work boots may have slip-resistant outsoles, electrical hazard protection, and steel toe caps, they may not be constructed with sewing threads that can withstand the heat. While your work boots can keep you safe in industrial settings, they are not tested and proven to be safe for firefighting jobs.
Besides falling objects, slippery surfaces, and open electrical circuits, firefighters have to deal with many different hazards, including flames or explosions. Hence, firefighters need to wear the correct footwear.
Buying Guide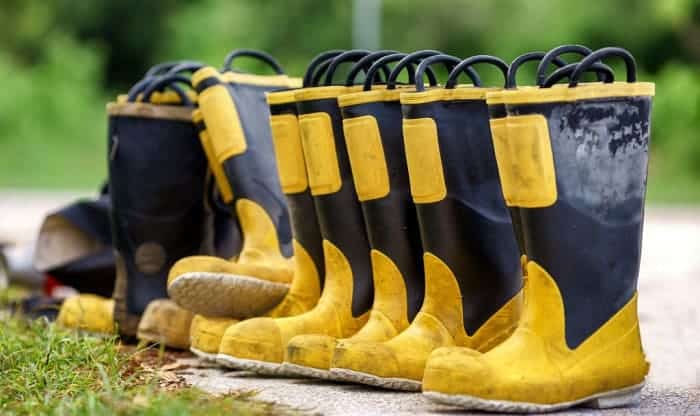 When it comes to choosing a pair of firefighter shoes, we prioritize safety. Still, you need to think fast and be quick on your feet because emergencies can be highly unpredictable. There's no telling how long it will take to put the fire out. Hence, you need to consider other qualities besides the protective features.
You may have already checked other forums like Reddit. But if you need more help, let me offer you tips to help you find the right pair of boots.
Lightweight
Composite or steel toes can make the boots heavy. Fortunately, manufacturers now are more attuned to the needs of the fire personnel and have developed designs that keep the footwear light. One of the advantages of lightweight boots is that you don't have to exert a lot of energy. Since you will be standing, running, and kicking objects to clear away obstacles, you need to be able to lift your legs easily.
Weatherproof
Steel toes conduct the heat, which is why some firefighters opt for composite toe shoes. During the winter, steel toes can make your feet cold. If you need to wear steel toes, choose a pair of boots that are well-padded or insulated. Although both steel and composite toes comply with the ASTM standards, steel toes are said to be more resilient.
Safety Toe
Most firefighters wear steel or composite toes that comply with the ASTM standards. When you're at the scene of an emergency, you need boots that can withstand the impact of falling objects. Some firefighters wear service boots when they're at the station or responding to non-fire calls. Note that each local fire station may have its own rules so be sure to consult your fire chief or any superior officer.
Electrical safety
Besides falling objects, you will be exposed to electrical hazards while you're on the job. To protect yourself against static electricity, you need static dissipative footwear. Meanwhile, the electrical hazard resistance will protect you against open electrical circuits. Keep in mind that not all boots have these capabilities. Be sure to check the manufacturer's website or the shoe markings to see if the electrical hazard (EH) rating of the boots.
Outsoles
Besides non-skid properties, the outsoles must be resistant to heat, abrasion, oil, and puncture. As you put out the fire, you will be walking through puddles of water, debris, or flames. Anything could happen so it is important to make sure that your footwear is not the one causing you injuries.
Care and Maintenance
Using a cloth and warm water, you can clean your firefighter's work boots by gently scrubbing the dirt away.
When it comes to leather firefighter boots, manufacturers recommend against soap and detergent as they are notorious for reducing the material's ability to resist water. However, you can clean off stubborn stains with silicone liquid. Just be sure that the leather is completely dry before you apply it.
Keep in mind that manufacturers may have specific recommendations that you should follow to clean and maintain your boots. Make sure to read the instructions and inspect your boots periodically, especially if you have exposed your boots to certain hazards.
Frequently Asked Questions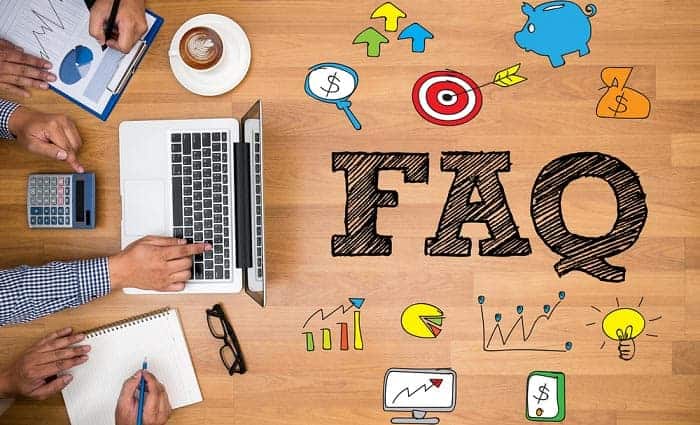 What are the most trusted firefighter boots brands?
Most of you are already familiar with Haix fire boots, but I encourage you to try the brands I reviewed. Danner, Viking, Thorogood, Bates, Reebok, ROCKROOSTER, Ariat, CQR, and Oakley have an excellent reputation for manufacturing high-quality boots. Of course, there are other brands worth checking out like Firefighter 3 boots.
Are there specific standards for all firefighter boots?
The NFPA has created guidelines for wildland, as well as proximity and structural fire. All firemen boots must pass a series of tests.
For instance, in the wildland, responders will have to make their way through steep slopes or bumpy terrains. Besides the protection against fire and puncture, wildland fire personnel need boots that help them maintain their balance and move their feet freely.
Apart from slip resistance, the specialized footwear for wildland fire personnel must comply with NFPA's performance standards such as resistance to heat, corrosion, flame, cut, puncture, and abrasion. The attachment strength of the boot's eyelets and hooks must also be tested. Furthermore, the sewing threads must not melt or char when exposed to heat, while the inside sole should be resistant to conductive heat.
Meanwhile, structural and proximity fire personnel benefit from lace-up combat-style boots since they often need support when climbing ladders and roofs. In addition to these challenges, the firefighters may be working near high-heat emitted by flammable liquids, metals, or gases. They will also have to cross pooled water when working inside a house or building.
Per NFPA's standards, those who work with structural and proximity will need boots that are resistant to liquid penetration, puncture, and electricity. What's more, the seams and uppers must have protection against liquid or blood-borne pathogens, while the boot's shanks must be tested for their ability to resist bending. For good measure, the puncture-resistant features must not show any sign of flex cracking.
Proximity firefighter footwear must also pass the thermal insulation and radiant reflecting performance tests. Structural footwear, on the other hand, must pass radiant heat resistance and conductive heat resistance tests.
What is the difference between firefighter boots and other similar-looking safety boots?
In many ways, firefighter boots and any regular safety toe boot are similar. They are equipped with slip-resistant outsoles, electrical hazard protection, and safety toe caps that meet the ASTM standards. The main difference is that firefighters are often exposed to the extreme heat that flames and gas emit. Their boots have to undergo testing and meet the standards of the NFPA, which regular work boots for industrial jobs may not need to.
Conclusion
Whether you're extinguishing large flames or rescuing people, wearing the wrong footwear can spell disaster so don't take your boots for granted. After all, the footwear is an integral part of the entire turnout ensemble and personal protective equipment. Taking good care of your feet will help you think and act fast as you respond to emergencies.
Fire can occur anywhere in the city or the wilderness. Each situation will require a specific approach and protective gear. That said, it can be hard to determine a single pair that defines the qualities of the best firefighter boots. Aside from checking out my recommended footwear, I hope this article has answered some of your burning questions and guided you in choosing the right boots for your needs.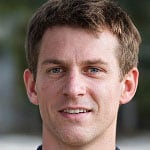 Having worked in the field of personal protective equipment for over two decades, Andrew Carnegie is a specialist in the field.
At EDC, he strives to improve performance efficiency and promote workplace safety for EDC's readers and customers. He also researches the most up-to-date equipment that has earned relevant accreditation for use in a wide range of industries and specialties.