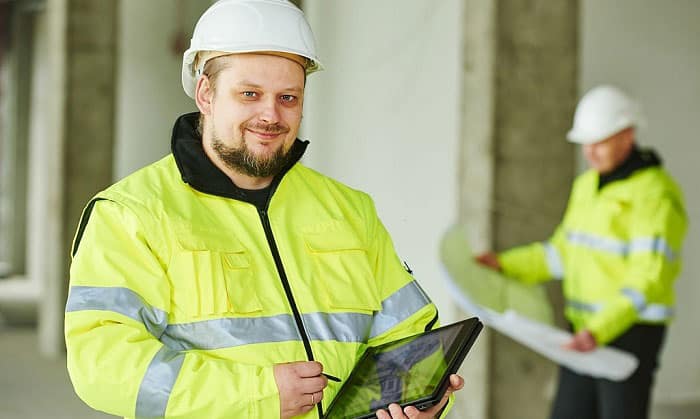 It's undeniable that heavy rainfalls and other weather conditions reduce people's ability to see. Having the best high visibility rain gear ensures that people are seen wherever they are. Even if one wears this on the worksite or while going home, they do not worry about safety and staying dry.
But, before going through the list, here are three essential features to consider.
Construction and Function: The primary function of rain gear is to keep us dry, so they are mainly designed with waterproof features. Affordable gears usually have inexpensive coats or inner materials with poor long-hour hold-up features.
One can choose the final construction of rain gear. It comes with three types of layering. A wearer has the option to select one, two, or three-layered structures. Ponchos come with one layer and have no backing.
Two-layered structures are coated and backed with fabric. Meanwhile, three-layered designs have reinforced material inserted between two coats.
Comfort and Breathability: Everyone wants to wear something comfortable, especially if they have to work with it throughout the day. Comfort is determined by the type of coating used, the overall weight of the coat, and the garment's breathability.
If the worker moves often, a thicker raincoat may be a burden. So, lighter ones are preferred.
PVC and Neoprene coatings are a bit stiffer than Polyurethane coatings. However, a material depends on the wearer's activities and preference.
Durability: If a worker spends most of his time on demanding worksites, he would definitely need protective gear that can hold up over time. Look for high-grade polymers that give highly durable snaps and high-quality zippers.
Neoprene coatings are also more durable but usually sacrifice comfort, as mentioned before. A good quality stitch also comes with great reinforcement for more extended wear.
Introducing only these crucial features is not enough, so there's a complete "Buying Guide" to further guide the reader on the top-quality product once they make it at the end of this article.
Top 10 High Visibility Rain Gear Reviews
1. Pioneer V1130460U-L High Visibility Safety Jacket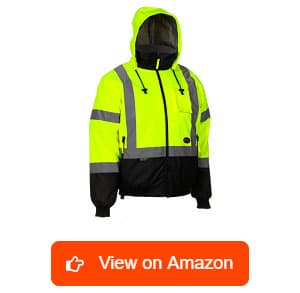 I really enjoyed this reflective waterproof jacket ideal for all weathers with its PU-coated Oxford Polyester shell.
This 2-in-1 breathable hi vis rain gear is highly insulated thanks to the material mentioned above. The jacket also comes with Polyfill insulation to make it more insulated and provide comfortable warmth. Even the outer shell is made of Oxford Polyester, making the overall jacket wind and water-resistant.
Everything about this jacket is adjustable. The ribbed cuffs and waist are pretty much elastic, so I don't have to worry about gaining a few pounds of weight. What I like about this product is the removable inner fleece liner that makes this item highly adaptable. But that's not the only thing that's removable.
The hood is also detachable, and the product even comes with a pouch I can use to conceal the cloak. This hi vis rain jacket with removable lining is also highly reflective, thanks to the Startech reflective tape that exceeds all safety apparel standards.
The coat also features a full front zipper to keep me secure. Besides, there are two radiophone clip straps, 2 large zippered pockets, one phone pocket, and inside chest storage. With all this storage, I can put all of my essential belongings.
But due to the interior snap lining, my hands have a hard time going through the arm and wrist level.
What We Like
Ideal for all weathers with PU-coated oxford Polyester shell
2-in-1 breathable gear highly insulated with Polyfill insulation
Oxford Polyester outer shell makes it wind and water-resistant
Removable inner fleece liner and hood that's highly adaptable
Highly reflective tapes and full front zipper for security
Several straps and pockets make excellent storage for belongings
What We Don't Like
The interior snap lining gives a hard time going through arm and wrists level.
In my opinion, this rain gear is constructed well. I was never disappointed when I wore it in the most demanding conditions.
2. JORESTECH High Visibility Rain Jacket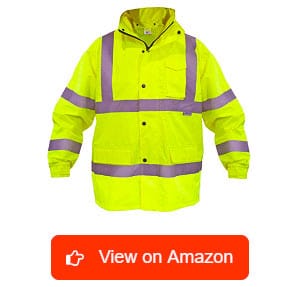 This safety rain jacket from JORESTECH guarantees good visibility for workers in low light or under the rain.
The JORESTECH High visibility rain jacket meets ANSI/ISEA 107-2015 Class 3 Level 2 standards. Thus, it is a reliable choice for workers since it prioritizes the highest personal visibility available.
Water and wind-resistant Polyurethane coats guarantee high performance, so I never have to worry about getting soaked or having cuts in the skin. Plus, the 150D Polyester outer shell and Polyester inner mesh liner add two layers of extra durability. After all, sturdiness is one of my priorities as a construction worker.
It maintains a stylish and professional look that I appreciate. Also, the jacket comes with several easy-access pockets where I can store my essential gear. I hold my radios and phones that are essential in keeping communication in the work field. Besides that, I can use this on other important occasions, not just in my work.
This lightweight reflective rain jacket comes with heavy-duty front zippers that further add protection as it closes the coat properly. But as we wear this for too long, the internal area tends to get hot, so working in the summer heat requires a more ventilated jacket.
What We Like
Meets ANSI/ISEA standards for highest visibility available
Water and wind-resistant Polyurethane coat for high performance
150D Polyester outer shell and Polyester inner liner guarantees durability
Has a stylish and professional look
Several easy access pockets to store all crucial gears
Ideal for other events, lightweight, and has heavy-duty zippers
What We Don't Like
Tends to get hot in the summer heat
All in all, this Jorestech jacket is a safety raingear with good value for my money, as it allows safe work under the rain.
3. KwikSafety GALAXY SoftShell Safety Jacket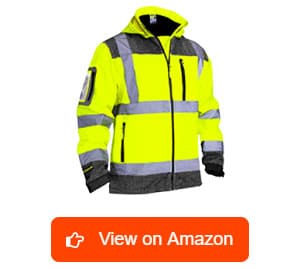 This safety jacket has a limited edition pattern that makes it unique from other high visibility rain gears.
The galaxy pattern on its black trim highly reflects light, and the 2-inch solid reflective tape further adds visibility in broad daylight and nighttime. This Galaxy Softshell Safety Jacket has a soft and warm exterior and a fleece interior that helps me experience comfort and warmth in cold weather.
It comes with five different pockets that allow me to store my necessities easily—feeling lost in the dark? I got my flashlight and mobile phone in one of the large pockets. Small tools and keys are also welcome in one of the pockets.
I totally felt the difference that this hi vis rain trench coat offers. It's a versatile jacket that can serve various construction functions. It is heavily insulated and even comes with adjustable elastic wrist cuffs that guarantee good and proper movement.
This jacket is even ANSI-tested and OSHA-compliant. In fact, all products from KwikSafety undergo quality checks and tests, so workers can rely on them for long-term and safe use.
When I first used it, I noticed some fleece fibers that shred off on my shirt. It went down after laundry, so it's nothing to worry about.
What We Like
Limited edition galaxy patterns and reflective tapes add visibility anytime
Built with a soft and warm exterior and fleece interior for comfort and warmth
Has five different pockets for ease and storage
Versatile jacket ideal for different construction functions
Modifiable wrist cuffs guarantee good and proper movement
ANSI-tested and OSHA-compliant
What We Don't Like
Some fleece fibers shred off on the first use.
I love the uniqueness of this soft-shell safety jacket. In fact, I never saw other products with a galaxy pattern.
4. RK New York Hi-Viz Workwear Rain Suit Jacket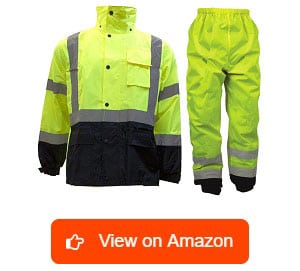 This design from RK comes with both a jacket and pants to reduce the hassle of choosing separate pieces.
This workwear has a total of five pockets, two at the bottom part of the jacket, one chest pocket to store my phone, and two pockets in the pants. I was amazed by the number of storage compartments I could put my things in. With this feature, all my belongings are within my reach in an instant.
Like other visibility rain gear, the outer shell is waterproof Oxford Fabric that keeps me dry even under heavy rainfalls. What keeps me drier is the zipper closure that I use to seal off the jacket. It comes with a storm flap and sealed seams. There's also a dual lining mesh that guarantees a quick-drying feature.
This excellent workwear oozes quality as it meets ANSI/SEA 107-2015 Class 3 standards. It only weighs 2.18 pounds, which is one of the lightest workwear I have worn in my entire life. Plus, I can choose between lime and orange colors.
However, I wish the hip area of the pants were a bit large because my friend had trouble trying to fit in due to her curvy hips. Choosing a more significant size does not work either, so she tailored it to fit her body shape.
What We Like
Comes in a set of jacket and pants
Has a total of five pockets for multiple storage options
Outer shell is made of waterproof Oxford Fabric
Zipper closure with storm flap and sealed seams to effectively seal off the jacket
Dual lining mesh guarantees a quick-drying feature
Meets ANSI/SEA standards and comes in lime and orange colors
What We Don't Like
Hip area might be fitting for some curvy-hipped women
This is one of the best high visibility rain gear I tried. All of its features keep me dry and safe during work.
5. JORESTECH Safety Rain Pants
The next one is JORESTECH pants that perfectly go with any jacket to complete the rainproof wear.
These rain pants are available in seven different sizes, giving wearers a broad option so they would not have a hard time selecting the right size for them. It complies with ANSI/ISEA 107-2015 Class E Type R, the highest standard for road safety. Hence, I can rest easy as it gives off excellent visibility to warn others about my position.
What makes it pass the ANSI standard? This product has full reflective coverage and two-inch reflective strips that keep me noticeable in broad daylight and nighttime. Aside from giving visibility, this feature also adds contrast.
Its features are functional, like the flap openings on its sides that give me proper storage. These flaps also allow me to be more hands-on and have easy access to my things. The waistband is also pretty elastic, and it comes with a highly adjustable string that I can personalize to fit my waist perfectly.
This pair of rain pants effectively cuts down on solid winds. So, it is highly ideal for places with torrential rains and fierce winds. I have thin legs, so the leg part of the pants is a bit baggy for me. People with thicker legs would not worry about this issue, though.
What We Like
Highly functional and is available in 7 different sizes.]
ANSI/ISEA 107-2015 Class E Type R-compliant, highest road safety standard.]
Reflective coverage and strips provide excellent visibility at night and daylight
Flap openings for proper and quick-access storage
Elastic waistband and highly adjustable string for a personalized waist fit
Cuts down on solid winds, making it ideal for fierce winds and rains
What We Don't Like
Leg part may be a bit baggy for people with thin legs
It's a decent pair of pants to wear because it offers excellent durability and is pretty adjustable for rain pants.
6. Ergodyne Glowear 8365 Rain Jacket
Ergodyne is famous for its large selection of ANSI class rain jackets that can last tough jobs in my work site.
The Ergodyne Glowear Rain Jacket is made of Polyester and is available in two different colors of lime and orange. Both colors are highlighting and reflective. I never have a hard time choosing between the two. This hi vis rain gear big and tall comes with ANSI-compliant and has 3M Scotchlite reflective material.
Its 300D oxford Polyester outer shell makes this item fully waterproof and rugged, but that does not mean that this one misses out on breathability. The PU coating ensures that the product stays breathable aside from offering durability. Even the mesh lining is entirely breathable, so I never have to worry about my comfort.
Thanks to the two external front pockets that come with snap flaps for security, storage is never a problem. Top that with an intelligent phone chest pocket that allows me to reach my gadgets whenever needed, the jacket is indeed convenient to use.
Another thing that I like is the inset hood with stoppers and drawstring. Because of these two features, I can adjust the hoodie to fit my head size perfectly.
It's a good rain jacket for my daily commute. With the zipper, do not use too much strength, or else it might snag a little.
What We Like
Made of Polyester and available in two different colors of lime and orange
ANSI-compliant and has 3M Scotchlite reflective material
300D oxford Polyester shell makes this waterproof and rugged
PU coating makes the coat highly breathable and comfortable
2 external front pockets with flap and a phone chest pocket for storage
Hood with stoppers and drawstring to fit head size perfectly
What We Don't Like
Too much force while zipping can make the zippers snag a bit
All in all, it's a great rain jacket to use. That's why I wear it during workdays and weekends, and it never fails to keep me safe.
7. West Chester – John Deere Rain Suit Jacket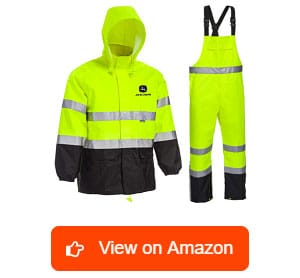 I was looking for budget-friendly suit jackets with prismatic reflective striping. Thankfully this one fits the criteria.
Thanks to the reflective striping and bright color, I was able to experience superior performance and ultimate protection as it helped people see me on the road. The visibility is boosted with the Poly Oxford material and backed with PU, two of the most robust base materials used in manufacturing rain jackets.
It also comes with a chest phone pocket hidden under a storm flap for security. The product also gives out a crisp and modern look thanks to the black fabric in the jacket's lower area. This black space also gives a clean look to the suit, even when we spend time on the construction site.
This Hi-Viz ANSI Class 3-qualified product is ideal for all types of outdoor use. When I get my day off from work and go to my farm, I wear this jacket. My friend also chose this suit for his work as a highway maintenance officer.
Lastly, the rain suit jacket is surprisingly easy to clean. The only thing I have to do is to wipe the PU clothing using soft wet clothing and a bit of detergent, and the stains immediately come off. The leg part is long for me, though.
What We Like
Prismatic reflective striping and bright color give excellent visibility
Guarantees superior performance and ultimate protection
Poly Oxford is backed with PU material for optimum durability
Chest phone pocket under storm flap for security
Gives a modern, crisp, and clean look thanks to the black fabric on the lower part
Ideal for all outdoor use types and is easy to clean
What We Don't Like
Leg part is a bit long for me
Select from standard silver reflective striping for budget-friendly styles or prismatic reflective striping for superior performance and ultimate protection.
8. Ergodyne 8377 High Visibility Reflective Jacker
It's rare to find a reflective raingear that hides dirt and grime from work. Thankfully this rain jacket is an exception.
This high visibility rain jacket features black front panels that effectively hide unwanted grimes and dirt I got from working on the site during or after the rain. I still look clean even when I spend the day dealing with blocks of cement and dirty equipment with this feature.
The reflective rain suit effectively resists water and wind thanks to the 300D Oxford Polyester/Nylon outer shell. Its inner material is made with a PU coating that adds durability. I also love the excellent thermal insulation, all thanks to the 160g quilted insulation. Plus, it is not bulky and uncomfortable when I wear this jacket.
It gave me a comfortable warmth, which I need when working under freezing temperatures during graveyard shifts. I do not have to worry about visibility because it complies with ANSI Type R, Class 3, so it's highly reflective. It also comes with an adjustable inset hood with drawstrings and stoppers.
I can quickly zip the jacket because it smoothly glides through the line, no matter how harsh the weather is. Since this safety rain gear is made of Nylon, I cannot spend time under heavy rainfalls for a long time.
What We Like
Black front panels hide grimes and dirt.
Water and wind-resistant hi vis rain jacket with hood.
Oxford Polyester/Nylon and PU coated inner material guarantees durability.
160g quilted thermal insulation gives a comfortable warmth.
Passed ANSI standards that guarantee high visibility.
Adjustable inset hood with drawstrings, stoppers, and smooth zippers.
What We Don't Like
Not ideal for long-hour wear under heavy rainfalls.
Thanks to this highly reliable and reflective rain gear, I was never worried about working in the dark or under the rain.
9. KwikSafety Torrent Yellow Hi Vis Rain Jacket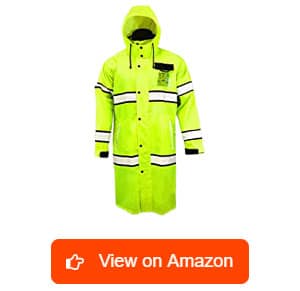 When my old hi vis rain pants and jacket got cut and crinkled, I looked for this high visibility rain suit from KwikSafety.
What makes this item highly visible is the fluorescent yellow color that comes with retro-reflective material bands that perfectly comply with ANSI standards. These two features are tested by ISO.IEC 17025-accredited laboratory, so I know that they are highly reliable even when I wear them on my graveyard shift in the site.
This gear comes with a complete size guide in both inches and centimeter measurements for greater fit accuracy. Because of this feature, this gear gives me a proper fit that, in turn, gives me adequate performance.
I also love its incredible style that suits all critical events. When assigned to the highway or traffic control zones, this hi vis rain gear perfectly blends with the environment.
The zipper closure also makes this easy to wear, perfect for incident responders and law enforcement personnel. If you get one, remember to ensure that you'll get one size smaller than your original size because this class 3 rain gear has big sizing.
What We Like
Fluorescent yellow color with retro-reflective material for visibility
Highly reliable because it is tested by ISO.IEC 17025-accredited laboratory
Comes with a complete size guide for a more accurate fit
Promises proper performance due to appropriate fit
Comes with an incredible style that suits various work
Zipper closure makes this jacket easy to wear
What We Don't Like
Sizes can be a bit bigger than stated by the manufaturer
Overall, it's an excellent high visibility raincoat filled with necessary features to keep workers dry and warm at all times.
10. Carhartt Men's High Visibility Waterproof Jacket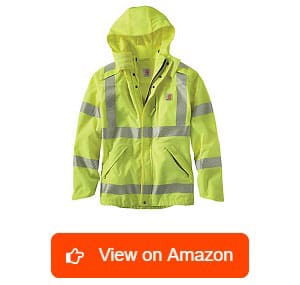 For work on-site during heavy rainfalls, this fully water-resistant jacket from Carhartt is an excellent pick with high-quality material and a protective design.
The jacket is from imported 250-denier materials that guarantee a waterproof finish. Add that with a waterproof shell that keeps me dry through light to moderate rain.
This 100% Polyester Carhartt hi-vis rain gear also comes with a heavy-duty zipper with storm flaps closure to ensure high security during use. It allows workers to move around and perform with ease.
The men's 3M reflective rain jacket comes with Scotch reflective material #8725. Not only that, even the illuminating silver trim is segmented for breathability.
Another thing that I like about it is that it comes in a bright lime color to further boost its visibility, especially in dark places under the rain.
I do not have to worry about keeping my belongings secured because the right chest map pocket comes with a zipper that protects my belongings. Carhartt has been manufacturing high visibility rain pants, raincoats, and jackets since 1889; thus, workers can rely on this brand.
There are also interior stretch-polyester storm cuffs and snap-on contoured hood, which are both handy features. However, I noticed that this product is a bit expensive compared to other high visibility raincoats. But we pay for the quality, so it's worth it.
What We Like
Water-resistant jacket made of 250-denier materials and pure Polyester
Has heavy-duty zipper with storm flaps closure for high security
Scotch reflective material and highly reflective silver trim for breathability
Bright lime color for further visibility
Chest map with zipper closure to keep belongings safe
Convenient interior storm cuffs and snap-on contoured hood
What We Don't Like
A bit expensive than other reflective raincoats.
Thanks to this rain gear, my co-workers can see me instantly on the worksite, especially during rainy weather conditions.
What are High Visibility Rain Gears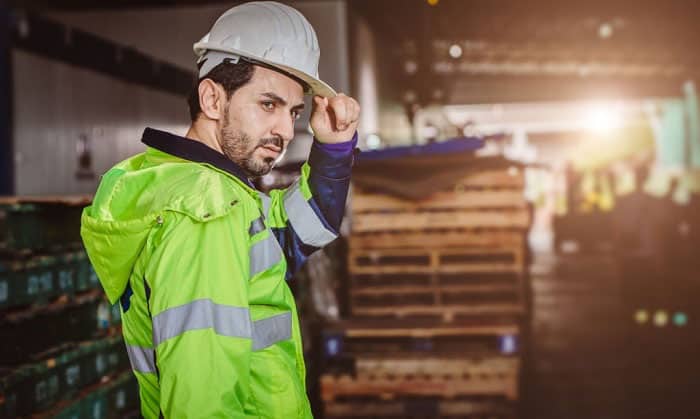 People may be confused about what high visibility rain gears are. Simply put, it's just an article of PPE or safety clothes that comes with retro-reflective materials. They are worn by construction workers, road officers, porters, aircraft maintenance crews, seamen, and firefighters.
This rain gear is a necessary PPE during rescues, emergencies, or any event that involves terrible weather and low visibility. It comes with illuminating straps and is available in flame buoyant and highly contrasting neon colors so people can see the wearer when illuminated by headlights, preventing accidents.
How Does it Work
Now that you know about high visibility jackets, it's time to understand how it works. High visibility jackets come in either lime, yellow, orange, or bright red colors that everyone can quickly notice.
These jackets, like the gore-tex high visibility rain gear, have reflective stripes attached to them. If these stripes are hit with light, it reflects light, allowing other people to see the wearer. Therefore, it's good safety gear to wear to avoid accidents.
In fact, some of these high visibility rain gears are attached with light beacons, LED lights, or simply glow in the dark to add more visibility. Vests are more preferred than jackets in warm weather.
All gears must follow EN ISO requirements for high visibility clothes: design, background, the performance of retro-reflective materials, photometric, care labeling, and physical performance. For those who are wondering, EN 471:2003 is the European standard for high-visibility wear specifications.
Types of High Visibility Rain Gears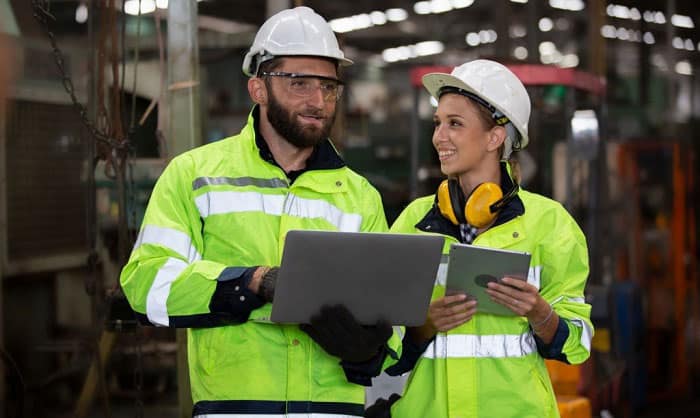 High visibility rain gears come in jackets, vests, bibs, coveralls, and coats. It helps people see the workers during their work and eventually alerts road drivers and other vehicle users of a worker's presence, especially in dark places or with low light. The standard choice for rain gear is the following:
Rain Jacket: This is people's choice for rain gear, thanks to its incredible versatility. Most rain jackets are longer than standard jackets and come with storm flaps that keep water out of the zipper. There are also snap-on hoodies when the worker needs them.
Rain Pants/Bib: A worker needs something to go with the jacket, and bib overalls perfectly go with it. Durable fabric pants like denim are not recommended because it tends to get waterlogged in the rain. PU-coated rain pants keep the wearer dry throughout the day.
Parka: Even though a parka is not a rain gear type, people can commonly see it in areas that require insulated rain gear. This one comes with the waterproof outer shell and warm inner lining of the parka mix that makes it ideal for any winter situation. One downside of a parka is that it can be hot to wear for warmer places.
Multiple-layered Rain Gear: This one is ideal for places with unpredictable weather conditions. It is a highly versatile garment that comes with several layers the wearer can zip or unzip together.
If the rain pours down or there's a sudden temperature change, it would be easy to customize your preferred warmth and level of security.
Why Do You Need High Visibility Rain Gears
There are multiple reasons why people working in low-light areas need high visibility rain gear. This is important during bad weather, especially when heavy rain downpour or snowing very hard.
Hi-vis rain gears have retro-reflective materials that effectively reflect light from various light sources, such as headlamps, which can come in handy in places with low light or rainy environments.
Buying Guide
It's best to have good work gear with high-quality materials carefully designed to prevent water from getting into the fabric. Instead of getting inside, the water should roll off the coat. It is challenging to create a waterproof jacket that maintains breathability to prevent sweat buildup underneath.
This can be achieved by creating three layers of typical waterproof fabric: the outer Layer, coated Layer, and the comfort mesh.
Outer layer – this section is also known as the face fabric and is made from resilient materials such as Polyester and Nylon. Although it isn't strictly waterproof, it is sturdy thanks to the durable water repellent (DWR).
Coated Layer – this layer consists of ultra-thin substances like Polyurethane or Teflon. The thin membrane consists of tiny holes that keep water and other liquids out. Not only that, these holes have a hydrophilic coating that eliminates water vapor to keep the garment comfy and breathable.
Comfortable Mesh – the final layer consists of a fine mesh that shields the middle layer and improves comfort. Some jackets are composed of two layers and a distinct layer of fabric for the inner part of the jacket.
Care and Maintenance
It's essential to know how to take good care of rain gear and how to maintain them. So, here are some of the most useful tips to keep hi-vis wear clean and functional for years.
It's essential to wear proper gear for the right weather. Remember that various materials are made for different weather systems. Some are made to perform in the rain but might be uncomfortable to wear.
Snow, ice, salt, and slush might interfere with the wearer's comfort and is ideal for cold weather. On the other hand, cool and breathable gear is perfect in the summer. It dramatically helps the wearer stay fresh even when working under broad daylight and through the hottest days of the year.
Washing any reflective gear must be done with utmost care. Some gears are machine-washable, but always ensure that the brand explicitly states it. There are also guidelines to follow if the wearer plans to wash it with a washing machine. These are some of it:
Tumble dry on low or line dry.
Wash the rain gear inside out.
Never pre-soak the items.
Always wash similar colors together.
Be careful when washing with items having Velcro, hook, and loop closures as they may catch on the mesh or other breathable fabric, causing it to tear apart.
Never use bleach or fabric softener for high visibility rain gears.
Always use mild laundry detergent.
Do not iron or dry clean.
When washing hi-vis rain gear with reflective tapes, it is essential to follow precise care instructions provided by the manufacturer. Improper washing methods can drastically reduce the protective qualities of the work gear, making the wearer prone to hazards and risks.
Users should also do frequent spot cleans. It is a good habit to maintain if the watcher wants to keep the quality of his rain gear. Clean the garment using a soft sponge or cleaning cloth, along with a detergent or mild soap.
Always pay attention to the jackets and vests and store them in proper places. Since most workers toss it in the truck after use, rain gears don't get adequate cleaning at home. Ensure that these garments receive good cleaning rotation too. Using them in a fresh state also affects the wearer's comfort, after all.
Frequently Asked Questions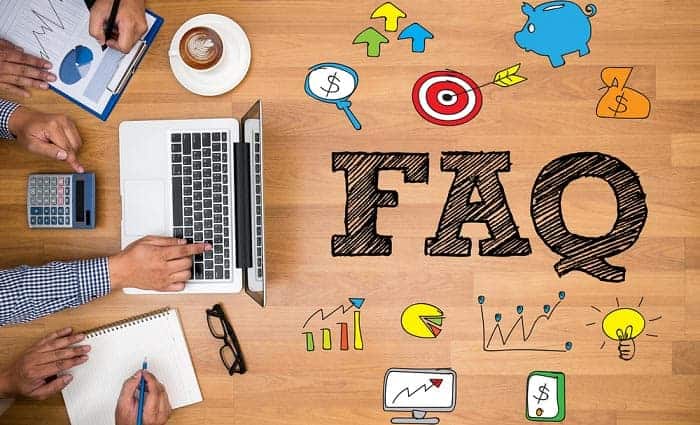 What is the top-rated high visibility color?
According to the ANSI standard, the most perfect color that gives off high visibility is the fluorescent yellow-green color. It comes with a minimum total luminance factor or brightness of 70%. This feature makes the color obtain the brightest high visibility color available among the choices.
Which jacket is high visibility?
High-visibility jackets, shortened to hi vis or hi viz, come with reflective tapes and highly luminescent colors in natural matt properties. The color can be easily distinguished from any background, and it is usually worn on the upper part of the body, including the arms.
What are the 3 classes of high visibility clothing?
The three classes of high visibility clothing include the following:
Class 1: Gives the lowest known coverage and has good visibility.
Class 2: Gives moderate body coverage for workers and comes with superior visibility.
Class 3: Offers the greatest body coverage available for a worker. It has visibility under poor light and even at great distances.
What is the difference between Class 2 and Class 3 high-visibility clothing?
Class 2 hi-vis clothing is generally recommended for those who work close to heavy traffic whose speed is greater than 25 mph. Furthermore, these garments feature reflective tapes measuring at least 201 square inches. The most common types of Class 2 clothing are vests and shirts.
In contrast, Class 3 hi-vis clothing is top-tier worn near a heavy traffic flow that exceeds 50 mph. With 310 square inches of reflective material, the design should give the worker a full silhouette outline.
Given this requirement, most Class 3 clothing should have reflective material on the arm and/or legs. Examples include hi-vis rain jackets, shirts, overalls, and raincoats for work.
Which raincoat material is most suitable for heavy rain?
To make them impervious to rain, manufacturers use polyester, GoreTex, Thermoplastic PU, microfiber, wool, laminated cotton, or a combination of these to create various safety rain jacket designs.
But besides checking the materials, looking at the "denier" count can help determine if the raincoat for work is appropriate for heavy rain. FYI, "denier" refers to the measurement determining the liner density of the nylon and polyesters. Higher numbers correspond to the thicker fabrics and, therefore, more durable for heavy rain.
Several high visibility rain suits above are made of polyester, but not all of them may be suitable for a strong storm. For example, Carhartt utilizes 250-denier polyester, as seen in the product review earlier. Since most jackets use 100-denier fabrics or less, we can tell that Carhartt's jacket can be considered heavy-duty rain gear for work.
By contrast, workwear brands use the same polyester to make lightweight hi-vis rain gear with polyester reinforced with a PVC, neoprene, or PU coating for light to medium rain. For cooler seasons, manufacturers design high-vis rain gear with thermal insulation to keep the wearers warm and dry.
How long do high-visibility rain gears last?
Assuming that you wear your hi-vis rain suit daily, expect it to last up to six months. But regardless of the frequency, check it periodically to see if it still meets the ANSI visibility standards. Replace the safety raincoat if you see any of the following:
If the fluorescent fabric of the hi vis rain suit is duller than the color on the inspection card
There are noticeable stains on the fluorescent strips that don't completely wash out.
The gear doesn't offer visibility from 1000 feet.
Visible signs of damage, no matter if they are on the reflective strips or not.
The zipper doesn't work properly.
The vest feels too stiff or constricting to wear comfortably.Are all hi vis jackets waterproof?
No, but most of them are water-resistant. There's a fine line between waterproof and water-resistance. The waterproof level is the highest level one can find on fabric.
At the same time, water-resistant usually comes with a DWR coating and consists of the fabric's inner layer to repel water. Water-resistant rain garments are not advisable for heavy rainfalls.
Does OSHA require high visibility clothing?
Yes, OSHA requires high-visibility clothing. High-visibility apparel is one of the most effective forms of worker defense. However, OSHA does not call for it outright. ANSI/ISEA 107-2010 sets performance standards for high-visibility safety apparel. This reduces the dangers present to employees.
Conclusion
We are confident that you have the right gear in mind after reading this article. If you tend to spend time in the rain, prioritizing waterproof, high visibility rain gear is good.
Besides that, go for neon colors that stand out in the low light areas and have reflective tapes that illuminate light when a vital light source. Durability is also an important feature to think about, especially if you tend to spend a lot of time at construction sites where ruggedness is highly needed.
Recall all these crucial reminders, and I'm sure you will have the best high visibility rain gear.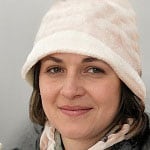 Veronica is our content editor. She is a talent in delivery. Her main work is editing and writing articles that are both informative and simple to follow. She is in charge of synthesizing our understanding of what personal protection equipment (PPE) is needed in each job, how to best apply it, and how to visualize that equipment.