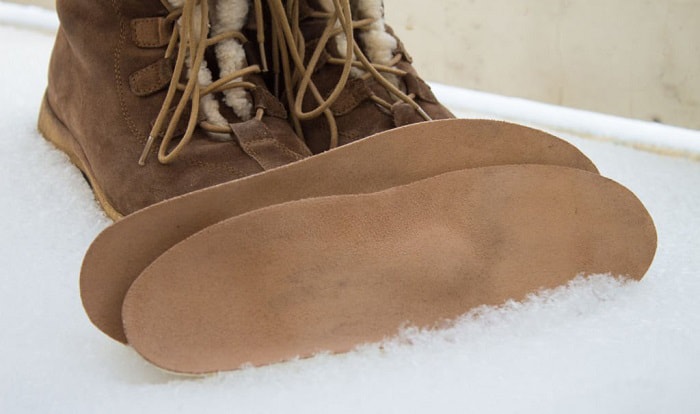 If you find yourself complaining about arch pain, heel pain, leg fatigue, and all sorts of discomfort, consider investing in the best insoles for work boots.
Nowadays, you can find tons of insoles in different shapes and sizes. Their functionalities vary from providing heel and arch support, extra cushioning, or absorbing the shock. The question is, which of these footbeds are most suitable for you?
Here are the top 3 things to consider when looking for work boot insoles:
Comfort – Foot fatigue and sore muscles are quite common among laborers who wear stiff, clunky work boots. Although the design of modern safety footwear has improved significantly, pairing them with good quality insoles will provide greater comfort and reduce pain, irritation, and injuries.
Fit – Ideally, the shape of the insoles should conform to your arch type and match the shoe size. This also means factoring in your safety boots' toe caps. Otherwise, the thickness or excess material can tighten your work boots.
Likewise, your arch should sit right on the curved area at the arch support. If it is located near the heel cup or ball of your tootsies, then it will cause pain and discomfort.
Shock absorption – Well-designed footbeds distribute the impact and pressure across your feet and body.
The insoles shock-absorbing properties come in handy for workers who need to walk and stand throughout their shift as it helps in reducing fatigue, allowing them to work longer. It can also curb the long-term consequences of straining your knees, ankles, legs, and lower back.
Keeping these three factors in mind will lead you to find insoles that suit your needs. I invite you to check the Buying Guide section if you need more tips.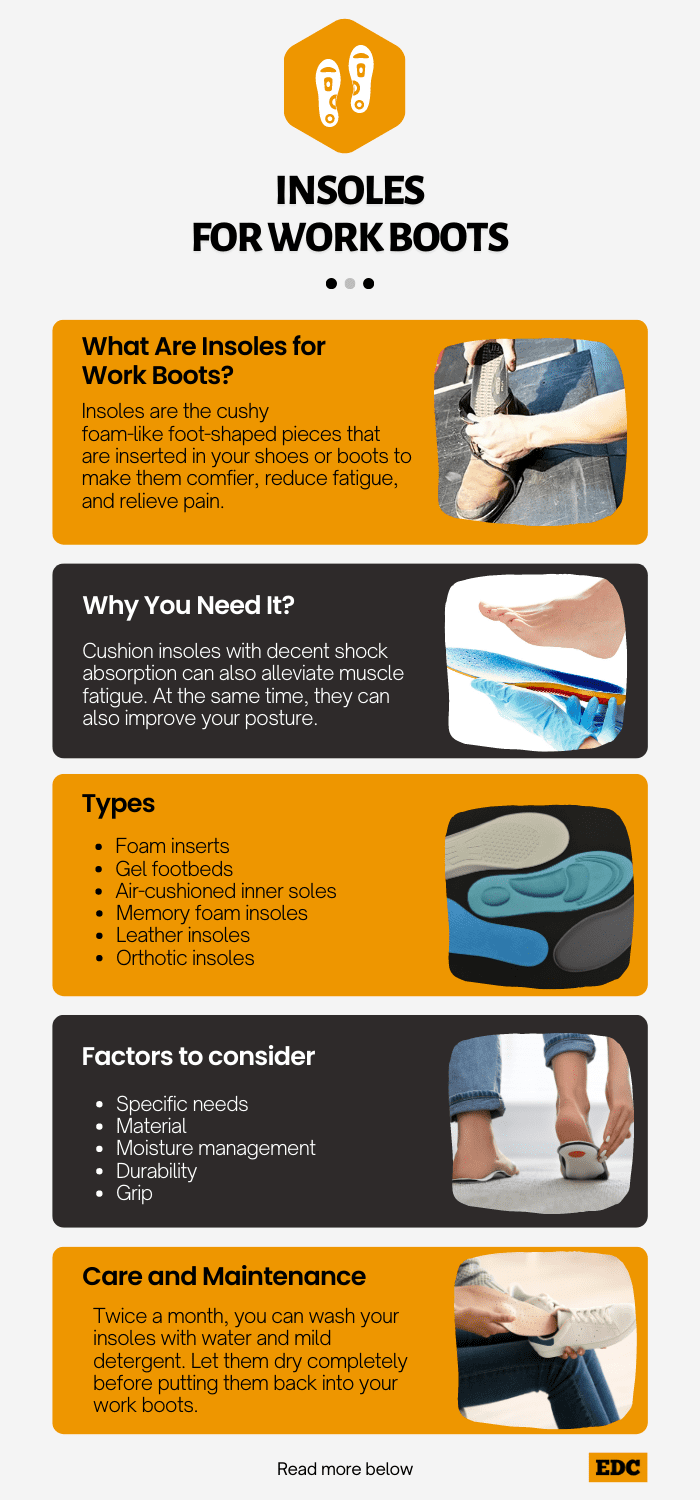 Top 7 Insole for Work Boots Reviews
1. Timberland PRO TB091621827 Men's Replacement Insole
These anti-fatigue insoles can boost shock absorption and place energy back on the wearer's feet.
Admittedly, the product description sounded too good to be true when I first read it, but it turned out to be keeping its promise! After a long tiring day at work, I noticed my feet did not hurt as much.
With OrthoLite at the top layer, the contours of the footbed comfort and support the entire foot. Rest assured, it can adapt to all foot shapes. I also like that my feet do not slip on these insoles, even when wearing socks. Thanks to their moisture management and anti-microbial odor control, they do not smell bad even if my feet get all sweaty.
It is safe to assume that these inserts are created to fit Timberland's line of steel-toe boots for construction workers. However, these insoles can be tailored to fit specific shoe sizes or other footwear designs made by another brand. Trust me, I've cut mine to fit my work boots, and they work just fine.
Let me add that these footbeds can absorb the excess heat to regulate the temperature. Hence, my tootsies don't feel too hot even in enclosed spaces and are covered in socks.
For workers looking for rigid arch support insoles to deal with plantar fasciitis, I'm sad to say that these insoles are not the right choice.
What We Like
Comfortable and supportive steel-toe boots
Conforms to diverse foot shapes
Easy to tailor nd fit in different footwear
Anti-microbial odor control
Regulate the temperature to keeps feet cool
What We Don't Like
Lacks support for plantar fasciitis
Truth be told, these are among the most comfortable insoles for work boots I've tried. Best of all, they are designed to suit various foot shapes and provide pain relief.
2. Dr. Scholl's Heavy-Duty Support Pain Relief Orthotics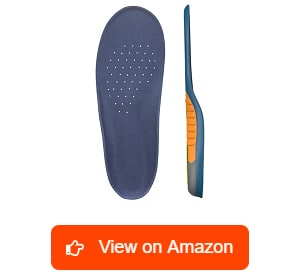 Leg fatigue and lower back pain are caused by prolonged standing and walking, which is quite common among men over 200 lbs. Moreover, a hefty load can flatten regular foam footbeds in weeks. With that, the team behind Dr. Scholl's attempts to address these issues by designing these orthotics, but do they actually work?
The short answer is yes! I know many workers who swear by these boot insoles. Features like arch guard technology and shock guard technology work together to distribute the weight and absorb shock to minimize the impact in every step. By the end of a long shift, their feet, legs, muscles, and joints no longer feel as painful as they normally would.
I also think these footbeds are popular because they allow the wearer to further customize their shape for a better fit. The inserts have outlines around the forefoot to guide the wearer when cutting them to match specific shoe sizes.
On top of that, the insoles feel sturdy, which enables them to last longer. Yet, they don't take up too much space!
Perhaps the only thing I dislike about these insoles is that they squeak a bit when I wear the shoes for too long. I also wish they come in sizes that can fit wide feet better.
What We Like
Work boot insoles for plus-size men
Has arch guard technology and shock guard technology to minimizes impact
Relieves leg and lower back pains
Has sturdy yet compact insoles
Footbeds come with outlines for customization
What We Don't Like
Produces squeaking noise after long-hour wear
Not suitable for wide feet
These specialized orthotic insoles can support the weight plus size men without making the work boots feel tighter. Even if we're on our feet all day, these footbeds can make sure that we get home pain-free!
3. Superfeet GREEN Insoles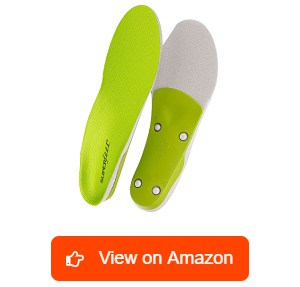 Workers looking for good-quality yet affordable alternatives to custom-made orthotics should check out this pair.
I am aware that most workers are more familiar with the Superfeet Copper shoe inserts known for their soft memory foam layer. However, these Green insoles with firm high arch support may be the right pick for people with high arches or plantar fasciitis.
Speaking from experience, these insoles feel firm and steady thanks to the stabilizer cap. To be clear, these footbeds aren't stiff. They are made of high density foam to improve flexibility and comfort.
Meanwhile, the deep heel cup helps cushion the feet and absorb shock. Hence, my feet do not hurt whether I use them for hiking on rugged terrains or for concrete surfaces.
What's more, the construction and material can retain the insoles' shape for up to 12 months or 500 miles of walking. In other words, I get to enjoy all the nifty features that these footbeds have to offer longer.
Plus, I don't have to keep buying new ones. On top of that, they keep the nasty smell at bay thanks to their organic odor control.
Like most insoles in the market, we can trim them to fit our casual shoes, trainers, or work boots. By the way, these footbeds are unisex! However, I wouldn't say I like that they slide inside my shoes when I run.
What We Like
Good arch support for people with high arches or plantar fasciitis
Insoles feel firm and steady with the stabilizer cap
Suitable for work and sports activities
High-density foam for comfort and protection
Has organic odor control to prevent bad smell
What We Don't Like
Running makes the insoles slide
4. KEEN Utility Men's K-20 Insoles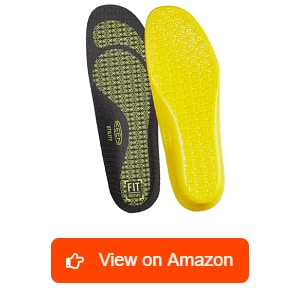 KEEN, the maker of one of the top-notch work shoes, designed these insoles, especially for those needing medium arch support. The product's near-perfect rating gave me a reason to try them out, and I'm happy to report that these footbeds are truly impressive.
At first glance, the top part is black, as this color hides the dirt well. Aesthetics aside, I find them super comfy!
What I love about these boot insoles the most is that the heel cup aligns my heel and foot, thereby improving stability in each step.
On top of that, they center my body's alignment. Equipped shock-absorbing pads and high rebound foam cushion my tootsies and absorb the shock evenly.
I have to say that these insoles feel bouncy. Perhaps my legs and feet don't feel tired after over eight hours of work! Despite stepping on them daily, the foam doesn't thin out.
As for hygiene, the insoles have odor-control properties to keep my feet fresh. Also, they dry fast, so I can wear my boots again the following day minus that squishy wet feeling.
Even though I can trim these insoles to fit my work boots, I find them a tad too thick. Thankfully, I managed to fix this issue by loosening the shoelaces.
My only concern is that while wearing steel toes, the thickness may cause our toes to clump, so be mindful of choosing sizes.
What We Like
Offers medium arch support
Aesthetics and clean black color
High-rebound foam cushion to absorb shock
Aligns heel and foot when walking
Has odor-control properties
What We Don't Like
Its thickness can make shoes tighter
For anyone looking for cushy and springy insoles, I highly recommend this one. Aside from comforting my feet, they also absorb the shock to prevent fatigue.
5. Happystep Orthotics Memory Foam Insoles
Several workers claim that this inexpensive pair of insoles help them manage their heel spurs and plantar fasciitis.
Note that this particular model is targeted at those who need neutral or moderate arch support and not flat feet or high arches. That said, I was delighted by how soft the cushioned arch support was.
Even better, the U-shaped deep heel cup keeps the foot stable to improve movement. Because the insoles are made of a high-density memory foam layer, they mold to the contours of my feet. Unlike similar products from the same price range, this one can retain its form for a long time. Yet, it does not occupy too much space in the work boot.
Despite its affordable price, I have to say that the quality is akin to some of the premium insoles I tried. The top part is made of smooth superfine velvet, which feels cozy. I no longer suffer from foot fatigue when walking on hard surfaces.
Without a doubt, these are one of the most favorite insoles for work boots that I had. My only complaint is that they are not true to size. For instance, I ordered a set that fits sizes 8 to 12, but their actual length only fits a work boot size of 9.5. Plus, the shape of the footbed is too narrow for wide feet.
What We Like
Improves stability and movement with soft cushioned arch support
Apt for plantar fasciitis and heel spurs
Fits most work boots
High-quality memory foam
Premium insoles at an affordable price
What We Don't Like
Does not conform to standard shoe size
Not suitable for wide feet
Then these can be the most suitable insoles for work boots for anyone with a small budget. Workers will not be disappointed by their high-density foam, velvety top layer, and durable quality!
6. NAZAROO Orthotic Insoles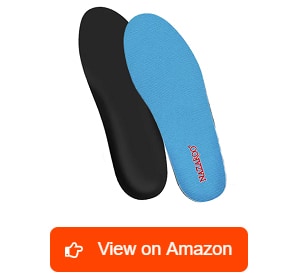 Ankle pain, plantar fasciitis, flat feet, shin splints, and many other foot conditions need medical-grade orthotic inserts. For such issues, let me introduce these insoles.
Crafted with a durable EVA foam base and multiple layers of extra cushioning, they are the comfiest option for walking, hiking, and running.
Design-wise, this pair features a deep heel cradle to boost stability. Coupled with its bio-mechanical structure, 3D arch support, and built-in silicon material, they provide ample support and shock absorption. Overall, the insoles for work boots strike the perfect balance of sturdiness and flexibility.
Unlike the previous insoles I reviewed here, this one is great for wide feet! Even so, I can easily trim the foam to fit the shape of the work boot. That said, the manufacturer also says that these can fit running shoes, flats, slippers, and other types of footwear. Either way, they effectively relieve me from foot pain and fatigue.
In my observation, the only thing I do not like about the insole is that it fills up a substantial amount of space inside the safety work boot.
For those who plan to buy a new pair of shoes alongside these footbeds, be sure to account for the inserts when choosing the size. Still, these insoles are an affordable solution compared to custom orthotics that cost hundreds of dollars.
What We Like
Relieves foot pain and other foot conditions
Has durable EVA foam base and layers of extra cushioning
Suitable for wide and flat feet
Has bio-mechanical structure, 3D arch support, and built-in silicon material
Fits running shoes, flats, slippers, and other types of footwear
What We Don't Like
Takes up more space than other insoles
When it comes to low-cost boot insoles for flat feet work boots, nothing comes close to the quality of this pair! Apart from good shock absorption, they are known for easing the pain caused by different foot problems.
7. Samurai Insoles Shoe Insoles
Promising to relieve a long list of foot conditions, Samurai Insoles claims that these footbeds are designed by a leading podiatrist.
Well, I must say that this brand delivers satisfying results as this particular model is one of their best-sellers. Also, it is popular among many workers and athletes.
Maybe it is a stretch to say that these insoles are life-changing, but I had a positive experience when I tested them out. Owing to its lightweight and low-profile design, the footbed leaves ample space for my foot to fit comfortably inside the work boot. Moreover, it does not shift nor slip in each step I take.
Made of high-quality polypropylene foam, the insoles are springy and flexible, which allows them to move with my tootsies.
At the same time, they provide adequate arch support. Therefore, my feet feel energized despite being on my feet all day. What's more, I didn't feel any pain or fatigue around the ankles, knees, and legs.
One minor drawback, however, is that the front part flattens out quicker than the rest of these boot insoles. In my case, this is not a big deal since I needed the arch support and deep heel cup, which stayed firm and comfy even after months of walking in them. The problem is that some folks may need more cushioning at the forefoot.
What We Like
Does not take up too much space in the shoes
Flexible enough to move with the feet
Keeps feet energized
No slipping or shifting while walking
Offers ample arch support
What We Don't Like
The forefoot area flattens quickly
For me, the main highlight of these work boot insoles is their spongy yet low-profile design. They can support targeted areas on our feet without making our work boots feel too snug.
What Are Insoles for Work Boots?
Generally, insoles are the cushy foam-like foot-shaped pieces that are inserted in your shoes or boots to make them comfier, reduce fatigue, and relieve pain. Hence, some people refer to these as "boot inserts." Others call them "inner soles" or "footbeds."
In some cases, insoles can also support your feet or fill the extra space between your feet and the inside of your running shoes or work boots that are too big. As such, they can improve the way your shoes fit. You can also remove and clean them to ensure that your work boots stay fresh!
Work boot insoles, as the name implies, are foot beds that are designed for work boots. Keeping in mind the needs of the workers, it has special features, including:
Responsive Wave Cushioning
Semi-rigid Arch Support
Anti-Fatigue Technology
Arch Guard Technology
In this way, wearing boots will be more bearable for standing all day or on long walks.
Types of Insoles for Work Boots
Manufacturers constantly look for new ways to improve shoe inserts by creating new materials. So, don't be surprised if this list gets longer the next time you check this article!
That said, there are at least 6 different types of insoles for work boots right now:
Foam inserts: Among all the insoles you can find in the market, foam is the cheapest and most widely available. Most insoles found in shoe stores are made of this material. Some of them come for free when you buy athletic shoes. However, they wear out pretty quickly.
Gel footbeds: Perfect for people with big heels, insoles with gel technology are grippy and capable of reducing pain around the balls of the feet.
Air-cushioned inner soles: This type of insole is also made of foam. What sets it apart is that it has tiny pressurized air bubbles inside for optimal comfort and improved cushioning.
Memory foam insoles: Memory foam is an "upgraded" version of the ordinary high-density foam work boot insole as it is more durable. The more you use it, the more it conforms to your unique foot shape.
Leather insoles: For those in need of stronger arch support, leather makes for good insoles. Cowhide, in particular, is quite tough and it can absorb moisture.
Orthotic insoles: Unlike the commercial insoles I mentioned above, orthotics are prescribed by doctors to address biomechanical foot issues, specifically problems related to the way you run, walk, or stand. Additionally, it can also be used to prevent injuring plantar fascia or ease arthritis.
Why You Need Insoles for Work Boots
You may be used to standing, running, and walking all day since it's part of your daily routine at work. However, being on your feet places a lot of pressure on your feet, hips, and knees.
Well-designed insoles for work boots can relieve some of this pressure and provide much-needed arch support or for deep-heel cups. Some can even realign your feet if you supinate or overpronate.
Cushion insoles with decent shock absorption can also alleviate muscle fatigue. At the same time, they can also improve your posture.
Earlier, I enumerated the 6 types of insoles and explained how each one functions slightly differently from one another.
Depending on your needs, you can choose a pair that can help you in dealing with foot conditions such as heel pain, plantar fasciitis, high arch, flat feet, and so on. Furthermore, it can prevent blisters and other types of irritation or injuries.
Buying Guide
Just like buying a pair of casual shoes, you can't simply walk into a store and pick inserts for work boots randomly. Otherwise, you will end up hurting your feet more.
That said, here are some things to think about when buying work boot insoles:
In the introduction, I included foot conditions as one of the top 3 factors to consider when buying insoles. Let me expound on the points I raised here. For starters, you need to identify your problems.
Does your foot slip inside the work boot? Perhaps a gel heel grip or a half insole can do the trick. Is your heel cup a bit bigger? Look for some toe insoles to support the front side of your boots. Do you have flat feet? I suggest checking inserts with firm arch support. Do you have plantar fasciitis? You can benefit from footbeds with high-quality EVA components.
When in doubt, you can always consult a podiatrist. This way, you can save tons of money and effort from all the trials and errors and buy the wrong shoe insoles for work.
Once you identify the problems you need to address, it's time to choose removable insoles based on materials. Based on experience, regular foam sole inserts for boots aren't enough to withstand the pressure that comes with standing and walking all day.
If you're standing for long hours at work, you can opt for insoles that can custom-mold to your feet and help distribute the pressure evenly across your feet, like memory foam insoles or high rebound foam footbeds.
For long walks on hard surfaces, you can look for inserts that can absorb shock like air-cushioned footbeds. To prevent friction-induced blisters around the heels, get one that provides ample cushioning around the heels.
Your feet will sweat mainly because of two reasons: They are in an enclosed space and they move a lot. While your socks may have good moisture-wicking properties, wearing them together with insoles with good moisture management can significantly reduce odor-causing bacteria.
Because of the weight that our feet carry, they can flatten your work shoe insoles easily. You will notice this after a couple of weeks of daily use. The next thing you know, you will have to throw them away and buy a new one. Fortunately, several brands manufacture hard-wearing insoles that can last longer.
For the insoles to actually "do their job" of supporting and comforting your feet, they need to stay put even as you move. Some materials and designs make the footbeds slip inside the footwear. It is extremely uncomfortable and annoying to step on an insole that is pushed to one side. Even worse, your feet will not get the cushioning they need.
Care and Maintenance
Take care of your insoles as much as you would with your work boots. Not only that it will last longer but it can prevent foot odors, too!
Make it a habit to take out your footbeds from the boots and let them air dry thoroughly after your work shift. Some shoe experts also recommend getting 2 sets of insoles for boots so you can use one pair while the other one is still drying.
Twice a month, you can wash your insoles with water and mild detergent. Let them dry completely before putting them back into your work boots.
Note that some special foams, gel insoles, or leather footbeds may require specific washing methods. Check the care tag before buying cleaning supplies or applying any product to the insoles to prevent damage.
Frequently Asked Questions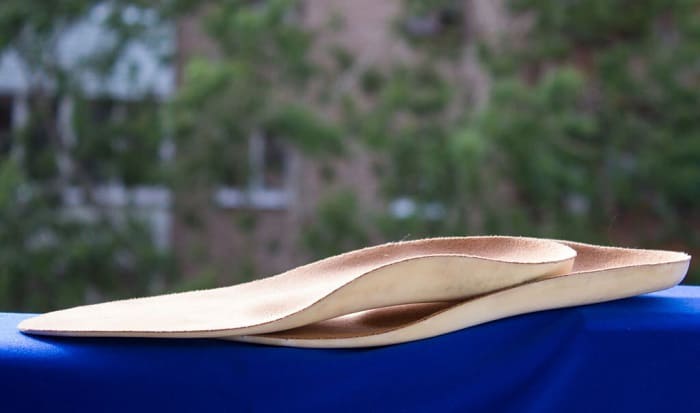 How much do insoles for work boots cost?
Typically, store-bought insoles for work boots have price tags ranging from $20 to $100. However, orthotic insoles tend to cost more since they are custom-made for specific foot conditions like plantar fasciitis, heel spurs, arthritis, and bunions.
The material also dictates the price. For instance, gel insoles tend to be cheaper than foams combined with other materials.
How often should you replace work boot insoles?
There is no fixed timeline but manufacturers suggest replacing insoles in 6 months to 1 year. You can expect that poor-quality inserts can last less than 6 months. How often you use your inner soles can also influence their lifespan.
As mentioned earlier, alternating two pairs of footbeds is highly recommended as this method allows them to last longer.
Can I wear two insoles?
Yes and no. Several Reddit and Quora users recommend wearing two insoles to fill the gaps between the work boot and your foot. This technique is acceptable if you are wearing work shoes with no steel, alloy, or composite toes.
For steel-toe boots, you will have to look for a shoe size that fits your feet well without the need for adding two insoles as this may cause your toes to clump inside. Unlike tennis shoes, safety toe caps cannot expand.
Inserts and insoles: What is the difference?
Inserts are devices that you place in your work shoes, dress shoes, hiking boots, work boots, and even high heels to address specific foot issues. Both insoles and orthotics can be called "inserts" as they are literally inserted into the footwear.
It doesn't matter if it's gel insoles or lightweight polyurethane foam with molded plastic arch. If you insert the device in the shoes to comfort and support your feet, then you can call them insoles or inserts.
What can I use instead of insoles?
It all boils down to the problem that you are trying to address. For instance, if the safety boots you are wearing are a little loose, going half a size or one size down might be the solution, especially if your feet are sliding inside.
In some cases, the rest of the boots and insoles would feel generally comfy, except for the heel area. A heel cup with gel technology or a shock-absorbing heel pad can provide a quick fix. For ball-to-foot pain, you can opt for metatarsal pads.
Conclusion
Wearing and walking in work boots with inadequate support for our feet can lead to serious health issues in the future. Besides, it is much better to take preventive measures than to find a cure while enduring the painful consequences, right?
It is not impossible to find the best insoles for work boots. If you have already identified your foot problems, then you are halfway through the battle. All you have to do is look for inserts with features that are appropriate to your needs. Otherwise, I recommend consulting a podiatrist, especially if you experience persistent pain.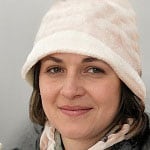 Veronica is our content editor. She is a talent in delivery. Her main work is editing and writing articles that are both informative and simple to follow. She is in charge of synthesizing our understanding of what personal protection equipment (PPE) is needed in each job, how to best apply it, and how to visualize that equipment.