Landscapers need to get their hands and feet dirty through a range of duties. These professionals have responsibilities like mowing the lawn, removing walkway debris, and performing minor or major maintenance and repair procedures.
Therefore, landscapers need to use the best and most appropriate gear to perform these tasks safely. These items include safety glasses, hard hats, gloves, and safety shoes. In particular, landscaping can become safer with the best landscaping work boots.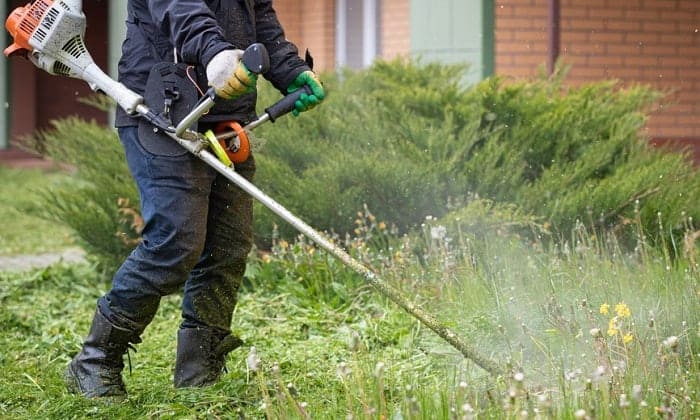 Thankfully, various modern manufacturers produce sufficiently durable and relatively inexpensive work boots for landscaping. Footwear designed for various landscaping jobs is now sturdier and more comfortable than their older counterparts.
Take a look at these landscaper boots that stand out from the rest of the market
Best Landscaping Work Boots Reviews of 2023
1. EVER BOOTS Waterproof Work Boots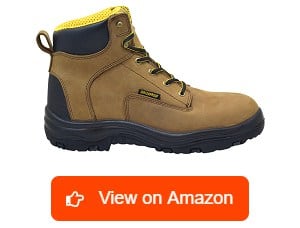 EVER BOOTS isn't kidding with the "Ultra Dry" moniker for its premium leather waterproof work boots.
These landscaping work boots join this list of the best boots for landscaping because of their waterproof-focused features. Putting that statement into context are various elements that provide waterproofing for this pair of shoes.
In detail, it has full grain leather uppers, breathable membrane linings, and seal-direct attached construction, all of which are waterproof. As a bonus, it also has weather resistant rubber outsole, along with waterproof laces and stitching.
It also has a mesh-insulated liner that takes advantage of moisture wicking technology. This feature allows the shoes to remove excess water that might seep into the material.
This pair of work boots for landscapers also has shock-absorbing polyurethane midsoles. This component helps provide protection, support, and comfort while standing or walking on different terrains.
Additionally, there's the insulated polyester lining. With it, the boots provide adequate insulation, perfect for landscaping jobs in cold weather.
These work shoes are also sufficiently lightweight. They weigh about 3 to 4 pounds depending on your size. This lightweight construction significantly reduces foot fatigue. Now, I can do landscaping without the worry of getting my feet tired.
Perhaps the only caveat I could find is the shape of the toe area. It doesn't adapt to the shape of the toe, which can cause blisters if I don't wear socks.
What We Like
Various waterproof features
Lightweight construction that reduces foot fatigue
The midsoles absorb shock efficiently
Well-insulated with polyester lining
What We Don't Like
The toe area doesn't conform well with the shape of the feet
Any landscaper looking for waterproof boots should definitely check out these shoes for landscaping work. Wear these boots if you tend to deal with numerous landscaping operations in damp terrain.
2. Caterpillar Steel Toe Work Boots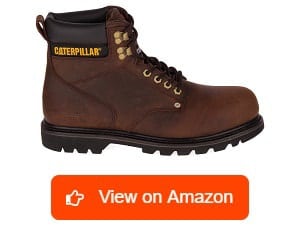 Comfort, protection, and durability come in this Caterpillar Work Boot.
The rugged 100% leather construction makes this work boot an excellent choice on and off jobs. Its style is a perfect match when worn with jeans. Additionally, this choice of material means that the shoe can take a beating during landscaping work.
The ankle and heel stay protected, thanks to the boot's shaft, heel, and platform sizes. In detail, the shaft measures about 6 inches from the arch. As for the heel, it's about 1.25 inches in height. On the other hand, the platform is about 0.75 inches.
As its name implies, this footwear is a steel toe work boot. Hence, my toes will stay safe in the boot if I accidentally drop heavy equipment. The steel toe can also take abuse as kicking things aside at the work site won't degrade the shoe's overall quality.
This boot also has a padded ankle that provides excellent comfort. Walking on rough terrain presents little to no unwanted pressure to the ankle and heel area.
It also has an oil resistant outsole, which is beneficial, since landscaping tends to deal with oil-based pesticides. So, if I step on oil-based chemical residues, I won't worry about the substance ruining the outsole.
However, the stitching that connects the outsole to the rest of the work boot may need some extra work. It may show signs of wear and tear after a few months. But a quick trip to a shoe repair service should solve this problem.
What We Like
100% leather construction is stylish and sturdy
Excellent protection and comfort for the ankle and heel
Steel toe can take the abuse of landscaping work
Oil resistant outsole works properly
What We Don't Like
The stitching for the outsole may need to be more durable
If you want a landscaping boot that emanates safety, durability, and comfort, I recommend this option for your next purchase.
3. Carhartt

Waterproof

Work Boots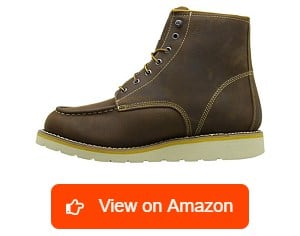 Whether you're walking around the city or during landscaping work, the CMW6095 Work Boot from Carhartt can become your best friend.
One of the highlights of this stylish shoe is its 100% leather material with Bon Welt construction. Similar to cement construction, the Bon Welt construction creates a flexible and lightweight footwear design. Creating these traits is a welting strip attached to the insole's top edge.
With this choice, the manufacturer was able to make the boot's weight less than 2 pounds. That's why I don't find my feet getting fatigued fast when wearing this shoe.
Next, there's the brand's proprietary rubber outsole. This component is decently abrasion resistant, which means it can hold pretty well against slippery floors.
There's also the PU Strobel pad accompanied by cushion insoles of the same material. With these features, the shoe provides excellent comfort for the foot throughout the day.
The waterproof breathable membrane does its job swimmingly. It uses the Storm Defender technology to make sure the foot stays nice and dry inside.
Like other landscaper work boots on this list, this shoe is a soft toe boot. Therefore, it doesn't provide the same durability and longevity as a steel toe model. Nonetheless, this component meets the ASTM F2892-11 EH standard, which means it's adequately sturdy for various light to moderate jobs.
What We Like
Stylish and flexible 100% leather material made with Bon Welt construction
Overall weight is less than 2 pounds
Abrasion resistant rubber outsole
Comfortable PU pad and insole
Feet are always dry inside
Meets the ASTM F2892-11 EH standard
What We Don't Like
Soft toe shoe instead of steel toe
I highly recommend this product for any landscaper seeking sturdy waterproof boots. It's also a good choice for anyone looking for a stylish boot to wear around town.
4. Timberland PRO Steel Toe Work Boots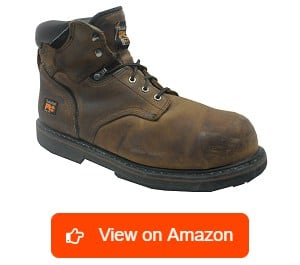 The Timberland PRO Pit Boss Work Boot can stand up to the rigors of different worksites, and more.
Made with 100% leather, this work boot offers excellent performance in and out of the job site. This material is resistant to harsh elements, allowing it to maintain its function and style throughout the seasons.
The shaft measures about 5.5 inches from the arch while the heel is approximately 1.5 inches in height. These figures translate to above-average protection for the ankle and heel.
The steel toe works as it should — protecting the toes from harm. I can kick things aside while working and not worry about the pain that would otherwise come with the act. Also, I won't have to worry about accidentally hitting my toes on hard surfaces while wearing this shoe.
Don't forget that this boot meets ANSI safety standards to provide peace of mind throughout the day. Also, the outsoles are slip, abrasion, and oil resistant to promote exceptional traction.
As with the case for other work boots for landscaping on this list, this model comes with comfort features. In particular, it has padded top collars that adapt to the feet to form a snug fit.
As for drawbacks, these shoes are a bit hard to break in. There might be some discomfort in the beginning, but it'll disappear when you've got used to wearing them.
What We Like
Excellently-performing boot in and out of job sites
Resistant to harsh elements
Superb ankle and heel protection
Steel toe work boot meets ANSI safety standards
Outsoles are slip, oil, and abrasion resistant
Has padded top collars
Unlike other low-quality boots for lawn care you might come across on the market, this footwear for landscapers is more durable than those models. It offers protection, comfort, and peace of mind, which are traits sought by many people in a work shoe.
5. KEEN Utility Waterproof Industrial Boots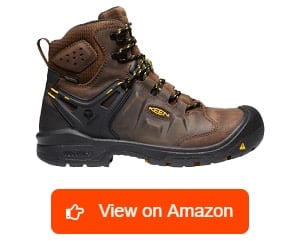 The KEEN Utility Dover Industrial Boot competes with other work boots with its superb comfort, excellent durability, and lightweight construction.
The first thing I found is its waterproof leather, particularly its uppers. Along with its breathable membrane, it has moisture wicking technology embedded into it. Further, it secures the feet inside the boot, providing a locked-in feel so water can't get inside.
Fabric linings envelop the boot as it comes with Cleansport NXT technology. This attribute reduces odor-causing material, which contributes to smelly feet.
Not to mention, it has a carbon fiber toe, which provides more-than-adequate levels of protection and security.
The rubber outsole secures the feet against electrocution risks, which might appear while working on lawns.
Securing the foot in this landscaping boot is a lace up closure. Moreover, keeping the laces secure is a locking metal lace hook structure that doesn't seem to budge, which is a good thing. But, these metal hooks tend to grind against the laces. Thus, some users might need to replace the laces after a few month's use.
Finally, this boot joins the ranks of other lightweight shoes for yard work. It only weighs about 28 oz. (793 g.), which is lighter than most options on the market.
What We Like
Waterproof leather uppers with a secure, breathable fit
Foot stays dry and stink-free
Carbon fiber toe offers sufficient levels of protection and security
Rubber outsole protects against electrocution risks
Lace up closure is secure, thanks to the metal hook structure
Only weighs about 28 oz
What We Don't Like
Metal hooks tend to grind against the laces
This shoe is one of the good work boots for landscaping. It's also an outstanding choice for other heavy-duty jobs, such as construction, manufacturing, and transportation.
6. Thorogood Waterproof Tactical Boots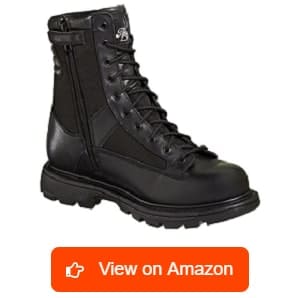 These Thorogood boots for landscaping are workhorses with their blend of comfort, durability, security, and support.
The Gen-Flex2 Series Tactical Boots are among the top-rated boots for landscaping, for several reasons. First, these pieces of footwear comply with the ASTM F1671/1671M-13, ASTM F1677-05, and ASTM F2913-11 standards. In other words, these shoes are the epitome of job site safety for the feet.
These landscaping boots also have a special mix of 100% full grain leather and nylon for its primary materials. Thus, they promote numerous hard-wearing qualities, to the liking of landscapers.
These material choices also make the Goodyear Storm Welt construction considerably lightweight. The shoes are as light as a feather because they only weigh about 32 oz. (907 g.). The construction beats many footwear in the lightweight category.
Another welcoming inclusion of this product is the BBP X-Stream Waterproof technology. It efficiently seals the shoes to wick away excess moisture. Moreover, it keeps the feet dry, perfect for walking on damp ground.
Specially-designed GEN-flex2 rubber outsoles protect the feet from slippage. These components also safeguard the feet from electrical discharges caused by stepping on live wires. Supporting that feature is the heel that measures about 1.5 inches. At this height, damp grass will find it difficult to reach the boots' inner elements.
Other notable features of this product are the composite shank and removable single-density polyurethane footbed. These allow the feet to experience optimal comfort and support.
The brand might consider improving these shoes' rubber outsoles as they tend to squeak, especially after working in damp terrain.
What We Like
ASTM F1671/167M-13, ASTM F1677-05, and ASTM F2913-11 compliant
Hard-wearing and can take abuse
One of the most lightweight work boots on the market
Keeps feet nice and dry (BBP X-Stream Waterproof technology)
Composite shank and removable single-density polyurethane footbed
Anti-slip outsoles that protect against electricity, 1.5 inch heel
What We Don't Like
The rubber outsoles squeak when wet
Since these shoes meet several ASTM standards, they're among the safest safety shoes you can get. Those who want durable, safe, and comfortable shoes can't ignore this option.
7. Wolverine Raider Work Boots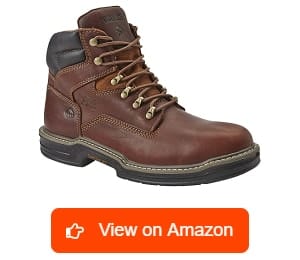 Timeless craftsmanship meets exceptional comfort and superior sturdiness with the Wolverine Raider Work Boot.
The fusion of 100% leather and Multishox rubber outsole offers the shoe a fine mixture of resistance against wear and tear. Make no mistake as this boot is a workhorse. Wearing it offers security found in a relatively lightweight design.
While on the topic of its weight, it's less than 32 oz. (907 g.). This lightweight construction, coupled with a breathable CK mesh lining, presents my feet with comfort in just about every direction imaginable.
But, comfort and durability aren't the only positive traits found in this boot. It also supports the foot while providing excellent protection from debris. The shaft, heel, and platform can also withstand rocks and stones.
Moving forward, we all know grass and mud tend to be quite slippery. But, the mind will be at ease, knowing that this boot's rubber outsole is abrasion, oil, and slip resistant.
This shoe is also among the finest pairs of work boots for sand. The lightweight construction, accompanied by the superb traction, ensures that the feet stay grounded while working on sandy surfaces.
Despite the luscious comfort being delivered, I can't help but feel that this shoe can be better if it has better-quality insoles. Specifically, the insoles showed signs of wear and tear in about a couple of months of frequent use.
What We Like
Suitably lightweight and resists wear and tear
Breathable CK mesh lining
Protects against debris, rocks, stones
The outsole is abrasion, oil, and slip resistant
Superb traction, suitable for sandy surfaces
Overall, this Wolverine boot for landscapers delivers exclusive features to its wearers. I recommend this product for outdoor workers that need to work on different terrains.
8. Timberland PRO Titan Waterproof Boots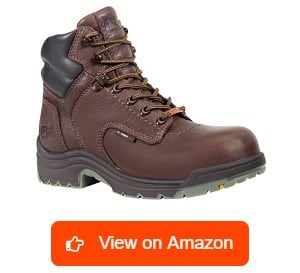 Another Timberland landscaping boots to grace this list are the Titan Waterproof Boot. Unlike the Pit Boss, which are men's shoes, these boots are for women.
These women's shoes for landscaping work conform to the natural curvatures of women's feet. Hence, these boots provide top-notch all-day comfort.
However, they are not very lightweight. The weight of these boots is about 64 oz. (1,814 g.), and it's not impossible to find landscape work shoes that are below 50 oz. (1,417 g.).
Nonetheless, the added weight comes with extra durability and protection. For instance, these shoes have the Titan safety toe coupled with slip resistant outsoles. These components create an ideal environment for security during and outside workplace settings.
The full grain leather uppers and antimicrobial linings are the ideal mix of features, providing sturdiness and comfort coveted by consumers. Speaking of comfort, these boots have the Powerfit Comfort system that supplies efficient movement and essential support while walking on different terrains.
The safety-focused features don't stop there because the list continues. These boots meet several safety standards, including the ASTM F2412-11, ASTM F2892-11, and ASTM F2413-11. They can even protect against open circuits, thanks to their rubber outsole.
But I recommend buying these boots one size larger than usual. They have a snug fit, which is a bit too tight for some wearers.
What We Like
Safety toe with slip resistant outsoles protect wearers in and outside job sites
Comfortable with efficient movement support
Full grain leather uppers and antimicrobial linings
Meets ASTM F2412-11, ASTM F2892-11, and ASTM F2413-11 standards
Protects the feet against open circuits
What We Don't Like
Fit can be too tight
Not very lightweight
Women looking for the best boots for yard work might want to stop their search with this product. It has a myriad of features promoting comfort and durability, and it's one of the best options on this list.
9. Caterpillar Waterproof Industrial Boots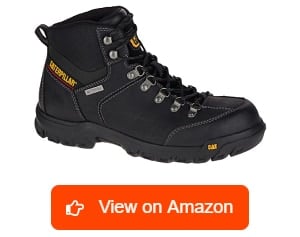 Another Caterpillar boot to grace this list of best shoes for landscaping is the Threshold Waterproof Boot.
Unlike the Second Shift, this footwear mixes 100% leather with textile for the primary materials used in its construction. Speaking of 100% leather, it has full grain leather uppers that are abrasion resistant.
This mix of materials doesn't do away with its waterproofing. This industrial boot has seam sealed liners that help wick excess moisture.
There's also the Flexible ERGO midsole that helps the shoe achieve a superior lightweight construction. The entire boot is less than 30 oz. (850 g.), which makes it one of the lightest waterproof landscaping boots on the market. Additionally, the midsole can absorb more shocks than the standard EVA.
Surrounding the midsole is a cement construction with electrical hazard protection. These features exude protection and safety for the feet, as they can safeguard against live wires of up to 600 volts in dry conditions.
This work shoe also has a nylon shank, which is soft and helps keep the feet warm.
Then, there's the ASTM-approved outsole that provides excellent traction, thanks to its slip resistant design. Walking on slippery surfaces at landscaping jobs now fills my head with peace of mind thanks to this boot.
Let's not forget about its comfort because this pair of boots has plenty of it. The removable, custom engineered foam footbed delivers less unwanted compression than many low-quality pair of work boots.
Although this waterproof boot has several promising features, it would've been better if it had a sturdier toe. It's a soft toe model, which means it won't be as tough as a steel toe.
What We Like
Full grain abrasion-resistant leather with textile
Seam sealed construction delivers excellent waterproofing system
Lightweight and absorbs more shock than standard EVA
Safeguard against 600 volts in dry conditions
Soft, warm nylon shank and removable foam footbed
ASTM-approved outsole provides great traction
Your search for the best landscaping boots might end with this product. Its feature-packed offerings will bring joy to your feet and landscaping career.
10. Bates Waterproof Work Boots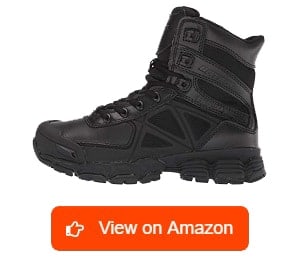 This work boot presents itself with athletic styling, exceptional performance, and superior versatility in a complete package.
Wearing the Bates Velocitor Boot seals the foot against water. Its design is perfect for landscapers working in wet conditions, especially accidental showers from nearby hoses. Not to mention its waterproof side zipper to ensure convenience while keeping water at bay.
In contrast, zipper-less boots tend to be quite difficult to wear and remove. But, that's not the case with this Bates shoe; it's comfortable and convenient from the moment it touches the feet until its removal.
Next, let's talk about its toe bumper; it's made with durable hard leather material. Kicking small things aside while working doesn't hurt the toes.
Still, it's important to note that this shoe isn't a safety boot. Therefore, wearers should be warned, as the impact of falling heavy objects may still penetrate through the material.
Nonetheless, its pros definitely outweigh the cons. Adding to its list of advantages is its myriad of comfort features, such as the removable cushioned insert and EVA midsole (also cushioned).
The breathable membrane and moisture wicking lining also prevents sweat buildup. Thus, the feet always stay dry, which is a boon for sweaty feet.
What We Like
Complete seal against water
Convenient to put on and remove
Durable toe bumper
Cushioned components promote optimal comfort
Breathable membrane and moisture wicking lining
This piece of footwear is a waterproof boot at its core. If that's the trait you're looking for in a shoe for landscapers, definitely go for this product.
11. Carhartt Safety Toe Work Boots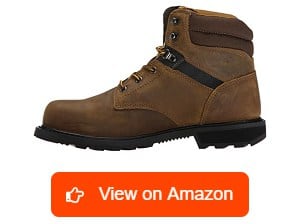 Tough landscaping jobs call for tough boots, and the CMW6274 Safety Toe Work Boot from Carhartt is here to help.
This steel safety toe boot meets the ASTM F2413-18 standards. Its characteristics grant the feet superb protection against various levels of impacts and compression hazards.
While we're still on its safety toe, it's also electrical hazard resistant. It can protect the feet against electrical circuits of up to 18,000 volts under dry scenarios.
Adding to its list of durability-focused features is its Goodyear welt construction. Coupled with a sturdy rubber outsole, the Goodyear welt construction prevents the shoe from slipping on oil, water, and other slippery substances.
All day jobs require comfort, and this boot provides that trait and more. The brand's proprietary combination of PU material and foam creates the comfortable insole. This element makes the landscaper shoe a pleasure to wear.
Thankfully, this shoe has a waterproofing system, making it one of the best boots for irrigation work. The use of the FastDry Technology on its linings efficiently wicks away any sweat, providing you with comfort.
However, the rubber outsole might need extra work. It feels less durable than the rest of the shoe, which makes me think that it won't last constant abuse after a few months. Still, it's possible to lengthen the outsole's lifespan with a little TLC.
What We Like
Sturdy steel safety toe work boot meets ASTM F2413-18 standards
Protects the feet from live electrical circuits of up to 18,000 volts
Slip-resistant rubber outsole
Comfortable, thanks to the combination of PU and foam
Waterproof and FastDry technology
What We Don't Like
The rubber outsole might not take constant abuse from tough jobs
This shoe comes with a plethora of durability and comfortable features. It can be the ultimate choice for various landscaping tasks, including lawn irrigation and maintenance.
12. Danner Alloy Toe Work Boots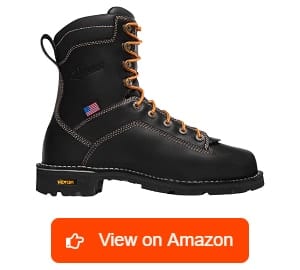 Are you looking for Danner boots? If so, the Quarry USA Work Boot might be your top choice.
Landscaping and other outdoor activities become safer with this shoe. Sturdy construction combines with long-lasting performance ensures workdays come with security for the feet.
The 100% full grain leather material enveloping this boot has waterproofing technology. But, it also brings breathable GORE-TEX lining to the mix. What these features present are moisture wicking and breathability at their finest.
Like other capable boots on this list, this product seals water away, thanks to numerous waterproofing features. Its desirable traits don't stop with its GORE-TEX lining, as the brand's proprietary hand-crafted triple stitchdown construction ensures stability.
The stability it offers is even better than some of the items on this list. It's because of this design that the boot is quite wider than others. But, the tradeoff is better stability, which many landscapers will come to know and love.
The manufacturer also equipped this shoe with a Vibram sole. This material comes from the Italian term for "tank tread." Therefore, the sole creates firm indentations to the ground with each step.
Some customers have reported that the shoe runs a bit small. So, you might want to go half a size bigger than usual when buying this product.
What We Like
Durable with superior longevity
Leather and GORE-TEX lining for moisture wicking and breathability
Triple stitch and wider design deliver stability
High quality traction thanks to Vibram sole
This shoe for landscapers comes with features focused on durability, performance, and stability. This product might even be the ultimate option you can get for the best landscaping work boots on the market.
What is a Pair of Landscaping Work Boots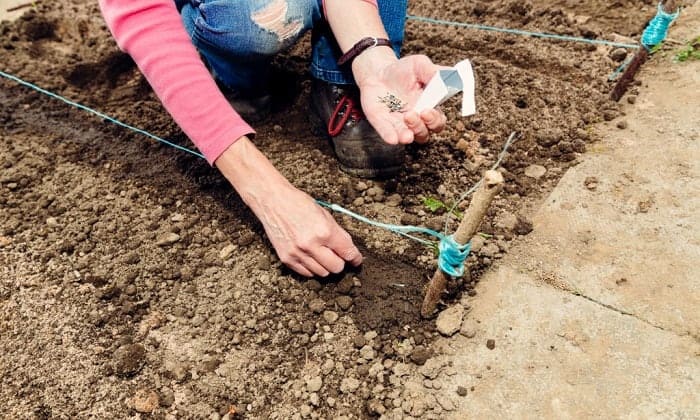 Landscaping can be demanding work. Different situations call for tough, physical outdoor endeavors. As such, a good pair of boots helps make these labor-intensive tasks less arduous.
Today, many footwear manufacturers focus on developing work shoes with core features needed for landscapers. These traits include insulation, comfort, support, durability, and waterproofing.
How Does It Work
Different landscaping shoes have different features. In other words, the varying models may work differently when compared with each other.
For example, one boot may have more waterproof features than another. Similarly, a work shoe might have a steel toe while another boot may only be a soft toe model.
Types of Landscaping Boots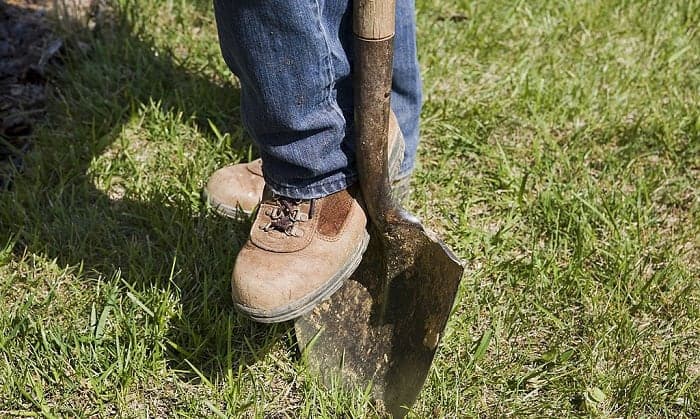 Scour the market, and you're bound to find different landscaping work boots. Some of these types of boots you'll find are:
Shoes designed to protect both the toes and upper foot from impacts. Construction workers, firefighters, and, of course, landscapers tend to prefer steel toe work boots as these products tend to emanate optimal durability.
Composite toes tend to be less sturdy than their steel toe counterparts. Nonetheless, these are by no means flimsy as they can still take significant abuse in and outside job sites.
The landscaper's best friend, waterproof work boots are ideal for workers that frequently step or walk on damp surfaces.
Why You Need Boots for Landscaping
Simply put, boots protect the feet from different hazards. After all, landscaping can be hazardous to the feet if these body parts don't have proper protection.
Think of wearing the right landscaper's footwear like sporting safety goggles for welding. Both pieces of equipment serve different purposes, but they still offer safety for their users.
Buying Guide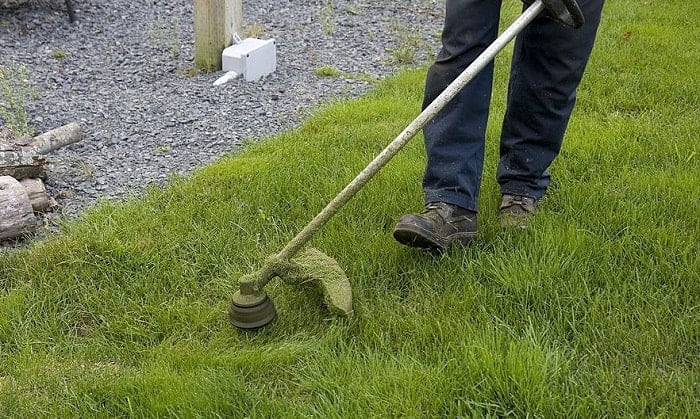 Choosing the correct landscaper's boots can be tricky. This endeavor might even be more challenging than intended as you glance upon the market and its myriad of available choices.
However, you can consider certain factors before making your ultimate decision. Some of these essential factors are:
Ask yourself the following question, "What's the ideal durability for your shoe?" Steel toes tend to be expensive choices, but they offer excellent security and peace of mind. Aluminum and composite toes are less expensive choices, but they might not be as sturdy.
Many manufacturers tend to let consumers pick between two types of outsoles: polyurethane and rubber. Polyurethane outsoles are great for rough terrains, whereas rubber is excellent for electricity protection.
It's near-impossible to wear shoes for a long time if they don't exude comfort. Therefore, always pick comfortable shoes to avoid pain and discomfort while wearing them.
Care and Maintenance
Proper care and maintenance for work footwear tend to differ for each material. In particular, leather may require certain cleaning solutions that tend to be harsh for textile or suede.
Frequently Asked Questions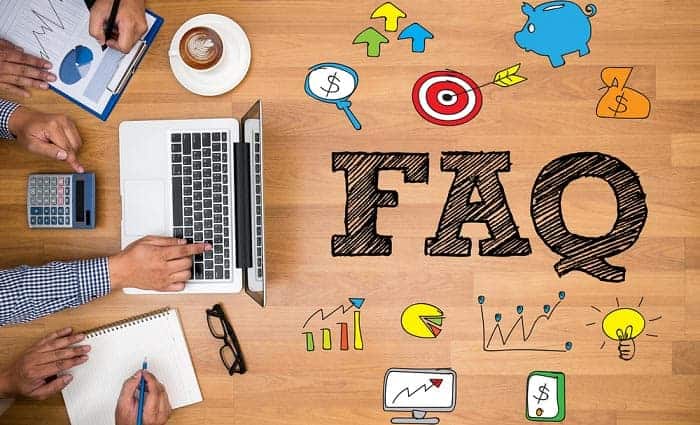 What are the most popular landscaping work boots brands?
Many landscaping work boot brands exist on the market. Landscapers now have to choose between popular companies like Caterpillar, Timberland, Carhartt, Wolverine, and Ever Boots.
But, what makes these boot brands stand out from the competition? Some of these brands have been in the shoe-making industry for generations.
In particular, Caterpillar has been making quality footwear since 1925. Additionally, the company came from two powerhouse heavy equipment manufacturers owned by Benjamin Holt and C.L. Best.
After years of fierce competition, the two business owners decided to join hands. Through the years, their heavy equipment business delved into the footwear sector and built the Caterpillar brand known today.
Another example is Timberland, which is a footwear company that has made shoes since 1973. It was Nathan Swartz that brought the company to life after purchasing a half-interest in the Abington Shoe Company.
At that time, Swartz was but an apprentice. Dedication, hard work, and perseverance allowed him to move up the ranks, which eventually allowed him to gain the knowledge to start creating his first line of footwear, which were appropriately-named "Timberland." Since then, many people equate quality footwear with this brand.
Do you need steel toe boots for landscaping?
Steel is the ideal metal to place inside work boots because of its hard-wearing qualities. This metal is even tougher than aluminum or composite materials.
Wearing steel toe boots in landscaping jobs can help prevent a range of injuries. First, you protect the feet from falling objects, such as the power tools you might carry on-site. Additionally, steel is a relatively good insulator, which means it can keep heat in the shoe for quite a while.
In contrast, wearing non insulated work boots can pose problems while working in cold environments. For example, trimming the lawn during winter might be more challenging than usual if the feet don't have proper insulation. Cold may seep into the skin, causing rigidity and discomfort.
Mitigating this concern may require the help of steel toe boots. This metal helps to keep heat trapped within the shoe, allowing the feet to stay comfy and warm.
Steel toes also help prevent other injuries, particularly those caused by cuts and lacerations. Working in outdoor environments means that it might be easy to miss certain objects sticking out of the ground. Boots with puncture-resistant materials help relieve users of this concern.
What are the longest lasting landscaper work boots?
Before proceeding, answer this question: "What is durability for you?"
Many landscapers believe that high-quality work shoes can last at least six months of frequent use. Also, the footwear should have an exceedingly long shelf-life and can take daily abuse.
With that explanation in mind, it's possible to find landscaper boots that can last more than six months. However, some of these shoes tend to last longer than others.
If you were to take my recommendation from the list above, consider the Danner Quarry USA Boot. Note that this shoe has several features that prevent it from deteriorating quickly.
It has excellent moisture wicking technology to ensure the shoe and foot stay dry. In fact, the foot stays moisture-free even when I'm walking in wet terrain.
You should understand that there are tough competitors in the waterproofing department. For instance, EVER BOOTS "Ultra Dry" Boots have numerous features that keep water outside.
However, waterproofing isn't the only factor to consider about footwear longevity. On that note, Danner's waterproofing for its boots is like "icing on the cake." In other words, the shoes can do more than wick water as they offer other features to ensure durability and longevity.
How to care and clean?
You can't enjoy the full extent of your boot's features if you don't take proper care of it. Remember to maintain and clean it. In turn, it'll return the favor by giving you several benefits.
The caring begins once you bring the shoes home from the store. Use this time as the break in period for the footwear. It's essentially when the shoe's material adapts to your foot. This period can take anywhere from a few days to a week. You'll know when the break in period is over if the boot is no longer uncomfortable.
Next, ensure that you clean the footwear regularly. In fact, consider cleaning the footwear at least once per week. Take a few minutes of your day to remove dust, dirt, and debris from your work shoe.
Also, don't forget to apply water-based waterproofing. You can apply this solution even if the shoe is already waterproof. After all, an additional waterproof layer couldn't hurt. But, ensure that you're using the correct solution as some chemicals might be too harsh for certain materials.
Where to buy?
Several shoe stores exist, which makes it more challenging than usual to pick the right work boot provider. However, these retailers tend to be in two major categories: online and offline stores.
If you choose the online route, you need to think about certain factors before clicking the "Checkout" button. Firstly, verify if the shop is legit by checking its credentials. The last thing you'd want is to get scammed from buying fake footwear.
Moreover, consider checking the prices of your preferred shoes in different online shops. Although these online retailers tend to follow industry-standard price points, some stores may sell certain boots with higher costs. Avoid spending more than your budget by comparing these prices first.
Now, if you choose to buy landscape boots from offline shops, you still need to consider some factors before making the purchase. However, these elements may differ from buying from online providers.
For instance, check if the shop is near your home. You may not want to spend extra cash for commuting or gas. Next, you may also check social media for shoe prices for individual stores. That way, you can save time, money, and effort as you travel to the shop.
Are Timberlands good for landscaping?
The short answer to that question is, "Yes."
Two of Timberland's work boots made it to the list above. One is the Pit Boss Men's Boot while the other is the Titan Waterproof Boots for Women.
Here's a quick summary of these two boots. First, the Pit Boss is a steel toe work boot designed to handle impacts like they were nothing. It features excellent durability and performance while maintaining a stylish composure. Its fashion-forward characteristics stay even when you work it to its core.
This shoe also protects the feet from different hazards, such as debris, oil, and water. It's even water and oil resistant, which means it has great traction when moving across relatively slippery surfaces.
As for the Titans, these work shoes also exude sturdiness in more ways than one. Women users can have peace of mind, knowing that these safety boots have slip-resistant outsoles. Their safety features are also compliant with various ASTM standards.
Now, are these the perfect boots to wear during landscaping? Not quite; but they come close to perfection if it weren't for some minor shortcomings.
Which are the most comfortable pair of work boots?
Like other factors, comfort is an essential characteristic that landscaper shoes should possess. You'll know the boots exude comfort if they conform to the foot's shape and it doesn't hurt when worn.
However, some pieces of footwear tend to be more comfortable than other models. One ideal example is the Caterpillar Threshold Industrial Boot.
This work shoe has various features that promote all-day comfort. It has a lightweight construction, plus its midsole has shock-absorbing qualities to provide extra support.
Aside from Caterpillar's offering, another comfortable boot is the Bates Velocitor. For this boot, it has a cushioned insert and EVA midsole. These elements make it feel like the feet are stepping on a comfy blanket.
As a bonus, these components are removable. Thus, it shouldn't require an "arm and a leg" to purchase a new shoe if these elements become subject to wear and tear.
The Velocitor also has a breathable membrane to help keep your feet dry. With this trait, wearers with sweaty feet don't have to worry about sweat buildup, which would otherwise become an uncomfortable experience.
What are the best shoes for yard work?
Landscapers tend to handle a range of outdoor tasks, depending on orders of their employer. These endeavors may include (but aren't limited to) tasks like planting, mowing, and trimming lawns. Further, these professionals may also use heavy equipment to drastically change the appearance of gardens.
Laborious work requires heavy-duty shoes. The best shoes for yard duty are those that emanate superior qualities, such as optimal comfort, durability, and support.
If you were to follow my suggestion, one of the best boots for these jobs is the Wolverine Raider. In summary, this 6 inch work boot is lightweight, rigid, and comfortable. Also, its outsole provides excellent traction when working on different terrains such as cement, sand, or soil.
Another product that I can recommend in this category is the Thorogood Gen-Flex2 Series Boot. It is compliant with various ASTM safety standards. It's also hard-wearing, thanks to its mix of 100% full grain leather and nylon.
Not to mention that it has a removable single-density polyurethane footbed that is comfortable to the touch. The shoe also has a composite shank, creating optimal support.
How do I choose my work shoes?
It's crucial to follow certain factors before choosing work shoes.
Perhaps one of the major factors to consider is the fit. After all, durability, comfort, and support might not be as important as the fit of the pair of work boots. It's because these other traits may not matter if the shoe doesn't fit your foot well.
So, how do you find the perfect-fitting work shoe? It begins with measuring your feet properly.
Measure your feet by the end of a long day at work. It's because this would be the time when the feet tend to swell. Hence, measuring them at their largest is ideal to help you select the right pair of work boots.
You may also take socks into account as you measure your feet. Most people, which might include you, would like to wear them while having shoes on. This additional apparel can increase your feet's size. Thus, it only makes sense that you keep these items in mind during feet measurement.
What to wear with landscaping boots?
Perhaps you want to wear landscaping boots in scenarios other than working in gardens. You may want to use these shoes while you're out and about. If so, you need to pair them with the right apparel.
The first style rule to follow while wearing these boots is to wear appropriate jeans. A pair of slim-fit jeans can complement a pair of black boots. Dark brown landscaping work boots can work well when worn together with green or red Chino's.
Note that you need to match the color of your jeans to your footwear. Avoid wearing clashing colors. Otherwise, you might stick out like a sore thumb in a crowd.
Aside from jeans, you can also pair boots with the right jackets. The jacket-boot combination can increase your style points to new heights if you do it right.
One way to achieve this combo is to wear a blazer with hiking boots. This ensemble should make you look like you're about to go to a business meeting. Otherwise, you can throw in a black leather jacket with same-colored boots for a casual yet edgy appearance.
When to replace work shoes?
Although many work shoes are quite durable, they're not impervious to destruction. Eventually, you'd have to replace your beloved footwear with new models.
However, herein lies the question, "How can I know if it's the right time to replace my work shoes?"
One of the most apparent signs that you need to replace your shoes is when they "talk." Check the outsoles to see if they're still attached to the rest of the boot. If not, then the shoe will have a "mouth," and it'll look like it's talking while you're walking.
Another clear sign that you need to replace your work shoes is when they have holes. Now, one or two small holes might not be causes for concern. But, if they have gaping holes, then it's going to attract several problems.
For instance, water may seep into the hole, which would become a contradictory feature if your footwear is waterproof. Another issue is when debris can get into the hole. Imagine stepping on a sharp rock while you're working on a garden and it goes through this opening. That's definitely not a pleasant experience.
If you see these signs on your shoes, don't hesitate to replace them immediately.
What are the best shoes for being on your feet all day?
The answer to this question varies for different people. For example, you might think that the "best" shoe is one that emanates all-day comfort. Another landscaping contractor might prefer wearing footwear that delivers maximum durability and longevity. Find your preferences, and you should be one step closer to getting the perfect shoe that fits your needs.
Conclusion
Let this guide help you in choosing the best landscaping work boots the market has on offer. Hopefully, reading this article helped you gain confidence while you make your choice.
To summarize this post, remember that the ideal work boot for landscapers should deliver the best in different categories. It should create an ideal environment where comfort, durability, support, and stability thrive. Also, a reasonable price wouldn't hurt.
If you want my recommendation, then opt to choose boots from Danner. Specifically, check out the brand's Quarry USA Boot. This shoe has top-quality features that'll definitely satiate your preferred requirements.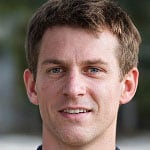 Having worked in the field of personal protective equipment for over two decades, Andrew Carnegie is a specialist in the field.
At EDC, he strives to improve performance efficiency and promote workplace safety for EDC's readers and customers. He also researches the most up-to-date equipment that has earned relevant accreditation for use in a wide range of industries and specialties.