Leather is considered by many as the top-rated material for making tool belts mainly because of their strength and durability. The best leather tool belt can last many years of service, especially when they are well taken care of.
If you are thinking of replacing your old dusty canvas tool bag with a shiny new leather one, you need to know how to shop for one. The main reason why you need to be careful when shopping for tool belts leather is that they cost quite a lot of money.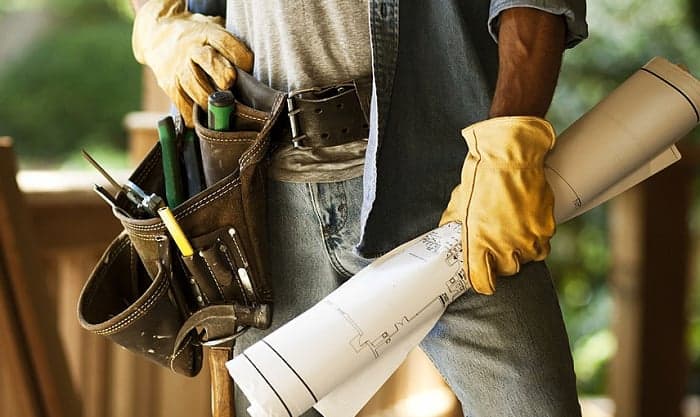 You can expect to pay upwards of two hundred dollars for a high-quality tool belt that will surely last many years. However, it does not mean that the most expensive tool belt is the best. Many are economically priced while still providing excellent quality.
However, there are also cheaply-made ones in that list that do not typically last a month of use. You need to know what to look for in work gear to make sure that you will not be wasting money. This belt buying guide to leather tool belt will teach you all of the things that you need to keep an eye out for when buying a new leather tools belt.
Once you finish reading this, it is almost guaranteed that you will be getting more than your money's worth once you decided to buy your very first leather tool bag.
10 Top-Rated Leather Tool Belt Reviews of 2023
1. Occidental Leather 5089 LG Seven Bag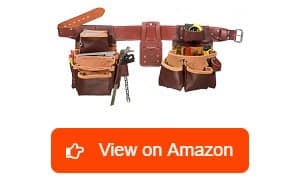 This is yet another great leather tool apron from Occidental Leather. This is one of those tool holders made using only high-grade top-grain cowhide leather. This means that it has nice surface texture and high tensile strength. Aside from this, this belt is also quite cut and abrasion-resistant.
All kinds of Occidental Leather tool belt can be seen being made in the United States. This means that their construction went through the toughest quality control testing there is. You can be sure that this tool belt will last for many years. For instance, the seams are reinforced using copper rivets, so you can be sure that they will not fray.
Another neat thing about the design of these leather carpenter pouches is that the hand specific pockets are located where you can easily reach them. For instance, the holder for the steel tape measure is located on top of the right hip pouch where you can easily reach it (if you're right-handed).
The belt is also wide enough that it evenly distributes the weight of the tools across the hips. This pretty much acts like how a good backpack will position the weight over the center of gravity of your body.
There is nothing much to complain about with this product, which is quite the same as any high-quality Gatorback tool belt. If I have to nitpick, I just wish that the position of the tape measures was a bit lower. As it is now, it is a bit too high up on the belt for my taste.
What We Like
Made of tough, high-quality top-grain leather
Made in the USA, which guarantees quality bag assembly and construction
The seams are reinforced using metal rivets.
Comes with a wide belt that distributes the weight better
Strategic placement of pockets, thereby guaranteeing ease of access
What We Don't Like
The positioning of the tape measure clip should be a bit lower.
There is nothing wrong with this leather tool rig. It is made of top quality materials, constructed with durability in mind, and is ergonomically designed to make wearing and using it much easier.
2. Style n Craft 98434 Top Grain 4-pc. Pro-Framers Combo
The first item on our list of tool belts is made entirely from top-grain cowhide, making it very durable but still flexible and soft. The leather is oil-tanned, which gave it its dark brown color. This is probably one of the prettiest tool belts I have ever had the pressure to use.
Being made of tough durable leather does not mean anything if the Dickies work belt is not built properly. This belt is stitched together using high-strength nylon thread, which is colored to contrast against the dark brown colored leather.
Another feature that I liked is the good number of pockets that this waist belt has. There are a total of 17 pockets. These provide more than enough space for all the basic tools that I need to do most household repair tasks.
The belt itself is three-inches wide, making it very comfortable to wear. Also, because it is quite wide, the weight of the tools is evenly distributed. This prevents this choice for tools belts from digging into your skin and causing discomfort.
The only problem that I see many people will have about this leather carpenter tool belt is that it is mainly made for bigger individuals. The belt can fit waist sizes of 34" to 46".
What We Like
Made of beautiful oil-tanned, top-grain cowhide leather
Durable yet still soft and flexible
Boasts of durable stitching using heavy-duty nylon thread
Reinforced using metal grommets
Features a total of 17 pockets
What We Don't Like
Will only fit properly on people with at least 34-inch waist sizes
Although this
carpenter tool belt
with suspenders is designed primarily for those with a bit more girth, there is no denying that it is more than worth its very economical price tag.
3. TRUTUCH Leather Tool Belt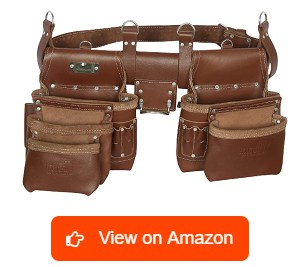 Let me introduce you to this tool belt with leather tool bags carpenters that I love so much! For its price, I get two pouches with multiple compartments, a hammer loop, a leather belt, and 4 suspender hooks. This construction tool belt lets me neatly organize the tools, fasteners, pencils, and other gizmos I need to perform my job.
These compartments are spacious so you can do framing, carpentry, electrical work, or handyman set-ups! When I inspect the stitchings and fabric closely, I can tell it is durable. I placed most of my tools in it but not a single thread came undone. Apart from that, I can store sharp tools and not worry about them ripping the fabric apart.
When worn at work, this heavy-duty leather tool belt is comfy thanks to the padded belt. Apart from that, it is thick enough to support everything I carry. Its width ensures it relieves pressure on my waist. Lastly, I love the leather's soft finish as it gives the whole thing a luxurious feel.
Overall, I'm amazed by the quality of this construction tool belt. I never had a bad experience with it. My main concern is that it only fits individuals with sizes ranging from 30 to 47 inches. I hope the manufacturer considers making plus-size products.
What We Like
The sturdy leather has a luxurious feel
Suitable for any profession
Provides multiple storages
Designed for comfort
Highly durable construction
What We Don't Like
Will only fit properly on people with at least 34-inch waist sizes
For carpenters, I would say that this is one of the highest quality tool belts you can find. Aside from the beautiful leather finish, the durable construction guarantees it will stand the test of time.
4. DEWALT DG5433 Tool Bag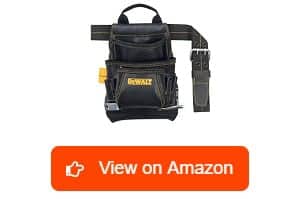 This tool bag has enough pockets for most contractors. There are more than enough pockets and hoops for all the basic things they will need. For instance, there is a heavy-duty loop that can hold a pry bar or a hammer. You can also use the nail holder for nail sets, pencil holders, and others.
I like the convenient carry handle attached on top of the tool belt. This makes carrying the tool belt more convenient because it prevents the contents of the pockets from spilling out. This handle also makes adjusting the belt easier.
It is also very convenient that the pouch can be slid over the belt. This is nice because I can slide the pouch to the front if I will be working standing up. I can also slide it to the side if I need to crouch down. This feature also makes this tool bag usable by both left and right-handed people.
Although the two-inch belt itself boasts of a nylon construction, the pouch and pockets are made of high-quality top grain leather. The seams are double-stitched and closed off using metal rivets to doubly make sure that this tool belt will last for many years.
There is only one thing that I wish would have been added and that is an extra loop to keep the extra length of belt from hanging loosely in front. However, despite this, it is still one of the best leather tool pouches I ever got the chance of using.
What We Like
Made of top-quality cowhide leather
Has a convenient carrying handle
The pouch can be slid to different positions.
Boasts of a durable and breathable nylon fabric construction
Has more than enough pockets for all the basic stuff carpenters need
What We Don't Like
It would have been nice to have an extra belt loop.
Regarding the loose belt length, this could be remedied easily but overall, this leather tool belt is pretty useful. It comes with plenty of storage pouches. It is also adjustable and does its intended job well.
5. McGuire-Nicholas 803-E Leather Tool Rig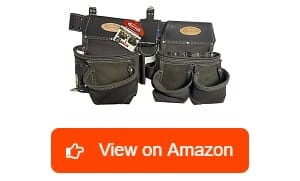 First of all, let me just say that this is a nice-looking black leather tool belt. The belt is made of top leather while the pouches are made of oil-tanned split leather. The dark brown coloration of this tool belt option gives it an elegant and sophisticated look.
The seams of the pouches are double-stitched and can carry a lot of weight without any issue. The ends of the stitches are further reinforced by metal rivets to ensure that this tool belt can withstand a lot of punishment while remaining in one piece.
The pouches have wide openings to make grabbing the contents much easier. If you are used to the tool belt, you can grab your tools even without glancing at it. This may not seem like much but having the convenience of working on a task without having to pause to browse through your tool belt is always a good thing.
This product also has metal hoops that are made for when you want to use a shoulder strap along with it. Using a belt strap in the shoulder will make it easier for you to carry around heavier tools without straining your back.
There is one drawback and that is the belt is uncomfortable to wear if it has not yet been broken in, which will take at least a month of use. The leather is quite stiff and digs into the skin in the first couple of uses.
What We Like
The nice-looking oil-tanned leather gives the belt a sophisticated look.
Has wide-mouthed pouches for all your basic tools
Ergonomically-designed for easy access to tools
Comes with provisions for suspenders
The pouches can slide a bit for a comfortable fit.
What We Don't Like
The belt needs to be properly broken in before you can wear it comfortably.
Although the break-in period does take a bit of time, once the leather has been stretched and bent into submission, you can start using it to its full potential.
6. R Dawg Suede Leather Tool Bag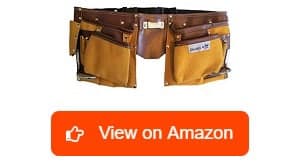 The thing that I liked the most about this belt is how adjustable it is. First of all, it can fit waistline range of 32" to 42", so many people will have no problem fitting into it. The belt itself is made of heavy-duty nylon and is about two inches wide. It closes using heavy-duty fully adjustable plastic side-release buckles.
The pouches are made of thick cowhide leather. The average thickness is 1.6mm. This provides pockets with lots of extra tensile strength. They are also highly resistant to punctures and tears. If you take good care of this belt, it can serve you for many years to come.
I also like that the pouches are not fixed in place. It allows me to place the pouches in front, at the sides, or slide them to the back so I can crouch down easily. There is a total of 11 pockets in this tool belt. This number is enough for regular contractors but will still be lacking if used by roofers or framers.
However, if you will only be using this belt for weekend warrior projects then this would be fine. The only complaint that I have about it is the plastic side release buckle. It just does not seem that sturdy to me. Plus, it makes it harder to adjust the fit of the belt unlike just having a regular belt buckle.
What We Like
Can fit waistlines from 32" to 42"
Has a thick 2" wide nylon belt
The pouches are made of 1.6mm thick cowhide leather.
Comes with eleven deep and wide pockets for all the basic tools and materials needed
The pouches can slide in and out of position.
What We Don't Like
Uses a plastic side-release clasp instead of a sturdier two-prong roller buckle
Despite my problem with the clasp, which I think I can still easily replace later, I can say that this is a great basic tool belt. Although this is not big enough for professional carpenters, it does provide more than enough usability for amateur DIY enthusiasts and contractors working on light tasks.
7. Occidental Leather 5070 Pro Drywall Pouch
Before you give this extension leather carpenter bags a hard pass, you need to know that this is meant for professional drywall installers or lathers (the people who install the base for the drywall). This is the reason why there are so many specific tool pockets.
There is a pocket for a level, utility knife, saw, and other typical tools that a drywall installer might need. All of them are placed strategically and organized in such a way that you can easily pick them up when needed.
Just like with most of the Occidental Leather individual bags, this pouch is made entirely of high-quality, top-grain cowhide leather. This provides the pouch with a lot of strength and durability. You can be sure that this will last more than just a couple of years.
Of course, it does not matter if the tool bag was made from the finest leather. If the overall construction is lacking then it will just fall apart. This is not the case with this pouch. All the seams are stitched together using heavy-duty nylon thread and reinforced with metal rivets.
The only problem I have with this pouch is that it does not have a storage pocket or belt clip for a measuring tape, which is a tool commonly used by framers and drywall installers. This might have been a slight oversight and it could be remedied easily but it should have one installed.
What We Like
Compact and lightweight while still having the ability to hold all the basic tools
Made of top-quality cowhide
Durable and well-designed
The pockets are organized ergonomically, promoting comfort.
The leather is already soft, which means you no longer need to break it in.
What We Don't Like
Does not have a measuring tape holder
Despite not having a tape holder, which is a bit of an issue, this small pouch can bring a whole world of benefits not only for whitewall installers but also for other prospective users.
8. Nemean Leather Heavy-duty Tool Pouch
This is one of the best leather tool bags made with the expert tradesman in mind. This is constructed from high-grade top-grain leather, which is inherently tough and durable. This pouch can take a lot of abuse and still ask for more. If you want something that can last many years, then I am sure that this will be it.
I also like that this pouch is handcrafted in the USA. All seams are made using high-quality nylon threads and further strengthened by using metal rivets at the ends. You can be sure that no matter how many tools you cram into the tool bags, the seams will not pop.
This pouch is also perfectly balanced and centered. Regardless if you are right or left-handed, you will find that this pouch will allow you to reach for your tools easily. I love the hammer loops attached at the sides of this pouch. They are thick and made of full grain cowhide.
I prefer this over metal loops as this has more flexibility and is easier to use. The only thing that I have an issue with this pouch is that it will take a bit of getting used to it. Because of its ambidextrous design, it is neither favorable to use with either hand, so you will need some practice before using the pockets becomes second nature.
What We Like
Made of durable top-grain leather, which can last many years
The reinforced seams can assure you that the stitches will not pop.
Has an ambidextrous design
Comes with hammer holders loop made of very thick leather strips
Features pockets with wide openings that can fit a speed square easily
What We Don't Like
Will take a bit of practice before it gets comfortable to use
Once you do get used to the pouch, you will wonder why you have not gotten this sooner. Not only is this pouch highly functional but it also offers a guarantee that it will last for many years.
9. Estwing 94744 Leather Tool Apron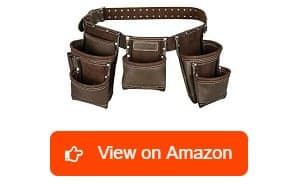 One of the things that I liked about this particular tool belt set is that the belt is made of full-grain cowhide, so it is almost guaranteed to last a couple of years. The pouches are also made of split leather for strength and flexibility. Just looking at the whole thing, you will get a sense of just how durable it is.
Another thing I like is that there are large metal rivets on all the stress points on the belt. For instance, you can find metal rivets at the ends of the stitching. This prevents the stitches from unraveling.
I also like the double-pronged roller buckle in this tool belt. It made it a lot easier to wear and adjust the fit of the belt. Because of the double-prongs, the belt will not twist due to the weight of the belt's contents.
The pouches and their main pockets are also ergonomically designed so that the wearer can easily reach the tools and/or materials that he needs. For instance, there is a pouch for the measuring tape that is in the center of the belt. You do not have to feel around looking for the tool. You just know where they are.
There is one problem that I have with this tool belt and that is that the pouches are fixed in place. If your waistline is on the farther end of the spectrum, you will find it hard to grab your tools from the middle of your back.
What We Like
Made of tough full-grain and split cowhide leather
Has a lot of metal riveting for enhanced construction durability
Uses a heavy-duty roller buckle that will not twist
Has plenty of pockets for basic tools and materials
Ergonomically designed for the average-sized person
What We Don't Like
The fixed pouches make it hard for larger people to use.
If your waistline does not go beyond 40" or so then you will find the positioning of the pouches acceptable. This is a pretty decent tool belt for its price. You will be doing yourself a favor just by trying this one out.
10. Leather Gold Leather Tool Pouch
This is a good nail pouch as it has five large and deep pockets that can carry lots of nails and a couple of basic tools. This makes it comparable to the popular brand Bucket Boss. This is an ideal extension pouch for carpenters or framers. Ever since I added this pouch to my belt, I have yet to find myself without nails while working on my tasks.
This pouch is made of durable split leather and top-grain leather – both of which are tough and durable. However, because of the heavy-duty construction using heavy nylon strings, this pouch will most likely last years.
It is also nice that this can fit in almost all sizes of tool belts. I have been using one that is three inches wide and this tool pouch has no problem fitting. This pouch is also perfectly balanced so it can be used by both right and left-handed carpenters.
You can place this on the right or left side of the tool belt, and slide it into a position that you are most comfortable using it with. There is one problem that I have with this pouch and that is you need to keep an eye on the metal rivets as they are not that strong compared to other tool belt brands.
What We Like
Balanced perfectly, which makes it possible for both right-handed and lefties to use it
Has a lot of deep pockets for carrying many nails
Made of very tough yet soft leather
The heavy-duty nylon stitching will most likely not pop open.
Can be used on almost all sizes of tool belts
What We Don't Like
The rivets are not that strong.
The problem with the rivets popping off might just be a fluke but it is still very much repairable. It would be a shame if you let this little issue dissuade you from getting this tool pouch for your tool belt.
Style n Craft 98444 Framer's Combo (Outdated)
The very first thing that I noticed about this tool belt is that it is made of thick and tough top-grain leather. Just by looking at it, you can immediately tell that it will last for a long time.
Another thing that I liked about this tool belt is that it has a lot of pockets, 19 to be exact. If you are a framer, you will be happy to use this belt as this will have plenty of storage space for everything that you will need for the job.
The pouches in this tool belt can be slid around on the belt. This makes it so that I can find a comfortable position for them. You can place the pouches at your sides or slide them to the back so you can crouch without the contents spilling out.
The pouches also have carrying handles. I like this because it lets me carry the belt around the site without spilling the contents on the floor.
This would have been better if there were hooks for suspenders. If this belt had suspenders, you can place as many heavy tools in it and it will not be that difficult to carry all that weight.
What We Like
Has lots of pockets for tools and materials
Made of high-quality top-grain leather
Has a three-inch wide belt for better weight distribution
The pouches can slide around.
Comes equipped with carrying handles
What We Don't Like
Has no loops for suspenders
Although it is a shame that there are no suspender loops, for the price of this tool belt, it would be much better if you make the loops yourself. This is a great tool belt that can last for many years.
Leather Gold Framer's Rig Tool Belt (Outdated)
This tool belt set is made for years of abuse. This belt is entirely constructed from genuine cowhide leather that is 2mm at the thickest and 1.75mm at the thinnest part. This makes the belt soft and comfortable to wear.
Aside from using the best materials, it is also assembled with durability in mind. The belt comes with seams that are double-stitched using high-quality nylon thread. The corners are then reinforced using metal rivets to make sure that the stitches will not go undone.
This tool belt also has ergonomically designed leather nail pouches that are much better than nylon bags in terms of durability. The specific-use pockets are positioned in such a way that you can easily and quickly reach them. It only took me a couple of uses before my hands got used to the positioning of the pockets.
Speaking of pockets, this tool belt has ten wide open pockets that are in two main pouches. These pouches can be slid over the belt so that you can choose the most comfortable position for you. Once the belt is tightened, the pouches will remain in place.
The only issue I have with this tool belt is the number of pockets. This is alright for home improvement but for professionals, having just ten pockets is not enough.
What We Like
Made of high-grade genuine cowhide leather
The thick leather makes for a comfortable and durable belt
Pouches can slide over the belt for better positioning.
Features ten wide pockets, ideal for the home weekend warrior
Features ergonomically designed and positioned pockets
What We Don't Like
Not enough pockets for professional use
Although professional carpenters might find this leather tool belt lacking in terms of storage, DIY home repair enthusiasts will view this as more than enough for their needs.
Custom Leathercraft 21453 Heavy-duty Leather Combo System (Outdated)
As with all of the products that come from CLC, this tool belt is also made of heavy-duty, high-quality, top-grain cowhide leather. With proper care and maintenance, it can last for many years while still looking like brand new.
This tool belt also comes with easy handles. These handles promote ease in making adjustments on the belt. These are also helpful in making the tool belt easier to carry when not worn around the waist.
This Customer Leathercraft tool belt is also fully customizable. I took out one work apron and replaced it with that meant for drywall installation. CLC Custom Leathercraft sells profession-specific CLC custom pouches so that you can make your tool belt fit your needs.
I love that this tool belt has plenty of pockets and storage. There is a total of 18 pockets including reversed nail pockets and a large one that you can use to hold a speed square. There is enough room in this belt for almost everything that you will need.
There is nothing that I can complain about this product. Although, if I do a bit of nitpicking, I'd say that the leather needs to be broken in as it is quite stiff when new.
What We Like
Made of high-quality top-grain cowhide
Made with expert craftsmanship
Completely customizable
Comes with 19 pockets
Has a three-inch wide belt for the utmost comfort level
What We Don't Like
The belt needs a bit of breaking in.
There is nothing seriously wrong about this tool belt. It is durable, has plenty of storage, looks great, and more. This can seriously be the first and last leather tool belt that you will ever need to buy in your lifetime.
What is a Leather Tool Belt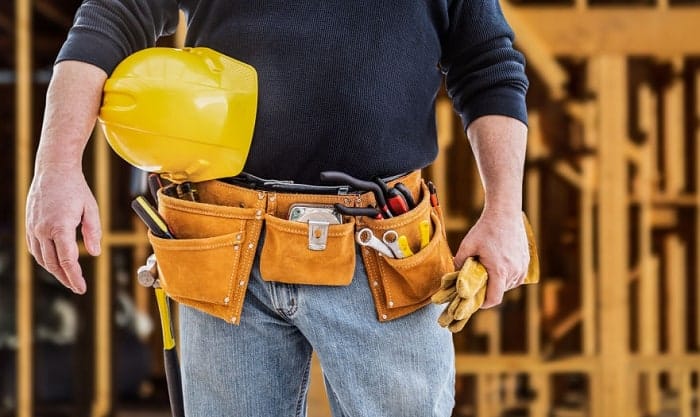 As the name suggests, this is a tool belt that is completely or mostly made of real cowhide (or any other animal hide) leather. Leather, usually cowhide, is the most popular material for making tool belts mainly because of its natural toughness and durability.
As an addition to its many benefits, leather has a good weight to strength ratio, so tool belts made out of it are pretty lightweight. Aside from that, tool belts made of leather can last for several years with proper maintenance.
Many people have had their leather tool belts for so many years yet these items still look none the worse for wear. This is the biggest reason why people like to buy the best leather tool belts. If they are lucky, it will be the first and last belt that they will ever need.
How Does a Leather Tool Belt Work
Tool belts work by allowing the craftsman to have all his tools always within arm's reach. This is better than having to rifle through a full toolbox. This becomes even more important if you have to work in a precarious position and you have no way of bringing your toolbox with you safely.
This is the case with carpenters who specialize in framing or roofing. They need to have all their tools at their side so they do not have to go up and down ladders when they need to get something from their toolbox. Using a tool belt makes them even more productive as they can work continuously regardless of their location.
A good tool belt is not just one that provides you with enough pockets for tools and materials. It should also make it easier for the user to gain access to its contents. Many top brand tool belts these days are ergonomically designed so that the hand that uses a particular tool will be able to get it without any difficulty whatsoever.
For instance, a right-handed carpenter would have the slots for his/her pencils near the top of the pouch on his right side. Also, most tool belts come with provisions for suspenders. If you are just using the tool belt alone and you place heavy tools and materials inside the pockets, you will be putting too much strain on your lower back.
It is because your lower back will be carrying most of the weight. With suspenders, most of the weight will be distributed equally over the shoulders and placed almost directly over your body's center of gravity. This will make carrying heavier loads easier.
Types of Leather Tool Belts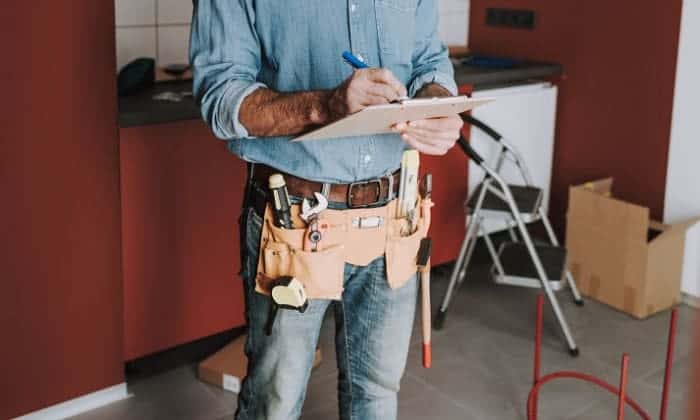 There are several different types of leather tool belts with each of them having their own particular sets of uses and benefits. With that said, it would not be fair to say that one type is better than the other.
Tool aprons – Tool aprons are tool belts that have pouches permanently sewn or built into place. This means that you will not be able to change the configuration of the pouches nor can you remove pouches to make room for more.
However, the good thing about these kinds of tool belts is that they tend to last longer as there are no movable parts. You might find that most experienced carpenters use this kind of tool belt because they are as tough as they need them to be.
Expandable tool belts – These belts tend to start with the base belt, which is usually a wide leather belt that gets up to three-inches wide at the back. You can then add as many pouches of different kinds as you wish.
You can add small pouches if you need extra mobility or larger pouches with deep pockets for increased carrying capacity. The nice thing about this kind is the almost infinite amount of customization. You can choose whatever size pouch you want, or choose pouches and accessories that pertain to your particular profession.
Hip tool belt – These are smaller than the average tool belts. Usually, these just have enough room to hold basic hand tools and a handful of nails at the most. This type of tool belt is commonly used by people who like doing household DIY repairs, weekend warriors mostly.
Most contractors also use this if they only need to do light work or if they are just doing inspections. This is a great choice if you will not be using that many tools and if your main concern while doing a task is mobility.
Suspenders – These are not truly a type of leather tool belt but more of an accessory to enhance its carrying capability. Tool belts with suspenders will allow the user to carry more tools and materials without straining the lower back.
When you use a tool belt, most of the weight is carried by your lower back and hips. This is fine as long as you do not carry stuff that is too heavy. However, if your job requires the use of heavy tools, like hammers and the like, then you need to attach suspenders to your belt.
This can help ensure that most of the weight gets lifted off your lower back and distributed evenly across your shoulders. Also, most suspenders come with a cell phone holder for easier access.
Why Do You Need a Leather Tool Belt
Why would you need a tool belt when you already have a toolbox with you? For some professions, like some mechanics, using a tool belt is considered a luxury and not truly necessary for their job. However, for carpenters, framers, and other people who need to work often above ground level, having a tool belt is of the utmost importance.
Convenience – The first reason why you would need a leather tool belt is that it makes the job so much easier. Even if you are working on the ground floor of a house you are building, it is much easier to reach into your tool belt for a certain tool rather than walk over to the other side of the room and browse through your toolbox.
Having a tool belt will allow you to keep a continuous rhythm while working. You will not miss even a single beat because you have all the tools that you need right at your hips.
Safety – If you are a framer, then you will often find yourself in precarious positions, like on the roofline of a house. Electricians and carpenters also have to deal with this kind of problem. When you are standing on top of scaffolding and you need a certain kind of tool, would you go down and back up just to fetch it? That would be too tiring.
You might think that you can just carry around your toolbox but the answer is no. Have you ever tried climbing a ladder with just one hand? It is very difficult and dangerous. With a tool belt, you have full use of both hands so climbing up and down ladders and scaffolds will be a lot easier.
Also, if you accidentally bump your toolbox and it hits someone below, that person is in big trouble considering the weight of your tools and if there are any sharp pointy objects in your toolbox.
Work efficiency – When you have a tool belt, you no longer have to get another worker's help to hand over tools and other things that you have in your toolbox. You already have all the tools you will need on your person.
You don't need to shout at whoever is on the ground at the time to go and fetch something from your toolbox. They can just go ahead with whatever task they are assigned to do.
You will surely discover many other reasons why you should use a tool belt, but the ones mentioned above should be enough to convince you to get one. You will discover for yourself how life-changing it is just to use this product.
Buying Guide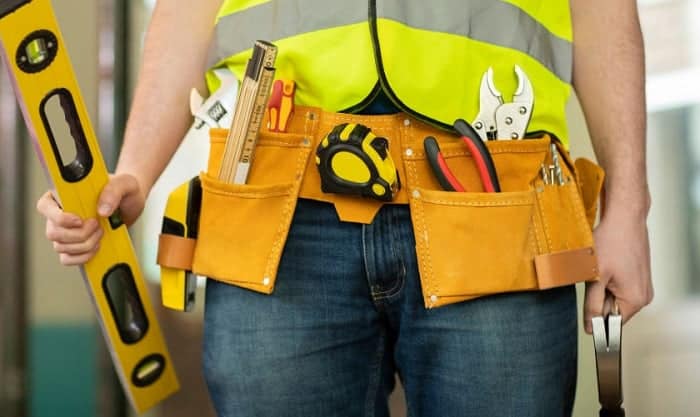 The thing about leather tool belts is they are very expensive. The price can go up depending on the brand and the materials used. To make sure that you will not be wasting your hard-earned money on a tool belt that does not perform up to your expectations, here is a quick buying guide that you can use.
How it fits – Before thinking about tool storage and the number of pockets, the tool belt should first and foremost fit you. The one that you get should wrap around snug across your waist but not too tightly.
It should be just enough that you can still move around without the belt digging into your skin. A leather tool belt should fit you properly or else you will suffer from chronic back problems and that takes almost all of the enjoyment out of your work.
Comfort – If you have found a belt that fits just right, the next thing that you need to turn your attention to is comfort. The belt has to be wide enough to distribute the weight of the tools properly. It should also be soft enough that you can move about easily.
Durability – Your tool belt will be going through a lot of stress and you need to get one that is tough enough for the job. You will be stashing nails, nuts and bolts, and many other fasteners in your belt, along with heavy tools so the belt needs to be up to the task.
The number of pockets – Depending on your profession, you might need more pockets than others. For instance, if you are a framer, you will need a lot of pockets because of all the different sizes of nails and the tools required for your job. This means that something that has 15 or more pockets is needed.
Care and Maintenance
Leather tool belts are fortunately very low-maintenance. They do not need too much in terms of care. However, if you want your leather tool belt to last for many years then you need to give it a bit of maintenance every once in a while.
First of all, after work, you should wipe away as much of the dust and dirt on the surface as you can. You just need a damp clean rag and nothing else. Don't get the leather too wet or else it will get really dry and crack when it dries.
Furthermore, every couple of weeks or so, you should remove all of the contents of the tool belt. Clean it up and apply a leather conditioner on all surfaces. The leather conditioner will re-hydrate the leather in your tool belt so it retains its suppleness and flexibility.
When you will be storing the tool belt away, hang it somewhere cool and dark, preferably someplace where it does not get hit by direct sunlight.
Frequently Asked Questions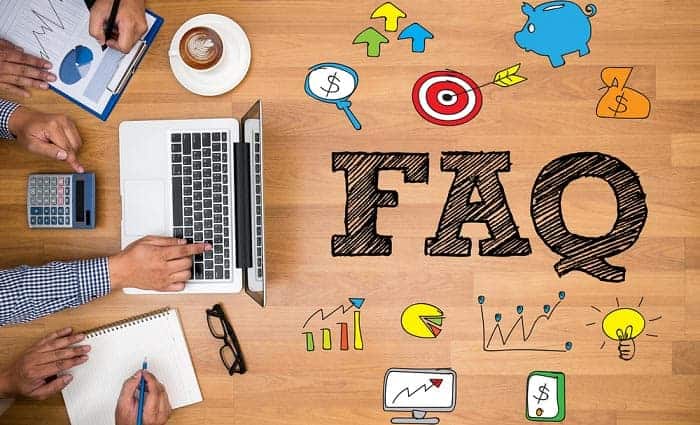 What are the most popular leather tool belt brands?
Various brands of tool belts are available these days but not all of them are as reliable as the others. I have tested a lot of different leather tool belts but there are only a couple of brands that I can truly say is the best.
Among those that stand out are Style n Craft, Occidental Leather, Leather Gold, DEWALT, McGuire-Nicholas, R Dawg, Nemean Leather, and Estwing. When you get a hold of these brands of leather tool belts, you can be sure that you will be getting a high-quality product.
How to break in leather tool belts?
The best way to break in leather tool belts is to just use them for a couple of days. However, if you want to hasten the process, here is what you should do.
First, mix a solution of equal parts rubbing alcohol and purified water. Get a clean piece of fabric, soak it in the solution and wipe it all over the leather tool belt. Let the solution soak into the leather. This will allow it to stretch much better.
Once the leather is dry, slather petroleum jelly all over the surface then wipe away the excess petroleum jelly using paper towels. Let the belt dry thoroughly before you use it. Aside from petroleum jelly, you can also use coconut oil or olive oil to condition the belt.
However, the continuous use of the belt will naturally make the leather stretch out and become soft and supple.
How to set up and use?
It will be up to you how you fill-up the pockets in your leather tool belt. If you're a carpenter then you will need to designate a pocket or two for different sizes of nails. If you're an electrician then you'll be carrying a couple of pliers. As long as you can fit it in the pocket, you can place whatever tool you need in the tool belt.
Who can use a leather tool belt?
We're always bombarded with images of carpenters wearing nice tool belts. In reality, workers in other industries can benefit from them, too. Electricians, framers, technicians, handymen, DIYers, fabricators, roofers, and construction workers also wear them.
Is it possible to soften the leather tool belt?
Yes. Like your boots, you can break in your leather work belts. Experts recommend filling the pouches with plenty of items like nuts, bolts, and gravel to stretch the leather.
If this is your first time wearing it, you can spritz a mixture of 1:1 water and rubbing alcohol. Then, apply glycerin soap. You should use the ones that manufacturers recommend for pistol holders. This will help moisturize the leather and make it more supple without drying it.
Next, apply neatsfoot or mink oil. Be mindful not to soak it too much. You only need a thin layer to allow the leather to stretch. Note that it will take some time for the leather to soften up.
How much does a good leather tool belt cost?
It depends on the type of materials used in addition to the leather, construction method, brand, and other factors like size or special features.
A handmade leather tool belt will be more expensive as you are paying an actual human being to create it. Even if it's not 100% handcrafted, there will be some parts in the process that bumps up the price. I know a lot of you want to find cheap Occidental leather tool bags but that's just impossible. These things last a lifetime so expect to pay $300 or more.
While these premium-quality tool belts are pricier, you probably won't need to buy another one. If you're a professional tradesman, you save more money from repairs or replacements.
On the other hand, mass-produced and machine-made items are cheaper. You can probably find leather tool belts that cost about $50 but the quality may not be the same as the handmade versions. The stitchings tend to come apart. Also, the manufacturers use the low quality leather to cut back on cost.
If you're a hobbyist who does DIY projects during the weekend or once a month, a low-cost tool belt will suffice.
What is the warranty?
The typical warranty specification provided for leather tool belts is around 30 days and this can cover factory defects. However, the top brands tend to provide limited lifetime warranties on their products.
Even if you have been using the belt for a couple of years, if anything as much as a seam pops out, you can send it back to the manufacturer for free repairs or a complete replacement.
Where to buy a leather tool belt?
It is better to buy leather tool belts in brick and mortar stores like Walmart and Home Depot since you can get to try them on first before buying. However, the choices there are limited and you need to be extremely lucky to find that one tool belt that is perfect for you.
On the other hand, buying from online retail sites like Amazon will provide you with hundreds, if not thousands, of options. Furthermore, you can usually find great deals and discounts when shopping online. However, you will need to wait up to a week before the item gets delivered to your home.
Conclusion
Even if you are not a professional craftsman, if you like doing DIY repairs on your own home then you will need the best leather tool belt. You will soon discover that having the freedom to work around the work environment with both hands being free while still having all of your tools with you at all times is liberating.
It is also very convenient. Hopefully, by now, you already know what you need to look for in a leather tool belt. I also hope that you will be getting the first and last leather tool belt you will ever wear.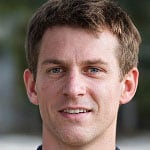 Having worked in the field of personal protective equipment for over two decades, Andrew Carnegie is a specialist in the field.
At EDC, he strives to improve performance efficiency and promote workplace safety for EDC's readers and customers. He also researches the most up-to-date equipment that has earned relevant accreditation for use in a wide range of industries and specialties.