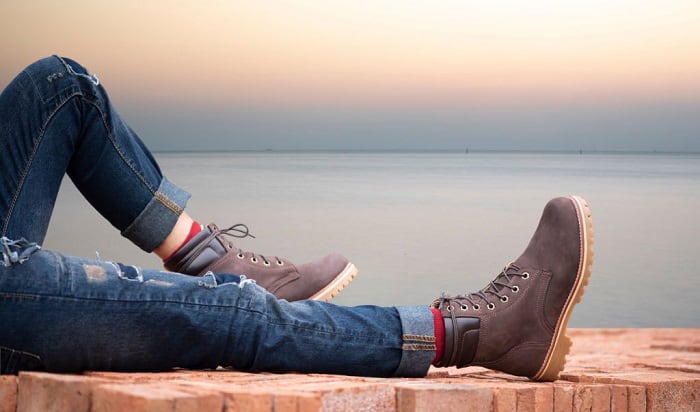 Reading everyone's opinion in a logger boots forum can sometimes raise more questions than provide you with solid answers. Not everyone understands the technical aspects well. Besides the terrain, you need to think about the weather and consider the appropriate protective features. Rest assured, it's not impossible to find the right pair of logger boots!
Before we discuss brands and shoe models, let me walk you through the key features that set the best logger boots apart from traditional work boots:
Construction: Manufacturers use the Goodyear welt construction method when making forestry work boots. This type of construction involves stitching a leather strip called the "welt" to the upper onto the canvas rib at the bottom of the insole. After that, the welt will be stitched to the sole. This lengthy process bumps up the boot's price but it offers more benefits. Besides improving the shoe's durability and waterproofing, it allows you to replace the sole when the tread patterns are worn down.
Raised heel: The heels are the defining features of most logger boots. Raised at least two inches, they boost the footwear's ankle support that comes in handy when you're trudging different terrains. Moreover, elevated heels prove to be especially helpful when trekking uphill. This design also increases the support around the arch, which serves as a shock-absorber as you walk.
Aggressive treads: A little rain quickly turns a dry area into marshy terrain. If you're on a slope, the wet surface will be so much harder to climb if you're only wearing sneakers. In this situation, you will need outsoles with aggressive tread patterns alongside the boosted heel to keep you stable. Note that some soles are spiked for better grip.
Like any work boot, logger boots can be worn by other professionals outside of the forestry industry. In the review, you will learn more about the features of each pair and what they are for. If you can't decide which one to get, read my tips in the Buying Guide section.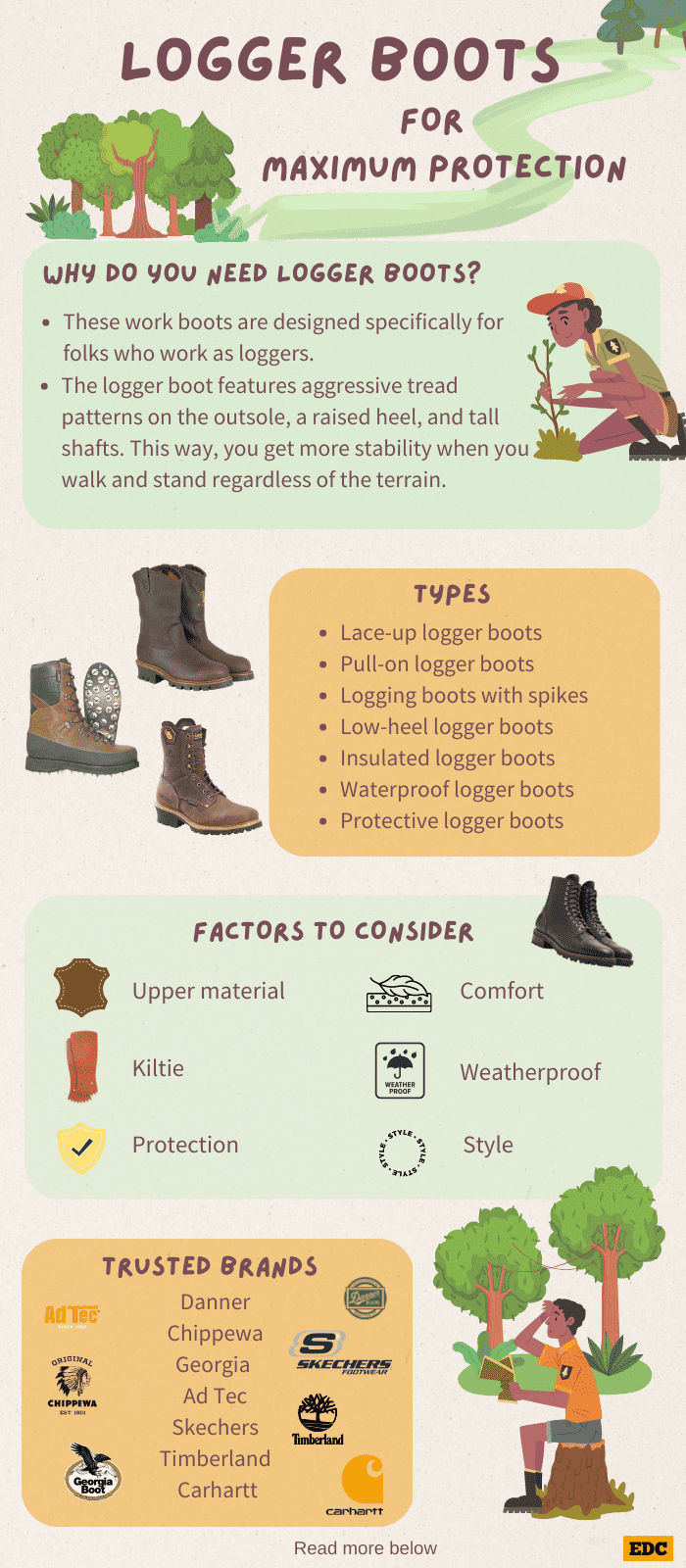 10 Best Logger Work Boots Reviews
1. Chippewa 9″ Waterproof Logger Boot for Men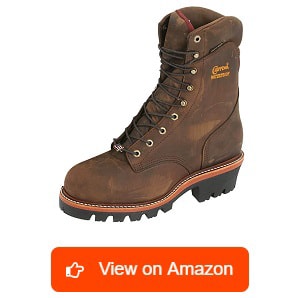 Most woodchoppers prefer logger boots made in the USA due to the American manufacturers' familiarity with the local terrains and climates. If you have searched on Google, I'm sure these Chippewa logger boots would pop up in the results. With 400 grams of Thinsulate insulation, they are the top choice for cold weather conditions.
For good measure, the brand's very own waterproofing technology called the Chip-a-Tex blocks out moisture while simultaneously allowing the air to pass through. Coupled with the moisture-wicking system called Dri-Lex, they keep my feet warm and sweat-free.
Safety is another concern for lumberjacks and forest laborers as they are often exposed to falling trees and work with machines. Hence, these men's logging boots have ASTM-rated electrical hazard and steel toe protection. Based on experience, I can have no problems walking on uneven surfaces thanks to the elevated heel and high-traction Vibram sole.
Even with all these features, I'm amazed that they don't seem to add weight to the footwear. This, in turn, makes walking less tiring. Plus, the Goodyear welt construction guarantees long-lasting durability. What I dislike is that the toe area is quite narrow despite offering wide options. I suppose the logger boot is designed for a slender foot. To be clear, this is just my assessment. When in doubt, find a local distributor of this brand and try out the boots in person.
What We Like
Well-insulated work boot
Has superior waterproofing system
Provides ASTM-rated safety features
Lightweight and comfy for long walks
Extremely durable construction
Best worn during the winter, these lightweight waterproof insulated steel toe logger work boots will not slow you down at work. Apart from keeping your toes protected, they will help you get through the day sweat-free.
2. Georgia Boot G7313 Men's 8″ Safety Toe Logger Boot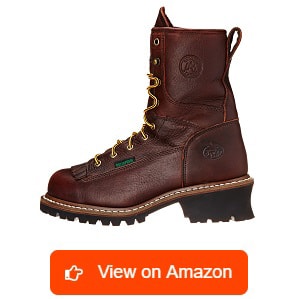 Flaunting an eye-catching design, these steel toe logger boots are packed with features that keep your feet supported and protected. In the wild, you can expect accidents to happen and this pair's steel toe ensures that no log will smash your feet. To prevent you from sliding and falling, the treaded rubber outsole and boosted heel provide good slip resistance. Meanwhile, the steel shank doubles as a shield against punctures.
Best of all, the work boot's Goodyear welt construction lengthens its lifespan. At the same time, it allows for a resole when the treads begin to flatten. If you ask me, the main highlight is the design is completely waterproof while maintaining superb breathability. Of course, the kiltie does its part in repelling water and dirt, but the brand seems to have perfected the waterproofing system. So far, I have worked in many wet and muddy environments, yet this pair has kept my feet dry.
Some people may find these logging boots for men lacking arch support, while others say it's adequate. My advice is to get insoles that are more suited to your needs. Anyway, the factory insoles are removable so you don't have to stack them up as they tend to make the footwear feel tighter. Also, keep in mind that they will take about a week to break in, although this phase will not cause serious foot pain.
What We Like
Has heavy-duty steel-toe caps
Allows you to have a resole the work boot
Waterproof yet breathable construction
Equipped with steel shank
Aesthetically-pleasing design
What We Don't Like
The arch support may not be for everyone
Takes a week to break-in
When it comes to waterproofing, these Georgia logger boots are ahead of the game. Even when I'm not chopping wood in the forest, their handsome design allows me to wear them outside of work.
3. Ad Tec 1427-M060 Logger Boots for Men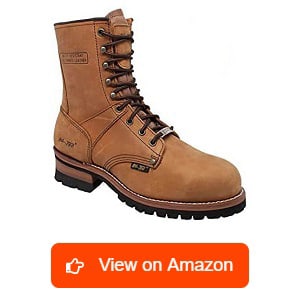 If safety toe is unnecessary in your line of work, then these men's logger work boots would suffice. Designed with plain soft toes and cushioned insoles, they are light and comfy for extended hours of walking. If you need a different kind of arch support, I'm happy to report that footbeds are not glued to the footwear. In this way, you can replace them with the ones that you prefer.
Fashioned with full-grain leather, the uppers feel sturdy yet capable of flexing after a short break-in period. Judging by the features, I think this pair is made for rainy days in the woods. To be specific, both the waterproof membrane and the oil-resistant lug sole make the boots suitable for wet conditions. Besides keeping my feet dry, I never got into a slipping accident. Due to the exaggerated heels, I find that they perform best on rugged terrains.
Based on experience, however, these leather logging boots are not grippy for smooth concrete surfaces. Well, I think it's because the treads are meant for the outdoors. Another issue that I found is the lack of speed hooks. Consequently, adjusting and tying up the shoelaces can be a handful. Hence, I spend extra time donning and doffing.
What We Like
Thrives under wet conditions
Comfy for long treks
Has sturdy yet flexible uppers
Allows you to replace the insoles
Grippy on rugged terrains
What We Don't Like
Does not have speed hooks
Not suitable concrete surfaces
Cushy and light for long walks, these waterproof logging boots are highly recommended for farmers, ranchers, foresters, and woodchoppers. With removable insoles, you can replace the footbeds with a brand that gives you excellent arch support.
4. Skechers 7210 Men's Cascades Logger Boots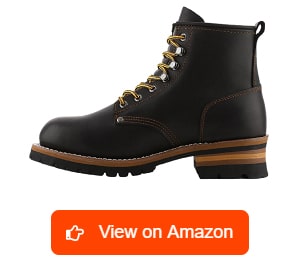 Tall logger boots can feel toasty during summer. For that, let me introduce you to this ankle-high version by Skechers. Besides making the footwear more breathable, the short shafts can support my ankle and keep it from twisting when I walk on uneven terrain. Just the same, the boots feature elevated heels, as well as oil and slip-resistant outsoles that help me maintain my balance throughout the trek.
Admittedly, what convinced me to try this pair out is the attractive design. Blending well with my casual outfits, the smooth black uppers accentuated by the stitching gives it an elegant appearance. Ever since I got them, I would give the logger boots good rubs of mink oil to keep them shiny and supple. But even when I wear them to work, the leather does not seem to get scratched easily. Hence, I recommend them for workers who need to look sharp and neat.
In conjunction with the shock-absorbing midsoles, the cushioned footbeds allow me to walk for extended periods pain-free. Meanwhile, the padded tongue ensures that I don't get blisters. But alas, I had to spend two weeks breaking them in. They felt stiff and hefty when I first wore them. After softening up, they instantly became my favorite all-around boots!
What We Like
Has an elegant design
More suitable for summer
Can support the ankle when trekking
The rubber outsole is oil and slip-resistant
Made of high-quality leather
Provides cushioned insole
What We Don't Like
Feels heavy and stiff at first
For me, the best logger work boots are the ones that I can wear anywhere. If we have the same criteria, then I'm sure you will also like this pair. Functional yet stylish, this footwear's qualities allow you to work and look good at the same time.
5. Danner 14537 Men's Logger 8″ 400G Nmt Work Boot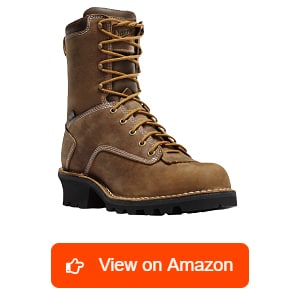 Built with waterproof oiled nubuck leather, these Danner logger boots rank high on my list. Aside from the upper's velvety texture, I love the footwear's vintage aesthetic as it makes them appear dressy. Although this pair falls under the safety gear category, it does not feel like one and I mean this in a good way.
With a composite toe, the weight is reduced significantly while keeping my feet safe. Plus, I can pass through the metal detector without setting it off or removing the boots. Also, the electrical hazard protection will make the job safer for lineworkers. Rest assured, they meet the ASTM standards. Meanwhile, the Vibram outsoles and the raised heels afford me better traction on uneven, slippery terrains.
In terms of comfort, these protective logger boots have a deep toe box that gives my forefoot and toes some wiggle room. Instead of a steel shank, the footwear is fitted with a Bi Fit Board, a lightweight yet equally supportive material. Under rough weather conditions, the waterproof and 400 grams of insulation provide a dry and warm environment for my tootsies.
Given the short break-in period, I didn't have to endure the usual half a month of pain and blisters when I first wore these lightweight logger boots. What bothers me is the squeaking noise that the outsoles make when I walk on concrete surfaces.
What We Like
Has a nice vintage aesthetic
Lightweight and comfortable boots
Has ASTM-rated safety features
Well-insulated and waterproof
Excellent slip resistance
What We Don't Like
Squeaks when you walk on concrete
When it's snowing, this pair of Danner boots is the way to go! Even with non-metallic safety toes, the footwear provides ample space to prevent your forefoot and toes from clumping.
6. Timberland PRO TB091614001 Composite-Toe Logger Boots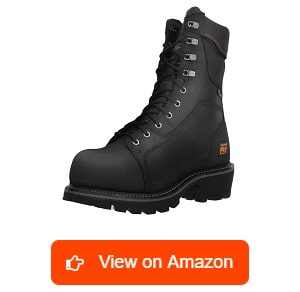 Another favorite of mine is this pair of waterproof Timberland logger boots. Rain or shine, I'm constantly walking debris. Hence, it is helpful to have a flexible puncture-resistant plate as an underfoot shield against sharp objects. Apart from that, the composite toe safeguards my feet against branches or trees that may fall towards me. Even better, the rubber sole is impressively fire-resistant and grippy on snow.
Indeed, the protection that these men's logger boots provide is tough but it never sacrifices comfort. Essentially, the Anti-Fatigue Technology allows the footwear to absorb the shock in each step I take, which lessens the strain on my feet. When trekking different terrains, the shaft is sturdy enough to provide ankle support but it can bend when I need to squat. As such, I can work long hours and focus on the job at hand.
Meanwhile, the leather uppers are abrasion-resistant, helping the boots maintain a smooth texture. However, the shoelace is surprisingly short. Of course, I can easily replace them but it's still a hassle knowing that I paid full price. Another observation is that the size seems to run big. Choosing the right fit can be difficult if you're buying online so read the shop's return and exchange policies by hitting that "Add to Cart" button.
What We Like
Equipped with safety toe caps
Offers underfoot protection against sharp objects
Has good waterproofing system
The rubber sole is slip and fire-resistant
The shaft can bend while supporting the ankles
Abrasion-resistant leather uppers
What We Don't Like
Factory laces are short
The boot's size runs big
Offering top-notch comfort and protection, these Timberland boots are a great pair for anyone who works in harsh conditions. Aside from its fire-resistant capabilities, the rubber outsoles can also maintain good traction on snowy surfaces.
7. Chippewa 73100 Men's Lace-To-Toe Logger Boot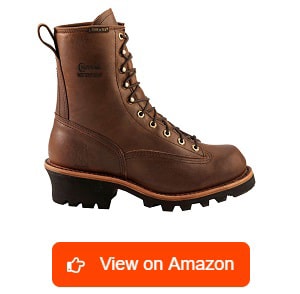 If you want Chippewa logger boots minus the steel toe protection, then this pair would fit the bill! Likewise, the work boot is designed with Goodyear welt construction. Besides enabling the footwear to last years, I can even replace the soles when the treads start to deteriorate. All too often, I wear them in rough conditions. Hence, it's a great investment as it takes up to three to four years before I can retire.
As expected, these work boots also feature the brand's signature Chip-a-Tex to repel water while promoting good ventilation. Aside from the rainy days, I wear them during summer, spring, or autumn. If you live in a place where it does not snow, you can wear this pair all year round!
Without the safety toe, I think that these are the top-rated logger boots to wear in low-risk areas. The rubber outsole has treads that are as grippy as the other work boot I reviewed. In my case, I would also wear them for hiking or a night out with my friends. Also, its stylish design looks good with my everyday outfit.
A heads up for online shoppers: This particular model seems to run small. It's better to buy these work boots in person so you can fit them. Understandably, it may not be available in the local distributors in your area. In this situation, read the shop's return policies so you can send back the item if you got the wrong size.
What We Like
Great for low-risk areas
Comfortable for work and everyday wear
Has superb waterproof construction
Breathable for any weather
Sports a stylish look
Considering their versatility and durability, I would say that these are among the best logging boots in the market. With their stylish aesthetic, they will never look out of place whether you're working, camping, running errands, or enjoying a night out at a bar.
8. Carhartt CML8360 Composite Toe Logger Boot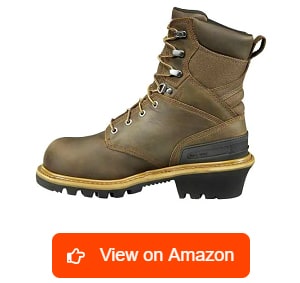 Most of us know Carhartt for its top-tier workwear. Well, the brand also offers an exciting line of logger-style boots. One thing that stood out for me is the good arch support. Coupled with the TPU heel guard with Achilles flex, I can maintain my balance as I trudge various terrains. For all-day comfort, the cushioned insoles absorb the shock to prevent foot fatigue.
As with the other work boots made by this brand, these have steel shanks for added support. Apart from shielding my feet against sharp objects, they keep the outsoles from bending when I climb ladders. Regardless of your job, I'm sure you can also benefit from the outsole aggressive ladder lock treads as they give you a secure foothold on wet, muddy rungs.
So you're probably wondering, "Are these leather logger boots good for line workers?" The quick answer is yes! They can keep the wearer safe from electrical circuits of up to 18,000 volts. Also, having ASTM-rated non-metallic safety toe caps in place of steel toes is a huge plus for my job. This way, I don't have to remove the footwear when passing through metal detectors.
When the rain starts pouring, the Storm Defender waterproof system ensures that your feet will stay dry while maintaining good breathability. Indeed, this is one of the finest logger boots in the world. However, the toe area seems to be narrow, even for the wider options.
What We Like
Excellent choice for lineworkers
Lets you work rain or shine
Offers good ankle and arch support
Allows you to climb ladders without slipping
Has ASTM-certified protective features
Created especially for lineworkers, these are among the safest and most comfortable logger boots to wear when climbing ladders. In addition to the protective features, the cushy and supportive insoles will keep you energized throughout your shift.
9. Chippewa 8″ Waterproof Logger Boot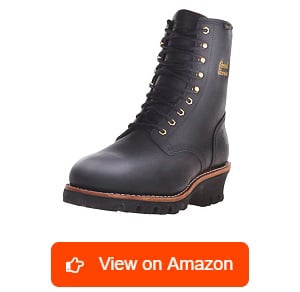 Do you need waterproof insulated steel toe boots? Here's another option of Chippewa logger boots coming at you at number nine. During winter, the 400 grams of insulation provide much-needed warmth so I can work comfortably. Yet, it does not overheat when the temperature fluctuates.
In areas where composite safety toe caps may not be enough, the steel toe gives me extra-durable protection. Impressively, the lining inside the boots effectively prevents my toes from touching this part so that my feet won't get cold. Besides, the Chip-a-Tex waterproof system ensures that no moisture gets in. At the same time, it lets the air pass through so I don't sweat down there.
Together with the boosted heels, the Vibram outsoles give me excellent traction on both muddy and icy terrains. With the help of the steel shanks, the soles can retain their shape, which is quite useful when I step on the ladder's rungs. But they also function as a shield against sharp objects whenever I walk on debris.
Still, I don't feel any stiffness while I trek. Alongside the flexible leather uppers, the Texon insoles feel pleasantly cushy. Overall, I think these logger boots check all the boxes in my criteria. So far, the only thing that I dislike about them is the short shoelaces that are neither long nor durable. Just change them with your preferred brand!
What We Like
Perfect for icy conditions
Effectively blocks out moisture
Fitted with a hard-wearing steel toe
Provides high-traction outsoles
Feels comfy for trekking
What We Don't Like
Shoelaces need improvement
Combined with superb-quality insulation, these steel toe Chippewa logger boots will not make your feet cold. As you trek uphill, you can rely on their elevated heels and aggressive treads to get a good foothold on rough terrains.
10. Ad Tec 1740 Work Boots for Women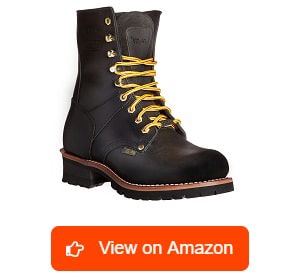 Favored by the ladies who work in the forest and other rugged work environments, these logger boots conform to the contours of a woman's foot. When it comes to protection, their steel toe caps are just as tough! Moreover, they feature the same elevated heels and rugged outsoles, so you can brave the toughest terrains with a good grip.
Since you will be spending most of your shift outdoors, I'm sure you will like these work boots to be waterproof. Even in the harshest weather conditions, their full-grain leather uppers promote good breathability, so your feet are sweat-free. With a 9″ shaft, you get decent support around the ankles. On the other hand, the Goodyear welt construction allows the footwear to last more than two years. Plus, you get the option to re-sole.
The best part? Just like the other Ad Tec work boots I reviewed earlier, these are extremely comfortable, which minimizes the break-in period. You can concentrate on your work instead of dealing with blisters. I know some of my female colleagues who wear them even when they're off duty. However, the missing pull tabs can make these boots a little harder to put on. If you think about all the benefits, this minor inconvenience is not so bad!
What We Like
Designed for a woman's feet
Can withstand harsh conditions
Supports the ankles well
Suitable for on and off-duty
High-quality waterproof system
Solid grip on rugged terrains
Ladies, you can let go of your old clunky work boots and replace them with this pair. Along with the grippy outsoles, you get maximum protection from their hard-wearing steel toe. More importantly, they will not hurt your feet!
What Is a Pair of Logger Boots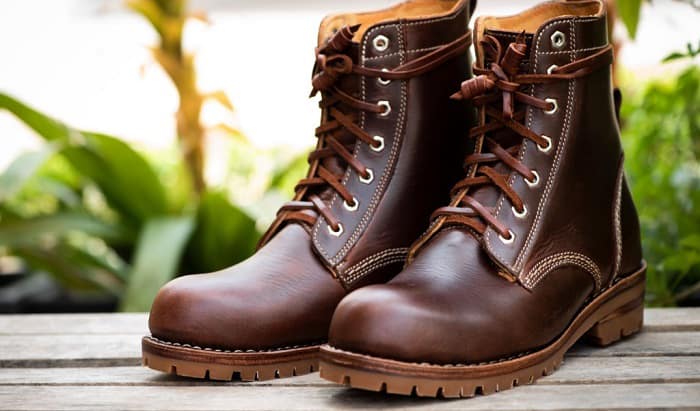 The name says it all: These work boots are designed specifically for folks who work as loggers. In an urban setting where we walk mostly on smooth concrete, we need more leveled and shock-absorbent soles. On the other hand, walking on a sloped surface that is mired by debris, mud, and water requires a different kind of support. Hence, the logger boot features aggressive tread patterns on the outsole, a raised heel, and tall shafts. This way, you get more stability when you walk and stand regardless of the terrain.
Types of Logger Boots
Back in the day, logger boots were only available in a handful of designs. Of course, this has changed over the years as manufacturers continue to improve the features. We can expect new inventions in the future but let me share the types of logger boots available in the market:
Lace-up logger boots
Pull-on logger boots
Logging boots with spikes
Low-heel logger boots
Insulated logger boots
Waterproof logger boots
Protective logger boots
Why Do You Need Logger Boots
There are some things that hiker-style or sneaker-like protective work boots can't do. In forested areas, wedge-soled boots don't have enough traction even if the product description says they are grippy. After all, they are made for smooth, flat surfaces.
Lineworkers, on the other hand, take advantage of the aggressive lugs as they normally climb poles. Aside from that, professions like ditch crews, farmers, and ranchers wear forestry boots since they work in marshy or rugged terrains. Like any pair of work boots, some designs are built with steel toe and electrical hazard protection.
Buying Guide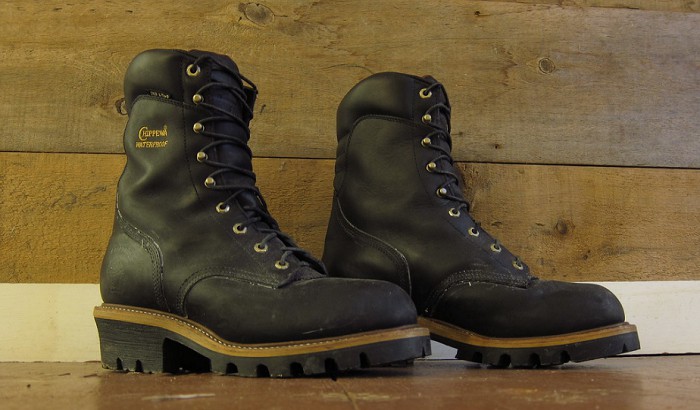 As illustrated in the article's introduction and logger boot reviews, features like raised heels, construction, and kiltie are not the main criteria for choosing a great pair. After all, these things can be found in almost all expensive and cheap logger boots. If you're still wondering which design or functionality suits your job or environment, then read my advice below.
Upper material
When you browse through online catalogs, you have seen terms like "crazy horse," "nubuck," or "full-grain leather" in the product descriptions. Well, they are all made of animal skin that underwent treatment, tanning, and crusting. Generally speaking, these types of leather are heavy-duty and long-lasting. The only difference is the method employed to create the leather fabric.
High-quality leather is the top choice for work boots because of its ability to flex without tearing. Although some boots may have a break-in period, they soften up as you wear and walk in them.
Kiltie
Another differentiating feature of logger boots is the kiltie, a paneled leather placed underneath the laces. Its fringes extend toward the end of the shoelaces. While it looks like a decorative piece, the kiltie shields the logger boot from water and debris that the laces tend to catch as you work outdoors. In turn, this function helps prolong the lifespan of your footwear.
Protection
Logger boot brands design footwear with a wide array of protective features to meet the American Society for Testing and Materials or ASTM. Besides plain and soft toes, you will find boots with composite, alloy, and steel toes. If you are cutting down trees, you will need this type of protection to keep your toes intact. Meanwhile, lineworkers must wear shoes with superior electrical hazard protection.
Let me also add that the sole of a logger boot is usually equipped with nylon, fiberglass, kevlar, or steel shank. This helps maintain the rubber sole's form, preventing it from bending when you climb a ladder. Moreover, it also functions as a barrier against sharp objects.
Comfort
Rough environments and intense physical labor can take a toll on your overall well-being. Pain and discomfort caused by poorly-made shoes can slow you down at work. Before you click that add to cart button, you may need to consult your doctor to learn more about your options if you have certain foot conditions.
While most logger boots are comfy straight out of the box, you may need to replace the cushioned insoles once they thin out. Apart from that, you also need to consider the shape of the boot or toe cap. Ideally, it should give your forefoot and toes some room to wiggle. Furthermore, the shaft must be wide enough to accommodate your legs.
Weatherproof
Since you're working outdoors, you also need to factor in the weather. In cool climates, insulation is necessary to warm your feet and prevent frostbite. During the summer, boots that are made of breathable Gore-tex lining or moisture-wicking materials can keep your feet fresh and sweat-free. If you work in wet environments, waterproof logger boots will be your best friend. Keep in mind that the waterproof treatment on the leather may wear down over time. Be sure to spray a waterproofing agent on the uppers once in a while.
Style
By nature, logger boots look stylish. Fashionability aside, manufacturers are coming up with versions to cater to very specific needs. Take for example the slip-on logger boots. Free of laces, this design allows you to quickly don and doff the footwear. For those who have irregular foot shapes, square toe logger boots are recommended. In marshy areas, many woodchoppers wear logger boots with spikes or caulk boots due to the increased grip. When choosing a specific style, go for something that suits the nature of your work.
Care and Maintenance
Some days, your boots can stay mud-free throughout the entire shift. Other times, they are caked in muck and grime. At any rate, make it a habit to practice proper care and maintenance so they can last long.
After every shift, wipe off the superficial dirt from the boots and scoop out the small rocks stuck between the lugs. You can use a damp cloth, a shoe brush, or an old toothbrush to do this. If the brand of the logger boots you bought offer cleaning kits, I highly recommend buying them, too. Remember, some manufacturers design leather footwear with special fabric linings, foams, or rubbers that they have invented. Hence, they formulate cleaning agents to suit these materials.
In case your boots get super muddy, be sure to clean them the first thing when you get home. Start by removing the shoestrings and insoles. Scrub out as much dirt as possible using a shoe brush with stiff bristles or an old toothbrush.
Pro tip: Make sure that the brush is not the same one that you use for your "cleaner shoes" like your sneakers or oxfords. Since the dirt may stick on the bristle, it may rub some of the mud on your dress shoes. Also, do this outside of your house so the gunk won't get on your precious carpets.
Once you have taken out the dirt, get a clean rag and dampen it with water and saddle soap. Then, gently rub it on your boots. When you are done, get another clean cloth and dip it in water. Use it to remove the foam.
Although your boots have moisture-wicking abilities, make it a point to wash the insides to prevent bacteria from breeding and keep the odor at bay. Dip a clean cloth in a mixture of water and mild detergent or low-pH shampoo. Use it to massage the solution across the boot's interiors.
Then, get a fresh rag, dampen it with water only and use it to remove the foam. As for your insoles and laces, let the washing machine take care of them. Allow your boots, laces, and insoles to air dry. When it comes to storage, place your boots away from any heat source since this may damage the leather.
Frequently Asked Questions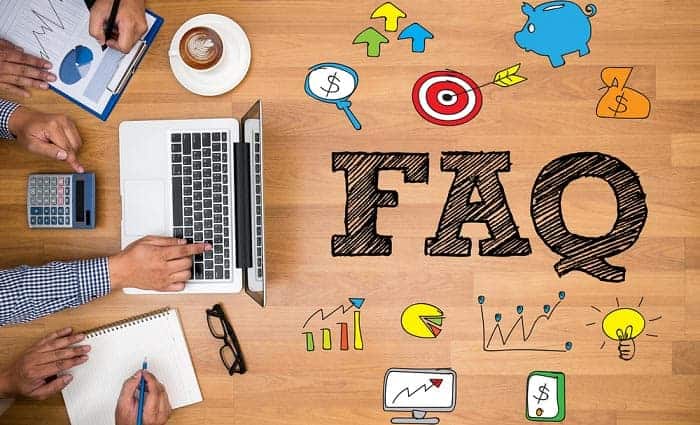 What are the most trusted logger boots brands?
Aside from Danner boots, Chippewa, Georgia, Ad Tec, Skechers, Timberland, and Carhartt dominate the world of forestry but they are also popular among workers from different fields. Carolina boots are also a crowd favorite, so are Justin logger boots. Some folks favor Red Wing logging boots. However, I have not tried them so I cannot make a thorough review of the footwear.
What is special about logger boots?
Compared to regular work boots, good logger boots fare better in hazardous outdoor environments. Whether the log is falling or rolling towards you, or sharp debris underfoot, they can protect your feet from all sides. Not to mention, their treaded rubber outsoles can keep you stable in the muddiest terrains. These attributes will most likely give the impression that the boots are tough but they are flexible and cushy.
As you walk and stand for long hours, the raised heels support the ankles and arches. For motorcyclists, the heels keep the boots from slipping while they are riding. Hence, logger-style boots are also used as riding boots.
How much height do logger boots add?
Traditionally, logger boots have heels that are between two to four inches in height. Consequently, this type of work boot makes the wearer look visibly taller.
Why do logger boots have high heels?
Woodchoppers and forest workers go off-the-beaten-path to work. Here, the terrain consists of rocks, debris, and soils. Some surfaces may be slanted or uneven. Coupled with the high-traction tread patterns, the high heel of a logger boot helps you get a good foothold. Under wet conditions, the raised heel also prevents the water from penetrating inside the shoe.
https://youtu.be/u_wleshUfJo
Conclusion
With so many workers across various fields wearing logger boots, it is clear that this type of footwear is no longer exclusively for woodchoppers. Farmers, ranchers, lineworkers, and motorbike riders love the functionalities and aesthetics. Besides protection, they provide support and comfort so you can get through to your job safely and free from discomfort.
Given all the technical considerations that you need to think about, shoe-shopping can feel like a full-time job in itself. That's why I have already handpicked and reviewed the best logger boots that you can find in the market. Besides the brands I included above, you can try other options like Carolina boots. Ultimately, the choice is yours to make.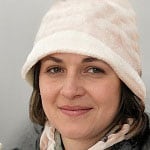 Veronica is our content editor. She is a talent in delivery. Her main work is editing and writing articles that are both informative and simple to follow. She is in charge of synthesizing our understanding of what personal protection equipment (PPE) is needed in each job, how to best apply it, and how to visualize that equipment.