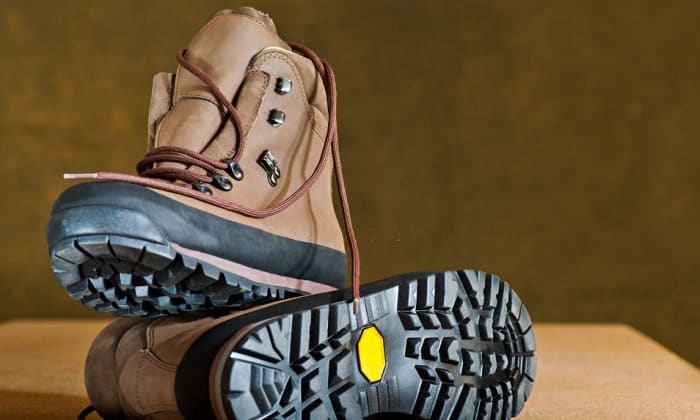 Moc toe work boots are both fashionable and functional. Designed and popularized by Red Wing Shoe Company, the boots were initially made in the USA.
Now, brands and factories worldwide manufacture these boots. From the U-shaped toe box to the decorative seams, they conform to the original design. They all claim that they make the best moc toe work boots.
How can you tell which pair suits your job? Here are three important things that you need to think about:
Usage: Moc toe boots are versatile. Yet, not all of them are designed for harsh environments. Fashion clothing brands sell moc toe boots that look exactly like work boots, minus the slip-resistant or impact-resistant ratings. The lack of safety toe caps makes them lighter, which is great if you need something to wear for office work. At the job site, however, you will need protection.
Safety: Some designs include several protective features but others are more targeted to a specific job. Construction workers, for instance, need robust safety toe caps. Landscapers who trudge muddy surfaces would benefit from outsoles with reliable traction. Meanwhile, shoes made of electrical shock-resistant materials are mandatory for electricians. Before you buy, be sure to account for all the risks that you may encounter at work.
Size: You probably have seen different tips on finding good-fitting shoes. But here's what you should not do: Assume that you have one shoe size for all types of footwear. There is no such thing as "standard size" even among USA-made moc toe boots. Losing or gaining weight can make your feet slimmer or thicker. Make it a point to measure your feet when buying any type of shoes.
Below, I reviewed 8 pairs of moc toe boots, each of which has unique features catering to different types of jobs. I also encourage you to read the Buying Guide and the other sections where I answered questions on proper maintenance, the benefits of wearing moc toe boots, and many more!
Top 8 Moc Toe Work Boots Reviews
1. Golden Fox Men's Moc Toe Work Boot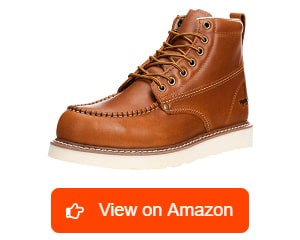 There are so many things to like about these men's moc toe boots aside from the fact that it is much cheaper than Red Wing Heritage. Their quality is proof that one should not judge the boots by their price tags.
Based on experience, these are comfortable boots that I can wear at any time of the year, whether indoors or outdoors. The insulating mesh lining keeps my tootsies warm during a mildly cool winter. Meanwhile, the moisture-wicking feature allows good breathability.
Not to mention, the oil-tanned full-grain leather upper is both hard-wearing and fancy-looking, yet super flexible! It only took me only a day or two to break these boots. Made with Goodyear welt construction, it puts my mind at ease, knowing that the soles are secured well onto the uppers.
The insoles provide ample cushioning to prevent foot pain. And, the wedge outsole is another highlight. It promises optimal shock absorption, which relieves my foot from the pain due to long hours of standing. Furthermore, it does not pick up the soil, mud, and debris when I work outdoors.
However, I noticed that the oil and slip-resistant treads wear down sooner than I expected. Thankfully, these boots can be re-soled!
Therefore, these are not safety toe boots but are perfect for waiters, store clerks, bartenders, or other jobs requiring long walking or traveling hours.
What We Like
Ideal for waiters, store clerks, bartenders, or other jobs requiring long walking
Mesh lining for keeping warm during cool winter
Moisture-wicking feature breathability
Nice-looking and flexible oil-tanned full-grain leather upper
Durable wedge outsole and cushioned insole for shock absorption
Does not pick up mud and soil
What We Don't Like
The treads wear downs quickly
These are the best moc toe boots to wear regardless of the weather! Considering the price, the style, and the durable design, it's a practical choice for anyone who needs to look presentable yet feel comfy while performing their tasks.
2. Irish Setter 83606-M Men's Aluminum Toe Work Boot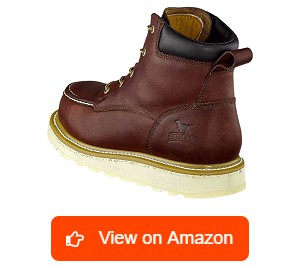 Irish Setter is one of the brands under the Red Wing Shoe Company, which means it offers the same high-quality moc toe wedge work boots.
Even better, the design is packed with ASTM-compliant features, electrical hazard protection, and an aluminum safety toe box. No doubt, they can safeguard my feet against workplace hazards!
Of course, compared to a steel-toe boot, this one weighs much lighter. Besides working, I've used them for short hikes. I was impressed that both the full grain leather upper and the wedge sole were already flexible, thus allowing a quick break-in.
Speaking of outsoles, it is worth noting the rubber material is resistant to melting when exposed to the heat of around 475 degrees Fahrenheit.
In case they wear down, I can always re-sole them since the manufacturer made them Goodyear welt construction. Hence, the manufacturer recommends this model for welders, paving contractors, and roofers.
However, while the outsoles are grippy on most surfaces, I find them rather slippery on snow and ice due to the tread patterns.
What We Like
Durable build with Goodyear welt construction
Equipped with aluminum safety toe
Flexible full grain leather upper and the wedge sole for a quick break-in
ASTM-compliant electrical hazard protection
Has heat-resistant rubber outsoles
A pair of lightweight moc toe boots
What We Don't Like
Not the best tread patterns for walking on ice and snow
Despite being dubbed as one of the most comfortable moc toe boots, this pair does not compromise safety. With aluminum toe caps, electric hazard protection, and heat-resistant outsoles, we can walk safely at the job site!
3. Carhartt CMW6191 Men's 6″ Soft Toe Work Boot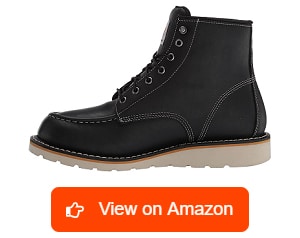 Black moc toe boots made of 100% leather are not only attractive and durable but also great at hiding dirt. The good news is that this specific model is also available in various shades of brown.
While many full-grain leather boots are treated with some waterproofing agent, I think Carhartt's Storm Defender is by far the most impressive.
Recommended for plumbers and those working in wet conditions, these soft-toe work boots can keep my feet dry against the rain. Besides, it's comfortable enough for constant moving.
At the same time, the breathable membrane promotes good airflow, which helps reduce sweat and odor. Because I walk over 10,000 steps daily at work, I rely on supportive cushion insoles to prevent foot fatigue.
Where safety is concerned, these boots can protect me against electrical circuits of up to 18 000 volts in dry conditions. Indeed, it meets the ASTM f2892-18 EH for electric hazard protection.
Outside of project sites, I would pair them with casual outfits that I normally wear for parties or running errands since they are super comfy. Despite their daily use, I'm amazed that they have not shown any sign of breaking.
However, its shoe laces might need replacement after several months or so. This is the only thing that is not as durable as the whole boot construction.
What We Like
100% leather shoes available in nice black and browns
Good waterproof function
A breathable membrane promotes good airflow and reduces fatigue
ASTM f2892-18 EH for electric hazard protection against 18000V
Soft toe work boots for comfortable walking and moving
What We Don't Like
Shoe laces are not that durable.
Excessive moisture can put any work boot to the test, but these waterproof moc toe work boots prove to be excellent. On top of that, its lightweight design makes it suitable for trips to the job site or night outs!
4. EVER BOOTS Weldor Men's Moc Toe Boot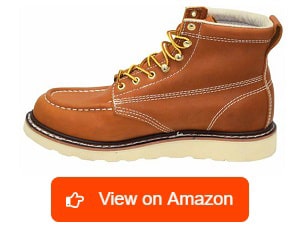 Another affordable choice for moc toe shoes is this design from Ever Boots.
The manufacturer sewed the full grain leather upper to the wedge outsole using the Goodyear welt construction to ensure maximum durability. When the soles start to abrade, I can get them re-soled, which I can't do with boots made with cement construction.
Besides that, the sole has a steel shank to maintain the shape of the footwear and shields my feet from sharp debris. Thanks to the slip-resistant lugs, I also don't lose my footing on slick or uneven surfaces.
Since these are soft-toe work boots, I can wear them pretty much everywhere and on any occasion. These are light enough for long hours of walking without hurting my feet yet stylish enough for casual parties or meeting clients.
Not to mention, they are comfy from the get-go. Therefore, I didn't suffer from blisters and pain from trying to soften up a stiff-new leather. Plus, I can wear it quickly thanks to the speedy hooks and back loops on the collars!
Sadly, these are not the best boots for wet conditions. A drizzle will not ruin them but don't expect our feet to stay dry once during a heavy downpour. I suggest spraying some waterproofing solution on the leather to protect it from getting damaged by water.
What We Like
Durable full grain leather upper and Goodyear welt construction wedge outsole
Allows users to re-sole
Stylish and comfy soft-toe work boots
Easy-to-wear design with hooks and back loops on the collars
Has slip-resistant outsoles
A steel shank to maintain the footwear's shape and shield feet
What We Don't Like
The boots are not waterproof
Low cost is not synonymous with low-quality, and these moc toe work boots prove that! Indeed, these are perfect for anyone who needs to look good and feel comfy while on the job.
5. WOLVERINE Men's Moc Toe Construction Boot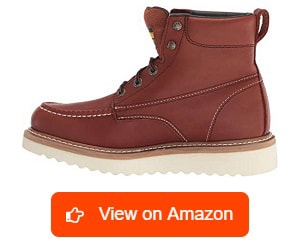 These soft-toe boots from Wolverine cater to manual laborers and dock workers. They are a pair made of 100% leather, quality material for all seasons due to their breathability and protection.
As for me, they are very comfortable for walking, especially on hard surfaces. It is possible due to the full-grain leather with a waterproof membrane and mesh lining.
Other features that provide comfort are the PU midsole, wedge outsole, and removable cushioned insoles. Besides shock absorption, they also distribute the pressure more evenly across my feet. The nylon shank also helps with the impact, but I think this piece of material keeps the sole from bending when I climb the stairs.
I did not put much effort into breaking these boots in. Meanwhile, the collars are padded so they don't rub my skin raw. Only time can tell how long these boots will last. For good measure, the manufacturer built these using the Goodyear welt construction method to make them durable and ready for re-soleable.
I, and many other users, noticed that these work boots run half-size bigger. There are mixed feelings and opinions about this. Some folks favor the extra room, perhaps as they account for thick socks or inserts for a proper fit.
What We Like
Ideal for manual laborers and dock workers
All-season footwear made from 100% leather
Comfortable PU midsole, wedge outsole, and removable cushioned insoles
Shock absorption and even pressure distribution
Has padded collars to prevent irritation
Can be resoled for long-term use
What We Don't Like
Their sizes run a bit bigger than standard ones
All in all, with these leather moc toe boots, we can reduce foot fatigue even if we walk over 8 hours a day!
6. HISEA 6″ Work Boots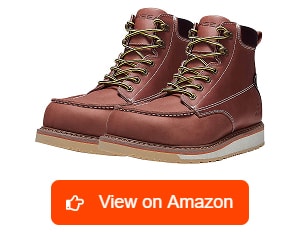 Loaded with safety features, these moc toe work boots are designed to suit the needs of electricians, industrial and residential construction workers, and contractors.
Although I'm reviewing the soft-toe boots, this model has a version with steel-toe caps. Both are equipped with ASTM-compliant heat and slip-resistant outsoles and electrical hazard protection.
Donning these boots is super easy, owing to their grommet loops. I don't have to spend too much time readjusting the laces when I'm in a hurry.
I also love the gorgeous water-resistant leather uppers, as they allow my feet to stay dry when the weather gets unpredictable. On the flip side, the breathable mesh lining wicks away the sweat, which helps me prevent odor.
The fact that these boots are made with Goodyear welt construction means they will last long. For the price, I'm impressed that the stitchings appear strong. Anyway, I can extend their lifespan by re-soling them once the treads start to wear away.
However, I'm not a fan of factory insoles. They were soft and springy at first but needed replacement after several months. Thankfully, the insoles were removable.
What We Like
Available in soft toe and steel toe
ASTM-compliant heat and slip-resistant outsoles
Features electrical hazard protection
Easy-to-tie shoelaces
Nice-looking and water-resistant leather uppers
Breathable mesh lining wicks away the sweat
What We Don't Like
The factory insoles flatten out quickly
All in all, these work boots surpass expectations considering that they offer great protective features to keep a worker safe.
7. Thorogood 1957 Series Steel Toe Work Boots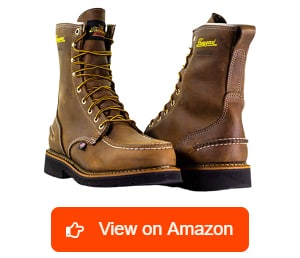 Of course, Thorogood Men's American Heritage boots deserve a spot in this article because it's a crowd favorite. The brand's work shoes and boots are undoubtedly exceptional.
Whether it's protection, style, or comfort, I believe this pair has them all. Everyone will agree that it looks handsome, so let me walk through its functionality.
These boots stand out quite literally as they are 8″ tall. It's the perfect height if I need to keep my feet warm during the winter. At the same time, it doesn't feel too hot if I wear it on warmer days.
Both the materials and the construction ensure that my feet will never get wet from the rain, while the inner lining is responsible for wicking away my sweat.
Unlike the wedge soles that usually come with moc toes, this one has MAXwear90 slip-resistant outsole, which is apt for walking on sloping terrains. In hazardous environments, I depend on ASTM-compliant steel toe caps. These are truly one of the best work boots for any type of industrial work.
Here's the catch: Breaking in these boots took much longer than the other boots I featured. Indeed, they get comfier and more pliable once the uppers soften up.
The good news is that the insoles are soft insoles, and the leather has a nice sturdy feel to it. I can tell that uppers can take a beating!
What We Like
Has ASTM-certified steel toe caps for industrial work
MAXwear90 slip-resistant outsole
Excellent weatherproof leather design
Provides comfy insoles
Made of high-quality leather with a nice look
What We Don't Like
Takes a while to break in
From my experience, Thorogood Men's American Heritage boots never disappoint for comfortable and protective use.
8. ARIAT 10024954 Men's Edge Moc Composite Toe Work Boot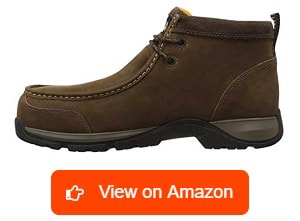 Known for its innovative approach, Ariat creates these one-of-a-kind moc toe work boots that many workers swear by.
I wear them on the days when the summer heat feels unbearable. Plus, their ankle-high design makes them significantly lighter than all the other boots I reviewed. Another advantage is that it also promotes a broader range of movement.
These work boots have composite toes, which speaks volumes about their comfort. Even so, the toe caps comply with the safety standards, so I can wear them in industrial settings.
Furthermore, they have factory insoles with ample cushioning, which work with the stabilizing shanks and thick outsoles to support my feet.
Although the outsoles may not look like they have the typical aggressive tread patterns, I guarantee that they are oil and slip-resistant. Due to the defined heel, I can safely walk on loose soil, debris, gravel, or sloped terrains. In terms of style, these boots are pretty versatile as I often wear them with my uniform and casual wear.
So far, I can only think of one issue. The leather material and construction aren't waterproof, which means they're not apt for outdoor use. I think these boots are geared towards those who spend more time indoors, like factory or warehouse workers.
What We Like
Breathable work boots for summer
Lightweight and comfortable to wear for prolonged work
Has oil and slip-resistant outsoles
Ideal for factory or warehouse use
Equipped with composite toe caps
Protective on soil, debris, gravel, or sloped terrains
What We Don't Like
The design is not waterproof
For workers who split up their time between office, warehouse, and factory, these moc toe work boots fit the bill. Designed to provide comfort, they can alleviate fatigue and pain to focus on the tasks at hand!
What Are Moc Toe Work Boots
In the context of work boots, "moc toe" comes from the term "moccasin toe," the U-shaped toe box produced when the shoemaker well-stitches two pieces of fabric or leather.
This shoemaking technique reflects the shoes that several indigenous people of North America use for indoor and outdoor use called "Moccasins."
These boots are typically made of pieces of leather sewn together at the top. Traditional Moccasins are characterized by embroidered uppers and soft soles.
Workers, hunters, and European settlers eventually started wearing them. In the 1950s, Red Wing Shoes developed designs for hunters and farmers, keeping in mind that these people spend prolonged hours in cold and wet conditions.
To date, some of the best moc toe boots come from the Red Wing's Heritage line.
Competitors followed suit and manufactured top-notch products like the KEEN moc toe boots, Thorogood American Heritage boots, Irish Setters boots, and Danner Bull Run boots.
Types of Moc Toe Work Boots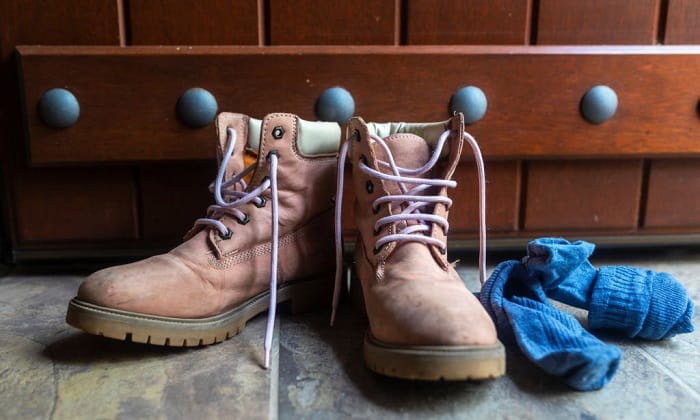 Light-duty work boots
For starters, light-duty moc toe casual boots feature thinner uppers and lighter outsoles. This type of footwear is perfect for workers in light industrial environments or offices. Versatile in nature, you can wear these moc toe boots with shorts, and run errands or go hiking.
Examples of lightweight moc toe boots include the TOMS searcher moc toe boot and Levi's moc toe boots.
Heavy-duty work boots
By contrast, heavy-duty moc toe work boots are more appropriate for logging or construction due to their heftier leather and chunkier soles. These features are needed to withstand harsh conditions.
Some versions are equipped with steel toe caps to protect the worker's feet from the impact of falling objects. The Eddie Bauer Severson moc toe boots are among those designs.
Waterproof boots
Waterproof moc toe work boots, on the other hand, are best for workers who walk on wet surfaces or in the rain. The leather uppers are treated with a waterproofing agent to repel moisture.
At the same time, the boots' oil and slip-resistant sole prevents the wearer from slipping accidents.
Why You Need Moc Toe Work Boots
Let's admit it: The iconic brown moc toe boots can turn an ordinary work outfit into something more appealing. Still, these boots have a lot more to offer than cool aesthetics.
Plain toe boots tend to have narrow vamps while moc toe boots' U-shaped toe boxes are noticeably wider. This design gives the toes some wiggle room, making them naturally comfier for those with wide feet.
Secondly, moc toe boots are built with rubber wedge soles. Compared to traditional soles with raised heels, a wedge outsole can relieve pressure in the most impacted areas on foot and distribute it more evenly.
Also, the robust leather upper construction not only prolongs the lifespan of the footwear but also stabilizes the feet. Yet, it also makes them more flexible and easier to break in.
Last but not least is protection. Several moc toe boot designs incorporate a safety toe box, a steel shank, as well as an oil and slip-resistant sole.
Buying Guide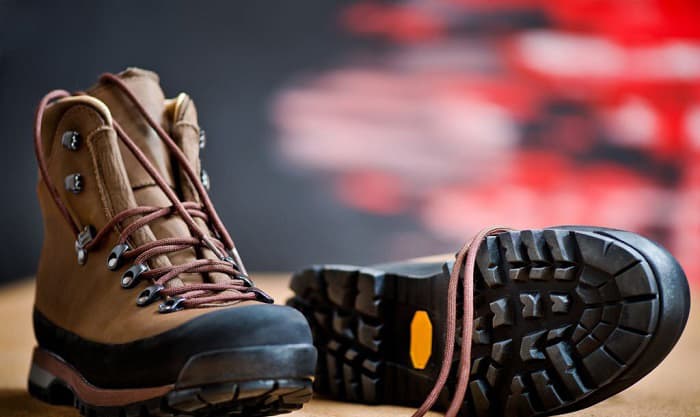 Before you head to the shoe store or click the add-to-cart button, take a moment to consider the features that you need to perform your work properly.
Based on the tips I gathered from workers, Reddit users, and product reviews, here are some important considerations:
The boot height
In most cases, people don't need tall boots. Those 10″ boots are best worn when your lower legs need shields. Plus, they provide an additional barrier against extreme temperatures and moisture. Tall shafts are appropriate for firefighters, loggers, linesmen, and construction workers.
On the opposite side of the spectrum are the 6″ boots, which offer structural support for your feet and ankles without sacrificing comfort when worn during the hot season. The height is quite common for moc toe hiking boots, traditional work boots, and fashion boots.
Also, you can opt for the 8″ work boots. While they have extra material to protect your lower legs, they will not make your feet toasty in balmy weather.
Moisture management
We often associate the term "moisture management" with weatherproofing but the ability to repel the elements is just one part of the equation. Another important feature of this feature is ensuring that your feet do not get drenched in your perspiration.
Whether it's rainy, sunny, or snowy, your feet will sweat since they are clad in socks and bundled up in 6″ boots. To keep them from smelling, choose a moc toe design with moisture-wicking inner linings and anti-odor treatment.
Outsoles
Most moc toe boots in the market feature wedge outsoles, but there are always exceptions. If you ever have to decide between a raised heel or wedge sole, think about the terrain you regularly walk on for work.
While you may find the flat sole comfier, hiking uneven surfaces will require more than just slip-resistant soles. You will need a raised heel with aggressive tread patterns for maximum grip. Save your wedge-soled moc toe boots for hard surfaces.
Comfort
You need to factor in your job description, the terrain, weather, and foot conditions. What kind of arch support do you need? Do you walk on hard surfaces, climb ladders, or trek rugged terrains? Do you always get your feet and boots wet at work?
Instead of obsessing about brands or where the boots were made, find out what features can help you walk comfortably, ease foot pain, and prevent injuries.
Style
In most industrial jobs, your employer may ask you to prioritize safety features over aesthetics. However, some occasions would necessitate both.
On the days you need to attend an informal meeting with a client and visit a project site, you can pair your moc toe boots with jeans or khakis and a buttoned-down shirt.
Looking your best shows that you're a professional. But with moc toe boots, you don't have to sacrifice safety for fashion.
Care and Maintenance
Manufacturers and authorized sales representatives often provide instructions on cleaning and maintaining your moc toe boots. Usually, boot brands publish all the information on their website. Some of them even sell cleaning! Alternatively, you can approach the salespersons in the shop.
If you cannot find cleaning and maintenance guides from the manufacturers' website or shop, let me share some tips:
I recommend using a shoe brush to remove superficial dirt after work for leather moc toe boots. Clean the rest with a damp rag.
Leather conditioner, shampoo, and mink oil are also must-haves if you own multiple leather goods.
Be sure to check the manufacturer's instructions to learn more on how to apply these products onto your moc toe boots. When not in use, store the footwear away from a heat source and moist area.
Another thing to remember is that most leather fabrics are treated with a waterproofing agent but this coating wears out over time.
Note that the tips I shared above may not apply to canvas or lite mesh moc toe sneakers.
Frequently Asked Questions
Are moc toe boots good for work?
Absolutely! Boot brands like KEEN Utility, Redwing, Thorogood Boots, Red Wing, Carhartt, White's Boots, Danner Work Boots, and many others have a plethora of moc toe boot designs targeting different kinds of jobs.
Options for composite, alloy, and steel toe boots are widely available. You can even choose between laced or pull-on versions, as well as waterproof work boots. Of course, these features can only be reliable for work if they receive ratings from ASTM.
When did moc toe boots come out?
The oldest moccasin-style shoe found in Armenia dates back 5,500 years. Meanwhile, French author Marc Lescarbot traveled to Acadia sometime in 1606-1607 and said that the North American tribe Algonquins wore "Mekezin."
Indeed, the history of the moccasin is not a straightforward one, but one thing is for sure: Red Wing designed one of the first-ever moc toe boots in 1952, which is known as the "877 Moc Toe." Meanwhile, Thorogood Men's American Heritage boots known as the "Hike 'n Camp" are said to have been released in 1964.
What is the point of a moc toe boot?
Red Wing's Heritage line of moc toe boots was originally intended for hunting. In the 1960s, American workers began wearing them as work boots.
Are moc toe boots formal?
Moc toe is not the go-to boot for formal occasions. The design itself appears more rugged, blends in well with a casual outfit.
How do you break in moc toe boots?
Red Wing Heritage, Thorogood American Heritage Boots, KEEN Utility, and Danner Men's Bull Moc Toe Boots may have unique selling points.
However, they share one thing in common: A month-long break-in period. With heavy-duty work boots, this dreaded phase comes with the territory.
Here are some tips to make the process a little less painful:
Try bending the soles with your hands if you haven't soiled your boots.
Walk around the house and climb the stairs wearing boots. If you're busy, aim for 20 minutes a day. When you're off-duty, try wearing them the entire day.
Look for different terrains outside your home and walk on these surfaces with your boots.
Soften the middle part of the sole by placing it at the edge of the steps, then rock your foot back and forth.
Apply mink oil or leather conditioners to keep the leather soft.
Use a shoe stretcher!
That said, don't try too hard and be patient. Your boots will soften up eventually!
How long do moc toe boots last?
On average, you probably get 6 months to a year out of cheap entry-level boots. Red Wing Heritage boots can last a decade, while several users claim that Thorogood boots are going strong in their fourth year.
Regardless of the brand, these factors can influence the boot's lifespan:
Material: Full-grain leather makes for quality footwear as it can last decades, if not a lifetime, when cared for properly. Genuine leather, despite its fancy-sounding name, wears down quicker.
Protection: Composite toe is not as hardwearing as steel or alloy. A heavy falling object can weaken, if not shatter it completely, and you will have to replace it when it happens.
Construction: Cement construction involves attaching the upper to the sole with adhesive, which means you can't re-sole your boots when they come apart. Goodyear welt is done stitching, allowing the repair shop to re-sole them so the boots can last longer.
Frequency: Wearing one pair of boots daily will cause the material to wear down faster. Hence, experts recommend rotating two pairs.
Proper care and maintenance: Cleaning and conditioning your boots make them more resilient.
Conclusion
When people talk about the best moc toe work boots, you will often hear Red Wing Heritage and Thorogood boots. After all, they are among the pioneers in USA-made work boots. But, it can be limiting for some of us to choose between only two brands.
That's why I included several other products made by trustworthy manufacturers. I also shared some tips on finding the most appropriate footwear for you and your job type.
Everything you need to know about the best moc toe boots is here. All you have to do is go out, try each pair, and decide which one is right for you!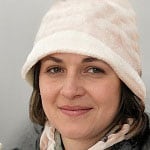 Veronica is our content editor. She is a talent in delivery. Her main work is editing and writing articles that are both informative and simple to follow. She is in charge of synthesizing our understanding of what personal protection equipment (PPE) is needed in each job, how to best apply it, and how to visualize that equipment.