Over-glasses safety glasses make it convenient for those whose line of job demands strict imposition of safety and health protocols. They shed light on laborers needing maximum protection while wearing prescription glasses for optical correction or plenty of leeway for eye comfort.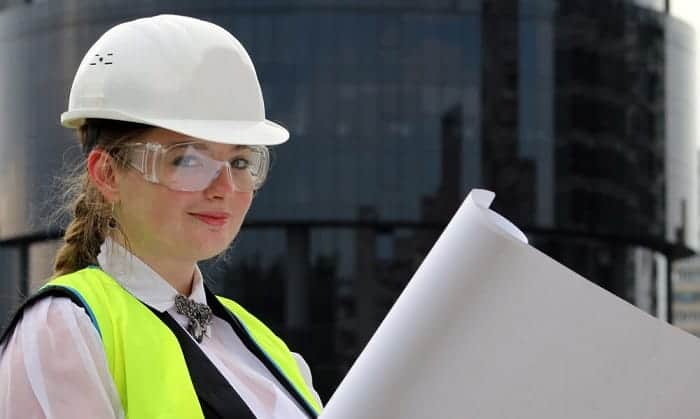 We need traditional eyeglasses from time to time due to our eye issues, so it is natural to keep them by our side. However, working in a turbulent environment carries the risk of eye injuries that are not usually under control by regular glasses.
You should search in every nook and cranny for the best over glasses safety glasses in the market that could help you increase optimal protection and comfort in every glance of your critical niche process.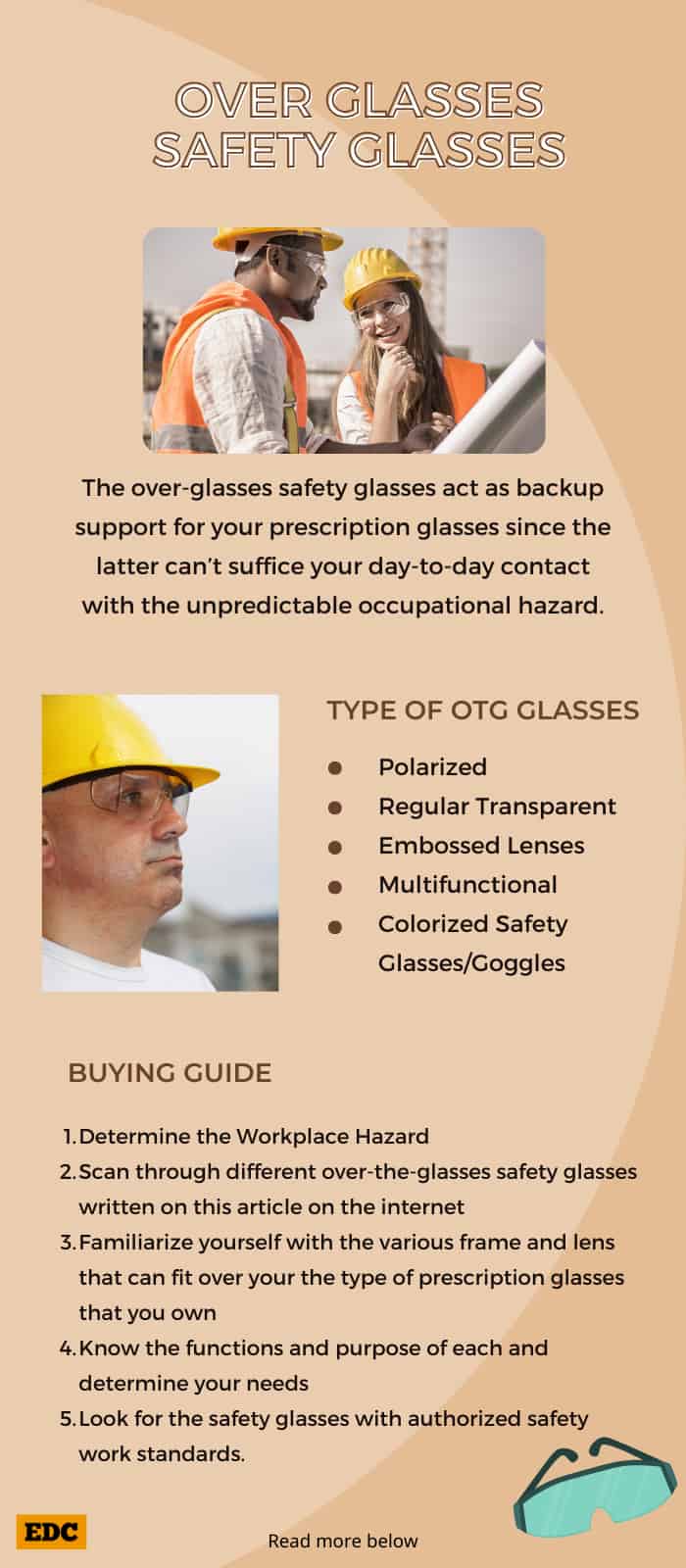 13 Best OTG Safety Glasses Reviews of 2023
1. NoCry Over-Glasses Safety Glasses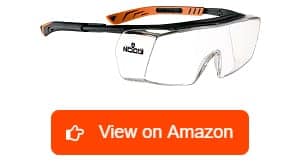 NoCry lives up to their phenomenal and intriguing brand name because there are no tears left to cry with the exclusively top-notch performance of providing full-cycle guaranteed eye protection.
The company is a work and safety gear supplier that conforms to OSHA (Occupational Safety and Health Administration) standards that verify and certify the mass production of safety working products. Plus, these safety glasses possess ANSI z87.1 (impact resistant embossed frame) and CSA z94.3 anti-safety hazard certification.
This fully loaded combo protection makes these over-the-glasses eyeglasses top-tier personal protective equipment at a low margin price.
They include a rubber-made frame that goes easy on your face, leaving no unpleasant marks. And the genius wraparound construction is composed of durable polycarbonate lenses that serve as an ultimate defense to UV radiation.
The overall lightweight body comfortably fits most reading/prescription glasses. They weigh an approximate 5.7 inches in width and 1.37 inches side length, and 1.77 in height in the center. The thin and soft end tips also tuck on your ears smoothly, and the adjustable temples have extensive arms that fit any face type for both men and women.
The next beautiful thing that captures me in a heartbeat is the scratch-resistant finish that also reveals an admirable high-definition quality vision anywhere at any time. If you work your butt off all-day outdoors, these glasses are beyond useful as it will help you see your environment without optical distortions.
As I analyze this product's physicality, I can't get enough of the peripheral side angled protection as the design and function greatly complement each other. Lastly, I commend the customer service of NoCry because they offer a limited lifetime warranty upon customer's dissatisfaction feedback.
The only thing I noticed is that it leaves a tiny space under the eyes once worn, but I think it's a minor mistake that doesn't compromise the safety precautions during strenuous work conditions. Nonetheless, this protective eyewear is on fire!
What We Like
Multiple Safety Certification: OSHA, ANSI z87.1 and CSA z94.3
Soft rubberized frame, resting comfortably on the face
Well-engineered wraparound polycarbonate lenses with superb UV rays defense
It has a lightweight body that entertains most prescription eyeglasses.
Comfortable end tips that make the unwieldy wearing experience
Anti-scratch resistant coating, featuring HD quality clear eye view
An established first-class brand for full-fledged protection for workers, and I think these glasses don't exude a "save the best for last" impression because, in my opinion, they managed to be the best safety eyeglasses option that deserves to be on the top list.
2. Gateway Safety 6980 Safety Glasses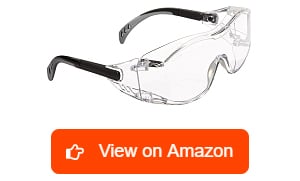 Crystal Clear! The overall physical appearance looks neat and presentable in any nature of work. They come in 2 color variations: Clear and Smoke. Both give off a transparent full vision display that lets you see your work's backlog details.
These goggles feature a virus protection structure that does not only intend to fit your prescription glasses but help you shield your eyes from the harmful infection caused by the unstable workplace condition.
The compact OTG design, which I find lovable, makes it possible for you to fit almost any prescription glasses you prefer. They also have a polycarbonate lens that you can depend on when it comes to sturdiness and durability on your all-day hectic work shift.
In addition to that, the lightweight structure would not give you a hard time with your work. The glasses have a soft nose piece that does not pinch nor hurt your nose when used for a long time. Hence, giving you undivided attention to your visual focus if you are doing a chemistry laboratory job or any work-related.
They support the Cover2 structure that highlights a modern-built design, which values not only the protection but also a professional finish appearance even in untidy work settings. Plus, the adjustable black temples have a small circular airway channel, making your temporal region free from excessive sweat.
Furthermore, they give a customized fit on your eyes as they settle at the side of your ears gently. I would recommend using them in indoor jobs like the hospital, laboratory, and factory work shifts. That is due to the presentable look they give when you're doing your designated task with different types of people around you.
Since I just mentioned that this is ideal for indoor use, I would like to state the reason behind it. The glasses don't provide a snug fit, so it means that you can't use them for outdoor activities as they implicate more physical movements that can cause the safety glasses to slip off.
What We Like
Neat looking safety glasses with outstanding transparent eye viewing feature
Compact otg design that fits most prescription glasses
A virus protection safety goggles good for scientific laboratory jobs
Lightweight structure with soft nosepiece
Cover2 modern design with customized fit adjustable temples
What We Don't Like
They may not give a snug fit as you desire.
I would strongly recommend these to jobs with one highly-concentrated indoor workplace that involves non-drastic movements to experience a stable cover on your eyes throughout the day.
They don't look like your regular eye protection over glasses because they give you a professional impression while working an extra mile all day long.
3. Uvex by Honeywell Ultra Spec 2001 OTG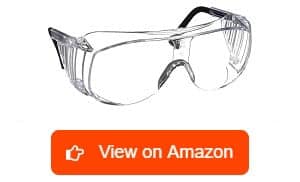 These safety glasses resemble the previous over the glasses safety glasses at first sight. They both have clear frames and neat structural figure that gives a decent look on the face.
Unlike the former product, these OTG safety glasses have an extended bow guard area where you can personalize the use of allotted space to fit your prescription eyeglasses at ease.
Have you thought of wearing safety glasses over prescription glasses during outdoor corporate events? These Ultra Spec 2001 model is a remodeled "Visitor Specs" design that decreases the risk of danger even on formal occasions for office personnel who needs advanced protection eyewear that looks cool and presentable on the get-go.
The physical composition of these glasses is well-managed because of a great deal of comfort associated with these glasses. The padded temple end tips and the lengthened built-in side shield with air ventilation provide long-wearing comfort in peripheral viewing.
You'll never run out of protection options through the wraparound design dual polycarbonate lens coating. First is the UVextreme anti-fog for a high endurance performance that can be reliable on extreme heat of the sun, and the Ultra Dura Hard coat that incorporates first-class anti-scratch protection.
I can't get enough of the overall lovable design. It supports utmost defense from multiple sources of accidents caused by flying debris and airborne fragments that can easily penetrate the eyes. That is why I get excited knowing that these OTG glasses cover ANSI z87.1 + 2015 and CSA z94.3 certification.
I would also like to add the clear and gray-tinted lenses option that gives a transformative result to your visual operations, especially if you are in fieldwork that requires an immense amount of attention to details. Therefore, you have a choice of your comfortable fit.
There are no perfect OTG glasses, but I think this could be one of the best over glasses safety glasses out there in the market if only the huge-bordered specs design fits. Most prescription glasses fit here, but those oversized frames may not.
What We Like
Neat-looking design featuring extended bowguard area for uncrowded fitting
"Visitor Specs" design that boosts protection in ocular visits and corporate events
Comfortable peripheral viewing with padded temples and side shield ventilation
Dual lenses with a scratch-free and humid free coating
ANSI z87.1 + 2015 and z94.3 certified safety otg glasses
Come in 2 color variations of clear and gray.
What We Don't Like
Oversized framed prescription glasses may not fit in.
For full-time eye protection during daytime activities, I would recommend this OTG variant. It has a brilliant way of packaging protection and comfort in one collaborative piece, and I think this suits most of the wearers who have rough physical jobs.
4. Tavool Safety Glasses Over Glasses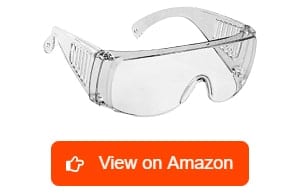 Tavool's model of over-the-glasses safety glasses is unconstrained to the wearer's craftsmanship needs. The way I see it, these glasses are not just deliberately developed to fit over prescription safety glasses. The carefully-designed structure consists of lightweight yet heavy-duty materials for an industrial revolution.
The see-through military-grade polycarbonate-built frame and lens ensure powerful impact and explosion resistance from the scattered airborne debris and remnant fragments of explosive materials, and hazardous ammunition devices. No wonder this product is also one of the best shooting glasses over glasses out there.
As I expected, the product has long-wearing anti-fog lenses that produce a dominant coating defense for extreme humidity and moisture. With the help of military specification concept design, your eyes will earn an enhanced protection zone and HD quality visibility.
In addition to that, wearing a mask for additional face coverage protection is made easy for you since the air you exhale doesn't shroud the lenses. Thus, working on the grounds becomes a trouble-free experience when most of your day is spent with intimate outdoor recreational activities.
My favorite part of this superb quality over glasses eye protection is the inclusion of three sets of clear textured safety goggles for alternative uses. If one of them gets worn over time, you can take the extra and use them comfortably 'til you would need to use the last remaining pair.
This OTG glasses bundle offer is something you rarely see in labor hardware accessories nowadays. I think this is the strength of the brand aside from the already established prime quality lightweight body that fits perfectly on any head size and large nose pad that gently kisses your nose with profound relief from the stress of your work.
The least favorable characteristic of this over the eyepiece is the short-sized temples that don't fit on the other prescription glasses with longer temples. Other than that, the glasses provide crisp and clear imagery, and I think that element alone makes this OTG variant a rockstar.
What We Like
Contemporary lightweight design that supports general industrial ventures
Military-grade frame and lens for intensified protection against harmful elements
Superior shooting otg glasses for sports and leisure hunting activities
Heavy-duty anti-fog lenses that can hold out against irregular level of humidity
A face mask is fully-supported with a fogless touch on the glass.
Includes three-pack of clear over the glasses safety goggles for multiple uses
What We Don't Like
Short-sized temples that don't fit prescription glasses with longer arms
Whether for simple home gardening to recreational activities outside with family and friends, you can rely on these otg safety glasses to partner up with your delicate prescription glasses under the heat of the morning sun or windy afternoon.
5. BHTOP Safety Glasses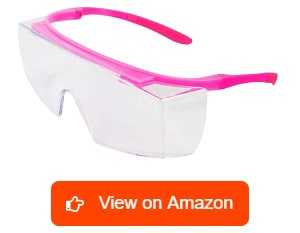 Wearing these safety glasses for overprescription glasses can keep your eyes safe without compromising your vision. Even better, this model is available in two colored frames, bright pink and a combination of black and yellow.
Since clear lenses are meant for indoors, many nurses don these safety glasses with their protective equipment for COVID. As for me, I normally wear them for landscaping and woodworking purposes because they meet the impact resistance rating. Rest assured that they are super light so you will not hurt your ears!
On top of that, the polycarbonate lenses do not warp or fog up. This is extremely helpful for me as I sometimes wear them in the car or with a mask. Furthermore, they do not get scratched easily. In terms of dimensions, I guarantee you that the large one-piece lens can fit most prescription glasses frames.
When it comes to fitting, the arms are quite flexible. Consequently, they do not hurt my head nor press the prescription glasses against my face. Hence, I can wear them for long hours painlessly! The only issue that I have found is that they tend to slide down from my face when I tilt my head down. To resolve this, I bought adjustable straps to tighten and support them.
What We Like
Applicable to a wide variety of jobs
Complies with safety standards
Provides a clear view
No fogging when temperature changes
Fits most prescription glasses
Has flexible arms
What We Don't Like
Tends to slip down from the face
With a spacious lens design, these safety glasses can comfortably fit prescription spectacles underneath. More importantly, you will never have to constantly wipe off the fog from the lens!
6. Allen Company Safety Fit Over Glasses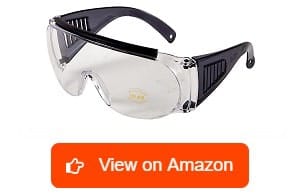 Oozing with fine-looking grace and charm, these wraparound-designed over-the-glasses safety glasses for shooting are the. Their polycarbonate anti-scratch coating lens has an ANSI z87.1 impact pressure resistance and UV protection that can shield your eyes from the shooting range, most esp if you're into it.
In addition to that, the thin layered extensive temples securely fit your prescription eyeglasses with thick arms. They also prevent compression on your face while wearing two pairs of glasses. The lightweight construction also creates a comfortable spot for any earmuffs style and design, making it a leading choice for shooting sport.
The rubberized bow guard on the frame rests pretty well in the middle of your eyebrows, giving you a tickling feeling that soothes your fatigue away. Plus, the side temple vents allow air to pass through and extract a cooling effect motion, surrounding your temporal region.
These safety glasses over glasses don't just cater to your vision support but refine the familiar comfort you have always felt in the eyeglasses.
They are available in clear and yellow-tinted variants. The former can be dependable on casual use for standard lighting conditions, while the latter makes the dark environment appear lighter and more vibrant.
If you're looking for OTG safety glasses that can also be a constant player on any occasion, then you're in the right place. This pair of glasses is unisex. It can fully protect your eyes from daily exhausting activities like home maintenance, mechanical and automotive works, technical installations, ocular site visits, and many more.
Furthermore, if you're in the medical field, I think this piece will be beyond helpful since it works well with face masks and hairnets. Besides, it secures your eyes well from any harmful chemicals or airborne allergens. Thus, this is a home run product in your graveyard shift.
The only weakness I find is the flawed design for regular eyeglasses because the grip becomes loose. Hence, creating a gap between the forehead and the frame. Nonetheless, I would still recommend this to wearers who have standard size RX glasses.
What We Like
Modern wraparound easy-to-wear design shooting otg glasses
ANSI z87.1 impact resistance and anti UV polycarbonates lenses
Large temple area for exact fitting long-armed prescription glasses
It consists of a lightweight dimension, creating spacious quarters for earmuffs.
Rubberized bow guard with side temple ventilation
Available in clear and yellow colors
What We Don't Like
Flawed fitting for some prescription glasses
I have no problem when it comes to the overall quality of this over glasses eyewear. After all, this includes a premium-built frame and lenses ideal in shooting sports and other activities that require comprehensive eye protection. My only reminder is to double-check your prescription glasses' size to experience a level of utmost satisfaction.
7. Crews Safety Over Glasses Safety Glasses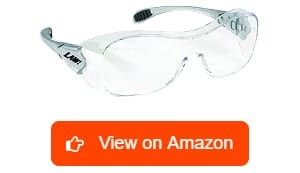 As the name suggests, Crew's Law rules. The transparent anti-fog frame and lens comprise sturdy polycarbonate materials that are hard-wearing and can silence the rise of drifting dust and debris going around your face during indoor or outdoor activities.
They have anti-fog lens plating that is useful in both summer and winter seasons. The frame is oversized and will fit most of the prescription glasses, even those with a top bar design just like mine. You can be stylish without adjusting the room of your comfort.
They weigh 0.041 kilograms that embody a lightweight figure that is easy-to-wear. Plus, the wraparound frame is proportional to any face type and makes a beautiful peripheral view. Switching of eye direction from the center to side and vice versa becomes smooth because of the clear-cut glasses.
The power of the lens is summoned by the Duramass scratch-resistant coating, making it invincible to abrasion. You can also rely on the UV protection properties that filter 99.99 % of UV rays, which is advantageous if you are someone who loves carpentry and woodworking outdoors.
Moreover, these over-the-glasses safety glasses from Crews have a magnificent construction as the TPR silver temples are soft and non-slip. They stick in your ears like a best friend that you can count on when things get rough. I love how wearer-friendly the overall physical look is, adding a little more comfort in every use.
Additionally, this eyewear essential contains a dielectric design, which means that it doesn't have metal parts that sometimes can be active electrical conductors. Wherefore, this is one of the safest over the glasses eyeglasses out there.
This OTG variant meets ANSI z87.1 high impact resistance so expect it secures your eyes well from any unwanted fallback.
It gives tons of protection, but this item is not for casual driving in any moving vehicle because it can block sideway directions. This product is for safety work hazards, and with the given benefits above, you'll never go wrong with this purchase.
What We Like
Hard-wearing lens and frame for back-to-back lingering dust and debris
Polycarbonate lens with fog resistance agent, suitable for any weather conditions
Flawless wraparound frame, allowing straightforward peripheral view
Duramass scratch-resistant skin that covers abrasion shock
Offers UV protection components that filter 99.99 % of the radiation
Dielectric design with non-slip TPR temples
What We Don't Like
It lacks protection when driving inside a moving vehicle
So far, this over the glasses anti-fog glasses type is my favorite. I have a top bar prescription glasses, and I think this safety eyewear suits most of the eyeglasses with style these days. If you want a lightweight working eye protection accessory with guaranteed safety and comfort at a low price, then this item belongs to you.
8. NoCry Tinted Over-Spec Safety Glasses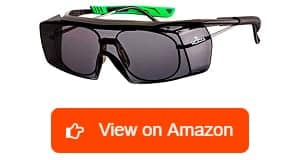 Another unique way to start your day with a smile is to feel the superb protection and comfort delivered by NoCry Tinted over-glasses safety glasses. You can tell from its physical form that it isn't the typical safety glasses to wear over glasses.
First of all, I noticed the bulging thick side corners. Most prescription glasses fit this kind of embossed structure because of the deepened edges of the whole frame.
Plus, the polycarbonate-made and smoke-tinted lenses are also polarized and have an anti-scratch coating, which I find convenient for people who work the best to monitor their workpiece closely at ease.
When wearing this over your eyeglasses, you can't feel any pressure leaning on your face because the wrap-around interior design leaves ample space between two pairs of glasses. Thus, preventing little heavy bumps on your face.
Moreover, I find the UV400 protection feature impressive because it fights against the UVA and UVB levels of radiation. Plus, any amount of heat won't make the lenses pop out. I think this is the best alternative for regular sunglasses in the market, especially if you're spending a lot of kinetic energy on your work outdoors.
One more astounding thing about this is the guaranteed protection and security performance brought by the ANSI z87.1, CSA 94.3, and OSHA approved safety certification.
These three authorized-safety standards don't come easily together. The fact that they can all be found in this product only proves that No Cry priority is to ensure all-round safety for wearers.
I can't contain my admiration for this product. The more I examine the construction details, the more I see how capable of terminating dust, specks of dirt, and debris. The frame and lens are built in unison, blocking the way to brush off all types of visual interruptions.
Honestly, the only thing I dislike is the thin temples that can't be fully occupied by the temples of your prescription glasses. Both pairs will share the space behind your ears. Hence, it suits the best for wearers with single-layered temple mold RX glasses.
What We Like
Quirky embossed design that completely blocks the dirt of polluted environment
Polycarbonate smoke-tinted lenses with anti-scratch coating
Includes superior UV400 defense against UVA and UVB radiation level
ANSI z87.1, CSA 94.3, and OSHA passed otg safety glasses
2 in one wraparound structure uniting frame and lens, wiping out flying debris
What We Don't Like
OTG temples don't support the attachment of prescription glasses' temples
Looking for the best over glasses eyeglasses can be difficult sometimes, especially when you need full-blown protection alongside comfort. But you don't need to get worked up for these OTG safety glasses will help you do your tasks efficiently, away from danger.
9. SAFEYEAR Anti Fog Safety Goggles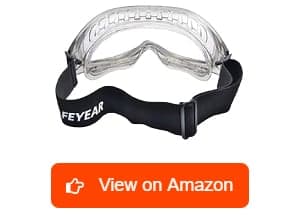 This safety over glasses safety goggles model is a choice for better safety close-encounter manual jobs like welding, grinding, drilling, and hospital/laboratory maintenance. I think it's a great way to kick-start your business enthusiasm about your long-lived craftsmanship.
First of all, I have got a soft spot for the super clear fog resistance technology lens that also acts like the whole body frame. It exhibits a 360-degree scratch-resistant sealed design that makes the entire goggles function as an extended facility for your prescription eyeglasses.
The material used is thermoplastic polyurethane that is known to be strong in water, oil, and abrasion. That is an excellent agent for water and oil. Thus, if you're looking for liquid leak-proof safety glasses that fit over prescription glasses, this over the glasses product is for you.
What I also find thoughtful and adorable are the various colors for comfort preferences: black, blue, camouflage, grey, white, transparent.
Not to mention, an extra safety OTG goggles pair for children is available in kids blue and kids red color label options. Hence, letting the kids play safely in the residential playgrounds or at home with their toy guns.
When it comes to flexibility, I commend these otg safety goggles. Why? I know someone in the medical industry that uses this type of safety glasses for glasses because it lets her breathe and talk properly. She affirmed that the face shield does the opposite, so she considered buying this kind of over glasses working goggles, and it doesn't disappoint.
Furthermore, I can assure you of a custom-made fitting. Slipping off is the last thing that could happen as this product includes non-slip and adjustable headbands. Plus, it suits any face shape and head size since the structure smartly molds on the face.
I love everything about the glasses. It is an ANSI z87 approved otg goggles and undeniably brings a lot of optical support. However, it has a one-size proportion, that's why it might look bulky on smaller faces. Nonetheless, it carries eyeglasses well and makes them intact after rounds of movement.
What We Like
Go-to over the glasses safety goggles for diverse craftsmanship
Clear visibility through the robust fog resistance technology lens
360 degrees scratch-resistant sealed design, blocking visual impediments
Thermoplastics polyurethane-made otg safety goggles, preventing liquid entry
Available in numerous colors for style preference
Custom fitting with non-slip and adjustable headbands
What We Don't Like
Large face occupancy for wearers with small faces
If you are a medical specialist, you'll appreciate the substantial amount of benefits indicated in these eco-friendly goggles. You can wear an n95 or surgical mask with this carefree eyewear without trouble in breathing and speaking. Consequently, it serves as the best alternative for an unventilated face shield.
10. Namsan Clear Safety Glasses Over Glasses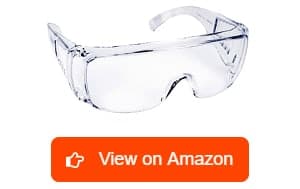 Surprisingly transparent and weightless enough for a piece of personal protective equipment at a low-cost price. I am quite impressed with safety glasses that fit over eyeglasses without being bulky on the face because there are a lot of them these days. Luckily, this OTG eyepiece is different as it appears more lightweight and comfortable.
Its plastic frame material has two color selections: transparent and black. Both have established ergonomic designs that make it easier for wearers to slide on their faces. The structure has a well-engineered nose beam and assemblable temples that evenly fit in the smooth finish hinges.
The lens is built-in polycarbonates with an anti-fog and scratch-resistant glass layer that is useful in hot or cold weather to ensure daily accentuation to work quality. It also has an HD full-screen view with multi-defense UV protection that I think will suffice general labor duties.
These protective goggles offer unfailing support for small eyeglasses. I love how thoughtful Namsan is for this consideration since there are still workers who stick to the traditional design of eyeglasses. They also support frames for myopia, hyperopia, and sunglasses.
When you slide them on your face, the side temple ventilation leaves a cooling air that minimizes heat on your face's side contours. Plus, it conforms to the ANSI z87.1 and CSA z94.3 standards that are a prominent basis for general safety and health codes.
I believe that this type of glasses goggles is suitable for daily livelihood practices since it comprises primary elements for everyday protection for any jobs that have a persistent calling of safety. Therefore, it is evident that safety is next to happiness; I love this product for this impression.
Everything about these OTG safety glasses is a breath of fresh air but what made me think twice is that they leave a noticeable gap at the top of the frame and the nose area. It is competent eye protection over glasses, but it could be better if the structure is not permeable to water splash and debris.
What We Like
Lightweight and cost-effective otg safety glasses for different use
Available in transparent and black frames that both suit industrial societies
Ergonomic design, introducing soft-blended nose beam and assemblable temples
Multi-faceted protective lens: Scratch/Fog Resistance/UV protection coating
Supports myopia, hyperopia
Sunglasses that magnifies room of convenience
Full-force safety work standards through ANSI z87.1 and CSA z94.3 certification
What We Don't Like
It has a faulty structure that leaves a gap between your face and the frame.
I like the modern design approach with universal functions attached in these safety glasses that can help wearers accomplish any of their day-to-day high-risk jobs. To experience its best performance, it needs proper eyeglasses with uncomplicated structure.
11. Vakker Safety Goggles Fit Over Glasses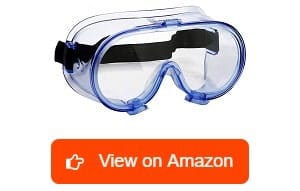 Today's new-normal scenario gives us insight into how we can properly make use of the PPEs to further protect ourselves from getting infected by the deadly virus. Luckily, this over the glasses safety goggles piece is for medical professionals.
It is one of the best virus protection safety goggles these days. The compact lens has a full-length anti-fog and anti-shock resistant coating. Its wraparound body frame is made of PVC materials that softly touches the face.
Unlike other brands, Vakker's safety goggles have a lightweight, steady wearing position that seals the eyes comfortably, preventing water or any chemical forms from breaking in.
It also works pretty well with face masks and is indeed a flexible safety shield from Covid-19. Plus, it is authorized by FDA and ANSI z87.1 for guaranteed protection and work hazard safety.
The product best suits doctors and nurses who have a high level of exposure risk to the virus. The entire frame boasts an elevated deck construction for most prescription glasses, and it locks them securely so that there's no chance of slipping off.
It doesn't just protect your eyes from the lurking dust and debris. It offers a long-wearing comfort through the soft rubber nose bridge pads and a stretchable head strap that don't tightly bind your head. Hence, avoiding muscle tension for whole day wear.
Even if you're in a medical profession or not, you can use these OTG glasses for your spectacles as it offers multi-functional construction. You can use it in gardening, woodworking, home sanitation, and many more as long as you need it to cover your eyes from airborne particulates.
All in all, if you need safety glasses that fit over glasses for everyday protection, I would highly recommend these super goggles. However, if you're working in the welding industry, I don't think this pair could last since it can't stand harmful substances like acid and alkali.
What We Like
Highly accredited virus protection safety glasses for medical practitioners
Full coverage fog and shock resistance coating lenses
Wraparound body frame made in lightweight and gentle PVC material
Sealed construction, preventing water and dirt from breaking in
An excellent PPE for Covid-19
With safety compliance to FDA and ANSI z87.1 standards
Elevated frame design that leaves ample space for most prescription glasses
What We Don't Like
Low tolerance for harmful substances
If you're in dire need of multi-layered eye protection for everyday work, I would suggest using these OTG safety goggles over your specs. They cover protective functions that also coordinate well with the face figure, allowing optimal comfort throughout the day.
12. Strive Fusion Safety Goggles Over glasses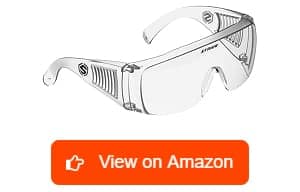 A new face of protective safety glasses is here to give us direct interaction with security and comfort while working to the bones with our daily pursuit in life. These OTG glasses are not rocket science since their anatomy is well-organized for wearers who want fewer maintenance glasses to use over their prescription glasses.
These transparent form glasses offer a vast amount of package deal protection, and I love how to Strive integrated the functions in one wear. First of all, the lens is composed of durable polycarbonate properties that flaunt anti-fog and anti-scratch coating agent without the diminishment of the clear vision while focusing on the working subjects.
The Fusion includes high-quality protection at a reasonable price. Imagine using the glasses in broad daylight while doing DIY projects, and the anti-UV rays covering will help you filter the light you see. Thus, making you concentrate on your workpiece relaxed and comfortable.
Additionally, the temples are filled with a side ventilation airway channel that decreases the heat and pressure on your head.
In addition to that, it has a lightweight slim body that complements any face type. I think this is the strength of this product as it lays on your face smoothly without you feeling any marks of bulkiness. Plus, the glasses come on the scene in 2 identical packs, making you have an alternative working pair of glasses for other business affairs.
This protective eyewear from Strive is ANSI z87.1 that ensures guaranteed safety and protection from impact pressure and the collision caused by flying debris. It also has a one-size proportion that usually accommodates general prescription glasses, and it gives an exact fitting with sheer comfort.
This type of over the glasses safety goggles is versatile enough in any handcrafted projects/activity. While the overall specification is excellent, the glasses manifest a minor flaw in a long-wearing performance because they leave a gap on the forehead and only works pretty well with eyeglasses on.
What We Like
Simple and uncomplicated ready-to-wear transparent safety glasses
Anti-fog and anti-scratch coating polycarbonate lenses
High-quality UV rays resistant safety goggles
Ideal for DIY projects
Includes side vents that provide breathability on your temporal skin
2-pack identical safety glasses that are ANSI z87.1 certified
What We Don't Like
The safety glasses have a disturbing gap on the forehead.
If you're obsessed with interior embellishment at home, this eyepiece suits you well. While you're on the verge of woodworking for a table or bedroom door and the likes, you can expect this otg glasses pair to have your back.
13. SolidWork Safety Goggles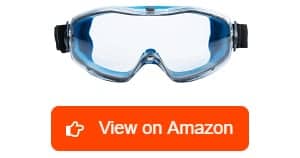 Do you want to look professional and unique while standing on your feet all day with plenty of handiworks? If you do want to look amazing in every milestone in the said project management, then this is for you.
These safety goggles are heavily-built in strong polycarbonate fibers, and the construction details express a newly-improved safety goggles design that resembles a virtual reality headset, minus the hardware video upgrade.
The panoramic vision display is impressive, and it exhibits a cinematic-like HD viewing experience where you can feel like you're inside a theater screen. That being said, you can feed your fantasy while working hard with this reliable buddy.
Furthermore, I want to emphasize the soft rubberized and sealed wraparound frame that is mild and gentle on your face. Hence, keeping any unwanted junk remains and dust particles from your work environment at bay.
Additionally, the eye-catching blue accent color blends well with any face type, making it one of the most favorite safety goggles to ever exist. Plus, the perfect fit adjustable strap secures the goggles wonderfully at your chamber of comfort. Besides, it offers a universal fit for both prescription eyeglasses and face type for
I find the high-powered UV protective goggles valuable and practical. It boasts polarized lenses that help you see an anti-glare surrounding that is extremely helpful, especially if you spend most of your time outdoors.
If you're dealing with irregular work patterns, don't worry. You can go overboard with these OTG safety glasses, just like how you can shift from doing casual drilling for home maintenance to sawing metal and wood to create various custom-made products for everyday consumption.
Hence, if you need manifold protection equipment to protect both of your eyes and face, this eyewear will help you live up to your expectations.
Everything looks stable in these over-the-glasses safety glasses, and I'm in love with its versatility. I can't see any red flags in this product aside from the casual squeezing of these glasses over your prescription temples. Nonetheless, this OTG eyewear is superb, and my most favorite on the list.
What We Like
Professional-looking unisex safety goggles
Built-in strong polycarbonate fibers with ergonomic design
Wide field of vision through the clear panoramic display
Wraparound sealed frame construction, blocking the dirt away.
Gorgeous blue accent interior with an adjustable head strap
A universal fit modern safety goggles with anti-UV polarized lenses
What We Don't Like
Casual compression on the prescription glasses
These safety goggles are on the next level. Reuniting the broad range of high-end modern design and function, this product consequently provides all-around heavy-duty eye protection for general physical activities.
Types of Over Glasses Safety Glasses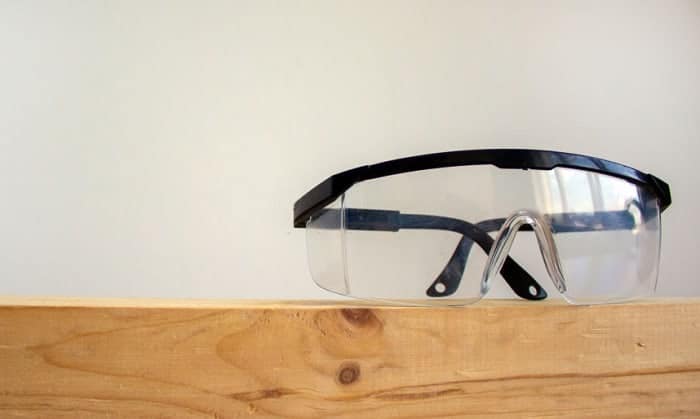 There are different ways on how you can protect your eyes from the impending danger caused by hazardous job sites and the environment. Hence, there are also a variety of eye protection safety glasses that you can use over your glasses to help you scale up the amount of safety and security you need in every look :
Polarized OTG Glasses – This type of otg glasses minimizes the amount of light penetrating the lens. It blocks the violent radiance of the sunlight from flickering over your eyes when you work outdoors in harsh daylight conditions.
Regular Transparent OTG Glasses – If you're fond of doing light recreational activities and home maintenance jobs, these glasses are ideal for everyday use. They usually have a lightweight frame with side vents that carries general prescription glasses.
Embossed Lenses OTG Glasses – The safety eyeglasses products from SolidWork and NoCry in the list are the best example of this; The structure manifests peripheral protective embossed lenses that are easy to distinguish.
Multifunctional Safety Goggles – Keeping a pair of these glasses will save you from your stressful work demands since it covers the three functions of the three previously mentioned over-the-glasses safety glasses above. For instance, the 3M over-the-glasses safety glasses edition holds the said characteristics.
Colorized Safety Glasses/Goggles – To simplify, it looks no different from the regular and embossed OTG glasses other than the lenses that can be grouped into different shade colors according to use.
Why You Need Safety Glasses That Fit Over Glasses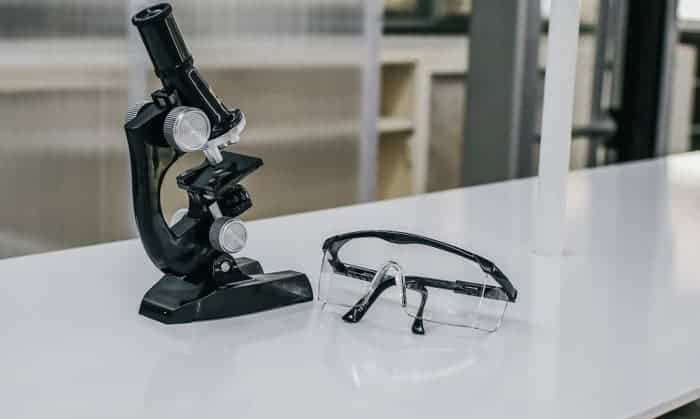 Whether you are conducting a scientific chemical test in a chemistry laboratory, grinding pieces of woodworks, gardening in your backyard, or fixing electrical outlets at home, you need safety glasses to cover your face from hazardous liquid formation and flying debris/dust.
To elaborate, safety glasses that fit over regular prescription glasses deliver enhanced protection in your eyes. Some of the full-time industrial workers wear eyeglasses for vision correction and light exposure protection, and wearing them alone is not enough. Hence, OTG glasses are the best barrier for dispersing dirt and debris around you.
Buying Guide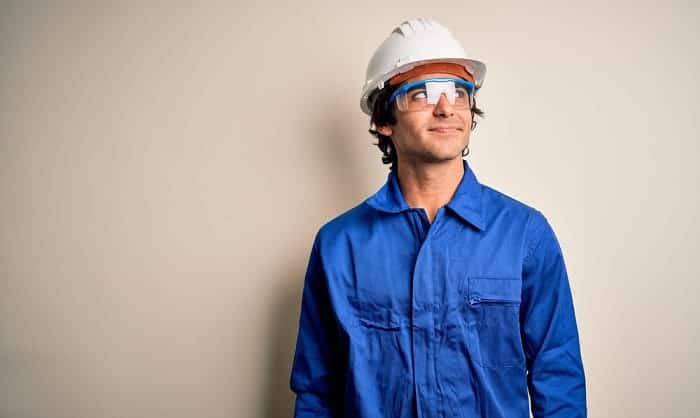 Follow these steps to get the most suitable over glasses safety eyewear for you:
Determine the Workplace Hazard
Scan through different over-the-glasses safety glasses written on this article on the internet
Familiarize yourself with the various frame and lens that can fit over your the type of prescription glasses that you own
Know the functions and purpose of each and determine your needs
Look for the safety glasses with authorized safety work standards.
These are the basic information you need to obtain yourself to fulfill your jobs without hurting your delicate eyes. For more details, you can visit these detailed and helpful guidelines.
Care and Maintenance
First of all, safety glasses have different properties: Some of them are strong and durable, some are not, so it is essential to know the materials used. The safest thing you can do to prevent severe damages to the glasses is to use a soft cleaning cloth and wipe the lens carefully.
If you want to rinse your glasses with water/soap or other cleaning solutions and you are not sure about the outcome, I highly advise you to ask the manufacturer beforehand or refer to the general proper care steps for safety glasses containing prescription eyeglasses.
Frequently Asked Questions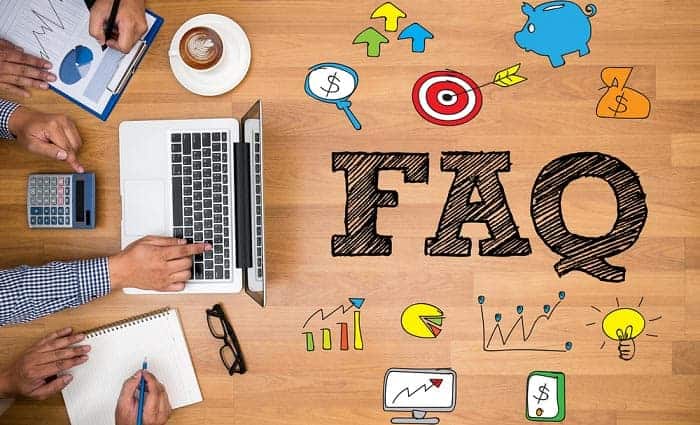 What are the most trusted over-the-glasses safety glasses brands?
I do not want to sound biased, but as I have encountered different OTG safety glasses, NoCry instantly caught my attention.
Can you wear safety glasses over prescription glasses?
Yes! Safety gear manufacturers have come up with various innovative designs for safety glasses that go over glasses. Nowadays, you can find highly specialized over spectacle safety glasses to meet different ANSI ratings.
For instance, shooting eye protection for glasses wearers could use something with ANSI Z87.1 or higher. Alternatively, they can opt for those with MIL-PRF-31013 rating, which denotes that the eyewear meets ballistic standards.
It is a common practice for companies to issue the protective equipment that employees wear to ensure that safety standards are met. If this is the case, you don't need to spend on customized safety glasses.
Another advantage is that your prescription glasses will surely be protected underneath the safety glasses.
Are over glasses as rigid and resistant to debris as standard?
Yes. Safety glasses that meet the ANSI ratings for impact resistance can block debris. Considering the design, however, this type of eye protection can only shield foreign objects that are coming from the front.
Considering that some debris may be flying from above or below, there will be tasks that would require goggles. For instance, experts recommend goggles for masonry work or woodworking.
When choosing eye protection, it is important to factor in both the ANSI rating and how much the lens can cover.
How do over-the-glasses safety glasses work?
They act as back-up support for your prescription glasses since the latter can't suffice your day-to-day contact with the unpredictable occupational hazard.
How to use it?
Most safety glasses with prescription glasses compartment have adjustable straps or headbands that are worn around your head like an angel's halo.
Where to purchase?
Lowe's safety gear/accessory department has a variety of over-the-glasses safety goggles package deal. On the other hand, Walmart offers renowned brands of OTG glasses that feature a wide range of unique functions.
Are all safety glasses fog-resistant?
No. If they are, there would be no anti-fog spray solution available in the market. Most of the safety glasses have UV protection, but some do not have a fog-resistant lens coating.
Conclusion
Wearing the best over glasses safety glasses on top of your existing personal eyeglasses will help you increase optimal protection on your eyes throughout a long-tiring day. They clog the dirt and debris at bay and filter the aggressiveness of the daylight – making you feel like a hawk-eyed warrior, ready to cross-examine the world in full HD reality.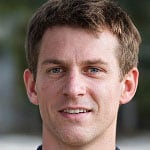 Having worked in the field of personal protective equipment for over two decades, Andrew Carnegie is a specialist in the field.
At EDC, he strives to improve performance efficiency and promote workplace safety for EDC's readers and customers. He also researches the most up-to-date equipment that has earned relevant accreditation for use in a wide range of industries and specialties.