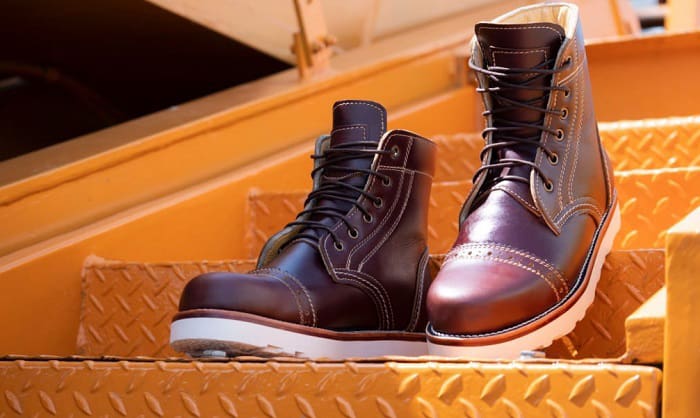 Red Wing has established a cult-like following among workers. Farmers, landscapers, loggers, and miners wear this brand's boots like a uniform. While it is known for making the original classic moc toe boot, the company offers a wide array of footwear designs.
Which style deserves "best Red Wing work boots" is debatable since we have different jobs and preferences. If you have not decided which one to get, I suggest that you start by thinking about these three main components:
Style: Wearing boots makes the entire outfit look effortlessly fashionable, but their designs are intended for specific purposes.
A moc toe boot, also known as the classic Red Wing boot, sits between work and fashion as they are comfy for walking.
The Iron Ranger is more suited for formal client meetings or parties. Slip-on work boots are apt for those who need to change uniforms and rush to an emergency while a tall shaft keeps the calves warm. Think beyond the aesthetics.
Safety features: Red Wing steel toe work boots dominate various industries, but these aren't suitable for office work, serving customers in a fancy restaurant.
The good news is that the brand also offers collections of dressy or casual boots for other occasions with slip-resistant outsoles and steel shank for underfoot protection.
Comfort: Just as each individual has a unique pair of feet, each Red Wing work boot features different 'toe shapes', leather uppers, and outsoles.
Finding comfy shoes is a matter of finding the design or material that suits the shape of your feet. If you have plantar fasciitis, high arches, flat feet, or other foot conditions, get your doctor's help choosing a new pair of boots.
With that in mind, let me share my unbiased review of 5 of the best Red Wing boots on the market. Besides learning the pros and cons of each design, I've also prepared a Buying Guide for those needing more help choosing the right pair of Red Wing shoes!
Top 5 Red Wing Work Boots Reviews
1. Red Wing Heritage Men's Iron Ranger 6″ Boot
Fun fact: The Iron Ranger was originally created for the iron miners in the 1930s, hence the name.
These boots featured a rounded double-layer toe cap (a.k.a bump toe), which was used to protect the miners' feet before steel toes were invented. But this also happens to give my toes ample wiggle room. Plus, it makes these Red Wing lace-up boots suitable for all foot shapes.
What's more, these Red Wing boots' leather insoles and cork midsoles conform to my feet, resulting in a comfier fit over time. Unlike other boots, the Iron Ranger sports a Vibram outsole to prevent slippage. Meanwhile, the steel shank reinforces the structure of the footwear.
Since it's made using the Puritan triple-stitching and Goodyear Welt Construction, I could get my Red Wing boot resole if it wears down years later. Another key feature of the Iron Range is its oil-tanned leather upper, which is not only the most durable kind but also exudes timeless beauty. But if it gets scuffed, I could easily buff it out with a soft cloth.
Meanwhile, the hardware like nickel eyelets and brass hooks add a nice detail to the overall look but they also allow me to adjust the laces quickly.
That said, purchasing the first pair of Iron Ranger on the Red Wing boots online shop or e-commerce sites without trying on might pose a risk since they seem to run large.
What We Like
A rounded double-layer toe cap for ample wiggle room
Vibram outsole to prevent slippage
Has leather insoles and cork midsoles for a comfortable fit
Durable construction, stitches, and steel shank to keep the form
Can be resoled if it wears down years later
Features nice-looking oil-tanned leather upper
What We Don't Like
Their sizes seem to run large
The Iron Ranger, to me, is one of Red Wing's masterpieces. Made of beautiful yet tough leather, I can wear them with any outfit and always look my best!
2. Red Wing Heritage Men's Classic 6″ Moc Toe Boot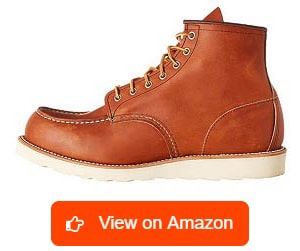 Of course, let's not forget these classic moc toe boots from the Red Wing Heritage Collection. Designed for men, this one defines the brand's iconic style.
Made with Goodyear Welt Construction, these boots will stand the test of time no matter how frequently I wear them. Meanwhile, the gorgeous waxy leather uppers jazz up my casual outfit instantly.
Speaking of outfits, I'm happy that these Red Wing wedge boots are available in different colors. My favorite is copper rough as it gives a vintage vibe.
Although it's highly versatile, I wear them for work, specifically during the times when I have to walk all day. Note that this model is not a safety work boot for construction.
Thankfully, the Heritage line offers Red Wing wedge boots with a composite safety toe or steel-toe cap. Moreover, this style is also perfect for flat feet since the entire length of the outsole touches the ground, which minimizes the pressure on the feet. I also like that the forefoot is spacious as it allows my toes to rest and move more naturally.
For concrete warehouse floors or rough terrain, these wedge sole work boots absorb the shock while their treads provide reliable traction.
However, the break-in period takes over a week. The good news is that, once the leather softens up, they become the most comfortable boots I've ever had!
What We Like
Durable Goodyear Welt Construction
Has gorgeous waxy leather uppers
Available in composite safety toe or steel-toe cap
Perfect for flat feet with flat outsoles
Ample space for the toes to rest and move more naturally
Absorb the shock and provide reliable traction
What We Don't Like
Takes over a week to break in
Trends come and go but, throughout the years the classic Red Wing boots remain stylish. Apart from that, their wedge soles can comfort the wearer's feet throughout the long hours of the work shift.
3. Red Wing Heritage Men's Blacksmith Vibram Boot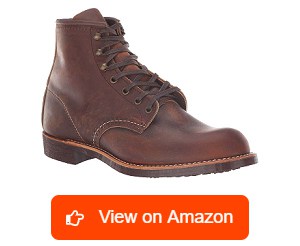 Under the Red Wing Heritage collection is another work boot called the Blacksmith. It is often mistaken for the Iron Ranger.
Both are made in the US using Goodyear Welt construction and they sport low-profile high-traction Vibram mini lugs. But there are subtle differences, like the Blacksmith's double-stitched, instead of triple-stitched seams.
But out of all the Red Wing boots vintage styles, I find the Black Smith to be the simplest and sleekest due to the absence of the double toe cap and the slimmer heel. I wouldn't mind wearing this with my formal attire. However, the round-toe style makes the design versatile enough for my everyday use.
This is originally a work boot before the steel toe boots were developed. Meaning, the 6″ shaft functions to shield my feet and ankles against the debris or snow during winter. As such, I also wear them when hiking, doing some yard work, or running errands. Walking in them feels light and comfy, especially after I have finally broken them out.
Although the Blacksmith is cheaper by a few dollars, the dull gilt hooks and eyelets, flat waxed laces, and full-grain leather are long-lasting high-quality materials. I'm positive that I can get several years out of these boots.
While the description says that it can fit diverse foot shapes, sadly, the Blacksmith is not available in
larger sizes for wide feet
.
What We Like
Features low-profile high-traction Vibram mini-lug
6″ shaft keeps the feet and ankles protected against the debris
A sleek and simple design with slim heels
Has a round-toe style that makes the design versatile for everyday use
Made of quality full-grain leather materials
What We Don't Like
Not available in wide options
Among all the boots in the Red Wing Heritage, this Blacksmith is probably the only one that fits formal, work, and casual wear. Best of all, its robust construction and top-notch materials allow it to last a long time.
4. Red Wing Heritage Men's 6″ Iron Ranger Lug Boot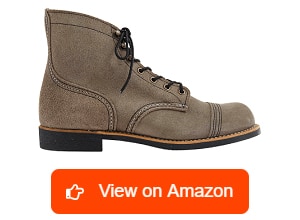 This Iron Ranger Slate Muleskinner is one of the latest additions to the Red Wing Heritage family of fashion-forward boots. Thus, it is rare to find a review on this even on Reddit. Luckily, I got a pair.
I immediately fell in love with the roughout oiled leather. For starters, this premium material boasts a beautiful velvety texture and quality that takes a beating.
To be clear, this is fairly new so I cannot say that it will last decades. However, knowing that it is made with the Goodyear welt construction, it's a guarantee that these boots are durable and resolable. On top of that, the double toe cap and triple-stitching reinforce the structure. Anyway, they are holding up well despite the fact that I wear them daily.
Comfort is assured as these boots have cork midsoles and leather insoles that mold to my feet. As with the previously reviewed Iron Ranger, this one also features bump toes, giving my forefoot and toes space to move naturally.
Not to mention, the brass speed hooks and eyelets are decorative yet functional as they allow me to quickly adjust the laces for a secure fit.
But given the overall look and feel, I would consider these Red Wings casual boots. They suit my jeans better than my slacks. Unfortunately, I could not find a wide version of the shoe size.
What We Like
Beautiful velvety texture of roughout oiled leather
Durable Goodyear welt construction and resolable
Has double toe cap and triple-stitching
Cork midsole and leather insole that mold to the feet
Gives the forefeet and toes space to move naturally
Allows to quickly adjust the laces
What We Don't Like
No wide version of the shoe size
On occasions where polished leather feels a little too formal, I opt for these rough-out leather boots to keep things casual at work. Plus, its durable construction and materials ensure that they can withstand the wear and tear that comes with regular use.
5. Red Wing Heritage 6-inch Classic Moc Women's Boot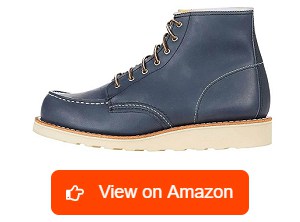 The story behind the classic moc toe, as we know, begins with Red Wing making it for sportsmen. But soon enough, the brand created a version for women. To give a nice snug fit for ladies' feet, the design of these moc toe boots is slimmed down.
In any case, this high-quality footwear is also made of full-grain leather and a high-traction lug sole.
As I said earlier, the combination of these two features makes these classic moc toes the best boots for those who are constantly on their feet. I know many women who wear these at work, or on their travels. Because the soles are wedged instead of heeled, they offer excellent support and cushioning especially when walking on concrete floors.
I like that the manufacturer also uses a leather lining material for the insole. Based on my experience, it takes the form of the feet. Unlike the men's work boots, I also found out from some women I know that these moc toes do not need any breaking in.
Just the same, these are built with the Goodyear welt method, so I'm confident that they will last decades. Perhaps the most common complaint I heard is that the arch support is hit-and-miss. I found it working just fine.
What We Like
Has nice snug fit for ladies' feet with slim moc toes
Made of full-grain leather and a high-traction lug sole
Leather lining material for the insole
Do not need any breaking in
Built with the Goodyear welt method
What We Don't Like
Some are not satisfied with the arch support
These Red Wing boots for ladies are not only durable but also ultra comfy. In my opinion, these are most suitable for jobs that involve long walks, like delivery services or restaurant staff.
What Are Red Wing Work Boots
For those who are not aware, the Red Wing Shoe Company, LLC is a footwear company in Red Wing, Minnesota, which explains the name.
It was first established in 1905 by Charles H. Beckman. Today, it manufactures casual, work, and hiking boots and shoes under different brands, including Vasque, Worx, and Irish Setter Boots.
The Redwing work shoes and boots are among the best on the market. After making service boots for American soldiers in World War 1, the company shifted to making work boots for outdoorsmen, factory workers, and farmers.
To date, it continues to create and innovate to serve workers in various industries using the handmade technique in Red Wing's plant in Minnesota.
These boots are often made of quality leather, with good craftsmanship that conforms to the modern trends of daily attire or at the workplace.
Types of Red Wing Work Boots
People tend to associate Red Wing with its moc toe boots, but there are more styles available than the company first opened over a century ago. Here are some examples:
Cowboy boots
Classic moc-toe boots
Logger boots
Pull-on boots
Soft-toe work boots
Hiker boots
Insulated work boots
Waterproof safety toe pull-on boots
Construction boots
Why You Need Red Wing Work Boots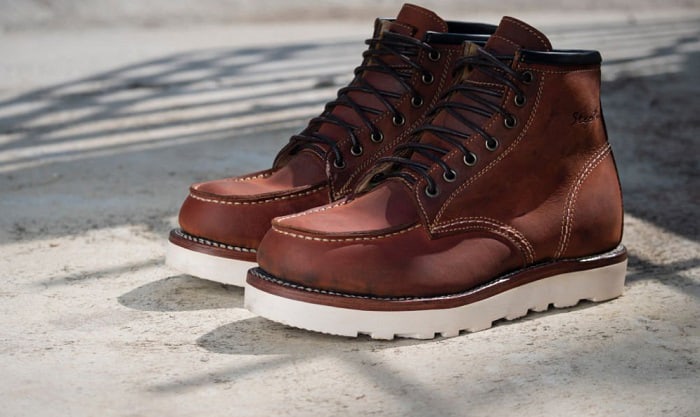 Most Red Wing boots are made in their US-based factory and are subjected to stricter standards, which translates to better material and more durable construction.
This, in turn, gives Red Wing's customers excellent quality work boots that are not only cushy but durable enough to last over a decade.
Another unique selling point is the brand's timeless designs, which blend modern technology and turn-of-the-century aesthetic. For that, it's not hard to find Red Wing shoes lightweight work boots that one can also wear in semi-formal gatherings.
Furthermore, the company offers superb repair services for all the Red Wing's brands, which you can check on their website. From resoling a work boot to replacing the welt, you can be sure that your boots and shoes are in good hands.
Buying Guide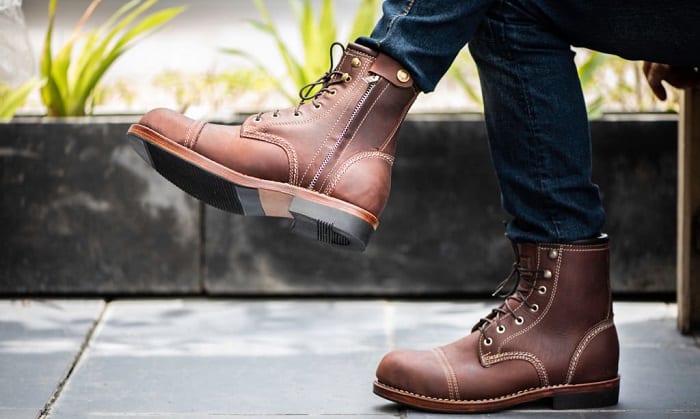 So, you're on Red Wing's website or in its physical store, and you could not decide which work boot or shoe model suits you best. Here're the most important features you should pay attention to:
Construction
What sets Red Wing's boot and shoe collections apart from their competitors is that they are either made with Goodyear welt or Cement Heel construction methods.
These two shoemaking techniques give its line of footwear both flexibility and durability. But note that Goodyear welt is more long-lasting as it allows the work boot to be resoled.
Fit
Choosing the correct size is trickier than you'd imagine, mainly because the construction and shape of each work boot or shoe style are different. In the review, I noted that some of the featured Red Wing boots do not offer wide sizes.
On top of that, shoe styles similar to the Iron Rangers typically come in sizes that run bigger than others.
Moreover, the boot's materials can also influence this. Full grain or nubuck leather typically needs some time to soften up so it can stretch and conform to your feet.
Soles
Red Wing comes with various types of soles that suit different working conditions. If you want a heavy-duty pair in a harsh environment, it's best to pick pairs with urethane soles that can handle gas, oils, and other chemicals.
Meanwhile, the combination of full-grain leather and a high-traction lug sole allows good traction for slippery surfaces.
Also, cork midsoles and leather insoles are great options offered by Red Wing to ensure good comfort and conform to your feet type. They should be the recommended pairs for flat or wide feet.
Toe cap
These Red Wing work boots can come with both moc toes, composite toes, or steel toes. If you want something durable to block heavy objects at the work site, steel toe should be the best choice.
However, comfort is best provided by moc toes and composite toes. While both are good for those who have to walk for hours at the sites, composite toes are a tad more durable and robust for good protection.
Break-in phase
Any Red Wing boot, regardless of the design, needs some time to break in. The brand is notorious for subjecting its customers to an agonizing two-week period as they try to soften the leather and soles. That's because true leather is always tough when it's new.
However, not everyone has the patience for this. People with plantar fasciitis or other foot conditions are discouraged from breaking their shoes in as it can further aggravate the pain. Fortunately, the brand also offers work shoes and sneakers made of softer materials that you can check out!
Price
A Red Wing boot is not the most expensive compared to luxury boots worth thousands of dollars. Still, it's not cheap considering that the brand makes their shoes and boots by hand with a Goodyear welt technique, and using the finest oil-tanned leather.
The makers painstakingly add the pull tab or heel tab, brass eyelets, fancy leather laces, and safety features, and make your work boots black, or brown, or anything you fancy.
Basically, you are also paying for the hours that the highly skilled workers have spent. The good news is that the brand has a line of more affordable light-duty work boots.
Care and Maintenance
Red Wing has its line of leather care products.
That said, be sure to remove all the dirt and grime before actually applying any cleaning agents.
Next, take out the removable footbed and shoelace of each boot. Clean them separately in the washing machine.
Now, pour warm water and Red Wing leather cleaner onto your oil-tanned leather boots. Alternatively, you can apply a bar of saddle soap.
Use a soft bristle brush to rub the lather gently. Feel free to use a toothbrush to reach tight areas.
Let your boots air dry after rinsing off the soap.
A leather conditioner and leather protector are also highly recommended as these products keep the shoes supple and smooth. Furthermore, they help the footwear last longer.
Frequently Asked Questions
How much do Red Wing work boots cost?
It depends on the features, materials, construction, and where it's made. For instance, a pair of steel-toed pull-on waterproof boots costs $159.99, while the Iron Ranger is valued at $349.99.
Are Red Wing boots made in the USA?
Yes and no. To be clear, only the Heritage collection is made in the Red Wing's plant in the US. Meanwhile, the rest are made in factories in Asia, mostly in China, Korea, and Vietnam.
A lot of people are concerned about buying Red Wings made overseas, but I don't see any issues with that. In fact, some of the best Red Wing boots are manufactured abroad. That said, buyers must be informed about where their shoes come from. You can learn more about this on their website.
Can Red Wing boots be resoled?
Generally, if the boots are made with Goodyear welt construction, you can be sure that they can be resoled. However, Red Wing may not repair your boots if another repair shop has already repaired them. In other words, it may void your warranty.
If you have specific questions about repairs and resoling, you can head to the company's website to learn more.
What makes Red Wing Waterproofing different from regular waterproofing?
It depends on which waterproof boots you're looking at. The men's Injex pull-on boots are made from the polyurethane injection process. The other boots have Red Wing Waterproofing technology to keep the feet dry.
This technology uses a 3-layer waterproof membrane that comprises a moisture-wicking material that helps remove the sweat, a foam material that serves as a cushion, and an outer layer that can repel moisture. In addition, the boot's polished leather is treated with waterproofing.
Why do Red Wing work boots come in different heights?
All the boots I featured here are 6″ tall but you can find 11″ Red Wing cowboy boots as well. The height not only adds style to your outfit or provides ankle support but also covers more shin.
Some workers need it for their job. Wildland firefighters, for instance, are required to wear 8″ boots or taller. Other workers need it for weather protection or a shield against abrasive surfaces or bug bites.
Conclusion
People have their definitions and standards that make for the best Red Wing work boots. The criteria often vary depending on the individual's needs. Perhaps you need taller boots for ankle support or a thicker outsole to absorb the shock when you walk 10 hours a day.
In any case, I assure you that this brand has something to offer for every kind of person or worker. After all, they've been in the shoe business for quite a long time. They really understand their customers!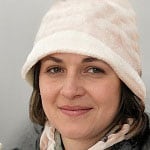 Veronica is our content editor. She is a talent in delivery. Her main work is editing and writing articles that are both informative and simple to follow. She is in charge of synthesizing our understanding of what personal protection equipment (PPE) is needed in each job, how to best apply it, and how to visualize that equipment.