Dealing with mold is never a fun task but it is necessary. With that in mind, you have to make sure you are equipped with the right personal protective equipment (PPE), like the best respirator for mold because it can do a number on your health, particularly on your respiratory health.
Black mold can cause all sorts of health issues. It could come in the form of mild symptoms like coughing, sneezing, and skin rashes that might escalate to serious problems like bleeding from the nose and lungs, compromised immune system, and more.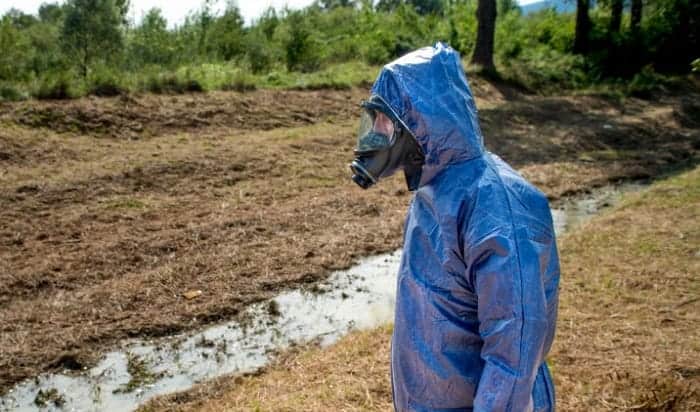 When you are treating certain rooms in your home for mold, you should not only use proper gloves and eye protection. It is also advisable to pay close attention to your respiratory system. In such a case, you need the protection of the best respirator mask for mold.
This will protect you from the microscopic mold spores that are floating in the air in a mold-infested room. If these particles can find their way into your body, they will surely cause a lot of damage.
If this is the first time that you will be out shopping for a mold mask, chances are that you have no idea what to look for. To help you protect your health from the ravages of black mold, here is a simple buying guide and a list of recommended choices for a mold respirator.
Best Respirator for Mold Reviews of 2022
1. 3M Mold Removal Respirator
The first time I used this respirator mask for mold removal, I was amazed by how lightweight it was. This is important, especially if you are doing black mold remediation on your own home. You will be wearing this respirator for hours at a time. That said, it should be light enough that you will forget you are wearing it after some time.
Another feature of this mold face mask that I appreciated is the four-point head harness that is made of strong yet soft elastic bands. These bands hold the respirator against the face properly. This is important in making the face mask create a good seal without being too tight that it bites into your skin.
It also comes with a band that goes over the head, thereby preventing the respirator from sliding down your face. Although this respirator is compatible with all 3M filters (as it should be), I was also surprised to know that it can also use other brands. This is not that important in my case since I always use 3M brand filters.
However, it is comforting to know that I can use other brands in case I could not find anything made by 3M. I rather liked the exhalation valve that is integrated into the mask. It does help draw out the heat and moisture from my breath so it does not feel clammy at all even after hours of work.
If there is anything bad that I can say about this 3M mold remediation respirator kit, it would be about the package not coming with a free complimentary pair of filters. One will most likely assume that it comes with filters since the picture on the package shows the respirator with filters on.
What We Like
Has a four-point harness for a secure yet comfortable fit
Comes with a headband to prevent the mask from slipping down
Can be used regularly for months without any signs of deterioration
Compatible with all 3M filters and filter made by other brands
Comes equipped with an efficient exhalation valve
What We Don't Like
Does not come with free filters in the package
Although the package of this breathing mask for mold did not include free filters (which should be the case in my opinion), I still recommend it based on its many merits. Besides, it is not like 3M filters are hard to come by.
2. 3M Full Face-piece Respirator 6800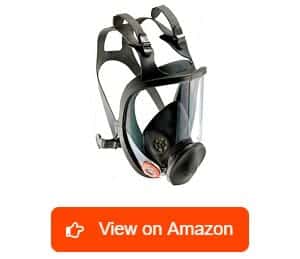 This is a full-face respirator mask for mold and other irritants in the air. I find this choice a lot better than the others because it adequately protects the eyes and the rest of the face, too. It also provides a better seal so it is almost impossible for the wearer to breathe in even a single spore.
Another neat design feature of this respirator is the downward-facing exhalation valve. What makes this feature so great is that it ensures that the exhaled breath will not fog up the outside of the lens. This means that the user can work for hours without the need to wipe off condensation on the outside of the mask constantly.
The lens of this full-face mask provides a wide field of view. Although this is not that important when doing mold remediation, it is still good to have full-face coverage and still get to see almost everything around you. This means that you can respond quicker in case something happens in your immediate vicinity.
This respirator is not just compatible with particle and organic vapor filters made by 3M. It can also make use of other brands. It is nice that 3M uses non-proprietary connectors for their products, allowing for cross-brand use.
The only issue with this full-face respirator is that you can only buy it for commercial or industrial use. This means that unless you work for the purchasing department of a company, you will not be able to get one without a permit.
What We Like
Comes equipped with a clear polycarbonate face shield that is also impact-resistant
Features a soft and wide silicone face seal that conforms to my face efficiently
Boasts of a downward-facing exhaust valve that helps prevent the face shield from fogging up
Features a wide field of view
Can use other brands of filters aside from 3M
What We Don't Like
Not available for consumer use – It is only meant for commercial or industrial purposes.
There are ways to get around the prerequisites of buying this respirator. It is not like you are buying an illegal item, so if you get the chance, you should get this best mask for mold removal.
3. Gerson Mold Remediation Respirator
This is a professional-grade half-face mask for cleaning mold that is available for consumer use. The feature that greatly impressed me was the silicone face mask. It is soft and supple and made of a durable material that will not dry up and crack even when used regularly for months on end.
Unlike the other respirators, this kit comes with not just one pair of pancake particle filters but two. This means that aside from being able to use the respirator immediately right out of the box, it will be quite some time before you go buy more particle filters depending on the extent of the black mold you will be cleaning up.
The included filters are NIOSH-approved and P100 rated. This means that they can filter almost 100% of all solid particles suspended in the air. These include black mold spores. The filters can block particles that are bigger than 0.3 microns.
For comparison, the thinnest strand of hair on the human body is 40 microns and the thickness of a sheet of paper is around 120 microns. I am glad of the soft, adjustable face straps of this product, too. This respirator has a four-point harness that allows you to custom fit it to your face.
The straps are wide enough that they can spread the pressure over a wider area to prevent pinching and discomfort. However, the filters are quite tricky to get tightened. The plastic threads feel like they would get stripped if the filters are tightened too much.
On the other hand, if you eventually get the feel for it, you will be able to get the torque just right that the filters will stay put.
What We Like
Comes with two pairs of P100 particle pancake filters
Can filter almost all foreign particles and quite a majority of smells
Made of soft silicone for reduced weight and increased durability
Promotes ease in making a complete seal around the nose and mouth
Comfortable to use
What We Don't Like
The filter connectors are a bit flimsy.
You will eventually learn how much torque it will take to tighten the filters properly. Once you do, you can maximize all the potential benefits provided by this affordable yet very effective respirator.
4. 3M 62023HA1-C Multi-Purpose Respirator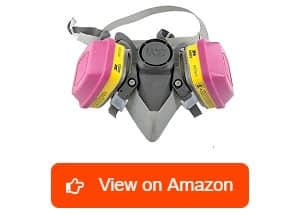 This respirator mainly comes with a pair of NIOSH-approved, P100 rated filters. These filter cartridges can filter up to 100% of all airborne solid particles. The cartridges can also block chemical fumes and vapors, making them the best choice for mold remediation.
The exhalation valve has a cover that redirects the breath of the user downward to prevent eye protection from fogging up. This means that even if you are a heavy breather, you do not have to worry about your safety goggles always fogging up whenever you take a deep breath.
This P100 respirator is perfectly balanced. You can rest assured that it does not feel lopsided when worn. All the straps provide the same amount of tension. Another thing that I am sure you will like is that once the filter cartridges are installed, their weight will be equally distributed on both sides of the respirator.
What impressed me the most and proved that 3M put a lot of thought on the ergonomics of this 3M mold and lead paint removal respirator is the design and positioning of the filter cartridges. The cartridges have a "swept back" design. This means that the cartridge tapers to the front.
This is a big help in providing more visibility for the wearer. However, this would have been the perfect kit if only the filters have some sort of indicator to tell if it is already full or if it is not working right. It could be something like a color-changing indicator to tell the user to replace the filters as soon as possible.
What We Like
Ergonomically-designed filters for enhanced visibility
Comes with a pair of NIOSH-approved filter cartridges, so you can use them immediately
Boasts of a perfectly balanced and lightweight construction
Comes with a downward-facing exhalation valve cover
Equipped with comfortable and adjustable straps for the perfect fit
What We Don't Like
Quite hard to tell when the cartridges are full
The issue with the filter cartridges is a bit nitpicky and that is because there is not that much to complain about. This black mold mask is as good as it gets and you should invest in one as soon as possible.
5. RNF Supply Disposable Dust Mask Particulate Breathing Respirator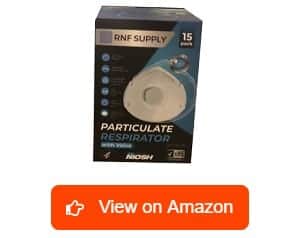 Disposable respirators usually come in one size but they do not usually fit all head sizes. This product is an exception. This ultra-low-profile dust mask for mold can mold into the shape of your face. This mask also has an adjustable nose clip that helps create a perfect seal around the nose and mouth.
I like that this is an N-95 particulate respirator that is certified by the NIOSH. This means that you can safely use it in projects that will put you in danger inhaling some harmful irritants in the air, like when you are doing mold remediation in your home.
This is a disposable mold protection mask so you do not have to worry about not knowing when to replace the mask. It is because it is highly recommended that you use a fresh, new one for every project.
Even if one of your projects did not take that long to finish, if you want to be completely safe against the effects of black mold, it is still advisable to use a new mask to be extra sure. Unlike most other disposable respirators, this has an efficient exhalation valve that effectively draws out every breath I exhale.
I have worn this many times and every time, it is always dry and cool inside. The only complaint that I have is that the elastic bands that hold the N95 respirator for mold in place are not adjustable.
The bands do have enough tension for the average person's head but a larger person might want the bands a bit looser. Also, someone with a narrower face would probably want the bands to be a bit tighter.
What We Like
Made to be disposable for hassle-free use
Can fit almost all head sizes
NIOSH-certified as N95 particulate filters
Features a proper exhalation valve
Comes with ample interior padding for added comfort
What We Don't Like
The straps are not adjustable.
The issue with the straps would not bother you if you don't have a massive or narrow face. However, if you do then you should consider getting other options. Still, no one can deny that this disposable respirator works as advertised and based on what it initially promises to potential users.
6. GVS SPR456 Elipse P100 Dust Half Mask Respirator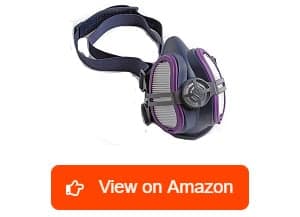 This is one of the most unusual respirators that I have used in a while. The face cup is very much unlike the shape of most brands like 3M and it uses odd-shaped proprietary filters. However, that does not mean that it does not feel uncomfortable at all.
For someone that usually uses 3M masks like me, though, this will feel strange but in a good way. Although it looks and feels weird at first, this respirator is made of soft silicone that makes it extremely comfortable to wear. The straps of this dust mask are also soft and easy to adjust.
Just wear the straps around your head and then pull on them to tighten or pull on the plastic buckles to loosen. Because of this mask's low-profile shape and curved filter cartridges, I got a larger field of view compared to other respirators that I have used so far.
This is great when working in environments wherein you need to have a complete awareness of your surroundings, like in construction sites or work areas where there are lots of foot traffic. I like that this respirator comes with its compact carrying case, an accessory that you do not usually see with other respirator brands.
You can conveniently clip this carrying case onto your belt so you can work around the job site with this on. This will also let you wear the respirator whenever it is needed. Furthermore, the package comes with a white, resealable plastic bag that you can use to store the respirator.
This is most likely due to the unique shape of the mask, which is why getting the sizes correct is a bit tricky.
The only thing that I have a legitimate complaint about is the weird sizing system. There are tales of people who cannot seem to find the correct size. It is either the mask is too small or too large for them even though they followed the sizing chart provided by the company.
What We Like
Has a low-profile shape that allows for better visibility
Extremely comfortable and easy to adjust
Boasts of a low breathing resistance for ease of use
Comes with a protective carrying case and storage bag
Features a unique shape that provides good sealing
What We Don't Like
The sizing system is confusing and often does not help at all.
Although the sizing system is a bit off, one can just send it back for replacements. Once you get a mask that fits your face perfectly, you might not want to use other respirators for mold protection ever again because of how great this specific choice is.
7. Zelbuck Respirator Mask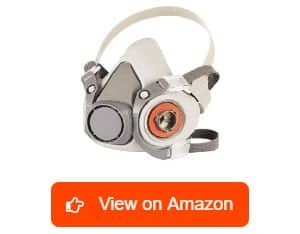 The best thing about this respirator is that it comes with a free pair of safety goggles, which I have not seen being offered by other brands. What makes this deal even more amazing is that the safety goggles are not like the cheap ones that are not worth writing home about.
You will be getting proper, professional-grade, safety goggles that are valued at $15 if bought separately. Aside from the goggles, I also loved that the package came with six pairs of particle filters (NIOSH-certified N95) and a pair of organic vapor filter cartridges.
I can stack the filters on top of each other for a dual-layer of protection or just the organic filter alone. One can also buy pancake particle filters if the user will only be dealing with solid irritants and not chemicals. Speaking of filters, although the respirator came with free Zelbuck filters, it can still use other filter brands.
This is great because not all people are aware of the Zelbuck brand (although this has been distributed in many other countries around the world) and would rather use familiar brands like 3M.
Although I tend to use other filter brands, the ones provided by Zelbuck are pretty good, too. The cotton particle filters are all certified by the NIOSH and rated at N95, as do the organic vapor filter cartridges. If you are unfamiliar with the brand, you can take my word for it. These filters are legitimately effective.
I only have one complaint and it is about the silicone face seal. I discovered that it is not as soft and supple as other brands. With that in mind, you might need to adjust the straps a bit tighter to get a good seal, making this respirator a bit uncomfortable especially when worn for an hour or so.
What We Like
Comes with a high-quality pair of safety goggles
Equipped with plenty of spare particle filters
Features an efficient exhalation valve that draws out heat and moisture
Can be used immediately right out of the box
Can use other brands of filters if the user needs or wants to
What We Don't Like
The silicone face seal is not as soft and supple as other respirator brands.
Although the face seal does seem to be harder compared to other brands, you can still rest assured that once you break the respirator after a couple of uses, it does get more comfortable to use. This is fortunate because this is a great PPE.
8. 3M Ultimate FX Full Face-piece Respirator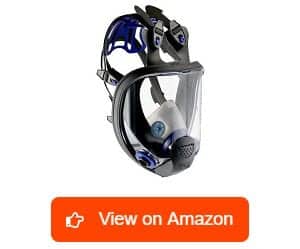 This full-face respirator may seem uncomfortable to wear but that is not the case in reality. First, I love the soft silicone face seal. It does a great job of conforming to the shape of my face and creates a good seal that prevents even one speck of airborne irritants from getting inside.
Secondly, I love the patented Cool Flow valve. This feature helps in getting rid of the heat and moisture coming from one's breath. Even after almost an hour of use, the inside of the mask is still dry and cool.
I also liked this respirator's face shield. Because it is made of impact-resistant polycarbonate, the shield can also work as protective goggles in case you will be working inside hazardous work sites. The lens was also coated by the 3M Company with a special material that prevents paint and other materials from getting onto the lens.
I am also pleased to say that it has a built-in passive voice diaphragm that allows for clearer voice transmission. This will let you talk to other people without having to take off the respirator. This is a nice feature in case you are planning to work with other people.
The only bad thing that I can say about this respirator is that it tends to get a little toasty inside, so you might want to rethink using this during very warm days.
What We Like
Has a comfortable silicone face seal
Comes equipped with a Cool Flow valve that helps keep the inside cool
Features a face shield made of clear, fog-proof, impact-resistant, and stain-proof polycarbonate
Has an efficient passive voice diaphragm
Equipped with a six-strap harness for a secure fit and head cradle for better positioning and comfort
What We Don't Like
The filter connectors are a bit flimsy and might snap off if turned too tight.
Many consider this flaw as tolerable, though, because the numerous features and cool benefits provided by this respirator more than outweigh such weakness.
What is a Respirator for Mold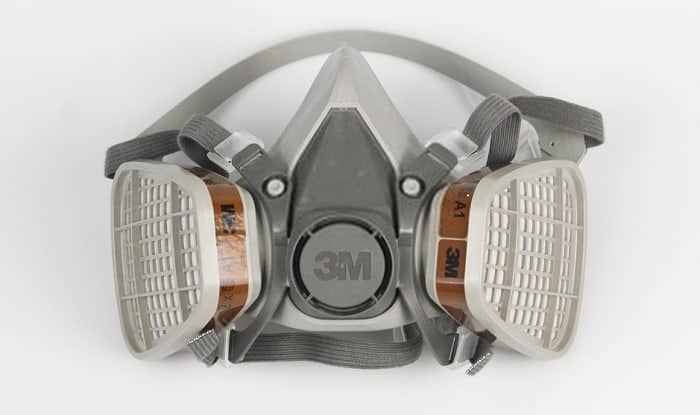 A respirator is a type of PPE (Personal Protection Equipment) designed to protect its user from accidentally inhaling potentially dangerous microscopic particles that are suspended in the air around him. Some examples of these harmful particles are dust and dirt, harmful airborne microorganisms (bacteria and viruses), and chemical fumes, vapor, and gases.
Respirators are invaluable pieces of equipment especially when you are dealing with any kind of mold. When you are doing mold remediation, the dangerous stuff is not the mold that you can see on the walls but the ones that you cannot see. Mold multiplies and spreads by releasing their spores into the atmosphere.
These microscopic particles cannot be seen by the naked eye. However, with the help of respirators and other PPE, you can work in an environment that is teeming with mold without fearing for your health.
A good respirator will be able to block even the tiniest mold spore while still allowing you to breathe normally and without any difficulty whatsoever.
How Does the Respirator for Mold Work
Respirators (the air-purifying ones) work by forcing the outside air through a filter (or two) to capture the potentially harmful particulate matter in the air. This can prevent them from reaching the nose or mouth and cause an extensive amount of damage.
The filters are usually made of a cotton outer material and a finer mesh material inside. The filter mesh is usually made of synthetic fabrics and plastics. Filters are made by starting with an already fine (usually) polyester mesh, which is charged with static electricity and then it gets a sprinkling of ultra-fine plastic fibers.
The plastic fibers stick onto the static-charged polyester mesh, creating a random lattice pattern that is still very porous but will only let small particles through. In the case of N95 filters, the lattice pattern is so dense that only particles that are smaller than 0.3 microns can pass through.
To give you some perspective on just how small that is, a sheet of copy paper is around 150 microns thick. The filter is efficient enough to block most bacteria, so keeping mold spores out is not that difficult for it.
Most respirators, even the disposable ones, come with exhalation valves. This one-way valve allows your breath to escape outside. This helps keep the inside of the mask cool and dry while preventing dangerous CO2 buildup inside the mask.
When you are working on mold remediation or any similar task, having a cool and dry respirator will allow you to work continuously without having to take a break every fifteen minutes or so just because the inside of your respirator has gotten hot and clammy.
Types of Respirators for Mold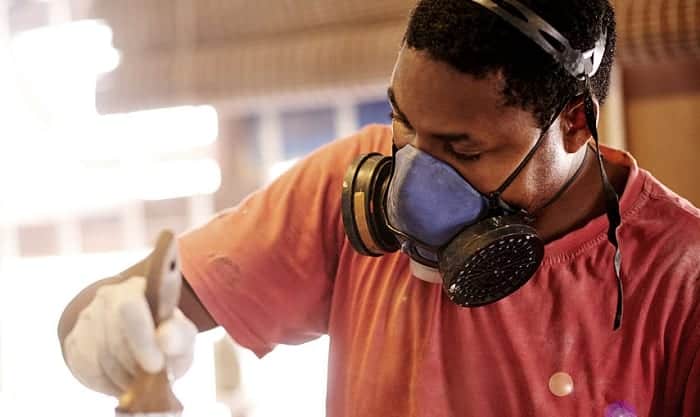 There are fundamentally two types of respirators – the air-purifying and supplied air respirators. Air-purifying respirators force outside air through a filter before it is inhaled by the wearer. Supplied air respirators rely on a supply of clean air from an external source that is some distance away from the work area.
It is pretty much like how SCUBA gear works but for land. However, when you ask regular folks about respirators, the first things that come to their minds are the air-purifying ones. Air-purifying respirators come in different shapes and designs. There are disposable respirators that work almost as well as the reusable ones.
However, you can only use them one to three times depending on how severe the contamination is. There are also the half-face masks that cover only the nose and the mouth but unlike disposable respirators, you can reuse them multiple times.
One important thing to remember, though, is that you need to replace the detachable filters frequently. Then there are the full-face respirators. These come with a huge face shield that covers the entire face. This type of respirator is used when the irritants in the air can affect the eyes and the skin around the face.
These are usually used by professional mold and/or asbestos removal teams because of the potentially hazardous materials that they handle. Each of these types of respirators has its particular uses. When you are shopping for one for your use, think about what you will be using the respirator for.
Why Do You Need a Respirator for Mold
If the infestation is not that bad yet, you can probably do the mold remediation on your own. However, you will need to use the proper equipment and protective gear. The most important of all is to use the right respirator.
You should never handle any kind of mold without protecting your nose and mouth first. It is because the inhalation of mold spores can lead to a lot of serious and sometimes fatal illnesses, like:
Difficulty breathing
Sneezing and coughing uncontrollably
Asthma
Aggravated allergic reactions
Rashes
Migraine headaches
All sorts of body pain
Fever
Rashes
Those issues may appear just from your regular kind of mold. If you have the dreaded black mold in your home, the effects could be a lot more serious. For one thing, black mold spores contain a certain type of neurotoxin. This means it is a poison that affects the brain and the rest of the nervous system.
Black mold exposure can cause all sorts of ailments, like:
Irreparable damage to the brain's neurons – Mold inhalation usually results in sudden mood swings, irritability, trembling limbs, and other neurological glitches.
Compromise the immune system – Black spore mold, when inhaled, might suppress the person's immune system, making him more susceptible to different kinds of illnesses.
The shutdown of the immune system – Worst case scenario, inhalation of black mold spores can cause the immune system to shut down, thus causing the rest of the person's vital organs to follow. This will most likely lead to death.
You should never underestimate the effects of mold on the human body. Because the primary route that the spores take is through the nose and mouth, you will need to use proper breathing protection to prevent them from getting inside your body.
Buying Guide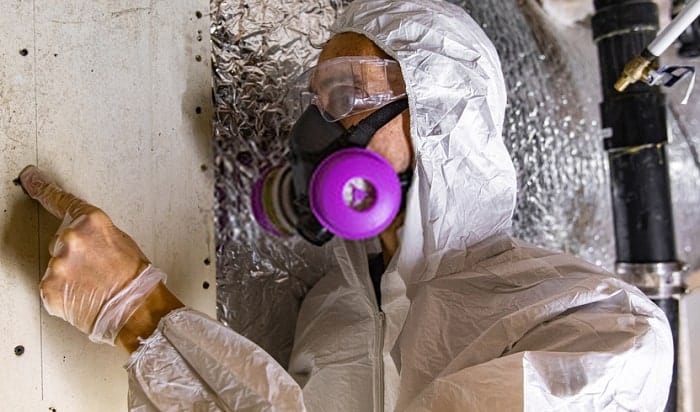 Because there are so many different brands and models of respirators out there, picking just one for your personal use can be a bit difficult. However, when you know what makes a good respirator, shortlisting your options will be a lot easier.
Here are some pointers about the qualities that you need to look for when you are shopping for a new respirator:
NIOSH certification – This is the most important quality that you need to check before you pick a respirator. Dust masks and respirators need to come with a NIOSH (National Institute for Occupational Safety and Health) certification because this is proof that the product has undergone rigorous testing and passed.
Ideally, the mask that you get should be rated N95 or P100 by the NIOSH. This means that the filters can block 95% to 100% of all airborne irritants. Never use filters that are not certified by the NIOSH as you will be putting your health on the line if you do.
Some filters claim that they are N95 or P100 equivalents. However, since they are not truly NIOSH-approved products, you may use them at your own risk.
Comfort – You need to put a premium on comfort when shopping for respirators. You have no choice but to wear the thing for extended periods, so it might as well be comfortable, right?
While you are shopping, look for the ones that have face masks made of soft silicone. Remember that the softer, the better. Soft silicone is not just very comfortable to wear. It also makes a better seal around the nose and mouth. Other features that you should look for are multiple harness straps that will keep the mask in place.
The more straps (but no more than six), the more effective they will be in spreading spread the pressure more evenly over them. You should also take note of how much the respirator weighs. As mentioned before, you will be wearing the respirator for hours, so it should not be so heavy that you will have a crick in the neck once the day is done.
Ease-of-use – Respirators should not be complicated at all. They should be so easy to use that one can utilize the product the moment that they come out of the packaging. For reusable respirators, the straps should be easy to adjust. You should be able to tighten and loosen them easily.
The filters should also be easy to replace. Furthermore, the respirator should be able to use other filters from other brands, so that you can find replacement filters almost anywhere.
Additional Features – Once you have finished checking for the basic features that a good respirator should have, you can now turn your attention to the non-essentials. These are the features that you can live without.
However, because these features seem to provide more in terms of comfort and wearability, you will be doing yourself a disservice by not availing of them. Such additional features include ergonomically-designed filter cartridges that help guarantee an improved field of vision.
This is a good idea because sometimes, the filter cartridges are so thick that you might not be able to see the things that are directly below your face. Another neat optional feature is a passive voice diaphragm. With this feature around, you can easily talk with other people in the vicinity.
If you will be getting a full-face respirator, the face shield should also be impact-resistant so that your face is protected against any debris that comes flying straight at you. The shield should also be fog-proof so you will not lose your visibility whenever you take a particularly deep breath.
If you will be buying half-face respirators, check the nose area of the mask. It should not be so rigid that it will not conform to the shape of your face. However, the nose area should still be rigid enough that when you wear safety goggles over your respirator, it will not get bent out of shape.
Breathing Resistance – Speaking of breathing, the respirator that you buy should not restrict your breathing that much, if at all. Ideally, even when wearing the respirator, you should still be able to breathe as you would when not wearing it.
Just because you are using fine filters, remind yourself that such does not instantly mean that it will also cause you to have a hard time breathing. The filters can only block solid particles, not air molecules.
Inclusions – Many brands of respirators come in all-in-one packages. This means you will have everything that you need right out of the box. You will get the respirator and a pair or more of filters. Some even come with carrying cases while others feature safety glasses.
With that said, some brands offer respirators only. This means you have to buy the filters separately. This would not be much of a problem if you were buying respirators from a brick-and-mortar shop because the attendant will most likely tell you that you need to buy filters.
However, this is not the case when you are buying from online shops. There are lots of scathing customer reviews from people who feel they were cheated because the respirators they bought did not have filters when it clearly shows filters in the picture on the packaging.
The moral lesson here is to read the product descriptions carefully. Check if the package content lists everything that you think you will be getting.
Cost – One thing you have to constantly remind yourself of regarding cost is that more expensive respirators do not necessarily and immediately mean that they work a lot better than others. There are even instances when a cheaper brand of respirator works almost as well as the more expensive brands.
In this case, the best course of action is to buy the most expensive respirator that you can afford – that is if you will be using it regularly. Now, if you do not think that you will be using the respirator that often, you should get the most expensive branded respirator that you can find.
Care and Maintenance
Respirators are meant for industrial-grade work, which is why they are built tough. These pieces of equipment do not require that much in terms of maintenance but that does not mean that they do not need it entirely.
If you are using disposable respirators, know that you can only use it a couple of times. Ideally, you should only use them then dispose of them, especially when you use them in an environment that is teeming with particle matter in the air.
Never reuse respirators that have been used in the remediation of toxic materials, like black mold and asbestos because they might contaminate the rest of your gear. You might get infected as well.
Because disposable dust masks/respirators usually come in packs of more than 10 pieces each and you will only be using it for a day or so, there will be some respirators left over. You need to store them properly so that you can still use them in the future.
You need to tie off the end of the plastic packaging, place the entire thing in a plastic bag, and tie off the opening. Store the respirators somewhere that is cool and dry.
For reusable respirators, take note that the only reusable part is the mask itself. The filters are replaceable and disposable. Never try to wash and reuse filters. They do not work that way. The particle filters can only be used up to three times, ideally just once.
Also, the organic vapor filters need to be replaced after a certain number of uses depending on the manufacturer. Usually, you need to replace them when you are having a harder time than usual breathing with the respirator on.
The process of cleaning reusable respirators is quite simple. Just take a clean piece of cloth, dampen it with some clean water then wipe the inside of the mask completely. No need for soap or any kind of solvent. Silicone is stain-resistant and dirt-proof already. You just need to wipe away the surface and it will be good to go.
When placing the mask into storage, you need to clean it thoroughly. Let it dry and place it inside an opaque plastic bag, tie off the end, and place it in a cool and dry place where it is not exposed to direct sunlight.
Frequently Asked Questions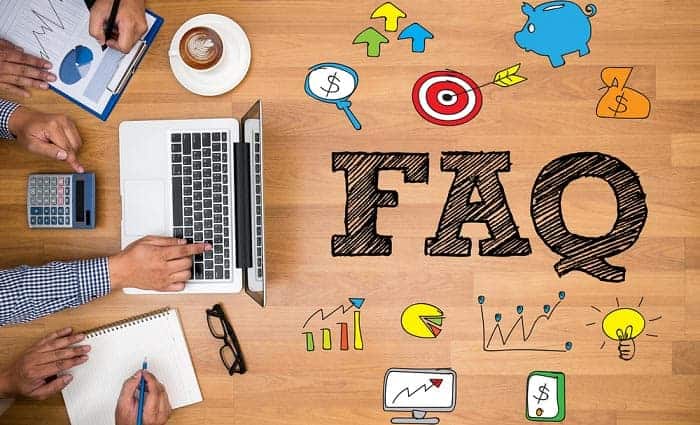 What do you wear around a black mold?
When you are dealing with black mold, you need to protect your whole body as much as possible. You should wear coveralls, ideally one with a hood. On your face, you need to wear an appropriate respirator. Also, you need to wear eye protection as the spores can find their way into your body through your eyes.
You need to be covered from head to toe. Regarding the face mask, you should only wear N95, or better rated, face masks or respirators. You need to protect your nose and mouth because these are the entrances that black mold spores usually take to get inside your body.
A good respirator should be rated by the NIOSH. This type can filter almost all particulate matter in the air. When it comes to dealing with black mold, one does not need to use organic vapor filter cartridges at all.
The spores are still solids so the filters will most likely be able to block them. It will be fine to just use disposable N95 or P100 masks for when you are dealing with black mold infestations since you will only be working on them for a day or two.
Does a dust mask protect you from mold?
If the dust mask is rated N95 or P100 by the NIOSH, then yes you can use it to protect yourself from the mold. N95 masks are capable of filtering particles that are no smaller than 0.3 microns. Because the average size of mold spores is between 3 to 40 microns, which is much larger than the holes in N95 filters, you have a guarantee they can't go through.
It does not matter if you will be using disposable or reusable respirators. If their filter elements are NIOSH approved and rated either N95 or P100 at least, then they will be able to protect you against mold no problem.
What is the warranty?
Reusable respirators usually have warranties that cover factory defects. This means if the respirator fails not because of human error, then you can get either a replacement unit or a full refund.
However, some manufacturers provide full refunds for people who discovered that they are not quite as satisfied with the quality of the respirator as they thought they would be. Many companies provide complete refunds or replacement units for as long as two weeks.
If you are not fully satisfied with the product, you can get a refund immediately without any questions. If you can find a good product that also provides a good warranty period and coverage then you should consider getting that respirator immediately.
Where to buy a respirator for mold?
You can easily buy respirators in your local hardware store where you can probably find a few brands and manufacturers. If you are lucky, your local store will have a particular brand that you want. However, this is not usually the case.
If you intend to get the brand of respirator that you wanted in the first place then you need to buy it from online retailers like Amazon, eBay, etc. The biggest benefit of online shopping for respirators is that you can get hundreds of different suggestions just from one site. You can also obtain them at bargain prices quite often.
However, the problem with online shopping is that you do not get to hold and test out the product before you buy it. When going online shopping, you need to take in as much information that you can get to make an informed choice.
When you are buying from a brick and mortar shop, you can find people who will be more than happy to provide you with the info you need.
Conclusion
Mold remediation is something that is ideally left for the professionals but if the infestation is not that extensive yet, then yes, you can do it yourself. However, you should equip yourself with the best respirator for mold that you can find.
There are a multitude of health problems, some of which can be fatal, that you can get from inhaling mold spores, especially if you are dealing with black mold. With the help of a good respirator though, you will be able to go ahead with the remediation processes without having to worry about any adverse effects.