Professional tradesmen need to use a lot of different tools for their respective fields. Some need more than others. For instance, mechanics need to have access to a lot of different-sized wrenches, sockets, screwdrivers, and other tools. Most of the time, regular tool bags or belts are not enough to hold all the tools that they will need.
This is why experienced mechanics know the value of the best rolling tool box and how it helps make their lives easier. Now, why would mechanics need a rolling tool box? Simply put, it just makes the work a lot easier.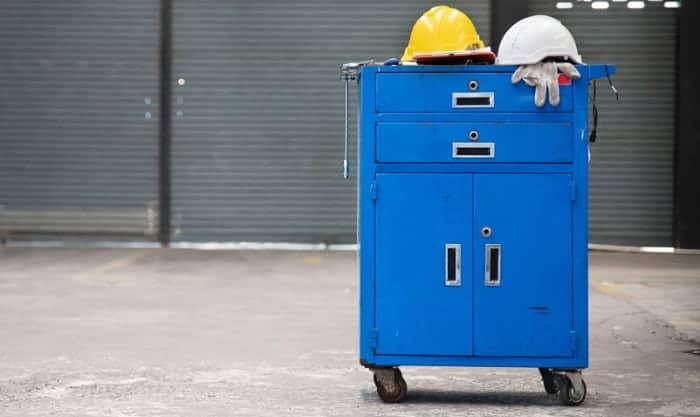 Also, because there will be times when you need full access to all your essential tools while you are on the field and rather than bringing multiple small tool boxes, it is best to have just one roll-around tool box. If you believe that you deserve to get one of these tool boxes for your own, then learning how to pick the best one should be the first thing you should do.
The best tool box on wheels will not be cheap, so you need to know as much about rolling tool boxes before you go shopping for one. This will prevent you from feeling as if you have been duped into buying a sub-par tool box later.
Best Rolling Tool Box Reviews of 2022
1. Stalwart Heavy-duty Rolling Tool Box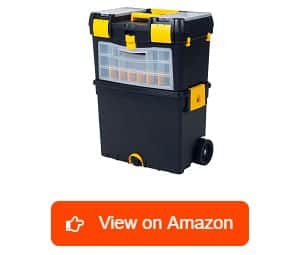 The first rolling tool chest on our list has an impressive amount of storage space. I am glad that it comes with two dozen small compartments for minuscule items like nuts and bolts, screws, fuses, and other things that you usually use in your job.
I also like that the entire thing is made mostly of very strong polypropylene mold-injected plastic and a bit of metal hardware. This tool trolley is so rugged that even if you accidentally drop it on the ground, the covers will not pop open. None of your tools will spill out and the containers will survive relatively unscathed.
This roll-top tool box also comes equipped with beefy two 4.2-inch nylon wheels so you can bring this tool box almost anywhere without any hassle whatsoever. It also comes with a fold-down handle that makes it very easy for users to pull the tool box behind them.
Other little details that I appreciated in this rolling tool box are the small cable hooks where you can place the cords of the power tools. There is one at the back and two along the side.
The only thing that future buyers need to be aware of is that this might not be the best choice for storing heavy tools. The plastic is not thick enough for carrying heavy iron tools around. They will most likely crack. This is best used for light to moderate tasks only.
What We Like
Plenty of storage space for your tools
Lots of tiny compartments for small tools and items
Comes equipped with beefy nylon wheels for all-terrain action
Features an ergonomic handle that folds down when using the tool box
Has cable hooks for keeping them untangled
What We Don't Like
Not meant for carrying heavy tools
If you will not be carrying heavy tools like pipe wrenches and you are more likely to use this tool box for carrying hand drills and other light tools, then this might just be the one you need.
2. DEWALT Tool Box with Wheels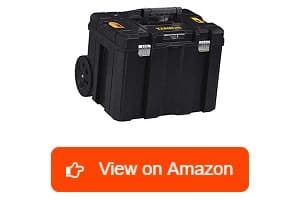 This is a part of the DEWALT Tstak series of stackable rolling tool boxes and accessories. This product is a deep box with built-in wheels and a telescoping handle. It acts as a trolley with a deep bucket for storing tools. It is deep enough to carry different small and medium power tools at the same time.
As with the other products that come from DEWALT, this can endure quite a lot of punishment, making it one of the best rolling tool cart. It is made out of very tough and durable polypropylene plastic, which can absorb quite a lot of shock, making it perfect for busy worksites.
Speaking of rough environments, this rolling tool box comes equipped with two 7-inch diameter wheels. These wheels are made of solid rubberized plastic. This allows me to bring my tools on worksites where the ground conditions are not the most ideal, i.e. on barren rocky terrain or the grassy ground.
The handle of this husky tool chest is made of heavy gauge aluminum and it feels sturdy when extended. Even when the box is loaded to capacity, I can still get the wheels rolling without a problem. I also like that the cover is securely kept close by stainless clips and that there is a provision for inserting padlocks.
The thing that I did not like about this product is that there are lots of plastic reinforcing pieces that protrude inside the box. These tabs prevent the user from using the full dimensions of the box for storage as they will wedge against anything that you put inside.
What We Like
Made of heavy-duty plastic
Has ample space inside the box for several power tools or dozens of hand tools
Comes equipped with 7-inch wheels that can roll over rough terrain with ease
The lid is kept closed using stainless clips and can be secured using a padlock.
Has a beefy aluminum telescoping handle
What We Don't Like
The full capacity of the deep box cannot be utilized.
Despite the minor issue regarding the reinforcing tabs, this deep box can be a good addition to any tradesman's arsenal of tools, especially if you already own Tstak products.
3. Keter Masterloader Resin Rolling Tool Box
The quality of this rolling tool box that I liked is that it is made of thick and durable polypropylene resin. This material is very lightweight while still being resistant to shock and is completely waterproof. This means that anything that you place inside this tool box will be well-protected.
Another feature that I liked (when it worked) is that there is a central locking system. I only needed one tough padlock to keep all compartments, even the ones on top, securely closed. I also like the beefy handle that extends out of the side of this rolling tool box. This metal handle is tough enough to carry the tool box even when it is full of heavy tools.
The lid also has built-in tool organizers for your small tools and other items. This is my favorite feature as I do not have to dig into the main compartment when I am looking for one particular tool. These organizers also have their clear lids to keep them from spilling out when I am moving the tool box around.
I would have considered this as the best portable rolling tool box if the central locking mechanism is improved. It is very flimsy and will break after just a couple of uses. The mechanism in mine broke after a couple of weeks. Fortunately, the lid can remain closed without it.
What We Like
Made of sturdy and durable materials
Features tool and materials organizers built into the lid
Has a lot of storage space
Comes with a sturdy handle and beefy wheels for portability
The lid slides open to allow access to all compartments.
What We Don't Like
The locking mechanism is very fragile.
Despite the locking system being the way it is, this box is not half bad. It has a lot of storage space and organizational compartments. It is durable and very portable, so you should at least give it a try.
4. Stalwart Stackable Rolling Tool Box
What I immediately noticed when I first got this best rolling tool box for electricians is the impressive amount of storage space that this has. There is a deep storage tray on top, which is ideal for storing small tools and materials. There are also two slide-out drawers that you can use to store even more tools like wrenches and screwdrivers.
There is also a large tilt drawer that is deep and wide enough to carry several pieces of power tools. There is a little detail added in this tool box that I found useful and that is the cable hook attached at the back. It helps because I carry around a rather long extension cord for my power tools.
This tool box is also built using very durable materials. The sides are made of sheet metal and the frame is made of very strong polypropylene resin. This makes the tool box lightweight while remaining strong.
The best part about this rolling tool box is that the components can be disassembled and used separately if needed. For instance, if you will not be working on the field, you can place the top and second layers on your workbench so that your tools are easily within reach.
The biggest issue that I have with this tool box is that the built-in drawers tend to get stuck on their tracks. The rollers are not that well-made and they tend to bind up on the tracks so I have to force the drawer to open and close.
What We Like
Has a lot of storage space
Can be disassembled for easy use
Comes with a cable winder at the back
The tilt bin can carry lots of power tools and is easily accessible.
Made from sturdy and strong materials
What We Don't Like
The drawers usually bind up
The issue with the drawers is easily remedied using a bit of grease or just replacing the tracks but do not let that dissuade you from giving this tool box a chance. Just the sheer amount of storage space this has is enough to convince most people to give it a try.
5. Stanley STST18613 3-in-1 Rolling Workshop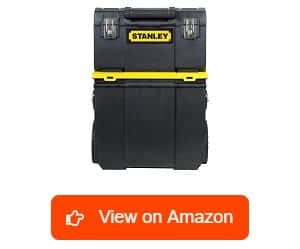 I like the quality build of this rolling tool box. As with the other products that have Stanley branding, this one can last for many years of service. The main body of the tool box and its separate components are made of tough and durable polypropylene plastic. This provides enough protection against impacts and is also completely waterproof.
The compartments can be used on their own, which is also a great feature. You can just use the organizing tray or if you just need hand tools, you can bring the tool box with you. You do not always have to bring all three components if unnecessary.
Now, when I do need to bring the whole rolling tool box with me, I do not need to worry about them falling apart while I am rolling it along, thanks to the heavy-duty metal side and front latches. These hold the bins securely together. Even if I drop the cases accidentally, the latches will not let go.
The wheels are also large and lift the tool box off the ground so that the bottom would not scrape the surface when you are pulling on the telescopic handle. The wheels are also made of solid rubber so they can absorb quite a lot of the road shock.
The only problem is the axle that holds the wheels in place. It is very thin and flimsy, so much so that when you load the bin with heavy tools, it will make the tires bow inwards. This often causes the bottom of the case to hit the ground.
What We Like
Made of tough and durable plastic
Comes with three shortage compartments
Each compartment can be used on its own.
Has a lot of storage space for both small and large tools
Big beefy wheels can roll on any terrain
What We Don't Like
The axle holding the wheels is flimsy.
Even though you cannot load this tool box with extremely heavy tools, this kit will still do fine if you will only be using it for not-so-heavy tools like electric drills and hand grinders.
6. DEWALT DWST20880 Rolling Mobile Work Center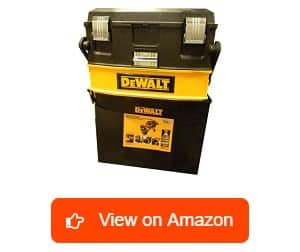 The thing that impressed me the most about the DEWALT rolling tool box is that it can turn into a mobile workstation with just one smooth motion. You can have access to all three compartments without having to disassemble them. It can also stand on its own which is a neat feature.
Another thing I liked is that there is plenty of storage space available. The top tool box can hold a dozen or so pieces of hand tools like screwdrivers, pliers, hammers, and other basic pieces. The middle is like an organizer drawer. There are lots of small compartments for small tools and items like hex keys and screws.
The bottom is a deep bin that can hold lots of different hand power tools. Another feature that I like is that this tool box is sturdily built. The bins and tool boxes are also made using tough and impact-resistant plastic, which makes the entire thing lightweight yet strong.
The most important part of any rolling tool box is the set of wheels and this comes with heavy-duty ones so it can roll into any kind of job site. The telescopic handle is also quite robust. I did not feel like it would snap even when the tool box is loaded to capacity.
The only thing that I did not like is that the compartments cannot be separated. This prevents me from accessing the entire storage compartments. I need to rummage to get the items that are pushed to the back.
What We Like
Can transform into a mobile workstation
Made from heavy-duty plastic and steel
Lightweight while remaining strong
Has all-terrain wheels and robust handle for improved portability
Can be locked with just one latch
What We Don't Like
The compartments cannot be separated
If you do not use that many tools for your job, then this rolling tool box might be too much. However, if you use a lot of bulky tools and a couple of power tools, then this will be the perfect fit for your needs.
7. Milwaukee 48-22-8426 Packout Rolling Tool Box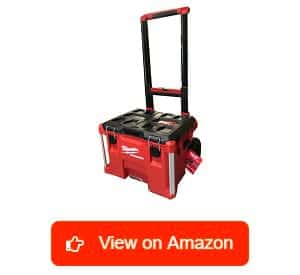 This rolling tool box is just the base part of Milwaukee Tool's modular system. You can purchase the other parts separately if you need even more storage space than what this bin already provides.
Just looking at the tool box itself, I can already tell that this will be a tough and heavy-duty piece of kit. The main body of the tool box is made of durable injection-molded polypropylene resin plastics, which is not only resistant to impact but also weatherproof.
There are also metal reinforcements at the corners so that when additional boxes are stacked on top of it, the sides will not buckle and collapse. It is possible to stack four additional boxes on top of the storage bin base without it failing.
In terms of the amount of storage space, you can stick an amazing number of power tools inside the bin and still have space for an interior small parts organizer (which is also sold separately). This is the beauty of this modular system. You can customize the amount of storage as you see fit.
The only complaint that I have about this item is that the organizing trays should have been included in the kit and not be a separate purchase. They are only made of molded plastic so they should not have cost that much to manufacture.
What We Like
Very sturdily built
Made of high-quality polypropylene resin that will not shatter nor crack on impact
Features metal reinforcements at the corners
Has a deep and wide central compartment for power tools
Made with a modular design that allows more tool boxes to be stacked on top of this one
What We Don't Like
The internal tool trays should have come free with the rolling tool box.
Although it is quite a cheap move to not include the internal organizer with the tool box, there is no denying that this product is top-notch and will be a great addition to anyone's work arsenal.
8. Goplus 6-Drawer Rolling Tool Chest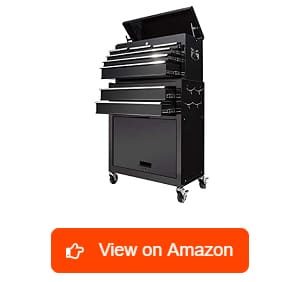 This is a professional mechanic tool box, which means that it can hold all the tools that you will most likely need for your work. Although it is a rolling tool box, it is not quite as portable. The solid plastic casters are made primarily for rolling on concrete floors and not for the ground.
I am happy that there are plenty of storage options available. First, there is a shallow compartment on top for holding small hand tools or other miscellaneous items. You can also find several shallow drawers that are useful in storing and organizing your other tools like wrench sets, screwdrivers, and others.
The bottom bin is meant for holding large tools and other items. This is large enough to carry several pieces of power tools, like impact hammer drills and angle grinders. Even circular saws can fit inside the wide storage bin.
The thing that I truly liked about this product is the quality of construction. This tool chest is pretty well-built that it can rival similar products from much more expensive brands. The only issue that I have is that this is quite small, so it is not suitable for master mechanics or any other profession that needs storage for dozens of different tools.
What We Like
Made entirely of thick gauge sheet metal
The entire cabinet is powder-coated for a more durable finish.
There is plenty of storage for regular handymen.
Comes with solid plastic casters that glide over concrete
Has excellent build quality
What We Don't Like
Quite small, not enough storage for master mechanics and the likes
Although this tool chest is smaller than the professional-grade ones, if you are just a hobbyist or a homeowner who likes to tinker around with his car, then this will serve your needs just fine.
9. Sharper Image Rolling Tool Box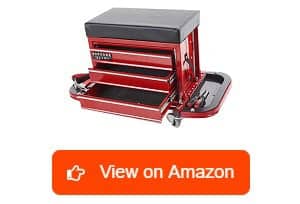 This is probably the most unique rolling tool box that I have ever seen and I did not know I needed it until I saw it. This is the ideal tool box if you are a mechanic who works mainly on motorcycles because it can also be used as a rolling stool. You no longer have to worry about knee pain with this.
Because it is made entirely of heavy-duty steel, this combination stool and tool box can support a person who weighs up to 300 pounds and that does not include the weight of the tools. Speaking of the tools, this rolling tool box has a surprising amount of storage space.
Three smooth-gliding drawers can hold a surprising amount of hand tools for its size. You can also find two trays on two sides and a slotted shelf for hanging tools like ratchets and screwdrivers.
This stool rolls on four 3" diameter solid rubber casters. You can glide over concrete floors effortlessly by pushing ever so slightly against the floor. However, it will not slide around if you do not wish it to. The casters are also soft enough that they will not damage your floor's finish.
The one problem that I think some people will find in this product is that it is a bit too low for taller folks. If you are above six feet tall then you might find it hard to bend over low to reach the contents of the drawers.
What We Like
Has top-notch build quality
Can carry people as heavy as 300 pounds
Features solid rubber casters that will not damage floors
Plenty of storage space for basic tools
Comfortably padded, can be used as the permanent workbench stool
What We Don't Like
Might be too small for taller folks
Even if you are more than six feet tall, you will easily get used to the height of this stool. It is not that much smaller than other work stools, and you will also get the luxury of basically having a full tool box under you at all times.
10. RIDGID Professional Tool Storage Cart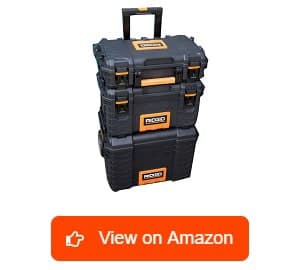 The thing I immediately liked about this rolling tool box is that it is comprised of three separate cases, all of which are modular and can be stacked on top of each other for portability. The three pieces lock onto each other, preventing them from moving about while being pulled.
The first layer is a shallow tool box with organizational dividers for small items and tools. I use this to keep my spare nuts and bolts, screws, and other small items that I normally use on my projects. The second layer is a much deeper tool box that also has dividers designed to keep my tools separate and organized.
The bottom layer is a huge storage bin. I use the bottom for carrying my larger tools, mainly my power tools, like electric drills, circular saws, sander, and buffer. The best thing about this tool box for me is that the lids also have dust and waterproof seals. This prevents my tools from getting dirty when I am working in a dusty environment.
Also, they will not get wet if I accidentally leave them outside and it suddenly rains. The only thing that I did not like is the rather flimsy handle. After a couple of months of moderate use, the handles start to bend. Fortunately, I was able to force them to straighten up again but now, I am afraid to fully load the boxes with tools.
What We Like
Has three different compartments for storing and organizing tools
Made of durable yet lightweight polypropylene resin plastic
Comes equipped with dust and water seals
Features numerous dividers and compartments
Has a deep storage bin for holding several power tools
The handle is not that big of a deal as it can be repaired easily. The real takeaway here is that this rolling tool box has plenty of space for all your tools. Also, it does a good job of keeping them safe.
11. Klein Tools 55473RTB Rolling Tool Box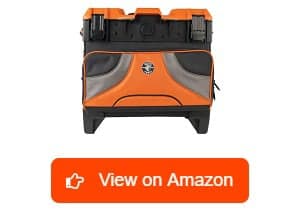 This is a somewhat unique rolling tool bag in the sense that the sides are made of several layers of durable poly fabric. This makes it incredibly lightweight so you can load it with even more tools.
I like the eight-inch wheels that are built-in. These wheels are made of solid rubberized plastic and can go over all kinds of terrain. The wheels are also large enough that they can be easily pulled upstairs.
The tool box has a sturdy steel frame that allows it to keep its shape. This also makes it possible for me to place more boxes on top of the hardtop case and not buckle. Speaking of placing things on top, I also discovered that there are provisions for bungee straps to secure the load.
The top lid of the tool box is pretty cool. There are two cup holders for refreshments while working. I also found a slot for holding your smartphone. Furthermore, there is a provision in front of the tool box where you can insert the Klein Tools Bluetooth speaker or the high-intensity flashlight housing.
The only thing that I can complain about regarding this rolling tool box is that there are not that many dividers and slots for my tools. If you are fine with just tossing all your tools inside a deep bag, then you will be fine with this. However, if you are a stickler for organization, then this will not do.
What We Like
Very lightweight but still tough and durable
Has lots of neat features like cup holders
Can carry heavy boxes and other items on top of the lid
Has lots of room for tools
Comes equipped with eight-inch casters
What We Don't Like
Not enough organizational dividers and pockets
The lack of pockets might be a letdown for professional tradesmen. However, if you do not carry nearly as many tools and you are a big fan of creature comforts then this tool box will suit you well.
12. Stalwart Oversized Portable Tool Chest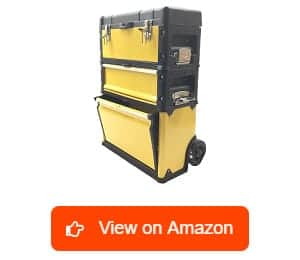 I am happy that this rolling tool chest breaks down into three components that can also be used separately as well as when joined together. This tool box is designed in such a way that all the contents can still be accessed even when the boxes are stacked on top of each other.
Unlike the other rolling tool boxes that I have used so far, this one has much sturdier wheels and handles. Other products either have flimsy handles or small wheels, neither of which is present in this tool box.
The steel latches that keep the boxes fixed on top of each other are quite strong and beefy. It does not feel like they will snap off and make the entire thing worthless as a whole.
For someone who does not use quite as many tools as a master plumber or master mechanic, this rolling tool box will have more than enough storage space for your tools and accessories. This can accommodate a couple of power tools if you need them.
I do have a slight issue with the wheels and that is they are too small for sliding the tool box up a flight of stairs. I needed to carry this one step at a time that one time, I needed to work on the second floor of my home.
What We Like
Has sturdy wheels and durable handle
Can be disassembled for use separately
Even when stacked on top of each other, you can still access all the contents.
Features more than enough storage space for regular use
Has durable metal latches for securing the boxes in place
What We Don't Like
Too small for rolling upstairs
The wheels being too small is but a minor inconvenience when you compare it to all the different benefits that you will be getting. This is a top-notch rolling tool box. You are getting a good deal with this one.
What is a Rolling Tool Box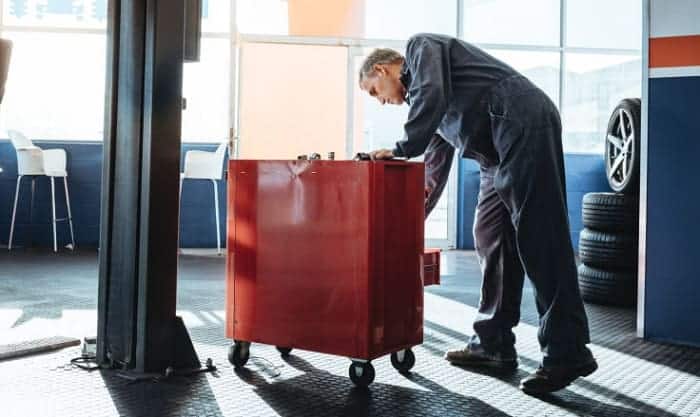 A rolling tool box is a large tool box that has the added benefit of having wheels and sometimes, a handle for pulling it along. Tool boxes are usually small and compact. This means they could not fit that many tools. They need to be small and lightweight because they need to be portable.
Rolling tool boxes provide a solution by having wheels and a long handle so you can tow them around like you would a large suitcase. This means the tool box can be bigger to accommodate even more tools. Most rolling tool boxes have enough room for several pieces of power tools as well as dozens of pieces of hand tools.
If your profession requires that you bring along with you a multitude of tools, you can just get one rolling tool box to carry all of your stuff instead of carrying several tool boxes.
How Does the Rolling Tool Box Work
Rolling tool boxes are quite the same as regular tool boxes. However, the former is much bigger and can carry more and bigger tools than handheld counterparts. This provides an answer to the needs of many tradesmen for a convenient way to transport their equipment without having to use multiple tool boxes.
Technically speaking, any tool box that has wheels can be considered as a rolling tool box. Many of them are set up like a trolley – two sturdy wheels on the rear of the box and a telescoping handle for pulling the tool box behind you. Most of these items you can find these days are three compartments placed on top of one another.
The bottom is usually a deep and wide open bin for holding large hand tools, or power tools and accessories. The middle is usually a regular tool box and the top is a smaller and shallower container with many smaller compartments for organizing small tools and spare parts.
Types of Rolling Tool Boxes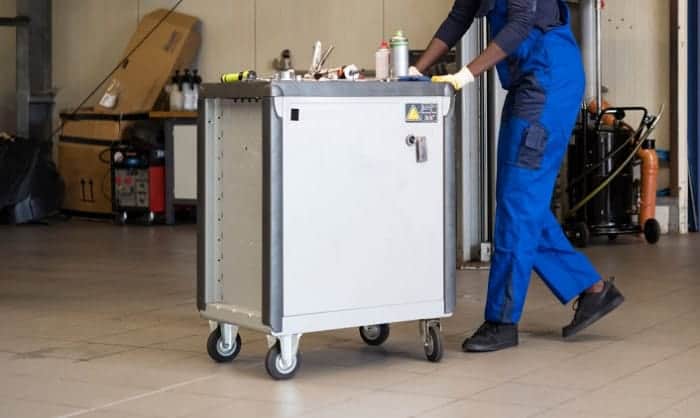 There are several different types of rolling tool boxes with each one having several uses. Among them are:
Traditional rolling tool boxes – These are the ones you commonly see when you make an internet search for "rolling tool boxes". These are usually modular plastic containers that can be stacked one on top of the other and pulled around using two solid wheels at the back like you would a trolley. Usually, you can disassemble it and use each compartment separately.
Rolling tool chests – These are often made of powder=coated sheet metal. Tool chests can usually be seen in car repair garages because they have lots of shallow drawers that can be used to organize the many different tools used by mechanics.
Because these are very heavy, they need to use heavy-duty solid plastic caster wheels. This allows the tool box to glide easily over smooth concrete flooring.
Tool box stools – These are miniaturized tool chests. These are a fraction of the size, with an average three shallow drawers for basic tools and a padded top for comfort. These are usually used in motorcycle garages or anywhere where the tradesman usually needs to work crouching down.
Not only is it much easier on the knees to use a stool but it also has the added convenience of being a limited portability tool chest.
Why Do You Need a Rolling Tool Box
If you are still trying to convince yourself that you need a rolling tool box, here are some of the more important reasons why you should get one:
Makes it easier to transport your equipment – If you need to work somewhere else besides your workshop or garage, then you need a convenient way to carry around your heavy tools.
A rolling tool box will make things easier since you do not have to lift the entire combined weight of the tools. The wheels make it so that you just need to drag it all behind you.
Protects your tools from damage – If you just toss all your tools in a canvas duffel bag, they will be clanging and banging against each other, causing irreparable damage most of the time. Having a proper tool box will provide your tools with separate compartments so they are kept from hitting each other.
Furthermore, most rolling tool boxes these days are completely weatherproof so even if you accidentally leave them outside in the pouring rain, the contents will remain bone dry and rust-free.
Keeps your equipment organized – You will no longer need to waste time rummaging through your unorganized "tool bag" looking for that small 8mm wrench that you need. With a proper rolling tool box, you can organize your tools so that everything is in the right place. When you need a particular tool, it will take you just a couple of seconds to find it.
Secures your tool – Even if you are working in a pretty secure worksite, there will still be a couple of thieves in the workforce. To protect your expensive tools from their prying eyes and sticky fingers, you need to always keep them inside your tool box and lock them down when you have to take a break.
It would be a rare case for a thief to walk away with an entire tool box. It would be too conspicuous. Moreover, as long as the thieves do not see your things then they will not get any ideas to steal anything from you.
Buying Guide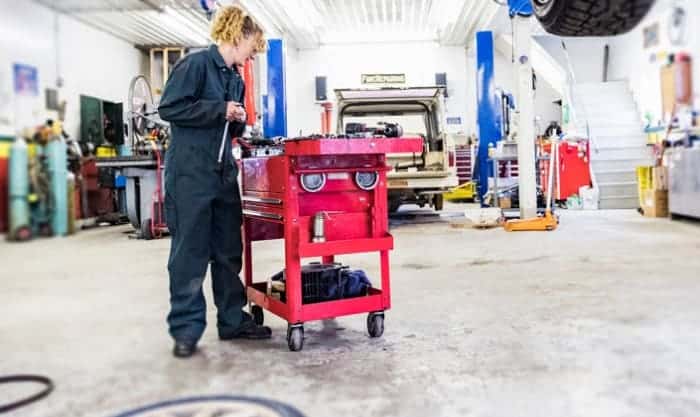 One of the reasons why many people are a bit apprehensive when it comes to buying a rolling tool box is because they are expensive. If you want to make sure that you will not be wasting hundreds, sometimes more than a thousand, dollars, you need to know what makes a good one.
To give you an idea of what to buy, here are some of the details you should consider while shopping for rolling tool boxes.
Materials Used
There are two materials usually used for making rolling tool boxes: sheet metal and polypropylene plastic. Sheet metal is the usual material used for rolling tool chests. This kind of tool box is usually made entirely of metal so they are almost indestructible and very heavy.
If you need a portable tool box that only needs to be rolled around in one room, like a garage or a workshop, then get a sheet metal tool chest. These will last for many years and protect your tools much better.
On the other hand, if you will need to commute to get to your place of work, you should get a rolling tool box that is mostly made out of plastic. Plastic rolling tool boxes are quite lightweight and, depending on the manufacturer, can be quite strong. However, it does not seem to be near the durability of sheet metal tool chests.
Fortunately, plastic tool boxes can be brought anywhere and roll over all kinds of terrain, unlike tool chests that can only be pushed around on concrete or any other smooth and hard surface. Also, if you will be mostly working outside, a rolling tool box made of mold injected polypropylene resin plastic is ideal because these are the ones that are weather and dustproof.
The Size and Number of your Tools
What kinds of tools do you usually use on the job? Are you a master plumber who carries a lot of large wrenches? Are you an electrician who needs to use a lot of precision tools? Do you usually use a lot of power tools? You have to consider the size of the tools you use at work before choosing a rolling tool box.
If you use several different kinds of power tools, consider getting a tool box with a large and wide-opening storage bin that can fit all of your equipment and have enough space for carrying other items. If you need to use tiny tools, get something that has different small compartments so you can organize them much better.
Size and Type of Wheels Used
Consider the type of terrain the tool box will be rolling over. If you will be mostly working in a garage with bare concrete flooring, a tool box with small solid rubberized plastic casters will be ideal. If you will be working on a construction site, the wheels should be large and beefy so they can rollover any obstacles.
Warranty
A rolling tool box should be tough and built to last but it could not be avoided if you were given one that has a serious factory defect. Now, it would be great if you found out the defect immediately because you can have it replaced with a brand new, fully-functioning tool box as it will still be within the warranty period.
However, what if you spotted the problem too late, just a day or two after the warranty expired? You are no longer eligible for a return or exchange. This is why it is important to get a rolling tool box with a warranty period of at least a year. You will have enough time to put the tool box through its paces to find out if there is anything wrong with the product.
Price
Also, consider your budget when shopping. As much as possible, buy a tool box that is well below your budget limit. However, you should also not compromise quality for low prices. Get a tool box that is relatively well-built and made of quality materials that are also reasonably priced.
This might mean that you have to check out products that are not from a popular brand, but this might also mean you will discover a lesser-known company with a product that rivals the bigger manufacturers.
Care and Maintenance
Rolling tool boxes are heavy-duty; at least, they are supposed to be, so they do not need much care and maintenance. However, there are a couple of things you need to do to ensure that your tool box can last as long as they possibly could.
First, after every workday, get a damp, clean rag and wipe away all of the dust and dirt on the entire surface of the tool box. If there are any oil spills, dip the rag in a bit of soapy water and continue scrubbing until all the oil is gone.
Also, now and then, empty the drawers and use a vacuum cleaner to pick up almost all of the dirt that is inside the carrying trays. You should also line all of the inside surfaces of the drawers with anti-skid pads so that your tools will not be sliding around when you are moving the tool box around.
Also, most importantly, do not overload your tool box with tools. Even if you think that there is still plenty of space for your other tools, putting even more tools might push the product beyond its weight capacity. Overloading will cause the telescoping handle to bend and twist. The main axle may also bend.
Read the instruction manual that came with the rolling tool box on how much weight it can carry and do your best not to get too close to the limit. If you somehow break the tool box because you overloaded it with tools, that will negate the warranty.
Frequently Asked Questions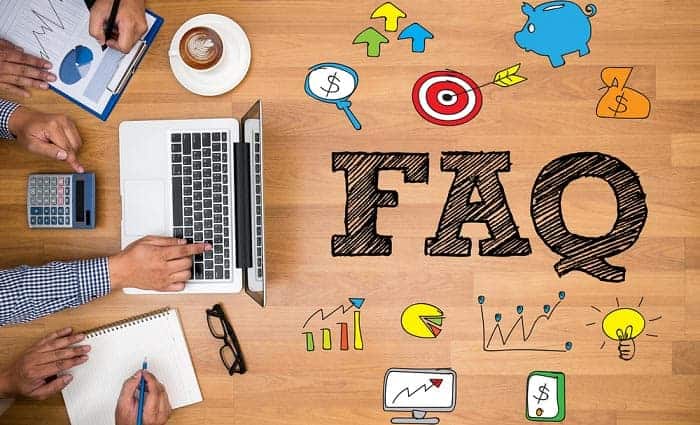 What are the most popular brands of a rolling tool box?
There are so many different brands of rolling tool boxes on the market these days and not all of them deliver on their promises. However, in my experience, among the brands that make products that they can be proud of are Stalwart, DEWALT, Keter, Stanley, Milwaukee Tools, Goplus, Sharper Image, RIDGID, and Klein Tools.
How to use a rolling tool box?
You can use rolling tool boxes pretty much the same way you would a traditional tool box. Pull open the drawers, place an anti-skid mat on the bottom then carefully arrange your tools in them. There is no right or wrong way to arrange tools in a tool box. You can organize your tools the way that you want to.
When you have already finished loading your tools into your rolling tool box, you then need to stack the compartments on top of each other, then make sure that the safety latches are engaged.
Fully extend the telescoping handle, tilt the tool box on its side and just pull. If you did not overload the tool box, you will find that it is easy to roll the tool box around your worksite.
What is the warranty?
Most rolling tool boxes come with a one-year warranty against factory defects. This is long enough for you to figure out if there are any defects in your tool box.
Now, if you find a rolling tool box that comes with a longer warranty, like say five years, you can almost be sure that it is of top quality. Providing multi-year warranties on products is a way for the manufacturer to show just how proud they are of their product.
Where to buy a rolling tool box?
You can certainly buy rolling tool boxes in brick and mortar stores like Walmart, Lowes, and others. However, not that many retailers carry that many brands of rolling tool boxes, so you might just find three to five options available.
If you are lucky enough to find the perfect rolling tool box in a brick and mortar shop then good for you. Not that many people are as lucky as you are. Now, if you were to go online shopping for the top-rate rolling tool box, you will be treated to hundreds of choices from different brands and sellers.
However, you will not be able to test out the products before buying them. If you choose to go this route, make sure to test out the product as much as you can while the warranty is still in effect.
Conclusion
A rolling tool box has a lot of uses and can make your working life a whole lot easier. You do not have to lug around several heavy tool boxes and everything is always organized and easy to find. By now, you have learned all that you need to know to make the correct choice when you are shopping for the best rolling tool box that your money can buy.