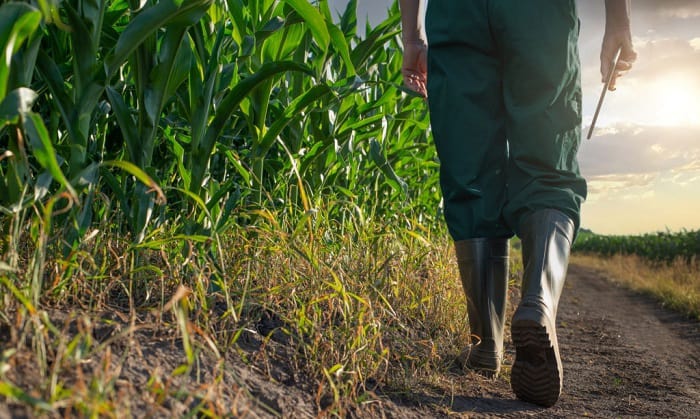 Every day, farmers have to deal with uncertainties as they tend their crops or livestock. From volatile weather to getting their feet stepped on by animals, they endure a lot just to get their job done. Thus, wearing the proper work attire is crucial to ensure protection.
Whether you're working in a small backyard or several hectares of farm, rubber boots will be your best friend. Here are the three basic features of the best rubber boots for farm work:
Uppers and shafts: On the farm, anything goes. Occasionally, you can get away with waterproof leather but rubber is a practical option. Similar to a rain boot, the design allows you to wear the boots quickly and clean them easily when they are caked with mud. Some modern iterations include a neoprene fabric, a material that can flex when you move and keep the water out at the same time.
Protective features: Agricultural work exposes you to a lot of hazards ranging from skin irritants to harsh chemicals day in, day out. Extreme weather and temperatures can also pose some health risks. Hence, don't overlook features like weatherproof materials, ASTM-certified steel toe caps, chemical-resistant materials, and steel shanks. Note that the safety features you will need varies depending on the nature of your work.
Rubber outsoles: Farmers are no strangers to walking on loose soil, deep muds, slippery concrete, or snow. Well, the list goes on. Maintaining your balance can be difficult if you are wearing ordinary shoes so be sure to get boots with thick lugs on the tread's outer sole. They are designed to provide strong traction to prevent slippage in the field or the barn.
In reality, we don't decide based on just three features. Factors like durability, comfort and other aspects also inform our decisions. That said, you can head over to the "Buying Guide" section to read my advice. For recommendations, check my review of the twelve most trusted farming boots in the market.
Top 12 Rubber Boots for Farm Work Reviews
1. Muck Boot CHH-000A-BL-060 Classic Work Boot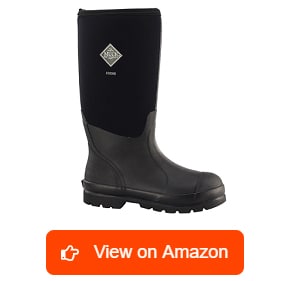 Allow me to start with these rubber chore boots' defining feature, which is the shaft. Made of 5mm neoprene fabric, this pair is best known for its heat retention properties to keep my feet warm on cold mornings, or during winter. Yet, it does not feel hot when I wear them in the summer because of the breathable mesh lining. Besides wicking away moisture, it lets the air pass through the footwear while keeping it waterproof.
Since the neoprene is soft, I no longer have to worry about getting blisters. In addition to the comfort that it provides, these boots have safety features. For instance, the steel shank prevents the sole from bending when I climb a ladder but it doubles as protection against punctures. Alongside the grippy outsoles, the rubber portion of the shaft supports my ankle to aid me in maintaining balance while trudging the muddy terrains.
The downside? For muscular calves, the opening and shaft of these neoprene boots feel a tad too snug. On top of that, the hefty price tag can make a person think twice about purchasing even though the quality justifies it. But if you factor in the footwear's longevity, you can save money since you will not be buying another pair for years.
What We Like
Suitable for hot and cold weathers
Capable of wicking away moisture
Excellent waterproofing
Prevents sharp objects from puncturing the soles
Has slip-resistant outsoles
Can last several years
What We Don't Like
The shaft may feel tight for big calves
Has an expensive pricing
If you have to choose one good pair of men's rubber chore boots to wear all year round, this would be it. Besides, this footwear's innovative design provides farmers delightful comfort without compromising durability.
2. Servus by Honeywell 18821-BLM-080 Work Boots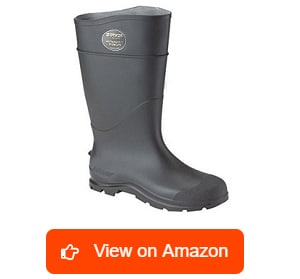 With ASTM-rated steel toe caps, these affordable multipurpose rubber boots are by various professionals in different industries. At the ranch, getting my feet stepped on randomly by horses and cows is not an uncommon occurrence and they have kept my feet from getting crushed. After over a year, I'm happy to report that the toe protection held up nicely!
Another unique safety feature worth having is the PVC injection-molded construction. Apart from helping me keep my feet dry, they can protect my feet against harmful chemicals, manure, and urine without deteriorating. Unlike other rubber boots, this footwear has deep cleated outsoles that give me a better grip on wet surfaces.
As bulky as it looks, these boots are incredibly comfortable. For the footbeds, this pair is equipped with a removable contour cushion sole. Honestly, I don't intend to replace them anytime soon because they make standing and walking for extended periods become less strenuous. Plus, they are completely washable, which helps me prevent bacteria from growing inside.
In terms of fitting, I'm not sure if these boots can fit different foot shapes. In my case, it rubs my toe at certain angles. I hope the manufacturer would consider making wide sizes. For some of my friends, they fit like a glove.
What We Like
Excellent boots for farm and ranch
Made of chemical-resistant materials
Equipped with ASTM-rated steel toes
Features extra-grippy outsoles
Has removable and washable insoles
What We Don't Like
Does not offer wide sizes
Recommended for farming and ranching, these steel toe rubber boots offer protection against the compression and impact of falling objects and harmful chemicals. Featuring washable insoles, you get to clean your boots thoroughly to fight bacteria and odors.
3. HISEA Women's Rubber Rain Boots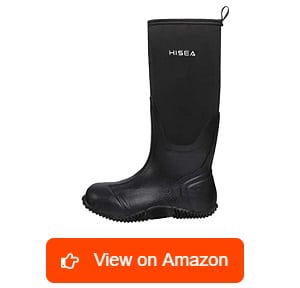 Advertised as women's waterproof boots for outdoor activities, I guarantee you that most of their features meet the needs of gardeners and farmers. Made of neoprene fabric, the shaft can flex as you move while simultaneously keeping your feet dry. Best of all, its softness does not cause blisters when it rubs on the skin.
Capable of retaining heat, you can wear these boots when it's cold. Plus, you can choose between black and some cool nature prints if you need to be stealthier when hunting. In hot weather, the air mesh material promotes good ventilation to keep your feet dry despite intense manual labor.
Meanwhile, the reinforced achilles, heels, and toes make the boots tougher. In other words, it provides better protection for the feet. On the other hand, the slip-resistant rubber outsole improves the stability needed for you to walk regardless of what's underfoot.
Not to mention, these rubber work boots can self-clean! For heavier cakes of mud, you can simply hose them off. However, the pebbles tend to get stuck in between the treads and they have to be taken out with a stick or brush. Also, I know some ladies have shared that while these boots fit well when barefoot, wearing socks during winter can make them feel tighter.
What We Like
Suitable for warm or cold weather
Keeps the feet moisture-free
Available in different designs
Very easy to clean and maintain
Reinforced rubber offers protection
Has slip-resistant outsoles
What We Don't Like
Feels tighter with winter socks
Pebbles get stuck between the treads
Overall,
these women's boots for farm work
are completely waterproof, making them great for both warm and cold seasons. Aside from the wonderful design selection, the footwear's self-cleaning feature means more time for you to rest!
4. Muck Boot WCHM-000-BLK-050 Mid Snow Boot
At number four, these boots for the farm are specially designed to suit the women's feet. With a combination of neoprene and rubber, you can wear them throughout the four seasons. Apart from their superb waterproof construction, the air mesh lining can wick away your sweat as you toil away throughout the day. During the winter, it can retain the heat to keep your feet warm.
We all know that things can get wet and slippery on the farm, but you can work safely with the boots' non-skid outsoles. Although these boots may look bulky, I assure you that they are much lighter. In effect, this will minimize fatigue when you're walking for long hours. If you're in a rush, you can simply hold on to the pull tabs for quick donning and doffing. By the end of the day, all you have to do is flush the dirt away with water.
While the product description claims that neoprene can reduce chafing, I think it is not true for all body types. Those with muscular calves may find the opening tight. Another thing to note is that Muck Boots footwear comes with a steep price tag. Then again, they are built to last several years. You can think of it as an investment.
What We Like
Perfect for all four seasons
Can keep your feet dry and sweat-free
Safe for walking in slippery areas
Lightweight yet durable design
Easy to don and doff
What We Don't Like
More expensive than most boots
Can feel tight for those with thick calves
If you Google the keywords "best rubber boots for farm work women's", don't be surprised to see this pair in the search results. Light and comfy on your feet, working in the field will be so much more bearable.
5. Servus by Honeywell 75109-3 Knee Boot
A mash-up of safety footwear and classic rain boots, these are packed with protective features that let me work double duty on the farm and ranch. The ASTM-rated toe caps come in handy when working closely with animals. Meanwhile, the uppers were occasionally splattered with manure, urine, or some chemicals. Yet, they held up nicely due to the uppers that are made of injection-molded PVC with Triple Density Technology.
To prevent sore feet, the cushioned insole supports my heels and arch. But what makes it awesome is that I can remove and wash them separately. Over time, I anticipate that it will flatten out. At this point, I can simply replace it with my favorite inserts instead of stacking them together, which usually makes the fit tighter. Besides its heavy-duty construction, the tread patterns on the outsole can clean the debris and liquid by themselves.
Looking at all the features, I think
these steel toe boots
are suitable for poultry or fish processing. However, I spotted two minor issues. First of all, I wish they come in wide sizes mainly because the steel toe cap cannot be broken. Secondly, the PVC emits a strong chemical smell. Hence, I usually store them in a well-ventilated area.
What We Like
Rugged boots for ranch or farm work
Helps alleviate sore feet
Has replaceable and washable insoles
The outsoles can self-clean
Made of chemical-resistant materials
What We Don't Like
Does not have wide sizes
Has a strong chemical smell
Performance-wise, these are the best boots for chicken coop and other types of jobs at the ranch. Constructed with chemical-resistant materials and steel toe caps, you can keep your feet out harm's way as you work.
6. ArcticShield AS-M100-B-8 Men's Insulated Boots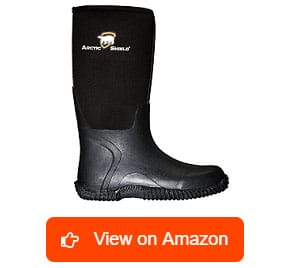 Gearing up for the winter? With 7mm neoprene, I trust these insulated farm boots to keep my feet warm. At the same time, this fabric flexes when I move while maintaining a snug fit. More importantly, it prevents the water and the debris from getting inside the footwear. As such, I don't have to stop now and then just to remove a small twig or drain out the moisture.
Because of the pull tabs, I can wear and remove the footwear swiftly. On top of that, the fitting allows me to tuck my pants. As long as you got the right size, I assure you that you can even wear socks. Of course, this is a welcoming surprise even for myself since some neoprene boots have shafts that hug the calf tight, leaving red marks on the skin when I take them off.
Although the rubber outsole has ample traction for snow and mud, it is noticeably thinner than most boots that I have worn. Whenever I walk, I can feel the rocks and twigs underfoot. Perhaps this explains why they are lightweight. Apart from that, the insole feels flat. Thankfully, they are removable so I replaced them with my preferred brand. For its price, however, the quality is pretty decent.
What We Like
Ideal for winter
Has snug shafts that can flex
Keeps water or debris from getting in
Has pull tabs for easy on-and-off
Fits nicely even with socks on
What We Don't Like
The outsoles feel rather thin
The insoles need improvement
No matter how cold it is outside, you can go out and work with these insulated waterproof boots. Whether you wear it barefoot or with socks, they will fit nicely. Furthermore, the shaft allows you to move naturally.
7. Muck Boot CMCT-900-BRN-050 Chore Cool Boot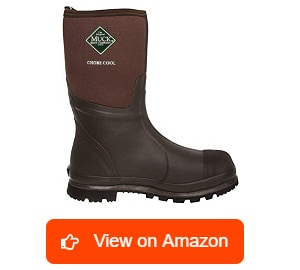 Compared to the Classic Chore series, these farmer boots feature slightly thinner neoprene without compromising the strength, stretchability, as well as their waterproof and shock-absorbing capabilities. Their unique selling point is that they are more suitable for hot weather conditions. Inside the footwear, the brand's trademark XpressCool lining removes moisture from the skin to keep the feet dry and it's good for hygiene, too!
Alongside the Spandura uppers, the construction is just as heavy-duty as any farmer boots made by the manufacturer. Sporting Vibram soles, these boots are grippy enough for me to walk on slippery concrete or deep mud, but the design ensures that they are easy to clean. For good measure, the pair features a shank made of steel for stability and protection against sharp objects.
Despite that, these waterproof chore boots feel lighter than the previous models I reviewed. As such, I don't have to drag my feet when I'm walking, which alleviates fatigue. However, even if it has built-in arch support, it may not be helpful for those with specific foot conditions. Furthermore, this brand is on the expensive side. To be fair, you can save money in the long run because they are highly durable.
What We Like
Best for hot weather
Has superb moisture-wicking lining
Cleans up easily and quickly
Has long-lasting quality
The lightweight design reduces fatigue
What We Don't Like
Arch support needs improvement
Expensive waterproof boots
Factoring all its nifty features, this pair is arguably one of
the most favorite farm boots for summer
that are worthy of your investment. Aside from their lightweight and comfortable design, the steel shank keeps your feet stable and protected against sharp objects.
8. Baffin 43210-42229 Tractor Rubber Boot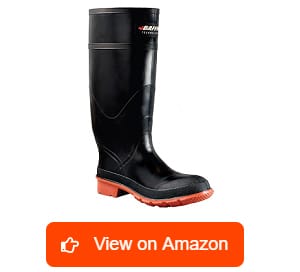 Simple yet reliable, these all-season waterproof boots are a decent choice for anyone looking for budget-friendly footwear. They are satisfyingly comfortable when I slip them on barefoot. Still, they offer ample room for me to wear winter socks. I can even tuck my pants so I can prevent insects from biting my legs. On that note, let me assure you that adding insoles did not make them tight.
Featuring 16″ shafts, I can wade through swampy fields and floods worry-free. Although the uppers are flexible, they are sufficiently thick and rugged for farm work. By design, the lightweight boot makes it easier for me to move. On the other hand, the rubber outsole gives me good traction. More notably, the tread pattern is constructed in a way that prevents it from picking up pebbles.
Now, the challenge is to find the right pair that fits your feet perfectly. Unfortunately, the fit is not true in size so it is best to try them in person. Otherwise, read the shop's return and exchange policies before clicking that "Add to Cart" button. Furthermore, the soles do not have steel shanks. If you don't often walk on debris, then this will not be an issue for you.
What We Like
Offers great value at an affordable price
Allows you to tuck your pants in
Fits an insole without making it feel tight
Perfect for in swamps and floods
Provides good traction
Has flexible yet rugged uppers
What We Don't Like
Does not have a shank
Inconsistent with standard sizes
Many workers opt for something affordable yet dependable, and these waterproof farm boots can give you both. With tall shafts, your feet will stay dry even as you wade the flood and deep mud.
9. TideWe Rubber Boots for Women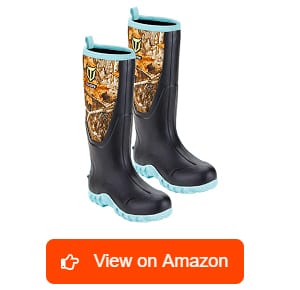 Erratic weather can sometimes catch us off guard. But with these waterproof boots for farm work, you will always be ready whether it rains or snows. Although they are not explicitly advertised for agricultural jobs, I can see a few things that will convince you to wear them when you go out in the field. Constructed with tough natural rubber, the uppers can withstand harsh conditions and intense movement.
Working together with the neoprene shaft, they can flex better than ordinary rubber boots. Furthermore, you will not struggle to wear and remove them since they are built with pull-on and kick tabs. In any case, you have the option to roll down the shaft if you prefer a mid-length on dry and cool days. Then, simply unfold them when you need to cross a flood.
As a farmer, I know that you're always on your feet. That said, I'm sure that you will find the soft and breathable insoles comforting. For added protection, the manufacturer designed the outsoles with a steel shank. Judging by the thickness of the neoprene, however, it seems like 6mm is a little too thick for summer. This is my only critique since the product description claims that this work boot is meant for any weather.
What We Like
Keeps the feet warm and dry
Can withstand harsh conditions
Makes long walks easier on the feet
The shafts can be pulled up and down
Allows for easy donning and doffing
What We Don't Like
Feels too warm for summer
Built with a thicker neoprene shaft, these are considered one of the top-rated women's winter boots for farm work. Apart from their durability, they make long hours of work less painful on your feet.
10. Kamik Men's Ranger Rubber Boots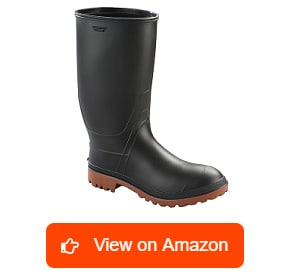 If you are looking for an environmentally-friendly option, let me introduce you to these synthetic rubber boots for the farm and all sorts of chores. Composed of recyclable materials, I could not even tell the difference between this and the traditional rubber wellington work boot in terms of quality. Despite heavy use, they don't show any sign of weakness.
Boasting 100% waterproof construction, I like wearing these boots whenever I need to walk on wet grass or wade the ankle-high flood. On top of that, the treaded outsoles are thick, sturdy, and extra-grippy, making them suitable for muddy fields. For a chunky rubber pair, I'm amazed that they have never weighed me down. Although the design enables the footwear to self-clean, I would occasionally hose off thick cakes of mud and they slide off easily.
With a wide opening, I can quickly slip my feet on and off. My only problem is that the rim is stiff, which can be painful when it hits my shin at certain angles. To keep it from rubbing on my skin, I would tuck my heavy jeans inside. Even so, the boots are spacious enough for me to wear winter socks. Ergo, I can wear them all year round.
What We Like
Made of recycled materials
Can last years of heavy use
Thrives under wet conditions
Lets you wear and remove quickly
Capable of self-cleaning
Allows you to tuck your jeans
Although it is technically made of synthetic materials, this pair is one of the top-tier rubber farm boots. With a wide fit, the footwear leaves some space for you to wear your favorite winter socks or tuck your jeans.
11. Bogs Classic Ultra Mid-M Waterproof Boots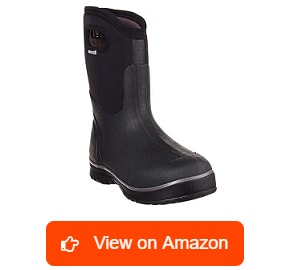 Loaded with innovative features, these men's farm boots will take you to a whole new level of experience. Starting from the top, the Neo-tech shaft feels gentle on my skin yet is highly capable of blocking out moisture. In conjunction with the insulation, it provides warmth under cold conditions. The pull-on handles certainly help me don and doff but I can also see that they can be useful for those with a weak grip.
For the uppers, the rubber is sturdy but it bends nicely as I squat. Aside from its solid build, the non-slip outsole makes walking on mud and snow a lot safer. What makes these boots unique, however, is the spongy midsole, which alleviates fatigue. Because I rarely get the chance to sit, the cushion under my feet is much appreciated. After work, all I have to do is spray the footwear with water, and voila! It's clean.
Like many rubber boots of its kind, this pair can wick away moisture but the brand decided to take it up a notch and included an odor-fighting technology. That said, I no longer have to deal with the stench. With all the cool tricks these boots show off, the only caveat is that they are hefty both in weight and price.
What We Like
Best for wet and cold conditions
Exceptional waterproof construction
Has pull-handles for easy on-and-off
Provides cushion that relieves fatigue
Has odor-fighting technology
Reliable non-skid outsole
What We Don't Like
The rubber boots are heavy
More on the pricey side
If you're wondering if you should buy these work boots for farming or not, just go for it! Considering its cutting-edge technology, it is safe to say that they are worth every penny.
12. Obcursco Rubber Boot for Men and Women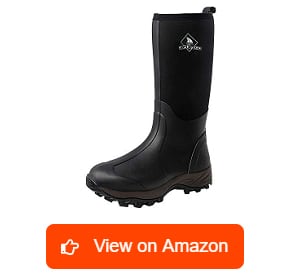 As our finale for the list of the top-rated rubber boots for farm work, allow me to present with you another strong contender. For me, comfort is the footwear's main highlight. Made for cold weather, the neoprene shaft has an insulated lining that warms my feet and prevents water penetration. Besides promoting ease of movement, these flexible materials let me roll down the shaft.
Whether I'm walking on concrete floors or working in the field, the EVA midsoles provide cushioning that alleviates soreness. Meanwhile, the aggressive tread patterns on the rubber outsoles deliver high traction to reduce slippage. Looking at the design, I'm amazed by these work boots' versatility. Function-wise, I can wear them to my camping and fishing trips. Apart from that, they fit both a man's or a woman's foot just fine.
When it comes to maintenance, these boots for farming clean up fairly quickly. Now, let me just caution you that the shaft can get snagged by thorns and shrubs. Moreover, I know some folks who find this area a little tight for their calves so they couldn't tuck their jeans. Note that this is a common issue with neoprene shafts. If you plan to buy online, be sure to consult the manufacturer's size charts and check your measurement before placing an order.
What We Like
Warms the feet under cold conditions
Comfortable for long walks
Can be worn for farming, camping, or fishing
Has high-traction rubber outsoles
Has a unisex design
What We Don't Like
The neoprene is prone to snagging
The shaft may feel tight for some people
For both men and women, these rubber farming boots are pleasantly comfy. Even better, you can wear them when you're working in the field or on a fishing trip with your loved ones.
What Is a Pair of Rubber Boots for Farm Work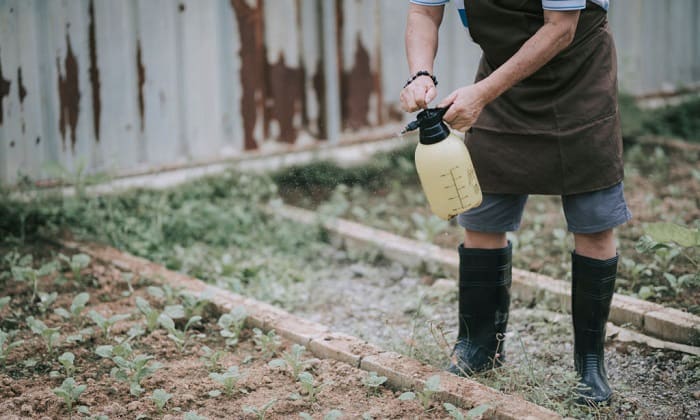 As the name implies, these rubber boots are designed to be worn by farmers as they tend to their crops or livestock. Nowadays, these farmer boots come in different iterations to address specific needs. Generally, they feature treaded rubber outsoles for better grip when walking on muddy soils. Some designs combine rubber with neoprene for the shaft and uppers, special mesh lining, or insulation to suit specific weather conditions. Others feature steel toes or shanks for protection against workplace hazards.
Types of Rubber Boots for Farm Work
Most of us picture farmers carrying a sickle or dragging a wheelbarrow but, the truth is, they also tend livestock, as well as hunt, and fish. That's why manufacturers are constantly developing boots to suit different environments and professions in the agriculture industry.
Wellington boots
Insulated rubber boots
Rubber boots with breathable lining
Rubber boots with steel toes
Rubber boots with neoprene shaft
Why Do You Need Rubber Boots for Farm Work
A day in the life of a farmer involves long hours spent on the farm or ranch. In addition to the changing weather and temperature, the farmland has a lot of elements that may put you at risk of getting hurt.
Wearing the top-tier rubber boots for farm work will provide you with to make the job more bearable. Also, it safeguards your feet against mud, twigs, thorns, insects, or chemicals and prevents slipping accidents that can potentially break a bone or two. Last but not least, the neoprene or rubber material lets you hose off mud and dirt easily so you can wear them again the next day.
Buying Guide
Looking at the brand, materials, and design can help us arrive at a decision but these factors do not guarantee the best experience. For most workers, factors like pricing, comfort, durability also matter. At the same time, each of us is working with different budgets and has various needs related to our specific jobs and foot conditions. Below I will discuss some of the factors that you need to consider when choosing the right pair of rubber boots for farming.
Durability
Imagine wearing a good pair of boots that break apart while you're in the middle of a muddy field. Your spare farm boots are at home, perhaps more than a mile away from where you are. Walking back to your house will take away the time that could have been spent on completing the day's work. On top of that, they will not keep your feet protected against sharp rocks, thorns, twigs, chemicals, or insects that can cause rashes. The lesson here is that compromising quality in favor of unreliable, cheap rubber boots can cause inconvenience.
Comfort
Describing a farmer's work as "tough" is probably an understatement. In any case, wearing cushy rubber farm boots lets you focus on your work instead of getting distracted by discomfort and pain. Consequently, this will greatly increase your productivity. Beyond that, weather-appropriate shoes can warm your feet in cold weather, and keep your feet cool during the hottest time of the day. Moreover, having a shock-absorbing midsole, as well as supportive and comfortable insoles, can alleviate fatigue and allow you to walk further.
Size
Even the rubber work boots can fail you if the size is not right. Loose or tight-fitting can feel uncomfy. Worse of all, it can throw you off balance when you are walking on slippery barn floors, farm plots, and muddy terrains. In some areas, large gaps at the shaft will give insects, moisture, pebbles, and small twigs an opening to get inside. Hence, wearing the correct size is important.
Lightweight
Remember, you will be on your feet most of the time. I know you are probably accustomed to all the physical labor and carrying a heavy load such that wearing clunky boots no longer bother you. However, lightweight boots can help you save energy, move quicker, and work more efficiently. Nowadays, several manufacturers have developed lightweight yet equally heavy-duty rubber boots. Check them out and prepare to say goodbye to your clunky pair!
Pricing
The price for rubber farm boots ranges from dirt-cheap to exorbitant. Rest assured, there are tons of options from either side of the spectrum. After all, farming is a tough job that does not pay heaps of cash. It's only fair to opt for the one that you are willing to pay for. If you do your research, you will discover that the right pair with the right price. In the review, I have included a wide selection of high-quality farm work boots to cater to different budgets.
Care and Maintenance
After work, be sure to rinse away all the mud and dirt on your boots with water. If you see dried chunks of mud stuck on the boots despite hosing them off, you can use a brush to scrub them off. To reach the in-betweens of the treads, use an old toothbrush to remove the soil. Once you have cleared away all the residue, wipe off the surface with an old rag and warm water.
For winter salt or thicker cakes of mud, you can dip a cloth into a solution made of a dish detergent mixed with two cups of warm water. Then, rinse the boots off with plain water and wipe them with a clean cloth. Let the boots air-dry but make sure to store them away from the heat source.
Let's not forget the interiors! Prepare two cups of water and mix them with heavy-duty laundry detergent. Ideally, the detergent must contain some enzymes that can dissolve the soil. With this solution, wet a clean cloth and wipe the insides of your boots. Get another clean cloth, soak it in warm water, and rinse away all the residue of the detergent.
Bear in mind that your boots can be a breeding ground for bacteria but you can prevent this! Pour equal parts of water and vinegar in a spray bottle and mix them. Lightly spray this solution onto the interiors and let it air-dry. Again, keep them away from any heat source. If you have waded the floodwater, make it a point to spray the insides with a disinfectant like Lysol.
Frequently Asked Questions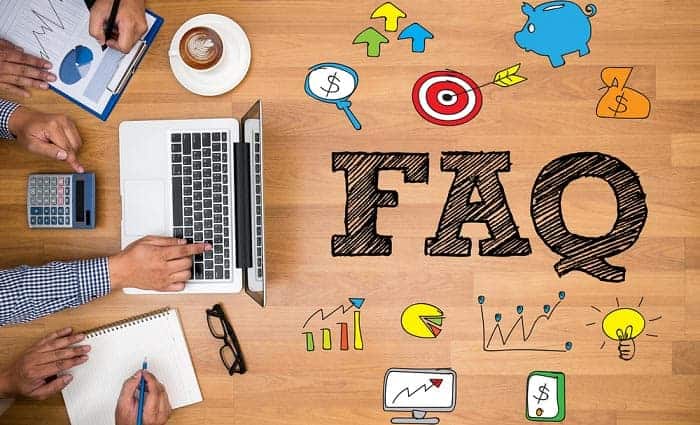 What are the most trusted rubber boots for farm work brands?
Most of us are already familiar with Muck boots for farming work but I also recommend Servus by Honeywell, HISEA, ArcticSheild, Baffin, TideWe, Kamik, BOGS, and Obcursco. The fact that these brands make farm work boots that are widely used by workers in the agriculture industry shows that they are highly dependable.
How should rubber boots for farm work fit?
Always go for a shoe size that gives you a snug fit. Your toes should have some room to spread naturally. If you're going to buy boots with toe protection, make sure that your toes and forefeet are not rubbing against toe boxes. Avoid boots with shafts that are too tight around your ankles or calves since this will make you uncomfortable. If you are working in bushy areas, steer clear from boots with very wide openings since the gap will allow moisture or insects to enter.
Before you buy a pair of boots, be sure to measure the width and length of your feet, as well as the calves or ankles. This way, it will be easier for you to find the correct size.
What kind of boots do farmers wear?
Agriculturists who work in fields wear rubber boots to keep their feet dry, especially where irrigation is utilized. Thanks to the rubber's slick surface, the dirt can easily slide off when rinsed with water. Meanwhile, the outer sole has lugs and tread patterns that are responsible for preventing slipping accidents. Another benefit is that this type of footwear can keep the feet warm during early morning chores, when it's cold, or during the winter.
What kind of boots do ranchers wear?
Ranchers deal with farm animals. They often work in barns or large fields, although perhaps not as swampy as farmland. Besides rubber boots, another go-to footwear is the full-grain leather boots that workers or cowboys wear for optimal comfort and durability. Moreover, they are treated with waterproofing. A high-traction rubber outsole is also an important feature. For better protection, the rancher may opt for a good pair of boots with a safety toe to safeguard their fit against the impact of falling objects.
How long should rubber boots for farm work last?
Top-tier brands are attuned to their customer's needs and they get better at designing farming boots. Ergo, you can expect a heavy-duty pair to last more than a year. However, the best boots can clock in half a decade of daily use. Keep in mind that proper care and maintenance have an impact on your footwear's lifespan.
Conclusion
Deemed as one of the noblest professions, farmers are responsible for producing food for large populations. Working grueling hours amid unpredictable weather conditions poses a lot of risks. Thus, wearing heavy-duty boots is a must.
In this article, I have laid out all the benefits of wearing the right pair of boots, as well as a dozen of choices that you can check out. That said, I would leave it up to you to decide which one you would consider as the best rubber boots for farm work.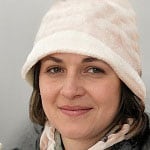 Veronica is our content editor. She is a talent in delivery. Her main work is editing and writing articles that are both informative and simple to follow. She is in charge of synthesizing our understanding of what personal protection equipment (PPE) is needed in each job, how to best apply it, and how to visualize that equipment.