Factory work is where things get tough and dirty. But with the perfect pair of shoes, you can give your best in full force one step at a time.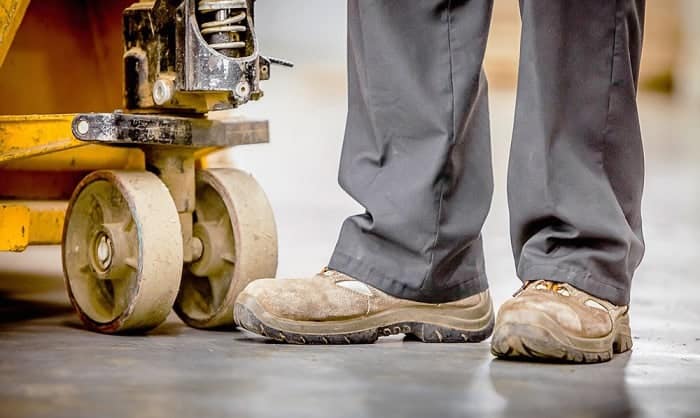 This is where factory work shoes come into play. And if you're looking for the best shoes for factory work, then seeing you in this article today is no accident.
There are a plethora of reasons to love shoes that are specifically designed for factory work. So if you're still using regular sneakers for that, then it's time to get your much-needed footwear upgrade. Without further ado, let's have a look at these shoes!

Best Shoes for Factory Work Reviews of 2023
1. New Balance MID626K2 Industrial Shoe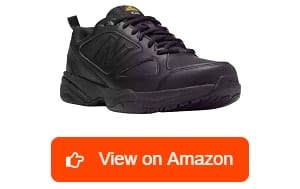 At first glance, the New Balance Men's MID626K2 may seem like your average pair of sports shoes. But don't let those looks fool you. It's really made for the working class.
Just because you are working in a factory doesn't mean you need to resort to bulky and hard-to-walk-on shoes. Thanks to these shoes inner cushioned, you can work on your feet all day long without getting fatigued. It is not an exaggeration to say it is one of my all-time favorite work shoes.
Great traction, incredible feet support, durability, and maximum comfort. Those are all the qualities of a great pair of factory work shoes, and this shoe just rolls everything together. Trust me. You can't ask for a complete pair of men's shoes for standing on concrete for long hours.
Sure, it may seem a bit flashy for someone who is looking for the best work shoes. But underneath all that style are loads of practical benefits that you'll surely appreciate.
The model has a tempered steel-toe cap that offers superb protection in dangerous work environments. I also love that it's very easy to wear and remove thanks to its padded collar. The tongue is also gusseted and sewn to make sure your midfoot is safe from that dangerous falling debris or objects. Add the fact that it's easy to clean, and you've got the perfect pair to rock while at work. But take note that it's not the most durable of shoes.
What We Like
Easy to wear and remove.
Lightweight design.
Extreme comfort.
Well-protected your feet from falling objects.
Made by a well-known brand.
What We Don't Like
The sole lacks durability.
This industrial shoe is a great pair of work shoes that offers comfort, practicality, and style. You can't ask for more with what the product brings to the table. Plus, the reasonable price puts the cherry on top of this already fantastic pair of work shoes.
2. Timberland PRO Construction Shoe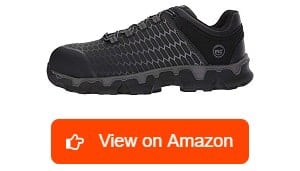 Are you looking for high-quality safety shoes manufacturers? Then say hello to the Timberland PRO Powertrain. Made with quality and durability in mind, I highly recommend this one for workers who are always ready to conquer the day.
There's no denying that factory work can be so tiring all the time. That's why you need the perfect pair of shoes to get your productivity level at its peak. And this shoe is the pioneer for that. I even tested this myself, and the comfort is just superb.
The moment I slip my feet in these shoes, I can tell that this one hits the bar too high. So what makes this shoe my favorite among the bunch? There's lots of it! Alloy steel toes, mesh lining for extra breathability, and electrical hazard protection for an added security layer.
This shoe model is built to stand the test of time. Featuring durable alloy steel toes, mesh linings, and hazard protection, what more can you ask? It's rare to see factory worker shoes that are pleasing to the eyes. But this one is an exception thanks to its unique design. You can also choose from different color variants too!
With these work shoes, you get the best of both worlds of features and durability. So no matter how intense factory work can get, your feet will stay clean, dry, and fresh all day. Cleaning this can be a bit tricky, though, because of the inner grooves and complicated design.
What We Like
Complete package
Aesthetics for the design-savvy
Built for power workers
Want the best of both worlds of durability and aesthetics? That's what the Timberland PRO's Powertrain Construction shoes are made for. If you're looking for factory shoes that can stand a beating no matter how tough work can get and shoes for standing all day, then this is it.
3. Fila Men's Memory Workshift Shoes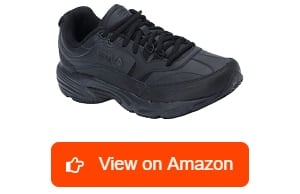 Who would've thought that Fila, a sports footwear and apparel brand, also has something for hard-working factory workers? The Fila Memory Workshift shoes are shoes for working on concrete floors and a one-of-a-kind pair that's made specifically for improving work performance, safety, and comfort.
Whether you're out on the field or inside factory walls, this work shoe won't let you down. It offers a high degree of reliability thanks to its premium leather and synthetic materials. Its ability as a utility shoe is only matched by it's incredible comfort and durability. So if you want a pair of shoes that will last a long time, this pair is for you.
This shoe has everything you need to get through the day without feeling ache or discomfort on your foot. The insole is made from high-quality memory foam that aids in both cushioning, shock absorption, and overall and feet support. It also has a sock liner made of memory foam to complement the insole.
The breathable leather also ensures that your feet are dry, cool, and odor-free all day long. On the outside, the rubber outsole provides excellent traction to keep you on your feet even on slippery surfaces. Also take note that it becomes harder to clean over time because the shoe material can easily build up dirt.
In terms of comfortability, the shoe is equipped with a lace-up front closure for that ideal snug fit. You can even ditch the laces and go full slip-on mode. It's a more convenient option that lets you slide your feet and seize the day like a champ.
What We Like
Leather and synthetic overlays for durability.
Slip-resistant outsole.
Comfort guaranteed
Reliable construction
What We Don't Like
Can be hard to clean over time.
If you want a stylish, sporty-looking pair of work shoes that provides you with everything you need, this is the one for you. With its array of features and overall build, The Fila Memory Workshift is a great work shoe that you can wear in any worksite.
4. Skechers 77032 for Work Men's Felton
If there's any brand that understands the need for comfort and work-appropriateness, it would be Skechers. Their Felton Slip Resistant is a testament to that. Slide into these babies and work like your feet are lying in bed.
Comfort is the name of the game for the Felton Slip Resistant. The insole is made from state-of-the-art memory foam that takes cushioning to another level. With the insole's gel-infused, molded-lite material, every step that you take will feel like you're walking on cotton. No matter what surface you're standing on, you can guarantee that these loafers will keep your feet fatigue-free.
One particular part about these shoes that I love is its supportive midsole. The shock absorption that you get is unmatched by any work shoe that I've tried. Whether you're walking or standing perfectly still, these loafers are flexible enough to adapt to anything you do.
Tight work shoes tend to feel constricting and limit your movement. But with this pair, you'll find that it's the opposite. Despite its compact form factor, the shoe is quite spacious. Thanks to its padded collar, these loafers don't fall off prematurely like other work slip-on. But the catch is that the color in the photo is a bit different from the actual look.
Despite its secure form factor, this working shoes pair is very easy to wear and take off thanks to the tongue's pull-on tab. The elastic goring also ensures excellent maneuverability.
Aesthetics-wise, these loafers come in black, desert brown, and dark brown variants. With these on, you will surely impress your boss and your feet.
What We Like
High-quality leather
Rubberized sole
Great for both work and casual wear
Maximum comfort.
What We Don't Like
Color may look different on a picture vs. actual
When it comes to the criteria for perfect work shoes, the Segment The Search definitely checks a lot of boxes. The level of comfort that it offers is simply amazing. I'd be lying if I say that it's not one of my all-time favorite work shoes.
5. Suadex MT-HJ-677-Black-36 Steel Toe Shoes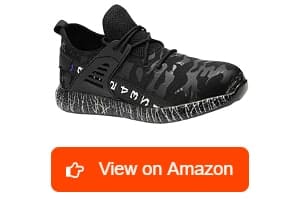 For all the men who like it rough and rugged, the Suadex Steel Toe Shoes is going to be a perfect match for your feet. The factory can sometimes involve working in harsh conditions. But when you get a shoe that's built like a tank, you'll embrace it like an old friend.
When it comes to toughness and durability, nothing compares to this shoe. It's thick walls and tough leather are made for the harsh environment. The moment you put your feet inside these magnificent, six-inch working shoes, you won't have to worry about it again.
With it's H-plate suspension and full-grain leather, you can guarantee that your feet will be perfectly safe no matter what type of work you're doing. Whether it's maintenance, warehouse picking, or general factory work, your feet will be well-protected throughout your shift.
Another amazing feature about these shoes for warehouse pickers is their incredible waterproofing technology. At first glance, you'd think that the full-grain leather will seep moisture through. But that wasn't the case. The leather absorbs moisture while keeping your feet dry.
Slipping is also a rare occurrence when you're wearing the Wolverine Comp Toe. It's thick rubber outsole provides optimum grip and traction no matter what surface you're stepping on. This is also one of the reasons why it's a bit bulky and feels heavy on your feet.
We don't even have to talk about its protective features to know that it's an absolute beast when it comes protecting your feet. The steel toes are made from carbon MAX nanotechnology, which keeps your toes safe from accidents while working. The materials used to create this shoe also promotes electric hazard prevention. So, no matter what area you are working on, you can guarantee that this pair of shoes will deliver maximum protection.
What We Like
It feels like your feet are wearing armor.
Thick construction for maximum durability and sustainability
Premium high-cut design for added ankle support.
100% Waterproof
What We Don't Like
Bulkiness adds unnecessary weight on your feet.
The Wolverine Comp Toe shoes is, hands down, one of the most durable and sustainable pairs of work shoes out there. You just can't find anything that's more durable than this one. With proper use and care, it will serve you for ages. Plus, you can even use it for other outdoor activities like mountain climbing and trekking.
6. KEEN 1006977 Utility Work Shoes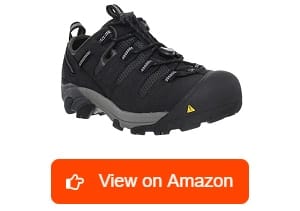 If there's anything American footwear brand KEEN is known for, it's producing great-performing work shoes. Their Atlanta Cool model is an absolute all-rounder, providing both convenience and comfort. It also has an array of safety features, making it the ultimate jack-of-all-trades work shoe.
KEEN work shoes are known to be durable without being too bulky. This model, in particular, is a testament to that trademark. The high-quality Nubuck leather paired with the non-marking rubber outsole gives it a premium look and durable feel. The thick midsole and footbed also secures your feet and keeps it in place without suffering from fatigue.
Despite all of its rugged features, this pair is one of KEEN's work shoes that focus more on comfort. It has all the sweet features that your feet will ever need to stay comfortable all day long. We're talking about extra-thick soles, a torsional stability shank, and a molded heel lock.
The mesh liner makes the shoe breathable, keeping your feet dry and cool. The shoe also has an ergonomic layout that supports the natural form of your feet. But note that its leather material isn't completely waterproof.
In terms of safety, this shoe also has a lot to offer. It's
the ideal steel toe shoes
for factory work as it comes with the brands patented KEEN.Protect technology. This innovative design involves extending the outsole to cover the toe area for added protection. The shoe is also made of EH-rated, electrical-resistant materials, making it a great option for electrical work. In addition, the leather is also water-resistant.
What We Like
Extra protection on the toes.
Ideal for electrical work.
Breathable mesh liner.
Extra thick footbed for better comfort and support.
What We Don't Like
Leather is not completely waterproof.
The KEEN Atlanta model is an all-around work shoe. It's a versatile pair of shoes that does a little bit of everything. It also provides extreme comfort and stability. If you ask me, that's a pair of shoes that's worth the phrase, "take my money."
7. Reebok Work Sublite Cushion Shoes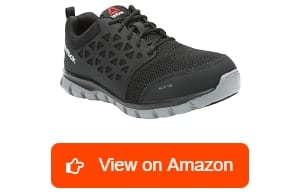 The Reebok Work Sublite is what happens when you combine a sports sneaker and a work shoe. It's incredibly lightweight, which is a unique feature since it's generally a work shoe. The shoe's structure coupled with extreme flexibility makes it one of the best factory work shoes.
Reebok is a well-known brand in the sports and fitness world. Their athletic sneakers provide maximum performance and extreme durability. The same principle is followed by Reebok Work Sublite.
It may be designed to cater towards the working professional. But it's overall construction follows that of an athlete who wants the best shoe for maximum performance. The burden that a factory worker carries on its feet can become unbearable with heavy and bulky work boots. But with the Reebok Work Sublite, that won't be the case.
Reebok uses its state-of-the-art shoe-making technology, making sure that this shoe performs its very best no matter the situation. The shoes are equipped with deep flex grooves that will keep the weight steady and low. This profile allows for full range of motion – something that's impossible for traditional work shoes.
Since it's built like a sports sneaker, the shoe is incredibly comfortable. The breathable mesh allows your feet to cool and dry. The added memory foam adapts to the shape of your feet, keeping them comfortable and free to move any way you want.
All of these comfort features towards the health of your feet. It provides the freedom of movement that you can't find in your typical work shoe. But take note that this is a bit slippery on wet surfaces.
What We Like
Lightweight and flexible design
Promotes natural feet movement
Breathable mesh to keep the feet dry
Ergonomic
What We Don't Like
Can become slippery in extremely wet surfaces.
The Reebok Athletic Oxford is an unorthodox type of work shoe that performs very well in any workplace. It has a reliable construction that offers nothing but convenience to its wearer. Unleash your inner athlete and dominate your daily work with a shoe that will give you a boost every time you wear it.
8. Skechers 76553 for Work Synergy Sandlot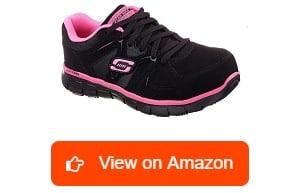 Women working in the electrical field is no longer a rare case. And just like their male counterpart., they also need a pair of shoes that protects their feet from electric hazard. Fortunately, the Skechers Synergy Sandlot work shoes offer just that.
This pair of shoes are ideal for women working in the electrical field due to its electric-hazard-safe design. The leather material used was produced with comfort and durability as the main qualities. That way, it won't break or fatigue your feet quickly during work operations, which is critical for safety reasons.
The rubber sole is covered in slip-resistant coating to ensure maximum traction, making it the perfect footwear for challenging tasks. The insole is made from memory foam for superb cushioning. Your feet won't feel any pressure or fatigue, no matter what type of work you do. In fact, women who have frequent foot problems find that wearing Synergy Sandlot work shoes relieve them from their pain.
The ergonomic arch support makes this pair of shoes the perfect fit for any type of foot. It's so good that women who rely on custom orthotics will no longer need them when wearing the Synergy Sandlotwork shoes. Hence, these are perfect women's shoes for walking on concrete.
For ladies who are very particular with the fit, they'll find the lace up closure to be a very convenient feature.
The indentions found at the ankles are also effective in keeping your feet from getting blisters due to unnecessary friction. However, there will be instances where blisters can develop due to overuse. But be a bit careful when wearing this for a long duration because it can cause blisters on very soft feet.
What We Like
Protects your feet from electric hazards.
Great heel-to-toe leather protection
Soft fabric collar for added ankle support
Ideal for challenging tasks with the slip-resistant coat
What We Don't Like
Overuse can cause blisters on your feet.
Overall, the SureTrack working shoes are a great pair for any working woman. It offers a unique combination of functionality and ergonomics that will keep your feet comfortable and well-protected all day long.
9. Dr. Scholl's Inhale-WSlip Resistant Sneaker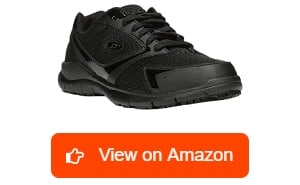 Here's another entry for the hard-working ladies out there. Women's preference when it comes to work shoes is different from men. For one, they need to have both style and comfort. With the Dr. Scholl's Women's Inhale, you can have a piece of both worlds.
Professional work shoes for women are infamous for their low quality and discomfort. But the Alegria clog is the exact opposite. This pair of shoes offer elegance, practicality, and absolute comfort.
I was blown away by this pair of shoes when I came across it. It has some great features that make it one of the best work shoes for women. We're talking about cushioned footbeds, removable insoles, and flexible rubber soles. It's packed with all the goodies that you'll ever want and need in a pair of work shoes. I genuinely wished that it had a version for men. That's certainly something that I would put my money on.
One particular feature that I also like is the smooth waxed leather. Leather quality is highly underrated when it comes to working shoe shopping. Apart from its purpose of protecting your feet, the leather exterior also looks great. Also note that its fit changes after a while using it.
If those aren't enough, this pair also has a polyurethane outsole that offers slip resistance and natural walking motion. The wedge heel offers great support and boost. Sweaty feet? No worries! The breathable interior will make sure that you're always in the dry zone all day long.
What We Like
Perfect pair for comfort style and comfort.
Premium leather material.
Great arch support.
Available in a variety of styles and colors.
What We Don't Like
Tends to change in fit after several uses.
The Alegria clog is every work woman's dream shoe coming true. Its combination of style and comfort is unmatched by other women's work shoes. You'll definitely love having these on your feet as you enter the workplace.
10. Thorogood 804-6293 Crosstrex Series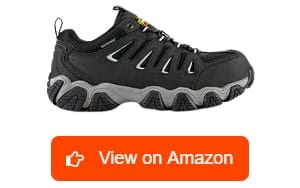 If you're looking for the best safety shoes manufacturing, you can't go wrong with the Thorogood Men's Crosstrex Series. It's great for keeping your toes safe and your feet on the ground. In addition, the Crosstrex Series is also great for hiking and mountaineering activities. So, if you're an outdoors person who also works at a factory, this pair of boots are meant for you.
There's a lot of good things to say about this model. It has all the qualities and features that you're looking for in the ideal work shoe. It has a grippy outsole and a composite toe that protects your toes and prevents slipping. The overall build quality for this pair of boots is insane. I've worn them, and I can testify that it looks and feels just as advertised.
The shoe keeps your feet safe and secure while also offering a stylish design. This pair of boots come in different styles and colors. It makes you look great without compromising on protection for your feet. Just remember that it's a bit bulky on first use.
The high-cut design also secures your feet from sole to ankle. This level of protection will give you some much needed boost in your daily work. It will make sure that you will get the job done without hurting your feet.
As the name suggests, the product is also great for trekking and long hikes. It protects your entire feet so that you will last longer without hurting yourself along the way.
What We Like
Multi-purpose work boots.
Extremely durable build.
High-cut profile protects your feet and ankles.
Superb protection.
The Thorogood Men's Crosstrex Series is the perfect boots for ultimate protection. It also has all the qualities you need in the perfect safety shoe. You can even use it for other outdoor activities as well. Overall, going for these shoes will always be a great choice no matter what you're doing.
11. Caterpillar P74129 Industrial Boot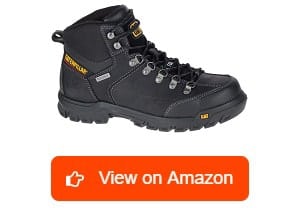 The Caterpillar Men's Threshold Waterproof Industrial Boot means that you don't have to worry about how you look when you go to work.
Many people love the boot, and it's no wonder why. What other working shoe offers both functionality and aesthetics? It has always been one way or the other and never both on the same ship. So that's what makes this shoe unique among the other variants available in the market.
There are a lot of good things to say about this boot. The breathable nylon lining and foot bed with extra cushioning that adds to the overall comfort of wearing the shoe. However, what separates this shoe from the rest is how it looks.
No matter what angle you look at it, this shoe looks like training sneakers. They're not your typical bulky and heavy steel toe shoes. So not only are your feet well protected, but you're also wearing a pair of shoes that can potentially turn heads at work. You can, however, change the inner sole with a more premium one. Also note that there's a good chance you might need to replace the insole with a much better variant.
The synthetic leather prevents electric hazards, which is always a plus in any pair of shoes. The thick layering of the leather also ensures super oil and water resistance. Traction is also pretty good as the outsole is made out of quality rubber that provides a strong grip on the ground.
What We Like
Great pair of shoes for work and casual wear.
Doesn't look like your average work shoes.
Oil and water-resistant
Surprisingly lightweight.
What We Don't Like
May need to replace the insole with a better variant.
The Caterpillar Threshold is nothing short of amazing. They provide excellent protection on your feet while providing some aesthetic value to boot. For a work shoe, that's quite an impressive set of features. I'd definitely recommend this shoe to all of my lady friends and workmates.
12. Skechers 77055 for Work Sneaker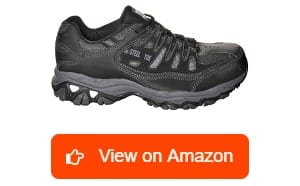 Skechers is a well-known brand that produces quality work shoes. The brand has an array of options available. However, none are as eye-catching as the Skechers Cankton. Its combination of comfort and functionality is hard to ignore.
I always thought casual style and comfort don't coexist in a pair of work shoes. But when I came across the Skechers Cankton, I realized I was wrong. With this pair, you get an unorthodox combination that's quite effective in the work environment.
This shoe has all the materials and quality that are meant for hard and grueling factory work. However, its physical appearance is meant for more of a laid-back, casual style. Who would've thought that both ends of the spectrum can combine to make attractive and functional footwear?
If you're always on the move, this sneaker has an extra-padded collar that guarantees comfort and range of motion. The footbed is made of eco-friendly ortholite that ensures every step you make is comfortable.
This makes the shoes very comfortable wherever or whenever you wear it. It's also breathable which makes it ideal if you're always in areas with warm weather. This even makes you look good because of its aesthetic design. Just note that this can easily slip out of your feet and loosen if not tied correctly.
The mesh lining is made from a patented antimicrobial treatment called Aegis. This feature will keep your feet dry and odor-free. And since it also functions as a slip-on, you can wear it right away without wasting time.
The sole has a special grip that provides great traction. Its arch shank is made from high-quality nylon that complements well with the air cushion midsole. All of these features add to the shoe's overall stability and shock absorption. Finally, the outsole is made from the patented Encore grippy rubber that is flexible and reduces fatigue in both your feet and legs.
What We Like
Ergonomic design
Extremely durable
Casual and professional appearance
High-quality materials
What We Don't Like
Can easily get loose and slip out of your feet.
The Skechers Cankton has everything you want in a pair of work shoes. Its functionality paired with its slip-on design make it an all-rounder that you can use in any work-related situation.
What is a Pair of Shoes for Factory Work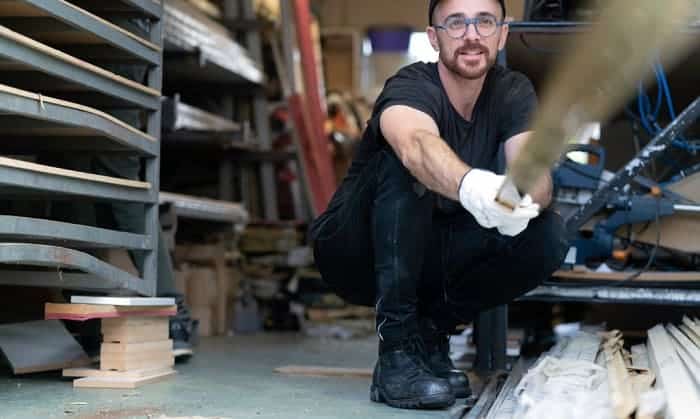 Factory work shoes are a variety of footwear that's specifically made for industrial work environments. These types of shoes are made differently from your average, everyday shoes. For one, they're equipped with protective attachments that will help safeguard your feet from the dangers of factory work. These features include toe protection, conductivity, metatarsal guard, waterproofing, and more.
Comfort is also a huge factor when it comes to shoes for factory work. Manufacturers understand that most people looking for work shoes will be spending a huge chunk of their day on them. That's why most work shoes are made to be hard on the exterior, yet soft and cushiony on the inside.
How Does It Work
Foot injuries can affect your performance at work. Some that are more serious will even set you away from your job for a long time. Fortunately, you can avoid this by wearing proper work shoes or boots. They protect your feet and keep you safe from injuries. Here are some of the ways factory work shoes protect your feet:
Protection from falling objects
Factory workers tend to carry heavy materials or work in hazardous environments. There are some instances where the heavy material you're carrying can slip and fall onto your feet. But with work shoes on, you can avoid hurting your toes.
Puncture protection
There are many possibilities for you to puncture yourself. Whether it be stepping on sharp objects, or getting struck by one, there are numerous ways that you can hurt your feet. Fortunately, work shoes come with thick materials and heavy-duty soles to keep your feet safe and secure.
Protections from cutting hazards
Working with machinery that contains sharp components means your feet are in danger of getting split in any moment. Fortunately, work shoes are made from tough materials that are highly cut-resistant.
Electrical hazard protection
Work involving electricity poses a series of workplace risks. That's why most work shoes are made of leather, rubber or a synthetic combination of both These materials are non-conductive materials, making sure your feet are safe from electrocution.
Slip resistance
Accidents involving slipping, tripping, or falling can happen in any workplace. That's why a work shoe's outsole is made of quality leather for better traction and grip. When wearing work shoes, you can do your job on any type of surface without the fear of slipping.
Types of Factory Work Shoes
When choosing your ideal factory work shoes, you need to acknowledge the type of work you're doing. Different work shoes offer different features that complement well with a workers job.
Here are some of the most common types of work shoes:
Electrically conductive shoes
For people working around flammable materials such as explosives; prevents static electricity buildup on your feet.
Cut-resistant shoes
For people working with machines used to cut objects (e.g., a chainsaw); made from tough material that protects you from blades and other sharp objects.
Safety toe boots
For protection against falling objects; features a metal capping over the toe area for maximum protection.
Puncture-resistant work shoes
Protects the wearer from puncuting their feet from sharp objects on the floor; includes a steel or composite plate within the midsole to protect your feet from stepping on sharp objects.
Metatarsal boots
great for work environments involving rolling objects or machinery; provides additional protection along the metatarsal area.
Insulated work boots
Ideal for working in cold environments or during the winter season; made from insulating materials that keeps your feet warm even during freezing climates.
Water-resistant leather boots
A popular choice when working in wet conditions; protects the feet from molds and fungus infections.
Slip-resistant work shoes
Made for maximum traction; the sole reduces slickness, which prevents workers from tripping or falling.
Foundry shoes
The best option when working with molten metals; contains durable materials that protects you from extreme heat and melting metals.
Why You Need Shoes for Factory Workers
You might think of it as a rhetorical question; however, there are plenty of reasons why you need to wear factory shoes at work. For one, they're the staple footwear for any factory worker due to their robust and protective components. They're also practical and very affordable.
If you work in work environments where danger is always lurking, you need a good pair of work shoes to protect your feet.
Factory work shoes contain a variety of features that will protect your feet during your entire work shift. At the same time, it also keeps your feet comfortable and fatigue-free during this period.
Buying Guide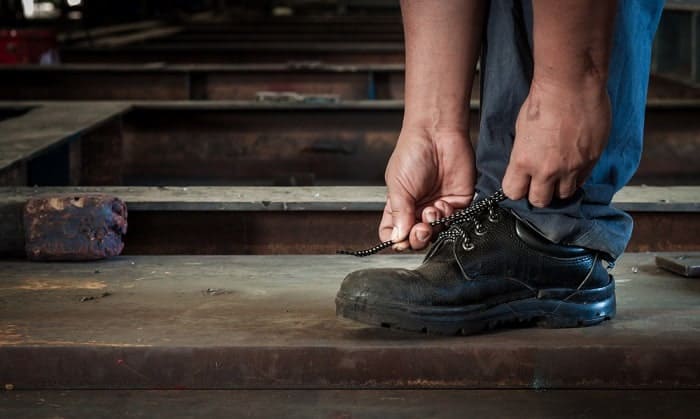 Buying safety isn't rocket science, so there's no need to complicate things. What I mean is that you should approach it the same way you buy your casual shoes.
The only difference is that you prioritize practicality more than style. To lend you a hand, here are four ways that you should look for when buying new factory work shoes:
Comfort
Apart from being hard and durable, work shoes need to be comfortable. Go with a shoe that offers good shock absorption, excellent cushioning, and soft insoles to support overall comfort and movement.
Grip
There's always times when you walk on slippery surfaces. That's why going for work shoes with good grip is an essential. Shoes with good traction and hold are essential features, especially when working in moist environments. "The gripper, the better."
Durability
Always keep in mind that you're using these pairs of shoes for tough and gritty factory work. You wouldn't want to go for a work shoe that quickly succumbed to breakage.
What you need are durable and reliable shoes that will last a lifetime. That's why you should go with work shoes that have good build quality. Check the materials used, the brand, and the overall design. Make sure that it looks and feels like a premium shoe.
Style
While it isn't high on the list, it's still important to look presentable. That's why the shoes you choose should complement well with your overall uniform. There are tons of stylish work shoes that offer both quality and style. That way, you won't have to compromise one for the other.
Safety
And last but not the least is safety. Make sure that you won't slip on it. Also see to it that it is well protected. This includes a steel toe cap and a heel protection. That's why they're called shoes for factory work because they should protect you from the hazards of physical work in factories or in the workplace.
Care and Maintenance
Shoes for factory work are just like any other shoes. You need to take care of them and make sure that they're worn and used properly. One good way to do that is by making sure that they are laced properly.
Check the laces and don't over tighten them as this can cause wrinkles on the surface. Also avoid your shoes getting wet because the moisture can seep into your shoes and cause it to deteriorate.
We also recommend that you clean your shoes every now and then or every after use. Do this by using a dry brush to remove any dirt and dust that's stuck. You can also use a moist towel to remove the grime.
Then use a dry towel to remove any moisture. Also, store your shoes properly. Don't just pile them up on top of each other as this can damage its shape. It's best if you put them on a shoe rack and keep them away from sunlight.
Frequently Asked Questions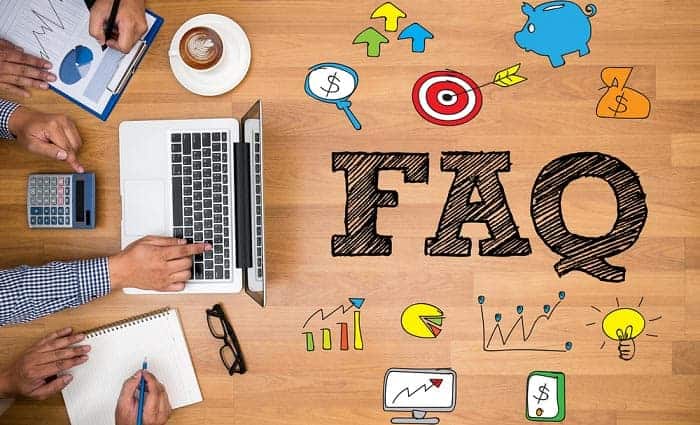 What are the most trusted factory work shoe brands?
There are a ton of brands that produce high-quality work shoes. Some notable brands include Timberland Pro, New Balance, Merrell, Caterpillar, Wolverine, and more.
While it's important, you shouldn use branding as your only basis for buying work shoes. There are a ton of other great shows produced by lesser-known brands. Keep in mind that what truly matters is your personal preference. As long as you're comfortable with what you're wearing, you can choose whatever brand you want.
Do carpenters need steel toe boots?
Yes. Similar to factory work, carpentry can be risky and pose a danger to one's feet. Having boots with steel toe caps is essential for safety purposes. Not only will it protect a carpenter's feet from falling debris, it will also keep their feet safe from shattered glass or any other sharp objects on the ground.
Where to buy factory work shoes?
You can always purchase quality work shoes at your local department store. Or you can buy at the most convenient place on Earth: the internet. The internet gives you access to all the details you need when buying work shoes.
You don't have to talk to a salesperson in the mall to get the shoes you want. Just head to an online shoe store, do a search, select the one you want, pay for it, and you're done. Now, all you have to do is wait for it to arrive.
Conclusion
Factories have a bad reputation in terms of the amount of pollution that it gives to the environment.
But there's no doubt that it also provides a ton of benefits to a country's employment rate and overall economic infrastructure. That's not to say it still isn't doesn't pose any danger or risk to the workers.
Factory workers need to be equipped with all the safety gears – including work shoes. By investing in the best shoes for factory work, you can work better and longer without the risk of injuries.
Your employers will take care of you when you get into an accident. But always remember to look out for yourself as well, starting with your feet.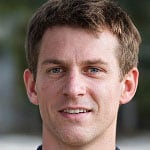 Having worked in the field of personal protective equipment for over two decades, Andrew Carnegie is a specialist in the field.
At EDC, he strives to improve performance efficiency and promote workplace safety for EDC's readers and customers. He also researches the most up-to-date equipment that has earned relevant accreditation for use in a wide range of industries and specialties.