Whether you're a builder, painter, or an average homeowner doing housework, walking on the roof can be extremely dangerous. Roofs can be intensely slippery, which is definitely a safety hazard. And it's necessary to always be careful and prepared with the right gear.
It's crucial to equip yourself correctly so that you're protected when doing repairs or other work on the roof. Step one is to make sure you have the best shoes for roofing that can keep you safe.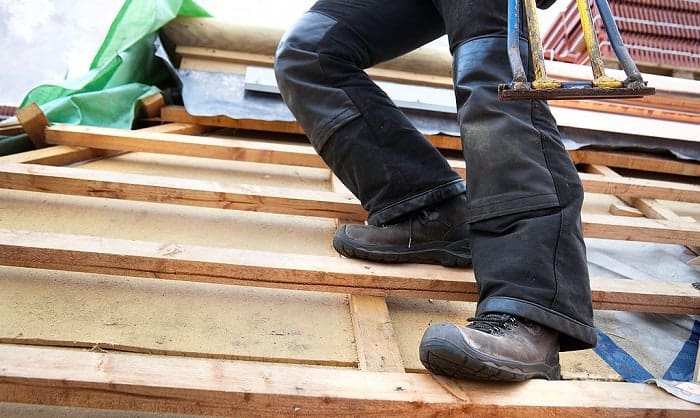 Not all shoes are suitable for going on the roof and working. This task isn't for your everyday walking shoes, and definitely not your house flip-flops or sandals. You need a durable pair of work shoes or boots, with a tight grip on roof shingles and a snug but comfortable fit.
Need help selecting a pair? Here are some of the best shoes for walking on roofs.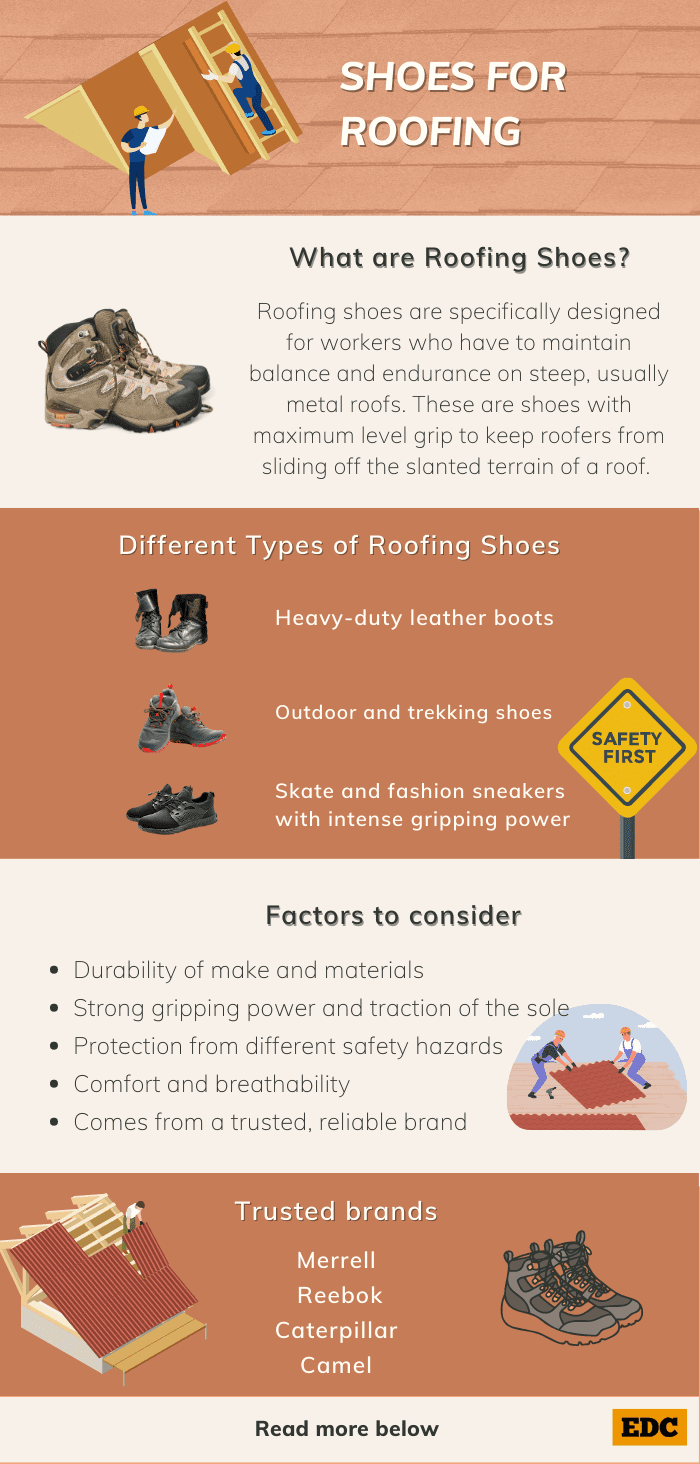 Best Shoes for Roofing Reviews of 2023
1. TICCOON Steel Toe Work Shoes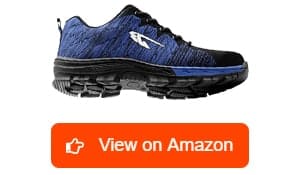 Roofing work boots aren't exactly known to be the most stylish of footwear. TICCOON came up with a modern solution to the heavy-duty work boot with these steel toe shoes created with fashion and comfort in mind.
Unlike those big and bulky shoes for roofing work some men usually go for, this pair is made up of lightweight fabric. This makes them easy to walk in and very light on the feet, so walking in them doesn't feel like a drag or add to your fatigue after a long day.
They have rubber soles that provide a stable grip even on slippery roofs so that you don't have to worry about accidents that can occur during work. It also has a steel toe feature to help protect your toes from falling objects and debris, especially if you work on a busy construction site.
What's awesome about these shoes is that the brand created them with fashion and versatility in mind. It has a universal yet trendy design, so it can be worn for work and leisure. I would say it has somewhat of a street style edge to it. You can even wear them for outdoor trekking or traveling if you want.
The only downside to this shoe is that it can be a bit tight around the toe area, which can be distracting during longer days. This might be because it's the area of the shoe with a steel body.
What We Like
Lightweight fabric that is comfortable for heavy-duty work
Rubber sole that has a stable grip to prevent slipping on the roof
Has a steel toe to protect your toes from falling debris or objects
Perfect for roofing, trekking and outdoor excursions
What We Don't Like
Can be a bit tight around the toe area, probably because of steel
If you're looking for comfort and performance but also care about versatility and style, get these roofer shoes. They can pretty much be an all-around pair of shoes from morning till night and will give you the utmost protection while you work on the roof.
2. Ever Boots Ultra Dry Waterproof Work Boots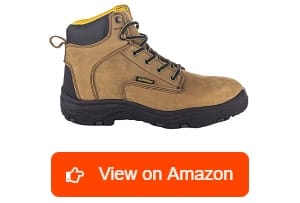 Roofing and building can be tough and tedious work, especially because you're exposed to different climates and environments. Ever Boots' high-quality pair of roofing boots that transcends any weather—be it super sunny or dreadfully rainy—is exactly what you need to pull through.
These boots are waterproof and come with an insulated lining too. This is to keep your feet dry during the rainy season or when working on a wet roof. It allows you to keep working without that gross and distracting feeling of wet socks and feet under your work shoes.
They're crafted with premium, top-quality soft leather. This makes the fit very comfortable. And it takes away the difficulty and pain of breaking the new shoes in because they're so easy to get used to.
Speaking of comfortable, the boots also have a removable insole, so you can replace it with your own. That makes the boot highly customizable to your preference for comfort.
In terms of the outer rubber sole, it has a tread design that is resistant to oil, slip, and abrasion. The sole makes sure you're safe from possible accidents that might occur from unexpected slippage or falls. It also provides firm and solid traction on all kinds of terrains, whether wet or dry.
But make sure to double-check the size you get these shoes in. The boots run a half-size bigger than usual. They may be a bit loose and unsteady if you order the shoes without making a mental note of that.
What We Like
Waterproof and insulated lining to keep your feet dry
Premium soft leather makes breaking in your shoes painless
Has a removable insole, so you can add in your own
Has a tread design that's resistant to oil, slip, and abrasion
Provides firm, solid traction on wet and dry terrains
What We Don't Like
Runs half a size bigger than the usual sizing chart
If you're looking for the
best work boots for roofing
in any weather, wet or dry, hot or cold, then this is the pair for you. They're terrific for heavy-duty work, but with the ease and comfort of soft, premium leather.
3. Caterpillar Threshold Waterproof Industrial Boot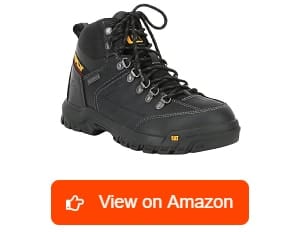 If you want supreme quality, protection, and customization in one pair of boots, then this one by Caterpillar may be your next BFF.
These boots' uppers are made with full-grain leather that makes them very sturdy and will last a long time. The leather is waterproof, and the boots have seam-sealed liners that keep the feet dry and secure. Because of those, these are heavy-duty boots that are great for rainy weather.
This is a soft toe boot, so it protects your toes but isn't as uncomfortable and heavy as a straight-up steel toe. Unlike the latter, this boot won't feel tight by your toes, so they can still breathe and move around comfortably.
There's also a removable footbed that you can take out completely or replace with something you're more accustomed to. That makes this shoe very customizable to your preference.
The coolest part about these boots is that they offer electric hazard protection. They can protect you from circuits up to 600 volts and are especially effective in dry conditions.
While these boots are generally very sturdy, one tiny part isn't as durable as the rest. The circular metal eyelets that the laces go through break off easily if you often tie your laces up very tightly. Consider this a watch-out if you have the habit of doing so with your boots.
What We Like
Sturdy and long-lasting uppers made with full-grain leather
Waterproof leather and seam-sealed liners keep your feet dry
A protective soft toe boot that won't feel heavy and tight by your toes
Has a removable footbed, customizable to your preference
Electrical hazard protection up to 600 volts in dry areas
What We Don't Like
Eyelets break off easily if you tie your boots tight
If you often work in areas with many electric wires or generally wet areas, these could be the best roofer shoes for you. They're durable, customizable, and will protect you from bad weather and electricity hazards.
4. Camel Crown Breathable Non-Slip Sneakers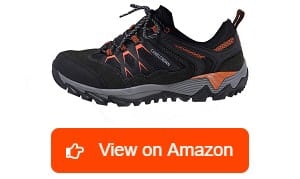 Who says roofing shoes have to be big, bulky, and unexciting? If you love trekking and cross-training in your free time after doing roofing work, then these non-slip low top kicks are great for all-day style!
These stylish, eye-catching shoes are perfect for trekking in the outdoors and even cross-training at the gym. But it also has intense gripping power that fits the need to climb and work on steep metal roofs.
It has an anti-slip rubber sole, so you don't have to be tense even if you're working at a great height. These shoes are also wear-resistant, which means that even if you use them every day doing rough, tedious roofing work, it will last you a long time.
It also has an anti-collision toe cap to ensure falling debris and accidental impact won't hurt your feet. It's a great way to protect your toes from possible injuries (yes, they happen even just on the roof).
It uses an OrthoLite insole, which makes the feet feel comfortable at all times. This insole also absorbs shock and impacts to keep you stable and secure. There's also ample support for your arch and upper, so your feet can remain safe.
My only issue with these shoes is that they run a bit smaller than the actual size they come in. If you're looking to buy these shoes, I suggest you get them at least half a size up.
What We Like
Perfect for trekking and training
Has the gripping power of roofing shoes
Anti-collision toe cap protects your feet
Anti-slip and wear-resistant rubber sole that will last a long time
Comfy OrthoLite insole which absorbs shock and impact
Provides support for the arch and upper
What We Don't Like
They run a bit smaller and more narrow than the size ordered
These are awesome non slip roofing shoes that can double as fitness shoes. You get more bang for your buck because you don't have to switch your footwear when you work, exercise, and explore the great outdoors.
5. WHITIN Men's Steel Toe Slip-Resistant Work Shoes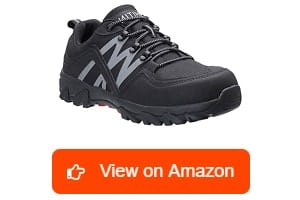 Durable yet extremely comfy—that's the most appropriate way to describe these steel toe, slip-resistant work shoes by WHITIN.
Its steel toe guard is a feature to help protect your toes from whatever falling objects and debris may be present in your work environments. It's a feature to prevent unexpected injuries and accidents, which may be common, depending on your work site.
The sole of these shoes is probably the greatest part of it. It's made of durable rubber that provides rigorous traction and resists slip, so you know you can get a firm grip on steep roofs with sharp angles.
It's also puncture-proof, so it won't get easily damaged by nails, thumbtacks, or any other sharp items that may be lying on the ground. This is particularly helpful if you work at a busy construction site, where you're prone to step on random objects.
There's a padded mesh collar that makes the shoes extremely comfortable to wear, even if you spend all day in them. The fact that the overall look is sleek and stylish is another reason why you'd want to wear them off work too.
The tricky thing about these shoes is that they aren't rated waterproof. This means they can get ruined by the rain if you're working during the wet season. They're amazing roof climbing shoes in the summer, but should definitely stay home during a storm.
What We Like
Steel toe shoe protects your toes from falling objects and accidents
Puncture-proof sole doesn't get damaged by sharp items
Durable rubber sole allows for vigorous traction and slip resistance
Padded mesh collar makes it comfortable even when worn all day
Look sleek and stylish, so they can be used outside of work too
What We Don't Like
They aren't rated waterproof, so they can get ruined in the rain
If you're looking for
ultra-comfy shoes for metal roof work
, then this might be a great option for you. It's durable and comfy at the same time, with a stylish look you can wear out pretty much anywhere.
6. Merrell Men's Moab 2 Vent Mid Hiking Boots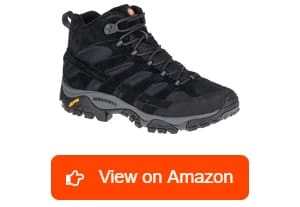 These Merrell roofing shoes are fondly called the Moab (Mother of All Boots) for a reason. It's extremely comfortable and breathable while providing superior quality ventilation and rigorous traction for your trekking adventures and roofing.
These boots are made with suede leather for reliable durability and mesh for the utmost level of comfort and breathability. The footbed is extra cozy on the foot, hugging it with contours that provide zonal support for the arch and heel.
There's an additional air cushion that supports the heel area with just the right amount of elevation to reduce stress on the foot with every step.
The sole is made with Vibram, a top-tier, high-performing rubber that is unmatched when it comes to slip resistance and powerful grip. It's perfect for long tasks on the roof, so these boots would make awesome shoes for tile roofing and other scrupulous work.
Because Merrell promotes saving the environment, they practice sustainability while making this product. That means they try to recycle, conserve water, and reduce waste in the process—a plus if they align with your lifestyle and values.
While most of the shoe is sturdy and durable because of its high-quality make, the laces don't reflect the same. It seems like the laces these boots come in are quite mediocre. Be prepared to replace the laces with more resilient ones a few months into using these boots, as they tend to break over a short time.
What We Like
Suede leather and mesh provide a combo of comfort and durability
Has a soft and contoured footbed with zonal arch and heel support
An air cushion supports the heel area to reduce stress with each step
The sole is made with Vibram, a slip-resistant rubber
Made by a company that helps the environment
What We Don't Like
The laces it comes with are not very durable
This is an amazing pair of shoes to walk on roof areas with if what you're going after are comfort and quality. Merrell gives you both with their cult-favorite Moab.
7. SUADEX Indestructible Steel Toe Shoes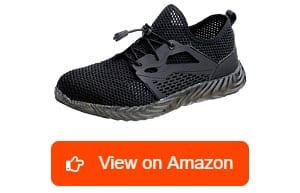 These steel toe shoes from SUADEX are perfect for work on roofs where you have to move around a lot.
They have a widened steel toe cap, which serves as protection from any falling objects or unexpected impact. Steel toe caps often get a bad rap for being too tight and stuffy, but this one has enough room for your toes to wiggle freely and breathe comfortably.
The upper is also very breathable. It's made with hollow mesh, fly netting, and high-stretch shoe cloth for ease and comfort. It's also not as bulky as other work boots made of heavy leather and have high-top cuts.
There's a unique V-shaped tread pattern on this slip-resistant rubber sole, which provides insulation as much as it does firm grip. That makes them fit to use as roofing shoes for shingles that can be quite tricky to walk on.
The sole is also soft and easy to bend to give you more mobility and help you walk comfortably. This is helpful if you have to move around, so they'd make good shoes for framing, tiling, and other tedious roofing jobs.
There's also a reflective stripe at the back of the shoe that reflects light in the dark. It helps keep you safe when you're working the night shift.
It's no doubt these shoes are ultra-comfortable and breathable, but I wish they were a little more lightweight. They're a bit heavier than the usual fashion work shoes, which can add to your fatigue after a long day.
What We Like
Has a widened protective steel toe cap with room for activity
The upper is breathable and designed for ease and comfort
Insulated sole with a v-shaped tread design for a firm grip on roofs
Rubber tendon sole is soft enough to bend, so movement is flexible
Has a reflective stripe at the back that reflects light
What We Don't Like
Kind of heavy on the feet, so it adds to tiredness after a day's work
SUADEX offers another option for shoes that are highly efficient for construction work and still look appealing and fashionable outside of work. They are high-performing and give maximum protection for roofing, all while making sure you look amazing.
8. Reebok Work ZPrint Shoes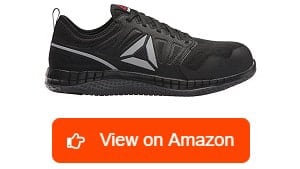 Reebok is one of the biggest shoe brands in the world. So it's no surprise that they have their own line of work shoes specially made for builders and roofers who still want to keep their signature street style looking fresh.
These ZPrint shoes have an upper made of seamless textile that is very lightweight. It provides the optimal comfort and support levels for your feet while allowing you to be nimble and move around without added weight.
The shoe is low-cut so that your ankles can twist and move around easily and have smoother stride transitions even on top of the roof. It's also more stylish to look at, as opposed to thicker and heavier-looking leather booties.
The footbed is made using MemoryTech Massage technology. This is used as a cushion to give the underfoot as much comfort as possible.
Meanwhile, the midsole is made of 3D foam with deep flex grooves to serve as extra cushioning. The outermost part of the sole has strategically-sized nodes in the tread design for slip resistance and a tight grip on roofing.
It has a steel toe cap, but it can be tight on the toes in that area. Sometimes it feels like your pinky is being squished in. It's suggested that you go a size up to avoid this problem.
What We Like
The upper is made of lightweight, seamless textile
Has a low cut for easy ankle movement and stride transitions
The footbed is cushioned using MemoryTech Massage technology
3D foam midsole with deep flex grooves provides extra cushioning
The outsole has strategically-sized nodes for slip resistance
What We Don't Like
Can be too tight in the toe area, so you should go one size higher
Reebok has always been on the cutting edge of shoe technology, and they never forget us heavy duty workers. These ZPrint shoes make amazing shoes for steep roof jobs because of their mid and outsole technologies that provide ultimate comfort and give you a leg up on work performance.
9. Korkers TuffTrax 3-in-1 Overshoes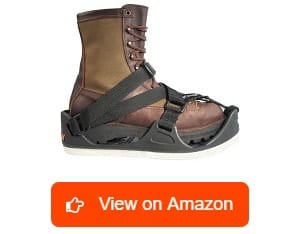 Now, this one isn't exactly a pair of roofing shoes or boots, but it's an essential accessory if you can't be bothered to buy new roofer shoes that might cost you hundreds of dollars.
These Korkers overshoes allow you to wear whatever sneakers or casual shoes you want at work. All you have to do is use the quick-release buckles on top of them, secure the fit with the adjustable straps, and you're all ready to go.
Don't worry about them being loose or sliding up against your actual shoes. These are designed with molded rubber walls near the toes, heels, and side areas to make sure they hug your shoes without slipping and sliding all day long. It also ensures a snug and firm fit.
The system comes with soft foam soles already installed. These soles provide incredible slip resistance and a pretty powerful grip, making it excellent for metal roofs.
The only thing, though, is that these overshoes are technically an added layer to your footwear. It feels funny the first couple of times you wear it, so you'll have to give yourself time to get used to them and master your balance while wearing them. I suggest you practice wearing them at home for a few days before going on top of the roof with them on.
What We Like
Can be worn over whatever shoes you wear at work
Quick-release buckle and strap system for easy and secure wear
Molded rubber walls for a snug and firm fit
Comes with soft foam soles installed, awesome for metal roofs
Gives you incredible resistance to slip, to keep you from falling off
What We Don't Like
Needs some getting used to before can walk comfortably with them
This is a crucial accessory to roofing if you don't want to wear separate shoes for work and leisure. These overshoes are a no-brainer for those who don't have time to research different shoe brands. It's a purchase you cannot go wrong with.
10. TQGOLD Steel Toe Work Safety Shoes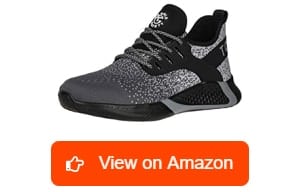 These safety shoes look awesome for casual wear, but pack a punch when it comes to protection and anti-slip. It comes in a breathable upper that is woven with fly knit mesh and durable yet light rubber. These make sure the shoes aren't so heavy when walking.
It has a steel toe cap that's wide enough to give your toes some wiggle room. It also protects the soles of your feet with an anti-puncture insole made of Kevlar. These protect you from any unforeseen accidents or impacts at work.
The rubber sole has an anti-slip design to hold you upright and keep you from slipping even on steep, metal roofs. The laces are bold and give you a tight and secure fit without breaking easily.
These shoes look awesome outside of work too. They are lightweight and breathable enough to be used for other activities. You can use these while working out, trekking, playing sports, or even just for a chill night out with friends.
But while it ticks all the boxes for safety and performance, it doesn't have the same strength in comfort during long work periods. The footbed admittedly isn't as extensively cushioned as other shoe brands, so standing on your feet with these shoes on can make the feet tense up a bit. I recommend inserting cushion insoles if you can.
What We Like
Breathable, stylish upper with fly knit mesh and durable rubber
Protective steel toe cap and anti-puncture insole
Is not tight around the toes
Light rubber sole with anti-slip design holds you upright
Bold laces that are sturdy and provide a secure fit
Versatile enough to be used for trekking, sports, and more
What We Don't Like
The footbed is not very comfortable for long hours of work
Don't let the trendy and fashionable look fool you—these safety shoes will protect you from so many unexpected accidents you could come across at work, from the toes to the soles.
11. Carhartt Men's CMX4023 Lightweight Casual Wedge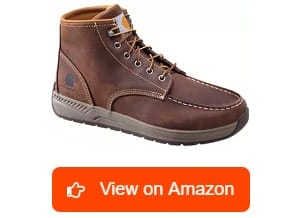 Not all roofing boots are too bulky and industrial to be used outside of work. This one by Carhartt combines performance and protection with comfort and grungy style.
These boots are made of high-quality leather to make sure they are durable and have the longevity of hard-hitting work shoes. But even with their leather exterior, these shoes are very easy to wear. The brand even claims they can be as comfortable as sneakers.
This is because underneath the tough look and design, there is soft insole cushioning to make sure your feet are relaxed and comfy. They don't feel as heavy and bulky as other heavy-duty work boots either, so they can be used every day.
The shoes are made with FastDry lining, which means they won't absorb sweat, rain, and other moisture that can cause foul odors.
They also have a platform wedge-style heel, giving you some height while protecting the soles of your feet. Even then, the boots are still lightweight, and you won't have to drag your feet while wearing them.
The only downside to these boots is that they run a bit tight if you have wide feet and ankles. It seems to be designed for more narrow feet. They may look and feel a bit awkward for those with rotund feet.
What We Like
As durable as high-quality leather, as comfortable as sneakers
Made with FastDry lining, which curbs sweat and moisture build-up
Light wedge platform heel protects your soles
Doesn't feel as heavy and bulky as other work boots
Can be used as casual shoes as well
What We Don't Like
Can be a bit too tight for those with wider feet and ankles
If you usually do light roof work and don't want to invest in industrial boots that you can only use when you have the occasional task on the roof, try this one out. When you're not needed on the roof, you can use it primarily as a statement shoe for your edgy outfits.
12. DC Men's Pure Skate Shoe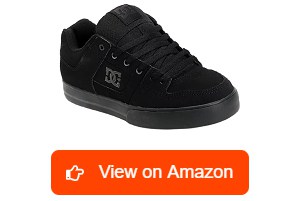 Skate shoes always look rad, but they're also designed to have a ridiculously firm grip on the ground to make sure skaters don't get into any accidents. That's why shoes like these by DC are a great option when it comes to roofing.
The most compelling detail about these skate shoes is the outsole. The rubber sole is resistant to slip and abrasion and is very sticky. This means you can get an extremely strong grip when you're on the roof with these shoes.
As for the rubber outsole's tread design, it has the same one most DC shoes have—a pill pattern that adds to its already impressive grip power to make sure you don't slip from the roof.
When it comes to comfort, these are also an A+. It comes with a foam-padded tongue and collar for maximum support and ease of walking all day.
These skate shoes have many designs to choose from. There are different colors, from all-black to white, to dark grey with bright orange details. The variants are made either from leather, nubuck, or suede, but are always top-quality for durability and longevity. They all have that signature DC urban look.
However, the issue with these skate shoes is that they run a size smaller than your average. Ordering half a size up might not even be enough. Try to order one size bigger than your normal, to be safe.
What We Like
Abrasion-resistant and sticky outsole made of rubber
Foam-padded tongue and collar for extra support and comfort
Has many designs to choose from
Pill pattern tread for traction on roofs
Has signature DC design elements that are on-trend
What We Don't Like
Runs a size smaller than average
DC skate shoes don't just look awesome—they're high-performing for roofing work too. Many builders go for shoes like these to have a bit more of a casual look when they're off to the roofs to paint or tile, so if you're looking for more stylish work shoes, this is an option for you.
What are Roofing Shoes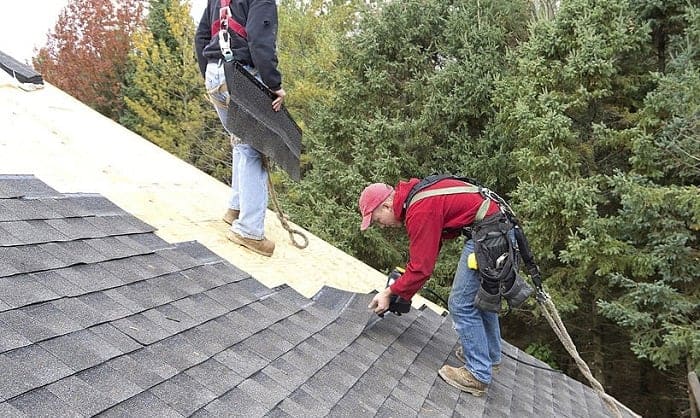 Roofing shoes are specifically designed for workers who have to maintain balance and endurance on steep, usually metal roofs. These are shoes with maximum-level grip to keep roofers from sliding off the slanted terrain of a roof. They also help roofers walk properly without losing their balance or skidding downwards.
This type of shoe also provides a lot of protection to workers who do heavy-duty construction work on or off the roof. They usually protect the toes, heel, ankle, and arch to ensure no part of the foot is susceptible to injury, like sprains, cramps, or other accidents.
Roofing shoes are usually made of very sturdy material, like leather or rubber. They sometimes have added benefits to help further the protection of the wearer. One of these is being rated waterproof, which is perfect for a roofer who works during the rainy season. Roofing shoes can also be shock-absorbing to keep the wearer safe from short circuits.
How Do Roofing Shoes Work
Roofing shoes are designed with sticky rubber soles that don't easily slip on metal roofs and other surfaces. They also have tread designs or patterns on the shoe soles that help deliver more traction to avoid tripping or accidents while the wearer is on the roof.
Because of these soles, there is friction when the shoes touch the roof instead of slipperiness, like other sandals and slippers will probably have. Roofing shoes will keep you upright so that you can continue doing your work.
Why Do You Need Work Boots for Roofing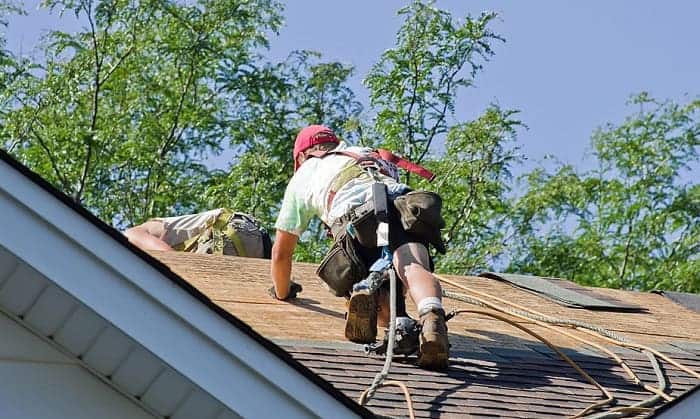 Roofing is no easy feat, especially when the roofs are steep, slippery, and made of metal. Your ordinary sneakers and sandals won't be able to handle holding on to roofs like those. You wouldn't run with flip-flops on, would you? It's the same with roofing—you need the appropriate gear to protect your feet and do your work efficiently.
That's why you need special work boots customized for roofers, builders, and handymen like you. These non slip shoes for metal roofing are tailor-made for your housework because they have a firm grip on roof surfaces. That means you won't have to face any accidents, falls, or impacts.
Work boots are also important because they support your feet and give you good footing to prevent sprains and twisted ankles. Many metal roofing shoes offer arch, heel, and ankle support.
This is to make sure that even when your feet bend while standing on a very steep roof, they are comfortable and relaxed, never tense and prone to injury.
In a nutshell, work boots are important when you do roofing work because any other type of footwear might hurt you or cause you to do a bad job with your tasks. You need to get a high-quality, durable pair of these boots to do your work properly.
Different Types of Roofing Shoes
Heavy-duty leather boots
For roofing experts doing heavy-duty work on a daily basis, leather boots with extreme grip and protection are definitely the go-to. These are the boots you can find at home improvement retail stores specifically designed for people who go on the roof and stay at construction sites.
These powerhouse boots are usually made of durable leather, so they last a long time. They protect the ankle, heel, and toe areas too, to avoid any spraining. These boots are as professional as you can get if you're looking for roofer shoes.
Outdoor and trekking shoes
If you're not exactly a heavy boot person, but still want something created specifically for tougher terrains, you can go for trekking shoes. These shoes are usually made to withstand any weather, so their design is almost always strong enough for roof work as well.
These shoes are usually waterproof to keep your feet dry from the rain, and other wet areas campers go to. That makes them a great fit for roofs, where you have to make sure your feet aren't drenched so that you can concentrate on work in a comfortable state without worrying about slipping.
While outdoor and trekking shoes aren't as heavy-duty as roofing boots, they're still a terrific option if you want something technologically advanced in terms of build and material.
Skate and fashion sneakers with intense gripping power
If you're not so much of an outdoorsy hiker and feel a bit uncomfortable in bulky, industrial boots, then you could always go for lightweight sneakers or rubber shoes with intense grip in the soles. Some of these shoes include fly knit sneakers and skate shoes designed with strong rubber soles resistant to slip.
This is typically the type of work shoe younger roofers and builders go for, so that they can use the same shoes for going out with their friends and still look stylish. Its appeal is that it's a multi-use shoe that can be used for work and leisure.
It's also a lot more convenient because you don't have to keep switching shoes before and after getting on the roof and doing your job. The shoes you came in are the shoes you leave with too.
Buying Guide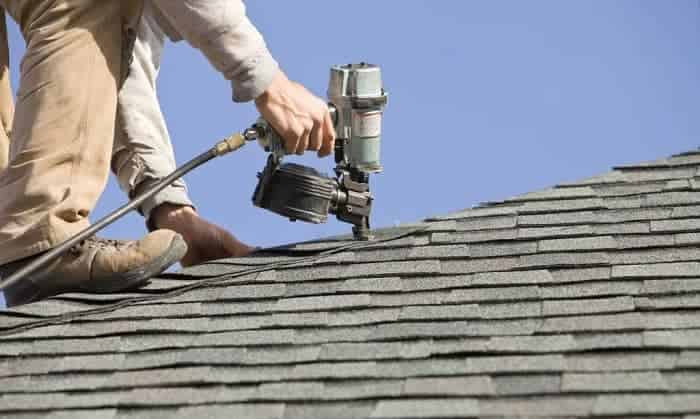 Durability of make and materials
Nobody wants to buy shoes that will only last them a few months before the sole or upper breaks apart. That's why scrutinizing the material your roofer shoes are made with is essential.
Always opt for shoes made of a material that is long-lasting and can withstand wear and abrasion. Some of these include hard or soft leather and rubber. If you want to go for shoes made mainly of mesh and fly knit cloth, make sure they're made by a trusted brand with a proven track record of coming out with high-quality shoes.
Check the design of the insole, midsole, and outsole. Look for brands that don't skimp on these layers because a combination of all three will provide maximum support and longevity even if you use the shoes every day. Check out brands like Reebok or Merrell to see cutting edge technologies applied to shoe designs.
Strong gripping power and traction of the sole
The whole point of acquiring a pair of roofing shoes is to make sure you can walk freely on the roof without slipping. To do that, you need shoes with maximum gripping power to keep you upright and help you maintain your balance.
You want to look for shoes with a sticky rubber sole and a tread design or pattern that will aid in slip resistance even on metal roofs. Brands have different unique designs for the soles, but you should look for ones that have deep grooves or nodes that can latch onto the roof's surface and hold you in place.
Protection from different safety hazards
If you work on a construction site or a home where you have to deal with wires sprawled all over the area of the roof you're working on, it would be wise to get shock-absorbing shoes. This is one way to protect you from electric circuits with high voltage.
Meanwhile, looking for waterproof shoes might be a good idea if you're working during the wet season. Keeping your feet dry is one more way of assuring you won't deal with any falls or accidents while you work on a steep roof.
Comfort and breathability
You can't expect anyone to do heavy, laborious work on the roof with uncomfortable or tight shoes, especially in the warmer months. When looking for a pair of roofer shoes, always keep comfort in mind. It might not be a priority right off the bat when you're focused on finding the most competent anti-slip sole, but trust me—it will matter in the long run.
Look for shoes with uppers that are breathable and won't make your feet feel like they're being strangled. Stuffy shoes will make you feel tense and uncomfortable. Always look for shoes that you know you can work in all day without distraction.
Comfy shoes are usually low-cut and don't restrain the ankle, so that you can have more flexibility to move it however you want. They're also often made of a breathable material, like mesh. Comfy shoes will also have multiple layers of cushioning in the footbed for added support.
Comes from a trusted, reliable brand
Like all personal purchases and investments, it's important to go to a brand that you trust and is trusted by others. A reliable brand that is known to come out with high-quality shoes should always be a frontrunner in your mind when you look for roofing shoes for work.
Brands like Merrell and Camel have been trusted by many for years, and for a good reason. Their shoes—along with the shoes of other brands on this list—last a long time and give the utmost support and grip you need to efficiently do your roof work.
How can I properly maintain and care for my roofing shoes?
Always follow the instructions on the box your shoes first come in to learn how to care for them properly. If it doesn't say the shoes are waterproof, make sure you don't use them when you know you're going to step in rain and puddles, or else the soles might come off.
When your shoes start to look dirty and like they need some cleaning, don't just throw in your leather and rubber shoes in the wash. In fact, don't wet them at all.
Laundry detergent and water can end up seeping into the soles and cushion of the shoes and end up destroying those layers. Instead, clean them lightly with an old toothbrush and some shoe cleaning liquid diluted in water.
Dirty soles can be cleaned up with some wet wipes or an old cleaning brush wet with soapy water. If you're using the latter, make sure the shoe's upper doesn't absorb the water, especially if it's made with delicate mesh or canvas. This might bleach it and change its color, so stay wary of that.
For shoelaces, handwashing is the most suitable option. Take out the laces around once a month (or more often, if needed) and wash them by hand with soapy water. Leave them out to dry completely before lacing them back into the eyelets.
Frequently Asked Questions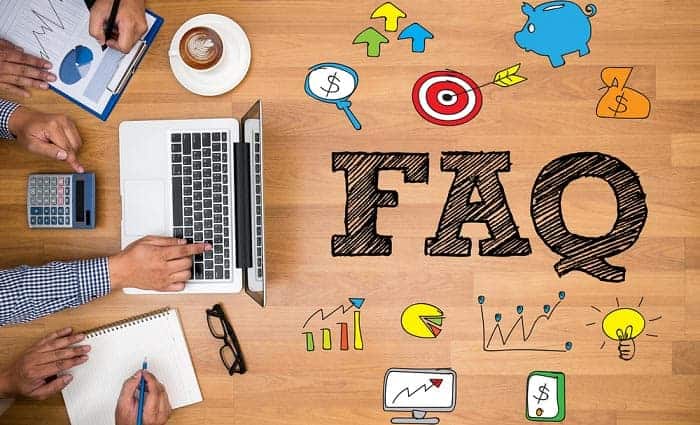 What are the most popular roofing shoe brands?
Some of the most popular brands include Merrell, Reebok, Caterpillar, and Camel. They're all renowned for their top-tier quality when it comes to shoemaking, and are especially significant in the realm of work and construction shoes.
Cougar Paws is another popular brand for roofer shoes. It's very well-known for its roofing Estimator shoes, but it's more specialized for light-duty work. I personally think the ones on this list offer more comfort and look a lot more stylish for everyday work gear.
What do you wear for roofing?
The first thing you should wear is obviously your roofing shoes. This is probably the most important piece of gear you need to secure before you go up and work on the roof. It's the single most crucial protective equipment you need to work properly without fear of sliding off that roof.
In terms of full roofing apparel, it's recommended to go for lighter colored clothes. That is because darker colors, especially black, may attract heat. This can make you feel very uncomfortable, especially during the summer months.
Try to avoid wearing polyester as well, because it's not very breathable and is never recommended when you're out in hot weather. Loose-fitting cotton is always a better option.
You can also wear hats or bandanas that can help shield your eyes from the blaring sun and keep your head cool. If you're working from a couple of stories up from the ground floor, you might also want to wear a helmet as a protective measure.
How do roofers walk on steep roofs?
The first step to getting on steep roofs is making sure you are geared up with the proper equipment, like roofing shoes. Shoes with firm gripping power allow roofers to walk slowly but surely across steep roofs, going higher and lower on the roof in the process without slipping.
Roofers need to always hold their body in an upright position, leaning in the direction of the roof to maintain balance. This helps them properly walk without toppling over, and gives them more traction too.
Walking sideways is another technique to easily get to the parts of the roof you need to reach quickly and without much hassle. If you attempt to go to the top vertically, you could lose your balance.
Is it okay to walk on your roof?
While it's admittedly a safety hazard to go up on the roof for any reason, it can be okay as long as you know the risks associated with it. You should also come very prepared and with the proper gear, like roofing work shoes.
You have to make sure your shoes will keep you in place and have a firm and sturdy rip on the roof shingles. This is so that you can concentrate on doing what has to be done without worrying so much about safety.
Thinking too much about risks because of shoes that don't make you feel safe or confident about being on the roof can be very distracting if you're trying to do some repairs and building.
What will happen if I walk on the roof with my house shoes or slippers?
Regular shoes, sandals, and slippers aren't designed to have a firm grip on surfaces. Most of the time, they're very slippery even if they have rubber outsoles. If you wear them while you're out on the roof, you run the risk of slipping and falling, and you never want that!
Investing in stable and durable roofing shoes with great grip is what you need to safely operate and build on a roof. Never attempt to do these things with ordinary shoes that won't offer you maximum support, because it can lead to injuries like sprains or falling off a story or two.
Can I wear my roofing shoes even outside of work?
Yes, there are actually plenty of shoe brands that design slip-resistant sneakers, fashion shoes, and even skate shoes for roofing. These shoes always look stylish and are made so that you can feel confident about looking good while working.
These shoes are usually made to have features like high traction and a firm grip on metal surfaces and shingles, but are also very comfortable and lightweight.
That makes them easy to wear everywhere, even outside of work. Many of these shoes can be worn at the gym, while hiking in the woods, or just going for a chill night on the town in casual street style.
Where can I buy roofing shoes?
There are tons of places you can purchase your own pair of roofing shoes. You can conveniently drive by any home improvement store—like Lowes or Home Depot—and check out various brands and options available for roofing footwear.
But some of the best channels to buy good roofing shoes are online shops and websites. There's always a wider array of choices online than in-store. That's because most brands are online nowadays but may not be carried by your favorite home improvement or shoe shop.
Plus, with access to the internet, you can do proper research on a brand's particular sizing charts, learn more about the shoes' make and material, and what other people's experiences were like with those shoes through personal customer reviews.
Conclusion
Now that you have an idea of how to protect yourself and your feet while working up on the roof, you can go on out and invest in a swanky pair of best shoes for roofing. Just make sure it has extremely strong gripping power and a close-fitting yet breathable wear, and you're good to go.
With a good pair of roof walking shoes, you can get your work done with peace of mind. Focus on the hard day's work and trust in those bad boys to keep you safe and upright while finishing your construction or chores. Good luck!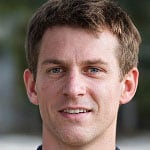 Having worked in the field of personal protective equipment for over two decades, Andrew Carnegie is a specialist in the field.
At EDC, he strives to improve performance efficiency and promote workplace safety for EDC's readers and customers. He also researches the most up-to-date equipment that has earned relevant accreditation for use in a wide range of industries and specialties.