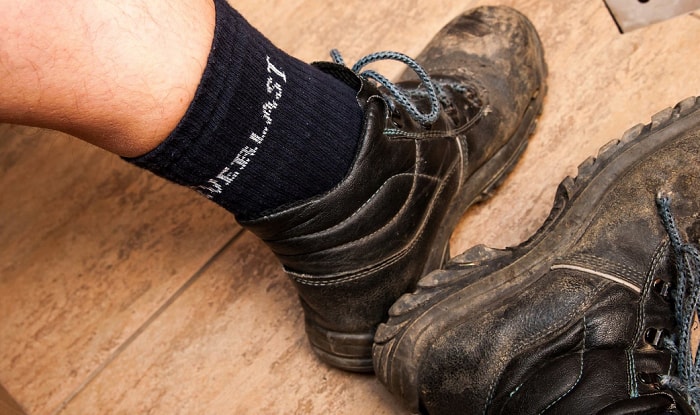 Socks are one of the pieces of clothing that many of us take for granted, yet they play an important role in keeping our feet sweat-free. For fashion enthusiasts, hosieries also add flair to the whole outfit. On the other hand, laborers wear socks to keep the rough parts of the boot from rubbing on their skin.
In this article, we will focus on the best socks for steel toe boots. Below are the qualities that you need to look for:
Materials: Socks are often made of acrylic fibers, nylon, spandex, cotton, wool, polyester, or a combination of these. Manufacturers indicate the fabric composition of specific models on the label so you can tell if the garment is appropriate for your needs. Wool socks are the top choice for the winter. Cotton is known for its durability. Spandex improves elasticity but is usually added in small amounts. Meanwhile, nylon is known for wicking moisture to prevent odor.
Thickness: Choosing the right thickness can be tricky. While you may need extra padding for warmth during the winter, a thick fabric can tighten the fit of your steel-toe boots. As such, this compression can limit the blood flow and cause discomfort. Just like buying underwear, most retail shops do not allow for socks to be returned and exchanged. Make sure that your boots have ample room to accommodate socks with different thicknesses.
Moisture-wicking technology: People perspire due to various reasons. Whether you're just sitting down or moving around a lot, your feet will sweat when you're wearing boots. As a result, the moisture will be trapped inside and breed bacteria that cause odor. This is why it's important to wear socks with good moisture control.
Learning about these qualities is just half the battle. In my review of the top work socks for steel toe boots, you can read more about each product and what they are for. If you need some tips on finding the right pair, just scroll down to the "Buying Guide."

10 Best Work Socks for Steel Toe Boots Reviews
1. Dickies I61003 Men's Dri-Tech Crew Socks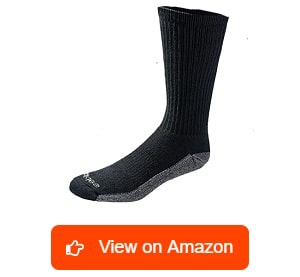 Thicker than the average dress socks and thinner than conventional work socks, this pair from the Dickies Dri-Tech collection does not make my oxfords feel too tight. Yet, it gives me enough padding to avert friction-induced blisters from my steel toe boots. Even better, it can warm my feet on a not-so-freezing winter day. At the same time, it is breathable for summer. Best of all, each pack is affordable!
Blending cotton and synthetics, the socks can wick away moisture to keep my tootsies dry throughout the shift. Of course, this is just the bare minimum but they go beyond that to provide comfort. The fabric feels soft and supple. With the help of the arch compression, it snaps back and conforms to the contours of my feet. As such, it doesn't move or wrinkle inside my boots when I walk.
Despite wearing them daily for over a year, the socks can maintain their form and elasticity. Although I wash them regularly, the reinforced toes and heels keep the holes at bay. At times, I forget to trim my toenails but the fabric does not get snagged by them. Perhaps the only issue I see is that the socks appear narrow. Those with wide feet might find them tight even with the right length.
What We Like
Affordable yet durable work socks
Can be worn all year round
Fits well with dress shoes
Has ample padding for safety toe boots
Keeps the feet dry
Does not crease or shift inside the footwear
What We Don't Like
It may not fit a wide foot comfortably
If you split your time between the office and the job site or want something to use all year round, then this pack fits the bill! Made of cotton and synthetics, these steel toe shoe socks hug your feet and wick away the sweat, offering you all-day comfort.
2. Carhartt A555-2 Steel-Toe Work Boot Socks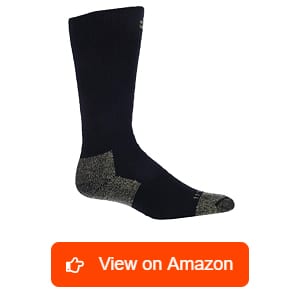 Designed specifically for steel-toe work boots, these socks are a cut above the rest. What made them stand out is the cushioning that goes from the toe to the leg area. Honestly, it feels like I'm walking on pillows. Moreover, it provides arch support for those who need it. Rest assured, it does not affect the boot's fit
Speaking from experience, the extra padding does not thin out after a few days. Considering that I wear them for long hours, this quality is very impressive. It also has excellent breathability. The product description promises comfort all year regardless of the weather and these socks deliver!
Because the socks are snug, they do not slide when I walk or run in them. Combining durable cotto
n and other synthetic materials, they can stretch and still retain their shape. Besides fighting odor, they wick away moisture to keep my feet fresh.
One pack includes two pairs. Looking at the price tag, I find it a little expensive knowing that I can get half a dozen pairs for the same price from another brand. To be fair, they last longer than the shelf life of average-quality socks for steel-toe shoes. For me, the quality is worth the investment.
What We Like
Fully-cushioned hosiery
Offers ample arch support
Appropriate for any weather
Can stretch and retain the shape
Keeps your feet fresh and odor-free
Built to last long
At the end of the day, it's up to whether you'd want to spend more on work socks. However, let me leave you with this: They are a great investment. Featuring arch support and a soft full cushion, you will never regret buying them!
3. Fox River 6504 Mid-Calf Boot Work Socks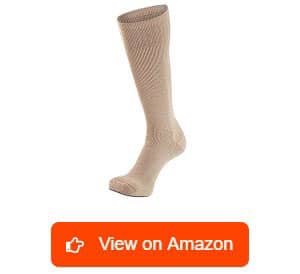 In the toughest work conditions, these steel toe work socks will make long shifts more bearable. Capable of absorbing shock, the cushioned sole feels soft in every step. Plus, the padding around the shin shields the area from the boot lacing that often feels stiff. More importantly, this pair is padded above the toe so I don't hit the steel caps as hard. Thus, blisters instantly become a thing of the past.
If you ask me, I like the fabric's smooth texture the most as they are pleasing to touch. Now, I don't even mind wearing them at work or home with my slippers. Another notable feature of these socks is that they follow the contours of my feet and legs. I think this has to do with the brand's exclusive "URfit" system, which is a fabric's memory-knit compression. Hence, the fitting feels like they were made especially for me.
As with any standard pair of socks for steel-toed boots, this one has excellent moisture-wicking abilities but they are still warm enough for mildly cold weather. So far, the only issue I found aside from the expensive price tag is that they are long. Well, I don't mind paying extra for good quality hosiery but I can't alter the height. Folding them down makes it feel uncomfortable around my calves. I suppose they are more suitable for taller men.
What We Like
Shields your toe against the steel caps
Has a very smooth texture
Fitting feels personalized
Equipped with shock-absorbing soles
Can be worn at work or home
What We Don't Like
A little more expensive
The height goes all the way to your knees
Nothing beats a pair of socks that feels like they are made just for you. But what makes it extra special is that it has padding above the toe so your steel toe boots will no longer hurt your feet.
4. Dickies I12180 Men's 3 Pack Heavyweight Crew Socks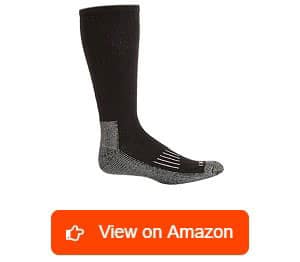 Cushioned work socks are your best defense against blisters and odor but they can be pricey. If you need an affordable pair, then look no further than this pack of three from Dickies. Thanks to the heavier yarn count around the toes and heels, I find them incredibly comfortable with safety boots. Another benefit of this type of reinforcement is that it enables the fabric to last longer without thinning and ripping apart.
Although categorized as heavy, the thickness sits somewhere between dress socks and traditional work socks. It is just right for any type of footwear and weather, except in extreme temperatures where thermal garments are a must. In any case, I'm happy that I get to wear them even outside of work.
Providing me with the right amount of compression, the fit is snug but does not leave deep dents and red marks on my calves. At the same time, they never slide down. As with the other hosiery made by this brand, the fit appears to be smaller for men with shoe sizes of 9 and above. In the label, the product description indicates that these socks are meant for sizes 6 to 12.
What We Like
Has heavier yarn count for a longer lifespan
Fits well with boots or dress shoes
Suits most weather conditions
Does not slide down
Affordable full cushion socks
Makes walking in steel-toed boots comfier
What We Don't Like
Tight for those with shoe sizes of 9 and above
With these crew socks, you don't have to sacrifice comfort just to make sure that you're within budget. Aside from their durability, the heavy yarn around the toes and heels adds cushion to absorb the impact in each step.
5. Carhartt A422-3 Force Performance Men's Socks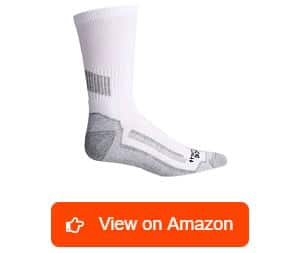 Best known for their FastDry technology, these socks can wick your sweat as you toil away. Apart from keeping my feet cool during summer, they can feel somewhat warm when I'm wearing my insulated boots in the winter. Furthermore, they help fight odor. Indeed, they are great for those who have an active lifestyle. As for me, I use them when I jog or walk my dog.
Donning my steel-toe boots is also no longer dreadful since these socks are fully cushioned. Since the high-impact areas are padded, there is less strain on my feet even when I walk or stand for long hours. What's more, the design supports and stabilizes my arches and ankles while allowing a wide range of movement. Another strong point is the fabric's soft and smooth texture that feels great on my skin.
Lastly, let me add that these socks are quite durable. I still have mine intact a year after I bought them and they have not shown any holes. Admittedly, I'm on the fence about the fitting. Although I love the way they hug my feet and stay up, they leave red rings on my calves. To be clear, they did not cut off circulation but they are tight at the top. Perhaps guys with slimmer legs will have a different experience.
What We Like
Superb fast-drying and odor-fighting capabilities
Good for hot, humid, and mildly cool climates
Excellent choice for men with an active lifestyle
Keeps ankles and arches supported
Made of smooth fabric
Padded at high-impact areas
Made for workers and anyone physically active, these men's work boot socks can quickly wick your sweat away. When worn with steel toe boots, the padded areas will keep your feet comfy and blister-free.
6. ONKE KR1802-5 Cotton Crew Socks for Men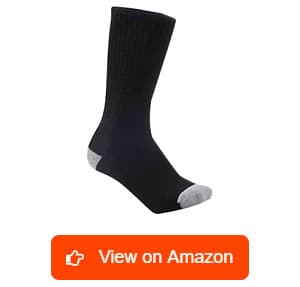 Despite its affordable price, this pack of ten socks gives me everything that I need for my feet. With superior elasticity, the fabric can cling to my feet without sagging or cutting off blood flow. The compression boosts circulation. Reinforced at heels and toes, they are less prone to ripping even though my feet rub and step on them daily. Aside from work, I like to wear them at home or when I'm walking or jogging in the park.
The thickness is spot on! I get ample cushioning around the areas that both receive the most impac
t and rub on the boot's rough and rigid parts. This proves to be extra helpful when I'm breaking in new shoes. At work, the padding lets me focus on what I need to do since I don't have to stop and check for blisters from time to time. During hot and humid days, the fabric's moisture control takes out the sweat.
After washing them multiple times, the socks still retain their form. However, the fabric starts to pill. Even though it does not affect the fit or the durability, the spotty surface does not look nice. In my opinion, it's not a deal-breaker since they are always hidden. If this bothers you, you can use a fabric shaver or a razor to remove them.
What We Like
High-quality affordable work socks
Promotes good blood circulation
Has superb elasticity
Can wick away perspiration
Has ample padding for blister prevention
What We Don't Like
The fabric is prone to pilling
For a low-cost pack of ten, the quality is pretty impressive. Crafted with durable materials, the socks will not deteriorate easily. Indeed, this is an affordable solution for those who frequently get blisters from wearing their safety toe boots.
7. APTYID Men's Work Boot Socks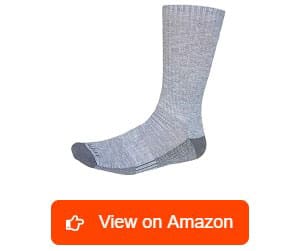 Here is another specialized hosiery for steel toe boots! When it comes to crew socks, we don't always get other options besides white, gray, and black. If you're tired of these colors, you will like that this model also offers beige and brown. Beyond that, they are loaded with functionalities to comfort you as you work hard.
In addition to wicking away moisture, the fabric creates soft padding that fences my skin against the boot's interiors to avoid irritation. I can feel the soft cushion beneath my feet as I step. Together with my boots' insoles, they absorb the shock to alleviate the fatigue that usually comes with long hours of standing. It also serves as a barrier between the boots and my skin. Furthermore, the socks are designed with more compression around the arch for better support.
For long-lasting durability, the toes and heels are strengthened but the elasticity allows the fabric to flex. As a result, this enables me to move my feet and ankles naturally. Since I have been wearing them for almost a year, I have not seen a single hole or pilling on the fabric. Although they never slid down, these hosieries are a little too snug around the top, leaving sock marks on my legs.
What We Like
Offers more color options
Prevents skin irritation
The cushion relieves foot fatigue
Includes good arch support
Durable yet flexible
Can wick away moisture
What We Don't Like
Tight-fitting at the top part
Offered in several color options, these compression socks for steel toe boots are more than just a fashion item. They double as a shock absorber and shield against the rigid parts of your boots. With optimal stretchability, your feet can move more naturally.
8. Wrangler Men's Steel Toe Boot Socks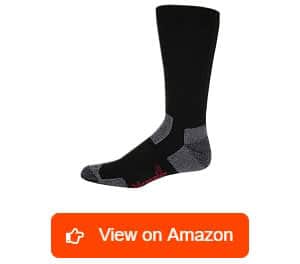 As a popular brand of workwear, Wrangler knows every worker's needs intimately. Naturally, this understanding translates into the design of each garment they made, including these socks. Fully cushioned throughout the leg and toe, they can make any steel toe boot extra comfy. In my observation, their thickness adds more body to the padding, making the safety footwear's interiors feel like I'm in my sneakers.
Their form retention and elasticity also score high in my book. While most socks start to stretch and sag after a few weeks, this one springs back, wrapping my feet and legs. Even the fit is on point as they do not appear to have excess fabric that creases inside the footwear. Hence, the cushion around the sole feels smooth and flat when I step on them. Due to the reinforcement around the heels and toes, they do not tear up easily.
My only problem is that these socks can make my feet feel toasty and sweaty during summer. Since this discovery, I started using them in the winter, as well as early spring. Technically, this is not thermal hosiery but it turned out to be perfect for this kind of weather. To be fair, the fabric can wick away moisture but maybe it works best only when it is not too hot.
What We Like
Offers crease-free cushion
Makes safety toe boots comfier
Has excellent form retention
Provides warmth during winter
Made of durable fabric
Conforms to the foot's contours
Favored by many workers, these are among the most reliable steel toe work boot socks as they are both durable and comfy. With the right amount of elasticity, they can hug your feet without constricting the blood flow or sagging down.
9. WANDER AMZ1-M7680-G Men's Sports Socksư
Even though these socks are designed for athletes, they offer tons of benefits for workers who are always on their feet. First, I like that each sock is marked with "R" and "L" to indicate the foot they should go on. This way, I will not make the mistake of wearing the right sock on my left foot, which is usually the case with my other hosieries. Those who are in between sizes will like that this model comes in medium, large, and extra-large.
Made of stretchable materials, the socks offer compression that stabilizes my arches. In conjunction with the padding, they keep my feet and ankles from rubbing against the interiors of the boots. On top of that, the fabric stays in place whenever I walk. More notably, the knitting is denser, which improves durability. Yet, they are quite breathable, especially during the summer.
Because these are athletic socks, I can rely on their moisture control and anti-odor feature to keep my feet fresh all day. That said, athletes commonly use them alongside their shin guards, which means they are longer than the average crew socks. Still, I think this is fine if you are pairing them with tall cowboy work boots. During the hottest times of the day, that extra layer around the legs makes me want to roll them down but this will feel more constricting.
What We Like
Great for athletic shoes and tall work boots
Has markings to indicate the left and right socks
Provides stability to your arches
Breathable for summer
Superb anti-odor and moisture control
What We Don't Like
The socks' height is too long for work boots
If you need a pair of socks for work and sports, then you can make the most out of this pack. No matter how rough the day is, your feet will stay dry and comfy thanks to their top-notch excellent moisture management and odor control.
10. Pembrook 300404SM001 Work Boot Socks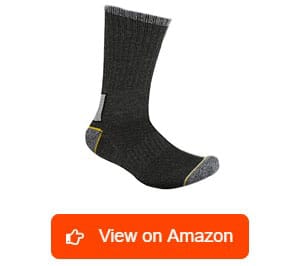 Premium quality at a bargain price. That's the quickest way to describe these steel-toe socks for men, but let me expound on the features and benefits for you. For starters, the unisex design fits both men and women perfectly.
When I finally got the chance to scrutinize this set, I noticed that the cuff is slightly raised at the back, and this is called a "blister tab." I love the design so much as it covers the part of my leg that gets hit by the boot's collar every time I walk. To add to the comfort, the cushions at the sole ease my feet as I work. While they are customized for work boots, I like to put on them even at home when I sleep.
Another quality that makes them versatile is that I can wear them at any time of the year. The socks warm my feet in the winter but they help me keep things cool in hot conditions. Coupled with the moisture control, the fabric's odor-fighting capabilities prevent the sweat from building up and breeding bacteria. When I take off my shoes at the end of the day, I never have to hold my breath and fret about smelly feet.
Honestly, I can't think of anything bad to say about these socks other than the pilling around the heels and toes. Normally, I would just remove them with a razor but I'm constantly bothered as it usually makes the fabric more prone to snagging.
What We Like
Suitable for any gender
Equipped with blister tabs
Has soft cushioned soles
Can be worn in any season
Helps your feet stay odor and sweat-free
What We Don't Like
Pills around the heels and toes
Discounting the pilling issues, I think these affordable unisex socks are fantastic! Versatile in every way, they are comfy for any season, shoes, and activity.
What Is a Pair of Socks for Steel-toe Boots
What makes steel toe boot socks different from ordinary hosiery is that they are durable, breathable, and capable of wicking away moisture.
All too often, workers have to wash and don socks daily. Moreover, the fabric often rubs against the abrasive parts of the boots or the stiff toe caps. These factors cause ordinary socks to deteriorate at a faster rate. Hence, socks to wear with steel-toed boots are more resistant to abrasion and tear.
Breathable and moisture-wicking design is also important since most workers perspire more as they work for long hours. In addition, the socks must extend slightly above the boot's tongue and collars. As you know, these parts of the footwear are notorious for causing blisters.
Type of Socks for Steel Toe Boots
Given the features that I described in the reviews and buying guide, these are the acceptable types of socks that you can wear with your safety toe boots:
Crew socks or "work socks"
Thermal socks
Athletic socks
Hiking socks
Specialized socks for steel toe
Why Do You Need Socks for Steel-toe Boots
First and foremost is hygiene. Bacterias love warm, damp environments. Since your feet sweat when you're wearing shoes, they will breed here. Worse, they will not just grow on your feet but also your shoes and make them smell. Rest assured, you can treat these foot conditions easily, but that means spending money on buying creams.
Secondly, socks provide a soft barrier to keep the rough boot interiors or stiff uppers from rubbing on your skin. While blisters are not fatal, they are painful enough to distract you from your work. During the winter, pairing insulated boots with thermal hosiery can increase the warmth and prevent your feet from getting frostbite.
Buying Guide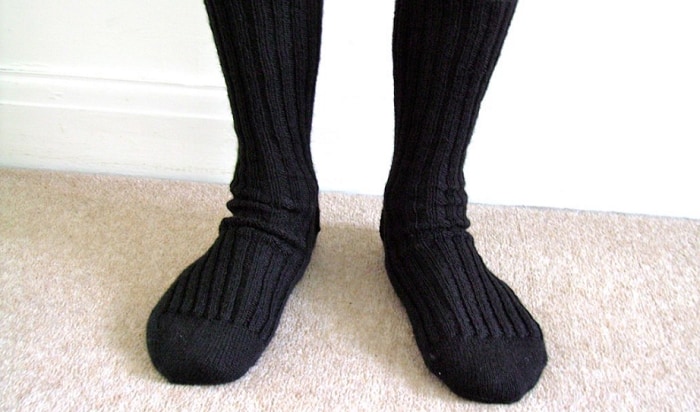 By now, you have probably realized that you need a little bit of technical know-how when buying socks for work boots. Although I have covered what you need to know about specific products, some of you may still want to explore other brands. In this section, I'll share tips based on my experience and inputs that I got from forums like Reddit. Hopefully, you will be able to arm yourself with enough knowledge to narrow down your options.
Durability
While poor construction can be an issue, it's not always the socks' fault. Perhaps you wore something that is not meant for steel toe boots. Even though the toe caps are mostly padded, they are still hard. When the fabric constantly rubs against them several times, it will naturally wear down faster.
As such, most of the safety boot work socks are made of cotton and synthetics like nylon and polyester. These materials are more durable and capable of retaining their form for a long time. This prevents the fabric from loosening and creasing inside the shoes, which can often feel uncomfortable.
Weather appropriate
Your geographic location will also dictate the kind of socks that you need to have in your wardrobe. Those living in the tropics where it's generally warm all year round can stock up on hosiery that promotes good airflow. If you live in a region where you get to experience all four seasons, then you will have work socks for hot weather and thermal ones. Furthermore, you need to determine the temperature in your work area and your activities, as well as the amount of insulation that your boots have. This way, your feet will not overheat or get too cold.
Size
Any person with an average build can fit in one-size-fits-all socks. Otherwise, I recommend steering away from them and finding the right size for your feet. At some point in our lives, I know that we all have folded the excess fabric upward if the hosiery is long. This is perfectly acceptable for footwear made of materials that can stretch and flex. With steel toe boots, however, an extra layer can further tighten your boots. On the flip side, socks that are smaller than your shoe size can compress your feet further, making it difficult for you to move.
Foot conditions
If you have foot conditions like plantar fasciitis or flat feet, you can go for socks with extra padding or arch support to alleviate the pain. This specialized hosiery also features proper compression that promotes good blood flow. For those who have plantar hyperhidrosis, a condition that makes the feet sweat excessively, there are plenty of options for work socks for sweaty feet. When in doubt, check with your doctor to learn about the different options.
Care and Maintenance
On a lazy day, we throw our socks together with the rest of our clothes in the washing machine. Although it may not immediately destroy the fabric, doing this repeatedly can affect its quality. Also, it is mostly the reason why the other piece is missing or they catch lint from your towels.
Before you start washing, separate your hosiery according to color and material. Cotton, for instance, is best bathed in water at around 40 degrees Celsius, while wool will shrink under this temperature. Furthermore, some fabric dyes can bleed onto your white garments.
For stains, you can use any stain remover in retail stores. Make sure to read the instructions and follow them. Some products might instruct you to apply the stain remover on the affected area directly while others will require soaking the socks in the cleaning agent.
Next, turn your socks inside out since the bacteria are likely more concentrated on the area that is directly in contact with your skin. Also, this will prevent the lint from sticking to the fabric. Place them in the washing machine. Set it to "Gentle" and pour a mild detergent.
As for drying, avoid wringing the socks as this will stretch the fabric. Instead, use a towel and press them to get some of the water out before hanging them dry. After that, roll or fold each pair together so you can find them easily in your closet. Besides washing them regularly, keeping your toenails short can keep the fabric from getting snagged.
Frequently Asked Questions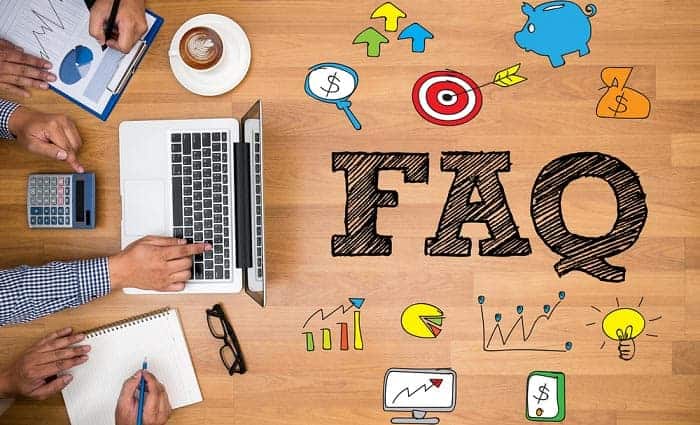 What are the most suitable socks to wear with steel toe boots?
Most workers wear crew socks with anti-microbial and moisture-wicking abilities to keep their feet dry. Smooth paddings around the toe and heels for added comfort. Furthermore, the length extends typically over the ankle or longer so that the shafts do not rub the skin and cause blisters.
Are cotton socks good for steel-toe boots?
Pure cotton socks may not be ideal for some types of jobs, especially for workers who are always on their feet. Although cotton is durable, this material absorbs moisture and accumulates sweat if you wear them too long. However, some socks combine cotton with other materials like moisture-wicking nylon.
What is the best length of sock for steel toe boots?
It depends on the height of your boots, as well as the size of your feet. Workers rely on socks to provide extra padding to shield their skin from the rough and stiff surfaces of their boots. This means that the height of your socks must be slightly taller than your boots. Make sure to consult the size charts on the manufacturer's website and measure the boot's height.
Work socks vs. Casual socks: What is the difference?
The features that differentiate work and casual socks may not be visible. If you wore casual socks with steel toe boots for years then switched to work socks after discovering them, you'll know what I'm saying. It's all in the "feel". You will notice that work socks are more durable and capable of wicking moisture. They are well-padded and smooth from the toes to the heels to prevent blisters.
On the other hand, casual socks come in a wide variety of thicknesses, lengths, and colors because they are meant to match your outfit. However, they do not last long if you walk ten to twelve hours a day. Also, the lack of padding will make them feel uncomfortable for intense physical labor. Pure cotton casual hosiery will also absorb moisture and feel wet after a long shift.
Where to buy socks for steel toe boots?
Many workwear manufacturers design men's and women's socks for steel toe boots. After all, they know what works best with their work boots! You can visit their physical stores, local third-party distributors, and websites to find the best option for you.
Conclusion
It's easy to get lost in the rabbit hole as you look for socks in various online catalogs and shelves in different retail shops. Since this type of garment is mostly affordable, we get the luxury of trying out different brands. After a few months, we dispose of them once a hole appears.
Perhaps the trial and error method may have worked in the pre-internet era. In this day and age, this is not the most sustainable way of finding the best socks for steel toe boots. Not only is it a waste of money, it adds more garbage to the landfill! Before you buy anything, make it a habit to read reviews like this one so you won't end up wasting your resources.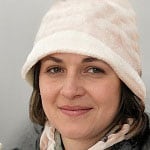 Veronica is our content editor. She is a talent in delivery. Her main work is editing and writing articles that are both informative and simple to follow. She is in charge of synthesizing our understanding of what personal protection equipment (PPE) is needed in each job, how to best apply it, and how to visualize that equipment.