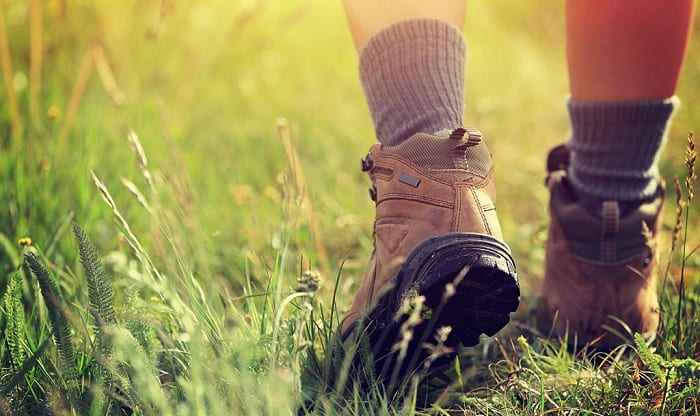 Blisters, odor, and fungal infections are just some of the common problems when you are wearing work boots daily. Thankfully, these issues are highly avoidable with work boot socks with moisture-wicking properties and the right padding.
Choosing the best socks for work boots seems like a straightforward affair, but things get complicated once you realize that there are tons of hosiery in the market. For starters, make sure that what you are buying has these three features:
Moisture Management: Walking all day will naturally make your feet sweat. Once the moisture is trapped in enclosed shoes, there is a high chance that bacteria will start breeding inside. Besides making your feet and footwear smell awful, it can lead to a fungal skin infection. However, you can prevent this from happening with socks made of moisture-wicking materials like nylon and polyester.
Toe and heel reinforcement: When you're walking, running, or simply standing, your toes and heels are the ones that receive the most impact. You will notice that the bottom part of the socks starts thinning faster than the rest. Without padding, you can expect blisters and it will most likely be worse for those who wear steel-toe boots. Avoid cutting corners and invest in socks work reinforced around these areas.
Materials: The key to finding the right work boot socks is to know how each fabric works. Cotton may be comfortable for pants and shirts, but they absorb the moisture instead of removing them. Hence, manufacturers mix cotton boot socks with polyester, nylon, spandex, and other materials. Merino wool is also a top choice since it is not as coarse as wool, which prevents itching.
Knowing these three features can keep you from making mistakes and suffering the consequences. After all, no one likes stinky, sweaty feet! To learn more about specific products, read my recommended work boot socks below. When in doubt, check the "Buying Guide" for advice to further narrow down your options.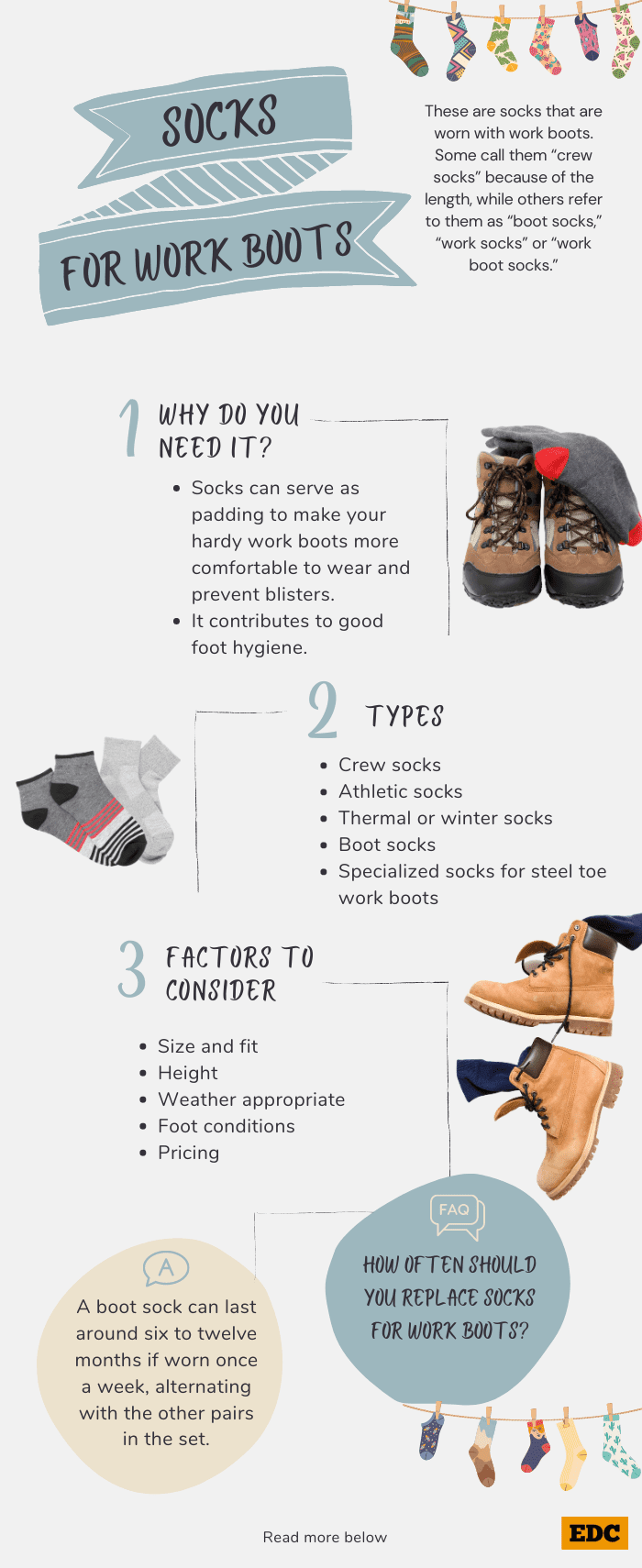 Best Work Boot Sock Reviews
1. Dickies I61003 Dri-tech Moisture Control Crew Socks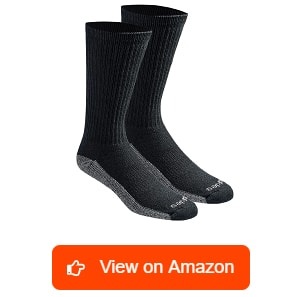 Judging by its features, I would say that this set of men's work socks for boots is highly versatile. Compared to most crew socks, the fabric is noticeably thinner, yet it is also thicker than the average dress socks. They easily became a wardrobe staple since I can pair them with my dress shoes without feeling any pinching. Plus, they are available in different colors, mostly neutral, so they blend in well with any outfit.
With ventilation channels, the crew socks let the air in to keep my feet cool during summer. Still, I find them surprisingly warm and comfy in the mildly cool weather. Combining cotton and other synthetic materials like polyester and nylon provides superb moisture control, which is great for hygiene.
Thanks to the reinforced toes and heels, the fabric does not thin out even if I walk for long hours daily. Meanwhile, the arch compression ensures that the socks stay in place. Furthermore, the fabric itself takes the shape of my feet and does not wrinkle when I start walking. So far, the only issue is that some folks with sizes 11 or 12 find the socks a little tight for them even though the packaging clearly indicates "Size 6 to 12."
What We Like
The socks fit boots and dress shoes well
Prevents tearing around heels and toes
Can keep the feet dry
Comfortable for any seasons
Can stay in place while you move
What We Don't Like
Size 6-12 is tight for those with shoe size 11
Whether you're wearing steel-toe boots or dress shoes, these versatile crew socks can fit in nicely. Boasting top-notch moisture-wicking fabric, you will never feel your tootsies sweating while you work.
2. Carhartt A422-3 Men's Force Performance Work Socks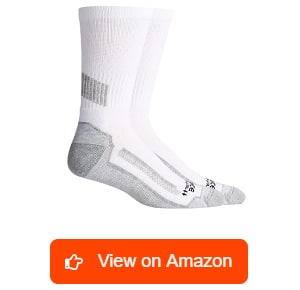 Composed of 98% polyester, these moisture-wicking socks for work boots keep my feet fresh and dry while on duty. Besides taking care of my sweat, they are designed with mesh cooling channels to boost ventilation. Due to the odor-neutralizing technology, I no longer have to deal with smelly feet and boots. On top of that, the targeted compression promotes good blood flow.
The spandex, which makes up the other 2%, makes the socks stretchy, but it snaps back to wrap my feet securely. Despite wearing them for a long time, the socks do not sag or slide down when I walk for long hours. Along with, the reinforced heel and toe ensure the sock's durability. It can maintain its form and elasticity with good care for over a year.
Since their features are similar to athletic socks, I think this one can also be worn for those who like to play sports after work. In my case, I like pairing this synthetic sock with my protective footwear. Anyway, it does not matter what kind of footwear you have since this model comes in a crew, short boot crew, and low-cut top versions. However, some of my buddies have complained that it leaves a red ring around their muscular calves.
What We Like
Available in different top lengths
Can keep your feet dry and fresh
Suitable for athletic shoes and steel-toe boots
Durable work socks
Prevents sagging and sliding own
What We Don't Like
Can feel too snug for muscular legs
Made of excellent moisture-wicking fabric, these are among the top-rated socks for sweaty feet work boots or athletic shoes. No matter how many times you wear them in a year, the reinforced heel and toe make them tear-proof.
3. Wrangler 3/9383 Men's Western Boot Sock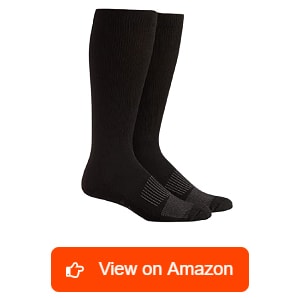 Manufacturers are getting better at designing cowboy boots, but they are not exactly a good match with regular crew socks. Without shoelaces, you cannot tighten the uppers to keep the socks from slipping. I guess that these problems have driven Wrangler to create this boot sock. Its ability to stay up is probably one of the main highlights. Because I don't have to pull up the socks every now and then, I can work more efficiently.
Plus, the length goes all the way below the knees, which is just right for tall shafts. While these aren't exactly thick socks, I find them sufficiently capable of providing ample padding against the stiff parts of the leather uppers.
Blending polyester, nylon, and spandex results in excellent moisture-wicking abilities and elasticity. Even in the hottest time of day, these boot socks can keep my feet comfortable and dry. On the other hand, the half-cushion foot and arch support work in tandem to minimize impact and foot fatigue.
Since the fabric is machine washable, I'm not obliged to hand wash them. Either way, they will not sag easily. That said, I can only see two minor drawbacks thus far. First, the fabric can feel itchy at times. Second, they feel tight for wide feet.
What We Like
Perfect for pull-on boots
The snug fit allows the sock to stay up
Can keep your feet from getting sore
Has ample padding
Does not sag after multiple washes
What We Don't Like
The fabric feels itchy
Feels tight for wide feet
To date, I have not seen many over-the-calf work socks that can match the quality of this one. That means less time spent on pulling up your socks when they sag and more time focusing on your work.
4. ONKE 1802 Crew Socks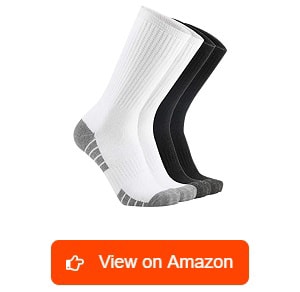 Reinforced heel and toe allow the crew sock to withstand all the rubbing that comes with walking and running, but this ONKE set takes it to a whole new level! To increase the product life, it adds thickness to ensure that the rough surfaces of the boots will not scuff and tear the fabric. Considering its affordable price, I don't see any reason why you should not give them a try. It's a steal knowing that one pack contains ten pairs!
Aside from work, I find these socks appropriate for sports and outdoor activities. For instance, the moisture-wicking fibers keep my feet fresh and free from sweat. Regardless of the footwear, the full cushioning prevents my skin from scraping the harsh materials of the shoe, which often causes blisters. Furthermore, the arch support lessens foot fatigue.
Just a heads up: Thick socks like this one can feel extra warm during summer but not to the point that I would get sweaty feet. For me, they are more suitable for spring-like weather or winter. The other issue is that the fabric pills after a couple of washes. Rest assured, they will not lose their form or elasticity. If you wear pants and boots, no one will notice it. Alternatively, you can use your razor to remove the pills.
What We Like
Great moisture-wicking properties
Has full-cushion to boost comfort
Does not tear or sag
Affordable work boot socks
What We Don't Like
Prone to pilling
Feels a tad too warm during summer
If you factor in the price, these heavy-duty work socks are totally worth every penny. Besides the product's longevity, you can enjoy work, sports, and outdoor adventures without getting blisters or soaking your feet in sweat.
5. Carhartt A767-2 Synthetic Work Boot Socks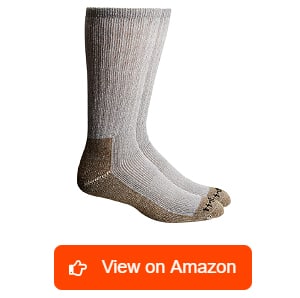 Coming in at number five is this pack of two men's socks for work boots. Unlike the other set of socks from Carhatt in this review, this one is designed for steel-toe boots. Wearing safety footwear while walking for long hours often results in sore feet because of the weight. Thus, the manufacturer constructed them to absorb the impact and shield my toes from the steel cap. Thanks to the "Coralast" fibers, I have never gotten any blisters.
Another problem that we commonly face when wearing boots is the smell. Hence, these cushioned work socks are crafted with odor-fighting and sweat-wicking properties. Ever since I started wearing them, I never had to change my wet hosiery before going home from work. Although the fabric is elastic, it is virtually sag-proof. For good measure, the compression arch is added to keep it from crumpling inside.
Whenever I need to break in a stiff-new pair of work boots, these socks make the process easier. Lastly, let me also commend their superb durability. Despite washing and wearing, I don't see the fabric thinning or tearing. Honestly, I think they are perfect but the price is a little too steep. For the same cost, I usually get more pairs from other brands.
What We Like
Made especially for safety toe boots
Ensures blister-free walking
Can wick away sweat and fight odors
Does not wrinkle or sag when worn
Highly durable construction
Helps in absorbing impact
Due to their durability and comfort, these men's boot socks receive a high rating from many workers. On top of the sweat-wicking fabric, its odor-fighting properties will help you maintain good foot hygiene throughout your shift.
6. KMM Crew Socks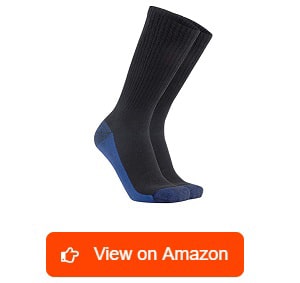 Admittedly, these thick socks for work boots are among the most comfortable ones I have tried. Besides wicking away my sweat, they create a cushy barrier against the rough surface of the boot. With the mesh construction, the fabric allows the air to pass through to cool my feet. Built with arch support, they reduce pain so I can work comfortably for long hours.
Featuring superior elasticity, the work socks stretch as I move without sliding, which enables me to focus on the job at hand. At the same time, they offer just the right amount of compression to stimulate good blood flow. Yet, they do not constrict my legs and feet too much. When I take them off, they do not leave red sock marks on my skin.
Taking into account all these features, I would say that they are also appropriate for sports and adventure. As for me, I wear them at home with my slippers because the fabric is so soft and it does not cause itching!
Now, let me share what I don't like. First, these work socks for men are only available in one size. Another issue is that the product description says "reinforced heel and toe", but it seems lacking. I noticed that these areas are starting to thin out after a couple of months of wash and wear.
What We Like
Aids in reducing discomfort
Keeps the feet cool and comfy
Controls sweat and odor
Can be worn for work or any activity
Snug yet not constricting
What We Don't Like
Available in one size only
Heel and toe thin out after many washes
Even with these minor flaws, one thing remains true: These are among the most comfortable work socks to wear with any footwear. You'll love wearing them even when you're chilling at home!
7. GKX ITSK-JS-0220-027 Cushion Crew Socks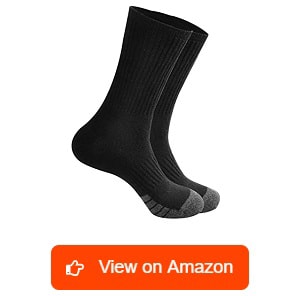 It's not every day that we find an inexpensive set of ten comfortable socks for boots that can also be worn outside of work. Well, this is precisely the reason why I'm recommending this product. If you have not heard of this brand before, then listen up. You're in for a treat as these heavily cushioned socks can make long walks at work a lot more bearable. Think of them as a soft shield that will keep your tootsies from rubbing on your protective footwear.
Besides preventing blisters, the socks have arch support to minimize pain and fatigue. Crafted with soft materials, the fabric feels smooth on my skin and never itches. Even its moisture-wicking properties are praiseworthy. My feet never soaked in perspiration when I wore these. In addition to providing an optimal level of compression, the arch support keeps the socks in place.
Considering their thickness, I think these are not the best socks for work boots in hot weather and they are more appropriate for winter. Also, watch out for the fabric as it is prone to pilling after a couple of washes. Anyway, it does not make the socks less durable. I have been wearing them for almost a year and I don't see any signs of weakness.
What We Like
Comfortable steel toe mid-calf socks
Has extra cushioning for added comfort
Prevents blisters and itching
Superb moisture management
Impressive and durable construction
What We Don't Like
Not ideal for hot weather
The fabric tends to pill
With excellent moisture control, these thick work socks will not make your feet sweat even if you work for long hours. Furthermore, they can serve as a comfy cushion to shield your feet against the coarse material of your boots. Best of all, you get ten pairs at an affordable price.
8. YUEDGE hm18055pLca Men's Crew Socks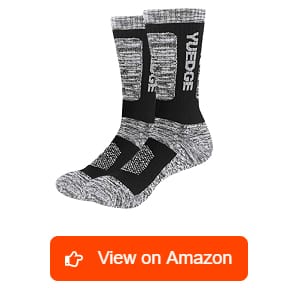 They work like magic! That's what I said after wearing these cushioned socks for work. Under cold temperatures, they can keep your feet warm. During summer, the breathable mesh allows the air to pass through to curb overheating. Constructed with a blend of combed cotton, polyamide, and spandex, the fabric flexes well. The moisture control fibers remove the sweat and stave off odor. At half the price, I can get the same benefits as merino wool socks.
Truly, these are the top-tier socks for working on your feet. Case in point: The cushioned sole absorbs the shock and reduces fatigue. Despite using them for a while now, I haven't seen this machine washable hosiery shrink or sag. Also, the heel and toe are reinforced so that the fabric does not thin out when it rubs on the boot's inner lining. On the other hand, the leg area is tall and thick enough to serve as a barrier against the leather upper.
By all measures, the fabric is perfect, but the fit needs improvement. Regardless of your shoe size, these socks are a little too snug for muscular calves. If you want to try them out, I suggest ordering one size up. On that note, let me assure you that they can stay up throughout the day and you will never have to stop whatever you are doing just pull them back up.
What We Like
Suitable for any weather
Moisture-wicking boot sock
Can keep your feet odor-free
Aids in reducing foot fatigue
Thick and durable
As a low-cost alternative to merino wool, this set of hosiery performs wonderfully whether it's snowing or sunny. Moreover, these moisture-wicking socks for sweaty work boots ensure that your feet can stay fresh and odor-free.
9. APTYID Men's Work Boot Socks
We all know that merino wool tends to be more expensive, yet we can enjoy more or less the same quality with this APTYID set. Like most good socks for work boots, this one has light yet durable fibers that do not lose their shape after repeated wash and wear. It provides ample padding to shield my toes from the stiff toe caps. At the same time, the material does not cause itching and irritation.
As someone with an active lifestyle, I bought this lightweight sock set mainly for work and play. Made of moisture-wicking materials, the fabric does a great job in keeping my tootsies dry and free of stench. To top it off, the cushioning is placed strategically in the areas that receive the most impact. The heel and toe area areas are reinforced to prevent these areas from tearing. Owing to the arch support, the socks can stay put as I move.
For a steel toe mid-calf work boot, the length of this crew sock is slightly longer than what I am used to. Extra fabric wrapping your skin can feel toasty in hot summer, especially when you're wearing pants. Of course, I can always roll down the top part but the cuff is tight, which dents my skin. This leaves me with no choice but to wear them only during spring or winter.
What We Like
Lightweight yet durable construction
Prevents itching and other irritations
Can keep your feet fresh all day long
Has superb cushioning
Stays in place while you move
What We Don't Like
Slightly longer than a crew sock
The cuff feels tight
Even though these are not the perfect boot socks for summer, they are quite comfy in cooler weather conditions. Soft yet durable, the comfy fabric will not deteriorate easily despite frequent wash and wear.
10. Debra Weitzner Thermal Socks
Let's pause from reviewing socks for work boots in summer and check out this set of unisex thermal hosiery. With warm wooly fabric, this one feels like small pillows under my feet. While certain types of fleece can cause itching, I assure you that this one doesn't. What's more, it has moisture-wicking properties to remove sweat and prevent odor-causing germs from breeding in the footwear.
Unlike other socks with similar qualities, this one has better elasticity. It can stretch and snap back to follow the contours of my feet. Not once did I have to pause what I was doing at work to readjust. I think that the rolled rim is a nice touch as it gives me something to hold on to for easy donning and doffing. Those tired of the usual black and white hosiery will like that this model comes in gray, blue, and red.
Unless your boots have heavyweight insulation, this thermal boot sock may not be enough once the temperature dips below 30 degrees Fahrenheit. Moreover, the fabric is also noticeably bulky. So much so that it takes up some space inside the footwear. If you intend to wear these socks for steel toe boots, make sure that the toe box has room for them. Otherwise, it will compress your feet and make them feel colder.
What We Like
Can keep your feet warm during winter
Has soft and fluffy fleece
Very easy to wear
Available in different colors
Capable of removing sweat
What We Don't Like
The socks are bulky for steel toe
Not sufficient for freezing temperatures
All in all, these are high-caliber socks to keep feet dry in work boots, especially during winter. Besides trapping the heat, the fleece will make you feel like you're walking on clouds!
11. MIRMARU MM-M221-MEDIUM Crew Socks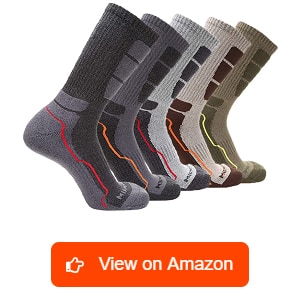 Though advertised mainly as hiking socks, the brand also recommends this set for workers. Engineered for winter sports, the fabric can keep your feet well-heated while maintaining an optimal level of breathability. Because athletes perspire as they train and compete, the manufacturer ensures that the socks can wick away the sweat. Logically, the quality will match the needs of people with physically demanding jobs.
Just like any heavy-duty work boot sock, the heel and toe areas are further strengthened with high-density fibers. Apart from prolonging the product life, it also makes for an awesome underfoot cushion. Obviously, these features are not exactly unique to this type of garment. What caught my eye when I discovered these socks was the padded shin. When worn with my boots, the rigid leather uppers do not hurt as much.
It has been a little over a year since I started using these socks, yet there are no signs of wear and tear in sight. Impressively, the form and elasticity remain the same. But alas, every product has its weakness! I know some workers and hikers who like thicker, heavy-weight fabric, which seems thin for their taste. Well, I think it's a matter of preference. In this case, I suggest you check them out and see for yourself.
What We Like
The shin area is well-padded
Can maintain its form and elasticity
Best socks for winter sports and work
Superior moisture management
Provides soft underfoot cushion
What We Don't Like
A little thin for hiking boot sock
Hands down, these are undeniably some of the most affordable work boot socks in the market! Built with padded shin and cushioned soles, your feet will never have to endure the pain of wearing protective footwear.
12. Ortis Men's Merino Wool Crew Socks
Merino wool is the most coveted fabric for crew socks, especially among athletes, adventurers, and workers. Its natural temperature control, moisture-wicking properties, and optimal breathability are far better than synthetics. Plus, the textile feels so soft on the skin, which helps prevent irritation. Several manufacturers make fine-quality merino wool socks but this set from Ortis remains a crowd favorite.
Initially, I thought the thick fabric would only be useful for winter. Much to my surprise, these socks perform well throughout the four seasons. My tootsies never get cold or overheat. Even better, I never sweaty feet. As far as fitting is concerned, the hosiery provides ample compression around the arch and the cuff to stimulate blood flow. Yet, it does not leave red sock marks or slides down. Furthermore, the heavy cushion padding covers the full area of the feet.
Taking into account all the features, I would say that the design makes for the top boot socks. The padding keeps my toes from hitting the rigid toe caps. Regardless of the job or sports you play, they are comfortable and the quality lasts pretty long. Merino wool socks are often more expensive, but this set is offered at a reasonable price. That is not to say that they are flawless, and people with muscular calves might find the cuff a little constricting.
What We Like
Helps you avoid skin irritation
Perfect for summer and winter
Has heavy cushion to prevent blisters
Prevents overheating and sweating
Suitable for different footwear
Affordable merino wool socks
What We Don't Like
The cuff area feels tight
You don't need to break your budget to afford merino wool socks. Like the expensive name brands, this set offers heavy-duty hosiery that can wick away your sweat and regulate temperature.
What Is a Pair of Socks for Work Boots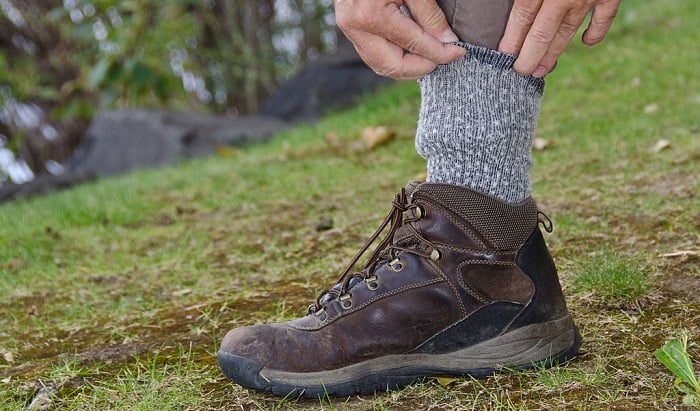 These are socks that are worn with work boots. Some call them "crew socks" because of the length, while others refer to them as "boot socks," "work socks" or "work boot socks."
In any case, these socks are about eight to ten inches high, hitting right around the mid-calf. Some iterations deviate slightly from the traditional crew length. Unlike dress socks, they are thicker due to the padding. Meanwhile, the fabric is made from moisture-wicking materials like nylon and polyester. Some versions combine merino wool, cotton, and spandex.
Type of Socks for Work Boots
If you asked your friend, co-worker, or someone from a workwear forum about what socks to wear with work boots, you would likely get different answers. That's because there are a couple of acceptable types of hosiery that you can pair with your shoes. Here are some examples:
Crew socks
Athletic socks
Thermal or winter socks
Boot socks
Specialized socks for steel toe work boots
Why Do You Need Socks for Work Boots
Socks offer a lot of benefits. The fabric itself can serve as padding to make your hardy work boots more comfortable to wear and prevent blisters. Moreover, the extra cushioning under your feet can work together with the boot's insole and midsole to absorb the shock when you stand, walk, or run.
Another important reason for wearing socks is that it contributes to good foot hygiene. When you wear socks that have good moisture control, your feet and boots will not turn into a breeding ground for odor-causing bacteria.
Buying Guide
Size and fit
Ideally, the sock should be snug, resting flat from your foot all the way to your calf. In this way, you do not have to crunch the excess fabric to cause pinching. Likewise, the tight-fitting socks over-compress your feet and keep your toes from spreading naturally.
Even so, not all manufacturers make true-to-size socks. Each brand has its own sizing convention. Some use the shoe sizes while others indicate "Small (S)," "Medium (M)," "Large (L)," and "Extra Large (XL)," which corresponds to foot measurements in centimeters or inches. Read their size charts and measuring instructions to avoid ordering the wrong set.
Also, make sure that the socks have compressed arch or arch support, as these will help keep the fabric from sliding. When the fabric gets dragged down, you will naturally pull them up. However, constantly pulling the socks will cause the textile to lose its elasticity and expand.
Height
Pairing ankle socks with boots can work occasionally, but it is not always a good idea. Most workers who wear boots choose crew-length or mid-calf socks because the fabric extends above the height of the footwear's uppers. As such, the fabric can provide padding to prevent the skin from rubbing against the boot's tongue and collar, which are often made of harsh materials. Hence, the sock height is just as important as the length of the feet.
Weather appropriate
Weather can make us sweat due to the heat or shiver because of the cold. As the seasons change, you will need to adapt and wear the appropriate hosiery. Be sure to stock up a set of work socks for hot weather, as well as thermal socks at home. If you live in a tropical country, you can opt for a breathable design that you can wear all year round. Mesh cooling panels, for example, improve the airflow, allowing your feet to stay cool.
Foot conditions
Preventing and managing certain foot conditions is possible with the right work boot socks. People with flat feet, for instance, can benefit from wearing footwear and hosiery with good arch support. If you plan to wear arch socks on top of your work boot socks, make sure that your shoes have ample room to accommodate these layers of fabric. You can also consult your doctor to learn more about your options for socks and boots.
Pricing
Darn Tough work socks, Carhartt's All-Terrain Crew Sock, or the Fox River steel toe mid-calf sock are popular among workers. Their quality has set high standards and is used as a baseline when comparing products. The catch is that they are more expensive than most crew socks. At the end of the day, it is up to you to decide on how much to spend. Keep in mind that there are other cheaper options with decent quality. Besides, you need more than one pair for an entire year!
Care and Maintenance
For starters, wash your hosiery separately. Next, separate your work socks according to material and color. This may seem tedious but, trust me, it will keep them lint-free, prevent color bleeding, and help maintain their form. Remember, cotton socks need to be washed in water at around 40 degrees Celsius, but this temperature will shrink wool. At any rate, the manufacturer usually indicates the recommended washing instructions on the packaging, so read carefully.
Once your socks are sorted, turn them inside out since this area becomes dirtier after hours of being exposed to your skin's oils and sweat. Another merit to this is that it prevents the lint from sticking to the sock's exterior. Let's say you have decided to wash the dark-colored socks first, toss them into the washing machine and set it to gentle. Most manufacturers suggest using a mild detergent for colored garments.
Repeat the process for the next batch of socks but make sure to use the right water temperature and appropriate detergent. If your socks are stained, you can buy any fabric stain remover and follow the instructions accordingly.
To dry your socks:
Place them inside a towel.
Fold the towel to cover the socks and press them until you remove the excess moisture.
Hang them dry.
Do not wring the socks as this will stretch the fabric and make them less elastic.
Once dry, group your hosiery according to the occasion. You can assign separate baskets for work boot socks and dress socks. This way, you will not end up wearing the wrong socks when you're in a hurry.
Frequently Asked Questions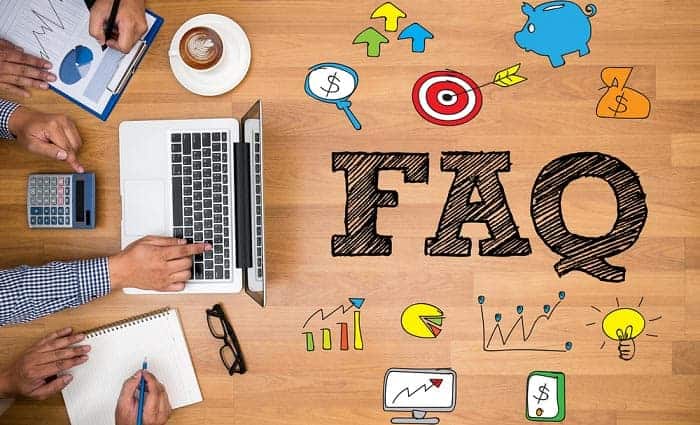 Can you wear work boots without socks?
Yes, you can but you will also have to deal with the consequences. Today's steel toe work boots are padded and lined with moisture-wicking fabrics, yet they are not enough to give you a cushion and maintain a dry environment for your feet. In fact, many workers still complain about discomfort while breaking in their work boots. Plus, the chances of getting fungal infections and developing odor increase if you don't wear socks.
How do you wear socks for work boots?
Donning crew socks is a no-brainer. Scrunch them around the toes and then pull them up towards your mid-calf. Avoid yanking your socks and applying too much force. Even the work boot socks can lose their form and elasticity if you wring or pull them constantly. When this happens, your socks will no longer be able to stay up. Instead, gently roll them up.
Should you wear thick or thin socks with boots?
Your work boots should have ample room for socks. What you need to figure out is the right fabric, length, and padding to prevent blisters while keeping your feet cool. Essentially, these qualities make for the most suitable socks to wear with boots. That said, I don't recommend wearing very thick socks just to make the work boots feel snugger. Most protective footwear already comes with padding, thicker socks can cause your feet to overheat and sweat excessively.
How often should you replace socks for work boots?
A boot sock can last around six to twelve months if worn once a week, alternating with the other pairs in the set. If you see a hole, then it's high time to replace them.
Conclusion
The quest to find the best socks for work boots is a never ending one. Year after year, we find ourselves updating our wardrobe. Since hosiery is delicate, we tend to buy and replace them more often than our jeans and shirts. While it can be quite a hassle, let's not forget that it can also present an opportunity to try out something new.
In this listicle, I have compiled a dozen options to choose from. Now, it's up to you to decide which one fits your needs.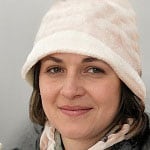 Veronica is our content editor. She is a talent in delivery. Her main work is editing and writing articles that are both informative and simple to follow. She is in charge of synthesizing our understanding of what personal protection equipment (PPE) is needed in each job, how to best apply it, and how to visualize that equipment.