Cable technicians have an extensive arsenal of tools and they need to have these tools with them at all times, especially when they have to work at precarious or cramped spaces. When they do not have the luxury of bringing their toolboxes with them, cable technicians need to use the best tool belt for cable tech.
What makes a cable tech tool belt different from that used by other professionals is that it is optimized to carry different-sized pliers, several screwdrivers, and other tools. They are pretty much the same as the one used by electricians but some of them have specialized pockets for profession-specific tools.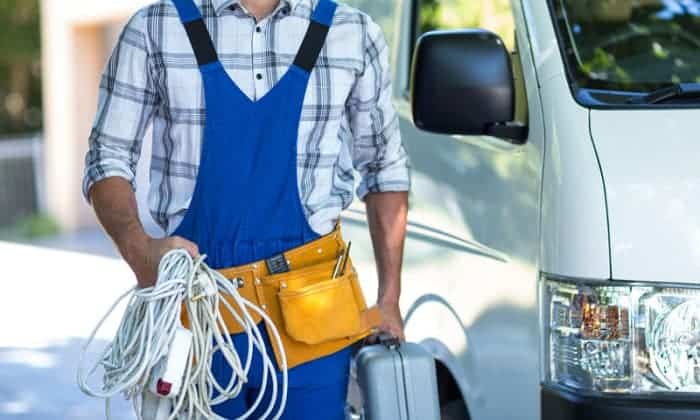 If you are a budding cable tech and you are thinking of updating your cable installer tool kit then this guide to the best cable tool belts will help you choose the right one for your needs. Professional tool belts are usually very expensive, so you need to choose wisely to prevent wasting money on a belt tool that will only disappoint in the end.
By the end of this article, you would have learned all that there is to know about tool belt shopping and you can confidently purchase the best among the many choices in the market today.
10 Best C

able Technician Tool Belt

Reviews of 2023
1. Klein Tools Tradesman Pro Electrician's Tool Belt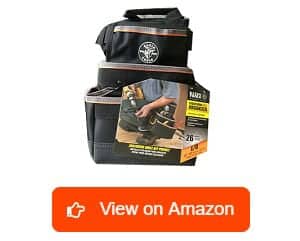 I highly recommend this technician tool belt for the serious electrician or cable technician. There are more than enough pockets in this belt for all the tools that you will need for any task or project. The pockets are wide and deep enough that you can even carry a cordless drill if you need to.
I also like the roomy pockets here are always wide open. This greatly improves its accessibility and usefulness. Because they are always open, I can just hover my hand over the utility pouch and easily pick out the tool that I need.
This is much better than pouches that collapse into themselves because the tools are not covered up, hence making them easier to grab. Another thing I liked about this particular cable technician tool pouch is the mesh waist strap. It is constructed in such a way that it is highly breathable but without compromising strength and durability.
Aside from being extremely breathable, the belt is also generously padded so it will still be comfortable to wear even when fully loaded with heavy tools. I also like the small details that make a lot of difference when using the tool belt.
Among these are the built-in handles that make it easier to hand carry the tool belt without any fear of spilling the contents. There are also metal hoops for hooking up suspenders when you need to carry heavy tools on your tool belt. The suspenders place most of the weight on your shoulders so you do not strain your lower back too much.
There is one problem that I have with this tool belt, though, and that is regarding the stitching quality of the belt loops. I noticed that they are not as strong as they need to be. I expected that it would hold up a bit longer than just a couple of weeks. Fortunately, this was easy to fix so it is not that much of an issue.
What We Like
Comes with a lot of pockets
The pockets are always open for easy access.
Has pockets that are large and deep enough even for an electric hand drill
Comes equipped with a built-in carrying handle
Has hoops for suspenders
What We Don't Like
The stitching on the belt loops is not that strong.
Although the stitching coming undone should have been a major issue that would warrant you to ditch this tool belt, many other benefits somehow offset most of its belt issues, making this product desirable again.
2. ToughBuilt – Technician 10 Pocket Pouch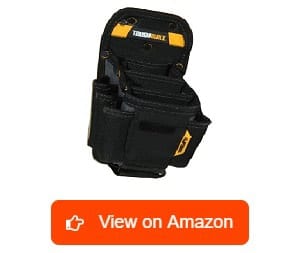 This cable tool pouch is part of ToughBuilt's ClipTech system, meaning it can be easily attached and switched out from a compatible tool belt. This is ideal for cable techs because they can conveniently switch out pouches depending on the task at hand. I find this system quite handy because the pouches just snap on and off quickly.
I do not even need to remove the belt when doing so. This tool pouch is made of very strong and durable nylon fabric material. The pouch material is abrasion and tear-resistant. You can confidently place your tools, even the sharp ones, inside these pockets without any fear of them tearing through the material.
At first, I thought that the ClipTech tab will not be able to securely carry a fully-loaded pouch and I was
surprised that it could. Also, there was no way that this cable technician tool bag could accidentally come off from the tab.
The pouch is held in place securely and unless you press the release button, it will not come off no matter how hard you pull on it. This pouch alone comes with 14 pockets and three of them are large enough for several pliers of different shapes and sizes.
There are also plenty of tool hoops for different kinds of screwdrivers and a hammer holder when you need to nail something down. Just this pouch alone can carry all of the essential tools that I need to do my job properly.
However, one important thing that buyers need to be aware of is that this is just a tool pouch. It does not come with a belt strap. However, if you already have a tool belt, you can still use this as an add-on pouch.
What We Like
Forms part of an extensive selection of ClipTech accessories
Makes it easy to switch tool pouches between jobs
Comes equipped with 14 different-sized pockets
The tabs are extremely strong and would not release.
Made of tear and abrasion-resistant nylon fabric
What We Don't Like
This product is just an additional pouch; it does not include a belt strap.
Even though this product is just an extension pouch, this can be a good starter item. Get a proper tool belt and use two units of this pouch and you already have a proper cable tech's tool belt.
3. DEWALT DG5103 Maintenance and Electrician's Pouch
This cable tech tool pouch can carry all of the basic tools that any kind of electrician would need. There are more than enough pouches and loops for all the necessities that are useful while on the job.
There is room for two pliers, hoops for a pair of screwdrivers, a belt loop for rolls of electrical tape, padded pouch for wrenches, a clip for measuring tape or a measuring tape holder, and others. It is also nice that this tool pouch is made of durable ballistic polyester fabric. This means that the pockets are highly tear-resistant, puncture-resistant, and abrasion-resistant.
Also, all the seams are double-stitched using strong and thick vinyl threads and they are further reinforced by metal rivets at the critical stress points. I am confident that this tool pouch will last for many years.
The nice feature that I liked about this belt is that you can use it on a true tool belt and you can also hook it u
p onto a regular one. There is a metal clip at the back of the pouch that you can hook onto your regular belt. Also, there is a loop that you can thread your tool belt strap through.
The pouch can be installed on a three or four-inch tool belt strap even if the belt is made by a different brand. I am also pleased that this is large enough to carry all your basic tools while also being small enough that it would not be a bother your movement. It has hammer loops at the sides for easier access.
This is the perfect-sized pouch for anyone who is a beginner at DIY electrical repairs but does not have an actual tool belt yet. I have not experienced it firsthand but some customer reviews state that the metal belt clip is flimsy and breaks easily.
On the one hand, I usually loop it onto a leather tool belt that I own but I have clipped the pouch onto my belt on several occasions and it didn't get bent out of shape, let alone break. The reason might be that my belt is not thick enough to snap the clip.
What We Like
Has enough pockets and slots for all the basic electrician's tools
Made of durable and resilient materials
Constructed to last; comes with double-stitched and riveted seams
Can be clipped onto a regular belt or installed on a traditional tool belt
Large enough to hold a lot of tools while also being small enough to not get in the way of movement
What We Don't Like
The metal belt clip might snap when the pouch is fully loaded.
Although I cannot vouch for the metal clip not snapping, I can still assure potential buyers that when attached to a tool belt, this pouch is a good addition. Regardless if you are an experienced or a newbie electrician/cable tech, you will love this pouch.
4. Bucket Boss Tool Pouch
The FlapFit system just might be my favorite feature of this Bucket Boss tool pouch. The wide and rigid flap hanging at the back allows users to hook it almost anywhere that it can fit in. I have tried inserting it at the back pockets of my work pants (which is comfortable), into a regular belt, and in my other tool belts, and it worked perfectly.
The Flap keeps the pouch connected securely. Although it works fine by itself, the flap can also be closed using a wide strip of Velcro. You can hook it into a tool belt and it will not fall off, thanks to the rigid flap firmly anchoring the pouch in place and the Velcro fastener or strip further bolstering the hold of the flap.
This tool pouch has five pockets. The main one is big and deep enough to carry several pliers and larger screwdrivers. There are also four smaller pockets for smaller tools and materials like pens, markers, precision screwdrivers, Allen wrenches, and others. Fur
thermore, you will find the handy loop useful in carrying several rolls of tape. All of the basics are covered by this one pouch.
As with the other products that Bucket Boss makes, this tool pouch is made using premium quality ripstop polyester blend fabric. This material is highly abrasion, tearing, and puncture-resistant, making it one of the best choices for holding your tools. With proper care and maintenance, it will surely last for many years.
If you are a professional cable tech then you might find this pouch too small for your everyday use. However, if you need something for smaller projects or something that will be handy to have around the house then this pouch might be fine.
What We Like
Comes equipped with Bucket Boss's FlapFit system
Has a wide Velcro strap that keeps the flap in place
Can be worn in a belt or inserted into the back pockets of jeans
Has five pockets and the main pocket is big enough to carry several bulky tools
Made of ripstop poly material, which is very tough and durable
What We Don't Like
Might be too small for professionals
Although this pouch might not provide enough storage spaces on its own, it can be a handy little addition to your tool belt. Besides, you can remove it when you just need to carry the basic tools with you on a job.
5. Custom Leathercraft 1608 Comfort Lift Combo Tool Belt
I like that this CLC Custom Leathercraft cable installer tool belt comes with removable suspenders. The suspenders help a lot by distributing the weight of the belt and its contents over the shoulders to ease the load off the lower back. The suspender straps are also heavily padded so it is comfortable to wear.
I also liked that this Custom Leathercraft tool belt has a pocket specifically for a cordless drill. This is better than just hanging the drill on your tool belt using a lanyard. If you will not be carrying a drill then you will have a large pocket for your other tools.
One of the pouches also has a zippered flap that completely covers the contents and prevents them from spilling out. When not zipped up, the flap features a zippered pocket that you will surely find useful in holding small items, like screws and bits of extra wiring.
I discovered that the belt strap is quite comfortable to wear. The belt itself is 3" wide and padded nicely to offer extra comfort once you start wearing it. I also like how wide the belt is because it nicely spreads the weight to prevent the belt from digging into my sides.
The only problem I have with this tool belt is that it is not sized properly. The company claims that it can fit a waist size up to 46" but several customer reviews say they have difficulty wearing the tool belt even if they have waist sizes between 40" and 42" only.
What We Like
Comes with heavy-duty suspenders
The suspenders and belt straps are comfortably padded.
Features a pocket for a cordless drill
Has a zippered flap to prevent the contents of the pouch from spillingComes with carrying handles for increased portability
If you are wearing jeans that have at least a 42" waistband then you should probably not get this tool belt. However, if you are a bit slimmer then you get to enjoy all of the benefits that this affordable yet very useful product can offer.
6. Veto Pro Pac Tech Tool Bag
Although this is not a tool belt, this product is still worth having in your arsenal. This is one of those tool bags with a lot of different-sized pockets that can accommodate almost all of the tools that you will need in your job as a cable tech, maybe even more. There are webbing loops for numerous screwdrivers, pliers, cable cutters, and so much more.
When it comes to strength and durability, this product will not disappoint. I love that Veto used heavy-duty nylon fabric because it makes the bag waterproof and stain-resistant, preventing any durability issues. It also does not fade and is machine-washable. Moreover, the nylon fabric is abrasion, tear, and puncture-resistant.
To make this more durable, the base of the bag is made of tough polypropylene plastic, so you can place it on any surface without fear. My favorite feature has to be the ergonomic rubber grip. The grip is not too thick that it is hard to wrap my hand around it nor is it too narrow that it hurts to carry. It is just the right size for my hands.
Also, it has a nice rubberized foam handle to make it even more comfortable to carry. Even though this is a rather compact tool bag, it can still accommodate dozens of pieces of tools and other materials. If you are a regular homeowner, you will find it hard to fill all of the spaces within this bag.
If you are a professional tradesman, you will discover that you can fit all of the tools that you need within this one bag. There is nothing major that I can complain about, almost everything about this tool bag is excellent.
However, if I were to choose, it would have been even better if there is a central main
pocket for larger tools, like cordless hand drills or grinders.
What We Like
Equipped with enough room inside for dozens of different tools
Features an ergonomic carry handle
Made of heavy-duty materials
Waterproof and stain-resistant
Built to last for many years
What We Don't Like
Does not come with compartments for power tools
There is nothing to complain about with this handsome tool bag. It is very durable, can hold a lot of tools, and easy to carry around. Although it is a bit on the expensive side, you will get more than your money's worth guaranteed.
7. ToughBuilt Master Electrician's Pouch
If you are thinking of building your custom tool belt, you need to add this pouch to your collection. This is especially true if you will be using ToughBuilt products because this pouch is a part of the ClipTech system of pouches. This system makes switching from one pouch to another quite easy. I do not even need to remove the belt to do so.
Another thing that I like about this pouch is that it has a built-in stand so that I can place it on the floor without worrying about it tipping over. This is great when I need to work on wall wirings and cabinets. I just set up my pouch beside me and I can easily grab anything I need from it.
Although it can be clipped onto a tool belt, you can also wear this pouch like a satchel, thanks to the long shoulder adjustable belt that comes with it. The shoulder strap is quite wide and has a strap pad that makes carrying a fully-loaded pouch a lot easier.
The thing that I love about this pouch is that there are enough pockets for almost all the tools that a cable tech will need. For instance, there is a holder for flashlights of almost all sizes. It does not matter if your flashlight uses AA, C, or even D cells. You can expect it to fit in the holster.
The one thing that I wished is in this tool pouch is a bigger size for the pockets. Many small pockets are present in this pouch but I noticed there is not enough for larger tools, like a cordless drill or even a laser stud finder.
What We Like
Forms a vital part of the ToughBuilt's ClipTech system
Can be switched out for another pouch without the need to remove the tool belt
Made of sturdy and durable materials
Can stand on its own when placed on the floor
Has a nice flashlight holster
What We Don't Like
Does not come with enough big pockets
Although this tool pouch would have been much better if there were more big pockets for large tools, this does not mean that this pouch is unusable. Even with small pockets, this pouch is still a good addition to any professional's tool belt.
8. FASITE Electrical Maintenance Tool Pouch
Do not be fooled by the size of this tool pouch as this can hold everything that a cable tech will need for routine maintenance and repair projects. This is much better than carrying a fully loaded tool belt but you will only be using the basic tools.
This pouch is made from very durable 600 Denier poly fabric, which looks like canvas but is tougher and lighter. This fabric is resistant to abrasion, puncturing, and tears. Another important feature of this pouch is that it is completely waterproof and stain-resistant.
It does not matter if a tool pouch is made of the toughest material. If the construction quality is not up to snuff then it will still fall apart. This is not the case with the FASITE tool pouch. Every seam is double-stitched using extremely strong nylon threads and the stress points are reinforced using even more stitching.
This proves that this bag is built to last. It also comes with its belt, so you do not need to have a separate belt strap for this. I use mine as a separate tool belt that I use for small tasks and routine maintenance work. It has its own set of tools as well so I do not have to take anything out of my main work tool belt.
The only problem that I have with this tool pouch is that you have to carefully load it so that it hangs close to your hip and not get in the way when you are working. I discovered that it is best to place the heaviest tools in the inner pockets and on the sides to prevent the pouch from lifting.
What We Like
Small and lightweight but can hold a lot of tools
Made of tough materials and constructed to last
Waterproof and resistant to dirt and stains
Comes with a ripstop poly belt
Versatile; can be used in different trades
What We Don't Like
Has to be loaded carefully so it would hug the hips
There is nothing extremely wrong with this small tool pouch. In fact, I recommend this product for all tradesmen. Anyone would be happy to have a spare tool belt that can do almost everything that a fully decked professional tool belt can.
9. Klein Tools Backpack Electrician Tool Bag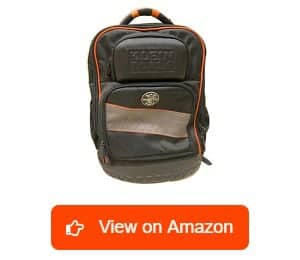 I find this tool bag from Klein a great addition to any workplace or job site arsenal, especially for those who are planning to be master electricians soon. This tool bag is big enough and has more than enough pockets and slots for all of the tools that you will ever need on the job.
This backpack also has a laptop compartment for jobs that require some computing. The laptop has a separate compartment that has extra padding to protect its delicate components from the heavy tools that are in a separate compartment. You can also find separate pockets for all the accessories that come with the laptop.
They are also kept separate from the tools to prevent damage. I also like that this backpack has a total of 25 separate pockets. This backpack has more than enough space for all the tools that you will ever need for all your cable tech projects and jobs. You will never feel at a loss for tools when you have this bag on your back.
The straps are also wide and have a lot of padding. The shoulder straps make it far easier to carry all your tools without straining your lower back. Also, because they are so wide, you have an assurance that they will not dig into your skin.
The only thing that you need to keep in mind is that you need to load this bag properly or else it can get too top-heavy. This means you will not be able to set this bag down upright without it toppling over because the base is quite small.
What We Like
Has a separate padded compartment for a laptop
Comes with 25 separate pouches for tools and materials
Has a reinforced pouch at the front that is specifically designed for laptop accessories
Made of durable and waterproof material
Has wide shoulder straps for additional comfort
What We Don't Like
Can get a bit top-heavy when improperly loaded
The issue I have with this tool bag is not that serious and can be ignored by most of the people who use this bag as it is intended. Also, there are plenty of benefits that overshadow this tiny inconvenience.
10. DEWALT DG5101 Technician's Pouch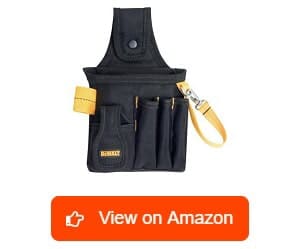 At first glance, you might be thinking that this pouch is much too small but once you start loading it up, you will discover that it can carry all of your basic tools and then some. If you are looking for a pouch that you can use for small assignments or something to add to your existing tool belt, this will do the trick.
I like that this pouch is made of thick and resilient 600D poly fabric. This means that this small little pouch can take a beating and still ask for more. You will be using this tool belt for a long time.
I am glad that it is equipped with a dedicated phone pouch, too. This is lined with neoprene, which works double to protect the phone from scratches and ensure that it gets protected from shock if you accidentally drop the pouch on the floor.
This pouch has a special flap at the back that I can slip into the back pocket of my jeans. This means that you can use this even without a tool belt or any other belt for it to clip onto. Aside from the flap, there is also a belt clip at the back. This pouch can be connected to any tool belt, or any other belt for that matter, that is no wider than 2".
There is only one small issue that I have with this pouch and that is the phone holder can only accommodate early versions of the iPhone (up to the 5th generation). Modern smartphones are too wide for the outdated phone holder.
What We Like
Has enough pockets for all your basic tools
Made of durable materials and built to last
Comes with a neoprene-lined phone pocket
Has a back flap that could be inserted in your pants' back pocket
Features a belt clip so it can hook onto tool belts and regular belts
What We Don't Like
The phone pocket is too small for modern phones.
The issue with the phone pocket is more of a minor inconvenience, I just use the phone pouch for holding other tools. This is a great little tool pouch that will make for a good addition to any tradesman's arsenal.
What is a Cable Tech Tool Belt
The best tool belt for cable tech is almost identical to that of an electrician. It is mainly because both of them use similar tools. Most of the time, cable technicians will only need to use the basic electrical tools that electricians also use.
There are no special features that make the tool belt of cable tech different from that of an electrician. What is different is the set of tools placed inside the tool belt as both jobs require different tools and equipment for their job.
How Does a Tool Belt for Cable Techs Work
Tool belts for cable techs work by providing the user with enough pockets, slots, and hoops for all the tools that he will need for his task. Usually, a tool belt should have provisions for a couple of different screwdrivers, pliers, and other tools that you will be needing for the job.
There should be different-sized pockets for easier organization and to prevent the tools from shaking around. A tool belt helps by letting you have all of your tools within reach all the time. This means no need to bend over, go down ladders, or walk across the room to get the needed tools.
You will know you have a good tool belt if you do not even need to look when you are reaching for tools and you always get what you needed. Tool belts should also be comfortable to wear even when loaded with heavy tools. The belt strap should be wide and padded with foam to prevent it from digging into your skin.
Furthermore, it needs to fit almost perfectly around your waist and not hang loosely. You can also find some tool belts made for cable techs that come with detachable suspenders, allowing you to carry even heavier tools without straining your lower back.
Types of Cable Tech Tool Belts
Tool belts can be grouped according to how they are worn and the profession of the one who will be using it. Since you are already looking for a tool belt for a cable tech, you just need to learn about the types according to how they are worn.
Waist tool belts – This is the thing that pops into the minds of most people when they hear "tool belt". This is made of a wide belt strap (usually 2" to 3" wide) that is padded for extra comfort and with tool pouches sewn on to them. Some of them have pouches that are non-removable and cannot be moved from their positions.
Others make it possible for you to get a bare belt and attach the pouches that you want. Because most of the weight will be carried by your hips and lower back, it is not advisable to load a waist belt with too many heavy tools. Aside from causing severe lower back strain, you will also find it hard to move around.
Suspender-type – Some waist tool belts have provisions for hooking up a tool suspender while other professional-grade tool belts already have them built-in. Suspenders help by placing most of the weight of the tool bet and its contents squarely on the shoulders of the wearer.
Aside from helping with the weight distribution of the load, suspenders also help place the weight almost dead center above your center of gravity, making it easier to move around.
Furthermore, some suspenders also provide additional pockets and slots for more tools and other items. For instance, there are suspenders with extra slots for precision screwdrivers and others have pouches for cellphones.
Tool pouches – These are like the ones that are hooked onto tool belts but the difference is that you can also use them on their own. Many tool pouches have flaps on the back that you can slip into the back pocket of your pants so you can use them without a tool belt.
Some tool pouches have belt clips so you can hang them onto your regular belt. Then you can also find those that have long shoulder straps so you can wear them like a satchel. If your task does not require the use of a fully loaded tool belt, just carrying an ample-sized tool pouch with all the basic tools will be enough for your needs.
Why Do You Need a Tool Belt for Cable Tech
A cable tech, like electricians, uses a lot of different tools on their job. Most of the time, they need to work in precarious positions where it is impossible or incredibly dangerous to carry a toolbox, like when they are working on rooftops or top of telephone poles.
In cases like this, cable techs need to have a tool belt so that they can carry their tools while remaining hands-free. Tool belts also allow the user to improve his productivity and work efficiency.
Even when working on the ground level, having a tool belt can help boost productivity because you do not have to pause working just to walk towards your toolbox to get something you need. You just need to reach your hand to the side and gain access to all the hand tools you need.
Buying Guide
Professional tool belts are quite expensive so you need to know what you are doing when shopping for one or else, it will be like flushing all of your hard-earned money away. To help you while you browse the aisles for a new tool belt, here are some of the most important factors you have to consider:
Job Type – This is the most important thing you need to look for when buying tool belts. Since you are a cable technician, you need to find a tool belt that is specifically made for your profession. You will only get frustrated when you accidentally buy one meant for a carpenter.
For cable technicians, a tool belt that is meant for master electricians will be the best choice because both jobs require the use of almost the same tools, except perhaps for a couple of specific items.
You will need a tool belt that has a lot of slots for screwdrivers as you will be using different sizes of them. There should also be an electrical tape holder/dispenser because you will be using this material quite a lot.
Pocket Necessity – Also, consider the number of pockets that the tool belt has. Since you will be needing more than a dozen pieces of tools and materials, go for one with enough pockets to accommodate all of them.
Another reason for having a lot of pockets is so you can organize your tools better. For instance, the small slots nearest the front should be for the screwdrivers that you usually use. Beside them are the pliers that you also use the most. The pockets farther back are for tools and materials that you use only on occasion.
Also, check if the tool belt you are thinking of buying has some pockets that are big and deep enough for the larger tools that you usually use on the job. If you are usually using a cordless hand drill, there should be a pocket that is deep enough for you to carry it in. Make sure that there is also a small pocket near it for carrying extra drill bits.
Durability – The tool belt's durability will mainly depend on the type of material that it is made of. Years ago, leather is the standard material for quality tool belts. However, modern manufacturing has churned out materials that are as durable but at the fraction of the cost.
Although it is still recommended to get a leather tool belt, you can also try out those made of 600 Denier poly fabric. This material makes the product feel and look like a thick canvas tool belt but much lighter and tougher.
Aside from the material used, you also need to check the build quality of the tool belt to make sure that it will last for years instead of just a couple of weeks. Check the seams first. They need to be at least double-stitched using durable nylon threads.
Single stitching will not be strong enough to hold the weight of the tools that you will be putting inside the pockets. This means they will pop open after just a couple of weeks of use. Also, there should be reinforcing stitching on the stress points (the terminating ends of the stitches). Better yet, instead of stitching, metal rivets should be used.
Comfort – It is also advisable to pick a tool belt that is somewhat comfortable so you will be able to wear it for hours while on the job. Wearing an uncomfortable tool belt is not just annoying but can also affect the quality of your work and compromise your safety. Moreover, a comfortable tool belt will encourage you to wear it more.
First of all, the belt strap should be at least two inches wide. Preferably, it should be three inches. A wide belt strap will mean there is more surface area to distribute the weight of the tools. Narrow belts will dig into your sides causing pain and discomfort.
Aside from having enough width, the belt should also have ample foam padding for extra comfort. Another thing to consider in terms of comfort is breathability. The belt should be made of breathable material or at least have foam padding that provides channels for air to go through.
Care and Maintenance
Tool belts are meant for heavy-duty tasks, so they do not need much care and maintenance. For most tool belts, especially those made of polyester blends, it is already enough to just empty the pockets and shake off all the dust and dirt accumulated inside and on the belt pockets.
This should be done preferably after every workday or every week at the very least. Not only will this remove a lot of the dirt on the tool belt but also take off the stresses on it brought about by the weight of the tools.
If you will be getting any of the leather belts, it is recommended to wipe it down daily using a damp, soft rag. This is essential in removing most of the dirt on the surface. Also, every month or so, you should apply a leather conditioner on your tool bags to prevent the belt and pouches from drying up and cracking.
Now the question is should you machine-wash poly web tool belts? You can machine-wash them but know that you will be stripping a lot of the waterproofing away when you do. You can just wipe the entire surface of the tool belt and the pouches with a piece of damp cloth and let it dry in the shade.
Frequently Asked Questions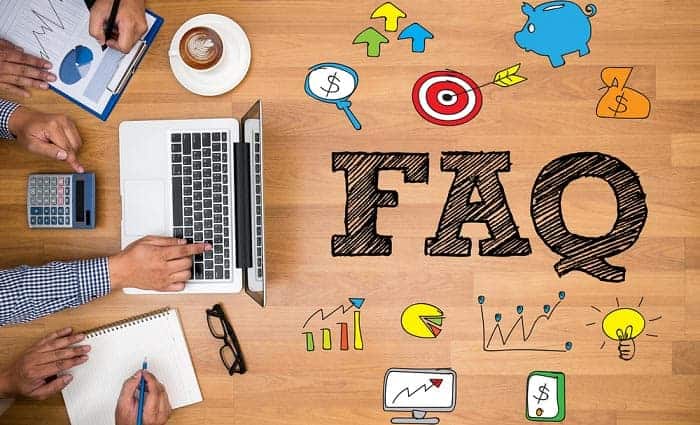 What are the most popular brands of cable tech tool belts?
Various tool belt brands are available in the market nowadays. If your goal is to find an amazing tool belt or tool bag quality then among those I highly recommend are Klein Tools, ToughBuilt, DEWALT, Bucket Boss, Custom Leathercraft, Veto, and FASITE.
How to set up and use a tool belt for cable tech?
There is no standard way to arrange the tools in a tool belt. You just do what you feel is comfortable for you. Just put the tools that you usually use somewhere that you can easily reach, like around the front. This way, you will get used to the configuration of your belt that you will not even need to look at it to know where a particular tool is.
Just make sure that the belt fits you right. Also, remember that you do not have to fill all of the pockets of your tool belt. You just need to carry all of the tools that you will think you will be needing for a particular job. Moreover, make sure that you load the pouches evenly to keep the tool belt balanced.
What are the perks of using a cable tech tool belt?
Telecom and electricians would know the hassle of going up and down to retrieve or leave a tool behind. Furthermore, workers waste time looking for screws, bolts, and other small items in their pockets.
Best cable technician tool belt can save the worker from the trouble of having to descend from the ladder and return to their bags or tool boxes in their vehicle. Apart from that, it helps the worker organize their stuff neatly in telecom tool pouches.
What kind of tools can a cable technician put on the tool belt?
Here's what's inside a cable tool bag, according to some technicians:
Cutting and stripping tools like wire crimpers, cutters, electrician scissors
Screwdrivers for installation, maintenance, and other tasks
Pencils and small notebooks
Pliers, knives, or multi-tool knife pliers
Electrical tape
A small flashlight
Of course, these are just some examples. At the end of the day, a worker will only pack what he needs for a specific job in a cable or telephone technician tool pouch.
Do tool belts hurt your back?
Yes and no. Overloading a network technician tool bag can hurt your hip and lower back.
According to OSHA, a stuffed tool belt can weigh over 50 lbs! Just to give you an idea, passengers taking the plane are typically given at least 45 lbs of check-in baggage. Imagine putting that much weight around your waist!
The good news is that telecom tool pouches do not have to be crammed. You may not realize it, but you probably don't need some things. You can prevent back pains by packing only what you need.
Otherwise, you can also re-organize the items in the bag to distribute the weight more evenly. Wearing suspenders or padded belts can also minimize the stress on your hips.
What is the warranty?
Most tool belts come with a 30-day money-back guarantee against factory defects. This means that if you use the tool belt properly (i.e. not overloading it with tools) and any part of it breaks, you are entitled to a full refund or a replacement tool belt, whichever you prefer.
However, some companies also offer lifetime "satisfaction" guarantees. This means that you can get a full refund of your purchase price just because you are not completely happy with the product.
At any time, if you feel unhappy with the tool belt, you can send it back to the seller and you will be refunded, no questions asked. This is more of a testament as to how much pride the company has for its product. Fortunately, most of them honor this kind of warranty.
Where to buy a tool belt for cable tech?
Because fitment is important when buying tool belts, this makes buying from brick and mortar stores more advantageous than other options since you can get to test fit the tool belt before buying. Some tool belts say that they can accommodate waist sizes up to 46" when the truth is they can barely fit on someone with a 42" waistline.
However, buying tool belts online also has its share of benefits. The biggest of all is the ability to compare dozens of different brands of tool belts to find out which of them provides the most value for your money.
Also, because online retailers do not have as much overhead operating costs, they can afford to sell their products at a much cheaper price range compared to brick and mortar stores.
Conclusion
A cable technician will need a good tool belt to make his job a whole lot easier. However, because there are many brands and models in the market today, finding the best tool belt for cable tech can be challenging. Hopefully, by now, you have learned all of the important things that you need to know when shopping for your very first tool belt.
Now, you do not have to worry about wasting hundreds of dollars on a tool belt that you can't even use. You can buy one that you know you can use and will serve its purpose for many years to come.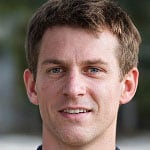 Having worked in the field of personal protective equipment for over two decades, Andrew Carnegie is a specialist in the field.
At EDC, he strives to improve performance efficiency and promote workplace safety for EDC's readers and customers. He also researches the most up-to-date equipment that has earned relevant accreditation for use in a wide range of industries and specialties.