Have you ever had a day wherein you had trouble looking for a tool in your jumbled tool box drawer? At times, it is annoying that you even injure your fingers because your tools aren't properly arranged. It is inevitable for your gears to get disorganized when opening or shutting the tool box. That said, don't you think it is high time to invest in the best tool box liner?
Essentially, keeping your tools well-arranged is quite critical. If you want to make the job easier, you should start searching for a suitable tool box liner. As you know, it is not enough to have a soft tool bag or compartments in a tool belt to hold all your Harbor Freight tools. It is a must to purchase a tool box and a liner that could safeguard both the box and tools.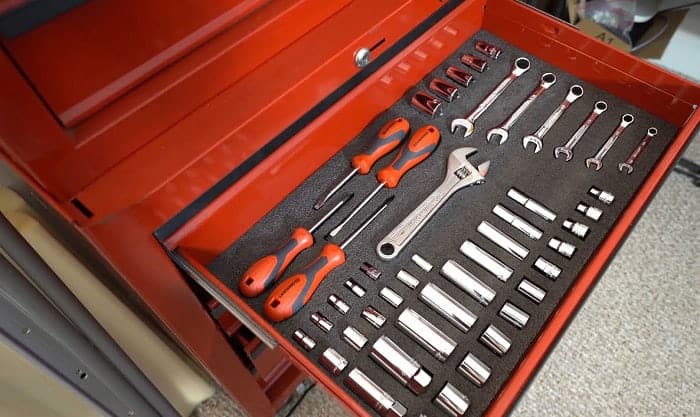 Unquestionably, having a good and quality liner can reduce the hustle of you looking for the right tool. It also decreases the grease buildup at the bottom of your tool box drawer.
Luckily, the following box liner ratings and reviews can assist you to select the most appropriate option for your requirements. The rest of this post will also share some more valuable information that you need to know about the top-rated tool box liner you can consider when shopping for one.
Here are our top recommendations for the top-rated tool box liner that you should check out.
6 Top-Rated Tool Box Liner Reviews of 2023
1. Duck Select Grip EasyLiner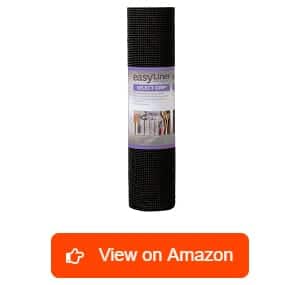 The Duck Select Grip EasyLiner is a popular soft mat that has a width and length of 20″x24ft, respectively. The liner is known for its grip bottom cushions that make it non-slip. It's also widely loved for having a smooth surface that's devoid of any PVC substance.
Due to its airiness, this item is ideal for kitchenware or light garage use and not for heavy tools. But the good thing about this is that you'll be able to reposition it without any hassle. This would make a practical tool box accessory kit.
This liner has a nice and breathable design. It's made with lots of tiny holes and therefore easy to clean because it does not hold spills. It's safe to use with your washing machine, so you can go ahead and toss it in there if you're feeling lazy to wash by hand.
Since it may move around at times and stick to your tools and utensils when you pull them out of the storage, putting a thin sheet of paper in between is recommended. On most occasions, the mat would often feel non-tacky so there's no issue with this, really.
Some customer reviews claimed that this product has the tendency to drift around occasionally. And, it is not one of the most heavy-duty options; however, it works best for holding small appliances and good to use for kitchen drawers.
This Duck EasyLiner mat is an awesome budget-friendly product despite its disadvantages. It's practically the best deal in the market for its price.
What We Like
Made using lightweight material
Comes with a serrated design that's super easy for cutting
Safe to use with washing machine
Much cheaper than other similar options available
An ideal option for eco-conscious buyers
What We Don't Like
Not so heavy-duty
Tends to move around sometimes
Overall, if you are in search of the most outstanding protector mat deal in the market today, this option is second to none.
2. B&C Home Goods Tool Box Liner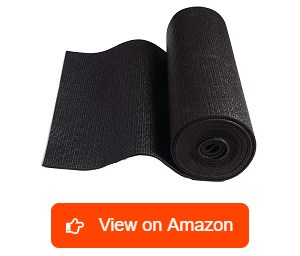 The B&C Home Goods Tool box Liner is possibly the most robust tool box liner foam you can buy in the market. Using this liner prevents your tools from sliding and being scratched. It is made of rubber, and it is textured on both sides.
This tool drawer liner is made of heavy-duty materials that can last for a long time. A plus factor for this product is that it is built with a grid-based design. Such a feature allows it to directly fit into a kitchen shelf, cabinet, drawer, or tool box.
Indeed, it's fairly easy to clean with water and set it out to dry. You can also wipe the liner with a cloth to remove any dust build-up. The design also makes your tool box drawer liners feel more professional. You'll like this option because it can amazingly resist natural wear and tear. Hence, this makes it an ideal long-term addition to your do-it-yourself kit.
We recommend this product because it is proven that the liner is thick at around 1/8″ which makes it tear-resistant. If the value for money is what you are looking for, then definitely go for this one.
However, this may not be more practical to use for the low-profile types of drawers. Besides, its thickness may add a little more weight to your tool box. Anyhow, the latter isn't a serious matter. Personally speaking, this is adding more protection even if it means the tool box becomes a bit heavy.
What We Like
Helps avoid sliding and getting easily scratched
Can defy natural wear and tear
Easy to clean and maintain
Durable and tear-resistant
Features a grid-based design
What We Don't Like
The thick liner can add to the weight of your tool box.
Overall, this too lbox liner is reliable. If you prefer professional quality and durability, this is your best option.
3. CASOMAN Professional Drawer Tool Box Liner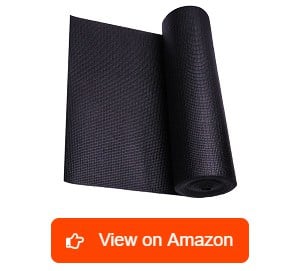 With this CASOMAN Tool Box Liner thickness, you can make sure that your tools get the padding and protection that they need.
This liner has a non-adhesive textured grip to it, which makes organizing your tools easier. In addition to this, the textured grip prevents your tools from scratching against each other whenever you open and close your drawers.
It comes in a roll of 16-inch x 16 ft which can be tailored to cover the surface of your tool box and drawers. Aside from that, buyers are happy with the reliable quality of this product due to the one-year warranty offered by this brand.
This box drawer liner is thick and tough, which implies that it could ensure long-standing service. Best of all, the grid-lines design allows you to cut the liner with just scissors or a cutter.
Plus, it's also easy to clean. You can wipe it with a cloth and you're good to go. Its non-adhesive grip is good enough to hold down your tools even in hot weather. It won't feel sticky at all. To many buyers' satisfaction, using this product is a breeze.
Regardless, the downsides of this drawer liner are its tendency to get dented from heavy tools and it appears to be not water-resistant. So, it is better to use it with more care to avoid this.
What We Like
Cleaning is a breeze
Easy to measure and cut
Features a non-adhesive textured grip
Backed up by a one-year warranty program
Comes with thick and tough craftsmanship
What We Don't Like
May get dented with heavy tools
Not water resistant
On the whole, this drawer and tool box liner is king. It is rare to find an option that can impressively deliver its promise.
4. Reizen Tech Tool Box Liner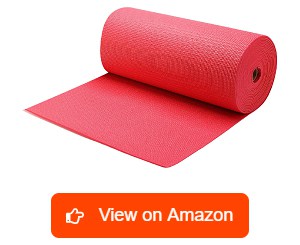 Let's start this review with the feature that most Reddit users prefer in this bag: the liner's non-slip foam.
The manufacturer classifies this product as "professional grade." True enough, it helps me keep most of my tools from getting dented or scratched inside the toolbox. Impressively, it prevents light and heavy tools from sliding when I open the drawer in a quick movement and slam it shut.
Aside from that, the liner's bottom is quite grippy on slick surfaces. Although it does not have an adhesive, I think this comes at an advantage, especially by the time that I need to replace it. Still, the material feels durable, and I doubt that I would need to get another liner soon.
Measuring 24″ x 18″, I can cut the liner up into smaller pieces to fit in the spaces in my toolbox. Thankfully, it has gridlines that I can use as a guide to cut perfectly straight edges. Furthermore, using a regular pair of scissors or a utility knife to cut it is not difficult!
This particular model is available in black, bright red, and blue. I opted for red to make my tools more visible in the compartments.
However, some people find this liner too thick. For any oolbox's drawers are shallow, I think the 3mm thickness will take up some space. For me, this is more suitable for cushioning bigger tools.
What We Like
Helps prevent dents and scratches with the liner's non-slip foam
Both sides are slip-resistant
Feels thick and durable, measuring 24″ x 18″
Very easy to cut with gridlines
Available in bright colors: black, bright red, and blue.
What We Don't Like
3 mm can be too thick for shallow drawers
We can keep our precious heavy tools in tip-top shape with this high-quality toolbox liner! Despite its thickness, I can cut it easily with any scissors I have at home.
5. Precision Defined Tool Box Liner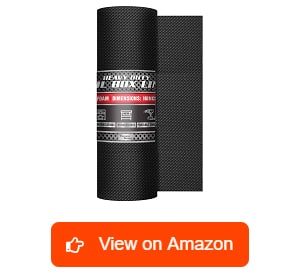 The Precision Defined Tool box Liner is a suitable option if you are very particular with the product's thickness. It is built with a 3mm textured memory-foam like material.
Many consumers prefer this option because of its incredibly sturdy and professional quality foam material. It is adept at supporting heavy tools and can guarantee several years of service. This makes it easier for you to arrange all your tools in your drawers, shelves, and garage. You can even use it for your paint plumbing storage.
Since it's thick, it can hold your heavy tools in place without being dented. With the memory-foam like material, the liner will turn back to its original shape pretty quickly. Furthermore, the fabric is slip-resistant to provide the stable support that your tools need.
Since this liner for tool box is washable, cleaning it is not tricky at all. What's more impressive about this tool box liner is that it does not limit your use. Whether you need a shelf liner for your kitchen drawer, cabinet, or garage; you can rely on this.
The topnotch quality textured grip feature of this tool box liner makes it ideal to fit any brand tool box such as Dewalt, Husky, and Craftsman.
While the thickness of this box drawer liner is pretty good, the minor concern for those with shallow tool box drawers is the space it takes up.
What We Like
It's thick enough to hold your heavy tools in place.
Features versatile, incredibly durable and professional quality and design
Can provide maximum protection that your tools require
It has the right tackiness to it
Slip-resistant and can return to its original shape easily
What We Don't Like
Can take up space on shallow tool boxes and drawers
Lastly, if you opt for a very thick tool box liner that can fit almost all tool box brands, then this is a topnotch alternative!
6. CASOMAN Professional Tool Box Liner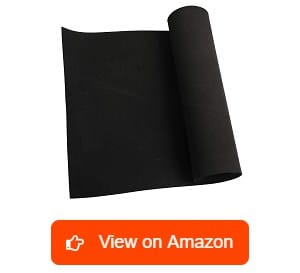 Make your tool box and drawers look near and professional with the Casoman EVA mat. If you have a tool rental store, this is a perfect investment. This liner is made with Ethylene-vinyl acetate which gives you rubber-like flexibility to it.
It's 3mm thick which gives your tools a protective cushion. Both sides of the mat are non-slip which helps keep everything in place. It's also washable and does not trap dirt or dust.
It comes in 16inchx 16 ft wide, allowing you to cover more surfaces and areas. Users can tailor its size to fit their specific needs. What's good about it is that it is not water absorbent. This means that it can prevent your tools from rusting from a moist surface.
Undeniably, this product is quite serviceable. Regardless of the drawer height, it executes an excellent job of keeping tools from scratching the paint in the drawer or tool box. Besides, it helps keep most of the wrenches from drifting around.
This thin liner may also not be practical for heavier tools, or else it can be worn out sooner than expected.
What We Like
Foam-like material as the cushion to your tools
Not water-absorbent
Easy to measure and cut
Not prone to trapping dust
Easy to clean
Can cover more areas and surfaces
What We Don't Like
Might not withstand heavy tools since it's on the thinner side.
Right to it, the best thing about this drawer and tool box liner is that it is quite easy to customize to obtain the perfect fit.
Big Horn Tool Box Cushioned Liner (Outdated)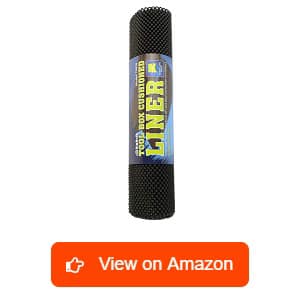 If you are on a tighter budget but still want a quality product, you can opt for the Big Horn Tool Box Cushioned Liner. This product may be less expensive than other competitors, but its quality and performance are superb.
Moreover, it comes in a roll of 16-inch x 7 feet, which is a tad smaller than the other brands. But, it serves its purpose. Its non-slip feature assures users that your Harbor Freight tools are kept from sliding. It's thick enough to provide support and avoid build-up of rust and grease at the bottom of your tool box.
What's good is that it's easy to cut with just scissors so it's ideal for your furniture DIY projects. Unlike the other similar liners, you can cut straight lines with its grid design. It's water, moist, and mold resistant, which makes it easier to clean.
There's no need for additional adhesives to make it stick. It's tacky enough to hold everything in place. Hence, you can rest assured that your tools are in good condition always and obtain an excellent socket organizer.
Even so, since this liner comes with a grid-line design, dust or grease may accumulate after a while. To avoid this, clean it regularly. Additionally, the liner is not thick enough for heavier tools.
What We Like
The grid-line design acts as additional support to your tools from sliding off
Easy to cut, just use a scissor or a knife
It's moist, rust, and mold resistant
Guarantees a more enhanced safety
Tacky enough to hold tools in place
What We Don't Like
The grid-line design requires clean from accumulated dust or grease.
Too thin for heavier tools
To conclude, if you do not wish to spend lavishly, but need a high-quality tool box liner, this option can serve you best!
Resilia Premium Tool Box Liner (Outdated)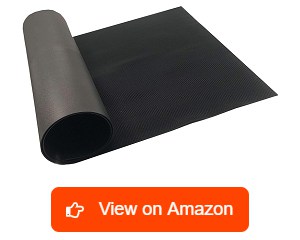 I purchased this utility mat for my workbench storage, garage drawer, kitchen shelves, and for flooring support. This can also make things more organized when working on your garden lighting projects. It's an all-around heavy-duty textured plastic liner made in the USA.
It has a nice black color with V-grooves that help prevent slipping. These indentations can also hold in liquid spills for easy cleaning. This is perfect for indoor or outdoor applications, and hardwood worktop. Many shoppers opt for this heavy-duty protector mat because it can guarantee multi-use.
This liner is very flexible despite its rigidness. It has a nice and solid feel to it. Once you unwrap the roll, you'll notice that the mat will instantly lay flat on your work area allowing you to cut with ease using a sharp knife or blade. You can even use it for windows electrical flooring.
In essence, this is the perfect choice for eco-conscious consumers. The manufacturer used recycled materials to engineer this drawer and tool box liner. Moreover, it does not contain any Prop 65 regulated pollutants. Aside from offering utmost protection to your tool box, this helps keep the storage areas neat as well.
Unfortunately, I still find my tools still sliding around a bit inside my tool box sometimes. But, I'd rather have this type over the soft rubber liners that could melt in the heat. This liner may also require more effort to cut across the grooved pattern.
What We Like
Flexible and waterproof
Comes with a grooved pattern that allows easy cleaning
Crafted using eco-friendly recycled material from the USA
Priced reasonably
Made with premium quality foam material
What We Don't Like
Its non-slip design may not be that effective.
May require effort to cut across the grooved pattern
In general, this alternative is the best bang for the money. You can use it for several different purposes making it one of the top-rated options in customer reviews.
Viper Tool Storage Liner (Outdated)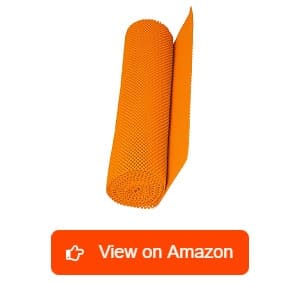 This versatile storage liner has a porous design like the Duck EasyLiner mat. It has a nonslip feature similar to others, but it's one of the most effective when it comes to keeping your tools intact.
With this 18inch x 12feet liner, you can ensure that your stuff won't slide or get disarranged. The grip on both surfaces of the liner is really great. And because of its versatility, it's often used for many household purposes like shelf liner, or lining the cabinets, cupboards, kitchen drawers, and tables, etc., you name it!
I personally love the spongy look and feel of it. The spongy texture provides a cushion to your armamentarium to keep them safe from abrasions. Viper Liner is also lightweight which means you can easily attach it to your tool box and drawers using adhesives if you want. And, you can cut it to fit any type of project.
This product is offered in lively colors (bright orange and bright pink). It puts me into a cheery mood and it helps lighten up my work area. It allows a non-slip grip so your items are secure in place. You also don't need to worry about the surfaces since this liner can provide the necessary protection for that.
Nevertheless, this tool storage liner does not come with a porous design and is incapable of absorbing drips from grease, oil, and other substances.
What We Like
Easy to cut due to the perforations
Lightweight and very flexible
Exhibits an excellent grip
Features impressive colors for visibility
Capable of lighting up your workspace
What We Don't Like
Non-porous and unable to absorb drips from oil, or grease, etc.
Finally, this is one of the top-rated options to effectively keep your items intact, well-arranged, and well-protected.
5S Tool Box Foam Liner (Outdated)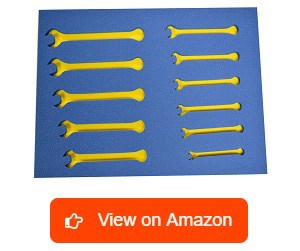 This 5S Foam Liner is the best option for neat people. Everyone will envy you for arranging your tools in military-style. It comes with a different material, which is a thick yet lightweight foam sheet. It's superb for organizing and keeps your tool box neat and organized.
You can make cutouts from this liner according to the shape of your tool. Users find it breezy to cut the foam precisely so that their tools will fit snugly into space. This gives extra security and protection to our gear collection and prevents them from rubbing against each other inside the tool box drawer.
The 5S Foam Liner has two sides – each one with a different color. One side is blue while the other is yellow. The color combinations include a black top with a red or yellow bottom and a blue top with a red or yellow bottom.
The only downside is cutting through the foam and the adhesive. Cut the liner with the foam facing upwards so that your blade will not stick too much to the adhesive.
What We Like
Gives your tool box a neat and beautiful finish
Offer extra cushion and protection
The foam liner individually secures tools into place
Thick yet lightweight
Keep your tools and other items well-arranged
What We Don't Like
The sheet of paper used at the back of the foam may be slippery
Ultimately, this product is famous for providing much-needed security and protection for your tools.
ONREVA Tool Box Liner Roll (Outdated)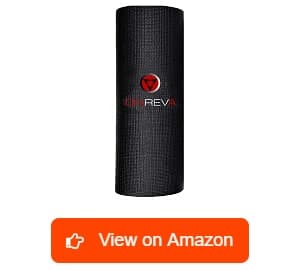 If you're looking for a liner with depth, this is another mat you can consider aside from the Casoman EVA mat. This liner is also 3mm thick, which is ideal for various gadget storage.
I like that this grade-high industrial rubber mat has a textured grip making it anti-skid. It's stuffed with PVC foam for extra support. You can be at peace seeing your tools well-organized and secure in place whether you store them in your garage, drawers, or tool box.
This liner is also non-stick for easy repositioning and it comes in a plain black color. Its clean black look gives a good contrast against the tools to help you locate your tools faster. It allows you to enjoy having a progarage organizer.
The pattern of the Onreva Liner makes it incredibly easy for you to cut the mat to your desired size. Its heavy-duty property is well-attributed to its thickness and it's known to be thicker than the usual drawer liner. It can hold your tools in place pretty well – even the heavy ones.
Be that as it may, expect your liner to slip a bit from your box or drawer sometimes (which is normal), but you'll notice that the tools won't budge at all which is why this mat is one of the best.
What We Like
Features a non-skid and non-stick property
Known for its unique thickness and toughness
Durable PVC foam offers more additional support
Provides a maximum shield against impacts, marring and scratching
Makes repositioning into any space a piece of cake
What We Don't Like
May sometimes slip slightly from the surface
In a nutshell, this is a great catch for those who are in the hunt for a heavy-duty tool box liner that never fails to execute its job. It's one of the most picked options in many reviews.
Olsa Tools Premium Tool Box Liner (Outdated)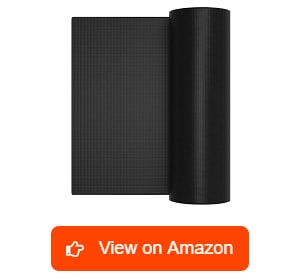 This box liner made by Olsa Tools is undoubtedly strong and industrial-grade. This 3mm thick liner is wear-resistant and can carry your hefty gadgets like your huge hammers and drills.
The good news is it has a non-slip, textured PVC foam material with bumps or grids that provide excellent traction against your tools and the surface of your storage.
Its non-tacky material makes it adjustable. You can place it anywhere you like, and it also stays well in place once you leave it there. It's an all-around mat that you can use inside your drawers or under your equipment.
What makes this option a more prominent one is its superb quality offered at a more than great price. If you are going to inspect it closely, you will uncover how impressive this liner is. Surprisingly, this product takes protections very seriously. It remains robust and capable enough, regardless of what types of tools you throw at it.
Tool box liners like this are very easy to apply on your tool box, and the grid marks allow you to make easy measurements. Cutting the mat into your desired pattern is very convenient. However, to obtain precise fit, you need to use a measuring tool as the grid marks might not be accurate.
What We Like
Has grids that help with traction
Features thick and durable build
Enables you to make easy measurements
Comes with anti-scratch feature making it gentle for tools
Non-tacky and allows instant position adjustment
What We Don't Like
Requires the use of a measuring tool when making cuts
On the button, this would be a smart investment for those looking for an all-around mat that can be ideal for different purposes.
Mod-Box Tool Box Drawer Liner (Outdated)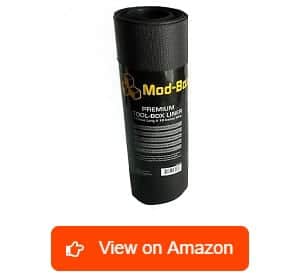 With Mod-Box's drawer liner, your tools will stay right where they are. It's made of anti-slip material with slight tackiness to prevent skidding. You no longer need adhesives to secure the liner to the bottom of your tool box or drawers.
Pamper your tools by giving them a beautiful place to rest. This 18 inchx 12 feet-long drawer liner is 1/10 inch thick and provides just the right amount of cushion to your tools. It slightly indents upon pressure giving a bit of extra support to your instruments.
More cumbersome tools should be placed on thicker liners with a height of up to 3/16in. The liner's solid surface will keep your things neat and dry. Plus, it allows you to wipe off the dirt and grease with very minimal effort. This liner also features a reinforced scrim that runs through the middle to impede tearing.
The Mod-Box tool box liner comes with two distinct sides: the indented side for its ultra-grip function and the second one is the smooth underside for easy wiping off of dirt and debris. It's highly compatible with popular tool box brands like Craftsman, Snap-on, and Viper, among others! It's a must for professional mechanics.
Nonetheless, this drawer liner may be a very costly alternative for those short in budget. But, this is expected considering its outstanding quality and rigid build.
What We Like
A thick shelf liner
Provide cushion with no extra bulk
Comes with a smooth side that makes it easy to clean
Can serve as a Snap On tool box drawer liner and Craftman tool box drawer liner
Allows easy cutting with scissors or a sharp utility knife
A practical investment for professional mechanics
Overall, this product will cost you a good amount of money, but your investment is guaranteed worthwhile. For sure, professional mechanics won't be disappointed splurging in such an item like this.
What is a Tool Box Liner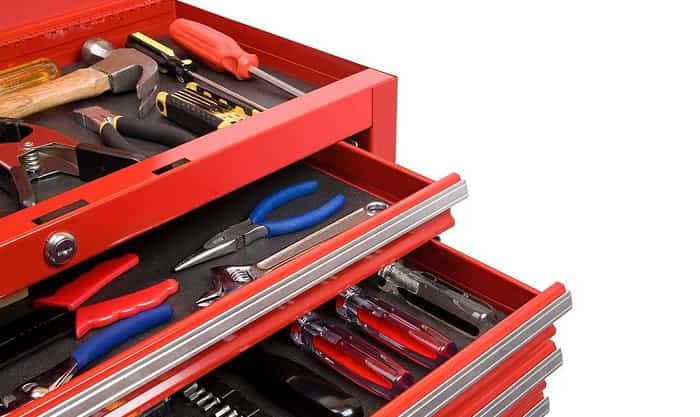 From the name itself, a tool box liner is an object that provides lining for the tools in your tool box.
It's usually made of plastic, rubber, and/or foam, and it comes in different sizes and depths.
How Does a Tool Box Liner
Yep, you probably guessed that right. The function of a tool box liner is simply to provide a lining or a mat for your tools. This is a no-brainer, and tool box liners do exactly what they need to do.
Tool box liners are placed inside the tool box at the very bottom portion. They act as a buffer layer between your tools and the box. For multilayered tool boxes, the liners can also be placed on top of each layer. Since some types can also be used for drawers, they're sometimes called as drawer liners.
Many liners are versatile, which means you can use them for any purposes other than lining your tool boxes. These liners may come in handy when supporting household appliances or as a mat.
Professional mechanics are known to organize their tools using tool box liners. With these products, they can arrange their equipment according to their type and size. This is very efficient since it reduces clutter and speeds up mechanic work.
Types of Tool Box Liners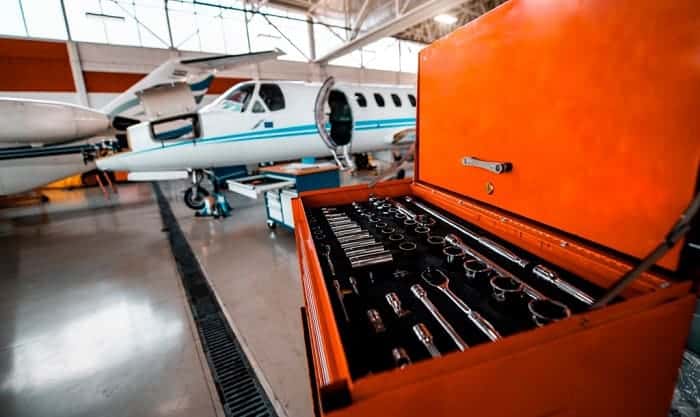 Various tool box liners are classified according to their surface material. Choosing the right type of liner is essential to providing your tools with optimum care.
Get to know the basic types below:
Standard Tool Box (Drawer) Mat
I bet you have one of these at home. In fact, I bet everyone has them at home. It doesn't differ much from an ordinary placemat, which is usually plastic or rubber. Most tool boxes would occasionally come with a free standard mat. They look okay when they're brand new, but those with cheap material usually wear out faster.
Standard mats generally protect the bottom of your tool box or container. However, they don't provide excellent traction unless they're made from rubber or industrial-grade plastic. Sometimes, they can be infused with foam for extra cushion.
Aside from durability and protection, It can absorb moisture pretty well and small amounts of liquid for that matter. It helps to keep your equipment dry and free from rust. It's also friendly to your tools' surface and won't cause any abrasions to your devices.
Cork mats or sheets can come in many different sizes and depths. It will be easy for you to customize them for your use. Using cork also adds to the aesthetic look of your tool box since they look classy. It works well as a cushion base and may be used in tandem with the other types of liners.
This is probably the cheapest option you have for providing base support to your tools. You can find cardboards at any bookstore or hardware. It's a quick DIY alternative for skeptics about spending a substantial amount of money on tool maintenance.
Cardboards absorb liquid too! In other words, they're flimsy and dispensable. If you want a temporary substitute for a proper liner, your cardboard might do the job, but you can't keep these guys for the long term.
Cardboard liners will need constant replacement, and instead of giving you convenience, it may rather be annoying. Professionals won't settle with these liners, although it can be a last resort for those who can't afford decent liners.
These felt liners look fancy, no doubt. Although what we're looking for in a good tool box mat is its non-slip quality more than anything else.
Felt liners are terrible liners. Period. Besides their aesthetic quality, gentleness to your tools, and their ability to absorb moisture, you can't expect much more from them.
The felt liner will move around along with your tools when you open your drawers and open your tool box. Your devices will scatter here and there every time you open and close your storage.
You can fasten it to the bottom of your tool box with an adhesive, but what if it gets wet and you need to change it? Using a felt fabric as a tool box liner will only bring you inconvenience. As much as possible, avoid using them as liners.
Foam is the king of tool box liners. It's well-loved by many mechanics because of its awesome features.
Foam can either be part of a standard mat or as a pair of foam sheets. Two foam sheets with contrasting colors are attached so that one of them forms the top portion while the other makes the base.
The top portion is reserved for cutouts, while the base is the one facing the bottom of your drawer or tool chest. Many people would prefer a bright color for the sheet facing down and assign the darker foam to the one facing up.
There's a consensus that a bright color can serve as a visual alert when a tool has gone missing while the darker colored foam could easily hide the dirt or the mess from dirty tools.
Why You Need a Tool Box Liner
Now if you're still wondering whether you should invest in a tool box liner, let me tell you why you should:
It protects your tools from scratches.
Your tool box is the sanctuary of your tools. You should protect your instruments from all kinds of damages to make them last longer. Tool box liners work well for multilayered tool boxes too, and they're also good for lining drawers at home.
It provides a cushion to your tools.
We keep our tools inside a safe place because we don't want them to have any scrapes. Not all tool boxes are lined with a cushion or a soft mat. It's important that you keep your tools on a soft surface to avoid any abrasions.
It keeps your tools and organizers in place.
Most tool box liners are made of materials that offer a non-slip feature. This feature is necessary and very useful, especially during travel. With the non-slip feature of truck tool box liners, your tools won't get knocked out when driving through bumpy roads. The tools are also less likely to budge when you accidentally hit the box with your elbow.
The tool box liner will help you organize your accessories. It's better to have tools that are neatly laid down rather than rummage through a large heap of assorted tools. Use a tool box liner to avoid all that hassle.
It tones down the clinking noise.
The clinking and clanking of tools might be calming to some, but believe me, most people find it annoying. The tool box liner helps you avoid making that unnecessary noise.
It saves you a lot of time when cleaning.
With an accessory like the tool box liner, you'll save up so much time with cleaning your drawers and your tool boxes. It will be easier to lift your wrenches, hammers, screwdrivers, and other tiny accessories off your storage so you can clean everything thoroughly. It's also easy to wash and easy to replace
Buying Guide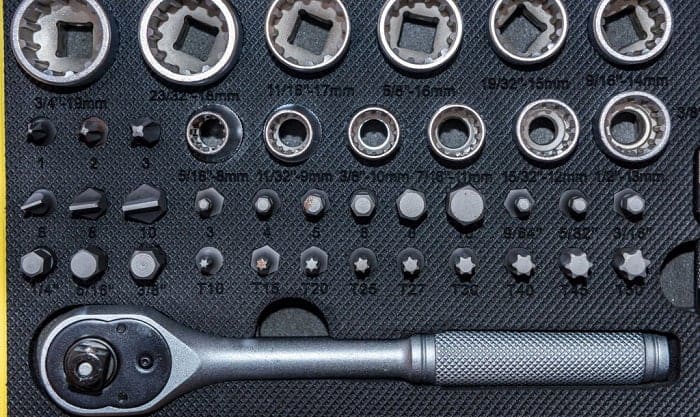 When you search for the best tool box drawer liner online, you can be confused with the variety of products to choose from. In that case, watch out for the following attributes:
Thickness matters not only because a thicker tool box liner foam will provide cushion to your tools but because thicker liners will take up more storage space inside your tool box.
If you're the careless type who has a habit of tossing your tools inside your tool box after every use, you should look for a liner that's extra thick and bouncy. However, the downside to this is having less room in your tool box.
Thick liners are good in handling tough surroundings, while pieces with a thinner tool box drawer liner foam are mainly used for preventing scrapes and scuff marks.
The ideal thickness of a liner would be 1/8in – 1/10in.
It's important for you to check the type of tool box liner material before you buy products. Don't just buy the first item that you see.
Other properties of the mat like its durability and the anti-skid feature is dependent on the material used for your liner.
Avoid liners that are too porous as they attract more dirt as opposed to others.
Cleaning your liner over time is an essential part of maintenance.
Most tool box liners are black or dark-colored because darker shades make the dirt and oil spill unobvious. Lighter ones would be more eye-catching. The lighter the material is, the more comfortable for you to see your tool against it, but lighter also means that dirt can be more visible.
See how you can play around with these colors and surface materials to use the liners to your advantage.
Drawer liners can usually be bought in rolls. Before you go out to look for liners, I suggest you measure your tool box's insides first or whatever storage you're using. Take the surfaces into consideration, too and include their measurements to your calculations.
You'll notice that some liners have grids on them, and you might think that they're easier to measure, but don't be fooled because these grids aren't always up to scale. Don't depend too much on these grids when measuring your liners. Use proper scaling tools for guaranteed accuracy.
Make sure to plan out things carefully. Your planning should begin by doing your research on the best tool box liners in the market, so kudos to you for being here!
The second step is to identify which type of liner you need. Do you want it to be made of rubber? Plastic? Or foam? How thick do you want it to be? Do you want it to have holes?
The third step is to decide how much liner you'll be needing to cover up all the space that you want to include. Give some allowance to your measurements. It's better to buy excess rolls just in case you may be needing them than buying just the exact length of the liner and possibly running short of it.
There are so many things you can do with these liners. I'm sure that your extra ones won't go to waste. You can use the excess liners for other purposes or store them for future use.
As usual, high-quality products would cost more. It's better to invest in good quality products than waste your money on buying cheap ones again and again.
Care and Maintenance
The proper washing and storage of a tool box liner will depend mainly on the type of its material.
Read the product label and instructions carefully. Some liners are safe to wash using a machine, but other liners, especially bright colored ones, might be unsuitable for washing machines and might stain other fabrics.
The typical drawer liners can be easily wiped, scrubbed, or hand-washed, then hung dry. They can be washed under cold running water.
For foam liners, they can be wiped or washed as well. However, repeated washing may make your foam appear wrinkly and out of proportion over time. If that's not an issue with you, feel free to use it again and again by all means, but if that bothers you, you can replace your foam instead to keep your tool box fresh and clean. The old foam may also accumulate grease, so it's better to replace them.
Frequently Asked Questions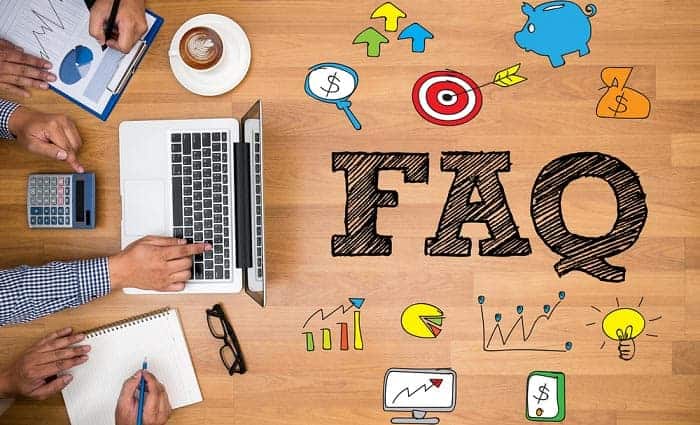 What are the most trusted tool box liner brands?
There are many trusted and top-notch brands out there, such as EPPCO Enterprises, Craftsman, B&C Home Goods, Mox-Box, Duck, Casoman, Reizen Tech, and Gorilla Grip.
B&C tool box liner offers a very satisfying feature, or you can say quality surface that is textured-grip. It does not let your tools collide against each other. B&C tool box liners can be used on bookshelves, kitchen cabinets, etc. It's a multipurpose and handy drawer liner. You can use regular scissors to cut it.
Now we move on to EPPCO Enterprises. Professionals use their products as they are of optimal quality. There's also no problem with cutting their products to your desired length. EPPCO uses a perfect 24 inch tool box drawer liner with a non-slip material that prevents your tool from becoming disorganized inside the container. It's a close competitor of the Craftsman 22 inch tool box drawer liner.
You will find your tools at the same place where you left them when you closed the drawer. Their tool box drawer liner is also compatible with metal drawers.
Meanwhile, Mox-Box toolbar liners are quite handy as well, especially if you are a professional garage worker. They offer liners with a 1/10 inch thickness or depth that holds your tools very effectively. Mox-Box toolbar liners don't damage your tools with tacky material. Their product is quite smooth and easy to use. The cleaning and washing process won't irritate you.
Duck toolbar liners, on the other hand, are very long-lasting and durable. They prevent your tools from rubbing against each other and damaging each other. They provide superb non-slip tool box liners.
Last but not least is Casoman. Their EVA mat liner is widely popular. It measures 1/8 inch in-depth and it lets you cut confidently so your tools can be fit that way you have in your mind. Its versatile surface is dirt-resistant and you can easily wash or remove dust within seconds, thus saving your time. Its size is easily customizable as per requirements.
How do you cut a tool box liner?
Get the size of your drawer or container, then cut the liner to match the size that you need. Always cut your tool box liner to a length that's a bit longer to have some allowance. If you go for the exact size, there are chances that your liner will be inadequate.
Visualize how you'd like to arrange your tools then make layouts. You can trace your tools using a pencil or marker.
If you're planning to make cutouts, you can use a utility blade, rotary blade, utility knife, or a sharp pair of scissors. These cutting tools are quite easy to handle while cutting.
How to set up and use?
Setting up your tool box liner is pretty breezy. All you have to do is follow the suggested steps above. After buying your liner, unwrap the roll so you can start cutting.
When you're done cutting, you can now apply a tool box liner adhesive to your liner's underside if you wish.
Position your liner into place and press it firmly onto the surface of your tool box or drawer. Let it sit and dry for a few hours then test if it stays in place.
Once all of that is okay, you can now gently arrange your tools on top, and you're done!
How do you install a toolbox drawer liner in your toolbox?
Toolboxes have shelves that come in different shapes and sizes. Hence, it is hard to find liners that can perfectly fit each compartment. The best strategy is to buy rolls of tool box mats and custom fit them to the drawers you have. Here's how:
Step 1: Take all your tools from the drawers and store them in a safe location.
Step 2: Next, start measuring the drawers to determine how much tool drawer liner you need per compartment. Write the measurements down on a piece of paper so that you don't forget them.
Step 3: On your table, use a measuring tape or ruler and pencils or markers to mark the dimensions of the compartments on the tool chest liners.
Step 4: Start cutting the mats with your utility knife.
Tip: Using a razor knife to cut a thicker foam toolbox liner will be a lot easier.
Step 5: Before placing the toolbox foam drawer liners, be sure to clean the drawers first! You can do this by wiping them with a cloth damped in warm water.
Step 6: Once the drawers are dried, you may start placing the liners in their respective compartments. Lastly, put your tools back into the drawers.
How do I keep my drawer liners from moving?
These days, home improvement retailers offer a wide selection of non-slip or self-adhesive liners and trap mats for tool box.
If you bought an ordinary tool box liner roll, simply follow the DIY tool box liner installation instructions I provided above.
However, after cutting the mats to fit each drawer as described in Step 4, you need to apply a thin layer of adhesive spray or put mounting tape underneath.
Rubber and polymer tool box drawer liner: Which is the better?
Rubber liners are either made of natural or synthetic materials. That said, about 70% of the rubber you see in the market today is synthetic.
When used as a tool box top mat or drawer liner, rubber is far more resistant to slipping. Besides this, the thicker ones can minimize the clunking noise that tools make as you open the toolbox. Plus, it absorbs impact. But what sets it apart from polymers is that it is more durable.
On the other hand, plastic polymers are cheaper. Polyvinyl chloride, or PVC, is among the most widely used plastic polymers for mats and liners. This material comes in rigid and flexible forms but it is known for its lightweight, weather-resistant, and self-extinguishing properties.
Both materials have their pros and cons but I encourage you to look into what you need for your shelves and drawers.
If you have more heavy steel or metal tools, I highly recommend using a heavy-duty tool box liner made of rubber. If budget is an issue, then PVC is the next best thing!
How do you clean Snap-on drawer liners?
For starters, make it a habit to remove the dust from your drawer liners regularly. Simply remove the contents and use a feather duster to clean off the superficial dirt.
As for deep cleaning, Snap-on does not provide instructions on their website. Generally speaking, most drawer liners can be cleaned with soapy water. Then, allow them to air dry before putting them back.
Where to buy?
If you bother to find around your dwelling place, you can easily find tool box liners of local and imported quality. They are readily available at local shops where you can simply check the quality on the spot.
But there is a new and amazing trend that is online shopping. There are hundreds of online shopping platforms out there, and you can choose from any of them based on your convenience and satisfaction.
Some of the online shopping platforms are Amazon, Flipkart, Alibaba, Walmart, Lowes, and Home Depot. They may cost you additional shipping charges, but hey, the fee for that is reasonable.
Amazon has a wide selection of tool box liners with several varieties and options. You can explore products and read real reviews from different users across the globe.
Conclusion
By and large, tool boxes are great for carrying tools around, especially during travel, but aside from that, tool boxes are made for one good reason. They're primarily built for organizing your tools.
With the aid of the best tool box liner, you can organize the tools inside your tool box the right way. In this manner, it will be easier for you to access and arrange your tools.
The best tool box drawer liner option for you will also depend on your necessity. Inspect your tool box or storage and take note of your instruments. Are they light? Or are they heavy?
We know that there's more than one way to use tool box liners, and they're not just limited to lining mechanic tools. If you're resourceful enough, you can use these liners in many other creative ways, and none of it will go to waste.
Hopefully, this article has provided you with the necessary information you need to get the right option for you.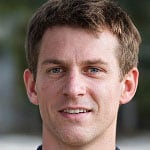 Having worked in the field of personal protective equipment for over two decades, Andrew Carnegie is a specialist in the field.
At EDC, he strives to improve performance efficiency and promote workplace safety for EDC's readers and customers. He also researches the most up-to-date equipment that has earned relevant accreditation for use in a wide range of industries and specialties.