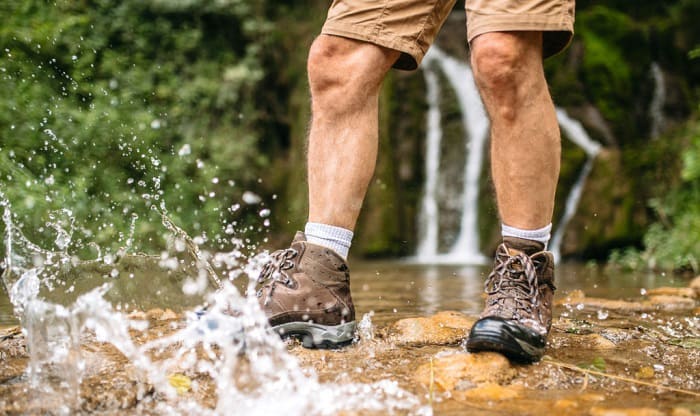 No one likes getting their feet wet while wearing shoes. To say that it is annoying is an understatement, especially if you spend most of the day outdoors or are constantly exposed to moisture. Moreover, water can damage our boots. That's why finding a reliable pair of waterproof boots for work is no easy task.
How do you find the best waterproof work boots? As you go shoe-shopping, consider these three aspects to ensure that you get the right one:
Purpose: A park ranger, logger, and construction worker will all need waterproof work boots, but the design that they look for will be different. Your job description can point you in the right direction. If you hike a lot, opt for shoes with ankle support. On a job site, waterproof steel toe boots are safer to use.
Weather: Watertight materials and shoe construction can cause your feet to sweat on a hot day; that is why the boots should have a breathable waterproof membrane. This lining repels liquids and allows the vapor inside the shoe to escape, which keeps your feet dry and odor-free. Under freezing conditions, moisture trapped in the insulated boots can make your feet cold, but a good waterproofing system can prevent this.
Safety: Water alone may not seem like a threat but not when there are submerged powerlines. Oil, snow, and water make the ground slippery. In emergencies, heavy objects can fall on your feet. With safety features like steel toes, electrical hazard protection, and slip-resistant outsoles, you can minimize injuries, if not prevent accidents altogether. Make sure that the boots comply with ANSI or ASTM standards.
If you need product recommendations, head over to the review section where I have featured some of the finest ones in the market. Besides sharing my first-hand experience, I compiled pieces of advice that I got from Reddit and other websites in the "Buying Guide" section.
List of Top 14 Waterproof Work Boots Reviews
1. Timberland White Waterproof Hiking Boot
You have probably seen this pair in several other waterproof work boot reviews though they are technically hiking boots. That's because their features can be quite useful for people who are always on their feet outdoors. Thanks to the watertight full-grain leather upper and the seam-sealed construction, every inch of the footwear is impermeable. So far, they have not failed at keeping my feet moisture-free.
Comfy straight out of the box, these waterproof boots let me work without having to endure blisters. Moreover, I find the combination of EVA midsole and insole helpful in minimizing foot fatigue. On the other hand, the solid rubber outsole has multi-directional lugs that enhance the boot's traction so I can walk on muddy terrains safely
Besides the spacious toe area, I like that the fit around the ankles and heels is snug enough to support me as I hike. The length of the shoelace lets me tie a double knot easily. At the same time, the eyelets and speed hooks are rust-free so I don't have to worry about corrosion.
While these waterproof leather boots can prevent the liquids coming from outside from entering, they make my feet perspire in the summer. Thus, I think they are more appropriate for the spring. Also, the insoles seem to flatten out easily. Thankfully, they are not glued to the soles so I have the option to replace them.
What We Like
Superb waterproof construction
Suitable for outdoor activities
Comfortable for walking
Keeps you supported on rough terrains
Rust-proof eyelets and speed hooks
What We Don't Like
Too hot for summer
Insoles wear down fast
You can conquer the even roughest weather and terrain with these comfortable waterproof boots! Best of all, you don't need to break them in!
2. EVER BOOTS Ultra Dry Waterproof Work Boot
Many workers, including myself, swear by these waterproof work boots for men. As expected of an "Ultra Dry" footwear, I have not gotten my feet soaked. In cold weather, both the waterproof leather and insulated mesh lining provide much-needed warmth.
Plus, it keeps me sweat-free! During rainy and winter seasons, I can walk on slippery terrains with ease thanks to the grippy tread patterns on the rubber soles. Aside from that, these work boots are roomy. Another advantage is that they will not feel tight even if you wear your winter socks.
By the way, I never had to break in these work boots because the leather uppers are soft and supple. I can kneel or crouch without having to exert extra effort to make them bend. When I need to climb a ladder, the steel shank keeps the sole straight while supporting my feet and calves. As a whole, these heavy-duty boots are pretty light.
That said, I think the footwear leans towards the "all-purpose" kind rather than a specialized one. Ergo, I can use them outside of work as they go well with most of the clothes I have. However, I just find it odd that the tongue is narrow. Those with broad ankles may see parts of their socks exposed, which defeats the purpose of wearing waterproof boots.
What We Like
Apt for wet and cold conditions
No break-in period needed
Can accommodate any type of orthotics
Has and slip-resistant outsole
Great all-purpose work boot
Made for the winter, this pair is probably one of the most comfortable waterproof work boots that you'll ever find. With a lightweight and roomy design, you can walk long distances painlessly.
3. Timberland TB018128242 Waterproof Hiking Boot
While they are designed for hiking, I think they also make a comfy pair of men's waterproof work boots. As with many of Timberland's line of waterproof shoes, this one has a seam-sealed construction with watertight leather. For good measure, the tongue is gusseted to ensure that there are no gaps for liquid or debris to pass through.
On smooth wet floors, the slip-resistant soles give me ample traction. Meanwhile, the mid-cut shafts hold my ankle for support. At the same time, they allow for a wide range of motion. Consequently, I can move comfortably without losing my balance on rugged terrains.
If you are constantly on your feet like me, I'm sure you will appreciate the springy yet cushy midsoles and insoles. Together, they absorb the impact in every step to help prevent foot fatigue. I know that people have different opinions about factory insoles but you can always replace them! Even better, the boots show no signs of wear and tear despite all the abuse I put them through.
Although the brand offers wide options, the toe area runs narrow. Fortunately, the hiking boot is not fitted with a safety toe, allowing the uppers to expand a little more with a boot stretcher. When in doubt, go to a local distributor or retail shop to try it out in person.
What We Like
Can keep your feet dry
Offers strong traction
Has ankle support for uneven terrains
Helps minimize fatigue
Ideal for hiking and work
Durable construction
Under wet conditions, these waterproof boots for men make for an impenetrable barrier against the liquids. Moreover, the cushy midsoles and insoles can help prevent sore feet even if you walk all day.
4. WOLVERINE W10717 Waterproof Work Boot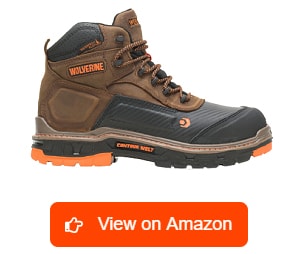 Renowned as one of the top-tier lightweight waterproof work boots, this pair features a hard-wearing ASTM-approved composite safety toe. Yet, it feels as if I'm in my sneakers. Owing to the contour welt construction, the boot can flex as I walk, kneel, or squat. This spares me the trouble of having to move awkwardly or exert more effort to make it bend.
Apart from supporting my feet and calves, the nylon shanks strengthen the boots and help retain their form. The Ortholite footbeds are sufficient since they can mold to the contours of my feet. If you have foot conditions, they are removable, enabling you to swap them with your choice of insoles without altering the fit. Along with the shock-absorbing midsoles, they minimize fatigue so I can complete more tasks to maximize my day.
More importantly, the traction and waterproof protection are praise-worthy. To date, I have not lost my footing on slick surfaces nor have I gotten my feet wet when crossing puddles.
Though it has a moisture-wicking lining, the same watertight design makes my feet perspire during summer. Also, it takes about two weeks to break in. After that, I must say that they turned out to be the most comfortable waterproof boots that I've ever tried.
What We Like
ASTM-rated composite toe boots
Provides strong traction
Supportive and comfy design
Allows you to change footbeds
Light enough for long walks
What We Don't Like
Takes up to two weeks to break-in
Lacks breathability for hot weather
Without sacrificing comfort, these waterproof composite toe work boots are tested and proven to be reliable in keeping your feet moistureless and protected against falling objects. Plus, their lightweight construction will not slow you down at work.
5. FREE SOLDIER Waterproof Hiking Boots
By design, waterproof means that the material or construction is impermeable. But if you work in tropical areas or mostly deal with shallow puddles and light rain, you can get away with water-resistant boots like this one. Their breathability is more suited for summer; my feet never sweat nor smell in them.
When I saw these boots for the first time, I thought they seemed ultra comfy, and I was right as no break-in period was needed. Their synthetic materials can flex as you'd expect from any sneaker-like design. On top of that, they weigh pretty light, making them the top choice for workers who are always on their feet. Don't worry; sand, pebbles, and debris won't get inside the footwear due to the gusseted tongue.
Another notable feature is the style. Available in three different colors, these water-resistant boots flaunt a modern look that goes well with work and casual outfits. Apart from that, I can wear them to the gym and exercise comfortably. Though this is not considered as safety footwear, its toe cap and heel are reinforced to give me protection.
The traction allows me to walk on various terrains without slipping, except for wet metal surfaces. Another issue is that the shoelaces tend to slip apart. But it's not a dealbreaker because I can simply replace them!
What We Like
Water-resistant yet breathable
Suitable for summer and light rains
Comfortable straight out of the box
Great for long hours of walking
Suitable for work, gym, and casual attires
What We Don't Like
Shoelaces could not stay tied
Not grippy on metal surfaces
This pair of water-resistant tactical boots offers great value for workers, hobbyists, or anyone who wants to keep their feet dry without sacrificing breathability. Furthermore, its cool design can make any outfit look stylish.
6. Cat Footwear P90935 Waterproof Work Boot
Besides the steel toe protection, these ASTM-certified waterproof leather work boots are rated safe against electrical hazards and slipping accidents. As such, I can see that this pair is suitable for a plethora of high-risk jobs. More importantly, it can be life-saving in situations where powerlines are drowned in stagnant water.
Even when it is warm and humid, the construction and materials of these boots effectively block liquids while keeping my feet cool and free of sweat. Even so, these boots keep my feet warm during winter. Beyond that, I like that the tough and abrasion-resistant leather uppers can survive rough environments. Amazingly, it has been a year and they are still holding up well.
Much to my surprise, these boots do not make me drag my feet when I walk despite having steel toes in them. I think this is partly due to the Flexible ERGO midsole, which is both light and shock-absorbent. As a result, my lower extremities do not feel sore after a long shift.
Breaking in these boots, however, can take a long time. Maybe I was just a little impatient as I never enjoyed this process. The silver lining is that the leather and rubber soles can soften up after that. If it were not for this issue, I would give them a perfect score.
What We Like
Durable and waterproof leather
Suitable for any weather
Offers ASTM-rated protection
Can keep your feet sweat-free
With these heavy-duty waterproof boots, wet wrinkly feet will be a thing of the past. Even though they are loaded with all sorts of foot protection, you will surely be shocked by how light they are.
7. Carhartt CMW6191 Waterproof Work Boot
Do you stand on hard surfaces for long hours at work? Then, the most comfortable waterproof boots for the job is the one with wedge soles like this pair of Carhartt. Coupled with cushy insoles, they can keep your feet free from pain and discomfort. If you need custom orthotics, you can simply remove the original footbeds.
On that note, let me reiterate that this specific model has a soft toe. This makes them appropriate for areas with a high chance of getting smashed by heavy objects. Still, it comes with electrical hazard protection. Also, the slip-resistant rubber outsole is fairly good at helping me maintain my balance on wet surfaces.
Without the steel or composite toe caps, I find them much lighter. To make walking less of a burden, the oil-tanned leather flexes well as I move my feet. Their strongest point, however, is the StormDefender. It is the brand's innovative waterproof membrane that is responsible for repelling the liquids while promoting good air circulation. When the shift ends, I can come home with dry and odor-free feet.
Sadly, this waterproof boot does not come with a rear pull loop. As a result, putting it on can be quite a handful when in a hurry. Secondly, the shoelaces are not as tough as the footwear.
What We Like
Ideal for standing on hard surfaces
Features comfy removable insoles
Capable of flexing well as you move
Promotes good airflow
Lets you keep your feet dry
What We Don't Like
The shoelaces are brittle
Does not have a pull loop
The verdict is clear: These aren't just good waterproof work boots. Rather, they are the best! It's not every day that you find a shoe design that is both impermeable and well-ventilated.
8. Timberland PRO TB0A1FZP001 Waterproof Work Boot
While these composite toe boots may look hefty, I'm here to tell you that they are lightweight. Reinforced by the rubber protector, I know that the asymmetrical non-metallic safety toes are capable of shielding my feet against the impact of falling objects. By the way, they are apt for those with irregular foot shapes.
Among the waterproof slip-resistant work boots in the market, I find this pair to be dependable. Not only is it impenetrable to liquids but it is also equipped with innovative waterproof lining that boosts the airflow. Hence, it can keep your feet from getting drenched in your sweat and fight odor. Even more impressive, the durable rubber soles are heat, abrasion, oil, and slip-resistant. Indeed, it's perfect for navigating rugged terrains or crossing wet floors.
Built with comfort in mind, the eyelets are placed in such a way that allows me to customize the lacing patterns for a better fit. In conjunction with the fiberglass shanks, my feet are supported and cushioned by the anti-fatigue technology polyurethane footbeds. Consequently, I don't feel any soreness by the end of my shifts.
Although the waterproof boot comes in both regular and wide, I find it too spacious for narrow feet. It would be best for you to try it out in person. Considering the breadth, I would not recommend it for driving since you might hit the gas and brakes at the same time.
What We Like
Available in asymmetrical toe caps
Weighs lighter than it looks
Dependable slip-resistant soles
Super waterproofing system
Lets you customize lacing patterns
What We Don't Like
Too spacious for narrow foot shapes
Not suitable for driving
Aside from its lightweight construction,
this pair of work boots
feature the best waterproof design. Meanwhile, anti-fatigue technology makes your job a lot less arduous.
9. Wolverine W10682 Waterproof Work Boot
Thanks to these waterproof slip-on boots, I can switch footwear at work quickly. Since I get to tuck my pants in these Wellies, I don't worry so much about thorns, pebbles, twigs, and water getting inside. The leather fabric creates an impervious layer that can handle heavy downpours and puddles. Apart from functionality, let me just add that it gives off a cool, stylish look. On the flip side, the mesh lining wicks away my sweat and keeps my feet cool.
Note that these are soft toes, which means they are best worn in low-risk zones. With grippy outsoles, however, I can walk safely on wet surfaces. Besides reinforcing the structure of the footwear, nylon shanks ease the weight that my lower extremities have to carry. During a long grueling shift, the midsoles and insoles absorb the shock as I walk. In effect, they alleviate the soreness and discomfort. Anyway, you can remove the footbeds if you need to use your inserts.
Even though pull-on boots tend to be a little loose to give the foot some room to slide in, this pair seems oversized. Well, it's not a deal-breaker since you can always try it in person to figure out the size that fits you best. In my book, these durable work boots rank high because of their overall performance.
What We Like
Allows for easy on-and-off
Lets you tuck in your pants
Can deal with heavy rain
Has reliable grippy outsoles
Helps prevent sore feet
Our jobs may be rough but this pair of work boots make the shift more bearable due to their comfy design. Regardless of the weather, your feet will never get wet from the rain or your sweat!
10. KEEN 1018079 Waterproof Work Boot
Recommended for workers in construction and maintenance, this waterproof boot is equipped with steel toe and electrical hazard protection. That said, I assure you that the safety rating meets the ASTM standards. What makes it extra special, however, is that the footwear features asymmetrical toes for those who need it. In the dark, the wearer will be instantly visible due to the reflective webbing at the back.
Look at the design, I like that it blends leather with some mesh fabrics akin to a hiking boot. This combination makes it watertight yet breathable. Hence, I can wear it at any time of the year regardless of the condition. More notably, the boots do not feel too toasty during summer. Although these are not insulated boots, I can just wear my thermal socks to keep my tootsies warm in cool weather.
Because of the shock-absorbing midsoles and flexible uppers, walking in these boots feels like I'm wearing tennis shoes. My feet do not suffer too much if I have to work overtime. My only gripe is that the outsoles are not as grippy as the other ones that I had. While they have decent traction on slick floors, I had to walk slowly on icy surfaces. If you don't work in this type of environment, then it will not be an issue.
What We Like
Offers asymmetrical steel toe caps
Safety features meet ASTM standards
Can be worn in summer or winter
Waterproof yet breathable
Feels like wearing tennis shoes
What We Don't Like
Lacks traction on icy surfaces
As one of the top-rated waterproof work boots for all seasons, this pair will not cause your feet to overheat during summer. Furthermore, the steel toe caps can accommodate asymmetrical feet.
11. Carhartt CMC1259 Composite Toe PAC Boot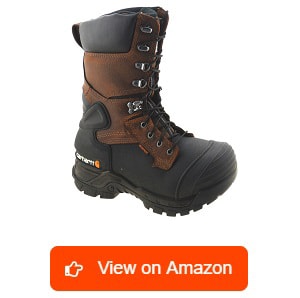 In extreme temperatures, these waterproof insulated boots can keep my feet cozy and well-heated with their 1000 grams of insulation. Coupled with the waterproof membrane, they can maintain an optimal level of breathability to avert excessive sweating. Of course, the tall shaft and padded collar also contribute to the warmth, but the leather is quite flexible, promoting a wide range of motion.
Even if I walk in deep snow or uneven terrain, the TPU heel guard supports and stabilizes my ankles. Moreover, it shields my feet from impact coming from the sides. Not to mention, the work boots are equipped with composite toes and electrical hazard protection that comply with the ASTM standards. Plus, I never had trouble walking on slippery surfaces due to the high-traction soles.
For added comfort, these insoles come with arch support, which many workers love. Rest assured, they are removable so you can further customize the boots with your choice of inserts or orthotics.
But alas, these boots also have their downsides! First, they are heavy. Second, it takes me a while to wear and remove them knowing that the shaft and laces extend to my calves. If you're working in icy conditions, I suppose that these issues just come with the territory. Somehow, I got used to them.
What We Like
Can protect your feet from all sides
Suitable for freezing temperatures
Flexible leather uppers
Maintains good breathability
Superb traction on snow
What We Don't Like
Takes time to don and doff
More on the heavy side
In subzero temperatures and rough working conditions, these insulated heavy-duty waterproof work boots prove to be highly dependable. Aside from providing comfort and warmth, they can protect your feet against occupational hazards.
12. Under Armour 3021903 Stellar Tactical Boot
Let me present to you one of Under Armour's best sellers! Flaunting a modern design, this pair adds style to anything I wear. Furthermore, the toe area is polishable so I can look professional at all times. Aesthetics aside, they are just as functional as any other boots I featured here.
Made with a combination of leather and nylon, these tactical boots can block liquids effectively. Hence, I can accomplish a lot even in inclement weather. On hot days, they breathe well, which is good for hygiene. Even better, I did not have to break them in to make them comfier.
Since my job is physically demanding, wearing lightweight boots like these lets me move effortlessly. On concrete floors, I find the midsoles to be both supportive and shock-absorbing. What's more, the soles are grippy on slippery, wet surfaces so I never lose my footing. Just like their name, these boots truly have "stellar" quality.
Speaking from experience, I can only identify two minor flaws. After wearing them for a couple of weeks, I noticed that the shoelaces do not seem like they can hold up for long, prompting me to replace them with something stronger. The other issue is that the insoles are too thin for my taste but I guarantee that the shoe's fitting won't change if you switch footbeds.
What We Like
Stylish modern look
Dependable waterproof design
Apt for physically demanding jobs
Excellent grip on slippery surfaces
Breathable for hot weather
What We Don't Like
Factory insoles are thin
Shoelaces need improvement
Honestly, the issues regarding insoles and shoelaces do not bother me at all because they are replaceable. Whether it rains or shines, you are unstoppable with these lightweight waterproof tactical boots.
13. KEEN 1017789 Anchorage Waterproof Boot
If you prefer versatile boots that you can wear during winter, I highly recommend this pair from KEEN. What sets it apart is that it is treated with a PFC-free formula, which repels water without the use of harmful chemicals. On a cool winter day, its 200 grams of insulation is enough to warm keep my feet cozy, warm, and sweat-free. Even if the temperature fluctuates, the boots will not feel toasty.
Keep in mind that these are not shelved under the work boots section. In other words, they do not have steel or composite toe caps, but this reduces the footwear's weight significantly. Ergo, they are better suited for occupations that entail walking long distances. Besides work, I would wear them when I need to do some chores, run errands, or out of town trips. Available in plain neutral colors like black and brown, they go well with any work uniform or casual attire.
Convenience is another advantage that
these pull-on boots
have over lace-up ones. When I'm in a rush to work, I can slide my feet quickly. Furthermore, the uppers bend effortlessly as I kneel or crouch. Conversely speaking, this also has a trade-off because the gartered shafts cannot support my ankles to safely trek on uneven terrains.
What We Like
Free of harmful chemicals
Ideal for cool weather
Can repel water
Suitable for any activity
Light and comfy for walking
Out of all the waterproof boots I reviewed, let's just say that this is the "healthier option" as it is treated with PFC-free waterproofing. It can effectively block out moisture and keep your feet warm in winter. So, I am sure you won't be disappointed with them.
14. TOSAFZXY Safety Work Boots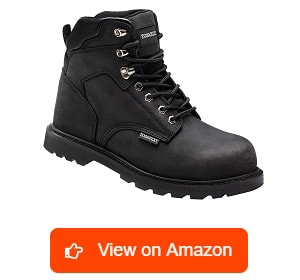 Despite their affordable pricing, these work boots are highly capable of shielding my feet from different sides. At the toe area, there are steel caps that can withstand the impact of falling heavy objects. With the Kevlar midsoles, I get underfoot protection against sharp debris that could potentially puncture the soles. Given the ASTM rating, I assure you that they are safe to use in risky workplaces.
In terms of comfort, I would say that it's pretty impressive. The uppers are waterproof, which allows me to continue to work even as the rain starts to pour. Though they are frequently exposed to moisture, I'm amazed that they are still holding up well! Even better, they require zero break-in period because the leather is soft and flexible from the get-go. Even after ten hours of work, my feet never feel sore.
Meanwhile, the Goodyear workmanship reinforces the sole, enabling it to withstand the elements better. As the rocks rub and water splash on it, it will surely not crack. Since they are true to size, ordering online would not be an issue. While the product description says that the soles are non-slip, I think the boots still lack traction on wet floors. Also, they are quite hefty. Other than that, I don't see any reason why you should not try these out.
What We Like
Can protect your feet from all sides
No break-in period needed
Made of flexible waterproof leather
Consistent with standard size charts
What We Don't Like
The boots weigh heavy
Traction needs improvement
At an affordable price, these work boots can safeguard your feet against the blow of a falling object and prevent nails from piercing through the soles. Meanwhile, their high-quality waterproof leather can block liquids from penetrating.
What Is a Pair of Waterproof Work Boots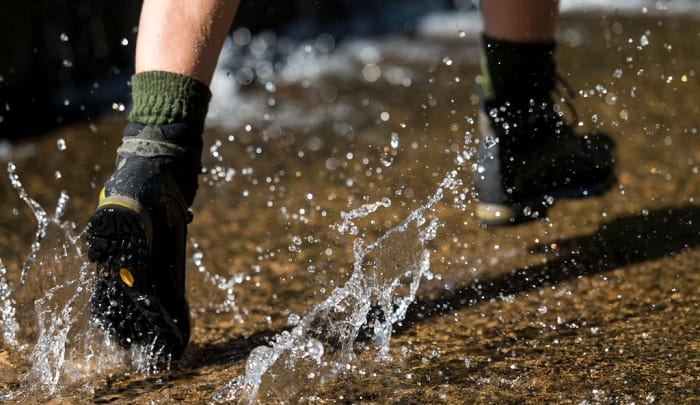 When people talk about waterproof work boots, the image of tall rubber Wellington boots comes to mind. Indeed, wellies are commonly used for various jobs, but this is no longer the case today. They are just one out of the many styles that are available in the market.
Modern technology has brought about new ways to make designs that target very specific jobs. Nowadays, you can find waterproof leather work boots and some versions made of synthetic materials. The shafts range from mid-cut to about ten or eleven-inch high. In this way, consumers have more options that suit their needs better.
Type of Waterproof Work Boot
Right now, there are several types of waterproof boots that workers can wear for work. Here are some examples:
Hiking boots
Safety toe boots
Rubber work boots
Insulated work boots
Logger boots
Chelsea boots
Tactical boots
Why Do You Need Waterproof Work Boots
Wet boots and sweaty feet make for the perfect breeding grounds for odor-causing bacteria. To prevent this, your footwear needs to be completely waterproof on the outside and moisture-wicking on the inside. However, this is just the bare minimum. Under wet conditions, it is safe to assume that the surfaces you walk on are slippery. That's why most waterproof work boots are designed with slip-resistant outsoles.
Buying Guide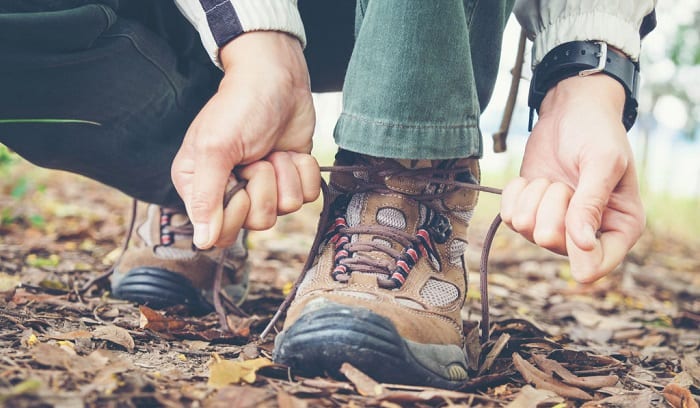 Waterproof features are not the only things that you should look at. As explained in the waterproof boot reviews, comfort, fitting, shaft height, and budget also matter. Read my guide below so you can get a better idea of what to look at before buying.
Height
By now, we've all learned that tall rubber boots are not a catch-all solution. After all, we get exposed to water at varying degrees. Some have to wade swamps while others only want waterproof work shoes to keep their feet dry in wet weather. When buying waterproof work boots, consider the clothes that you will be wearing and the circumstances that you will be in.
For instance, 10-inch waterproof slipon boots can be useful if you need to tuck your pants to prevent insects, protect your calves from thorns, and submerge your feet in floods. Yet, this type of footwear may not be a good choice for those who need to hike or walk on uneven terrains due to its lack of ankle support.
In this situation, lace-up boots are better as you can tighten uppers to ensure that your ankles are well-supported. If you are in a tropical country and dealing with light rain, water-resistant work boots would be a better choice.
Fit
Generally speaking, waterproof slip-on work boots are slightly more loose than lace-up ones. That's because these two formats are designed for different purposes. If you need to switch footwear quickly, you can do so effortlessly with Wellington and Chelsea boots. The wider shaft allows you to insert your feet and in some cases, even tuck your pants in. Meanwhile, lace-up work boots are meant to provide you with ankle support if you need to trek rugged terrains.
Let me also add that those who wear protective boots will have to factor in both the width and the length to find the correct size. It may not seem obvious but our feet change over time. You may choose sneakers and slippers with the same shoe size, but these are often made of materials that can stretch. Composite, alloy, and steel toe are anything but elastic. Hence, measuring your feet before you buy is a must.
Comfort
When we think about comfort in the context of footwear, there are a couple of variables at play, such as work environment, activity, weather, and foot conditions. But since each of us experience things differently, you may have other criteria to consider beyond the examples I mentioned. Whatever the case may be, comfort should not be the least of your priorities. The lack of it can affect the way you perform your tasks.
Workers who need waterproof protection are often the ones who work outdoors on their feet for extended periods. Make sure that the boots you buy can absorb the shock. Interchangeable insoles are also better than the ones that have footbeds glued to the shoes, especially if you have to use doctor-recommended orthotics.
Budget
In terms of the price range, it is not impossible to find waterproof work boots under $100. While it is true that many high-priced boots perform well, I have observed that the price tag does not always reflect the quality. Many affordable watertight shoes serve the function well.
Of course, that is not to say that poorly-designed boots do not exist. This is why it is important to do your research, understand the function of each feature, and go through user reviews, especially if you plan to buy online. Some deals are too good to be true. Be cautious and read all the fine prints in the return and exchange policies before placing your order.
Durability
Any decent waterproof work boots will wear down at some point. Leather and water are enemies, so to speak. You need to clean and reapply the waterproofing agent from time to time. The treads on the rubber sole have their limits. As we've learned in this article, some work boots are more durable than others.
Aside from the material, be sure to check how the boot is made. Goodyear welt construction is said to be more resilient than other methods of shoe-making. Furthermore, it allows you to re-sole the boots. The only catch is that the footwear made using this technique can be more expensive.
Care and Maintenance
Rubber work boots are easier to clean since all you need to do is spray them with water. Leather is much more complicated as it requires different strategies for regular maintenance and deep cleaning.
Before you apply any cleaning product to a waterproof work boot, make sure that it is compatible with the materials. There is no one way to use saddle soaps since brands craft them differently. Some formulas may require you to add water while others allow you to spray them directly onto the leather. Be sure to read and follow the directions indicated on the cleaner's packaging.
On that note, it's always good to have dedicated shoe brushes for your work boots. This way, you don't transfer the mud and muck that gets stuck on the bristles onto your dress shoes.
Last but not least, do not forget the boot's interiors and insoles! You can use a mild shampoo and a clean cloth to wash the insides while your washing machine takes care of the footbeds. Then, wipe off the residue on the lining with a rag. Let the footwear dry in an open space and keep them away from any heat source.
Frequently Asked Questions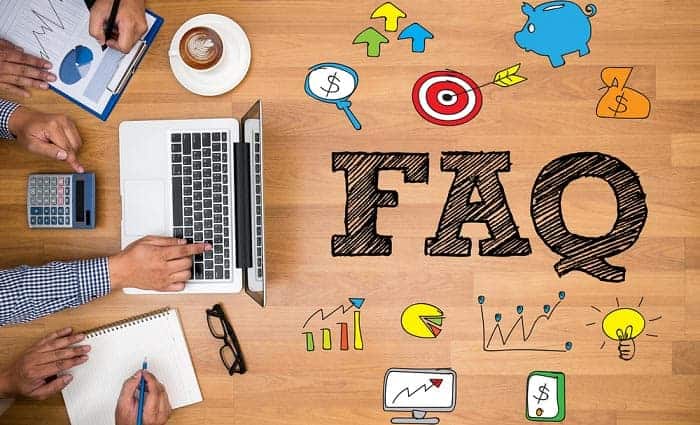 Do waterproof work boots need breaking in?
Waterproof uppers are often made of leather, rubber, or synthetics. For instance, full-grain leather is a durable material but it can feel tough at first. It does not matter if it's waterproof or not. However, it can soften up once broken in.
What can you use to waterproof a pair of leather boots?
Although most leather uppers are treated with chemicals that make them impenetrable to water, this coating can wear off, and soon you'll find your feet wet again. Don't worry! You can buy waterproofing agents to keep the footwear watertight.
One great option is mink oil. Applying it on leather does not only prolong the lifespan of the boots but also repel water. Many workers also use silicone spray or acrylic co-polymer spray. Alternatively, you can opt for leather creams and beeswax. Again, each brand is different so go through the instructions and apply the product accordingly.
How long do waterproof work boots last?
Normally, waterproof work boots can last between six months and a year, depending on the frequency of use, work environment, and activities.
Can you replace the waterproof membrane in your work boots?
Yes, you can. If the one in your boot is torn, or perhaps separated from the leather, then you can remove the entire lining with a putty knife. Then, clean any dirt with rubbing alcohol and allow it to dry before you stick the new waterproof membrane onto the boot with an adhesive. Lay it flat on the surface, with no wrinkles. You can smoothen it out with your fingertips. Make sure that all areas are covered so that no water can penetrate your work boots!
Where I can buy waterproof work boots?
Many workwear and outdoor apparel brands sell waterproof boots in their retail stores and websites. You can also purchase them through e-commerce sites and apps.
Conclusion
When we spend days or weeks looking for the best waterproof work boots, we always have that one friend who laughs at us. "It's just a pair of work boots!" they would say. In reality, it is reasonable to take your time to read all about the features and weigh the pros and cons of each pair you see.
Remember, you will be wearing them for quite a long time as you deal with moisture, hygiene, and workplace hazards. What you wear will have an impact on your overall well-being.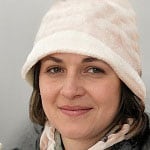 Veronica is our content editor. She is a talent in delivery. Her main work is editing and writing articles that are both informative and simple to follow. She is in charge of synthesizing our understanding of what personal protection equipment (PPE) is needed in each job, how to best apply it, and how to visualize that equipment.