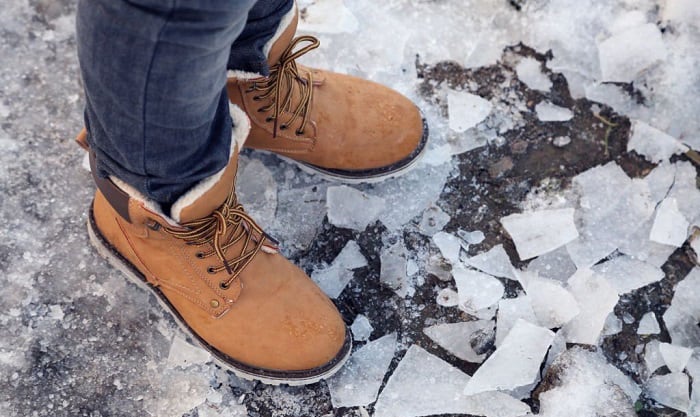 When working in cold climates, wearing the wrong footwear leads to health-related issues like discomfort, frostbite, and trench foot. Let's face it, the jargon in the product descriptions and ads for the best winter work boots is confusing for most consumers.
In this article, I will share everything you need to know about insulated boots in easy-to-understand terms so you can find the one that meets your needs. Based on my research, it is best to start with these three features:
Insulation – Insulation prevents the passage of heat from one area to another. Brands like HeatSeeker, Optiwarm, Primaloft, Zylet, and the most popular one, Thinsulate, offer thermal insulation for winter garments that come in different 'insulation weights.
Measured in grams, the weight is used to determine how much insulating material is used to make the winter boots. For instance, 1000-gram insulated steel toe work boots are meant for icy weather. Conversely, those with 200 grams are suitable for mildly cool conditions.
Moisture management – Wet feet can feel extra cooler. Hence, while not all work boots for winter have thick insulation, wearing waterproof footwear is necessary.
These shoes and boots are built with a waterproof membrane. It's a thin lining with tiny holes that let air molecules pass through and release excess moisture from the boots. Likewise, it prevents larger water molecules from getting inside the boots.
Fit and size – Tight-fitting work boots can make your feet feel cold as it cuts off blood circulation. The solution, of course, is to find a size that allows your tootsies to lay flat without clumping your toes or pinching any part of your feet.
Be sure to select a size that accounts for your winter socks, inserts, and safety toes.
These three features will help you find the perfect boots for working in snow. But feel free to scroll down to the Buying guide to get more tips. If you need recommendations, read my product review below where I discussed all the pros and cons of each pair of work boots.
Top 7 Winter Work Boots Reviews
1. Sorel Men's Conquest Waterproof Winter Boot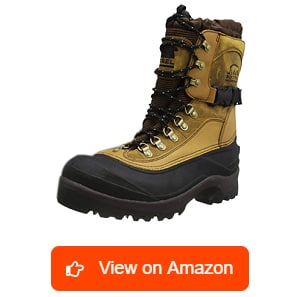 I got these insulated waterproof boots as they are recommended for temperatures as low as -40F. True enough, they kept my feet dry and warm on terrains heavily covered in snow. That's all thanks to the combination of thick leather, synthetic textiles, 400 grams of Thinsulate, and seam-sealed construction.
Besides that, the collars are equipped with cord locks, allowing me to close the gaps at the shaft. I'm also impressed that the factory insoles are insulated, which makes winter work boots extra comfy! While we're still on the subject of comfort, let me add that the uppers and soles are cushy, which requires zero break-in period!
To be clear, this pair is not equipped with safety toes or other features that industrial workers need. Normally, I wear them to perform tasks in relatively safe environments or go hiking and camping with my buddies. On rough terrains or snowy streets in the neighborhood, the outsoles' multi-directional lugs prevent me from slipping.
However, the sizes run small. It was almost impossible to wear them with thick socks so I had to ship them back and exchange them for a larger size. Moreover, they are quite a handful to wear. I get the laces, buckles, and cords to keep the footwear secure but it's just much whenever I'm hurrying.
What We Like
Recommended for temperatures as low as -40F
Seam-sealed thick leather construction with Thinsulate
Cushioned uppers and soles for comfortable wear
Requires zero break-in period
Has multi-directional lugs that prevent slipping
What We Don't Like
The sizes run smaller than standard sizes
Quite a handful to wear
These waterproof winter work boots for men are pretty reliable for subzero temperatures. To me, they are good all-purpose footwear that I can wear to work or camp.
2. Kamik Men's Icebreaker Winter boots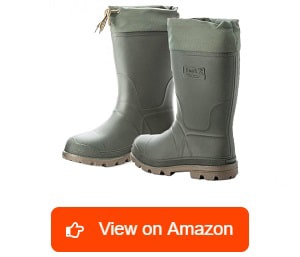 These insulated Wellington boots are among my favorites. First off, they are completely waterproof from top to bottom. The laces at the collar allow me to seal out the wind and moisture.
On the other hand, the synthetic rubber outsoles and uppers are stuck together without leaving any gaps for the water to get in.
These are not "winter work boots" per se, which means it does not have any composite or steel safety toe. Still, I find them very useful for general chores and yard work. They come with wool liners, giving me much-needed warmth and comfort as I toil away in the cold winter. Furthermore, their lightweight design makes them great for long walks.
What I love about these wellies is that they are low maintenance. I always get them dirty with mud and gunk but I only need to flush them off with water. The self-cleaning outsoles do not pick up soil and debris. More importantly, I'm amazed that they are true to size so I didn't run into trouble buying online.
However, these insulated work boots aren't the best on slick, icy surfaces, but I managed to trudge puddles, slush, and snowy roads. Also, the shafts are only calf-high and not knee-high. Still, as the boots are a tad shorter than described, it does not make them any less warm.
What We Like
Synthetic rubber outsoles and uppers to block wind and moisture
Waterproof design with tight laces and collars
Wool liners for warmth during winter
Lightweight and comfortable to wear
Self-cleaning outsoles require minimal maintenance
What We Don't Like
Not good on slick icy surfaces
The shafts are only calf-high and not knee-high
Overall, I'm happy with the quality of these wellington boots! They keep my feet dry and warm even in cold and wet conditions.
3. Merrell Men's Thermo Chill Waterproof Sneaker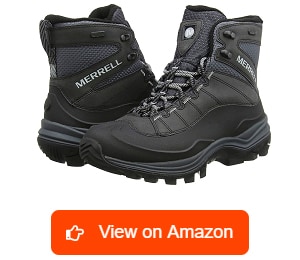 The ideal height for most work boots for winter ranges from 8″ to 10″ but, of course, there are exemptions. I'm almost always on my feet, and leather boots with tall shafts can sometimes feel constricting and bulky despite providing warmth. Thankfully, Merrell came up with this waterproof sneaker.
Although similar to hiking boots, these are lighter and comfier for long hours of walking. Yet, the upper material doesn't cause my feet to freeze. The brand utilizes a technology called "M Select DRY." Essentially, it works to block water from the outside while simultaneously releasing moisture from the inside, which is suitable for sweaty feet.
With low-bulk insulation, these high-cut sneakers warm my feet in moderately cool conditions without toasting them when the temperature rises a bit. Their slip-resistant outsoles are incredible. If I need to spend long hours in much colder weather, I can pair them with thick socks for added warmth.
Plus, these work boots have below tongues to deflect debris. Thus, I think it's best worn for hikes. But while they may seem perfect, the waterproofing technology wears down after heavy use. Even so, I'm pleased that I'm able to make the most of them.
What We Like
Waterproof sneaker with short shafts for comfortable wear
Lighter and comfier for long hours of walking
Breathable and absorbent materials for sweaty feet
Slip-resistant outsoles to walk on snow
Equipped with low-bulk insulation
Has bellow tongues to deflect debris
What We Don't Like
The waterproofing technology wears down after heavy use
I would consider buying these sneakers again when my old one inevitably breaks and wearing them as insulated work boots. Their design makes them apt for jobs requiring extended walking periods.
4. Muck Boot Women's Arctic Sport Snow Boot
Finding work boots for women is tough, which is why I'm featuring this pair of Wellingtons from Muck Boot. These insulated waterproof work boots are popular among farmers, landscapers, and postal workers who need to endure the cold weather. But I think they are also apt for homeowners who need to do some chores or gardening.
With a combination of high-quality neoprene and rubber, these boots are impervious to water. Inside, a soft fleece lining helps prevent the uppers from rubbing and hurting the skin.
That said, I know many who love wearing Muck boots due to their flexibility and shock absorption. These qualities provide comfort for long shifts and also reduce foot fatigue!
The Muck boots' trademark neoprene cuffs are super stretchy, which allows the wearer to tuck their pants. I think this feature is awesome since working in the yard exposes us to pesky insects that tend to crawl into the gap between the rubber boots and our legs. Since these are 10″ tall, they go up the shin for added protection.
Let me add that the traction is superb. Whether it's uneven soil or snow-covered asphalt, these Muck boots can prevent slipping and sliding!
Based on consumer reports, however, the sizes run small. Well, it feels like it when wearing thick socks!
What We Like
Insulated waterproof work boots for farmers, landscapers, and postal workers
High-quality neoprene and rubber to block water
Provides comfort for long shifts with soft fleece
Tall neoprene cuffs the wearer to tuck their pants
Good shock absorption and flexibility
Good traction to walk on uneven terrains or snow-covered asphalt
From the swampy farmlands to the snowiest cities, trust that these Muck Boots can keep the feet warm and cozy. What's more, their high-traction soles are designed to prevent slipping on uneven terrains!
5. Timberland PRO Men's Direct Attach Soft-Toe Work Boot
In workplaces where steel toe boxes are not required, I like to wear this pair of Timberland Pro Direct Attach 8″ boots. My experience with these boots has always been consistently positive.
For starters, durability is the footwear's strongest suit. Both the leather uppers and rubber outsoles can last years despite all the abuse.
As expected of a typical pair of Timberland work boots made of leather, these will need some breaking-in. Once they soften up, I find them to be very cushy! No matter how long I walk, my feet still feel energized thanks to the comfy yet supportive insoles. On the other hand, the nylon shock diffusion plates retain the boot structure.
Likewise, the outsoles are resistant to heat, oil, abrasion, and slick surfaces. In the cold weather, the boot insulation keeps the heat inside so my feet don't get chilly.
Plus, the lack of hefty steel toes makes them light enough to wear to parties, errands, and other activities outside of work. Besides, they are available in colors that suit most casual outfits.
Unfortunately, these work boots for winter are advertised as waterproof but they perform a bit similar to water-resistant. While the leather upper can tolerate splashes and light rain, my feet got wet when I walked into a puddle. I think they are more suited to dry winter situations.
What We Like
Durable work boots with leather uppers and rubber outsoles
Has comfy yet supportive insoles
Has nylon shock diffusion plates retain the structure of the soles
The outsoles are resistant to heat, oil, abrasion, and slick surfaces
The boot insulation keeps the heat inside
Lightweight and nice design for parties, errands, and other activities
What We Don't Like
More suited to dry winter situations
Whether it's meeting a client, running errands, or working in the field, these trusty boots are my feet's best friend! Apart from the insanely cushy insoles, the outsoles keep me safe when walking on slippery or oily surfaces.
6. Carhartt Men's Ruggedflex Safety Toe Work Boot
When people ask me to give them recommendations for waterproof insulated work boots, I normally tell them to check out Carhartt Men winter work boots.
I know they prefer products made in USA, and this particular model is imported. But I would argue that what matters is that their composite safety toes and electrical hazard protection meet the ASTM standards.
Aside from that, the traction is reliable even when I walk on slippery, wet surfaces or climb the ladder. As such, all the protective features have prevented or reduced workplace injuries.
Since they are made to help the wearer deal with extreme weather, the boots are built with "Storm Defender" the brand's innovative waterproof membrane, and 3M's 400g Thinsulate.
Consequently, my feet can stay warm and sweat-free even if I move a lot. Speaking of "moving," I must say that the cushioned insole and EVA midsole cradle my tootsies and absorb the shock in each step. For added comfort, the collars are padded so that the leather doesn't chafe my skin.
Despite its tough material and construction, I managed to break them in within a week. Honestly, the only thing I never liked about most Carhartt work boots, including this one, is their low-quality shoelaces. Other than that, I'm pleased with its overall performance. They are perfect for warehouse workers, technicians, and mechanics.
What We Like
Composite safety toes with ASTM-standard electrical hazard protection
Reliable for walking on slippery, wet surfaces or climbing the ladders
Warm and sweat-free with 3M's 400g Thinsulate
Cushioned insole and EVA midsole for comfort
The leather doesn't chafe the wearer's skin.
In instances where I need fool-proof protection, I would easily choose these safety-toe boots. They are both reliable and durable enough to withstand workplace hazards and harsh weather.
7. Wolverine Wolverine-M Waterproof Insulated Work Boot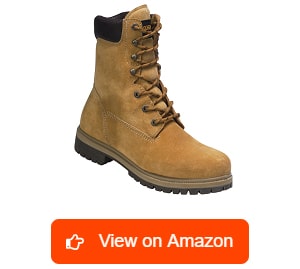 Made with waterproof leather and water-sealed sole, this winter work boot dries up quickly after getting wet in my observation. Amazingly, the moisture never gets into my feet.
But unlike other watertight shoes, this one has a mesh lining that promotes optimal breathability. Admittedly, I sweat quite a lot so these features aid me in keeping my tootsies fresh.
That's just one of the awesome things that these boots have to offer. I also depend on their thermal foam insulation to brave the freezing temperature. Even so, they don't weigh me down when I trek or climb ladders because of the lightweight design. Don't get me wrong, when I say "light," it does not mean they are flimsy.
Within the soles is a nylon shank that supports the structure. Hence, my feet remain straight when I step on the rungs. Meanwhile, the slip-resistant tread patterns make the outsoles grippy on concrete floors, snowy roads, or wet terrains. That said, I don't always expect factory insoles to be comfy but I'm glad that this one molds to my feet!
Best of all, these boots don't need to be broken in. One thing to note is that these aren't built with safety toes. To me, these are versatile boots for contractors, farmers, and DIYers. My only gripe is that the shoelaces could barely stay tied.
What We Like
Made with waterproof leather and water-sealed sole
Has a mesh lining that promotes optimal breathability
Thermal foam insulation for winter cold
Features slip-resistant tread patterns
Has nylon shank to support the structure
Lightweight design for long hour walk
What We Don't Like
The shoelaces could barely stay tied
What Are Winter Work Boots?
Unlike regular boots, work boots must undergo and pass a series of tests to prove that they are indeed capable of protecting the worker in hazardous conditions. Hence, you will find safety ratings in impact, slip resistance, or electrical hazard protection on the footwear's tags.
Winter work boots undergo the same tests to ensure that they can safeguard the worker's feet. The only difference is that they are equipped with thermal insulation.
Types of Winter Work Boots
Insulated work boots for winter evolve over time as manufacturers create and design new features and materials. While there are thousands of snow work boots on the market, they are mostly categorized into these types:
Safety toe winter work boots
Soft toe winter work boots
Wellington winter work boots
Hiker-style winter work boots
Why You Need Winter Work Boots
Everyone knows that wearing tennis shoes for working outside at cold temperatures can lead to fatal consequences like frostbite or immersion foot syndrome. This is why bundling up with the appropriate winter workwear and cold weather work boots is extremely important.
Besides warming your feet, insulated winter work boots have features that help workers negotiate icy, slippery surfaces thanks to the footwear's aggressive lugs. Furthermore, reserving your regular work boots for warmer, drier weather can prolong their lifespan.
Buying Guide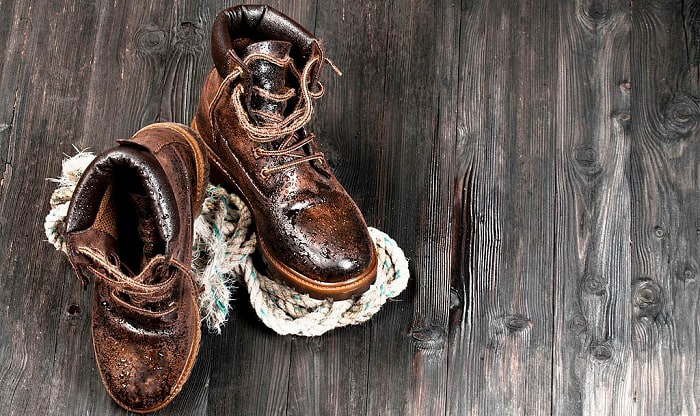 Our colleagues and friends will give us dozens of brands and models of good insulated work boots when we solicit their recommendations. Meanwhile, algorithms instantly detect our searches online and incessantly put out ads on our social media feeds, each one claiming that it offers the best-insulated work boots.
All these suggestions make us even more indecisive. To clear out the confusion, use this guide to see which warm winter work boots have the features that suit your preference:
Besides the insulating material that provides winter warmth, traction control is another key feature that workers need to carefully consider. Most boots come with several types of slip-resistant soles designed for different terrains.
After all, winter jobs are abundant in industries like construction, park conservation, sports, military, filmmaking, journalism, arts, delivery services, science, and hospitality. But the workers from these fields walk on the same terrains.
Extreme cold work boots with studded high-traction outsoles are great for roads covered in snow. When walking in deep snow, workers may need a work boot model that comes with cleats.
In industrial settings, workers are required to don personal protective equipment, and work boots are one of them. Unless you're given company-issued work boots, your safety officer should give you a comprehensive guide on what to wear.
In most cases, you will have to look for specific features like electrical hazard protection, slip-resistant outsoles, or toe protection like steel or composite toe boxes.
Top-quality work boots for winter are made of animal skin or nylon. As mentioned in the introduction, the uppers need to be completely waterproof and insulated. That said, it is also best to think of your work environment and comfort.
For instance, if you are in an environment where you need protection against abrasive surfaces, you may need a thick leather boot that can protect your calves and feet. By contrast, if you are always on your feet, it is comfier to wear a hiker-style waterproof nylon work boot. For landscapers or other workers who trudge wet terrains, rubber wellington is recommended!
The height of a work boot is designed not just for aesthetics but also for protection. Taller shafts provide an extra layer of warmth in winter weather. Aside from that, it also stabilizes the ankle when trekking or hiking uneven terrains.
On the other hand, a low-cut work boot allows for a wider range of motion, which is apt for walking around the city in moderately cool weather.
Work boots for winter come in tall Wellingtons, ankle-high pull-on, zipper closures, and lace-up closures. In terms of functionality, lace-up work boots allow the wearer to tighten the fit for better support when trekking on uneven surfaces.
It's something that can't be done with zippers and pull-on boots. Still, they offer convenience for those who need to rush to the scene as they are easy to wear.
Since these work boot styles do not have eyelets for laces, it is also better at preventing moisture from getting in. Just the same, Wellies are great for farming and gardening since they cover the calves.
If you have to wear lace-up work boots, opt for models that feature gusseted tongues as they block out the elements from entering the footwear.
Care and Maintenance
Each type of winter work boot requires different methods for cleaning and maintenance, depending on the material and amount of gunk on it.
Rubber pull-on and wellies are the easiest to clean since all you have to do is hose off the mud away after every use.
To wash off winter salts and heavy soil, combine two cups of warm water with a teaspoon of dish soap. Use a cloth to apply the mixture.
Be sure to start at the top and then work your way to the bottom. Rinse them off with water and wipe off the moisture with a clean rag.
With leather uppers, it's the opposite. They are more high maintenance as they are prone to cracking and molding. Also, the strategies differ for deep cleaning and daily maintenance.
I highly recommend checking the upper material to see whether it is made of full-grain leather, nubuck, or suede as each requires specific types of cleaning products.
Likewise, nylon and other synthetics need daily maintenance once or twice a month of deep cleaning.
Top work boot brands often sell cleaning kits that are formulated for the specific materials they used. But generally, you can use mild detergent and a clean rag to clean them.
Frequently Asked Questions
What makes winter work boots better than regular boots?
Insulated work boots are not necessarily better than a typical work boot or casual boot. Each type is created for a specific purpose.
What sets snow boots apart, however, is that they feature thermal insulation that decreases the chances of the wearer suffering from frostbite. This usually starts with a slight color change in the skin, numbness, tingling, or burning sensation.
With the combination of synthetic insulation, leather uppers, thick outsoles, and warm socks, it can be avoided.
On top of that, a work boot designed with deep treads or cleats can keep you from slipping on snow-covered surfaces.
How much do winter work boots cost?
High-end cold weather boots typically cost over $200, especially those sold by well-known outdoor and military footwear brands. Of course, the warmest work boots are not always the most expensive ones. In this review, I included some insulated winter boots with price tags under $100.
What are the recommended heights for the best work boots for winter?
Those 6″ winter work boot designs are safe to wear if all you have to do is walk a short distance from your office to your car in cold weather.
In extreme conditions, it is best to wear boots with shafts that are 10 inches or taller. Meanwhile, 8″ winter construction boots are great for the day when the temperatures can fluctuate. This height can keep your feet warm on cold days without toasting your feet. It gets a little warmer.
What types of safety toes should I use in cold weather?
You'll hear many workers and safety officers say that composite safety toes are best for winter. In theory, this makes sense since the composite material is non-conducting.
However, there are instances wherein wearing steel-toe boots is non-negotiable as they provide stronger protection. You probably wonder, what is OSHA's take on this?
Well, the occupational safety and health agency published a guide on cold stress but it did not compare steel safety toes against composite toes. What matters is that the boot insulation and waterproofing system are sufficient for the work environment.
If you have to wear winter steel toe work boots, look for models that feature insulated padding around the toe boxes and wear warm socks. This way, your forefeet will be shielded against the cold steel toes!
How do I keep my feet warm in winter boots?
Let's take the podiatrists' advice. For starters, stick to the work boot designs that feature insulation and waterproof materials. Always remember that staying dry helps in warming your feet.
Next, wear winter work socks and additional sock liners if necessary. Unlike winter socks, sock liners are more like thin socks that can heat things a bit more.
Besides your feet, make sure to wear winter garments from top to bottom. Put on your gloves, scarf, jacket, sweater, beanies, and thermal underwear. They may not directly cover your feet but they warm your entire body!
Another way is to keep moving! You don't need to run or do anything crazy. A slow walk can keep the heart pumping and promote good blood circulation. Alternatively, you can jog in place.
Conclusion
There's a lot to remember in this long article but let's summarize everything.
First, when choosing the best winter work boots, the three main considerations are the insulation type or value, moisture management features, and size. Let's not forget that you should also think about protective features, upper materials, and other aspects that may help you stay warm or perform better at work.
Once you get all these things right, then it will be easier for you to find the specific models from different brands, whether in my product review or on other websites.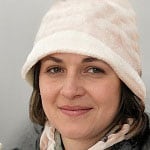 Veronica is our content editor. She is a talent in delivery. Her main work is editing and writing articles that are both informative and simple to follow. She is in charge of synthesizing our understanding of what personal protection equipment (PPE) is needed in each job, how to best apply it, and how to visualize that equipment.