The winter season is here again, and this is not good news if you are a worker who does his job outside. If the temperatures reach freezing levels, it might be time for you to buy yourself a pair of the best winter work gloves.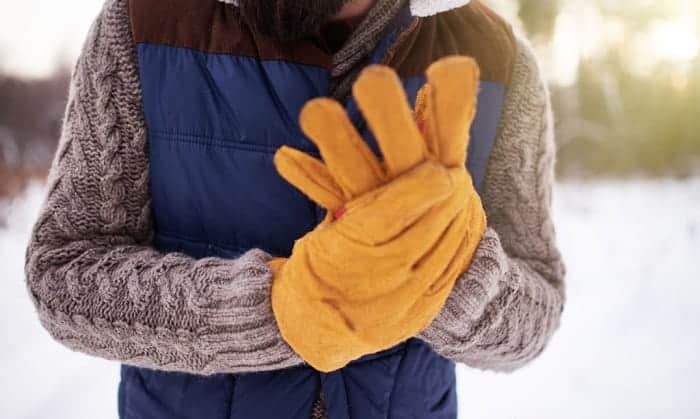 Is it possible to work without thermal waterproof work gloves? Of course, it is. However, keep in mind that the cold makes your fingers feel stiff. This could affect your performance, and worse, your health if you continue working in cold weather without proper protection.
Also, these work gloves will give you the required flexibility for those tough tasks. There are currently many available options in the market, but I've found 12 of the best cold weather work gloves you should invest in.
12 Best Work Gloves for Winter Reviews of 2023
1. SIMARI Winter Gloves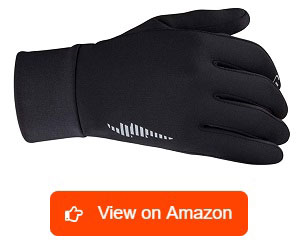 Advertised as an all-around pair of warm work gloves, the manufacturer recommends this one for work, shooting, driving, and outdoor sports. Regardless of gender, these unisex hand covers are true to size and available in different color options.
Made of a blend of polyester, spandex, and flannel lining, I can count on these gloves to keep me warm during spring, fall, and winter. Besides warming my hands, I like that they also feel soft and smooth, allowing me to work comfortably. Apart from that, the material is stretchy enough for my digits to move naturally.
Another good reason to buy these gloves is that the palm area enables me to grip boxes and other objects without slipping. Unlike winter construction gloves, I don't struggle to don or doff these. Despite wearing them regularly for a year, the fabric has not loosened.
The touch screen fabric is responsive but its placing is a little off. As someone who constantly needs to type and swipe screens at work, I find this cumbersome to use. Also, let's be clear that the construction of these gloves does not include insulation. Don't expect it to keep you warm in subzero temperatures. This is okay for mildly cool spring and fall weather.
What We Like
True to size unisex gloves
Suitable for winter activities and work
Lets your hands move naturally
The fabric feels soft and smooth
Has responsive touch screen fabric
What We Don't Like
Cannot warm your hands in very cold weather
The placing of the touchscreen fabric is off
Even with minor imperfections, this pair ranks high on my list since the construction and material allow your hands to move freely. Besides driving and playing sports, they are decent gloves for working in cold weather as long as it is not freezing!
2. Vgo High-Dexterity Work Gloves
When it comes to the best work gloves for winter, a brand to rely on is Vgo. As the company delivers quality products, you can rest easy knowing that you are getting every bang for the buck for the chosen item. Let the gloves do the talking, and we'll show what makes the Vgo High-Dexterity Winter Gloves a great pick.
First of all, this work glove by Vgo is designed for various purposes. Even when it's not winter, you can use these gloves for a wide range of work such as landscaping, gardening, logistics, warehousing, etc. Of course, these gloves are best used during the cold winter season.
More importantly, these work gloves have thick PVC paddings on the palm areas for added protection. Also, there are reflective strips designed for safer work in dim-light conditions.
To further strengthen these gloves, TPU membrane is added on the lining, which provides coldproof, waterproof, and windproof features. As per their testing, the gloves can keep your hands warm at -4℉. This means that this safety pair is among the best-insulated work gloves you can find.
Besides, the ergonomic design allows users to have optimal comfort when wearing these gloves for a long time.
If you are using your phone, worry not as its fingertips come with a touchscreen function. Hence, you can use your smartphones during work without having to take the gloves off.
Yet, some workers find it a bit hard to grab on small objects as these gloves are bulkier than expected.
What We Like
Can be used for various purposes like gardening, logging, and more
Added protection in the palm areas thanks to PVC pads
Coldproof, waterproof, and windproof all in one package
Designed ergonomically for a comfortable fit
What We Don't Like
A bit bulkier than expected
This product further shows why Vgo is a trusted brand for safety gear. Wearing these gloves for winter duties indeed aid you to work better and safer.
3. Ozero Flexible Winter Work Gloves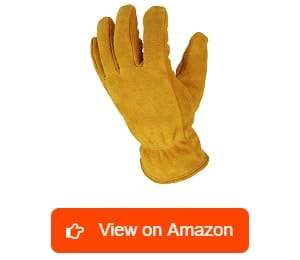 If you are looking for great outdoor work gloves for winter, we suggest you check out the Extra Grip Flexible Winter Work Gloves from OZERO.
First off, these gloves are made of artificial lambswool, offering you maximum protection for winter. The pair also has thermal imitation lambswool lining for an extra shield against coldness.
From the get-go, the gloves don't look that durable. You shouldn't judge a book by its cover as the outer layer is made from 1.2mm thick, high-quality split cowhide. Such a design makes the gloves a plausible option for heavy-duty work such as clearing snow, logging, and more. Best of all, the gloves are cut-resistant, allowing workers to handle sharp objects without getting hurt.
The finger areas of the gloves are sewn using the Gunn cut. Hence, you can have free movements of all fingers, which includes holding small parts. Plus, since the keystone thumb is not attached to the palm part, it offers you excellent dexterity for meticulous work, even in cold weather.
If you're worried about getting dirt and other debris in, then you shouldn't be with these gloves. The wrists are sewn with elastic materials. These provide a comfortable fit on your wrist while ensuring that no dirt or debris will work their way into the gloves' insides.
These warm winter work gloves are a bit fickle in the sizing, though. They run smaller than the usual size, so I recommend taking one size up for an excellent fit.
What We Like
Lambswool material and thermal lining for maximum cold protection
2mm split cowhide offers excellent protection from cuts and pierces
Finger areas are sewn separately for free movement
Elastic material on wrists prevents dirt from getting inside the gloves
Freezing weather calls for perfect insulation. In such cases, you must consider getting these gloves from Ozero as these are the best ones in that area.
4. Carhartt's Insulated Work Gloves
Carhartt is a trusted brand by heavy-duty workers like lumberjacks, construction workers, and carpenters. It shouldn't be surprising that the Carhartt winter work gloves are top of the class regarding various aspects.
These gloves are made from 100% polyester, making them great insulated gloves for cold winters. The gloves' materials will rely on your body heat to keep you warm once the temperature drops. When it's not cold, the temperature will remain comfortable for you as well.
If your hands get accidentally dipped in water, you shouldn't panic. The gloves are made with FastDry technology that not only prevents sweat from getting the insides of the gloves wet; it also prevents the outside from getting soaked. From my experience, this is an excellent feature as working in the snow does tend to make other brands wet – later on cold.
To ensure that the gloves are a snug-fit, Carhartt has equipped these gloves with a hook and loop closure. It's not a common feature among winter work gloves. This design from Carhartt lets you customize the fit of the gloves to your desire. Thus, it's nearly impossible to slip the gloves off accidentally.
For your grip, Carhartt has added their Nitrile Grip technology to the gloves. This helps you get a hold of slippery objects. You are less likely to drop your tools when gripping them with these gloves on.
Most users often purchase one size up for a better fit, even when the gloves shrink a little over time.
What We Like
Polyester material gives great natural insulation
FastDry technology lets you work comfortably in the rain and snow
Hook and loop closure for the gloves allow for a perfect fit
Nitrile Grip in the palms helps you get a hold of all materials
What We Don't Like
You might order one size up in case of shrinking over time
Carhartt is known for their remarkable innovations, and these gloves aren't short of your expectations. From letting you grip oily tools to keeping your hands warm, these gloves are some of the best in the market.
5. Superior Fleece-Lined Winter Work Gloves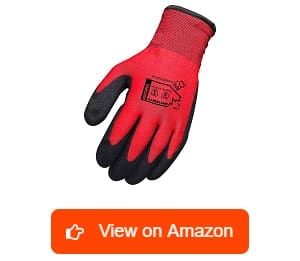 Superior Work Gloves is a company known for its top-of-the-line products for all workers. As expected, they have a reliable pair of work gloves for performing through the cold winter days.
The brand constructed this product with two layers of fabric. They used 15-gauge nylon on the outside for blocking the wind and soft-fleece underneath to warm your hands further. Hence, they do an excellent job of shielding you even below freezing weather.
Furthermore, if the pair gets wet due to rain or snow, you shouldn't worry as they will dry out quickly. This feature also maintains our performance throughout the day. Hand wash the gloves and leave them out to dry for a few hours, and you are good to go.
There is also a crinkle-grip palm coating to let you firmly hold all sorts of tools. While some work gloves stiff up in cold temperatures, they stay relatively flexible even in the most frigid temperatures. Thus, such a great feature makes the gloves applicable for various lines of work. Whether you are into farming or constructions, the tools you'll hold will be firmly in place.
The gloves are also rated with ANSI 2 puncture resistance and ANSI 3 abrasion resistance. Regardless of what tool you are using, these gloves will most likely protect you from various hazards.
On a side note, the gloves come with longer fingers than their size.
What We Like
Offers superior protection due to two layers of fabric: nylon and soft-fleece
Dries quickly when getting wet by rain or snow
Superior grip, applicable for various industries
Comes with crinkle-grip palm coating for a firm hold on different tools
Meets puncture and abrasion-resistance standards for long-lasting use
What We Don't Like
Fingers are a bit longer than its size
Superior Work Gloves has created a truly remarkable work glove in terms of insulation. If you want a versatile glove that keeps you warm in freezing weather, then this is for you.
6. Youngstown Winter Plus Performance Gloves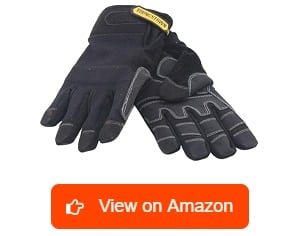 Another well-made pair that is indeed a big help for your work at low temperatures are these Winter Plus Performance Gloves from Youngstown.
To summarize, the glove structure is a combination of nylon, polyurethane, polyester, PVC, neoprene, and cotton. Hence, the gloves offer excellent protection against the cold if you are working in the winter.
Not to mention, the soft micro-fleece liner offers water and windproof protection for your hands. Additionally, this liner is designed to be a breathable membrane for your hands, making the work glove feel more comfortable.
Youngstown has also added a non-slip reinforcement on all key parts of the gloves: palm, fingers, and saddle. All-in-all, this design allows you to grip all your tools in the cold firmly. What makes it even better is that the design choice offers a lot in terms of durability as well, so you don't have to worry about the material cracking off.
As they are highly flexible, these are the best winter work gloves for dexterity that money can buy. Even when doing work like pressing numbers on a keypad, you'll still be capable of finishing the task with ease.
While waterproof, the gloves aren't exactly made for heavy rains. It can withstand snow and a drizzle, but not heavy rain or a blizzard.
What We Like
Multi-layer design allows for insulation
Soft-micro fleece for minor water and windproof
Breathable and flexible gloves
Gloves are excellent for holding tools thanks to non-slip reinforcement
Offers necessary dexterity, allowing use on the keypad
What We Don't Like
Doesn't provide waterproofing during heavy rain and snow
The Youngstown Winter Plus Performance Gloves are great if you have tasks that call for your fingers' use. Dexterity-wise, these are the best gloves money can buy currently.
7. Kingdom Thinsulate Winter Work Gloves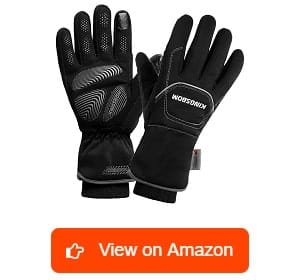 The trusted brand Kingsbom introduced to the market a winter work glove that can also be used for sports activities. These good-looking gloves should be up your alley if you are on a budget.
These gloves are made with several layers of 3M's Thinsulate insulation to keep your hand warm. Even when you are snowboarding or skiing, you can wear these gloves as the thick material lets you touch the snow comfortably.
These Winter work gloves for men and women come with a stylish design. Thus, these are the perfect accessories for winter sports like ice skating.
One of the best features of the gloves is that it is waterproof and snowproof. In detail, the exterior material is capable of shedding water and snow, keeping your hands dry at all times. Also, the pair can shield strong winds that often make us comfortable when performing or driving.
Best of all, these gloves feature an air-circulating design, ensuring our hands feel breathable during long-hour duties. Plus, moisture-wicking inner can absorb sweat for added comfort.
The manufacturer also caters to our needs to check our phones regularly, especially in case of emergencies. As such, the gloves are coated with a conductive fabric right on the thumb and index fingers. You don't even have to take off the gloves to answer the important phone calls.
Sadly, the conductive fabric on the thumb and index fingers are also an issue. According to some reviews, they disintegrate with time. That means under frequent abuse for a long time, it will be a bit tricky to use smartphones and touchscreen.
What We Like
Made with 3M's Thinsulate lining offering insulation for outdoor work and sports
Stylish design for both men and women
Superior waterproofing, snow proofing, and windproofing
Air-circulating design and moisture-wicking inner for all-day comfort
Conductive fabric to use a smartphone while wearing gloves
What We Don't Like
Conductive fabric disintegrates over time
If you are looking for an all-around and stylish work glove, then this offering from Kingdom is undoubtedly right for you. Aside from the workplace, you can bring this work glove to the skiing resort you've been eyeing as well.
8. G&F Products Waterproof Winter Gloves
These G & F Products winter gloves offer a low-profile and practical design for workers in different fields.
For starters, the gloves are made with 100% Acrylic Terry and 100% nylon. These two materials combined make for excellent insulated work gloves that are just perfect for those who are always out in the snow. As per their measurement, the gloves keep you warm at up to -58F temperatures.
G&F Products added a double coating technology in the gloves: the HPT coating and the microfoam coating. These two layers of unique materials provide the gloves with the wind proofing and waterproofing we need. Even if your gloves get wet and breezed by the cool winter wind, you can still feel warm.
The gloves are very flexible in applications. Aside from work, the gloves can also be used for other activities such as driving and sports. That's because of the excellent grip provided at the palm area of the gloves.
In terms of protection, the gloves also have double-coated palms and fingers. These provide fantastic abrasion and puncture resistance through and through. These may look stiff, but the palm and finger areas are very flexible, so you can still work comfortably with them.
Some reviewers point out that the wrist area of the gloves isn't waterproof. So, you might feel slight discomfort when wearing the gloves, and you happen to get the wrist wet.
What We Like
Two materials at the surface provide good insulation
The double coating also adds excellent waterproofing and windproofing
Can be used for other activities other than work because of flexibility
Double coated palms and fingers are abrasion and puncture-resistance
What We Don't Like
The wrist area isn't waterproof
If you are a fan of low-profile and practical design, look no further than this product from G&F Products. It's an all-around work glove as well, so you can use this for a long time.
9. CLC Custom Leathercraft Winter Work Gloves
CLC has a wide selection of gloves at affordable prices. So it's great for those looking for budget-friendly gloves that can last them through the winter. Currently, this is the top-rated winter work gloves for electricians and other professionals they have to offer.
Regarding insulation, you have nothing to worry about as the shell of the gloves is made of PU, polyester, nylon, foam, synthetic leather, and PVC. The inner linings are 100% polyester, while the interlining is made with C40 Thinsulate. All-in-all, these gloves are cold resistant.
The materials used in the product not only benefit the insulation. They also ensure the product shrink resistance, so the gloves stay perfectly fit even when they get wet if you are working outside. I tried it out, and it always kept the gloves still even if it was soaked.
Additionally, there are wing closing straps added to help keep the gloves secure. If the gloves you bought are a size or two bigger than your hands, you can adjust the wing closing straps so that the gloves fit you better.
CLC also added elastic spandex and Lycra side panels on the gloves. These features afford a new level of dexterity to the glove. The pair aids you to work with ease, even if you are wearing what is typically considered a heavy-duty glove.
Another great feature is the inner stitching of the gloves. In my previous work gloves, I always accidentally snagged myself on wood or metal. But with this pair, the stitches behind the gloves make it snag-proof, so it's perfect for clumsy guys like me.
Some comments on a Reddit community I found for carpenters suggests that the gloves are a bit too bulky. Make sure you have enough space in your bag or toolbox before getting these gloves.
What We Like
Interior and exterior are made with materials fit for insulation
Gloves are shrink resistant to stay still even when wet
Comes with wing closing straps for an adjustable fit
Stretchable spandex on gloves make it very flexible
Features anti-snag stitching to avoid getting caught in wood and metal
What We Don't Like
Gloves have pretty a bulky design
All in all, these gloves from CLC have a few surprising features. More specifically, I was surprised at the snag-resistance, and enhanced flexibility are both great features for a winter work glove.
10. Wells Lamont HydraHyde Winter Work Glove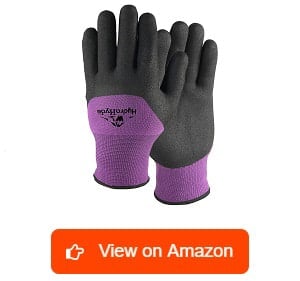 For the ladies looking for the right winter work glove, what Wells Lamont offers will most definitely be up to their alley. Indeed, HydraHyde is one of the best work gloves for women.
To begin with, the gloves have a textured latex palm coating, which is waterproof. The pair will allow you to do your tasks in the cold without fear of letting your tools slip out of your grip. Some of my friends say that the gloves have given them the best traction in any other work glove they've tried on.
The gloves feature a warm fleece lining, which protects you from the cold weather. Women's hands are naturally less warm than mens. Wells Lamont considered this when making these gloves as these offer excellent insulation for women. Ideally, it's great even on cold winter days.
Notably, the HydraHyde is coated with a latex coating, which provides many excellent features. In detail, the layer provides puncture and abrasion resistance, so your hands are protected from sharp tools. Additionally, it prevents snags from materials such as wood and metal too.
As the gloves are lined with latex all around, your hands can remain flexible and dexterous at work. My friends have told me that the gloves move excellently even when doing heavy tasks.
Beyond that, latex is also susceptible to breaking off, so you'll have to care for these gloves for long-lasting use.
What We Like
Textured latex palm coating provide one of the best grips for a woman's glove
Waterproof material for working in snow
Fleece lining offers great insulation during cold weather
Latex coating makes the gloves puncture, abrasion, and snag resistant
Offer a flexible grip on tools
What We Don't Like
Latex coating requires care for long-lasting use
There's not a lot of women-exclusive gloves in the market. However, the HydraHyde offers everything women need for a winter work glove. As such, this is easily one of the premier options out there.
11. Ironclad Cold Condition Gloves
Looking for gloves for working outside in winter is a breeze when you look into Ironclad's protective gear collection. Their Cold Condition Gloves is among their best products. So, what are the features that make this a must for those working in cold weather?
Ironclad is proud knowing that the gloves offer protection down to 40°F. To make the gloves ideal for the cold weather, it is windproof and water-repellent, so your hands stay comfortably warm during those intense snowy days. Besides, these are one of the best gloves I've seen in terms of waterproofing.
The glove's strong insulation properties make it a must for jobs that require high precision. These include hunting, industrial safety, and carpentry. It's hard to work in the cold when your hands are cold and stiff, but these gloves do away with those worries.
I appreciate the Duraclad patented palm design of these gloves as it improves palm, thumb, fingers, and saddle protection and dexterity. If you are a clumsy guy like me, you'll need these gloves to help you move more freely at work. This patented technology is proven to be around eight times more durable than synthetic leather.
Additionally, Iron Clad also designed thermoplastic knuckle protection on the gloves. Such a fantastic addition gives you superior protection from falling objects and abrasion as well.
As a bonus, the gloves have a reflective strip at the knuckle area so you can stay visible and safe at night.
According to other users, splinters of wood can get inside the seams of the gloves' material.
What We Like
Protection down to 40°F, best water and windproof
Useable in many lines of work such as hunting and carpentry
Durable synthetic palm gives great dexterity
Thermoplastic knuckle protection prevents injuries from the impact
Reflective strips for visibility in the dark
What We Don't Like
Material is susceptible to getting splinters caught in between
If you are working in wet conditions, I highly recommend this work glove as its waterproofing remains unmatched. It's also a big plus that the gloves can be used for various purposes as well.
12. Wells Lamont HydraHyde Work Gloves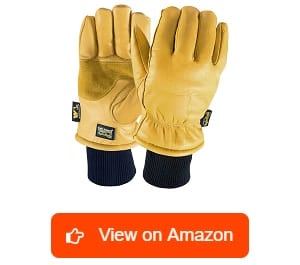 Our last entry – the Wells Lamont HydraHyde for men is among the perfect insulated leather work gloves that allow you to strive better even when working in cold weather.
The gloves for working in the cold are made with cowhide leather with high abrasion resistance. This material helps protect your hands from getting hurt by sharp edges. Beneath the cowhide is a 100-gram 3M Thinsulate insulation, adding the perfect warmth you need for those winter workdays.
The HydraHyde leather is water-resistant, too, so you can work more comfortably even in snowy or rainy weather.
For added grip and durability, Wells Lamont made a palm patch for the gloves. When I used these gloves, the patch felt very comfortable and flexible. I was able to grab hold of my tools very quickly. Usually, I have trouble gripping them when it's winter, but these weren't an issue anymore with this winter work pair.
One thing I usually look for in any work glove is its ability to keep debris from getting inside. For this issue, Wells Lamont reinforced knitting at the wrist area. This keeps the glove secure; it also ensures that my gloves' insides are free from debris like small pieces of wood and metal.
One issue I have with this version of the Hydra Hyde, though, is that it is a bit bulky. Still, you might expect such a problem from a heavy-duty pair like this one.
What We Like
Think Thinsulate insulation offers perfect insulation from the cold
Cowhide leather makes the gloves water-resistant
Palm patch at gloves gives excellent grip and flexibility
Knit wrist secures the gloves in place while keeping debris out
Despite the minor flaw, this pair of winter work gloves from Wells Lamont is highly recommended. The comfort and flexibility it gives will surely get the job done.
Mechanix Wear Insulated Work Gloves (Outdated)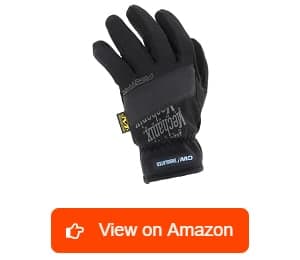 Mechanics have relied on Mechanix for years now. Although their gloves look rather thin, they are great insulated gloves to wear on a winter day. One of the best they have to offer is the FastFit Insulated Work Gloves.
The gloves are made with carbon-infused conductive material combined with micro-fleece lining. It traps the warm air, which is often produced by your body temperature, so you stay warm while wearing these gloves. Aside from that, the gloves offer enhanced wind protection, especially when you drive a motorcycle.
While thick, the material around the fingertips still helps you use touchscreens efficiently. So receiving phone calls and communicating during work is a breeze.
If you are prone to dropping objects in the workplace, your gloves may have grip issues. The good news is that these Mechanix Wear gloves are made with a synthetic leather palm. This part allows you to grip all your tools comfortably. At the same time, the palms also provide excellent abrasion resistance for long-lasting use.
As the name suggests, these gloves are made to fit you perfectly. It has a built-in elastic cuff that can give you enhanced comfort when working. As the cuffs are flexible, they give you enough moving space for your wrists, so your movements won't be stiff when working with these gloves.
The only gripe I have with this pair is its waterproof function seems lacking.
What We Like
Carbon-infused conductive material & micro-fleece lining for natural insulation
Touchscreen fingertips to use the phone efficiently
Synthetic leather palm helps you get a hold of tools properly
Palms are abrasion-resistant for long-lasting use
Elastic cuffs make for a perfect and comfortable fit for your hands
What We Don't Like
Doest not resist water that well
One of the great assets of this work gloves is the grip it gives through the leather palm. These gloves are certainly a must if you're known to have butterfingers in the workplace.
What is a Pair of Winter Work Gloves
Insulated work gloves for cold weather are necessary tools that protect your hands from freezing over. This may seem like an exaggeration, but trust us, it's tough working under freezing temperatures. This specialized pair of gloves work wonders for various professionals.
There are winter work gloves for construction workers. There are also winter work gloves for carpenters. A pair of these are essential for allowing you to work comfortably in these season's horrid conditions.
How Does It Work
Most winter work gloves do what they do by keeping your natural body heat regulated inside the gloves. This function is made possible by using materials that trap the heat in your body. When the outside becomes cold, your body will try to regulate the temperature. It's the gloves' job to make sure that the heat doesn't go to waste.
For further protection from the cold, the gloves are also often wind and waterproof. These extra precautions prevent you from getting cold when the snow and the strong wind hit hard.
Of course, as this is a work glove, it must be comfortable to use as well. The top brands also add specialized material on the palm and finger areas to ensure that the gloves remain flexible enough to work with.
Types of Winter Work Gloves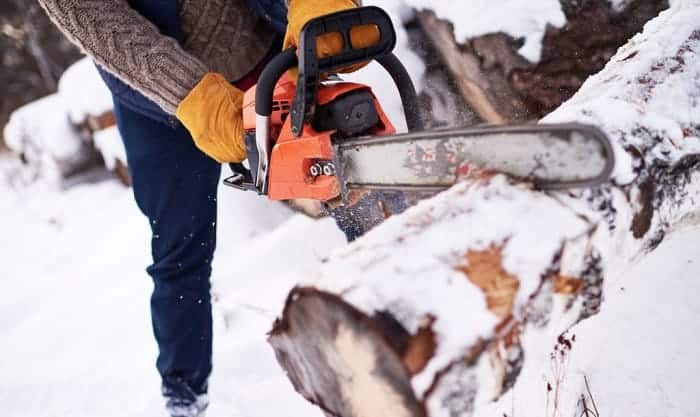 Winter work gloves are already in a league of their own. What only differs is the materials that the makers use in trapping the heat made by your hands.
There are work gloves that do their job by using multiple layers of fabric and other specialized materials. These are the most common forms of winter work gloves. What's great about these gloves is that they are light and not-at-all bulky. This makes them easy to use and carry around wherever you go.
Some work gloves are made from pure leather. These are great natural and dexterous gloves. The thick leather from materials like cowhide prevents the cold from penetrating the gloves. These gloves are also often waterproof. The main issue, however, is that they often have a bulky frame.
Why You Need Cold Weather Work Gloves
Winter work gloves aren't just for your comfort; they are for your safety as well. When working in cold conditions, your hands will tend to feel numb and even stiffen up. This will make it harder for you to get a tight hold on objects and result in your dropping tools and objects in the workplace.
Moreover, it prevents you from directly touching surfaces that have been exposed to extreme cold. Let's say you are working in a walk-in freezer; the best insulated work gloves will allow you to continue working without having to worry about getting your skin damaged by icy items.
Buying Guide
Outdoor work gloves for winter are not all rare. They can be easily bought at hardware stores and even shops that sell outdoor equipment. You will typically find these for sale at a discount once the winter months are approaching, so be sure to grab yourself a pair once those discounts arrive.
Alternatively, you can buy the gloves at Amazon or other online retailers. However, since these are work gloves we are talking about, you should make sure that the gloves perfectly fit your hands. The good news is that most listings will have a sizing chart ready for you to check out, so it will be easy to find the perfect pair.
When buying online, make sure you buy a pair from legitimate resellers only. Buying from sellers that give you significant discounts signals that the product you get might be counterfeit. The downsides of buying products like these are that they aren't durable. For example, some have the fleece lining wear out after some uses.
Care and Maintenance
What's great about these types of gloves is that they can be easily maintained. I highly suggest washing the gloves at the end of the workday. All you need to do is hand wash them with a light detergent and then leave them out to dry.
Work gloves like these usually dry out in an hour or so, but they take longer to do so if the weather is cold. As much as possible, do not run these gloves in a washing machine or a dryer as it could ruin the material, which keeps your hands insulated.
Frequently Asked Questions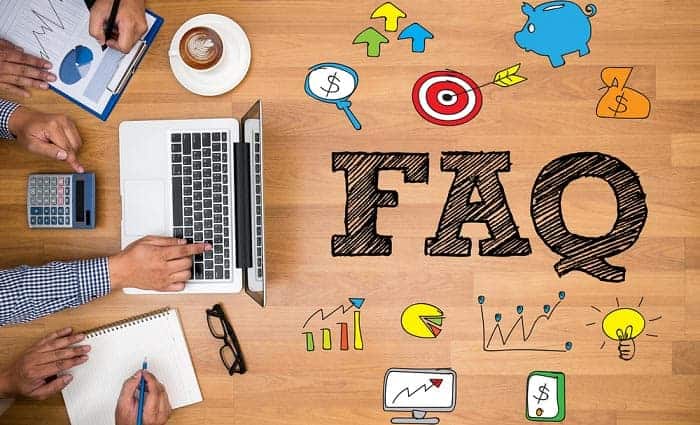 What are the most trusted work gloves for winter brands?
The good news is that there are many brands out there that develop excellent work gloves through patented technologies. Some of the brands that manufacturer these heavy duty winter work gloves include Carhartt, Mechanix, Vgo, Superior, and Wells Lamont.
These brands also develop regular work gloves for the rest of the year. If you are looking for those types of gloves, you can turn to these stores as well. What's great is that each of the brands has its design for constructing a reliable work glove. As such, you are sure to find a pair from a brand that fits all of your needs perfectly.
What are the warmest winter gloves made?
It depends on your needs. No product or brand can be considered the "warmest winter work gloves." To better explain this, let's look at what a farmer and a mechanic would wear.
Goat skin leather winter work gloves are great for farmers due to their durability and good tactile sensitivity. For mechanics, high dexterity winter work gloves made of thinner waterproof and wind-proof materials help them work better. As you can see, we also need to factor in other qualities that are appropriate to the job requirements and safety protocols.
Also, remember that manufacturers tend to combine materials to ensure that the gloves perform well. For instance, if you check the Mechanix winter gloves catalog, you will see that each model is made of a wide variety of materials and not just one fabric.
That said, here are some materials to check if you don't know where to start:
Wool
Merino
Nylon
Neoprene
Thermoplastic polyurethanes
Insulation (e.g. Thinsulate)
Leather
Flannel
Polyester
How do I keep my hands warm at work?
Sometimes, wearing thermal gloves for work is not enough! That's because they only take care of one part of our body.
First, you will need to make sure that your torso is also warm. If you wear layers of clothing, you can help your body generate heat throughout the extremities.
Another technique is to ensure that your gloves can keep your hands dry and block them from the wind. Always remember: Sweat, moisture, and wind can make you feel extra cold!
If you need to layer gloves or mittens, experts recommend wearing a lining that has good moisture management and soundproofing properties.
Next, make sure that your mittens or gloves are not too tight. When your blood circulation is cut off, you will naturally have colder hands. Lastly, consider using heating pads or a hand-warming device!
Should winter gloves be tight or loose?
As mentioned before, wearing tight gloves is not advisable as it can cut off blood circulation. When you start moving your hands, the fabric will likely stretch and expose your skin to cold air. In turn, this will make your hands feel colder.
On the other hand, a loose-fitting pair of gloves defeats the whole purpose of "bundling up" for winter as it will provide an opening for the chilly air to get in.
Here's a tip: Consult the manufacturer's size charts and measure your hands accordingly. Whether you are looking for unisex, women's, or men's winter work gloves, make sure that you have about a quarter-inch of the material covering your wrist when your fingers are stretched. You should also be able to close your fist without feeling any tightness.
What is the best insulation for winter gloves?
Choosing the best insulation glove depends on your preference. Multi-layered gloves offer a more comfortable fit, but their ability to keep the cold out is limited. On the other hand, the bulkier leather work gloves are tougher to use, but they often have the best insulation of all the pair of winter gloves.
Ideally, you'd want to look for gloves with layers of 3M's Thinsulate material. This light and flexible material not only keeps the cold out, but it also helps you work as if you are wearing regular work gloves. It feels like a second skin! Of course, you'll perform better when wearing warm and dry gloves.
How to care and clean?
Light detergents are a must for cleaning winter work gloves. Harsher cleaning agents could wear out the materials used in making the gloves. I've seen some of my friends use bleach on these gloves, and the results were devastating. The rubber matting on the palm area began to crack and fall off.
You also want to make sure to hand wash the gloves only. Placing them inside a washing machine and then, later on, a drier could result in getting the materials used damaged as well. Since these gloves tend to dry out quickly, you don't have to put them in a drier anymore.
I highly suggest buying at least two pairs of work gloves. When the cold season arrives, you'll find that it's harder to dry the gloves once you wash them. This is because the temperature is naturally low.
If your gloves are in dire need of washing and you wash them the night before a workday, there's a good chance that these won't dry before you get to work. Nothing feels better than wearing warm and dry gloves on a winter day.
Having an emergency pair to get you to buy will save you big time. If you want, you can buy a combination of leather gloves and multi-layered gloves so that you have options to choose from. Waterproof winter gloves are a must in everyone's shed, so try to buy two pairs.
Where to buy?
Looking for extreme cold weather work gloves is easy! You need to head to your local mall or outdoor apparel shop, and you can find these quickly. While you can buy a pair even if the winter season is still far off, you can bag all sorts of work gloves at a discount if the winter season is fast approaching.
Apart from these brick and mortar shops, you can also buy from Amazon and other online outlets. Just be sure to measure your hands correctly as there's nothing worse than having to wear a pair of waterproof winter work gloves that don't fit properly.
Conclusion
Suppose you're a professional working in the field of construction, electronics, carpentry, and just about any other heavy-duty work. In that case, it's a must to invest in the right equipment and apparel. Winter conditions can be harsh at times. These conditions limit you from finishing your tasks properly. Hence, investing in the best winter work gloves is what you need to perform well during this cold season.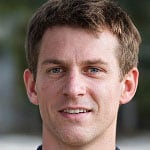 Having worked in the field of personal protective equipment for over two decades, Andrew Carnegie is a specialist in the field.
At EDC, he strives to improve performance efficiency and promote workplace safety for EDC's readers and customers. He also researches the most up-to-date equipment that has earned relevant accreditation for use in a wide range of industries and specialties.