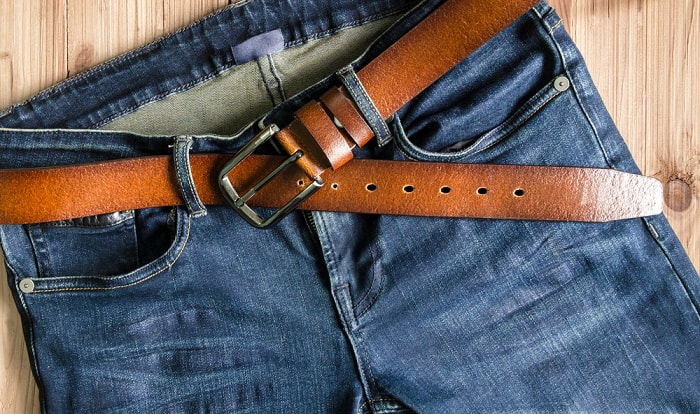 Belts are one of those fashion accessories that we take for granted but they can make or break our day. We use them to hold loose pants or shorts, yet at times, they can feel obtrusive. When we think and choose more carefully, this strip of leather, canvas, or nylon web can make your outfit a lot more stylish. Beyond that, they serve important functions like holding pouches.
Here are the key features that make for the best work belts:
Straps: Nowadays, we can find belt straps made of leather, nylon, canvas, suede, and even a combination of a whole bunch of materials. They also come in different lengths and widths. At work, you will not just consider the dress code but the basic functionalities you need are also crucial. If you need to carry tools, the strap has to be strong enough to hold the weight of loaded clip-on pouches, which fashion belts cannot do.
Buckles: Manufacturers and designers have developed different types of buckles to address specific functional and style-related concerns. However, there will always be instances where you need to think more about functionality. If speed is a concern, you can get belts with buckles that let you fasten or remove quicker. When attaching heavy pouches, the buckle needs more grip.
Adjustability: When dressing up for an important meeting, we always strive to strike a balance between looking sharp and feeling comfortable. While leather belts have pre-drilled holes, you may not find one opening that fits your waist perfectly. In contrast, nylon belts with flip closures or slide ratchets allow you to adjust the fitting even if your weight fluctuates by a few increments.
As you can see, there are more considerations relating to belts than meets the eye. Don't worry, I have hand-picked the most suitable belts for various types of work or occasions. In addition to the review, you can head over to the "Buying Guide" to learn how to choose the right belt for you.
Top 12 Work Belt Reviews
1. Dickies 11DI02F9 Men's Work Belt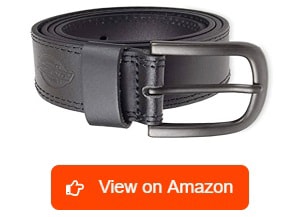 Sturdy and dependable, this Dickies work belt is built to last long. Despite clipping a flashlight, radio, and a holster for my phone, the strap never droops. It stays in place and retains its shape. From what I see, it can hold up to any kind of job that is rough on your clothing, which speaks volumes about the brand's craftsmanship.
Another reason to like this black work belt is its simple yet fancy design that can go well with uniforms and casual attire. For those who hate screaming logos on garments, I have good news for you! The brand's identity is subtly embossed and placed near the buckle so you can hide it easily when you tuck the strap. Thus, I look nice and sharp in my work outfit throughout the day.
At first, I struggled to put the excess strap into the loop on my pants because the belt was so stiff. I can even feel its rigidity around my waist for some time but it does not bother me. It took a couple of days before it broke in. After that, it became a lot softer and more comfortable. It almost feels like I'm not wearing a belt.
What We Like
Sturdy enough to hold a couple of items
Suitable for jobs that are rough on your clothing
Goes well with any uniform or casual outfit
The logo can be hidden
Softens after broken in
Crafted by a brand known for workwear, this belt has the strength that can hold your pants, phone, flashlight, and other items you may need at work. Its design makes it easy to pair up with
any type of pants
.
2. Carhartt CH-22601-00 Signature Casual Belt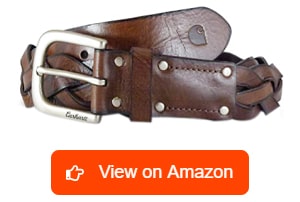 Carhartt work belts have become many workers' fashion staples, be it on and off duty. This particular model, however, is reversible. You get to choose: brown in the front or black on the back. As for me, I don't have to buy another color of the same belt. Both colors are neutral so I can wear any denim, slacks, or work pants, and the color compliments the outfit nicely.
Anyway, my whole intention of getting this belt has a full-grain leather strap, which lasts longer than genuine leather. Besides enduring the daily wear and tear, this belt is comfortable enough to allow me to move without feeling restricted. Moreover, it has a nice metal loop right on the buckle to hold the excess strap. It's a nice touch knowing that others have this type of loop but it usually moves a lot and releases the strap.
Note that the size of the belts seems to run large. It's best to do your homework and measure your waist properly then check the manufacturer's size guide. I would advise you against following this strictly because I ended up getting the wrong one. If you get the chance to visit the shop, then that would be ideal. Otherwise, read the online shop's return and exchange policies to prevent any hassle.
What We Like
Perfect for work and any occasion
Features two-color reversible design
Made of durable full-grain leather
Fits comfortably around the waist
Has a metal belt loop attached to the buckle
Hands down, this one has the makings of a fine-looking professional belt. With the reversible design, no one would even notice that you've worn it twice or thrice in a row if you switch colors.
3. JASGOOD Men's Nylon Canvas Tactical Belt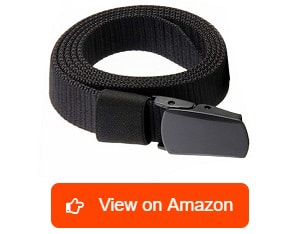 When I got this belt, I did not expect that the manufacturer would include an extra buckle. This thoughtful gesture won me over in an instant. But I know that it is also partly because the lifespan of plastic buckles is shorter than metals by nature. To be fair, I still have not replaced the original buckle attached to the strap. Plus, it eliminates the hassle of my belt each time I pass through the metal detectors.
In case you need to replace the buckle, I promise you that it's not going to be difficult. Furthermore, the user-friendly design allows me to easily fasten or loosen up the strap. I don't need to find holes just to get the right fit. Indeed, they are perfect for anyone who needs to dress up quickly and respond to emergencies. Whether I'm at the office or doing fieldwork, the water-resistant belt is comfortable yet rigid enough for any tough job.
Truth be told: I can't find anything wrong with this tactical belt, except for the fact that the buckle is made of plastic. While the material is considerably durable, it does feel a little cheap. I would certainly not wear this to semi-formal occasions. For casual get-togethers, it's not an issue. Given that this belt is available in eleven styles and colors, I certainly wouldn't mind buying a couple more because it's affordable.
What We Like
Comes with an extra buckle
Easy to replace the buckle
Allows you to wearer and remove quickly
The strap is rigid yet comfortable
Appropriate for indoors and outdoors
What We Don't Like
The plastic buckle feels cheap
Recommended for those who work outdoors, the belt's water-resistant strap and plastic buckle let you hassle-free move while keeping your pants in place. At an affordable price, you get an extra buckle!
4. Timberland PRO BP0001/0832 Boot Leather Belt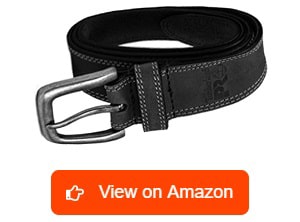 Just like the brand's signature work boots, this belt is made with full-grain leather. In other words, it outperforms any other type of leather in both longevity and rigidity. I can clip on any pouch and fill it up with tools and I guarantee you that the strap won't sag along with my pants. As such, it frees up my hands and I don't have to constantly pull up my pants or re-tuck my shirt as it keeps my clothes in place.
Apart from scoring high in functionality, the no-frills design can blend with uniforms or everyday attire. Available in black and white, the manufacturer also offers plus-size options. When it comes to comfort, the length belt goes around my waist nicely without too much excess strap. On the other hand, the width does not dig into my stomach when I'm sitting or crouching.
What I don't like about this belt is that the dye stained my khaki pants. Good thing the laundry machine managed to get rid of this the first time I washed them. Since then, I started wearing this belt with dark-colored garments. Eventually, the dye stopped coming off and transferring to the fabric of my trousers.
What We Like
Outperforms other types of leather
Allows you to attach pouches
Blends with any uniform and everyday outfit
Available in plus sizes
Feels comfortable even when you sit or crouch
Keeps your pants and shirt in place
What We Don't Like
Prone to staining light-colored fabric
Designed for hard-working individuals, Timberland's men's heavy-duty leather belts can outlive your regular fashion belt. Its rigid strap ensures that your pants won't get dragged by your pouches. Despite that, it lets you move freely and comfortably.
5. JUKMO Tactical Belt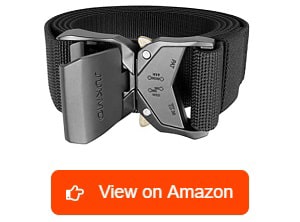 One of the most versatile belts I've ever had, this unisex tactical belt is made for long hours of physically demanding jobs. Accurate adjustment is possible thanks to the alloy buckle. All I have to do is put the webbing into the buckle, pull it till it feels snug, and then press the lid to clip it in place. In total, the whole process takes a few seconds.
After I figured out the right fit, I don't have to redo it. I can just lock and unlock the belt with the buckle. When I'm in a rush, putting this belt on never slows me down. However, the best part is that the strap can stretch yet it can hold my radio, flashlight, and pouches full of tools. The belt moves with me as I squat, bend over, climb ladders, or sit.
If you don't like the typical black tactical belt, then you can choose other stylish colors like army green, coffee brown, coyote, blue, and gray. As for me, I like wearing it with my tactical pants or khakis. For those who want to give this as a gift, let me assure you that it comes in a nice box that gives the belt a premium feel. That said, I might just be nitpicking but the buckle's coating seems like it could get scratched easily.
What We Like
Can stretch and move with you
Ideal for physically demanding jobs
Lets you adjust accurately
Holds your work tools properly
Available in different attractive colors
Awesome gift idea
What We Don't Like
The buckle's coating might get scratched
Nothing has come closer to the quality and convenience that this durable belt can provide. Whether you're adjusting the fit or putting it on, you can do so in less than a minute.
6. Dickies 17DI0203 Men's Leather Double Prong Belt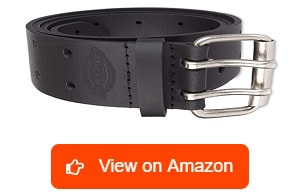 Belts with two prongs provide better grip. If that's what you need, let me introduce you to Dickie's leather working belt. No matter what I clip or attach to it, the strap does not twist or droop. Moreover, it holds my pants nicely and follows the contours of my waist. Even with two holes, the width is just right for me as it keeps the strap from cutting into my waist.
While I normally use this for work, the strap and buckle go well into my formal wear. It's a practical choice for any worker who needs to look dressy while performing a tough job. For one, the leather feels smooth with a nice matte finish. Not to mention, the color looks good on anything. For another, it is flexible enough to let me breathe when I sit but not to the point that it becomes flimsy.
The only problem that I have with this belt is that it is not built for speed. With two prongs, I guess this is something expected but since I need something that does not sag, it's just a small trade-off. Judging by the way it looks and feels, I could tell that this is one of those construction work belts that can last long.
What We Like
Has two prongs for a nicer grip
Holds pouches without twisting or sagging
Can be worn for work or formal attire
Has a beautiful matte finish
Can flex a little when you sit
What We Don't Like
Takes more time to put on the belt
If you want to dress to impress, this is the right belt for any formal gathering or client meeting. At the same time, its sturdy strap and two prongs can help you carry your pouches.
7. Columbia 11CO0310 Men's Military Web Belt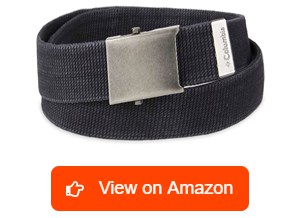 Coming from a top-notch outdoor gear brand, this military-style web belt is worn by many hikers and workers alike. Sometimes, I go for this web belt instead of the leather as it allows me to alter the fitting better. I find it perfect for that awkward phase that I have to go through when trying to lose weight. With the slide plaque buckle, adjusting the belt is a breeze.
Despite its ability to flex, the strap is wide and firm enough to hold a light pouch or a small flashlight without flopping. Besides, its width can fit the belt loops of many women's work pants. Just the same, the color options can suit any hiking, work, or casual attire.
Promising long-lasting durability, the belt can last years of frequent use. I'm impressed by how it can hold its form and rigidity. Plus, it's so easy to pack this in a suitcase when I need to travel for work or vacation. All I have to do is roll the strap and sneak it in between my clothes.
Even though it is only available in one size, the strap can be trimmed. In my case, I trimmed the excess, sealed the edges with waterproof adhesive, and placed the metal tab back. However, it is not sufficiently long for plus size. Furthermore, the material of the webbing cannot support heavyweight tool pouches.
What We Like
Allows you to trim excess strap
Highly adjustable design
Lets you clip or attach small items
Suitable for hiking, work, or casual attire
Can last years despite frequent use
What We Don't Like
Not available in plus size
Cannot support heavy tool pouches
Unlike the regular leather work belts for men, this military web belt allows you to adjust the fitting of your garments easily. Great for travelers, you can roll the cotton web strap and store them in your luggage without worrying about losing the belt's form.
8. FAIRWIN Tactical Belt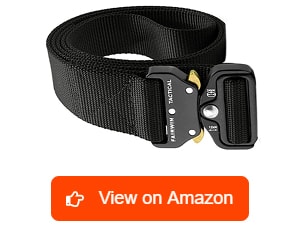 One of this tactical belt's highlights is that the strap is fully adjustable. Regardless of your body type, this belt comes in plenty of sizes to choose from. Besides the usual belt colors, this model also comes in a camouflage version. In terms of dimensions, the strap's width is both wider and thinner than most tactical belts. That said, I assure you that it can fit the belt loops on your pants. Moreover, it does not dig into the stomach.
Apart from that, I like that the nylon strap is softer and therefore takes the shape of my waist easily. In other words, I did not need to break this in when it was new. Yet it is sturdy enough to support my holster, flashlight, or multi-tool. Although it is designed primarily for police officers, firefighters, or military personnel, I think anyone who needs a belt to hang pouches on can use it.
With a quick-release buckle, this belt will help you speed things if you need to rush or if you simply find fastening single or double prong buckles too much work. However, this convenience comes at a price: The buckle's buttons are sensitive. When I sit or bend a certain way, my belly can trigger it to release.
What We Like
Available in camouflage and other colors
Fits most work pants
Does not cut into the stomach
Can hold holsters or multitools
Convenient to wear
What We Don't Like
The buckle's buttons are sensitive
Could this be the best heavy-duty belt in the market? Given that it checked all the boxes for durability, convenience, and adjustability, the answer is yes. Aside from that, clipping on your tools and gadgets will not make the strap sag.
9. Levi's 11LV0277 Men's Double Prong Casual Belt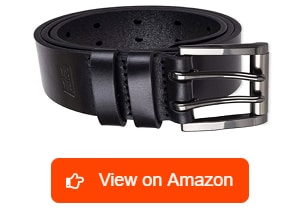 Levi's flagship product is the iconic blue jeans but the brand has also been making high-quality belts. We know their pants last long so it's only fair to expect the same from this men's work belt. Since I first bought it years ago, I'm amazed that the strap has not deformed. Meanwhile, the holes where I normally put the two prongs did not expand.
Another feature that makes this a good work belt is that the grip is impeccable. Attaching my pouches and radio will not cause any drooping around my pants' waistbands. On that note, let me add that the width of the strap fits nicely into the belt loops of all my pants.
Outside of work, I also like to wear this belt with any casual attire. The black strap and the buckle's gunmetal finish can make any outfit look a lot nicer. By the way, this particular model also comes in brown and it looks just as stunning. As far as size is concerned, it caters to diverse body types as it is available from small to extra large.
So far, the only problem I've had is that it can be quite a handful to fasten the strap, especially for those who have arthritic hands. But that's a common issue with this type of belt. Considering longevity, I'm convinced that this is well worth the money I spent.
What We Like
Can retain the shape and quality for years
Strong enough to support pouches
Goes well with work and casual attire
Available in different sizes
The strap can fit most belt loops
What We Don't Like
Fastening the belt can be a handful
As one of the most heavy-duty leather work belts, its rigidity ensures that it can hold its form even if you keep hanging your pouches. Not to mention, the gorgeous strap and buckle's gunmetal finish make for a great fashion accessory.
10. FAIRWIN Elastic Braided Belt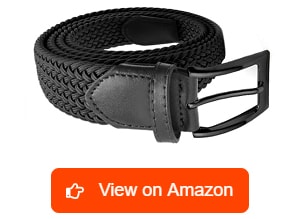 Inexpensive yet fashionable, this woven golfer-style belt is something that I like to wear to the office or dinners with a client. Looking at it, the elegant weave can instantly make a plain outfit look a little more stylish yet it does not grab too much attention. Although advertised for men, the design can look nice with a woman's outfit.
The belt's adjustability is spot-on since I can poke the buckle's prong at any part of the woven strap to fasten the belt securely. What's more, the weave is well-made so it does not get too loose or untangled when I insert the prong on the same area several times. It can maintain its form for many years. Even if my weight fluctuates after meals, the belt can hold my pants firmly.
Despite being advertised as an elastic belt, I find it quite rigid. Maybe I should give it more time to break in. At any rate, I'm not too bothered by it. The strap is sufficiently long so I can always find an opening to insert the prong. For a budget-friendly product, I still think that the overall quality is superior. It comes in seven different color options so I don't have to be stuck with black or brown. I can buy two or three colors to alternate each day.
What We Like
Budget-friendly stylish belt
Has excellent adjustability
The strap's weave is sturdy
Holds the pants firmly around your waist
Provides different color options
What We Don't Like
The strap does not stretch
For office work and client meetings, you can pair this sturdy belt with any type of garment and dress up for success. Moreover, its high-quality woven strap enables you to adjust the fitting of your shorts or pants easily.
11. Logical Leather 30WB-BK Men's Work Belt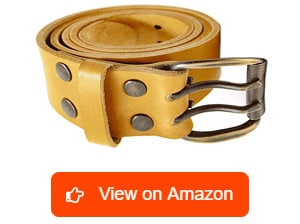 With heavy-duty leather work belts as its claim to fame, Logical Leather is a brand that has kept true to its promise. Believe it or not, the particular belt is said to have the durability that can last a lifetime, according to the manufacturer. Undeterred by the weight of all the pouches I attached to the strap, the full-grain leather does not skew or sag. For years, the belt has kept its shape.
It is also worth noting that the belt's strength comes from the fact that it has a double prong buckle for a strong grip. At the same time, it flaunts a beautiful vintage finish. Meanwhile, the wide strap not only contributes to the belt's superb functionality but also the texture and color make it pleasing to the eyes. The logo is discreetly embossed on the strap so I don't have to hide it. That's why I love wearing this even with formal attire.
When I opened the packaging, the belt emitted a strong odor. While I know that this full-grain leather has a smell, I did not expect it to linger for weeks. I guess that's a good sign as it goes to show that it was made in a tannery. Moreover, I find it very easy to clean and maintain. Perhaps I'm exaggerating but I would not be surprised if this belt outlives every piece of clothing I own.
What We Like
Made of heavy-duty full-grain leather
Can hold pouches without sagging
Suitable for work or formal attire
Keeps its original form for years
Easy to clean and maintain
What We Don't Like
Emits a strong smell when new
Well, this is easily every worker's favorite men's heavy-duty belts that can endure the test of time. More than just a strap of leather that holds your tools and pants, its handsome aesthetic can jazz up our outfit.
12. Jumbofit Tactical Belt for Men and Women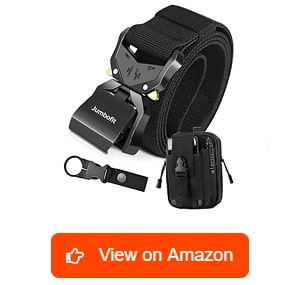 Offering a belt, a water canteen holder, and a pouch in a single purchase, this set is a great gift idea for your friend or yourself. Considering the budget-friendly price, I know it may seem too good to be true but I reassure you that the quality of each item is outstanding.
The pouch has plenty of room for my tools. I can even squeeze in a small pack of snacks when I'm hiking. On the other hand, the bottle holder can support more than a liter of water and that's impressive.
Given that the two items in the set are both durable, then it's only reasonable to expect that the belt has the same quality. In particular, I love how it can stretch but also sticks on my waist while bearing the weight of the water bottle and pouch. Despite that, the stitching on the nylon has not shown any sign of wear and tear. Plus, the strap itself is long so it can fit diverse body types.
Perhaps the only catch is that the buckle gets scratched easily. Of course, this does not affect the quick-release mechanism itself. After all, the alloy is a tough material and it won't get dented. However, the scuff marks can make you look as if you're wearing an old belt.
What We Like
Comes with a water bottle holder and pouch
The belt can support heavy items
Made of stretchable nylon
Accommodates diverse body types
Has quick-release buckle
What We Don't Like
The alloy gets easily scuffed
Thanks to its durable and multi-functional design, you can wear this belt to camping or work. As it comes with a water bottle holder and pouch, you get so much more out of what you paid for!
What Is a Work Belt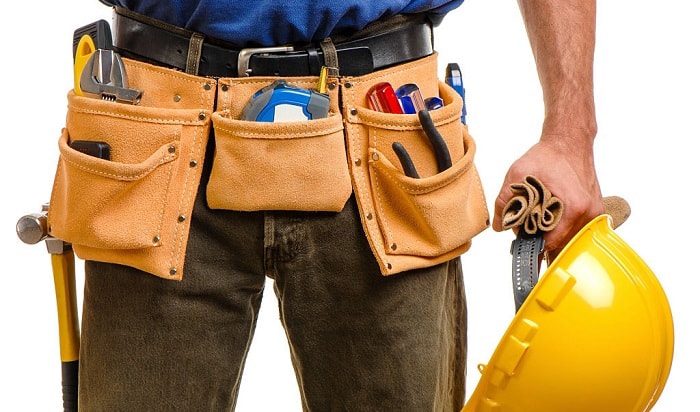 If you search the word "belt" in a dictionary or online, you will most likely find the word's meaning is defined by its main function: A strap that securely holds a piece of clothing. You can wear a belt to tighten the fitting of your pants, shorts, skirts, and even dresses.
In the context of work, belts can hold multiple pouches full of tools so you can carry them as you climb the ladder or you walk around a job site or workshop. For security or military personnel, the belts can hold gun holsters.
How Does It Work
Thanks to their intuitive designs, we can all wear any type of belt without reading the instruction manuals. Generally speaking, belts have buckles or clasps that hold the two ends of the strap. In effect, it helps us adjust the fitting of our clothing better. That said, each type of material or design serves specific purposes.
By way of example, those who need to access their tools and gadgets quickly will need sturdier quality belts to prevent sagging. In this scenario, you need something thick and rigid enough to hold the heavy pouch. At the same time, the width should not cut into your waist to allow you to move freely.
On the other hand, if you need to wear a belt as a piece of fashion accessory, you will not need these kinds of features.
Types of Work Belts
These days, you will find different belt designs across the market. For this article, I will only include the ones that you can use for work:
Leather belts
Nylon belts
Quick-release tactical belts
Woven belts
Double-prong belts
Why Do You Need Work Belts
The reasons for wearing work belts can vary from person to person. Like most fashion accessories, they can help accentuate your waist. The strap of leather or nylon and fine-looking buckle can be a good addition to the overall attire that you wear for meetings, conferences, or formal gatherings.
On a regular workday, the belt can help you carry all the tools you need to complete a job. This leaves your hands free to hold on to a ladder, to bring bigger items, as well as build or fix something.
By nature, our weight fluctuates throughout the day or week and our pants can't always keep up. If you lost some weight but don't want to give away your favorite trousers, your belt will come to the rescue.
Buying Guide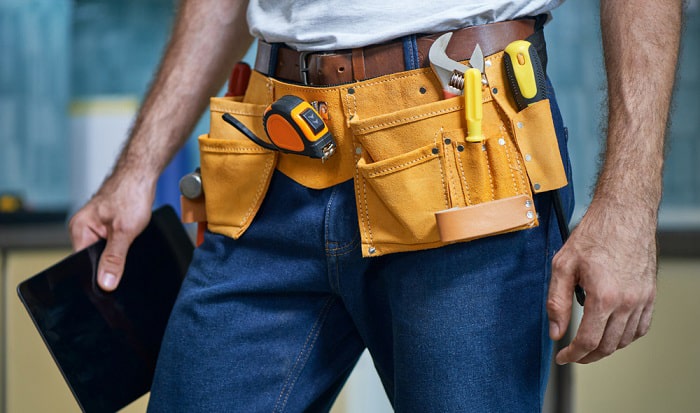 We all wear belts for different reasons. Some of us want to feel a little bit more confident while others need to carry their tools. Rest assured, they are all perfectly valid and understandable. Now that we have gone through all the pros and cons of each belt in the review, let's talk about the other considerations. After all, we often think beyond straps and buckles.
Longevity is always a consideration when buying clothes or accessories for work, especially when we rely on them to perform our day-to-day tasks. Hence, you need a dependable belt that can last long so you can save money from buying new ones again and again. Besides thinking long term, you also need a rigid heavy-duty belt that will not sag once you start attaching pouches filled with assorted tools.
Imagine working for long hours and feeling a pinch around the waist. Regardless of your job, comfort is necessary. Focusing on the task at hand can be hard if you have to deal with discomfort. Besides the material, you need to check whether the belt's design allows you to "customize" the fitting down to the tee. Of course, that is not to say that you should ditch your leather belts altogether! Whatever style or design you choose, you need to try the belt first to see if the length matches your waist and the width will not cause the belt to dig into your tummy.
Many designers have come up with belts that meet the need for style and function. However, this does not come without compromise either in quality or price. Knowing where and when you intend to wear your belt will help you make better choices. When you're in a business meeting, you do not need thick, rigid belts since you will not be showing off your tools. If you need to spend an entire day at the workshop or a job site, then you need to equip yourself with your trusty work belt.
You'll find many do's and don'ts from fashion magazines that contradict each other. Often, the guidelines are based on someone's taste. At the end of the day, these so-called rules are not the end all be all. My advice is to choose something that makes you feel confident and comfortable. Right now, you can find different styles, materials, and colors to match your uniform or any casual outfit.
Do you work outdoors often? Gardeners, first responders, and people who are frequently exposed to the elements need belts that can hold up extreme weather conditions. A durable leather belt, for instance, can eventually deteriorate when it constantly gets wet. That's why workers who stay outside most of the time resort to spraying waterproofing agents on their belts.
Care and Maintenance
For nylon, cotton, or canvas belts, you can let your washing machine take care of the "dirty business." Just don't forget to hang them dry.
On the other hand, a leather work belt will require proper methods but it starts with getting the correct size. If the belt is too long for your size, it will crease, and if it's too short, it will rip. If your work exposes you to dirt, make it a point to wipe the superficial dirt off the leather regularly with a moist paper towel.
It's always good to have a leather conditioner at home. Besides the belt, you can apply it to boots and other leather goods. Manufacturers have specific instructions on how to use the leather conditioner they crafted. Be sure to read them carefully. In general, you would need a rag to help you work the conditioner through the leather.
Another tip is to alternate two leather belts if you have to wear one daily. Avoid keeping your belts on your pants when you hang them on a rack after work. Doing so will deform the material.
Frequently Asked Questions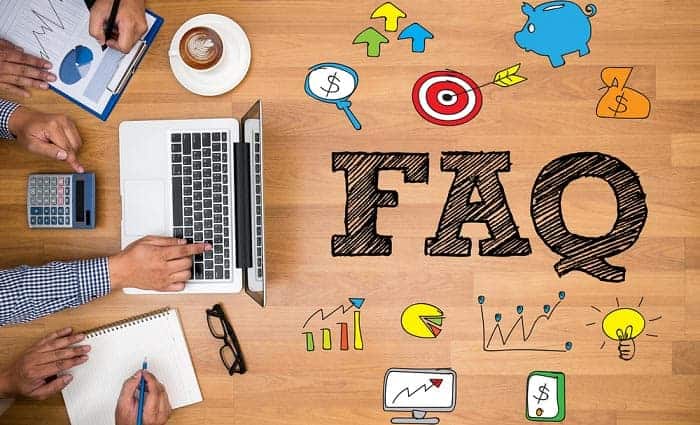 What are the most trusted work belts brands?
Most hiking, industrial, and tactical garment brands also manufacture belts of any kind like Dickies, Carhartt, Timberland, Columbia, Levi's. Some specialize in producing leather goods like Logical Leather. Meanwhile, JASGOOD, Jukmo, FAIRWIN, and Jumbofit remain high on my list because of their quality tactical belts.
What size work belt should I buy?
The size of your belt is not the same as your pants. That layer of denim on your waist will add an inch or two so you adjust accordingly. As a rule of thumb, add two inches to your trouser sizes. By way of example, your belt size will be 34 if your pants are size 32. For low-waist pants, manufacturers recommend adding three inches to determine your belt size.
How much should a good work belt cost?
The prices of belts can go from a few dollars to more than a grand. Either way, we ask ourselves, "Are they worth it?" This question always haunts us as we look through various designs in different shops. Affordability is often subjective. Rather than judging the product based on the price tag, check the quality of the belt you are eyeing.
How can I make my short work belt longer?
So a colleague gifted you a leather belt for work but it's a tad too short. Perhaps your size was not available but you bought the work belt anyway because you love the way it looks. Well, it's not the end of the world! You can buy ready-made belt extenders or make your own. My suggestion is to check out DIY blogs to learn about the different ways to make a belt extender!
Conclusion
By this time, you probably already realize that buying a work belt is not just about making sure that it fits. Of course, that's just one way to go about it but you also have to consider job requirements such as following dress codes or adding extra pouches. Above all, you need to feel comfortable.
Good work belts are not hard to find. In this article, I've gathered twelve of the best work belts in the market but feel free to explore other brands and designs. I'm sure that you'll find all sorts of suggestions from different blogs and forums like Reddit. Ultimately, you need to decide based on what is useful and comfortable for you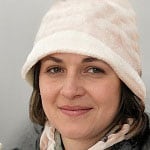 Veronica is our content editor. She is a talent in delivery. Her main work is editing and writing articles that are both informative and simple to follow. She is in charge of synthesizing our understanding of what personal protection equipment (PPE) is needed in each job, how to best apply it, and how to visualize that equipment.