Framers are some of the most crucial parts of a construction project. They are solely responsible for laying the foundations of an upcoming building. It's a dangerous job as establishing the skeletal work means reaching high places without solid footing. Finding the best work boots for framing is a must for those in this line of work.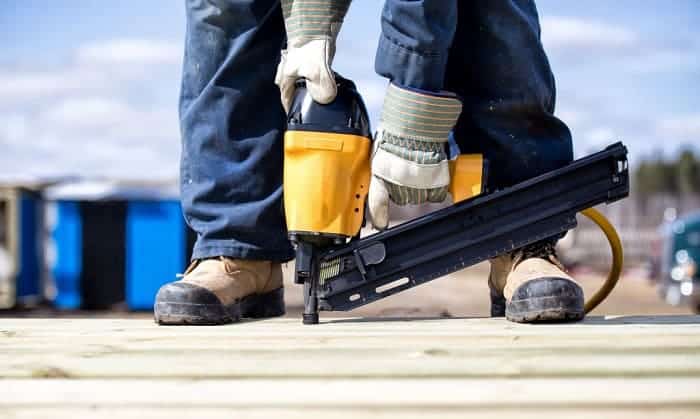 As such, construction regulatory administrations require all framers to wear a set of framing boots. These framing boots are slip-resistant and durable. At the same time, these boots must be comfortable to wear as those using it will spend hours in them.
The market is flooded with various models and all we need to do is choose the most suitable one. However, some of them offer more protection and comfort at the right price. Here are some of the best work boots for carpenters and framers we've found.

Best Work Boot for Framing

Reviews of 2023
1. KEEN Utility Men's Work Boot
KEEN Utility is one of the tried and tested brands providing work boots and other durable footwear. It shouldn't be surprising that they have one of the best work boots for framers. Among those, the San Jose Work Boot is a must for any worker.
The boots are made of 100% leather, making them highly durable for use in various weather conditions. Also, they feature leather lining, making it breathable to wear for extended hours without feeling any strain.
Measuring mid-calf from the arch, this shoe shaft serves both protection and comfort purposes. Wearing these will offer a comfortable feel of wearing casual shoes. As it comes with alloy toes, carpenters don't have to worry too much about suffering major injuries from falling materials.
One of the best features of these work boots are the rubber soles, ensuring that wearers won't slip on the surfaces they walk on. It's a must for those who are working in areas usually affected by rain.
As an added bonus, the KEEN Utility men's San Jose alloy toe wedge work boot comes with a removable metatomical footbed.
For starters, since the boots are made of solid leather, it may take some time to get used to wearing them. Owners may want to walk in these boots for a few minutes or so to wear out the size first.
What We Like
Durable leather boots for use in various weather conditions
Breathable design for comfortable wear for long hours
Size measures and fits all from arch to heel
Alloy toes offer great protection from falling tools and other obstructions
Rubber soles for slip-resistant work boots
Removable footbed allows wearers to feel more comfortable.
What We Don't Like
Initially feels a bit tough to wear and takes time to get used to.
The KEEN Utility men's San Jose alloy toe wedge work boot is one of the best in terms of durability, comfort, and safety. The boots pass safety standards, making them feasible for various working environments.
2. Golden Fox Work Boot for Construction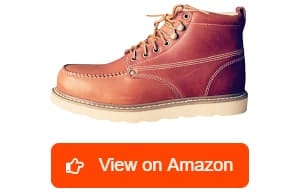 If we're talking about low-priced work boots that are perfect for framing, Golden Fox's work boots are the perfect choice. It is one of the budget-friendly options out there. Still, this work boot will keep the wearer safe for a very long time.
Like other work boots, they are tough to wear for a few days or so. These soften over time thus making them more comfortable to wear after months of being used. The leather used in making the shoes make it a perfect fit. Moreover, the type of leather used makes the boots lightweight and durable.
In terms of traction, the boots have a tread pattern on its wedge. This allows construction workers to walk freely wherever they are. This feature is a must for framers, roofers, carpenters, and others who work in high environments. It basically prevents them from tipping over small bumps and rivets on the floor.
Furthermore, its rubber outsole can resist oil and chemical erosion. Those in the line of construction will find themselves dealing with materials that can cause damage. Having a work boot that can protect and sustain is certainly a must.
For those that work with extended hours, these work boots are the best option. It is equipped with an anti-fatigue and comfortable polyurethane cushion insole. Plus, it comes with a heel cushion lining, supporting the lower back, down to the legs for heavy duty work.
Lastly, the insulate mesh lining keeps the wearer comfortable during the cold and hot days. The shaft of these boots measures approximately 6 inches from the arch. The lining in the shaft also helps the boot keep its shape as compared to unlined boots.
Beyond that, its leather coat can get tattered over time through exposure. However, if owners know how to take care of such work boots properly, this won't pose a major problem.
What We Like
Low-priced and quality work boots
Polyurethane cushion insole for comfortable wear
Shock-absorbing heel cushion to support the lower back and legs
Insulated mesh lining for wear on cold and hot days
Shaft lining for better boot shape maintenance
What We Don't Like
Leather coating could get tattered over time.
In hindsight, the Golden Fox Work Boot is an entrypoint option for new personnel in the industry. Despite its low price, the shoes are able to compete against bigger names in the market.
3. Irish Setter Men's 838 Wingshooter Boot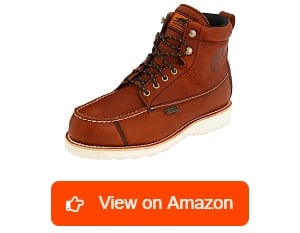 It's impossible to predict the weather conditions on a certain day. This is why framers and construction personnel must always be prepared to work in wet conditions. For areas where rain is more than common, Irish Setter Men's 838 Wingshooter Boot is a perfect choice.
Cleaning this pair is effortless. After use, you can comfortably wipe or spray the dirt away with lukewarm water. After that, it's best to let the boot naturally dry. In my experience, this is one of the lowest maintenance boots I've found.
This is a water resistant and highly durable moc-toe pair. In detail, the boot features an UltraDry waterproofing technology. This ensures not only the durability of the boot but also the safety of the user. Since the boot is dry all around, users can avoid slipping on wet surfaces.
Besides the full-leather outer cover, the moisture-wicking nylon linings also keep me comfortable. As the linings stayed dry within the day, I am less prone to getting rashes on my ankles. Even when I wear low-cut socks, I'd feel comfortable all throughout my working hours.
The insides of the boot is equipped with a shock-absorbing EVA footbed which allows maximum stability, durability, and comfort.
Due to its waterproofing technology and high-quality leather, the boot does get hot at times. During really hot weather, users may feel a bit of stuffiness on their feet. The good news is that this issue can be remedied by removing the boot for a bit and letting the feet breathe.
What We Like
Easy to clean with lukewarm water
Water resistant inside-out – meaning its more durable than other work boots
Nylon lining helps prevent rashes and chafing
Shock absorbing footbed maximizes stability, durability, and comfort
What We Don't Like
Material could cause hot and stuffy feeling on hot days
The Irish Setter Men's 838 Wingshoot boots are the perfect apparel for those working in humid and rainy areas. It's also the perfect pair of boots to wear for those who love hiking outdoors as this is very easy to clean.
4. Thorogood Men's Toe Boot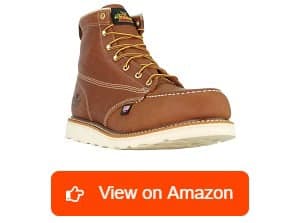 A reliable pick at the mid-price range is Thorogood men's MAXwear Wedge non-safety toe boot. It offers the same quality as those in the highest prices, despite being mid-ranged in price.
These work boots are made of 100% leather for a smooth and durable finish. It's also one of the more stylish ankle-length options coming with a moccasin toe and a rough leather coating.
The insole has a removable dual density ultimate shock absorption footbed for added comfort. For me, the pair makes working for days on end more bearable as it reduces the strain on my foot and lower back.
The boots are also perfect for various foot sizes and shapes. Those with feet wide up front and narrow heels might find standard work boots uncomfortable to wear. The Thorogood boots is different as the soft insides make it fit easily.
Users have also commented that the shoes are very stable. The thick soles may seem like an odd choice for a work boot. But, surprisingly, this pair is among the more stable work boots out there. Other than being anti-slip, the boots also allow workers to walk around without worrying about tripping over.
On the other hand, the soles of the boots are prone to delamination. Users may want to store these boots, after each use, properly. This ensures that the soles are protected for a very long time.
What We Like
Made of 100% leather – durable and stylish
Removable footbed adds extra comfort for users who work extended hours
Boots come in an array of sizes to cater to all sizes of feet
Thick soles result in added balance with slip-resistance
What We Don't Like
The soles of the boots can delaminate over time.
Thorogood Men's MAXwear maximizes the buyer's money by incorporating quality, design, and comfort in one package. It does have a flaw but it can be remediated with proper maintenance.
5. Timberland Pit Boss Steel-Toe
When it comes to leather and work boots, Timberland is one of the most trusted names. Users are sure to get their money's worth with their products. Currently, one of the best they have for framers is the PRO Men's Pit Boss Steel-Toe boots.
The Pit Boss is lined with a steel toe on the insides. This has ANSI safety standards meaning users will be protected from various work hazards when using the boot.
While some steel-toe boots feel tight, Timberland Pit-Boss offers a lot of toe room. The added toe room made it easier for me to work long days. Tight steel-toe boots often give me foot pain after an extended working day.
Notably, the Pit Boss offers one of the best tractions for a work boot. The soles of the shoes can protect wearers from slip and electronic hazards in the workplace. There's enough traction in the sole to keep me stable even when walking on wet tiled surfaces.
All this might make the work boot seem tough to wear. However, Timberland fixes comfort issues by adding a removable sock liner. This can help prevent chaffing on the feet. Even if the work boots are new, farmers are unlikely to get rashes or blisters on their feet when they work the whole day.
On other hand, Timberland work boots are known for being on the heavy side. At the offset, it took me some time getting used to the weight and feel of the shoes. After a while, however, it felt natural to use.
What We Like
Steel-toe offers maximum protection from falling objects
Extra toe room prevents foot pain even on long days
Sole design adds great protection against slip and electrical hazard
Sock liner adds extra comfort
What We Don't Like
The work boots are on the heavy side
As expected, Timberland offers one of the best work boots in terms of durability, comfort, and protection. It is on the pricey side so it's best to save up for this well-worth it work boot.
6. Keen Utility Construction Shoe
Women in the construction and framing field need protection of their own as well. In that light, I believe that one of the best options is Keen Utility Woman's Canby construction shoe. As one of the top choices, this boot is stylish, comfortable, durable, and reasonably priced.
This work boot is specifically made with women's feet in mind. As masters of the craft, Keen Utility makes the internal mechanism of the shoe properly shaped for women. There's fantastic arch support for the contour of feet. This makes the shoes comfortable to wear 24/7.
Keen Utility also makes sure that the shoes can offer great protection. The manufacturers added asymmetrical toe protection, allowing the work boot to protect the right and left toes from end-to-end fully.
There's also a toe box that's larger than usual. It helps the feet breathe more, thanks to the large room. Of course, this is a crucial feature to ensure that the wearer stays comfortable throughout the day. As per some testimonies, the added toe room also helped regulate the heat within the work boot.
We all know how bothersome foot odor can be, especially at the end of the workday. Keen Utility Women's Canby solves this problem with the Cleansport nxt technology. This allows wearers to take off their shoes confidently at the end of the day.
Some wearers have an issue with the size and weight of this work boot. According to them, the boots are hard to store and carry around due to its clunkiness.
What We Like
Perfectly designed soles to compliment women feet contours
Fantastic arch support for long-hour wear
Excellent toe protection from end-to-end
Large toe box provides breathing space for feet
Provides excellent natural odor protection
What We Don't Like
Large and heavy; makes it hard to store
Women looking for construction boots may want to consider Keen UtilityWomen's Canby. The shoe is tailor-made to let women be comfortable in the workplace. Not only do the shoes offer maximum comfort, but it also comes at a low price.
7. Suadex Steel Toe Shoes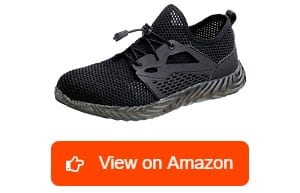 When thinking about work boots, people often associate it with large leather boots. Sometimes, it's awkward to take these out for a date night or even just a casual stroll. For those looking for work boots that are stylish for both work and off-work appointments, then the Suadex Indestructible Steel Toe Shoes are a must.
Despite looking different from other work boots, the Suadex Steel Toe Shoes offer a great deal of protection. It is equipped with a widened steel toe that has passed European Standard Testing. In truth, the work boots can resist as much as 220 joules of impact, which is more than enough.
I've always worried about my visibility when walking at night. Luckily, these Suadex Steel Toe boots are lined with a reflective strip that can alert others about your location. Also, wearers can assure their safety when wearing these boots late at night. This is one of the unique features of this Suadex work boot.
The design of the boots isn't just about style. The work shoe's upper cover is made out of a hollow mesh. This allows the feet to breathe well, even in warm weather. For framers, such a feature is a must, especially if they plan to work over extended periods. It is unlikely to feel strain and feet irritation when using this work boot.
Furthermore, these work boots are highly bendable. The soles are lined with soft material, allowing the boots to bend extensively. This is a great feature to have as it lets me comfortably reach and walk around the project I currently work on. This feature also makes the work boot viable with other activities such as running and hiking.
This is one of the cheap work boot options out on the market. That being said, the boots might last shorter than expected if it's used for heavy-duty work.
What We Like
Widened steel toe offers protection for up to 220j impact
Reflective strip helps in visibility at night
Soft mesh cover helps the feet breathe freely
Bendable structure makes the work boot viable for many tasks
Among the affordable options of framing boots
What We Don't Like
Not an ideal option for heavy-duty tasks
The Suadex Indestructible Steel Toe Boots are a great budget-friendly option. The shoes can last longer if owners know how to properly take care of it.
8. Golden Fox Work Chukka Boot
The Golden Fox Men Heritage Chukka Work Boot is made based on the work shoes that have been worn by various workers in the construction industry. As such, framers can only expect the best from it.
What secure the boots in place are nickel eyelets. It also ensures that boots are a snug fit at all times, even if the wearer is moving around extensively.
I've long had back and leg issues because of my line of work. However, this work boot can help me work comfortably throughout the day. That's because it's equipped with a heavy-duty sole featuring shock absorption.
For added comfort, Golden Fox equips the shoes with micro air bubbles in the outsole. This makes the shoes cool and breezy even during hot days at work. Wearers can take extended work periods without feeling a ton of pressure on their feet due to the temp regulation that the bubbles bring.
To protect the feet, the insole of this boot is lined with a cushion pillow for the arch. Such a feature, along with soft pigskin lining, makes the boot convenient to wear.
Notably, these shoes for framing are made of a strong full-grain upper leather. This protects the shoes from various liquids and materials that might be present in the workplace. Of course, the material makes the work boot fashionable enough to take out during a casual outing.
Like other Golden Fox Shoes, this one is lined with the trademark Goodyear Welt. This maximizes the work boot's durability.
On the other hand, these work boots are not steel toes. Wearers may want to be more careful when using them to prevent falling debris at the construction sites.
What We Like
Nickel eyelets for laces offers snug fit and secure lacing
Heavy-duty sole provides relief for back and leg issues
Micro air bubbles in the outsole for breathable wear in hot weather
Full leather outer material protects work boot from oil and other staining liquids
Stylish leather look for casual outings
The Goodyear Welt maximizes the work boot durability
What We Don't Like
Not equipped with steel toes
Golden Fox has a ton of great work boot options, and this is one of the best ones. What it lacks protection, it makes up for with comfort and great design.
9. Red Wing Classic Moc Shoes
Red Wing has been at the forefront of the work boot, offering the best products in the industry. One of their widely-loved models on the market now is Heritage Men's Classic Moc Shoes. It's a handsome moc-toe boot for framing that offers more than looks.
From the get-go, the boots offer a casual look, making it stand out at the framing job sites. The boot's casual look is complemented by a think outsole that offers a ton of stability and slip-resistance for framers. It's more than just a style choice as the work boots are a must for those that work under wet conditions mostly.
Moreover, the shoes are stain and perspiration resistant. I've used these work boots in warm and rainy conditions. Unlike other leather boots, these don't stain easily. In fact, all wearers need to do is wipe down the excess dirt on the outer sole. The work boots can be easily cleaned – a must for those that spend more of their days in dirt riddled roads.
On the other hand, the shoes are somewhat tough to wear as the insides feel a bit rigid at first. To comfortably enjoy the durability of this work pair, I often wear thick socks.
What We Like
Design and color are stylish enough to make the shoes look casual
Think outsole adds a lot of balance and slip-resistance for wearer
Full leather exterior is easy to clean
A water-resistant pair for framing work in rainy conditions
What We Don't Like
A bit tough to wear at first
These
boots from Red Wing
are some of the best from the mid-range price. Aside from durability, the work boots also offer versatility as it can be used on and off work.
10. SafeToe Safety Steel Toe Shoes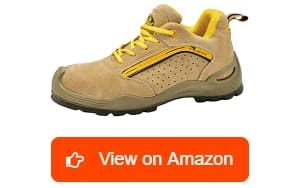 For an all-around work boot, one of the best I've found is SafeToe Men's Safety Steel Toe Shoes. Despite being one of the budget-friendly options out there, this work boot offers many great features.
The outer sole of the work boots is made with microfiber leather. Not only is the material highly durable and lightweight, but it's also great for regulating temperatures in the feet area. The fact that it's light and comfortable makes the work boot viable for long workdays.
Inside these work boots, there are shock-absorbing insoles and memory foam. This helps create a snug fit for the users. Most importantly, the cushioned insoles help ease the stress and pain from the lower back down to the legs. Those with constant pain in these areas might find the boots the perfect match for them.
In terms of protection, these boots from SafeToe have S1P ASTM-approved aluminum toe caps. Not only are the toe caps durable, but they are also flexible. Wearers won't have any issues moving around while wearing these boots.
Additionally, the soles are oil and slip-resistant, further adding to its protective capabilities. Hence, framers can confidently utilize this pair when performing on slippery platforms.
The boots are durable with enough precaution. However, heavy-duty work for months on end could result in quicker wear and tear.
What We Like
Microfiber leather outsole makes for a light and durable material
Shock-absorbing insoles and memory foam for extra comfort
Helps ease the pain from the lower back down to the legs
Aluminum toe caps protect the toes and gives it room for movement
Oil and slip-resistant soles for protection
What We Don't Like
Doesn't last as long as other more expensive brands
The SafeToe men's
safety steel toe work boots
are an excellent option for those on a budget. It's a good option as framing boots due to its amazing soles.
What is a Pair of Work Boots for Framing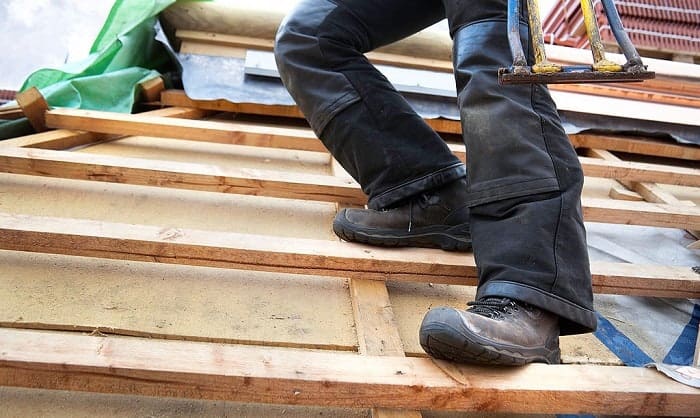 Work boots for contractors, framing or other construction work aren't the typical boots you see around. These boots have passed various safety standards to ensure that the wearer is safe from any potentially fatal workplace accidents. It is one of the reasons why those in the industry must invest in these specialty boots.
One of the standard features found in work boots for framing is steel toes. These are there to ensure that the toes of the wearer are safe from falling hazards. Small chunks of stone or even falling tools like hammers can cause severe injuries to people. These can leave them unable to work for a few days. Steel boots prevent such cases easily.
Other common features are oil and slip-resistant soles. These prevent the wearers from slipping and potentially banging their heads on the site. Manufacturers introduce various technologies to ensure that wearers are safe from slipping in the workplace. From functional patterns to rough designs, the soles are an essential part of the work boot framework.
How Does It Work
Before being made for mass production, work boots for farmers, contractors, and framers, are tested by various regulatory bodies such as the ASTM. These organizations will test key aspects of the work boot, such as keeping still on slippery floors.
Each manufacturer has its own method of making these boots durable and slip-resistant. Mostly, it boils down to how the soles are patterned and what materials are used for it.
Moreover, the steel toe covers protect the wearer by blocking any falling objects. Falling hazards are common in the workplace, so steel toes need to withstand a certain amount of impact.
To make the work boots durable for heavy-duty jobs, they are usually made with quality leather. These make the work boots oil and water-resistant as well.
Types of Work Boots for Framing
One of the standard work boots for framing is moc-toe boots. The moc in the name stands for the moccasin. These shoes have a sewn seam on the top, which usually encompasses the toe box.
On the other hand, plain toe boots are one piece of leather usually made with little to no stitching.
The shaft characterizes logger type boots. Usually, the shaft of logger type boots wraps around the ankles for added comfort and protection.
On the other hand, hiker boots are designed to look like the standard hiking shoes. While durable, these boots are also more flexible than other types of work boots for framers.
Why Do You Need Shoes for Framing
Framing is one of the initial tasks when it comes to construction. Framers are tasked with laying the foundations of a building. As such, it is one of the most critical roles in framing.
Work boots for framing are crucial as those working in this field will be walking around high-risk areas. Those in this field need to have boots that protect them from hazards and tripping over. In most cases, framers walk around in high places with little protection, so proper footwear is necessary.
Buying Guide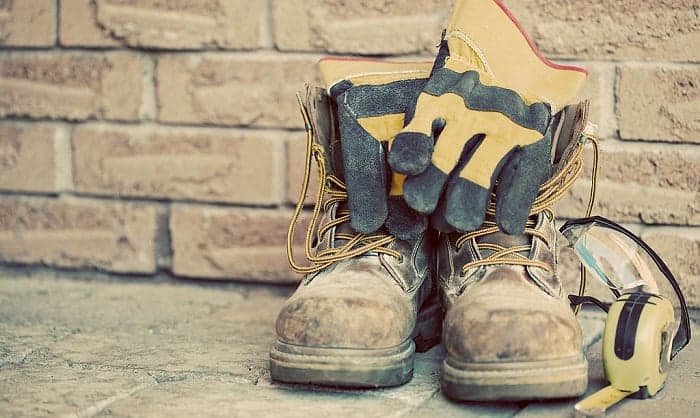 When buying work boots for framing, it's important to only rely on trusted brands. These brands include Timberland, Caterpillar, Red Wing, and Keen, among others. Aside from having the best quality, these brand's boots have already passed various safety standards.
Buyers should always look for boots that have steel or aluminum toe covers. Aluminum toe shoes are better as these not only offer protection; these also provide great flexibility for the feet. It's also a must to buy high-quality leather shoes as these are the best and most durable material for work boots.
Work boots should also properly fit. If it's too loose, wearers will put their safety at risk as they could trip over it. On the other hand, work boots that are too tight could result in blisters and irritation. It's best to buy work boots that are a size over their feet, so there's enough space for the feet to ensure comfortability.
Care and Maintenance
While work boots, in general, are made to last, they can get damaged due to overuse as well. As a general rule of thumb, owners should store their boots in a dry room temperature area. Storing it in damp places could promote the growth of mold and bacteria. It can also destroy the leather in some cases.
Frequently Asked Questions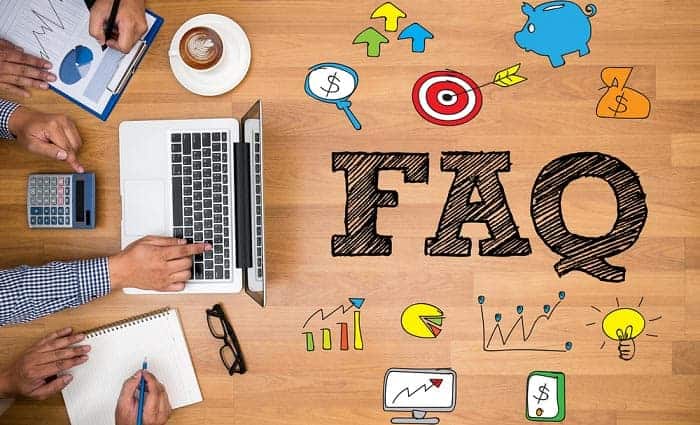 What are the most popular framing work boot brands?
When it comes to framing work boots and work boots in general, it's crucial to buy from trusted names. This ensures that the buyers are getting their money's worth. Moreover, buying shoes from the top brands guarantee quality and durable work boots. While most are expensive, the shoes from these brands are well-worth it.
At the top of the list is Timberland. The company not only creates some of the best work boots around, but they also create some fantastic casual footwear. Since being established in 1918, the company has made some great footwear for workers and those that love the outdoors.
Another famous brand is Red Wing. Red Wing boots are known to last a long time. What's great about Red Wing is that their shoes are functional and stylish at the same time.
Keen is one of the newest brands to enter the market, having entered only in 2003. Despite this, Keen has already made a name for itself in the work boots industry.
Other brands like Caterpillar, Irish Setter, and Dr. Martens are also amazing manufacturers.
How to wear it?
Wearing framing or work boots is not complicated. Most of the shoes in this field are worn with lacing instead of straps. While the process is similar to wearing any other shoe, it's important to make sure that it fits very well.
When wearing my shoes, I try to make sure that they are as snug fit as possible. There should be enough room to let my feet breathe. At the same time, there should be no loose ends. Work boots that aren't worn well could result in a workplace accident that is definitely bad for those in construction.
Where to buy?
Work boots can be bought online through retailers like Amazon, Walmart, and more. Some of the top brands in the industry also sell their boots through their online stores.
In the real world, these boots are mostly available in just about any shoe store. However, the best options can be found in stores that sell outdoor and hiking apparel too. Physical retailers like Footlocker will select framing boots on their shelves, so these boots aren't too tough to find.
Unless buyers know their size, it's best to buy from a brick and mortar store first. The perfect size is a must for work boots as it ensures safety even further.
Where to store?
It's vital to store work boots – or any shoe for that matter, in a dry and cool area. This prevents the growth of mold and ensures that the footwear stays odor-free.
Most work boots come with silica packets. Buyers should put these inside their boots after each use so that the insides stay as dry as possible. Work boots should be kept dry at all times.
Can work boots be used for other purposes?
Yes, work boots can be used for other purposes. This footwear is highly durable and slip-resistant. As such, they are perfect for outdoor activities like hiking, hunting, and farming. However, since work boots are stiff, they aren't the right shoes for sports activities.
Some work boots are also stylish enough to pass off as casual wear. Others use their work boots during a night in town or even a date.
How to clean?
It's advised to clean work boots at least once a week. Preferably, this should be done during Fridays or on days where rest days follow. This is to ensure that the boots are properly dry.
First off, it's best to just wipe off the surface with a damp cloth. Some owners prefer using a soft bristle brush to clean the outsole properly. However, it's important to do this as carefully as possible to avoid damaging the leather outside the work boots.
When cleaning the insides, it's important to take out the soft soles on the insides. These can be cleaned by simply putting it in the dryer. The rest of the insides should be wiped down with a damp cloth as well.
Once done, it's best to leave the work boots to naturally air-dry for a few days. It's better to leave the boots in an open area to avoid bacteria and mold growth.
Light disinfectants work well when cleaning work boots. In no way should bleach be used to clean the work boots as these can damage the leather.
Conclusion
Work boots act as the best companion of those in the construction industry. They're crucial to framers who work in risky sites as well. There's no doubting the value of boots that protect the toes while preventing slips and other workplace accidents.
A lot of framers and construction workers don't think about work boots much. However, investing in the Best Work Boots For Framing is a decision they can make for themselves and their safety.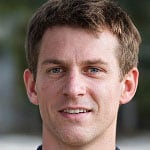 Having worked in the field of personal protective equipment for over two decades, Andrew Carnegie is a specialist in the field.
At EDC, he strives to improve performance efficiency and promote workplace safety for EDC's readers and customers. He also researches the most up-to-date equipment that has earned relevant accreditation for use in a wide range of industries and specialties.