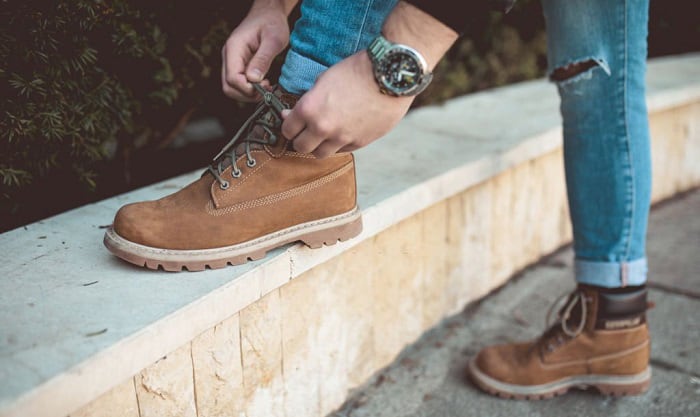 While there are plenty of ways to treat plantar fasciitis, this article will focus on providing you with all the information you need to find a good pair of plantar fasciitis work boots.
Podiatrists say that the best work boots for plantar fasciitis should be able to relieve the pain by supporting the arch and the heel. On top of that, they should also help facilitate healing. To achieve these, look for these three important features when you go shoe-shopping:
Inserts – I recommend opting for work boots with removable insoles so you can replace them with the ones prescribed to you. In most cases of plantar fasciitis, podiatrists recommend trying store-bought insoles first before opting for orthotics.
Before buying, consult your doctor to determine the correct inserts that can help address your specific case.
Shock-absorbing midsoles – Standing and walking on rough and hard concrete surfaces for long periods are part of the worker's daily grind but this also puts immense pressure on the foot ligament, causing plantar fasciitis.
The combination of shock-absorbing midsoles and supportive insoles can ease this painful foot condition.
Good fit – Tight-fitting work boots, or any shoes for that matter, can worsen the condition as they do not allow your feet to rest in their natural position. This, in turn, will put pressure on sensitive areas like the plantar fascia.
Be sure to account for the shape and length of your feet, your inserts, and socks that you would wear in different seasons.
Since plantar fasciitis is a common foot-related condition, many brands manufacture work boots and work shoes for plantar fasciitis. But, which one is good for you?
Head over to the product review to see my recommendations and scroll down to the buying guide section to learn other factors to consider.
Top 7 Work Boots for Plantar Fasciitis Reviews
1. Timberland Men's Pit Boss 6″ Steel Toe Work Boot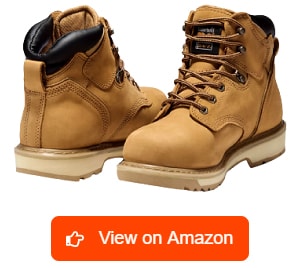 The Timberland Pro Pit Boss work boots are notable for their '24/7 Comfort System,' which helps reduce foot fatigue using cushioned footbeds with arch support.
Also, the midsoles have shock-diffusion plates to provide additional foot support. Even if I walk for over 8 hours a day, these features ease the pressure on my plantar fascia. Also, thanks to the roomy structure of these men's work boots, my wide feet have ample space to rest in their natural position.
In rough conditions, I rely on steel safety toes, electrical hazard protection, and slip-resistant soles to keep myself from getting into an accident. By the way, the safety toe caps are available in asymmetrical shapes for those who need them.
As for hygiene concerns, the breathable moisture-wicking lining ensures that my tootsies don't get drenched in sweat. With antimicrobial treatment, the boots are odor-free! Meanwhile, the uppers are made of nubuck leather. As a whole, this pair is pretty durable!
Besides, breaking them in was easier than I thought, as these boots are comfy straight out of the box. However, the collars are rubbing my ankles raw. Thankfully, I resolved this issue with a thick pair of socks.
What We Like
Shock-diffusion plates on midsoles to ease the pressure on the plantar fascia
Has ample space to let the feet rest in their natural position
The safety toe caps are available in asymmetrical shapes
Has breathable moisture-wicking lining
Comfy straight out of the box
What We Don't Like
The padded collar can rub the ankle
Based on experience, I think these are the top-rated work boots for plantar fasciitis for those who need safety features like steel toes and slip-resistant outsoles. Aside from the roomy structure, their cushioned footbeds can alleviate heel pain.
2. Merrell Men's Moab 2 Mid Waterproof Hiking Boot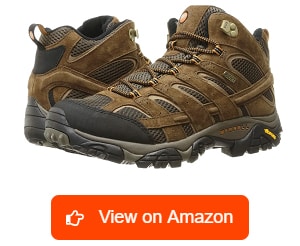 Technically, these boots are for hiking, not for working. Still, I'm including them in this review of the top work boots for plantar fasciitis as they are super comfy.
For starters, the blend of pig suede leather and breathable mesh lining not only creates ventilation to keep my feet cool in the hot climate and also makes the uppers more flexible.
On top of that, the contoured cushioned footbeds are reinforced around the heel for maximum support. That said, I'm glad that the factory insoles are removable. It lets people change them with new ones when they inevitably wear down or switch custom orthotics for high arches or flat feet without making the boots feel tight.
Both the lightweight EVA foam midsole and the Vibram rubber sole increase the footwear's stability while keeping it springy. On slippery surfaces like wet concrete, the rubber outsoles provide excellent traction to keep me surefooted. Inside them are the molded nylon arch shanks that lift some of the pressure from my feet's arches and minimize fatigue.
Altogether, the features aid me in managing plantar fasciitis symptoms, especially for those who are constantly on their feet like waiters or postal workers. Sadly, these hiking boots aren't good at repelling moisture despite having a waterproof membrane. Also, I'm annoyed that the treads on the rubber outsoles pick up small pebbles and debris.
What We Like
Pig suede leather and breathable mesh lining to keep the feet cool
Flexible uppers for comfortable wear
Lightweight EVA foam midsole and the Vibram rubber sole
Allows for switching custom orthotics for high arches or flat feet
Molded nylon arch shanks to relieve pressure
Good contraction with rubber outsoles
What We Don't Like
Not good at repelling moisture
The treads on the rubber outsoles pick up small pebbles and debris
These hiking boots could not keep my tootsies dry, but for sore feet, they have all the features to lessen the burden and soothe the pain. Best of all, the insoles are removable, which gives the wearer the option to swap with orthotics.
3. KEEN Utility Men's Pittsburgh 6″ Waterproof Steel Toe Boot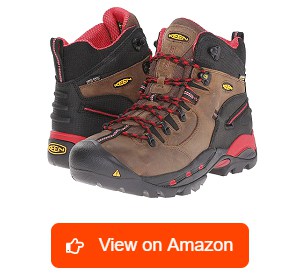 KEEN work boots are widely known for manufacturing asymmetrical safety toes for those with asymmetrical feet. However, podiatrists also suggest this brand to most of their patients with plantar fasciitis.
In my case, the full-length TPU stability plate in the midsoles keeps the pain at bay by stabilizing my heel while providing medial and lateral support.
I'm also impressed by the midsoles' shock absorption as they do a great job of minimizing foot pain. Consequently, I can still do some chores even after a long day at work. Anyway, I find these boots comfy enough for DIY tasks at home. Honestly, I don't recall breaking them in.
With ASTM-certified steel toes and electrical hazard protection, these boots are most suitable for workers in roofing, carpentry, construction, landscaping, or transportation industries. Considering that these boots have slip- and oil-resistant outsoles, I can also wear them outdoors.
During the wet season, the waterproof leather upper and breathable waterproof membrane lining keep my feet dry and sweat-free.
While I'm giving these work boots a thumbs up, I cannot say the same thing for their removable dual-density EVA footbeds. I think this is an unpopular opinion since many workers love them. It's just that, to me, they feel flat.
What We Like
Has asymmetrical safety toes
Full-length TPU stability plate in the midsoles for medial and lateral support
ASTM-certified steel toes and electrical hazard protection
Has slip- and oil-resistant outsoles
Keeps the feet dry and sweat-free
What We Don't Like
The removable dual-density EVA footbeds feel a bit flat
Besides offering excellent protection and superior traction, these steel-toe shoes are very comfy. Because it alleviates the discomfort that comes with plantar fasciitis, I could perform more tasks in a day.
4. Carhartt CMF6366 Rugged Flex 6″ Composite Toe Work Boot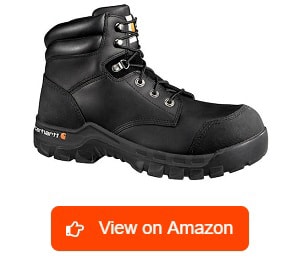 For some of us, steel-toe sneakers can feel heavy, which intensifies foot pains. In such instances, I would opt for these composite toe work boots instead. While they are not touted as boots for plantar fasciitis, the safety toe weighs much lighter than steel. Rest assured, they meet the ASTM standards for impact and compression.
Just the same, the rubber outsoles are slip- and oil-resistant, making them ideal for varying indoor and outdoor surfaces. When I climb the ladder, the soles don't bend! Even better, the boots can serve as a secondary protection against electric circuits. Hence, I'm not sacrificing protection in favor of other 'needs.'
Another reason to wear work boots like these is that they have EVA midsole and cushioned PU footbeds. Together, they provide good arch support and reliable shock absorption.
Also, the rubber toe and heel bumper can boost the footwear's stability. Indeed, this design has saved me from the pricking pain and prevented aggravating my plantar fasciitis.
Though these are not made of full-grain leather, I would say that the oil-tanned leather uppers are quite durable and flexible.
During hot summer days, the moisture-wicking lining ensures that my feet stay fresh. However, I have constantly complained about two things: They are not waterproof, and the rubber outsoles squeak a little.
What We Like
Lightweight composite toe boots meeting ASTM standard
Has oil- and slip-resistant outsoles
EVA midsole and cushioned PU footbeds for shock absorption
Prevents aggravating plantar fasciitis
Has a moisture-wicking lining to ensure that the feet stay fresh
What We Don't Like
Not waterproof
The rubber outsoles squeak a bit
When it comes to boots with composite safety toes, this pair from Carhartt is considered one of the most comfortable. In addition to the lightweight construction, the supportive work boot design stabilizes the heel and absorbs the shock in each step.
5. WOLVERINE Overpass 6″ Composite-Toe Boot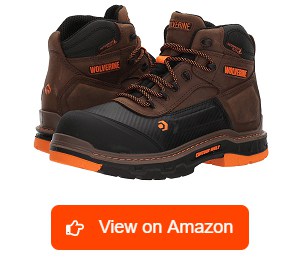 Besides the Wolverine Raider work boots, this pair from the Overpass series is also the brand's best-seller. The two models are equipped with composite safety toes that comply with ASTM.
When worn for long periods, they are generally comfy. The difference is that the Overpass is waterproof in both construction and materials while the Wolverine Raider is not.
As one of the best boots for plantar fasciitis, this particular model has PU midsoles and Ortholite cushioned footbeds, which mold to my feet. If I have these on, I would not worry too much about pain as they absorb the shock incredibly well.
What's more, the uppers are made of premium leather, which can support my ankles without hindering movement.
The manufacturer designed these work boots with lightweight rubber lug outsoles. Apart from helping me walk on slippery surfaces, they also keep the weight of each boot at a minimum. Thus, my feet don't feel sore after walking all day.
With all things considered, I think these are the best boots for warehouse workers, electricians, HVAC technicians, and plumbers.
Perhaps the only problem that I've had with these work boots is that they feel toasty when worn during summer. Even if the interiors have moisture-wicking mesh linings, my feet still sweat. Issues like this are pretty common among safety shoes made of waterproof leather or construction.
On the bright side, they feel warm during the cold season.
What We Like
Waterproof in both construction and materials
Has composite safety toes that comply with ASTM
PU midsoles and Ortholite cushioned footbeds
Leather uppers support the ankles
Lightweight rubber lug outsoles
What We Don't Like
Feels toasty when worn during summer
Thanks to their lightweight and flexible design, this pair easily became one of my top choices for work boots for plantar fasciitis. Also, the fact that they can keep my feet warm means that I won't suffer from foot pains if I wear them in the winter.
6. Skechers for Work Men's Workshire Steel Toe Boot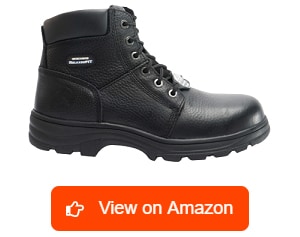 These work boots for plantar fasciitis have many features that can mitigate pain. First, they are designed with a relaxed fit. My feet are truly at ease when wearing them because their structure is wider compared to other boots. I can put on thicker socks and the boots will not feel tight.
Second, the soft memory insoles make me feel comfortable walking in them for hours. Not to mention, the midsoles can absorb the shock when I walk or run.
Also, the uppers are comfy straight out of the box. Even if I love full-grain leather, I'd give anything to skip the break-in phase as it's rough on my tootsies.
Like all the other Skechers boots, this one is affordable. I don't expect them to be made with Goodyear welt construction. The steel safety toes are strong enough to shield my feet against the impact of falling objects. For another, the design is tested and proven to be safe against electrical hazards.
Despite looking bulky, I'm surprised at how incredibly light these boots are. However, I noticed that both the slip-resistant rubber soles and the memory foam started to wear down after a year.
What We Like
Designed with a relaxed fit
Has soft memory foams and shock-absorption midsole
Affordable yet durable Goodyear welt construction
Safety toes protect against impact and electrical hazards
Lets the wearer skip the break-in phase
Incredibly light boots
What We Don't Like
The memory foam starts to wear down after a year
Knowing that it's affordable, it's only reasonable to expect that parts of these work boots will wear down soon. To be fair, they served their purpose as they helped me with my plantar fasciitis and protected my feet on the construction sites.
7. Timberland PRO Endurance 6″ Steel Toe Waterproof Work Boot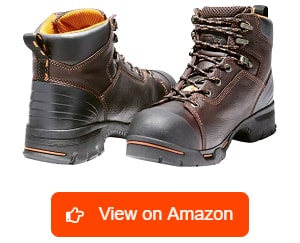 Another Timberland work boots for plantar fasciitis makes this list! After all, the brand is known for its top-notch work garments and shoes due to their comfort and durability.
This model is particularly comfy as it comes with PU footbeds called "Anti-fatigue Technology. I'm not exaggerating when I say that stepping on them feels like heaven.
While they do not treat plantar fasciitis per se, the footbeds absorb the impact. Not only do they reduce soreness around the feet but they also prevent back aches and knee pains after spending the entire day on my feet.
Meanwhile, the steel shanks in the midsoles improve the footwear's stability and support my arch besides shielding my feet against punctures.
I also like that the boots have breathable moisture-wicking linings with antimicrobial treatment to keep my feet free from sweat and odor.
Also, they keep my feet safe against electrical hazards and falling objects. For those who need asymmetrical steel safety toe caps, I'm happy to report that this brand offers them!
Last but not least, the slip-resistant outsoles are stellar as they don't wear down easily despite all the abuse that I've put these boots through. Also, it only took me a day to break them in, which is short! I just wish that they don't make a loud noise whenever I walk.
What We Like
Stepping on the PU footbeds feels like heaven
Prevents back aches and knee pains
Steel shanks in the midsoles improve the footwear's stability
Breathable moisture-wicking linings with antimicrobial treatment
Offers asymmetrical steel safety toe
Comes with slip-resistant soles
What We Don't Like
Makes a loud noise when walking
All in all, these work boots are recommended for workers with plantar fasciitis. On top of its comfy insoles, its steel toes can protect the feet from the impact of falling objects while the outsoles have aggressive treads for maximum traction!
What Are Work Boots for Plantar Fasciitis?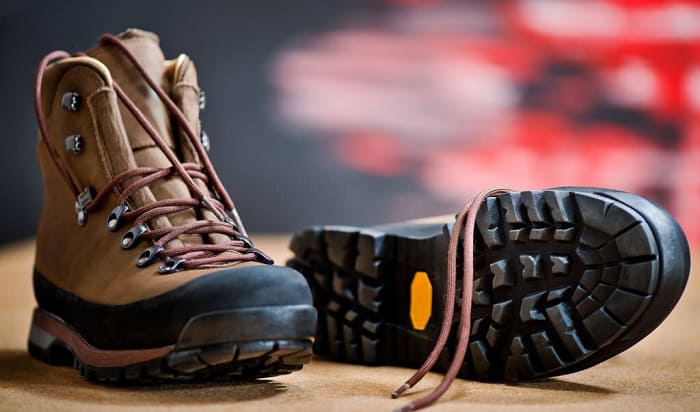 You probably won't see a shelf showcasing men's and women's work boots for plantar fasciitis in a shoe store or workwear shop. However, that does not mean that these brands don't have one!
Generally speaking, work boots are tested for workplace hazards, which include slip resistance, protection against chemicals, electrical safety, impact, and many others.
Once the work boots pass these tests, they will receive the appropriate ratings from the American Society for Testing and Materials (ASTM) or similar organizations in other countries.
That said, there are work boot designs that can accommodate the needs of workers with plantar fasciitis.
As mentioned in the introduction, these work boots typically feature removable footbeds or factory insoles that wrap around the heels and provide firm support for the arch. Apart from that, their midsoles should have ample shock absorption to reduce the pressure on the worker's feet.
Types of Work Boots for Plantar Fasciitis
Workers are not limited to specific types of work boots. At the end of the day, what matters is that the design has all the features that allow for insole replacements and help in alleviating the pain.
In any case, these are the most common styles available in the market:
Soft-toe work boots
Hiker-style boots
Why You Need Work Boots for Plantar Fasciitis
The short answer is to prevent heel pain or aggravate it.
Well-designed work boots for plantar fasciitis, or any other podiatrist-approved shoes for that matter, can give your arch and heel ample support. Furthermore, the thick midsoles are also better at absorbing the impact, which lessens the burden on your feet.
Unfortunately, people with plantar fasciitis are advised to avoid certain types of shoes. Specifically, podiatrists warn patients against "minimalist shoes" like FiveFingers from Vibrams, flats, or flip-flops.
Not only do these shoe styles have little stability around the sole, but they also lack cushioning in the heel area, thereby putting a lot of stress on the heel or plantar fascia.
Worn-out work boots are also not recommended since they no longer provide the same level of support that they used to.
Buying Guide
Comfy and supportive insoles and midsoles can make walking more bearable. Still, these two are not the only features of work boots for plantar fasciitis.
In this section, I created a list of other features that you need to consider so you can work safely and comfortably:
Comfortable boots that wear down in a month or two cannot provide the same level of ankle support they did when they were brand new.
You will notice that the cushioned footbeds and midsoles started to feel flat and hard. These factors will get your plantar fascia inflamed again.
Make sure to buy work boots manufactured by Goodyear welt construction or cement construction as they last longer. Furthermore, premium leather allows the boots to last longer yet support our feet well.
Freezing temperatures can contract tissues, and that includes your plantar fascia! As a result, the pain feels a lot worse.
Workers will wear thicker socks and insulated waterproof boots during winter anyway. However, those with plantar fasciitis need to pay special attention to the boot's insulation value, shoe size, orthotics, and the socks' thickness. Thick sock fabrics and fleece linings inside the footwear can make feel tighter than it normally would.
If you have to buy work boots for winter, don't go for your usual size and order online. Take the time to fit the boots in person. Make sure that your feet rest inside–no clumping or pinching!
Typically, loggers opt for work boots with raised heels as they need extra support around the arches and ankles when climbing uneven terrains or trekking uphill.
On flat concrete surfaces, wearing boots with wedge soles is advisable as they are more flexible and better at absorbing the impact of each step.
If you wear logger boots to walk on concrete floors, I guarantee you that it will be very uncomfortable and this may only worsen your plantar fasciitis. Studies show that the chances of developing plantar fasciitis increase when one wears high heels frequently due to the uneven distribution of weight.
As mentioned earlier, work boots need to pass certain tests for them to be considered "safe" for specific types of jobs. Many tasks will require you to wear steel-toe boots, which is one of the primary reasons why several workers suffer from plantar fasciitis.
The good news is that there is a way to avoid torturing your feet at work. For starters, manufacturers now make steel-toe boots for plantar fasciitis with a more supportive design.
Alternatively, you can also consult your safety officer and ask if you could switch to composite toe shoes as they are lighter than steel.
You can check if they meet ASTM safety standards to make sure the pair suits your current work requirements.
Budget is not a "feature" of a work boot. Yet, we often make decisions based on the product's price tag, which is why I want to talk about it.
People with plantar fasciitis, myself included, will have to pay for doctor's fees, specialized insoles, or in some cases, custom orthotics. Not to mention, we also spend money on a slew of treatments, medicine, and surgery, if the podiatrist recommends it.
With these expenses in mind, it is only natural for us to think twice about buying $300 work boots, unless we have the money to splurge. In any case, I strongly suggest checking your insurance policies to see if the costs for insoles and the work boots can be covered.
Care and Maintenance
Cleaning strategies vary depending on the upper material. Even though leather work boots are more durable, they are high maintenance.
To keep them shining and supple, you need to wash them with saddle soap and keep them hydrated with leather conditioner.
Begin the cleaning process by taking out the insoles and shoelaces, and cleaning them in your washing machine.
As for the work boot, remove all the dirt and gunk on the uppers and outsoles. Once the superficial dirt is gone, work up a lather with a small amount of saddle soap and a few drops of water. Use a clean sponge to spread the lather and reach the tight spots with an old toothbrush.
With a rag (preferably lint-free), remove the excess lather and allow your boots to air dry. Lastly, apply a leather conditioner or mink oil to keep them supple.
Meanwhile, work boots made of combined synthetic materials can be washed with mild detergent.
Don't forget the insides! Every day, spread a tablespoon of baking soda in each work boot and shake them until they cover all the surfaces.
Allow the baking soda to work its magic for 24 hours and remove them. This will not only keep your boots free from bacteria and odor.
Frequently Asked Questions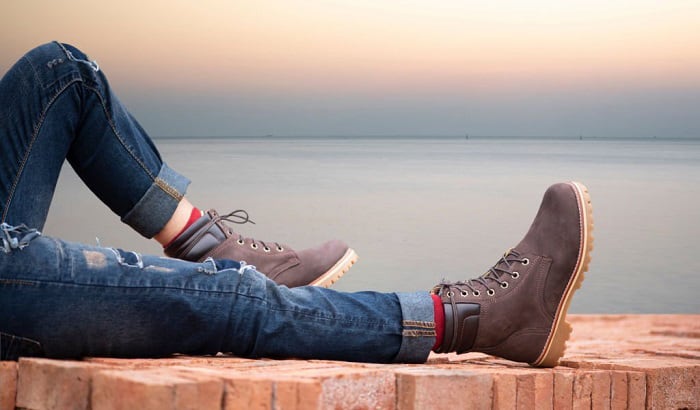 What is plantar fasciitis?
The term plantar fasciitis comes from the word plantar fascia, which is a thick ligament or a band of tissue that connects your heel bone to the front of your foot, around the base of your toes.
Workers, athletes, people with structural foot issues, or those who are overweight are at risk of developing plantar fasciitis. That's because running, walking, and standing for prolonged periods puts a lot of stress on the fascia and gets it inflamed.
Usually, the pain is felt after resting or when the person gets out of bed in the morning but it goes away after continuous activity. Still, bad cases of plantar fasciitis or heel spurs can interfere with work and sometimes force workers to call in sick.
Apart from that, wearing work boots or shoes with poor arch support and soft soles can also lead to plantar fasciitis.
How do I permanently get rid of plantar fasciitis?
Thankfully, over 90% of plantar fasciitis cases do not recur after treatment.
That said, do not ignore plantar fasciitis, self-diagnose, or apply treatment for heel pain on your own. Keep in mind that the discomfort may be caused by fractures or arthritis. You will never know unless the podiatrist checks the affected foot.
Your physician may recommend that you get an X-ray to correctly identify the treatment needed for your specific case. For mild cases, your doctor may suggest wearing a certain type of supportive work boot or arch support. Other types of treatment include anti-inflammatory medications and cortisone injections.
On the flip side, those suffering from severe symptoms may need to undergo surgery.
Do boots help with plantar fasciitis?
It depends on what kind of boots you're talking about.
For instance, a podiatrist may prescribe you a walking boot or "controlled ankle motion walking boot" (CAM), which is an orthopedic device to treat and stabilize sprains, fractures, or even ligament tears.
The designers from store-bought fashion or work boot brands like Ariat Boots, Thorogood Work Boots, Red Wing, and others may not be thinking about curing your feet when designing boots.
However, their products have certain features like shock absorption, wide sizes, removable footbeds, or arch support, that can help with your plantar fasciitis.
How long do I wear a boot for plantar fasciitis?
Podiatrists may ask patients to wear CAM after an ultrasonic treatment for up to two weeks. Note that this will depend on the severity of each case.
Conclusion
We're all guilty of obsessing over brands and stylish designs. Boots with Danner wedge outsoles or Skechers work boots, for instance, are popular. But they aren't necessarily the best work boots for plantar fasciitis for you.
In this article, there are multiple work boots designed to help those who suffer from plantar fasciitis. However, we may have different symptoms. Depending on the severity of the case, switching boots may not always be the best solution. Consulting a doctor is always the wisest move when tackling this medical issue.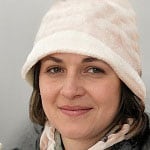 Veronica is our content editor. She is a talent in delivery. Her main work is editing and writing articles that are both informative and simple to follow. She is in charge of synthesizing our understanding of what personal protection equipment (PPE) is needed in each job, how to best apply it, and how to visualize that equipment.