Plumbers cater to several duties, ranging from interpreting house blueprints to see pipe layouts to installing and repairing drainage systems. These hands-on professionals need to be at the plumbing job site to help cater to different needs.
Hence, plumbers need to wear protective equipment to perform tasks as safely as possible. These gear may include (but aren't limited to) things like helmets, safety goggles, gloves, and footwear.
Among the mentioned safety equipment, they need to wear the best work boots for plumbers as they work in different job sites. Thankfully, many manufacturers of today produce high-quality plumber work boots for various operations.
Although several plumber boots exist on the market, here are some of the best selections I reviewed for you to consider.
Best Work Boot for Plumbers Reviews of 2021
1. Carhartt CMF6366 Composite Toe Boot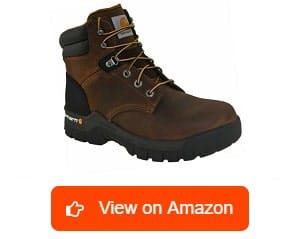 The Carhartt CMF6366 Composite Toe Boot stands above the many competitors with its reasonable price tag and sturdy construction.
First, it features the high quality Rugged Flex technology. With it, the shoe moves and stretches easily, providing comfort and support through various plumbing jobs.
Then, there's its rubber sole with shock resistance, perfect for indoor or outdoor tasks. It's a great feature when moving to different platforms of varying elevations. The sole protects the foot while maintaining comfort, even during relatively strong impacts.
The sole can also resist an electrical hazard of up to 18,000 volts. This means that I stay safe when trudging through electrified waters of about ankle deep.
Inserting the foot into the boot is a joy to behold as the padded tongue and collar hugs the skin without delivering suffocation. This work boot is also relatively lightweight, thanks to its OrthoLite insole and EVA midsole.
Also, it sports a full grain leather construction that offers a decent level of water resistance. However, herein lies its caveat as some jobs tend to require sloshing through relatively deep waters. Hence, it would be great if this boot has waterproof leather instead of only being water-resistant.
But, aside from being water-resistant, its leather material is also chemical, slip, and oil resistant. These characteristics provide the shoe with excellent traction when standing or walking on slippery surfaces.
What We Like
Excellent comfort and support delivered by the Rugged Flex technology
Shock-resisting rubber sole protects against strong impacts
Can resist an electrical hazard of up to 18,000 volts
Additional comfort comes with the padded tongue and collar
Lightweight construction, thanks to the OrthoLite insole and EVA midsole
Water, chemical, slip, and oil resistant full grain leather material
What We Don't Like
It would do better if it's waterproof
This shoe is one of the best plumbing boots because of its focus on comfort, durability, and safety. Any plumber or a casual user looking for these characteristics on a work boot should consider this piece of footwear.
2. EVER BOOTS Ultra Dry Work Boots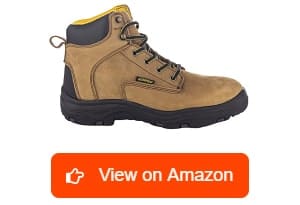 You can rely on the "Ultra Dry" moniker of this EVER BOOTs work boot. We can never go wrong with this plumber's boot as it can whisk away water unlike other footwear on the market.
While other work shoes may have one or two waterproof features, this shoe has six. It's not shy to showcase its waterproof upper, lining, outsole, stitching, construction, and laces.
Also, its polyurethane midsole with tread pattern can absorb shock. Such a midsole is perfect for moving through different elevations, especially when going down homes through the basement window. Furthermore, it also has high-quality polyester lining for its insulation, making the feet warm and cozy during the cold seasons.
This work boot is also relatively lightweight as it only weighs about 50 oz. (1417 g.). In comparison, some boots on the market, including some shoes on this list, tend to weigh over 65 oz. (1843 g.).
Couple its lightweight construction with its flexible makeup, and the heel and arch support that adapts to the work boot with little effort. Hence, I can walk with this boot all day, and my feet won't feel fatigued.
Although most of this boot exudes durability, it's another story when talking about its laces. The laces feel rather flimsy to the touch, which hints that the break-in period might take about two months.
Still, it's quite difficult to argue about that shortcoming after looking at the shoe's price. This boot has a price tag that's ideal for shoe shoppers on a budget. Therefore, perhaps it's safe to say that some corners were cut during its production.
What We Like
Most of the shoe's construction is waterproof
Polyurethane midsole delivers excellent shock absorption properties
The high-quality polyester lining provides excellent insulation
Lightweight and flexible construction
Relatively low price
What We Don't Like
The laces feel a bit flimsy
Industry professionals that need to walk through pools of water frequently should consider getting these waterproof boots for plumbers.
3. Georgia Boot GR500 Work Boot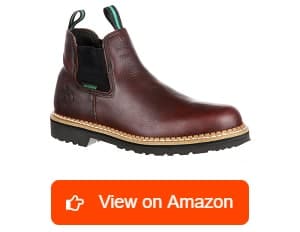 The Georgia Boot GR500 Work Boot is a Chelsea work boot, which tends to be a design for casual use. But, don't let its appearance fool you, even when comparing it with other Georgia boots, as this shoe is a work boot to its core.
Its slip-on, laceless design makes it relatively easy to put on and remove. It also means I don't have to worry about thin laces found in other work boots on this list. However, some buyers should be wary as this shoe provides a snug fit without socks. Thus, it's a good idea to buy this boot with about a one or one-half size allowance.
Moving forward, the shaft measures about 5 inches from its arch, and its heel is about 1.25 inch thick. These figures denote that the ankle and heel stay covered and protected at all times. Solidifying this protective characteristic is its dual pull loops and side goring insets to ensure the foot stays in the work boot.
It also has a 100% full-grain leather construction that exudes durability. Plus, the Goodyear welt construction, which means the manufacturer made laborious efforts to create this shoe's top-class sturdiness. Moreover, between the insole and outsole resides a steel shank that provides extra durability. This trait ensures the shoe with excellent longevity.
Note that the Goodyear welt construction acts as a buffer between the boot insole and outsole. It also makes replacing the sole relatively easy, in case it wears out over time.
Cushioning this steel element is an EVA material to deliver optimal all-day comfort while following the round shape of the toe for support.
What We Like
Slip-on, laceless design for breezy wear and remove
Dual-pull loops, side goring inserts, and appropriate measurements for the shaft
Full-grain leather Goodyear welt construction and steel tank for durability
Allows easy sole replacement
EVA midsole delivers extra cushion and all-day comfort
What We Don't Like
The fit can be too snug even without socks
Ultimately, this boot for plumbers shows that work boots for plumbers can look stylish while maintaining their workhorse attributes. I would recommend this shoe for anyone looking for footwear with these characteristics.
4. Timberland PRO Comp Toe Work Boot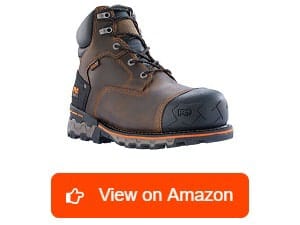 Decades of experience in making sturdy work boots culminated in the Timberland PRO Boondock Comp Toe Work Boot.
This boot starts showing its durability through its 100% leather construction. It also delivers sufficient insulation, so your foot can stay warm in cold climates. Adding to the boot's insulating properties is its thermal plastic urethane sole, which excels at keeping an appropriate amount for the foot.
The high-quality leather material also makes this footwear waterproof – a welcome trait for plumbers shoes. Additionally, the cold formula TPU outsole and dual-density PU midsole will keep water out while preserving the boot's sturdiness.
Best of all, this boot has a combination of a three-quarter Goodyear welt construction with cement construction for the heel. This mix, along with the brand's proprietary toe cap, features the best of both worlds by providing the foot with a suspension system against impacts.
The lace-up closure tightly seals the foot in the work boot, which adds to the stability. Plus, the rigid external heel cup also helps in letting me maintain balance during various plumbing jobs.
Also, it features a padded collar that makes this shoe comfortable to wear for hours. It's perfect for long hours fixing leaky pipe systems.
As with other leather work boots for plumbers, it takes a few days of wearing this shoe to break it in. But, this particular plumber's footwear tends to rub on the ankles during the breaking period, causing some blisters. Still, it'll be worth it after a few days when the material softens.
What We Like
High-quality leather and thermal plastic urethane sole for sufficient insulation
Waterproof construction of 3/4 Goodyear welt construction and cement heel
The cold formula TPU and dual-density PU midsole adds waterproof
Sturdy toe cap protects the foot from impacts
Comfort system comes from the padded collar
What We Don't Like
The material tends to rub the ankles, might cause blisters
This shoe has several durability-focused footwear. Hence, those who are looking for a work boot that has excellent longevity shouldn't miss out on this work boot.
5. EVER BOOTS Steel Toe Work Boots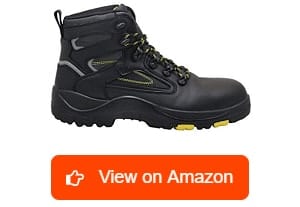 Electrical hazards can be present in plumbing sites. Those scenarios call upon the EVER BOOTS Protector Steel Toe Boot for help.
At first glance, it's easy to make the mistake that these are plumbing rubber boots because of its design. But, these shoes mostly use leather. And its rubber soles can withstand up to 18,000 volts of electricity for up to one minute. Hence, it is safe for plumbers to walk an electrical hazard at a compromised location.
Inside, a combination of steel toe plus steel shank presents feet with protection from impacts. These features add extra stability for excellent balance for work on slippery surfaces. Moreover, the steel shank, in particular, provides extra support to help alleviate pressure from standing for a long time.
These shoes also give peace of mind, knowing that the soles are both slip and oil resistant. Traction is also excellent, regardless of the surface.
Note that these plumbing work boots aren't your ordinary workhorse footwear as they also present multi-layered outsoles. These components offer superior comfort and shock resistance. Hence, landing from a reasonably tall height keeps the feet comfortable and stable.
Although most of the construction is hard-wearing, it's a different story for the eyelets. These features are somewhat fragile. Rigorously wearing these shoes in challenging environments might mean an early end for the eyelets. If these things come off, it's best to prepare for replacement parts.
What We Like
Hard-wearing leather material and sturdy rubber soles
The soles can withstand up to 18,000 volts of electricity for up to one minute
The boots are oil and slip-resistant
Steel toe plus steel shank provides balance, protection, traction, and support
Comfortable multi-layered outsoles
Engineers,
electricians
, and, of course, plumbers should look into buying these boots. Anyone looking to provide their feet with electrical hazard protection can't ignore this footwear.
6. Wolverine Composite Toe Work Boot
Wolverine presents its Overpass Composite Toe Work Boot with all-day comfort and performance in mind.
These Wolverine boots use ASTM-approved carbon max toe-caps to maintain optimal durability while keeping the overall weight small. In detail, these shoes measure about 28 oz. (794 g.), which means these boots are among the lightest on this list.
Also, these work boots don't exhibit one problem found in other similar footwear – the flex. In other words, these shoes use the contoured and motion max technologies to enhance their overall flexibility at vital points. Thus, you can enjoy all-day comfort.
It even features removable ortholite cushioned footbeds that add to its overall comfort. I can wear these shoes all day, and I won't complain about my feet hurting from standing too long.
The 100% waterproof leather and textile construction are also nice features since the membrane design delivers excellent breathability. With this choice of materials, these shoes maintain dryness for the feet, perfect for people that tend to sweat a lot.
For the protective features, these shoes have oil and abrasion-resistant toes and shafts that measure about 5 inches from the arch. The high-quality rubber outsoles are even slip-, water-, and chemical-resistant. Therefore, these work boots bring no worries for the feet when working at different job sites.
Still, it does make me wonder why the tongue is thinner than the rest of the work boot. Without proper care, this part might not last as long as other components, which might become a problem for some users.
What We Like
ASTM-approved carbon max toe-caps are sturdy yet lightweight
Contoured and motion max technology ensures flexibility and comfort
Removable ortholite cushioned footbeds for extra comfort
Waterproof leather and textile construction for breathability
Slip-, water, and chemical-resistant rubber outsoles
Extra protection from oil and abrasion-resistant toes and 5-inch shafts
These shoes are amazingly light and sturdy, which is a combination of traits not found in many boots for plumbers. Buy these boots to gain excellent value from the purchase.
7. Ad Tec Steel Toe Boots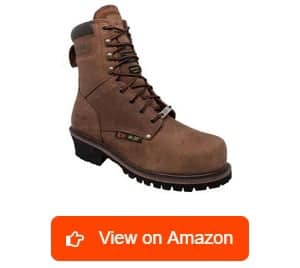 The Ad Tec Super Logger Steel Toe Boots exude sturdiness to its core. Its hard-wearing construction makes it a joy to wear for both indoor and outdoor use.
Note that its 100% Crazy Horse leather construction is not only waterproof but weatherproof. Thus, it wouldn't matter if it rains or shines as these boots will retain its performance and style. Also, the insulation is top-notch, allowing the feet to remain warm and cozy while working on certain jobs in winter.
Wearing it on virtually any surface is a breeze, thanks to the rugged outsole. Traction is also excellent as the soles give out a nice yet rough 'squeak' to signify that it stops slippery motions in their tracks.
The rubber outsoles also have waterproof membranes. With these features, they give the boots extra benefits like being slip and oil resistant.
Keep in mind that this is a steel toe boot. As such, there's also the abrasion-resistant steel toe cap for kicking things aside while working. These elements also keep the boots dent- and scratch-free, especially in the toe areas. All of these features come with a reasonable price tag. Don't worry about 'breaking the bank' to purchase these shoes.
But, the relatively inexpensive price means that the brand cut corners in certain areas. In particular, the waterproofing isn't as good as other items on this list. Without proper care and maintenance, the waterproof coating might come off in about a couple months use.
What We Like
Crazy Horse leather construction offers waterproof and insulation
The rugged rubber outsole promotes great traction
The boots are slip and oil-resistant
Abrasion-resistant steel toes offer superb protection in the toe areas
A reasonable price tag
What We Don't Like
Waterproof coating might come off after constant use in wet environments
Make no mistake as these plumbers' boots are all-purpose shoes. I recommend these boots for workers in heavy-duty construction, farming, logging, outdoor hiking, and plumbing.
8. Timberland Waterproof Ankle Boot
Among the many Timberland work boots on the market, the White Ledge Ankle Boot stands out because of several reasons.
This boot has the foot covered with its shaft that measures almost 5 inches from the arch. With this height, it sufficiently protects the ankle and heel without breaking a sweat (so to speak).
The premium 100% full-grain leather uppers have a waterproof, seam-sealed construction. These features make it impossible for water to seep through the material. The eyelets also come with a rustproof material to secure the laces for long.
Also, the oiled finish is a marvel to behold. With it, I can wear this boot on casual walks around town or at jobs, and the shoe sustains its stylish charm.
The padded collar and removable dual-density EVA footbed make my feet happy due to extreme comfort. I can walk or stand for several hours without being worried about foot fatigue.
This plumber's work boot also helps reduce carbon footprints because of its rubber sole made with recycled materials. Hence, these boots help preserve the environment's lush beauty.
It would've been the perfect work shoe if it features a steel toe boot. Kicking things aside during plumbing jobs isn't ideal with this boot since it doesn't have a safety steel toe cap. Although the tough leather can handle some abuse, it might show signs of wear and tear over time.
What We Like
The shaft sufficiently protects the ankle and heel
Premium 100% full-grain leather uppers for seam-sealed water protection
Comes with rust proof eyelets
The oiled finish is stylish
Padded collar and dual-density EVA footbed for optimal comfort
Rubber soles made of recycled materials to reduce carbon footprints
What We Don't Like
It doesn't have a steel toe cap
Unlike other work boots you might've come across, this shoe should provide you with glee since it's more comfortable, durable, and stylish than others. Going for this Timberland boot should be a wise decision to fulfill different footwear needs.
9. KEEN Utility Soft Toe Work Boot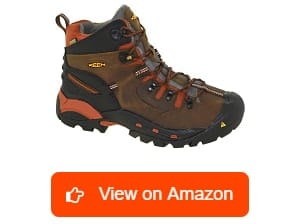 KEEN work boots tend to emit characteristics needed for the everyday working man, and the Pittsburgh Work Boot is no exception.
This boot for plumbers has a 100% leather construction that emanates many comfort features. Supporting this trait is the removable dual-density EVA footbed and a 5-inch boot opening to reduce foot fatigue.
It also has a breathable membrane liner that keeps water and vapor at bay. For additional water protection, this KEEN Utility boot has nubuck uppers and the dry-lex lining that comes with the hydrophobic/hydrophilic 2-zone comfort technology.
Then, there's the oil-resistant, and non-slip outsole made of rubber provides excellent traction. As a bonus, this component is non-marking, so it doesn't leave dirty footprints around job sites. It also has sole lug patterns to deliver extra grip for walking on slick surfaces.
This boot has a 90° heel for ankle support and underfoot protection. It also uses a full-length interlocking torsional plate made with TPU material in the underfoot to provide extra structure, stability, and comfort.
The locking metal lace hooks are a nice touch. With these, lacing the boot doesn't take more than a few seconds to accomplish.
This KEEN Utility work shoe also has reflective webbing to let my mates know where I'm currently working. Not to mention it features the Cleansport NXT that uses probiotics to prevent stinky feet.
Furthermore, the soft toe caps help prevent injury from minor impacts. This feature also meets ASTM F2892 standards, which prevents pain to the feet from minor bumps.
However, don't expect this soft toe to prevent impacts from large falling objects. It's still wise to stay away from debris like falling power tools or heavy plumbing products.
What We Like
Durable leather construction
Offer comfort with EVA footbed, 5-inch opening and breathable membrane
Comes with Nubuck uppers and Dry-lex lining
Oil and slip-resistant rubber outsoles for optimal traction
The Cleansport NXT feature prevents stinky feet
Reflective webbing, 90° heels, locking metal lace hooks, and interlocking torsional TPU plate for stability, and underfoot protection
Soft toe caps meet ASTM F2892 standards
What We Don't Like
Soft toe caps aren't as durable as steel toes
This work boot comes with a myriad of features for pipe fitters and other working men. It can provide superb protection against different elements, including water and falling debris.
10. Caterpillar Steel Toe Industrial Boot
Thinking about the Caterpillar brand makes me think about durable, heavy machinery. The sturdy traits from those massive construction machines come into a comfortable, wearable package with the Threshold Industrial Boot.
This shoe for plumbers is 100% leather to ensure durability and longevity. It also has a rubber sole to reduce the effects of electrical shocks upon contact.
This work boot also has a waterproof membrane, keeping water outside. Moreover, it keeps the feet dry and comfortable, which are boons for any plumber.
Best of all, this footwear also has a breathable leather upper. It helps the shoe release excess vapor buildup, which would otherwise be one of the causes of stinky, sweaty feet.
With the brand's dedication to safety comes the addition of a slip-resistant outsole to this shoe. Walking on relatively any terrain, regardless if they're dry or wet, feels much safer.
Add that trait with its steel toe, and my feet are content. This feature helps me relax since bumping on items at job sites with my feet won't cause bouts of pain and discomfort.
The safety-focused features continue with the shaft that measures about 5 inches from the arch. Thus, it protects my ankle and heel from potential safety hazards.
Still, it would be better if this shoe has more features that promote comfort. Wearing this boot isn't the most comfortable experience, but it does the job for small tasks for plumbers.
What We Like
Durable and long-lasting leather boots
The outsoles help offer electrical hazard protection
The waterproof membrane + breathable leather upper maintain dryness and comfort
Outsoles provide slip resistance
Steel toe can take abuse
5-inch shaft for heel and ankle protection
What We Don't Like
Not the most comfortable work boot on the market
I recommend this product for any plumber or worker looking for a
durable pair of work boots
. Go for this boot to help your feet feel secure all day.
11. Wolverine W02053 DuraShock Boot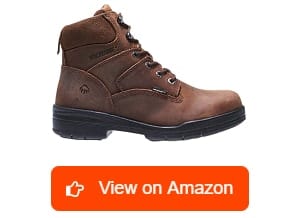 The search ends for comfortable plumber's work shoes with the Wolverine W02053 DuraShock boot.
Its removable double-density cushion footbed plus DuraShock direct-attached outsole offers top-notch comfort while sealing out water. This feature, along with its lightweight construction, makes me forget that I'm wearing work boots.
If you're wondering about this boot's weight, it measures about 48 oz. (28 g.). In contrast, some safety work shoes on the market, including some items on this list, are quite heavy.
This shoe also has a fully-unlined leather construction. It means that the single layer of leather material creates the shoe uppers, making it ideal for both casual and work use. Another boon to this feature is its superior breathability, especially when compared to lined shoes.
The nylon shank, which similarly works like a fiberglass shank, also promotes great insulation to keep the feet warm while working in cold environments. But, herein lies its issue as nylon tends to be softer than steel. Thus, this boot isn't as sturdy as other footwear sporting steel shanks.
The rubber soles reduce pain felt from impacts felt from the under the foot. This feature lets the feet maintain comfiness while stomping on specific objects on site.
What We Like
Very comfortable due to removable double-density cushion footbed and light construction
DuraShock direct-attached outsole keeps water outside
Fully-unlined leather promotes superb breathability
The rubber soles reduce aches from impacts felt from under the foot
What We Don't Like
Not as hard-wearing as other plumbers' shoes because of its nylon shank
Comfort is the name of the game for this shoe. Give this W02053 DuraShock Boot a buy if you're looking for comfy and sufficiently-sturdy footwear.
12. SAFETOE M8356B Work Shoes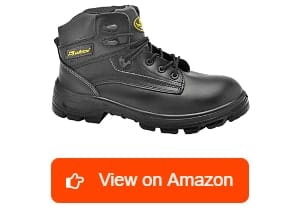 In my opinion, SAFETOE lives up to its brand name with the M8356 Safety Work Shoes.
The feet stay safe at all times, thanks to its 100% chromium-free IPX5 water-resistant genuine cow leather. This material looks and feels solid, and it can take much abuse.
But, its IPX5 water-resistance rating means it's not entirely waterproof. These work boots can resist water from a low-pressure jet spray. But, expect water to seep through the leather material if high-pressure sprays of water come into contact.
Thankfully, these shoes don't only provide safety but comfort as well. It has shock-absorbing memory insoles with a breathable air hole mesh design. With these features, the feet stay comfortable and stays secure with extra support.
This pair of boots are ideal for workers in different jobs, especially plumbers, because of its steel toe. This component has anti-puncture resistance, bringing safety in work to a new level.
The outsoles make use of dual-density PU materials that provide anti-slip performance and sufficient heat resistance. Additionally, the outsoles are oil-resistant. The feature is essential for installing, maintaining, and fixing pipe systems near oil-infused equipment.
The midsoles also help disperse electrical currents, in case it comes into contact with live wires or other electrical discharges. Note that plumbing means dealing with electricity-conducting water, so having this feature offers great peace of mind when standing or walking on an electrical hazard.
What We Like
100% chromium-free genuine cow leather looks and feels solid
Comfort from shock-absorbing memory insoles and breathable air hole mesh
The steel toe is puncture-resistant
Dual-density PU outsoles for anti-slip performance and heat resistance
The midsoles help disperse electricity around the shoes
What We Don't Like
Only IPX5 water-resistant
If you're looking for heavy-duty footwear for plumbers, look no further than this product. It's comfortable, long-lasting, and hard-wearing, making it an excellent value for its price.
What is a Pair of Work Boots for Plumbers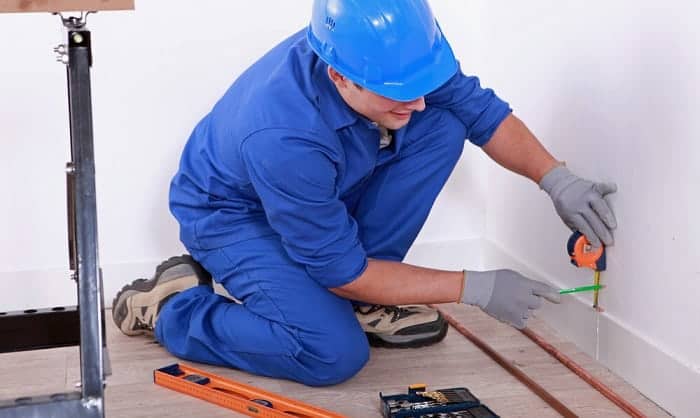 Plumbers tend to work in wet and slippery settings. The career is a physically-demanding profession that requires the right gear. One piece of equipment to consider is the work boot.
A pair of work boots for plumbers should exude essential qualities to help industry professionals with their work. Some of these characteristics are comfort, support, security, durability, and longevity.
How Does It Work
Generally, plumbers' work boots function to protect users' feet from different vulnerabilities. In detail, these pieces of footwear safeguard the feet from different things, ranging from dripping water to falling debris.
Types of Work Boots for Plumbers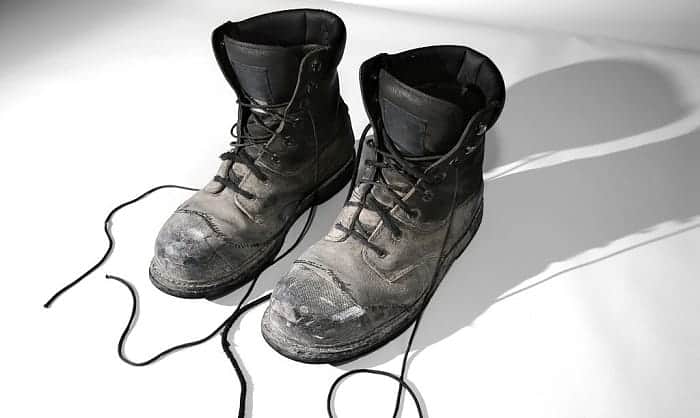 The different types of plumber's boots have designs and constructions to protect the user from various issues during jobs. Some of the types of shoes for plumbers are ideal for electrical hazard protection, safety from falling objects, water-resistance, waterproof, and puncture-resistance.
Why You Need Plumbing Boots
You can never be too safe while working on plumbing systems. Without safety equipment, especially work boots, plumbers are at risk of experiencing various incidents.
For example, you might stub your toe against an infrastructure at the job site. The succeeding pain might hinder you from maintaining focus while you repair water systems.
Aim to use boots for plumbers that deliver sufficient protection like a steel toe. Waterproofing and 100% leather materials also offer extra security to wearers.
Buying Guide
Some plumber's boot features stand out more in terms of importance more than others. Look for the following characteristics when buying work shoes for plumbers:
Comfort
Like other footwear, comfort should be the top priority when looking for work boots. Wearing uncomfortable shoes will become detrimental to your life as a plumber.
Safety Toe Caps
Never underestimate the risks involved in carrying plumbing equipment. Pipes, power tools, and heavy instruments might fall on your foot, which might cause you to writhe in pain. Safety toe caps in the right footwear will help significantly reduce the impact felt from the fallen debris.
Water Resistance
As a plumber, you're going to work in wet environments. You don't want the excess moisture to destroy your shoes. Hence, it's best to purchase a pair with adequate water resistance. Better yet, buy shoes that offer waterproofing instead.
Care and Maintenance
The care and maintenance of work boots for plumbers tend to depend on the footwear's material. For instance, if you're maintaining leather Redwing boots, start by using a clean cloth to gently wipe away dirt. Then, use mink oil with another cloth to rub the substance at the seams.
Next, leave the Red Wings for plumbers to dry, before wiping the excess oil with yet another clean cloth or rag. Finish by buffing the leather material using long, circular strokes.
Take the care and maintenance one step further by adding a waterproofing product to it. This will also help extend the lifespan of the footwear.
Frequently Asked Questions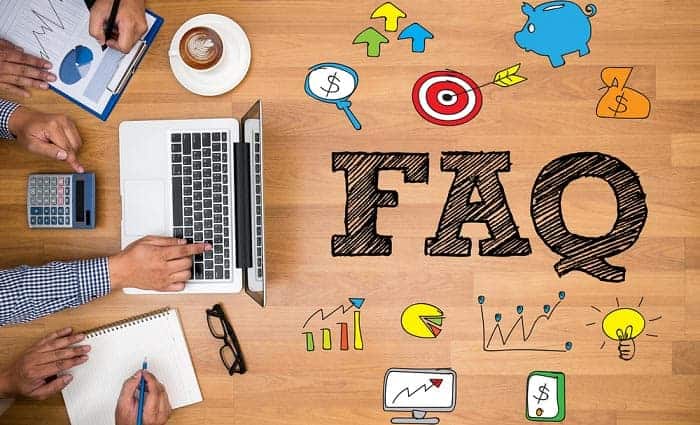 What are the most popular plumber work boots brands?
Among the myriad of plumber work boot brands on the market, few seem to stand above the rest. Some of these brands are EVER BOOTS, Carhartt, Georgia Boot, Timberland, Caterpillar, and Irish setter boots.
Timberland, in particular, has been making footwear since 1952. It was when the company's founder, Nathan Swartz, purchased an Abington Shoe Company half-interest. He started from being an apprentice to later become the founder of the shoe company. The rest is history from that point.
Caterpillar is also another work boot brand with plenty of history providing people with safety shoes. It was when Benjamin Holt and C.L. Best merged their companies together to form the Caterpillar Tractor Co. It started as a heavy equipment business which later dealt with delivering work footwear.
What are the best waterproof work boots?
At the end of the day, the term 'best' is relative since it can mean different things to different people. In context, some people might find the EVER BOOTS work boot to be the best boots for plumbers. On the other hand, Georgia Boot has offerings that won't go down without a fight.
But, if you were to go with my suggestion, consider the Wolverine Overpass Work Boot. Among the different choices on the market, this waterproof work boot only has one caveat from my experience – the thin tongue.
The tongue is flimsy, but most of the damages dealt with it from working in plumbing sites can be remedied with a little TLC. Also, the shoe comes packed with features that present optimal flexibility, comfort, and performance. Not to mention it has rubber outsoles resistant to slip, oil, abrasion, chemical, and water.
Coming in a close second is the KEEN Utility Pittsburgh Work Boot. This piece of footwear has a range of features that's definitely worth it for its price tag. Even though it lacks a steel toe, it can still serve several plumbing jobs for years before it gives out.
Should you get waterproof boots?
Yes, you should always consider wearing waterproof boots, especially if you're a plumber. In fact, Caterpillar presents safety footwear for generations since its birth in 1925.
You should always assume that you're going to deal with water as a plumber. Still, if you're on a tight budget, purchase work boots with adequate water resistance instead. However, you should assess the different work environments of your chosen jobs. After all, water resistance will only keep the extra moisture at bay, but only up to a certain level.
Also, wearing waterproof boots doesn't only mean you're going to take advantage of less moisture. You can also reap other benefits because of this trait.
For instance, waterproofing means less to zero moisture in your feet. This means that your feet will always be warm and dry, which might be the cause of a moisture wicking lining.
It also means that you encounter reduced risks of harmful bacteria exposure. Water, particularly when mixed with certain materials, may cause bacteria to thrive, which will then cause adverse reactions like smelly feet. Prevent this stinky scenario from happening by wearing waterproof boots.
What are the characteristics of good plumber's shoes?
It can be a daunting process to search for a good pair of plumbers' shoes. You can make this endeavor easier than before by keeping a keen eye on certain factors. Keep a close eye on these details when searching for the right pair of boots:
For many shoe shoppers, the price of the footwear may make or break the decision to purchase. Ensure that you're not going over your budget when buying shoes.
Consequently, don't be too cheap to the point you're purchasing a low-quality pair of boots. Aim to search for a middle-ground wherein you can still wear quality footwear without going over your budget.
Some work boots are investments. As investments, the last thing you'd want is for the footwear to lose style and functionality after a few weeks of use.
Check online reviews, like this article, for essential information about the best work boots for plumbers. You may also ask close friends and relatives for suggestions.
Walking on watery surfaces will present you with a certain amount of risk of slipping. Therefore, wear a pair of boots with slip-resistance soles to reduce the risks of these incidents from happening.
Do you need to buy shoes with electricity resistance?
Never disregard other hazards at a plumbing site, especially those with live electrical currents. Electricity can be dangerous when mixed with water.
For example, the electricity that runs through electrical infrastructure powers equipment before returning to a local substation transformer. But, compromised connections may electrify metal pipes and the water inside them, increasing the risks of serious, or perhaps even fatal, electric shocks.
Wearing work boots with above-average electricity resistance helps reduce the risks of electric shocks at plumbing sites. In particular, consider using footwear with rubber soles. This material disperses electricity up to a certain degree, providing safety while working on certain plumbing tasks.
Do plumbers need steel toe boots?
Once again, safety should be paramount while working on any plumbing site. So, it's always a good idea to wear shoes with steel toes for toe protection.
Note that plumbers tend to handle some heavy equipment to accomplish certain tasks. If those hefty objects fall on your foot, this incident might lead to aches or even crushed toes.
Consider buying plumber boots with ASTM-rated steel safety toes for sufficient toe protection. ASTM stands for the American Society for Testing and Materials, and this organization provides the safety standards for different items, including plumbers' footwear.
You should wear a steel toe work boot that passes the ASTM F2413-05 standard. Passing this standard implies that the footwear and its steel safety toe covers the minimum requirements for the classification, design, performance, and testing of protective footwear.
Also, this standard tells users that the footwear passes impact- and compression-resistance standards. Without these certifications, the shoes you wear might not provide adequate toe protection.
How to stop work boots from hurting?
Before proceeding, it's important to note that you should always fit the shoe before purchasing it. Otherwise, if you're purchasing online, don't forget to read the product description and reviews first.
With that piece of information out of the way, you might experience your feet hurting while wearing work boots. If so, there are ways to help relieve the discomfort, even while you're at a job site.
One way to achieve this objective is to remove your shoes for a few minutes. Doing this helps relieve pressure on the ligaments connecting the heel and toes. Once you head home after a job, ensure that your feet are comfortable as much as possible. Wearing comfy slippers and resting your feet on a raised surface are viable options.
But, if you're still in the middle of a plumbing job and your feet are starting to hurt, you can spread the discomfort with each step. This allows the ache to spread instead of focusing on one spot.
Finally, you may need to consider the break in period of the leather work shoes before using it in plumbing operations. Wear the footwear for a few days to soften the material so it becomes more flexible and comfortable.
When to change work boots?
Even the best footwear will have a breaking point. In other words, the time will come when you need to replace your work boots. There are some tell-tale signs when you need to shop around for new shoes again.
First, if your shoe is 'talking,' it's time to replace it. The 'talking' mentioned in the previous statement means that the components are starting to separate. For example, the soles' stitches are becoming undone, causing the boot to look like it's speaking whenever you walk.
Moving forward, you should replace your work boots if they become 'hole-y.' Membrane designs are fine. But, if the shoes have an unnecessary amount of extra holes, then they no longer provide optimal safety and security for your feet.
Lastly, replace your shoes if you start slipping. Anti-slip outsoles are essential for plumbers. But, if the outsoles lose their traction, it's time to shop for a new pair.
How to care and clean?
Caring and cleaning for your work boots aren't as difficult as you might think. Note that caring for the footwear should start from day one, and not when you see signs of wear and tear.
Start the care process by considering the break in period once you get your work boots for plumbers. This crucial step ensures that the material becomes flexible and adheres to the shape of your foot.
Don't fall into the temptation of oiling the new shoes. Oiling the footwear may enhance the risk of mold growth. Manufacturers tend to oil their shoes upon the release of their products. Hence, there's no need to apply excess oil during the first few weeks of use.
Over time, you may see dust and dirt buildup on your safety work shoes. Remove the unclean substances by wiping them with a clean cloth dipped in water. But, if you're dealing with grime and tough dirt, use a water-based cleaner instead.
However, if you see some unknown stains on your shoes, don't attempt to use random cleaners. Seek the help of professional shoe cleaners to avoid ruining the footwear's structural integrity.
Where to buy?
You have two options as to where you should buy safety boots for plumbers: offline and online.
Check your local shoe shops if they sell the work boots you desire. Otherwise, you may also check a brand's physical location in your area. Some boot brands tend to have remote stores that allow customers to purchase their wares without waiting for delivery.
Consequently, you may choose the online route to buy work boots. Search for reputable and trustworthy online sellers before you finalize the transaction. Don't fall for the allure of buying expensive-looking shoes at dirt-cheap prices. Chances are these sellers are scammers, and you might get your hands on a pair of low-quality fakes.
Remember to research regardless if you're purchasing safety footwear from offline or online shops. A little digging for information can go a long way. Furthermore, researching about the shop and shoe you want reduces the risk of buyer's remorse.
What to wear with work boots?
Don't forget about style when you're wearing work boots. Stay in fashion while wearing your favorite pair of safety boots during casual strolls around town.
For starters, wear your work boots with relaxed jeans and a simple t-shirt. This ensemble tells the world that you're a simple person, but you're not afraid to get down and dirty for various jobs.
Another option is to opt for a rugged appearance to show the world that you're always ready to rumble (so to speak). This style option is relatively easy to pull off since you only need to put on a dark leather jacket on top of your casual outfit.
You may also go with a smart casual look while wearing safety shoes. Use work boots with the Chelsea shoe design for this style to work. Partner the footwear with a pair of trousers, a blazer, and a button-up shirt.
But, no matter how 'rugged' you want to look, always care and maintain your boots' look. Remember, your shoes are always an integral part of your style and can make or break your chosen fashion ensemble.
What are the best cheap work boots?
As mentioned previously, the term 'best' is relative to different people, but it might also be the same for the word 'cheap.' But, some work boots are definitely less expensive than others while providing users with great features.
Take the Ultra Dry boots from EVER BOOTS as an example. These shoes shouldn't cost 'an arm and a leg' for many buyers. In return, you can take advantage of a slew of waterproofing components. In contrast, many work boots only rely on leather material for waterproofing.
However, if you're on a very tight budget and want a good pair of work boots for plumbing, consider the SAFETOE Safety shoes. These boots are only water-resistant instead of waterproof. Still, you can make use of its comfortable design, slip-resistant sole, and protective steel toe.
What's the best waterproof work boot?
Several choices are on the market if waterproofing is your preferred characteristic in choosing the best work boot to keep your feet dry.
However, if you want my suggestion, choose the Soft Toe Boot from KEEN Utility. With this shoe, its construction and choice of material ensure the feet to stay dry even when you're walking in ankle-deep water.
You may also consider the Caterpillar Threshold Boot. This piece of footwear has several safety-focused features at the right price.
At the end of the day, the best waterproof work boot depends on your services. If your plumbing services can cater to incidents like basement flooding, you need excellent waterproofing for your boots.
On the other hand, the plumbing services you offer may only cater to relatively small jobs like fixing kitchen sinks. If so, then an IPX5-rated water resistant boot should suffice.
Conclusion
Now that you reached the end, you should have a better idea of selecting the best work boots for plumbers.
In summary, the best work shoes should present excellent value by emanating certain qualities. These characteristics include the utmost comfort, support, durability, and performance.
Additionally, the work boots shouldn't be too expensive that it may put holes in wallets. Instead, the best work boot should be appropriate for different budgets while providing sufficient features to enjoy.
Still, if you want to take my word, consider work boots from Wolverine. The brand makes top-quality waterproof footwear for plumbers and casual wearers alike.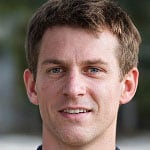 Having worked in the field of personal protective equipment for over two decades, Andrew Carnegie is a specialist in the field.
At EDC, he strives to improve performance efficiency and promote workplace safety for EDC's readers and customers. He also researches the most up-to-date equipment that has earned relevant accreditation for use in a wide range of industries and specialties.