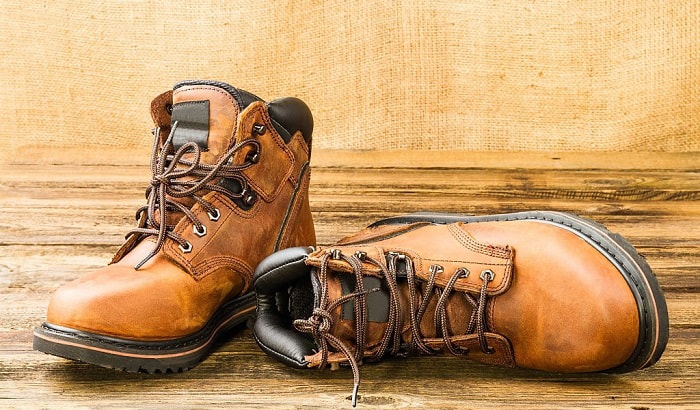 We all have heard of the phrase "safety first." Back in the day, this could mean setting aside comfort in favor of foot protection. That's because most work boots were stiff and clunky, which could lead to pain and discomfort.
Nowadays, workwear brands are coming up with new designs to relieve, if not entirely prevent, sore feet. For this article, we will focus on the best work boots for sore feet and these are the features you should look out for:
Insoles: Insoles provide a wide range of benefits, including shock absorption and relief from soreness. They are normally made of gel, foam, or plastic. Regardless, they will wear down the more you use them. Hence, workers opt for shoe models with detachable insoles so they can insert their favorite footbeds and custom-made orthotics. If you have foot conditions such as plantar fasciitis, consult your doctor to learn more about your options.
Arch support: Your arches are responsible for supporting your weight when you're on your feet. Together with your bones and tendons, they help you move forward, whether by walking or running. Like fingerprints, the shape of your arches is unique to you. Make sure to take this into account when buying work boots.
Soles: Alongside the insoles, the midsoles and outsoles play different functions while you stand, walk, or run. Besides protecting you from debris and slipping accidents, they absorb the shock in each step and provide support. Boots come in wedge and heel soles. Loggers and lineworkers often favor heeled soles as they are grippier and more supportive. Meanwhile, wedge soles are great for standing all day as it distributes the pressure across the foot more evenly.
Proper fitting, upper materials, shoelaces, safety toes, and other features contribute to the comfort that work boots provide. You can learn more about them under the "Buying Guide" section. In the product review, I'm sharing the pros and cons of each work boot so you can find the perfect pair.
Top 12 Work Boots for Sore Feet Reviews
1. Timberland TB0121352141 Waterproof Hiking Boot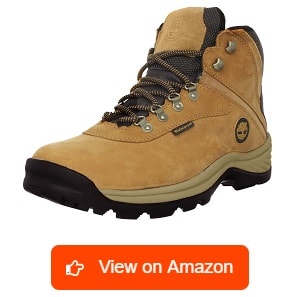 Let me preface this review by clarifying that these Timberland boots are designed for hiking. In other words, they are not equipped with steel toes, steel shank, and other safety features that are meant to protect you against occupational hazards. That said, they are more appropriate for low-risk work environments.
Their lightweight build is something to take advantage of, especially since I walk a lot. Aside from shock absorption, the solid rubber sole gives me a strong grip on both slippery wet floors and rugged terrains. By the end of the day, there is virtually no soreness around my lower extremities. Plus, the removable insoles enable me to replace them with my custom footbeds.
With superb waterproofing, the work boots my feet dry when I cross puddles and brave the rain. Although the footwear is not insulated, I find them comfortably warm if I put on my thermal socks during winter.
This would have been a nice all-around pair of work boots, except that it feels toasty in the summer. Usually, I wear these boots when I'm in rooms with good air-conditioning or in cooler weather like spring and autumn. Another thing that annoys me is that the soles squeak when walking on slick floors.
What We Like
Appropriate for work and hiking
Lightweight boots for sore feet
Shock-absorbent and grippy soles
High-quality waterproof system
Features interchangeable insoles
What We Don't Like
Feels too warm for summer
Makes annoying squeaking noise
Dubbed as one of the most comfortable men's boots, this pair is intended for hiking but it is also perfect for workers who walk the entire shift. In the throes of a storm, you can be sure that your feet will stay dry.
2. EVER BOOTS EB611TAN Tank Soft Toe Work Boot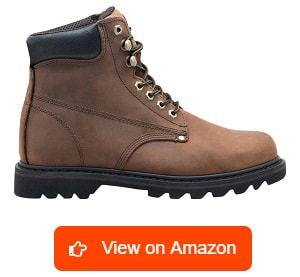 A tough day at work does not always have to end up with sore feet, and that's what these work boots attempt to address. In my experience, they did so fantastically. For one, the wide toe box lets my toes and forefoot rest and spread naturally. For another, there is zero break-in period. When I first got these, I wore them straight to work. I was particularly amazed by the nubuck leather and the flexibility of the rubber outsole. They move with me.
Another advantage of having ample space is that I don't need to choose a larger size to fit my orthotics. Besides, the insoles that came with these work boots are removable. Meanwhile, the lace-up system allows for different lacing patterns. I find it easier to tighten the uppers to my liking and make sure that the tension is even. Even better, the factory laces are long and durable, enabling me to tie double knots securely.
Built with Goodyear welt construction,
these work boots
can last long. Still, I can resolve them when the lugs wear down. Here's the catch: They are oil and slip-resistant but not enough to keep me from slipping in snowy and icy conditions. But who am I to complain? I get more bang for the buck, considering the price and quality.
What We Like
Ample space for custom insoles
Lets you tie different lacing patterns
Accommodates diverse foot shapes
No need for breaking in
Long-lasting durability
What We Don't Like
Slippery on snowy surfaces
Under the budget-friendly category, I would say that these are the top-rated work boots for sore feet for several reasons. Apart from being highly customizable, you can also resolve them once the outsoles wear down.
3. Timberland TB033034214 PRO Steel Toe Work Boot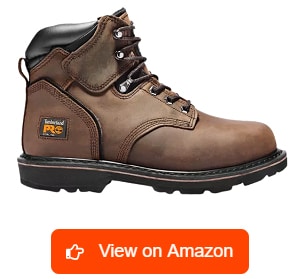 Safety features add weight to the footwear. Somehow, these Timberland work boots found a way to make the long, grueling shift less strenuous on my tootsies. Recommended for construction workers and similar professions, this pair is equipped with ANSI-compliant electrical hazard protection and steel toe caps. Despite the bulk, the moisture-wicking, breathable mesh linings keep my feet fresh, dry, and odor-free
As someone who walks on various surfaces, the heat, oil, abrasion, and slip-resistant outsoles help me maintain my balance. At the same time, the rubber also does not deteriorate easily. The nubuck leather is just as tough, yet it flexes as I crouch or kneel. On the other hand, the contoured shock diffusion plate serves a dual function. Primarily, it provides structural support, but it also spreads the pressure of the impact in each step.
The cast-metal top hardware allows me to tighten and loosen the laces easily to reduce the foot pain from the work boots. I don't have to spend too much time figuring out the right amount of tension and run the risk of constricting my feet. Although they come with the "Comfort System" to support the arch, it is not exactly what I need. Some of you might like it, but those who don't can replace them with your custom insoles.
What We Like
Promotes good airflow for all-day freshness
Slip-resistant durable outsoles
Lets you adjust the laces quickly
Appropriate for physically demanding jobs
What We Don't Like
Arch support is not suitable for all
This pair is probably the most well-rounded among the work boots that I featured. Although it has steel toe caps, it provides optimal comfort so you can go home without sore feet.
4. Skechers 4442 Sergeants – Verdict Waterproof Boot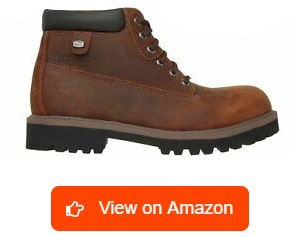 If you don't need safety steel toes at work, then you can opt for this pair of Skechers. Touted as hiking boots, they boast excellent waterproofing and slip resistance. Apart from supporting me as I trudge uneven terrains, they aid in keeping my feet dry under wet conditions. Thanks to the thick uppers, they feel comfy during the winter.
In my long history of wearing work boots, this pair is one of the few that never gave me blisters due to the well-padded collars and flexible uppers. Furthermore, it has ample space for my toes to lay comfortably flat. Also, the memory foam insole is the cushiest that I have ever tried. I can stand all day without feeling any soreness or discomfort.
I'm sure you'll find these features useful for your job, DIY projects at home, or any occasion for that matter. After all, the design looks simple yet classy, which goes well with most everyday outfits. What's more, this model comes in different shades of brown, black, and charcoal.
Much to my surprise, the absence of steel toes does not make the boot any lighter. Since I'm used to wearing safety footwear, it's not a big deal for me but folks who walk all day would probably not like it.
What We Like
Suitable for wet conditions
Appropriate for work or any occasion
Lets you walk blister-free
Available in different colors
Besides its classy aesthetic, the design makes this a good work boot for sore foot. Featuring cushy memory foam insoles, you can stand for extended periods painlessly. Indeed, it's a great pair for on and off duty.
5. Irish Setter 83606-M Ashby Leather Safety Toe Boot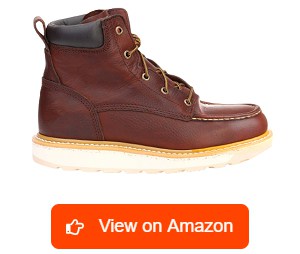 A true crowd-pleaser, these aluminum toe work boots can safeguard your feet against workplace hazards without causing soreness or blisters. Though lighter than steel, the aluminum toe caps can withstand the impact of falling objects.
Aside from that, the footwear has electrical hazard protection, and all of these safety features meet the ASTM standards. Moreover, the heat and slip-resistant outsoles will not melt even when exposed to at least 475 degrees Fahrenheit heat.
That said, I prefer wearing these work boots when walking or standing on concrete surfaces for extended periods. That's because the wedge soles distribute the weight more evenly across the feet. For my use, the footbeds are sufficient but that's my taste. If you're not happy with them, you'll like that they are removable so you can easily replace them with the inserts of your choice.
Like any full-grain leather, I had to take some time to break them in. Once this phase is over, the work boots become more comfortable. Anyway, the moc-toe boots on feet allow for more flexibility. As such, I never struggled when I squatted or kneeled. However, I notice that the toe box runs narrow even for a wide size. Before you click that add to cart, I strongly suggest that you try them out in person.
What We Like
Has ASTM-compliant safety features
Distributes pressure evenly across the feet
Slip and heat-resistant outsoles
Has removable insoles
Extremely comfy once broken in
What We Don't Like
Toe box runs narrow than most boots
Pair these work boots for a ball of foot pain with your orthotics and your tootsies will thank you. Equipped with wedge soles, they are more suitable for standing and walking on hard, flat surfaces.
6. EVER BOOTS Ultra Dry Waterproof Boot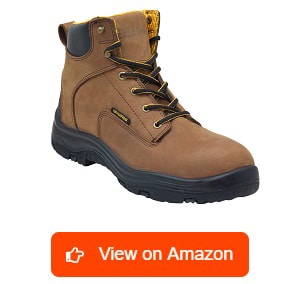 Joint pains and foot conditions like plantar fasciitis intensify during winter. For that, let me introduce you to this pair of work boots. With mesh-insulated lining, the interiors wick away. On top of that, every surface of the footwear is designed to repel water. Consequently, this awesome combination will keep your feet warm and dry. I think these boots are great for DIY projects, landscaping, and hiking.
Like the other pair of EVER BOOTS I reviewed, this one lets me replace the footbeds with custom-made insoles without affecting the fitting. Not to mention, the way the work boot fits leaves ample space for my winter socks. Although this model does not come with a wide option, the toe box is roomy. In each step, the midsoles absorb the shock, which aids in relieving sore feet.
On the other hand, the rubber outsoles have slip and oil-resistant key features that help me walk on slippery surfaces. Best of all, these work boots never weighed me down when I walked. Meanwhile, the leather uppers are soft and flexible.
My only gripe is that the boot's tongue seems a little narrow, which can be troublesome for those with wide ankles. If I were you, try this footwear in person before you buy it online.
What We Like
Lets you change the insoles
Ample room for winter socks
Outstanding waterproofing system
Warms your feet during winter
Light and flexible work boot
What We Don't Like
The tongue is a little narrow
Knowing that these work boots have good insulation and waterproofing systems, you no longer have to dread the intensified pain caused by cold temperatures. Light, flexible, and spacious, they will ease your feet as you work outdoors.
7. Timberland PRO TB0A1FZP001 Boondock Work Boot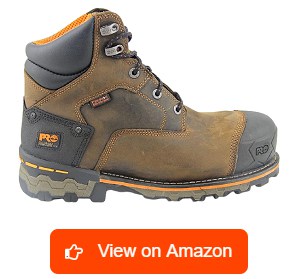 Due to their anti-fatigue technology, these sore feet work boots easily became a crowd favorite. The design is highly capable of absorbing the shock and sending the energy back to the foot. Based on experience, the insoles are amazingly comfortable. It's like I'm walking barefoot. Despite the long shift, I noticed that my feet were indeed free from pain.
As for lacing, adjusting the tightness is easy thanks to the dual-purpose purpose top hardware. This way, I can figure out the right tension that prevents the boots from wobbling without cutting off blood circulation. To add to the comfort, the interiors are padded but also capable of wicking sweat and fighting off odor.
During the rainy season, the leather uppers keep my feet dry. Since they are also abrasion-resistant, I don't see any scuff marks when I accidentally scrape them on rough surfaces. Note that these composite toe boots are relatively lighter than steel toes. Nevertheless, they serve as shields against the impact of falling or rolling objects.
On top of the electrical hazard protection, the well-designed thermoplastic urethane outsoles are grippy on slippery surfaces like snow, ice, and smooth concrete. Yet, they squeak a lot and I find it annoying. To be fair, this does not affect the overall performance.
What We Like
Very comfortable insoles
Helps prevent sore feet
Good traction on slippery surfaces
Reliable protective features
Perfect for wet or snowy weather
Let's face it, that screeching noise is not a deal breaker. Performance-wise, I would say that these Timberland work boots are a masterpiece. It's not every day that you will find work boots that come with insoles that you actually love.
8. Skechers 77143 Burgin-Tarlac Work Boot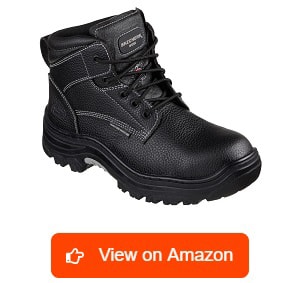 With this pair of Skechers, you don't have to spend a fortune to prevent sore feet from work boots. Made of memory foam, the insoles not only provide cushion but also follow the contours of my feet. Speaking from experience, they feel rather springy when I walk. Once broken in, I assure you that the leather uppers and rubber outsoles can flex nicely so you can squat or kneel with ease.
Besides the steel toe caps, the footwear has electrical hazard protection. Plus, the rubber sole is both grippy and puncture-proof. Hence, I could trudge on piles of debris or cross slippery surfaces without struggling to maintain my balance. Let me also add the padded collar does an excellent job in hugging my ankle to keep them from twisting and preventing blisters. At a job site, these safety features will be extremely helpful.
While the wide steel toe cap may be advantageous for some, I think these boots may be a tad too spacious for narrow feet. If you're thinking of buying online, I suggest that you hold it off and try them out in person first. Some folks also complain about memory foam as it thins out faster. When this happens, you can try inserting a different set of insoles.
What We Like
Comes with memory foam insoles
Affordable steel toe work boots
Has grippy and puncture-proof soles
Provides ASTM-rated safety features
Allows you to move easily
What We Don't Like
The shoe size runs wide
The insoles flatten after a while
Discounting the minor flaws, I think these steel toe work boots for sore feet are reliable. With springy insoles and grippy outsoles, you can walk safely and painlessly regardless of the terrain.
9. KEEN Utility Pittsburgh Soft Toe Work Boot
This pair from the KEEN Utility collection is among the formidable contenders for the top-tier work boots for sore feet is this pair from the KEEN Utility collection. Renowned for its innovation, it is built with a full-length TPU plate fitted into the midsole. Essentially, it supports the feet and stabilizes the heel but it also makes the footwear comfier for walking.
Since the midsole is made of dual-density compression-molded EVA and PU, it can absorb the shock in each step. For good measure, the rubber outsoles have grippy lugs to help me walk on slippery surfaces. Honestly, I love the footbed, but thankfully, they are removable. As such, those flat feet, high arch, plantar fasciitis, or other foot conditions can further personalize these work boots.
On rainy days, the nubuck leather uppers and waterproof breathable membrane work together to keep my feet cool and dry. Owing to the contoured heel lock, the fit is secure but I also think the work boots are true to size. Also, I can easily wear the boots thanks to the rear pull loop.
However, I'm surprised that this pair is heavy knowing that it is not fitted with safety toes. If you wear steel toe work shoes frequently like me, you will probably not notice it. Lastly, the shoelaces are not durable.
What We Like
Can fit your feet securely
Supportive and shock-absorbing midsole
Lets you replace the footbed
Grippy rubber outsole
Outstanding waterproofing system
What We Don't Like
Can feel heavy for some folks
The bootlaces are substandard
No doubt, you can never go wrong with KEEN Utility work boots. With all these features combined, I still have some energy left after work since my feet are not throbbing with soreness.
10. WOLVERINE W10741 Loader Wedge Work Boot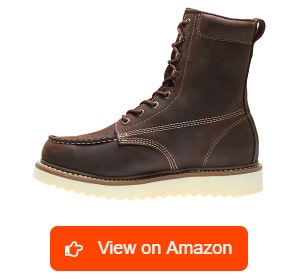 When it comes to minimizing foot fatigue and soreness, this pair of Wolverine work boots nails it! Standing for extended periods is less agonizing for me. That's because the wedge rubber outsole spreads the pressure more uniformly across my feet. On concrete surfaces, it absorbs the shock better than raised heel work boots. Fun fact: wedge soles are low maintenance since they shed debris.
Despite having a steel toe cap, the footwear weighs light. Moreover, the full-grain leather upper can flex well once broken in, which makes long strolls less painful. Designed with Goodyear welt construction, these steel toe boots are durable and resole-able. Mind you, my own pair has lasted several years and I'm impressed that it has not shown signs of wearing down.
If you want to personalize these work boots for your feet, I'm happy to report that the insoles are removable. Folks with a high arch, flat feet, plantar fasciitis, and other types of conditions can swap them with sore feet arch support that is more tailored to their needs.
Also, I like that the padded collar is unlined to allow more air to pass through and keep my feet cool under hot conditions. However, the tongue is a little too thick and the shaft seems narrow. Maybe they will fit better with slender legs.
What We Like
Ideal for standing on concrete surfaces
Lessens the impact in each step
The insoles are replaceable
Allows you to re-sole
What We Don't Like
The shaft may feel tight for muscular legs
Only high-quality work boots like this one can satisfy the pickiest folks. Equipped with wedge soles, you can count on the footwear's shock absorption to reduce foot fatigue.
11. ROCKROOSTER Work Boot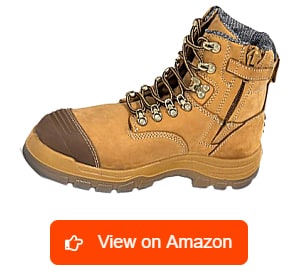 Another great candidate for the most favorite work boots for sore feet is this pair from ROCKROOSTER. Let me start by saying that the footbeds are soothing. Since the shape of our feet is unique, I know you may have a different opinion. Rest assured, they are removable, which lets the wearer insert specific insoles for flat feet, plantar fasciitis, and other conditions.
Moreover, the boots are lined with Coolmax and PORON Xrd to wick the sweat away and regulate the temperature to keep my feet from overheating or shivering. In short, these features are the reason why my tootsies stay fresh and dry regardless of the weather. When I'm in a rush, I can simply use the zippers to quickly put them on.
As for protection, this pair of work boots sports a hard-wearing steel toe cap and puncture-proof, slip-resistant rubber outsole. Both of which conform to the ASTM standards. Consequently, I can trek any kind of terrain without running into slipping accidents or injuring my feet.
So far, I can only see two minor flaws in the footwear's design. The first is that the work boots are heavy. Secondly, the size chart is a little confusing. I find that some folks complain about getting either a smaller or a bigger shoe size despite following the manufacturer's measurement guide.
What We Like
Has removable comfy footbeds
Can wick away sweat
Appropriate for any weather
Has side zippers for easy on and off
Reliable safety features
What We Don't Like
Heavy work boots
The size chart is confusing
Taking into account all the features, I think these are truly a reliable pair of work boots for sore feet. What's more, you can wear this at any time of the year, on any terrain!
12. Golden Fox Work Boots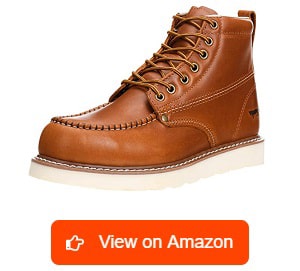 Made with Goodyear welt construction, these work shoes for sore feet can take a beating for years. When the wedge soles wear down, I can always get them resolved. While we're on the subject, let me also share that they are slip and oil-resistant. On the days that I have to march on slick concrete surfaces, I don't struggle with keeping my balance. Alongside the shock-absorbing heel cushion, they help prevent pain while supporting my lower back and legs.
Without the safety toes, the weight is significantly lighter. As expected, full-grain leather uppers need some breaking in, but it does not take very long. Great for any weather, the interiors have insulated mesh lining that can wick away the sweat when it's hot and keep the feet warm during winter. Again, let me emphasize that this feature is crucial since foot pains get magnified under cold temperatures.
The challenge is finding the perfect fit since these boots are not true to size. For an online purchase, make sure to read the shop's return and exchange policies. Also, the shoelaces are too short for me to tie a decent knot. Still, it's not that big of a deal since you can replace them with longer ones.
What We Like
Durable work boots for sore feet
Supports lower back and legs
Reliable slip-resistant outsoles
Ideal for walking and standing on concrete
Suitable for any weather
What We Don't Like
Inconsistent with standard sizes
The shoelaces are short
Combining lightweight, cushy yet durable materials, this pair is one of the top work boots for sore feet for any season. Its insulated mesh lining not only keeps your feet warm but also prevents foot pains from worsening during winter.
What Is a Pair of Work Boots for Sore Feet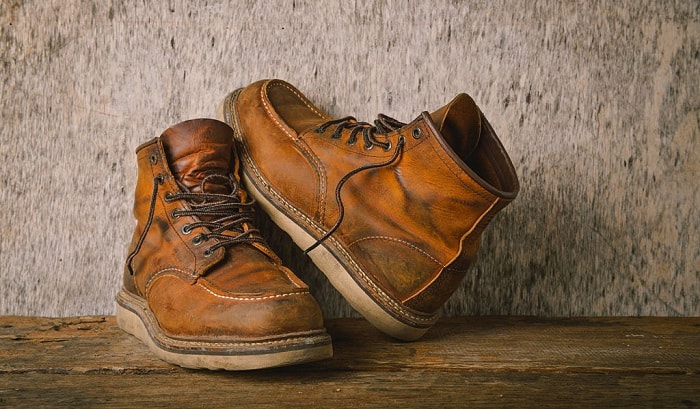 Work boots for foot pain are designed to alleviate fatigue with their arch support and shock-absorbing properties. Some orthopedic recommended work boots also address foot conditions like flat feet, high arch, and plantar fasciitis by providing additional support in targeted areas.
Type of Work Boots for Sore Feet
Different types of footwear can pass off as the top-rated boots for foot pain. Here are some examples:
Hiking boots
Wedge-sole boots
Logger boots
Pull-on boots
Wellington boots
Safety toe boots
Why Do You Need Work Boots for Sore Feet
Wearing comfortable work boots on feet can alleviate the soreness of extended periods of standing and walking. Besides relieving you from general fatigue, they can also make foot conditions like plantar fasciitis, heel spur, flat or high arch more manageable.
Buying Guide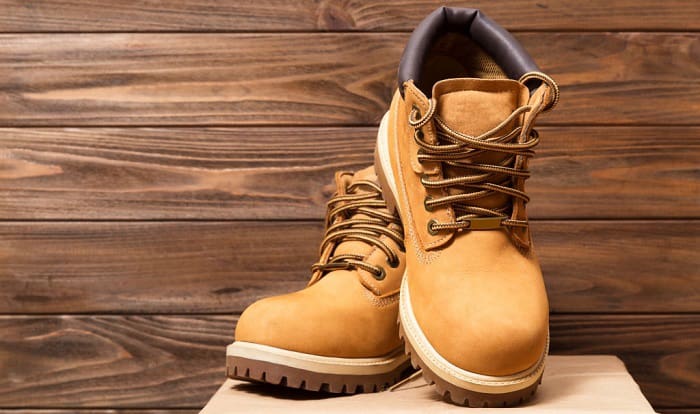 Here are some pointers to consider to find the right work boots for sore feet:
Size
Experts say that it is best to fit and buy work boots in the afternoon when the feet swell so you can get a more accurate size. Remember to account for socks and footbeds for orthotics you intend to use. For wide feet, go for shoe brands that offer wide, and extra-wide options. Those with asymmetrical feet can check out brands that create asymmetrical toe caps, like Keen Utility work boots.
Flexibility
Traditionally, work boots are made of leather or a combination of leather nylon mesh. At any rate, be sure to properly break the footwear so they can flex better, which will lessen the burden on your feet. Otherwise, opt for materials like synthetic fabrics, which are lighter and more flexible.
Laces
Shoelaces are often overlooked yet they are just as important as any part of a work boot. Most work boots feature a traditional lace-up system, allowing you to adjust the tightness. For a more comfortable fit, the tension needs to be evenly distributed from top to bottom. Aside from holding the boots securely on your feet, it can promote good blood circulation and prevent soreness.
Weight
Several industrial jobs require safety-toe work boots but they are also heavy. Logically speaking, weighty footwear can make one tired faster. Before buying, read the product description to learn more about the materials and the shoes' weight.
Care and Maintenance
Remember, cach brand uses synthetics and different types of leather, like nubuck and full-grain. The good news is that most shoe manufacturers also offer cleaning kits formulated for their line of work boots, which you can avail in their shops.
Frequently Asked Questions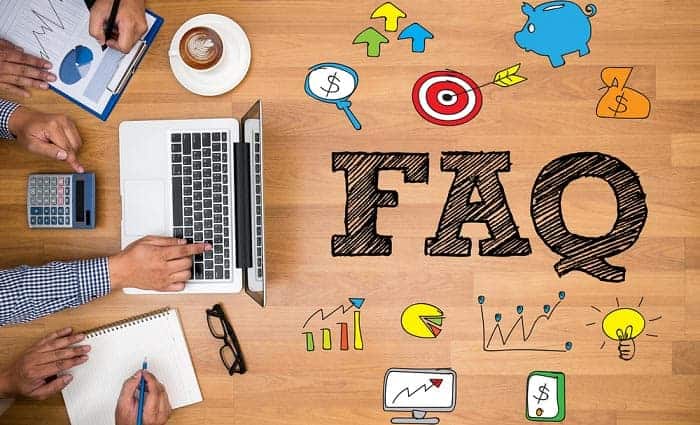 Who makes the highest quality work boots for sore feet?
In the UK, the US, and elsewhere, brands like Timberland, EVER BOOTS, Skechers, Irish Setter, KEEN, WOLVERINE, ROCKROOSTER, and Golden Fox are quite popular due to their quality.
Why do my work boots hurt my feet?
Intense physical labor, the lack of arch support, poor-fitting shoes, and heavyweight boot materials can put a lot of strain on your feet. Hereditary conditions, such as flat feet or high arches, can also be a factor.
Can sore feet cause leg, knee, or back pain?
Yes. If you don't take measures to address the soreness, it can affect the way your lower extremities carry the body weight and your movement. Eventually, this will burden your leg, knee, hips, and back.
How do you make your feet not hurt in work boots?
Remember, your feet undergo many changes over time, even as an adult, so measure them when buying a new pair. Next, look for footwear and insoles that are suitable for your job. Cushy insoles are great for those who stand for extended periods while work boots that are curved upward around the toe area are better for long walks.
Conclusion
The best work boots for sore feet are the ones that can protect your feet from various hazards and keep them from throbbing after a long day at work. However, keep in mind that this is just one way to prevent and manage foot conditions. Using the correct insoles, wearing the cushioned socks, getting enough rest and massage will relieve your tootsies from discomfort.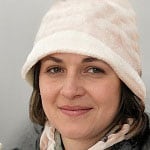 Veronica is our content editor. She is a talent in delivery. Her main work is editing and writing articles that are both informative and simple to follow. She is in charge of synthesizing our understanding of what personal protection equipment (PPE) is needed in each job, how to best apply it, and how to visualize that equipment.