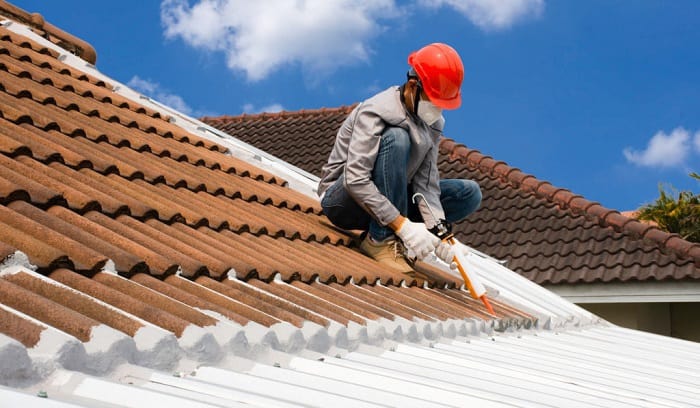 Before it took the fashion scene by storm, jeans were initially designed as workwear for laborers. To date, this versatile piece of clothing remains a wardrobe staple among workers, popular celebrities, fashionistas, counterculture groups, and regular folks like you and me.
For this review, we will be focusing on the best work jeans for men. Not all denim pants have the quality and features that benefit workers. These are the attributes that make work jeans different from regular fashion jeans:
Fit: Modern jeans are designed to fit different body types but, in the context of work, they also serve to provide comfort. "Classic fit" is also known as the straight-leg or tapered jeans, which strike a good balance between comfort, style, and durability. "Relaxed fit" is roomier than the classic fit, allowing for a wider range of motion. Skinny jeans are not advisable for work because their tight fit can restrict your movement.
Pockets and loops: Some workers need to carry tools, while others only need the pocket to store their phones. If you identify yourself with the former, you can opt for jeans that have hammer loops and multi-purpose pockets. For those who wear work belts, you need to make sure that the trouser's belt loop can fit the strap and is durable enough to hold the weight of the pouches or holsters that you intend to attach.
Fabric: Generally, denim is made of cotton, a material known for comfort and long-lasting durability. To improve the quality further, manufacturers have been combining cotton with other materials. Cotton and elastane make the fabric flex so you can move comfortably. Meanwhile, cotton and polyester make the fabric stronger, easy to clean, and wrinkle-resistant.
When choosing the right men's work jeans, you need to look beyond these physical attributes. Hence, I'm inviting you to read the "Buying Guide" so you can find the perfect pair amidst the sea of blue jeans. For specific suggestions, check out the 13 pairs of jeans in the product review.
List of Top-Quality Men's Work Jeans Reviews
1. Levi's Men's 501 Original Fit Jeans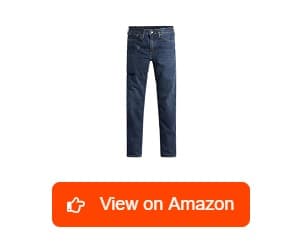 Another top choice from the inventor of blue jeans, these pants are made of denim with strong seams reinforced by rivets. Therefore, these work jeans for construction, mining, and farming can withstand rough working conditions.
Because they're designed based on the original jeans, these pants don't have zippers. Instead, they use button flies. While some may view this as a hassle, I personally like this feature because zippers tend to open on their own.
Besides workers, we all know that these tough jeans are now widely used by students, celebrities, travelers, artists, and fashionistas. As for me, I wear them on the job site and office, as well as errands and parties. I can pair them with my button-up shirt or casual tees.
Plus, the straight cut is flattering and comfortable for most body types! Even when I'm sitting, they do not dig into my stomach. What's more, the front pockets are big enough for me to fit my large smartphone. More importantly, I know these pants can last several years despite the fact that I work in a harsh environment.
While the manufacturer utilizes non-stretched denim to create these rugged men's jeans, they do not hinder my movement. Truly, they are the most comfortable work jeans I've ever worn! However, it took quite a long for the fabric to break in. Still, I think it's a small sacrifice knowing that stretch work jeans aren't as durable as this option!
What We Like
Utilizes denim and strong seams reinforced by rivets
Features button flies
Suitable for work, errands, and parties
Straight-cut design that looks great for most body types
The front pockets are big enough to fit a smartphone
Can last several years
What We Don't Like
The new fabric will take a while to break in
All the 501 Originals that I bought since high school lasted years, which goes to show that they are really the most durable jeans for work. Knowing that these pants have transcended decades of fashion trends, they are a mainstay in my wardrobe!
2. Wrangler ZM1CSCB Men's Jean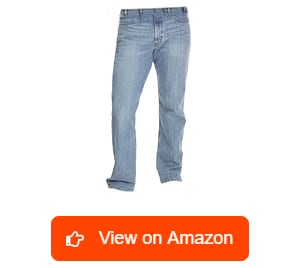 Whether I'm on duty or hanging out with friends, the comfort that these work jeans provide exceeds my expectations. The trousers stretch for better mobility. It comes in handy since I'm always on my feet, moving up and down the ladder and squatting to inspect some things at work. Constructed with a regular fit, the straight cut gives me some wiggle room without making it look baggy.
Thanks to the comfortable flex waist, I don't even have to change sizes immediately when my weight fluctuates. Even though I wear them often, these pants hold up well. It has been four years since I bought this, yet I never had to deal with busted seams, torn fabric, a jammed zipper, or loose buttons. Because this particular model comes in a choice of black and six shades of blue, I get to choose specific colors that go well with my wardrobe.
That said, the standard size seems like they are meant for tall guys so I had to alter the length. Although this is just a minor inconvenience, I wish the manufacturer would consider making a version with a length of around 28 or 29 inches. The good news is that these pants are available in tall and big sizes!
What We Like
Suitable for work and casual attire
Provides multiple color options
Promotes good mobility
Fits well despite weight fluctuations
Guarantees long-lasting durability
Comes in regular, tall, and big sizes
What We Don't Like
The length of the pants is too long
So far, this is one of the most comfortable work pants that I have ever tried. Plus, it comes in a handful of color options and a wide range of sizes to accommodate diverse body types.
3. Dickies 9393RNB 28 30 Men's Jean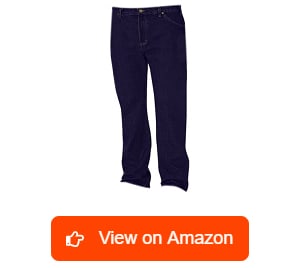 Let's start strong by reviewing this pair of high-quality straight-legged work jeans. Made of pure cotton denim twill, these trousers are the most durable ones I have ever worn. To date, it has not shown any hint of wear and tear on the fabric, buttons, zippers, and seams. This is due to the brass rivets and triple-stitching. Judging by the quality, I do not doubt that this pair can last years without the need to repair.
Designed with a classic fit, the pants go over my work boots nicely. However, this also presents two more advantages. First, it makes the pants comfy once they are broken in. Second, the indigo shade goes well with some of my tees, polos, and button-down shirts. I don't mind wearing them to perform all sorts of tasks in the workshop, do some desk work, or meet a client. Plus, it comes in an equally stylish yet more casual shade called the "stone-washed" indigo.
For a pair of work pants
, the front pockets are surprisingly shallow that they could barely hold a wallet and a phone securely. Whenever I'm wearing these pants, I would have to wear my belt and attach a phone holster for safekeeping. Most of the time, I use them to store some loose change, keys, and a small swiss knife. Considering their affordable price, however, this is a small trade-off.
What We Like
Has durability that can last many years
Comfortable once broken-in
Available in indigo and stone-washed shades
Apt for fieldwork, office, or workshop duties
Affordable high-quality work jeans
What We Don't Like
Has shallow front pockets
Sold at a budget-friendly price, this durable work jeans are a steal! Besides its longevity, you can also benefit from its versatility and comfort.
4. Rustler 87634CB Men's Jean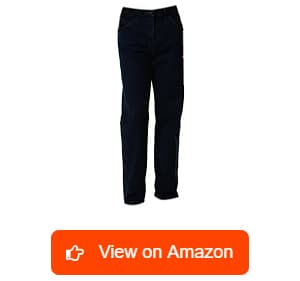 Although most work pants are affordable, this pair of jeans is "budget-friendlier" but it has a lot to offer. When I wore this for the first time, I was surprised that the denim felt ultra-comfy. I didn't even need to wash and wear it several times to soften up the fabric. Coupled with a roomy seat and thigh, I go about my day feeling I'm in my house clothes.
However, these jeans are stylish. They instantly became my go-to bottoms for occasions that require smart casual attire, like meetings. Despite their relaxed fit, they are not baggy. Most of the color options are in the darker spectrum so pair them with a button-down shirt and leather boots. Featuring sturdy loops, the leather belt I normally wear is held securely on my waist. Moreover, the pockets are sufficiently deep for my smartphone and the zipper runs smoothly.
Generally speaking, durable men's jeans usually have rivets at the stress points, which is missing here. That said, I cannot judge the pants' strength based on that alone. It has been a year since I've had these in my wardrobe. So far, they are holding up well, although I don't wear them for physically demanding tasks. As mentioned earlier, they are pretty cheap so I can always buy another one.
What We Like
No need for a long break-in period
Has roomy seat and thigh
Goes well with dressy shirts and shoes
Equipped with sturdy belt loops
The pockets can fit a smartphone
With these pants, you can look stylish and feel comfortable at the same time. Despite their affordable price, they feature reliable zippers, sturdy belt loops, and deep pockets. You should not underestimate these jeans!
5. Wrangler 3W030AI Men's Jean
Designed especially for electricians, construction workers, and similar professions, these Wrangler work jeans feature a gusseted crotch and reinforced front panels. Of course, this brand is already known for its heavy-duty denim. But the construction itself ensures that the seams can withstand the strain that comes with frequent kneeling, squatting, and climbing ladders. By now, you probably get why I highly recommend this!
In addition to their robustness, these utility jeans are packed with features that let me perform more efficiently. The fit allows for unrestricted mobility and provides all-day comfort. More importantly, the pockets are useful. In particular, I like the back pocket reinforced with a Cordura lining as it keeps the tools from tearing the fabric. Alongside the hammer loop, there is a leather lining on the right pocket where I can clip the tape measure.
Although I appreciate the pants' functionality, I'm not a fan of the baggy silhouette. Keep in mind that I'm commenting based on my body type and preference so it may look better on you. On the bright side, they give ample room for knee pads that you can wear under trousers. When it comes to industrial jobs, durability, utility, and comfort come before aesthetics.
What We Like
Made of heavy-duty denim
Promotes unrestricted mobility
Dependable for various industrial jobs
Comes with a hammer loop
Has leather lining for a tape measure
The pockets can hold tools without ripping
What We Don't Like
It may be too loose for some body types
In terms of durability and reliability, nothing comes close to these construction jeans. Given all the features, they are also appropriate for other professionals who need to kneel or squat often. Plus, the pockets are strong enough to hold a couple of hand tools.
6. Lee 28779 Men's Jean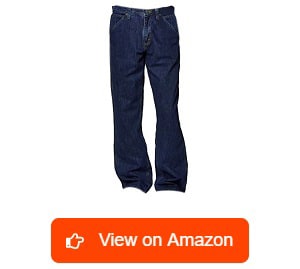 Known for manufacturing one of the most dependable workwear, Lee designed these carpenter jeans for a great range of motion. Loose throughout the seat and thigh, the fit surprisingly does not affect the form since the pants don't look too baggy. With the right size, they sit slightly below the waist. As such, I can crawl, squat, or move up and down the ladder without feeling like my pants will fall off.
Storage-wise, I get six pockets to carry personal items. Because the front pockets are deep and wide, I don't struggle to slip and retrieve my smartphone. Made of poly-blend material, the fabric is abrasion and wrinkle-resistant, which makes the pants low-maintenance. Appropriate for the summer, they are lighter and more comfortable. Their quick-drying capabilities reduce the time I spend doing the laundry.
If we factor in all these features, these trousers cater not only to carpenters but also to any worker in various industries. My only concern is that the fabric is thinner than most of the work jeans that I have. Although the pants seem to hold up well thus far, I'm not sure how it will fare years from now. Perhaps only time can tell.
What We Like
Allows for a great range of motion
Designed with a straight cut
Provides ample spacious pockets
Low-maintenance features reduce laundry time
What We Don't Like
The fabric seems thinner than most work jeans
One thing that the lightweight fabric can offer that heavyweight denim can't is they are so much more comfortable for the hot weather. To top it off, these
best work jeans for men
are probably one of the easiest ones to wash and dry!
7. Carhartt B17-STW Men's Jean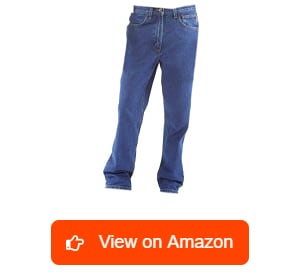 Crawling or crouching can sometimes cause the jeans to bind the thighs and restrict your movement. Thankfully, these Carhartt work jeans exist to address this issue! With a roomy seat and thigh, the relaxed fit provides some space for me to maneuver properly. The pants sit on the waist, but it does not cut into my tummy when I sit, squat, or bend over. Featuring a tapered leg, they give me a nice silhouette and fall over my work boots.
Despite all the strain that I subjected to these pants, they maintain a good shape. After all these years, the seams, zippers, and buttons remain intact. On top of that, the belt loops are strong enough to hold the weight of the pouches that cling to the strap of my belt. Aside from work, I can pair these jeans with some of my favorite tees and button-down shirts for a more casual look. Although the label does not say it, they can be a nice pair of men's farmer jeans.
Catering to diverse body types, this model comes in regular as well as big and tall sizes. Furthermore, it provides three color options to choose from! The only thing that I don't like about these pants is that the pockets are narrow so there's not much I can put inside. If you rarely use pockets, then you will not have a problem.
What We Like
Allows for a wide range of motion
The waistband does not cut the stomach
Highly durable construction
Has reinforced belt loops
Suits diverse body types
Overall, these are among the most suitable options for anyone who needs to wear a work belt and attach multiple pouches. Aside from the comfort they provide, these versatile jeans are perfect for work and everyday wear.
8. Amazon Essentials AE1907048 Men's Jean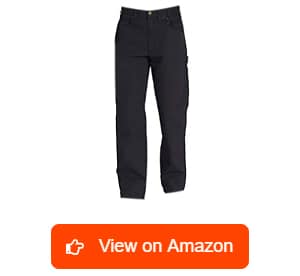 When it comes to durable workwear, these tough work jeans are setting high standards. One of my favorite features is the hammer loops and phone pockets found on both sides of the pants, benefitting both left and right-handed folks. Generally speaking, the sizes of the pockets are enough for me to slip an assortment of tools. Even more impressive, the placement is on point, which lets me reach for an item without looking.
Granted, these pants are not made of denim but the cotton canvas is thick and heavy, meeting the basic criteria for rugged jobs. Yet, they feel so soft on my skin. As expected from a pair of carpenter jeans, the seams are well-made. The trousers hold up nicely even though I squat and climb ladders often with full-loaded pockets. Aside from that, the fit gives my thighs and legs plenty of room to maneuver.
Indeed, these pants are a game-changer. However, these are a tad too baggy for my body type, but I think most carpenter pants are. If this look does not bother you, by all means, get these pants! Given all these features, I find it pleasantly surprising that it does not come with a hefty price tag.
What We Like
Suits left-handed workers
Affordable carpenter pants
Lets you maneuver comfortably
Has ample sizable pockets
Appropriate for rugged jobs
Made of heavy cotton canvas
Factoring in the quality, these affordable work pants will give you a lot of bang for the buck. Lefties will never have to settle for work pants that are made for right-handed people. More than that, they provide ample pockets for you to store your tools, gadgets, and gizmos.
9. Levi's 00550-4886 Men's Jeans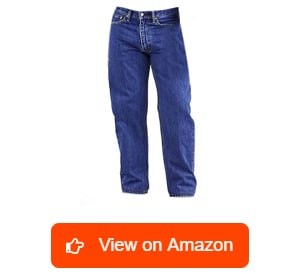 Coming from the brand that invented jeans, these pants are a true classic. It is not a stretch to say that these trousers do not even need an introduction because people from all walks of life wear them. As an all-around pair of jeans, they are excellent for work, chilling with friends, or doing errands. Besides, they are compatible with most of my shirts.
When I need to climb my truck, I can do so easily due to the roomy seat and thigh. Plus, the pants naturally sit on my waist and don't dig into my stomach when I sit. Although the denim and seams are heavy-duty, the rivets ensure they are held together. At my age, I prefer this tapered leg over the baggy ones because of their timeless look. Whether I'm wearing boots or sneakers, they drape over the footwear nicely.
For some reason, these pants only have five belt loops and the construction seems weak. While they are still intact, I have always preferred pants with seven loops since they are better at holding a leather belt. Anyway, these good work jeans fit like a glove to me but sometimes wearing a belt makes the outfit look so much better.
What We Like
Has a timeless yet versatile design
Available in multiple shades of blue
Appropriate for work or everyday attire
Does not dig into the stomach
Roomy seat and thigh lets you move freely
What We Don't Like
Belt loops need improvement
You may be thinking of which color to get, but one thing's for sure–you can never go wrong with these Levi's jeans! Their tapered legs and classic blue shades will never go out of style.
10. Dickies 1939RSL 30 30 Jean
Let's take a break from reviewing blue jeans and explore the features of these carpenter pants. With nine choices of earth tones, the neutral shades go well with shirts of any color or style. Just the same, the functionality serves different laborers across many industries. Even though the label says "Carpenter," they make for an awesome pair of farmer jeans and men's workwear. As for me, I also like wearing them when I'm off duty.
In addition to the triple-stitching and heavy-duty fabric, the pants are held together by brass rivets at the stress points. After years of wearing this, I'm amazed at how it holds up to all the physical labor. The same goes for the hammer loop, button, and zippers. On top of that, the front pockets are deep enough to fit my bulky smartphone well, while the opening is wide, which allows my hand to slip inside and retrieve the item.
Beyond durability, these pants are designed to provide comfort for great mobility. While they fall under the "Relaxed Fit" category, they are anything but baggy. However, the fabric felt stiff when I wore it the first time and it took me a couple of washes to soften them up. To be fair, it is a common issue with this type of pants.
What We Like
Available in neutral colors
Ideal for jobs in different industries
Front pockets can fit a smartphone
Triple-stitching and rivets prevent ripping
Can be worn on and off-duty
What We Don't Like
Takes time for the fabric to soften
If you are tired of the usual blue jeans, then these work pants are an excellent alternative. Aside from their charming neutral shades, they can keep up with different types of manual labor, whether in the farm, factory, construction, or workshop.
11. Levi's 00505-4891 Men's Jeans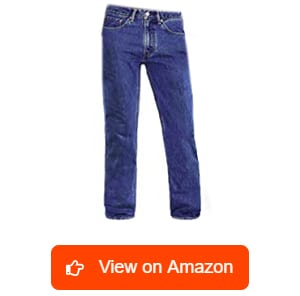 Compared to the 550, this pair of 505 pants have a relatively narrower opening. Yet, these trousers do not hug my legs as skinny jeans do. Rather, it hits the sweet spot between a slim and relaxed fit, making them the right choice for those who want to emphasize their body shape. Plus, they go well with my casual tees and long button-down sleeves. For footwear, they are compatible with my boat shoes, oxfords, sneakers, and boots.
Whether I'm doing some woodwork in my workshop or meeting a client at a cafe, these pants fit the bill. The brand itself is synonymous with long-lasting durability and the fact that this pair lasted me over five years proves the point. At the same time, it is comfortable enough for me to move in. In terms of color choices, you will find light to dark shades of blue.
As with the other Levi's jeans I reviewed, the belt loops do not look like they can last long so I had to reinforce them myself. I wish the manufacturer would consider improving this feature since they are essential for many workers. Because the pants themselves are durable, this issue seems like a minor inconvenience that I'm willing to fix and overlook.
What We Like
Emphasizes body shape
Suits a wide variety of shirts and shoes
Apt for a client meeting or manual labor
Promises long-lasting durability
Comfortable to move in
They say you need to dress up for success and what better way to do that than to wear these work jeans. With slimmer legs, it is easier to pair these pants with button-down shirts and oxfords to achieve that elegant, smart casual look!
12. Carhartt 102804 Men's Jean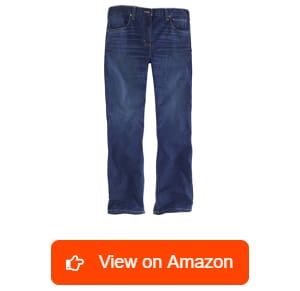 If your work and lifestyle, in general, are anything but sedentary, then you will like these jeans. Developed with the brand's trademark Rugged Flex technology, the fabric is both stretchy and strong. Even though they are relatively slimmer compared to the previous Carhartt pants I reviewed, the trousers do not restrict my movement when I perform my tasks.
Furthermore, the straight leg creates a nice silhouette that can pass off for smart-casual even though these jeans are made for tough jobs. Owing to their versatility, I can see that they are perfectly suitable for site managers who need to dress up for client meetings and do the rounds at the job sites.
In terms of functionality, the pockets are very deep so I can carry the tools that I need. On the other hand, the reinforced loops ensure that the strap of my belt will not sag or twist when I attach pouches. At the same time, the weight does not cause the belt loops to rip. Truly, this is one of the most durable work jeans that you can depend on.
Despite ordering the correct size, the thigh area feels tight. If you have muscular thighs, it is best to try these pants in person. In my view, I don't think it's the pants' fault. Perhaps, they are made for a specific body type.
What We Like
Supports good mobility
Ideal for client meetings and site visits
Has a nice straight-legged cut
Equipped with very deep pockets
Has highly durable belt loops
What We Don't Like
Feels tight around the thighs
From job sites to important business meetings, these pants will never look out of place. Built with Rugged Flex, you can move with so much ease and comfort.
13. 5.11 Tactical Men's Jeans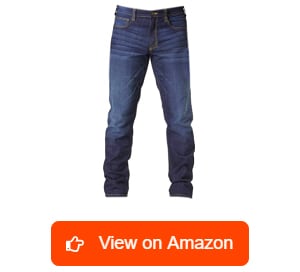 Even though they do not look like conventional tactical pants, these heavy-duty jeans perform more or less the same. After all, tactical wear can be a dead giveaway for those who need to be stealthy. Nevertheless, its versatile style will make them suitable even when you're off duty. If you work in security, you will like the durable construction and heavy denim. Together, they prevent the pants from sagging when you have to carry a gun.
As for me, I like that these pants have seven pockets. First responders, law enforcers, or security personnel, will come in handy for storing knives, smartphones, mags, or clip-on radios. Meanwhile, the sturdy belt loops are also designed to hold a gun holster securely. Built with a combination of cotton and polyester, the denim fabric can flex as I sit, walk, climb, squat, or crawl. Even though these pants are slim fit, they do not hug my legs.
Just a warning, the dye of these work jeans tends to bleed and stains my boots. Although it stopped after a few washes, I believe this is something that you have to take note of when buying these pants to avoid the hassle of cleaning up. Other than that, I don't see any major flaws.
What We Like
Excellent for law enforcers and security
Designed to prevent gun sagging
Made with stretchable denim fabric
Durable enough for tough jobs
Suits work and casual outfits
What We Don't Like
The dye on the fabric bleeds at first
While these jeans are made for people in law enforcement and security, anyone can benefit from the durable fabric and construction. Furthermore, the design lets you perform your duty and be stylish simultaneously.
What Is a Pair of Work Jeans for Men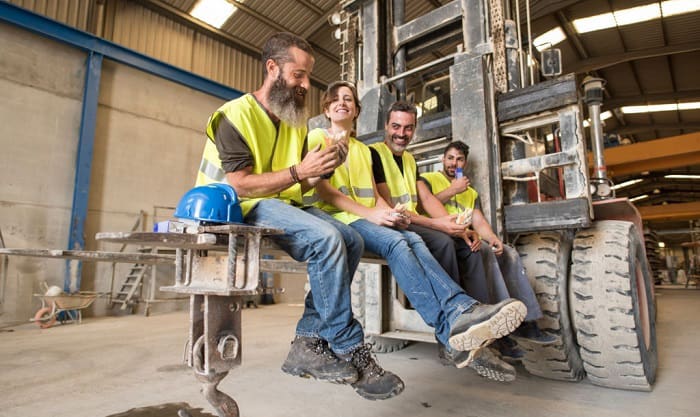 Work jeans are pants made of denim or fabric that combines denim with materials like polyester and elastane. They are designed with hammer loops, multi-use pockets, flex or rugged fabric, and other features that help the workers perform their jobs comfortably and efficiently. For maximum durability, the seams are tripled-stitched and reinforced by rivets and bartacks.
Types of Work Jeans for Men
Throughout the product review, I have discussed how each pair of heavy-duty work jeans differ in style and function. In real life, however, we use the term "work jeans" loosely even though we are referring to something more specific. It's not a big deal. But if you're searching on websites or e-commerce, keywords matter! Hence, here are the different types of work jeans you can find in the market:
Carpenter jeans
Tactical jeans
Work jeans with reinforced knees
Multi-pocket jeans
Why Do You Need Work Jeans for Men
As mentioned above, there are choices of denim fabric that make the pants appropriate for specific jobs. Plumbers, carpenters, and restaurant workers, for instance, have different needs.
Carpenter work pants feature a hammer loop and multi-purpose pockets to help workers carry tools everywhere. At the same time, it leaves their hands free to climb ladders or hammer some nails. In this way, the worker can be more efficient.
Plumbers, on the other hand, often kneel so they would need pants that promote a wide range of motion, as well as knee protection.
Meanwhile, those working in restaurants need to look smart and neat even though they are prone to getting their clothes stained from spillage. Hence, wrinkle-free and easy-to-clean pants would be a good choice for them.
Buying Guide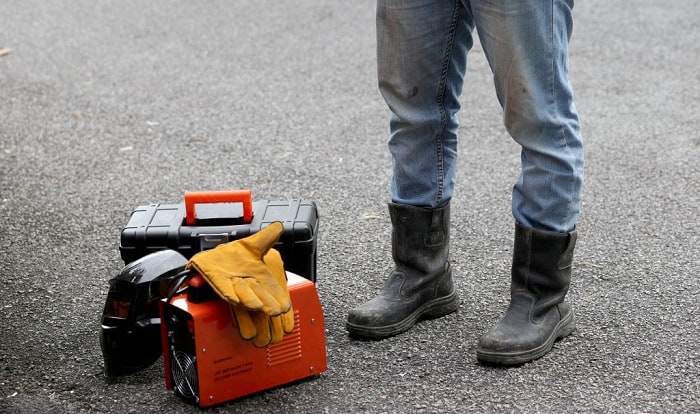 Beyond the physical features, we also have other things to consider when buying a pair of work jeans. How long will it last? Do you like how it looks on you? Is it comfortable? Is it worth the money? These are all very important questions. Lucky for you, I will be sharing some tips based on my research and personal experience.
Even if two workers perform the same task, they may have different ways of going about it. For instance, some carpenters do not use the hammer loop at all because the hammer twists and drags the pants down, so they end up using clip-on hammer loops that they attach to a belt. You may not figure out the specific features you need or end up buying the perfect work jeans right away. But, if you note the things you need as you work, you will know what to look for the next time you go shopping.
Another advantage that work jeans provide is that they can be designed to suit specific weather conditions. During the winter, you can go for pants that are lined with fleece to keep you warm. For the summer, you can wear regular denim pants. Either way, you can find the same features that you need, such as hammer loops or multi-use pockets.
When it comes to work pants or any workwear for that matter, durability is paramount. In most cases, the strength of the work jeans lies in the material and construction. A useful rule of thumb is to choose based on the type of work that you do. In the introduction of this article, I discussed the different types of materials that manufacturers use to make denim work pants that you can use as a reference. Once you have determined this, the next thing you need to check is the threads, buttons, and zippers. Even if the seams are tripled-stitched, the loose threads can spell trouble.
Some jobs will require you to dress up. Jeans are probably the most versatile pieces of clothing. Denim is perfectly acceptable in many workplaces and it can complete your smart-casual outfit. A dark wash and a nice classic fit can go well with your blazer, shirt, and oxford shoes for a polished look. Outside work, you can pair your work jeans with any t-shirt and sneakers if you need to run to the grocery store or meet your friends for a couple of drinks.
Just like your work boots, most jeans may need to be broken in before they start to soften up and feel comfier. This is usually the case with heavier pieces of denim. To find a pair of comfortable work jeans, you also need to consider your body type, job, work environment, and the weather. Besides making the long shift more bearable, it can help you perform better at work.
Care and Maintenance
The best part about owning a pair of jeans for work is that they are low maintenance! Manufacturers usually recommend washing after five to ten times of wearing. Of course, that's assuming that you did not soil your denim pants! After every shift, you can hang your jeans near the window to help lessen the odor and prepare them for the next day.
If you stain your jeans, you can spot-clean them instead. Apply a small amount of mild detergent on a toothbrush and use it to scrub the stain off. Once the stain is fully removed, rinse the detergent thoroughly with cold water.
Keep in mind that your denim's blue dye can fade because of several factors, including repeated wear, washing, drying, and accumulation of dirt and oils. Thus, a gentle wash is recommended.
Before you toss your jeans into the washing machine, turn them inside out. In this way, the side that accrues your swear and oils gets washed more instead of the blue dye. Lastly, make sure the pants are zipped up.
Choose the detergent that is formulated for dark clothing. Steer clear from the bleach since it can ruin the color of your denim pants. Using a fabric softener is also a no-no since it can accumulate on the fabric. On your washing machine, select the gentle or delicate cycle and put a small amount of detergent. Allow the jeans to air dry.
Frequently Asked Questions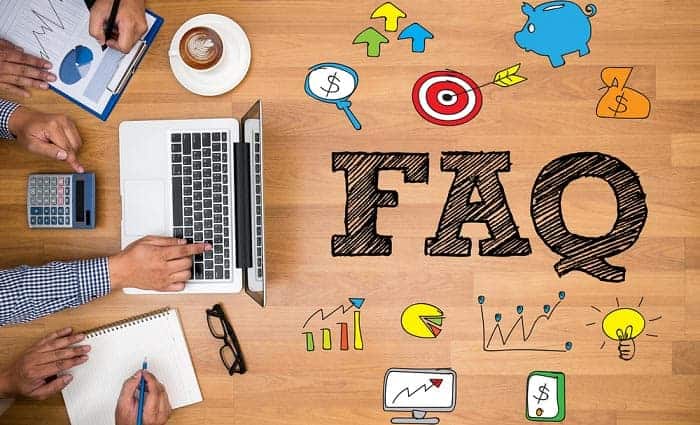 How often should I wash my jeans?
The secret to maintaining the longest-lasting jeans, even if yours are simply cheap jeans for work, is to wash them after 10 wears. If you stain them between washes, you can spot-clean them with a warm wet cloth.
That said, if your denim pants get soiled, you will have to wash them right away.
What color of jeans are most professional?
A professional-looking outfit is highly subjective, and sometimes, rules vary for women and men. Ultimately, it depends on the company's branding and culture.
With semi-formal or business casual, many agree that a pair of good jeans for work should have a darker wash with no rips and holes. In a more relaxed work environment, lighter colors are acceptable.
In construction, agriculture, shipping, and other industrial settings, companies may prioritize safety over fabric colors. Thus, workers can choose from a selection of black, brown, grays, greens, and blues, which workwear brands typically offer.
However, keep in mind that some employers may want employees to wear specific colors that match the companies' branding. Your supervisor, safety officer, or human resource officer should inform you of the company dress code.
What styles of jeans are in 2023 for men?
Fashion designers include oversized denim pants with extra-long seams in their Spring/Summer 2023 collection. Some styles draw inspiration from men's work jeans and cargo pants, while others feature ripped denim trousers.
Indeed, the good old jeans for construction workers have come a long way as they have now turned into a fashion piece. But you do not have to follow trends. You can opt for classic breathable tapered-leg pants or slim-fit flexible work jeans and still look good.
What matters is that your clothes allow you to perform your tasks without discomfort.
What are the most trusted work jeans for men brands?
Most fashion brands manufacture jeans, but not all are designed for work. No doubt, Levi's is one of the top choices because the company practically invented jeans. However, brands like Dickies, Wrangler, Carhartt, Lee, Rustler, Amazon Essentials, and 5.11 are strong contenders.
Are jeans good for construction?
Absolutely! Knowing that jeans are tough and comfy, they are perfect for construction jobs. In the product review, I have included some of the most affordable construction work jeans in the market.
How many pockets should men's work jeans have?
Almost all men's work jeans brands have designed their work pants with at least four to five pockets. If you need to carry more items, you can wear a work belt and attach pouches.
Are work jeans machine-washable?
Yes! In the Care and Maintenance section of the article, I have illustrated how you can machine-wash your work jeans. Hand-washing is also recommended but most workers don't have time and energy for that, especially after a long day at work.
How long do work jeans last?
Work jeans can last between five years to a decade, but it depends on the type of work you do and your efforts in maintaining them. Even the most durable men's jeans can deteriorate if you don't take steps to care for them properly. If you do not follow the recommended methods for washing your jeans, the blue dye can fade and the fabric will lose its ruggedness.
Conclusion
Finding the perfect work jeans is more challenging than we care to admit. When faced with over a hundred pairs of denim pants, arriving at a sound decision becomes harder. If you know your way around your work, then you have a better idea of the type of jeans that you need the next time you go shopping. For first-timers, it would probably take some time to figure out.
Although I curated and reviewed some of the best work jeans for men in the market, you still have to try them out to see if they are indeed a great fit for you. Of course, you can always check other options.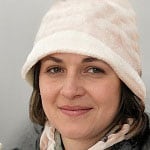 Veronica is our content editor. She is a talent in delivery. Her main work is editing and writing articles that are both informative and simple to follow. She is in charge of synthesizing our understanding of what personal protection equipment (PPE) is needed in each job, how to best apply it, and how to visualize that equipment.