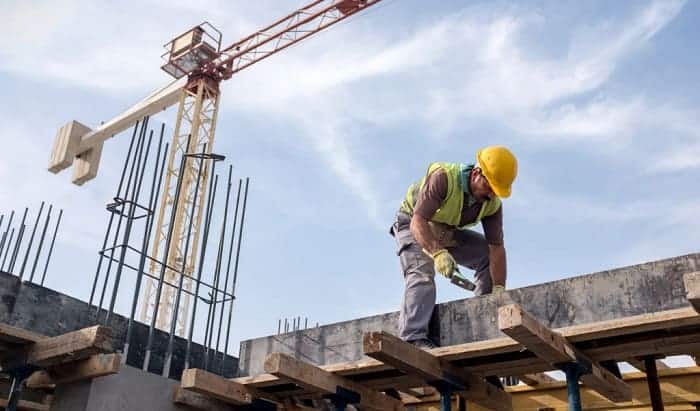 Every workwear is vital because it promotes safety in the workplace. It helps workers go through brutal summer months on the job. And for that to happen, this article laid out three factors to help workers choose the right one. Check them out to know what makes the best work pants for hot weather.
Material: Choosing the proper material for work pants can affect workers' performance and comfort in the work field. There are several materials to choose from, but the traditional heavy-duty work pants are made of cotton. Cotton is common since it is highly breathable. Workers can stay comfortable and fresh because heat is barely trapped in the body.
Wicking Power: Aside from material, the pant's ability to wick off moisture is also crucial. Wearing something lightweight and something that minimizes the collection of heat maintains your comfort all day long. Stay air dry by preventing sweat retention. That is why I cannot stress the importance of this factor.
Durability: Working under long hours in the sun is tedious, especially if it's summer work. It will require a lot of motion as workers have to operate heavy-duty machines and equipment. Anyone would want to wear something built to last. Rip-stop fabric is one good option that oozes sturdiness, and quality and is even lightweight.
Introducing three features is not enough, so I added more things to consider in the "Buying Guide." This article is also filled with work pants that guarantee optimum comfort, as they all meet great features.
Top-Rated Work Pants for Hot Weather Reviews of 2023
1. Wrangler Authentics ZM6LGBL Pant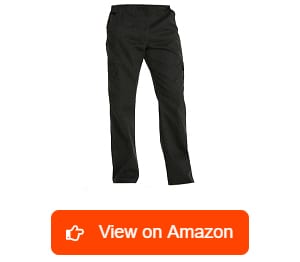 Another reliable brand when we talk about pants is Wrangler. They have been around for a long time, and the superb quality of this model shows their reputation.
Out of this world, comfort with these work pants because it is made of 100% cotton. And since it is cotton, we can expect a bit more excellence when it comes to absorbency. We will never feel any discomfort or sticky feeling when wearing them in the hot summer.
The wrangler authentics comes in neutral colors at a reasonable price, featuring a relaxed fit and contoured waistband that efficiently sits on my waist to keep me comfortable. Top that with a total of six quick-access pockets with extra storage for me to keep my belongings.
Besides that, this classic cargo pant comes with great versatility accompanied by detailed engineering. Because of this, the item has good mobility and can stay functional even when worn daily. I love bringing this to my on-site work and other outdoor activities.
Its only setback is that the colors are sometimes way off. I ordered the light beige color but what I received is a muddy brown color. Other than that, these work pant fits well, and the quality is just superb. I do not mind having a different color as long as it's a neutral tone.
What We Like
Made with 100% Cotton that makes it purely absorbent
Available in neutral colors at a reasonable price
Six quick-access pockets with extra storage to keep belongings
Relaxed fit with a contoured waistband for added comfort
Offers great versatility that makes it ideal for any occasion
What We Don't Like
Colors may be inaccurate than what was shown in the picture
It's a great summer work pants, given the features and never-ending quality that never fails to amaze me. I can keep more than just my cell phone in these extra pockets.
2. LA Police Gear Men's Work Pant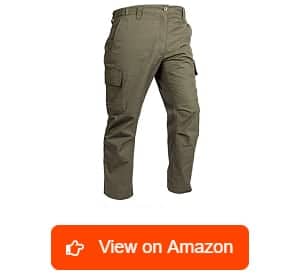 LA Police Gear is known for its sturdy approach to performance and workwear. That's why it is the number one bestseller in the market for summer work pants.
A good mix of 55% Cotton and 45% Rip-stop Polyester fabric gives out just the right balance of durability and comfort. To further ensure optimum quality, these imported construction work pants come with articulated knees and reinforced stitching.
The fabric only weighs 7 oz. So, we know that these are lightweight, breathable work pants. Plus, it comes with a button closure and a metallic YKK zipper that guarantees easy locking.
I am very particular about comfort, especially when I go to work. Thankfully, these men summer work pants come with an elastic waistband for boosted comfort. It comes with a rear slip pocket that allows me to access anything that I store. May it be car keys, cash, my phone, and a few handy tools at work.
The front pockets are even angled, which makes it a great knife or pen clipper. It's a true-to-size work pant that can hold my expectations. However, this one does not have reinforced knees. But even though it was like that, these work pants remain durable.
What We Like
Made of a good mix of cotton and ripstop fabric for comfort and durability
Imported and one of the top-tier summer work pants
Has enunciating knees and reinforced stitching for added sturdiness
Lightweight work pants at 7 oz
Easy to lock with button closure and metallic zipper
Elastic waistband for added comfort
What We Don't Like
Does not have any reinforced parts or sections of the pants
Definitely one of the most reliable work pants for humid weather. This one helps me feel comfortable all day, especially in hot weather.
3. Clothin Men's Cargo Pants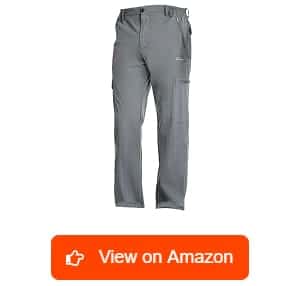 Cooling work pants are great as they keep me focused on long work hours, just like this one from Clothin. I deem this one among the most trusted men's work pants due to its breathable and lightweight attributes for hot weather work.
It is made of a combination between Polyester and spandex, making this one ideal lightweight pants for hot weather. Aside from having lightweight fabric, this combination makes this breathable work pant and quick-drying, as it effectively wicks moisture to keep our skin dry and cool.
For added comfort, this item features a two-way stretch that makes your movement unconfined. The fully elastic natural waist also comes with an invisible drawstring inside. This feature is responsible for giving you a comfortable and secure fit.
It's also superbly secure, thanks to the three zippered pockets where you can store your valuables. Never without worrying about dropping them again. You can even go on full hike terrains, and the things will not be dropped off easily. I love how these work pants are easy to pack. I can fold it and store it for future use, especially when I go traveling.
The only downside of this product is that the size chart is unreliable when guiding the right size for you. I ordered my usual size, and thankfully it was the most suitable decision I made as I was able to get the proper sizing that allowed me to enjoy the work pants fully. So, forget the size chart and go for your usual size.
What We Like
Lightweight cargo pants made of Polyester and spandex
Breathable and quick-drying fabric
Efficiently wicks moisture to keep us dry and cool
Two-way stretch for free motion and added comfort
Easy to store valuables in cargo pockets
What We Don't Like
Size guide or chart is a bit inaccurate
These work pants exceeded my expectations, and I am glad I bought one when I saw them in the store. They are ideal hot-weather work pants.
4. LA Police Gear Men's Work Pants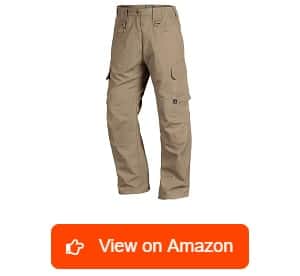 I can't get enough of LA Police Gear Tactical Pants, so I included another one in this product review.
LAPG Basic Operator work pants have a balanced amount of Polyester and Cotton Rip-stop fabric, making this pant ooze with quality. In fact, I can include this in the list of lightweight cotton work pants because of how airy and comfortable it is. Plus, it even resists moisture and does not fade one bit.
When I went hiking in the lands of Australia in hot weather conditions, I was amazed because I never felt any discomfort from sweating and such. These cargo pants stayed cool and dry throughout the trip.
The cargo pockets can even accommodate my iPad Mini and other important valuables during the trip. Never worry about knee scratches, too. These pants come with reinforced fabric at the knee and seat area to keep you protected and comfortable. Add to that are the elastic waistband and high-strength zipper for optimum security and comfort.
It comes in various colors that suit all settings and environments, whether at a construction site, outdoors, or hiking off of a mountain. The sizing is what bothers me because it is a bit smaller than what I expected. So, when I ordered the second time around, I chose a larger size, which worked well for me.
What We Like
Lightweight work pants
Resists moisture and is also fade-resistant
Spacious cargo pockets that can accommodate even an iPad mini
Has reinforced fabric at the knee and seat area
Elastic waistband and high-strength zipper for optimum security
Available in various colors for different activities
What We Don't Like
The size is a bit smaller than my expectation
These canvas pants are one of my favorite bets when it comes to breathable summer work pants. Every penny is worth it.
5. Propper F5258 Men's Tactical Pant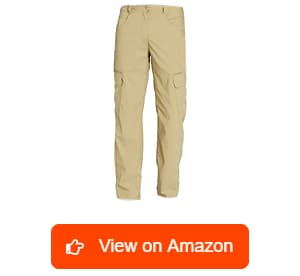 Propper is a worker's favorite go-to brand in working pants because of its excellent durability. These work pants are made of 94% nylon and 6% spandex, giving durability without compromising comfort and flexibility. I can work comfortably in hot weather.
Beat the heat with these summerweight tactical pants engineered with lightweight ripstop fabric that effectively wicks off moisture. I do not feel any sticky feeling caused by light precipitation because there's no chance that it will stick to the material. It will be eliminated before we know it.
Plus, the fabric itself is coated with UPF 50 sun protection that keeps you safe from sunburns and other harmful effects caused by sun rays. I love its storage capacity because I can put all my important stuff in my pockets. There's a total of 10 knife-reinforced pockets that gives plenty of space for all my valuables.
As a busy person, I prefer quick-drying work pants like this. The breathable material dries quickly so that I can use it for my next trip.
Washing is never an issue, either. I toss it in the machine for a quick wash. I am annoyed about the mesh lining in the pocket area that's not stitched right. Because of this, the thread runs occasionally.
What We Like
Balanced ratio of nylon and spandex for good durability and flexibility
Lightweight ripstop fabric for comfort.
Moisture-wicking pant that does not give off a sticky feeling
Comes with UPF 50 sun protection
Quick-drying cargo pants for convenience
What We Don't Like
Mesh lining in the pocket area occasionally runs down
All in all, I find these summer work pants amazing. It made me focus on the task at hand because it kept me comfortable.
6. Carhartt B342-DFE Men's Work Pant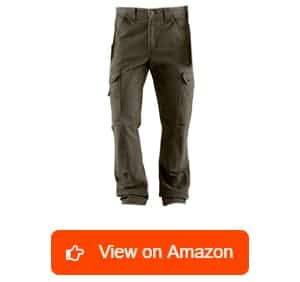 Take a look at another lightweight Carhartt pants that will live up to any worker's expectations. Nothing beats the durability of these work pants that can withstand days of rough work on site.
We will never have to worry about tears and rips as it can effectively endure even the most challenging work conditions. It's all thanks to the reinforced threads entwined in a crisscross pattern.
Enjoy endless comfort with these pure cotton work pants that only weigh 9.25 ounces, giving just the right weight to keep you comfortable and moving freely. It also features a double-front design along with a gusseted crotch for extra mobility.
It even comes with multiple pockets that can accommodate all your gear and valuables. The ledge pockets are engineered with extra strength that can withstand heavy objects even after extended wear. The two large cargo pockets have flaps to protect further and secure important belongings.
There are three different fits for our legs, straight fit, relaxed, and loose fit. My only concern is that I feel awkward wearing this to my office or other corporate settings because of its rugged look. It suits better in fields and other outdoor activities.
What We Like
Durable work pants due to its reinforced threads in a crisscross pattern
Made with cotton with the right weight to give comfort and good mobility
Has multiple pockets for efficient storage
Three different fits to suit our preference
What We Don't Like
Design may not be suitable in an office or corporate setting
This brand has been around for ages, so I am more than satisfied by the excellent quality that this work pants with cargo pockets offer.
7. Columbia 1441671 Men's Pants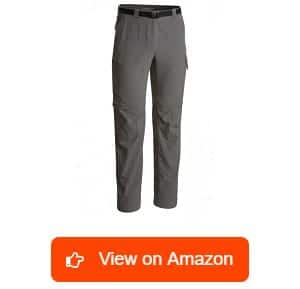 When I think of the top-rated men's work pants for hot weather, I immediately think about the exquisite quality that Columbia products offer.
These imported work pants are made of 100% nylon – a durable yet lightweight fabric. I know I can trust its excellent thermal regulation. Its performance kicks into high gear immediately. Top that with UPF 50 sun protection, the cargo pants can protect our legs from harmful UVA and UVB rays.
I also love how these cargo pants have a moisture-wicking ability that eliminates water. It is a handy feature because I can stay dry and cool even on humid days. Another thing that makes this item super good is the button closure design and one zip closure for optimum security.
It also comes with side pockets, back pockets, and extra meshed pocket space that add extra storage to keep pens, cell phones, keys, and coins. This way, we can get immediate access to our things, making them convenient for everyday wear.
Anyone can easily adjust these convertible pants thanks to their elastic waist and gusset detail. To fully enjoy all the exquisite factors of these pants, ensure you have the proper size. Finding the accurate one may be tricky. I ordered mine with a two-to-three-inch larger waist, and it fits perfectly.
What We Like
Made of 100% nylon that wicks moisture and has excellent thermal regulation.
Has UPF 50 sun protection to protect you from the sun's harmful rays.
Convenient button closure and one zip closure.
Has left and right side mesh pocket bags for storage.
Adjustable thanks to the elastic waist and gusset detail.
What We Don't Like
Make sure to have the proper measurements before ordering.
Nothing ever beats the excellence of these convenient and lightweight pants. It has all the qualities I look for in work pants.
8. Carhartt B151-TAN Work Pant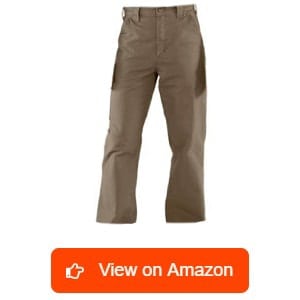 Upon hearing the brand's name, I am sure our mind jumps right away to these iconic and heavy-duty work pants from Carhartt.
We can stay comfy with these pure cotton pants that effectively absorb sweat and moisture from our hard day's work. Since they are imported, we can rest easy because the quality of these cargo pants is undeniably good.
Besides that, the modern design captivates any look at work. It comes with a flat front utility and slim waistband that allows for optimum comfort. These dungaree work pants also come with inclined side pockets to easily store my belongings and reach them immediately.
I can also store hammers conveniently because of the pant's utility pocket and a hammer loop. All these pockets and storage compartments amazed me to a whole new level because they gave storage features that stored things effortlessly.
For additional design, this one comes with a logo patch on its back pocket. It delivers a unique design that's just simply amazing. These canvas pant is airy and lightweight. But keep in mind that canvas pants like this easily tear apart when you snagged something. It is crucial to be mindful to avoid that.
What We Like
Cotton pants to absorb sweat and moisture from work
Imported quality cargo pants for hot weather
Modern design that fits work setting perfectly
Flat front utility and slim waistband for optimum comfort
Has side utility pockets for efficient storage
Utility pockets and a hammer loop for additional storage
What We Don't Like
Canvas pants like this easily tear when being snagged with something.
It is one of the most lightweight work pants for hot weather that I tried. These cargo pants' utility pockets and the hammer loop are superb for workers on the construction site.
9. Columbia 1441681 Pants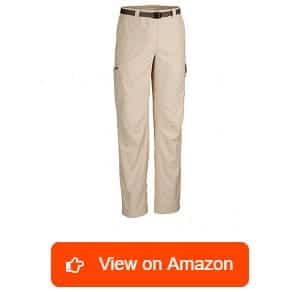 In addition to the previous Columbia work pants, this one is just as impressive regarding dependability and comfort in hot weather conditions.
A no-fuss pair of work pants that offer nothing but the finest in reliable performance and toughness. The Omni-shade feature keeps us safe and secure from harmful UVA and UVB rays that cause sunburns and other long-term skin damage like skin cancer.
The cargo pants feature excellent quality with a tight weave structure that promotes UV absorbance like no other, making them one of the most useful hot-weather work pants. Besides that, we can easily stay dry and fresh with the moisture-wicking feature of these 100% nylon work pants. It efficiently transfers moisture from skin to fabric, allowing more chances of evaporation.
This one is ideal for all weather, not just for humid days. That is made possible due to its versatile and robust engineering that helps us stay comfy even from dusk to dawn. Become more hands-on at work and have less time for washing, as this one is machine washable. We can toss these cargo pants in the machine and leave them there to clean.
Besides that, these breathable work pants for hot weather feature button closure for easy control. However, this one runs small in the waist, so it is better to add a bit of allowance when ordering for your size.
What We Like
Offers the finest reliable performance and toughness
Has a tight weave structure that boosts the pants' UV absorbance
Ideal for all weathers, including summer heat
One of the top-tier breathable work pants
Allows machine-wash for convenience
What We Don't Like
Runs a bit small in the natural waist area
We can rest easy with these imported work pants that keep you cool all throughout the summer job, giving you more time to focus at work. For me, it is among the top-quality summer work pants I can ask for.
10. 511 74273 Tactical Men's Pants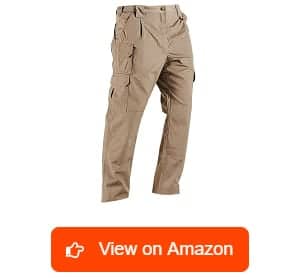 The rugged look of these work pants goes along well with my work boots. Every feature is worth checking out, as it delivers ultimate comfort in hot weather for outdoor workers like me.
With just the right mix of Polyester and Cotton, these work pants balance out durability and comfort. The 65% polyester and 35% cotton guarantees a mechanical stretch that can accommodate an instant size increase. The triple-stitching build makes this a durable pant, aside from its excellent flexibility.
I love this product because it's easy to clean, unlike my other work pants. Besides that, the material used is treated with Teflon. This is the reason why it resists dirt, stains, and moisture. If you think this feature affects its breathability, then you're wrong.
The gusseted structure makes these pants tear and rip-free. It's good everyday wear on the job site without worrying about a single thing. Plus, it comes with slash pockets that serve as good storage for all my gear and personal belongings.
It is true to size, so I do not have a hard time choosing the right one. I ordered my actual size. However, these work pants may be too baggy for other workers. So, people who prefer a tight fit may not find these pants interesting. For me, it's more than enough.
What We Like
Polyester and cotton material balances durability and comfort
Has mechanical stretch to accommodate size increase
Easy to clean due to the Teflon coating that resists stains and moisture
Rip-free work pants thanks to the gusseted structure
Slash-resistant cargo pocket
What We Don't Like
A little bit baggy compared to other pants.
No one can beat these cool work pants for summer in terms of durability. I am glad I wore this to my workplace and enjoyed excellent air circulation.
11. CQR Men's Tactical Pants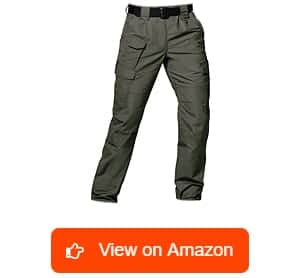 Rugged performance is the game's name when looking for the top-rated work pants for summer heat, and CQR's cargo pants drive this home nicely.
Like any other work pants, this one also features a button closure that's easy to lock. That also goes the same for the high-density metal alloy zipper. This zipper comes with a stopper to keep the pants in place. We can never worry about loose pants anymore.
I love rugged construction for my workwear, as this is an important factor for heavy work. Luckily, this tactical pant comes with a hint of military design for that extra boost of performance and durability. The Duratex fabric makes this item easy to wash because dirt, liquid, and other unwanted stains do not stick to the work pants.
People tend to check on the material often. As for this, it is made with a balanced mix of cotton and polyester. These ripstop fabric materials serve the proper function that can keep up with our daily work, no matter how busy it is. Plus, the pockets hold various purposes and can store different equipment you need.
It is also resistant to fade, shrink, and wrinkles. So, you can get the most out of it. It does not have much flexibility compared to other tactical pants that are non-binding. Other than that, these work pant is great.
What We Like
Features button closure for easy locking
Has rugged ripstop fabric materials that can withstand rough work daily
Easy to wash because of the Duratex fabric that resists dirt and stains
Ripstop fabric materials serve the proper function and comfort
What We Don't Like
Does not have much flexibility like other work pants
For the price, I can say that this one is a fine work pant for summer. It makes hot weather work easier when I spend most of the time outdoors in the summer.
12. Lee 4273548 Men's Work Pants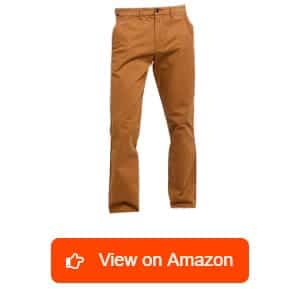 Lee has been around for over 100 years. So, I know that I can count on the quality of their work pants.
Made of 97% Cotton and 3% Spandex, I know I can get the most suitable comfort from these imported work pants. I can secure this item with its button closure, and washing is never a problem too. I often toss it in the washing machine and wait till it's done and squeaky clean.
It's also convenient to wash because these work pants are machine washable. I love a professional look that does not compromise the function of my pants. Thankfully, these work pants' straight and regular fit gives them a timeless look that I can wear on any occasion. The khaki look blends into any environment.
This product also has good work-to-play versatility. The flexible waistband does not give me a feeling of tightness. So, I never have to worry about eating too much at work dinners and other special events because this work pant effectively adjusts to it.
Never worry about choosing the right size and order your usual measurements because this one is true to size. The only thing you have to look out for, especially with cotton-made trousers, is that they tend to shrink. Other than that, these work pants are a good one.
What We Like
97% Cotton and 3% Spandex for comfortable and breathable pants
Comes with a button closure for easy security
Easy to wash because it's machine washable
Straight fit design; ideal on any occasion
Work pant is true to size
What We Don't Like
Cotton material tends to cause shrinkage
A good work pair of pants with a timeless look. I love to wear these cargo pants in the workplace and on my hiking adventures.
13. Haggar HC00235 Men's Pant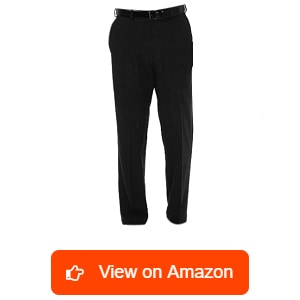 People with a tight budget will love these affordable waist pants that oozes quality.
Comfort is one of the most crucial factors that will help you stay focused at work. That's why choosing the best work pants for hot weather plays a big part in it. This 100% polyester classic waist pant belongs to America's favorite collection for summer work pants.
It also features a four-way stretch design for boosted comfort. It is ideal for those whose job requires us to stay under the sun for too long. These work pant comes with moisture-wicking technology and UV protection that can keep us cool and dry all throughout the day. Plus, it also helps me stay away from all the harmful rays of the sun.
Wrinkles and creases will never be a problem again. This pant resists wrinkles, so there is no need to spend minutes ironing this item. Besides that, this product is machine washable. I can toss it in the machine and leave it there instantly.
These men's work pants are perfect for all my events, may it be formal or casual. It comes with a flat design that sits on the waist and has a straight leg opening on the right leg and left. It is even true to size. However, there is a bit of color variation in these pants, particularly in navy color.
What We Like
Four-way stretch design that boosts comfort
Wicks moisture away instantly
Comes with UV protection that keeps you away from harmful sun rays
Easy to wash and wrinkle-free
Perfect for all casual and formal events
What We Don't Like
A bit of color variation, especially in navy color.
Overall, these work pants lived up to my expectations. All its features, including its quality, are superb.
14. Dickies 874KH 28 30 Men's Pant
Dickies is one of the most remarkable brands that offer promising cargo pants that last for a lifetime.
Get the benefits of two fabrics in one because this product has the right mix of cotton and Polyester. This makes it suitable for rough work on-site, minus the hassles of cleaning. This work pant is easy to maintain thanks to its wrinkle-resistant feature that does not need much attention from irons.
What makes this one of the top-rated hot weather work clothes is that it helps us stay fresh even after long hours of sun exposure. Plus, it has robust functionality accompanied by tunnel belt loops and a brass zipper for proper security and closure. The hook and eye closure is one unique style that still does its job of locking.
The unhemmed bottoms are to die for. I rarely see this feature on other brands. That's why I am amazed at Dickies because I can modify these pants according to my preference. Besides that, I can stay comfortable because of its flattering design, made possible with the classic rise to tuck in my belly.
However, the sizing may be off because I have problems finding the right fit for me. One piece seems to be oversized, and the other is over. For people who want a loose fit, this one may work for them.
What We Like
Promises benefits of two fabrics in one work pant
Suitable for rough work on site
Easy to clean and iron because it is wrinkle-resistant
Robust functionality with tunnel loops and brass zipper for good closure
Flattering design with a classic rise
What We Don't Like
Pant sizing may be inaccurate
These cargo pants are a good option for people who want to save more without compromising quality.
What is a Pair of Work Pants for Hot Weather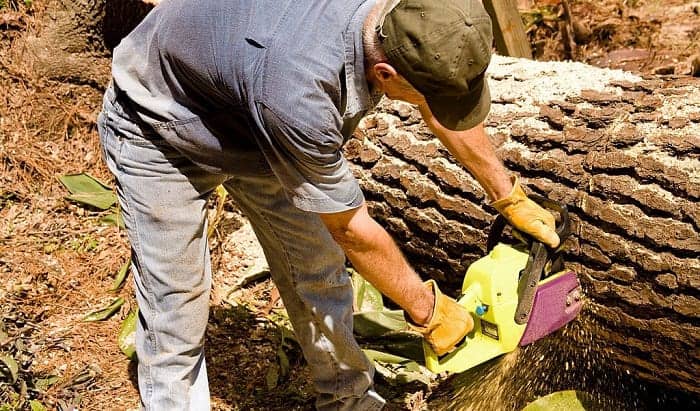 A pair of top-tier work pants for hot weather makes everyone more comfortable, allowing them to focus more on the task at hand. Breathable work pants are handy when working in a hot summer environment. Because even though they work under direct sunlight or shade, we cannot deny that our skin needs to breathe and stay cool in hot weather.
How Does It Work
Work pants for hot, humid weather efficiently absorb sweat and other moisture to keep the wearer fresh and comfortable. After that, the sweat evaporates into thin air, leaving nothing but dry clothing. That's why there is a moisture-wicking ability that workers love to look for in their next purchase of work pants.
Absorbing moisture until the pants dry out helps in maintaining freshness throughout the work. It does not matter how hot or humid the day is. There are a lot of discussions on Reddit that will enlighten you about work pants.
Types of Work Pants for Hot Weather
There are various types of work pants for hot weather. There are even women's pants for hot weather. The variation varies in the material used, design, and durability of the product.
It is good to choose lightweight work pants for the summer women's category to stay comfortable. There's no difference compared to men's work pants because women's breathable work pants for hot weather only vary in terms of fit.
Why You Need Work Pants for Hot Weather
Work pants are necessary to keep body temperature under control. Proper thermal regulation keeps heat stroke away. It also makes the wearer more comfortable and focused at work because the movements would not be hindered.
Buying Guide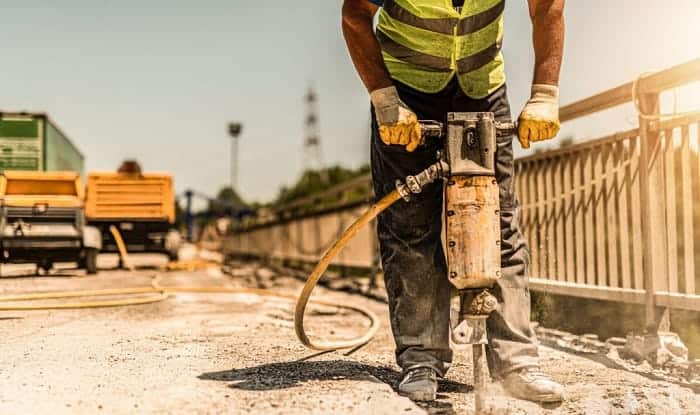 These additional features will guide every wearer's journey.
Flexibility – constricting clothes are very uncomfortable, especially during summer. It distracts the wearer from giving optimum performance and productivity. That's why it is vital to wear something that won't constrict the body's movement.
Practicality – this important factor of practicality allows the wearer to work efficiently. Having huge storage pockets is a great bonus. It is also good to have something easy to wash and wrinkle-free, as it lessens time for care and maintenance so you can have more focus on the work at hand.
Design – this feature is just a bonus, especially if you go to and fro from the construction site and office. No one wants to wear something informal in a corporate setting. Anyone wants to look sharp anywhere, so modern and professional-looking pants in neutral tones are preferable.
Care and Maintenance
There are work pants that are easy to maintain. Most of them are machine-washable. So, anyone can easily toss it in the washing machine and leave it there to clean. After that, dry it out through air-drying or a dryer. I still prefer the former even though it takes a longer time for the clothing to dry out.
After the work pants dried out, it's up to the wearer if he prefers to iron the work pant or not.
Frequently Asked Questions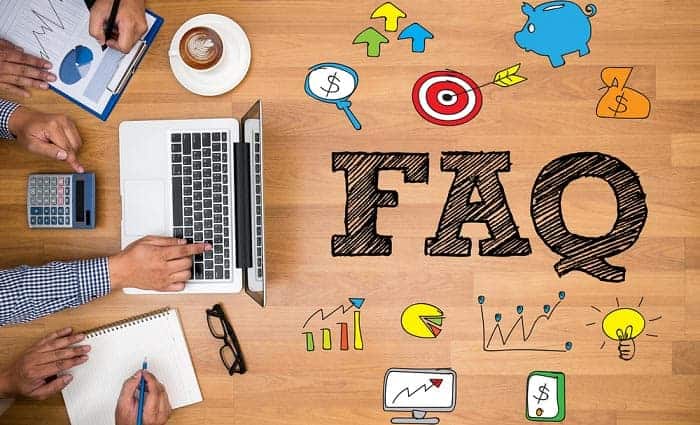 Are Dickies good for hot weather?
Just like many workwear brands, Dickies have many lines of clothing for different kinds of jobs and weather. That said, it is best known for its Temp-iQ fabric technology, which you can find in both the summer work pants men's and women's collections. The brand also produces shirts, shorts, overalls, and accessories made of the same material.
Essentially, the fabric is a blend of 72% cotton, 25% nylon, and 3% spandex. The way it works is that it captures the cool air in the yarns while simultaneously wicking away sweat. As such, these warm-weather work pants can keep the cool air close to the wearer's skin, effectively preventing overheating.
What can I wear instead of jeans in the summer?
Sadly, wearing work jeans for hot weather can cause overheating. Instead, you can opt for women's or men's lightweight work pants made of cotton or thin work pants fashioned out of breathable ripstop fabric.
Besides looking at the material, I also recommend looking at the thickness of the construction work clothes. Based on observations, pants weighing less than 1 lb tend to be more breathable, whether the fabric is the cotton canvas or a blend of nylon and cotton. The other feature to look at is the fabric's ability to wick away your sweat.
How long do work pants for hot weather last?
On average, most garments can last up to 40 wash cycles. However, heavy-duty cooling pants for summer can last longer if you factor in how they are used. If you live a sedentary lifestyle and only use the pants for a few DIY projects over the weekend, your trousers will last much longer than those kneeling on abrasive surfaces all day.
What are the most trusted work pants for hot weather brands?
There are various reliable brands, but my best bets based on experience are Dickies, Carhartt, Columbia, Duluth trading, Red Kap, and Lee. Their ruggedness never fails to live up to my expectations and firm standards.
What is the coolest fabric for hot weather?
For optimum breathability and comfort, cotton is the most suitable option. It has good absorbency and air circulation. It is the top-tier choice for humid weather, especially during summer.
What is the top-quality material for hot humid weather?
In terms of material and fabric, cotton is the ideal option for hot and humid weather because it absorbs sweat to keep you cool and fresh. It is also lightweight and soft, adding comfort to your daily activities.
What's the top-rated color to wear in the heat?
White color is the top-tier bet as they do not absorb much light. Workers can also go with light neutral tones to accompany daily work, especially during summer.
Conclusion
Choosing the right product helps you stay comfortable at work, no matter how hot the day goes. The best work pants for hot weather come with the proper moisture-wicking properties, accompanied by high durability and flexibility for that everlasting comfort.
It's also good to buy something that fits your budget. Never worry though. With all the exquisite and reasonable products listed above, choosing the right one will be a piece of cake.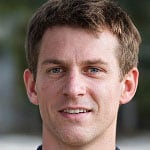 Having worked in the field of personal protective equipment for over two decades, Andrew Carnegie is a specialist in the field.
At EDC, he strives to improve performance efficiency and promote workplace safety for EDC's readers and customers. He also researches the most up-to-date equipment that has earned relevant accreditation for use in a wide range of industries and specialties.