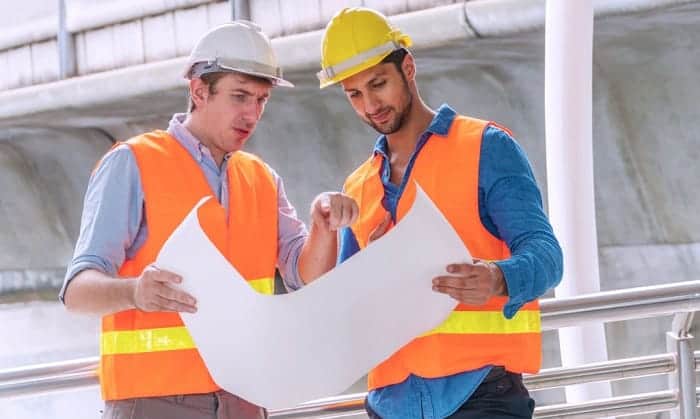 Everyone needs to have work clothes that make them comfortable while toiling around their homes. The best work shirts for construction are even used for commercial labor. This way, workers can save their favorite clothing from being ruined.
It's a good practice to think about function over clothing's fashion. So, take a look at these features to ensure a worthy buy.
Ruggedness: When doing construction work, it is crucial to consider your clothes' versatility. Rugged clothes never risk function for fashion. Workers should ensure that their clothes can withstand harsh environments in the workplace.
Fabric: Material, or the type of fabric, is one of those factors that can affect comfort. Polyester and Cotton are the two best bets for a work shirt's fabric. If you want something breathable and highly absorbent, go for Cotton. But if you like something that repels water or sweat while you work, then Polyester is a good option.
Fit: It is necessary to have clothes that can endure the challenges of time, and well-fitting clothes do exactly just that. Perfectly fit clothing can last longer as they do not have the wear and tear feature that badly-fitted shirts do. Very tight clothes wear quickly, while loose and long fabrics make you look homeless.
By prioritizing comfort, there's no need to worry about being distracted. It guarantees smooth movement through cozy clothing. So, throw out clothes that hinder work quality and start gathering comfy ones.
Upon knowing all these crucial features to look for in a work shirt, it's time to check out twelve products that guarantee comfort in daily work. There's also a complete "Buying Guide" to help you with queries and concerns.
Top-Rated Work Shirt for Construction Reviews
1. Dickies 574CH S Work Shirt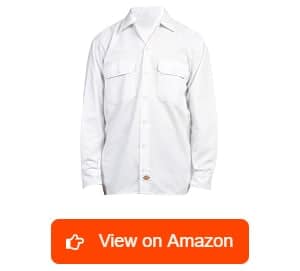 Dickies has been around since 1922. That's why this trusted name has lots of loyal customers that go after their good work shirts.
This item's 5.25 oz. twill does not weigh me down. I can easily and quickly do my chores with this lightweight shirt. Plus, I have no worries cleaning it because I only have to tumble it dry and low in my washing machine. After that, I can do other tasks with no worries.
It's always a good thing to have something nifty and easy to use at the same time. Thankfully, this one features a classic workwear design that gives me a relaxed fit. Plus, this button-front shirt comes with corresponding melamine buttons for a look that can suit any occasion and not just for construction work purposes.
The shirt's timeless and chic style comes with a generous cut through the torso, specifically my chest and shoulders. This gives me excellent room for motion so I can reach high areas and raise my arms conveniently. The Cotton mixed with poly fabric comes with moisture-wicking properties to keep me cool all day long.
It's a versatile shirt for all hands-on work. However, the buttons on the cuffs are too fitted for me when I button them. I have to go through the hassles of unbuttoning these components to get my hands and arms out. So, I prefer not to button the cuffs at all.
What We Like
From a trusted brand.
Comes with 5.25 oz. twill that won't weigh wearers down.
Machine-washable; guarantees convenient washing.
Features a classic workwear design with a relaxed fit.
Ideal for all occasions, like work and casual wear.
Has moisture-wicking properties to keep us fresh all day.
Roomy torso and shoulder areas.
What We Don't Like
The cuff buttons are too fitted.
I can say that I am pretty impressed by the quality of this product. Even my co-workers were pleased when I recommended it.
2. Wrangler Riggs Workwear 3W501BK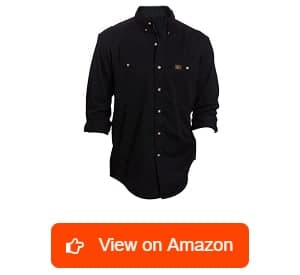 Looking for dependable work shirts for men in construction can be challenging. But, one thing that caught my eye is this long-sleeve work shirt from Wrangler Riggs Workwear; its comfort puts me at ease.
This shirt for working is made out of 100% Cotton, which allows me to stay cool all day, no matter how heavy my workload is. Added to that is a peach finish that improves the fabric's softness. I just love how comfortable I am with this work shirt because the material absorbs my sweat well.
Besides that, the imported product also features a button closure from its collar down to the shirt's bottom. This feature gives me an excellent body fit, and thanks to it, I never struggle to button and unbutton my shirt.
Plus, I also love how easy to clean this shirt is. I have to toss it in the washing machine and go. The chest pockets allow me to store small objects that I may need later on. For excellent control, the shirt has two adjustable cuffs; plus, there's a split back yoke for a rugged look.
Even though all these remarkable features are pricey, I guarantee that they are really worth the price.
What We Like
Imported clothing is made with 100% Cotton.
Has a peach finish that adds up to the fabric's softness.
Absorbs sweat well.
Comes with easy button closure from the collar down to the bottom.
Easy to clean and machine-washable.
Has chest pockets, adjustable cuffs, and split back yoke for ruggedness.
What We Don't Like
This work shirt can be pricey.
This is one of my favorite long sleeve construction work shirts because it keeps me comfortable even after a long day at work.
3. Carhartt 103554-253 Work Shirt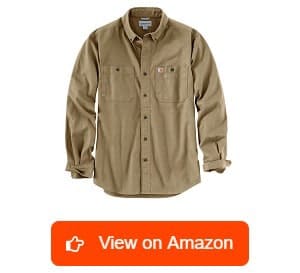 I can't get enough imported work shirts that make me comfortable all day long, like this Rigby long-sleeve shirt from Carhartt.
Among the list of long sleeve work shirts I showed, this one stands out with its 98% Cotton and 2% Spandex material. It offers top-notch comfort while serving its primary function of durability for heavy work. When I wear this shirt, I stay comfortable all day, even under the sun.
This shirt oozes durability thanks to its rough flex technology. Mine stayed intact even after years of outdoor use. It is one of the most reliable construction long sleeve shirts I have tried. What I love more about this design is that it makes our movement smooth and easy.
Aside from the material, this shirt's design is to die for. I love its relaxed fit that features button closure from the collar down to the shirt's bottom. This feature allows me to adjust the shirt in an instant. Plus, it comes with two chest pockets for efficient storage. I can store bolts and other small tools for later use.
The stitching quality is out of this world, too. I have never seen anything as good as it. However, its dark blue variant shows a slight amount of lint. I do not have to worry about it because it is easy to remove with tape, a brush, or a roller.
What We Like
98% Cotton and 2% Spandex guarantees extreme comfort.
Withstands brute work due to its rough flex technology.
Good design that makes our motion smooth and easy.
Relaxed fit with button closure.
Has two chest pockets for efficient storage.
Top-notch stitching quality.
What We Don't Like
The shirt's dark blue variant comes with a small amount of lint.
I love to proceed with my day-to-day activities thanks to this comfortable work shirt. It helps me stay refreshed and focused.
4. Red Kap SP24 Work Shirt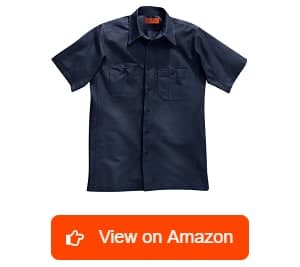 A fool-proof method of having excellent performance as an employee is investing in durable, protective, and comfortable work shirts, like this one from Red Kap.
What really caught my eye with this product was the affordable price tag. So, I inspected the materials and bought one to try. After trying it on, I was amazed at how superb the quality was at such an affordable price. Maybe it's because of the 65% Polyester and 35% Cotton materials of this work shirt.
Besides that, it features a seven-button closure design for functionality. I can conveniently put it on and adjust my breathability by loosening one or two buttons at the top. This clothing is also lightweight, thanks to its 4.25 oz. poplin. That's why I love to use this daily.
I can look professional with my daily wear because this product is sewn with lasting stays and a two-piece collar lining that adds class to an everyday look. I can stay confident at work without sacrificing my comfort. It is also ideal for heavy jobs with its Touchtex Technology which makes this piece a rugged one.
Busy with work? Simply toss it in the washing machine and leave it there to clean. There's not much I can ask from this piece of clothing except for bigger chest pockets that can effectively store handy tools at work. I also wish that Red Kap produced
matching pants
that would go well with this work shirt.
What We Like
Comfortable, durable, and protective clothing with Touchtex technology.
Available at an affordable price.
Superb quality with 65% Polyester and 35% Cotton.
Seven-button closure design for functionality.
Lightweight and classy.
Machine-washable item.
This work shirt is heavy-duty and robust, considering that it comes from a mix of two incredible materials. Definitely one of my favorite men's work shirts.
5. CQR Men's Long Sleeve Work Shirt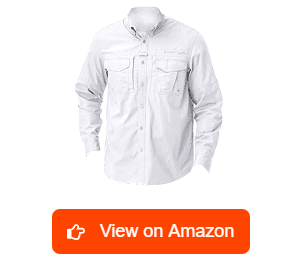 This is the perfect work shirt candidate for enduring the toughest conditions in a busy and challenging workplace.
It's Ripstop workwear featuring a button closure from top to bottom. It keeps us secure for all outdoor activities, not just those in our work environment. The fabric is also sun-blocked with UPF 50 which keeps us safe from 98% of the damaging sun rays, giving us all-day protection.
What I like about the design is the tactical collar that I can flip up to boost my UPF shield. The unique tactic-cool technology also keeps me fresh and comfortable thanks to its mesh ventilation located at the back and shoulder area. This feature gives me maximum breathability at work.
There are also a lot of color variations to choose from. I appreciate the modern and classic colors, like black, khaki, navy blue, and white. It is also a multi-functional shirt with one front holder loop and a pen holder on its left chest. Plus, I love how I can easily adjust the sleeves.
What a versatile shirt, indeed. It is also EDC and army gear friendly. However, the size seems to be a tad smaller than I expected. So, when I ordered the second time around, I went for one size larger than my original.
What We Like
Features a button closure from top to bottom.
Has UPF 50 sun protection against 98% of damaging sun rays.
Tactical flappable collar that boosts the UPF protection.
Back and shoulder areas are mesh-ventilated.
Lots of color variations one can choose from.
Versatile work shirt.
What We Don't Like
Size is smaller than expected; it would be better to choose one size larger.
It is a great work shirt geared for performance. With this clothing, I can do all my daily tasks and activities effortlessly and comfortably.
6. MAGCOMSEN Work Shirt
It's easy to know why people are going crazy over this work shirt. I tried this once, and I can say that it's definitely worth the price.
Made of complete Nylon material, users will never have to worry about wrinkling and wearing with the ripstop quality of this shirt. I love how lightweight and comfortable it is because my daily activities instantly became a piece of cake. This shirt also helps me stay cool under the sun thanks to its mesh lining, venting out air and moisture from my skin.
I also love the chest pocket with a zipper closure on the left area because it secures my small belongings while I do active work. And when the going gets tough, I can roll up my sleeves, thanks to the tab holders. This work shirt also has big cargo pockets and a sunglass loop underneath the buttons.
It is ideal for all outdoor activities due to its ruggedness. I never have to limit my activities — from fishing, hiking, work, casual events, to even camping in the mountains. With this clothing, I can do everything that I want. Plus, it has UPF 50+ sun protection, too!
The only downside of this work shirt is that it does not have a thorough size guide, so finding the right fit for yourself may be tricky. Not to worry, though. When users get their size correctly, everything becomes excellent — from the quality to the comfort it offers.
What We Like
Made with 100% Nylon; never worry about wrinkling and wearing.
Lightweight and comfortable; worth its price.
Mesh lining that vents air and moisture keeps you fresh.
Has a chest pocket with a zipper closure for added security.
Huge cargo pockets, a sunglass loop, and rollable sleeves.
Rugged design with sun protection makes it ideal for outdoor activities.
What We Don't Like
Finding the right size may be tricky.
This is one of my favorite shirts because it never fails to deliver a classy look under all those ruggedness and functions.
7. Wrangler Riggs 3W510AN Work Shirt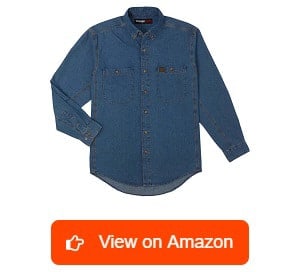 One can never go wrong with adding a new Wrangler Riggs work shirt to the wardrobe due to its excellent quality and durability.
Recommending a new shirt from the same brand proves that such a brand produces good quality work shirts. I really love this denim clothing that adds flair to my men's long sleeve work shirts collection. It's made of 100% Cotton, making this one extremely breathable and absorbent.
All materials are also imported, and that explains why it is very robust and versatile. Mine even lasted for years. Besides, they are not that hard to wash because I toss them in my washing machine.
Another thing that I like about this work shirt is that it makes me look good without compromising my movement. The design includes side gussets that give me free motion around my torso. Plus, the button closure in the front and the sleeves allow me to adjust the shirt as I see fit.
It effectively endures daily wear, so I never worry about tears. Besides, I can store my belongings inside the two pockets for convenient access. But since it is made of 100% Cotton, there is a high chance of shrinkage. So, it's better if shoppers choose one size larger if they prefer a loose fit.
What We Like
Made from 100% Cotton that guarantees breathability and absorbency.
Only made with imported materials for extra robustness and versatility.
Easy to wash.
Good design that does not compromise our movement.
Has button closure in the front and sleeve areas.
Pockets for storage.
What We Don't Like
Full cotton material has a chance of shrinkage.
Durability is one of the features we go crazy about. Luckily, I've known Wrangler Riggs products for a long time, and I can guarantee their superb toughness.
8. Carhartt K128-BLK Workwear Shirt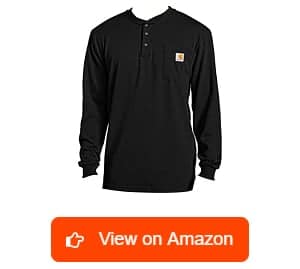 Some of the worthiest carpenter work shirts come from Carhartt. That is why I included another unique design that many will definitely love.
This Henley shirt from the company's gear collection comes with a button closure and is made of 100% Cotton. In terms of comfort, I can say that this one is my favorite. The breathable material keeps me fresh all day long, even when I sweat a lot. That's because fresh air breezes through the clothing.
It also comes with a durable mini chest pocket that I use to store objects and keep them close. This work shirt has no tag on its neck, so I do not have to worry about scratching and rubbing uncomfortable tags on my skin.
One thing I like about Carhartt is that they offer a comprehensive guide for our sizing. It allowed me to obtain the right size for myself accurately. This product is also easy to wash. All I have to do is toss it in the machine and wash it together with other warm-like colors.
All materials are imported, so I can say that this work shirt has a quality like no other. The fit is also perfect for me. But for buyers who have chest and waist dimensions that fall between sizes, I highly suggest getting the larger size.
What We Like
Imported and effortless to wash.
Button closure for easy adjustments.
Made of 100% cotton, making the shirt breathable.
Has a durable mini chest pocket for efficient storage.
No tag on the neck portion of the work shirt to keep us comfy.
Offers comprehensive size guide.
What We Don't Like
Chest and waist dimensions that fall between sizes should get a larger size.
It's an excellent shirt that fits my construction work. With this work shirt, I stay comfy even under the sun.
9. Wrangler MS70119R Work Shirt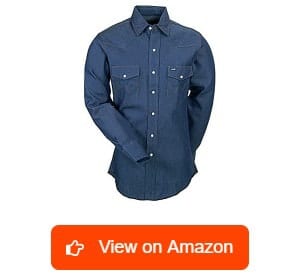 I love to shop for Wrangler work shirts because they give off a fresh vibe for my daily work. I find them worthy of every penny I spend.
I can get comfy while working hard with this 100% imported Cotton-made work shirt. It absorbs sweat and moisture effectively, which keeps me fresh and relaxed under the scorching heat of the sun. It reminds me of my favorite construction worker t-shirts.
Plus, the cowboy cut design gives off a functional fit while providing protection and durability. Wrangler shirts like this one are known for having a classic western look with front and back yokes, stitched pockets, and snap closures for easy storage.
I love to wear this work shirt for my field duties because of how robust the materials used for this product are. The clothing's heavy-duty build is the reason why it can last for years and years of use. It serves as an extra protective layer that can endure any challenging tasks at work.
However, this work shirt is a bit heavier than other work shirts. This factor can be annoying when you're transporting a lot of tools. But since I often leave my equipment at the work site, I don't consider this a problem.
What We Like
Good value for money.
Made with 100% imported Cotton that absorbs sweat.
Cowboy cut design for a functional fit.
Has front and back yokes.
Comes with stitched pockets with snap closure for easy storage.
Heavy-duty build; can last for years.
What We Don't Like
A bit heavier compared to other shirts.
Overall, this is a nice tailored work shirt. I love how it makes me focused and confident to ace my daily work.
10. Carhartt 104258-APH Work Shirt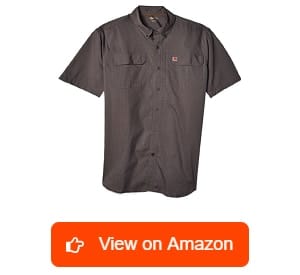 I can't get enough of Carhartt work shirts due to their outstanding designs that keep up with my tough day at work.
Many buyers will be as amazed as I was by this shirt's absorbency because it is made of 70% Cotton and 30% Polyester, giving users just the right amount of comfort and function. It also comes with FastDry technology that effectively wicks our sweat when working, keeping us fresh and comfortable all day.
Like any other work shirt, it features a button closure and can be washed with our washing machine. It offers a unique stain breaker technology that cracks a stain, so buyers will not have to put much effort into keeping it clean.
Another feature that I really love about this imported work shirt is its relaxed fit that perfectly complements my body shape. With this feature, I have good motion coverage without feeling tight, especially around the arms and chest. It's all thanks to the product's sturdy flex technology that guarantees easy movement and minimizes twisting.
One thing to look out for is that the shirt may be too long and comes with an inaccurate size guide. I noticed that my order was not true to size and was way bigger than my usual shirt. I'm medium-sized, but my order was more of a large. So, I highly recommend choosing one size smaller than your original. It helps a lot.
What We Like
Has great absorbency due to the cotton and polyester material.
FastDry technology wicks out sweat during work for constant freshness.
Button closure and machine-washable for easy control and maintenance.
Stain breaker technology.
Guarantees a relaxed fit for good motion coverage.
Not prone to becoming twisted.
What We Don't Like
Inaccurate size; usually larger than your original size.
I can stay comfortable all day long with this work shirt. It's filled with remarkable features to keep me clean, comfortable, and relaxed.
11. Columbia 1011651 Sleeve Shirt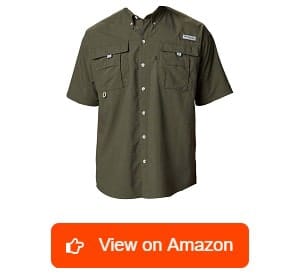 The brand Columbia is known for producing one of the market's best-selling construction shirts. Check them out.
Columbia's durable work shirts are made of 100% Nylon, effectively resisting fire and abrasion. It also features unique Omni-shade sun protection with a UPF 30 fabric. So I never have to worry about the harmful UVA and UVB rays that cause sunburns.
Besides that, this shirt's material is also boosted with a tight weave structure that lets me block the full UV spectrums from the sun easily. I'm really thankful because I do not have to switch between indoor and outdoor clothes with this one as I can grab it and work anywhere.
This work shirt also comes with Velcro-locked chest pockets where I store my small utilities that aid my work. Talk about a handy feature! There is no need for me to sacrifice comfort again because the shirt's hidden vents at its shoulders make it quick-drying and breathable.
Plus, the relaxed and lightweight fit makes this shirt highly versatile. I love using it in my daily work and hobbies like fishing. Its only downside is that I had difficulties finding out my proper size. But once you get a hold of your dimensions, everything goes smoothly.
What We Like
Work clothing that oozes with durability.
Made of 100% Nylon which makes it fire and cut resistant.
Comes with a unique Omni-shade feature with UPF 30 fabric.
Boosted with tight weave structure for complete sun blockage.
Has handy Velcro-locked pockets and shoulder vents.
Guarantees relaxed and lightweight fit.
What We Don't Like
Had trouble finding the right size for me.
I can breeze through daily indoor and outdoor activities with this option. It's one of the best and comfiest quality work shirts.
12. Dickies 1574ER Work Shirt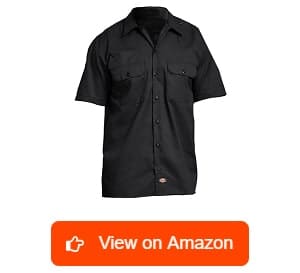 For those who are particular about fashion and function altogether, check out this short sleeve shirt from Dickies. It has a stylish design while giving the durability that consumers look for.
It's rare to see heavy-duty work shirts that keep you comfortable. Thankfully, I found this one. I can stay comfy with this mixed shirt made of 35% Cotton and 65% Polyester. I am so happy that I got the benefits of two high-quality fabrics in one product.
Like other construction work shirts, this one features a button closure design. It is also true to my size, and the shoulders and chest allowance never restrict my movement or make the shirt loose-looking.
Busy men will also love this machine-washable shirt. Simply set your machine to tumble dry low, toss your shirt in, and leave it there while doing other activities. Never worry about wrinkles because this work shirt resists any signs of aging quality, too.
This imported top effectively wicks moisture and has an inserted square end design. However, there was a bit of color inaccuracy when choosing the charcoal color. Instead of giving silverish and darkish gray color, my ordered shirt came with a hint of a blue tint to dark gray. However, I still like its modern look.
What We Like
Comfortable, stylish, and rugged work shirt.
Made of good quality Cotton and Polyester fabric.
Features a button closure design for easy control.
True to size; giving users the right fit.
Can be cleaned in the washing machine.
Resists aging and wicks moisture.
What We Don't Like
Color may be inaccurate at times, especially for the charcoal color.
All in all, this work shirt is incredible. It has a good balance of quality and comfort that keeps me focused on my daily routines.
Buying Guide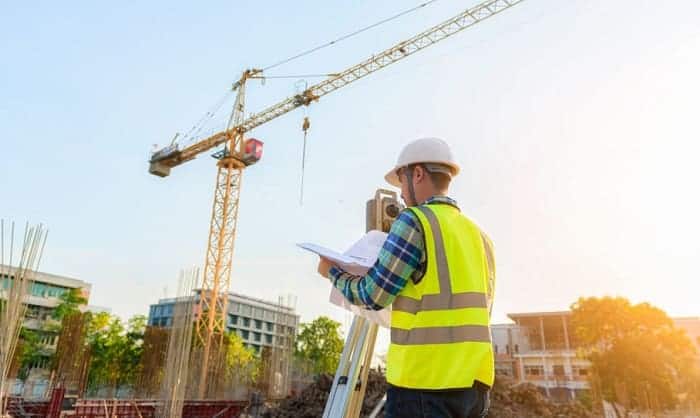 Knowing a thing or two about the best work shirts for construction can help people determine what to look for in their product. Take a look at the critical features that must be considered.
Fabric type – work shirts are usually made of pure cotton or a mix of different materials like synthetic fibers, Polyester, and rayon.
Stretchy shirts come with cotton spandex. On the other hand, interlock knit, also known as double-knit fabric, is known for its exquisite density and durability. It does not curl easily like other thin clothes materials such as jersey fabric. So, how would someone know that their clothes are made from interlocking cloth?
Interlock cloth usually comes with two runs of woven twists per course, while Knit fabric usually has a single loop series. Interlock fabric looks kind of similar on its front and back area. On the other hand, jersey fabric's back and face will look different if someone looks at it carefully.
Size – the next factor to check out is the size. It's always crucial to remember that a shirt made out of cotton shrinks. So, when buying a full cotton work shirt, make sure to get a larger size that can easily account for imminent shrinkage.
It's good to measure the fullest part of the chest while keeping the measuring tape even on the back. Ensure that you put it under the armpits for more accuracy.
Price – This personal factor is also crucial to consider. Only buy things that fit in the budget. That's it.
Sewing construction – this criterion is also very essential. A wrongly-made shirt can easily distort and destroy the wearer's figure because it tends to hang down the body in every wrong direction. The collar and neckband should not be twisted and should lie in the right place smoothly.
Do note that the hems of the sleeves and body can easily twist in a bad-quality work shirt. If these areas look warped in the fitting room, there's a high chance that they will be the same when used at home or at the workplace.
Care and Maintenance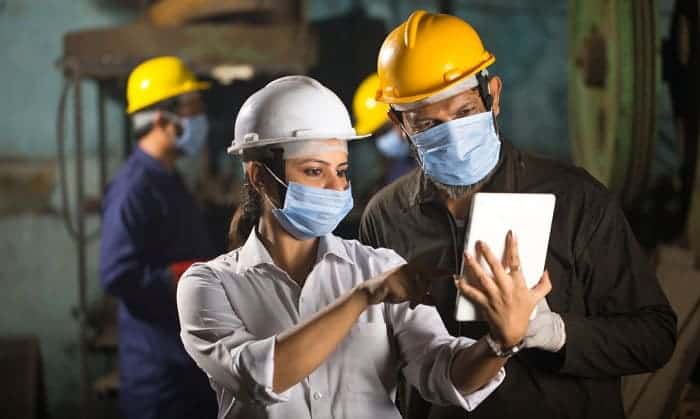 Remember these vital things to take care of your work shirt effectively.
Change your clothes immediately as you reach home.
Wash the work clothes regularly. Leaving no room for grimes and dirt to stick to the work shirt is an excellent way to preserve its quality.
Always follow the instructions from the brand manufacturer, especially if they talk about how the shirt should be cleaned. This will keep the structure of the shirt for a long time.
Remember to use the correct detergent.
Dry the clothes properly.
Give the work clothes a rest. I highly suggest having a spare work shirt you can alternate it with.
Frequently Asked Questions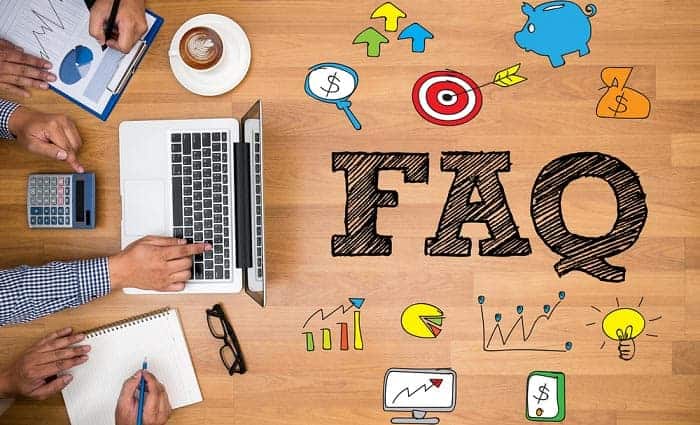 Can a washing machine damage work shirts?
If you followed the care tags provided by the work shirt brands, it is unlikely that your washing machine would damage your garments—unless your washer and dryer are not well maintained.
When you don't clean your washing machine, the detergent, dirt, and hard water accrued from your previous laundry can lead to mold and mildew build-up. Likewise, your dryer might have accumulated lint around the filters. These will cause your shirts for work to smell or catch lint.
Assuming that your washer and dryer are in good condition, your garments can still get damaged if you use too much detergent. Cleaning greasy work t-shirts for mechanics is no excuse to add more detergent. The excess suds from the detergent will be hard to wash away, leaving residue where dirt and bacteria can stick on.
Another way you might ruin your garments is putting them in the washing machine without sorting them according to color and material. Dyes could easily bleed color and stain other clothes. Furthermore, your cotton summer work shirts will shrink if you include them with the batch of clothes that you'd wash with hot water.
How much weight for a work shirt?
The weight of a work shirt varies depending on the fabric blend, amount of textile used, and thickness. Since each shirt is designed to suit specific weather or activity, manufacturers do not follow a standard shirt weight.
For instance, most brands use flannel, wood, or twill to make shirts for cool weather. Using one of the products in the review as an example, Wrangler Riggs Workwear's line of twill button-up work shirts weigh 7 ounces.
That said, medium-weight cotton polyester shirts (3.3-6 ounces) are an excellent choice for warmer climates. Apart from its breathability, it makes for a durable shirt for construction workers. Moreover, employers who want to create uniform collared work shirts choose this fabric as it allows them to screen-print it with logo designs.
When it comes to lightweight options, linen shirt comes to mind. Weighing around 1.66 to 3 ounces, it is more appropriate for dressy button-down work shirts for women and men than for industrial workwear.
Why do construction workers wear yellow shirts?
Per Occupational Safety and Health Administration's (OSHA) recommendations, construction workers must wear fluorescent apparel to make them more visible on job sites.
When working near high-traffic areas, colors like neon yellow and orange allow machine operators and drivers to see laborers from afar, which helps prevent accidents.
What color shirt keeps you cooler?
We know for a fact that black absorbs light while white reflects it, so it makes sense to wear light-colored work shirts for hot weather. A few good examples are white, tan, light gray, yellow, red, and khaki.
What are the most trusted work shirts for construction brands?
Shirts from Carhartt, Dickies, and Wrangler are the most trusted work shirts in the industry. That's why I included lots of products from these three major brands.
What is the top-tier material for construction work shirts?
If you love to be comfortable at work, then Cotton is the best material for you.
However, there are also high-prominence fabrics like 3M. If you live in cold places, the best material for you is either wool, fleece, or quilt.
What color are construction work shirts?
Construction workers usually wear neon colors like green and orange due to safety and visibility reasons.
However, there are also dark colors like grey and navy blue that deliver both function and fashion. These colors also give off a modern look and can be worn in less risky work environments.
Conclusion
Choosing the correct work shirt helps you stay fresh and comfortable throughout the day, no matter how hard or busy your work is. That's why it is very crucial to choose the best work shirts for construction because they will really help you a lot. You also can refer to mix your shirt with jeans to make you feel comfortable and fashionable.
Since I have laid out all the vital factors, start by ranking them from the most important down to the least crucial. This way, you can easily filter out the ideal clothes for yourself from the long list of available work shirts.
Hustle hard and stay focused at work!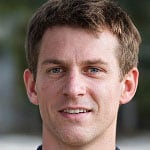 Having worked in the field of personal protective equipment for over two decades, Andrew Carnegie is a specialist in the field.
At EDC, he strives to improve performance efficiency and promote workplace safety for EDC's readers and customers. He also researches the most up-to-date equipment that has earned relevant accreditation for use in a wide range of industries and specialties.