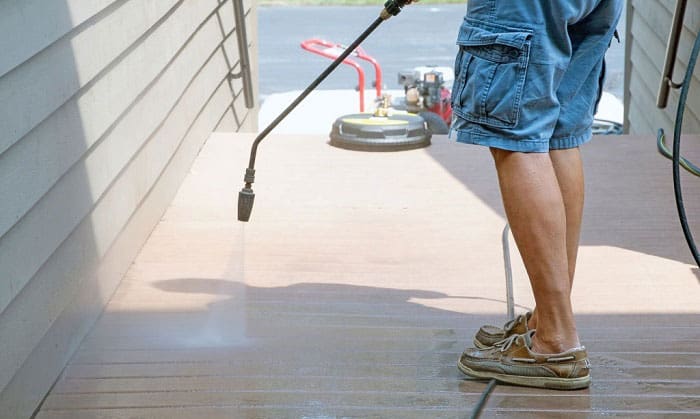 Even the most breathable pants can feel uncomfortable and constrictive in hot weather. Work shorts, on the other hand, will keep you cool throughout the day. After all, what we wear to work can affect our productivity.
Whether you're a professional contractor or a DIYer, you can take advantage of the breathable materials, cargo pockets, and many other features that best work shorts offer. If you need to buy one, here are the three key features to check:
Fabric: Work shorts are usually made of the same materials as work pants. Workwear designers use fabrics like cotton, polyester, denim, canvas, and ripstop fabric mainly because of these materials' durability and comfort. If you squat or climb ladders, you also have to take note of the textile's stretchability. On the other hand, moisture-wicking capabilities can help you prevent the stickiness that comes with excessive sweating.
Size and fitting: Determining your size can be difficult since some shorts have gartered waistbands while others don't. In any case, you need to factor in your fluctuating body weight as well as your day-to-day activities. Keep in mind that not all fabrics can flex. For example, work shorts that are wider around the seat and thigh allow you to move with ease.
Loops and pockets: While shorts may only be half the length of your regular work pants, they have just as many pockets for your tools and gizmos. Many of them also come with D-rings and hammer loops. Moreover, manufacturers are now developing designs that cater to specific jobs. For instance, pirate shorts are longer than conventional designs as it provides knee protection. Meanwhile, the gusseted crotch keeps the seams from ripping when you crouch or climb.
No matter how many blogs or Reddit discussions we read, the decision-making process is far more nuanced. With that, I encourage you to read my review of the top twelve shorts for work and don't miss the "Buying Guide" where I will share more tips on finding the top-tier options.
Top 10 Work Shorts Reviews
1. Amazon Essentials F16AE60004 Cargo Short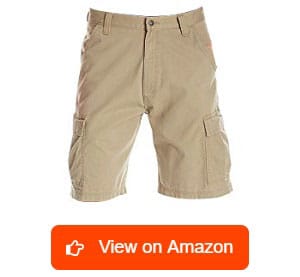 Beating the summer heat can be done in style thanks to these cargo shorts from Amazon Essentials. Apart from the usual black and brown colors, they come in unique colors like rust, washed red, indigo, nutmeg, and olive, as well as camouflage designs. Generally speaking, they look awesome when paired with long sleeve shirts. Plus, I find their versatile design appropriate for work, DIY projects at home, and casual get-togethers with friends.
As far as comfort goes, these men's cargo work shorts are lightweight and soft, which is what I need for the summer. The classic fit affords me some wiggle room around the seat and thigh without appearing loose. Whenever I move, the semi-flex fabric makes me feel less constricted. Impressively, the seams can endure the type of work that I do even though I can be rough on my clothing.
That said, I wish the manufacturer would consider redesigning the cargo pockets with velcros. As it is, the buttons hidden underneath the flaps make it hard for me to use the pockets. Also, the back flap pockets are prone to curling. Of course, these are just minor design flaws that I don't mind putting up with, especially if I don't intend to put anything inside the pockets.
What We Like
Offers stylish color options
Great for any occasion
Comfy and lightweight for hot weather
Promotes unconstricted movement
Has strong seams
What We Don't Like
The buttons are hidden under the flaps
The back pockets' flaps tend to curl
If you're looking for fashionable work shorts for hot summer days, then look no further! Aside from the wide variety of color options, they are made of a lightweight material that ensures good airflow to help you stay fresh all day long.
2. Wrangler Authentics Men's Cargo Short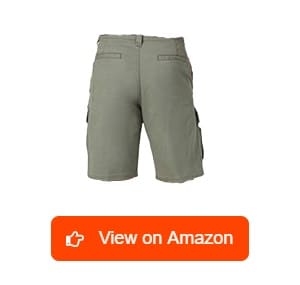 Thanks to Wrangler's laidback design, I get to wear these summer work shorts even when I'm going to the beach or trail. On top of the usual military colors like olive, beige, black, and camo prints, this one also comes in copper brown, which is something that I don't see in other brands. At any rate, each color can make work and casual everyday clothes look stylish.
Made of 98% cotton and 2% spandex, these durable shorts can hold up to all the abuse that I put them through when I'm on duty. Moreover, the combination of this stretchable fabric and relaxed fitting enables me to move comfortably. The design and breathable material also make it possible to wear these pants during the summer. D
For storage, these contractor shorts have two pockets at the front, two at the back, and two cargo pockets on the sides. Each one is spacious enough to fit my smartphone, wallet, pen, small notebook, car keys, and other small items I use for work.
However, I'm a little disappointed that the zipper pulls apart somewhat easily. Therefore, if I move too aggressively for extended periods, the zipper might become undone.
What We Like
Has a laid-back design that can be worn at work, beach, or trail
Offered in colors that fit both work and casual everyday use
The stretchable fabric and relaxed fitting allows the wearer to move comfortably
Appropriate for summer thanks to the breathable material
The pockets are spacious enough to fit various small items
What We Don't Like
The zipper is prone to becoming undone
These breathable cotton cargo shorts never look out of place whether I'm at work or going on a vacation. Furthermore, their trendy colors make my summer outfits fashionable.
3. Lee Men's Crossroad Cargo Short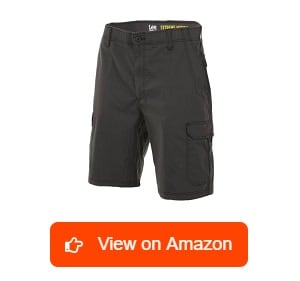 Lee's Extreme Motion Crossroad work cargo shorts promise unrestrained mobility; based on my experience, they deliver! This specific model is available in different army-inspired color palettes like olive, tan, and black, as well as camouflage patterns. As such, I never had a hard time styling them.
Composed of up to 73% cotton, the fabric feels soft and light, which makes for excellent hot-weather shorts. Yet, they do not tear apart, just like traditional construction work shorts made of heavier denim or canvas. Although these outdoor work shorts have a relaxed seat and thigh, they are not too baggy for my body type.
I also like that these shorts feature two cargo pockets, a phone pocket, and two front and two back pockets, bringing to a total of 7 pockets. At work, I get to store my pens, gadgets, and small tools in them. In the wild, I can put small bags of snacks so I can easily access them when I feel hungry while I trek.
So far, the only drawback that I see is that the cargo pockets' hook and loop closures sometimes can get entangled with a table's corner or hand tools that are sticking out from my bucket. Other than that, these shorts are terrific for working out, hiking, or physically demanding jobs.
What We Like
Available in army-inspired color palettes and camouflage patterns
Consists of up to 73% cotton for comfort
Features relaxed seat and thigh without appearing too baggy
Has two cargo pockets, a phone pocket, and two front and two back pockets
Suitable for working out, hiking, or physically demanding jobs
What We Don't Like
The pocket's loop closures entangle with different items
These cooling work shorts help me battle the warm and humid weather. Because they are made of a flexible fabric, I can wear them when I go to the gym to work out or when I hike in the forest.
4. Carhartt B147 Men's Canvas Work Short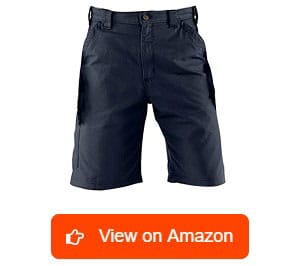 At the top of our list are these Carhartt men's canvas shorts. Setting aside my biases for this brand, I'm featuring this mainly for its brilliant design that draws inspiration from a worker's everyday needs. It has a left-leg hammer loop and a ruler pocket. On the other side, there is a tool pocket and utility band. In addition, there are reinforced back pockets and slant hand pockets in the front. With this storage, I don't get to carry more items and keep them organized.
Made of cotton canvas, the fabric keeps things cool and comfy in hot weather. Yet these heavy-duty work shorts are reinforced at the seams. Thus, they do not show any sign of wearing down despite all the crouching and climbing. Maintenance-wise, this machine-washable clothing minimizes the time I spend doing the laundry so I can have some free time with my family and friends.
Due to the loose fit design, I get more space around the seat and thigh, which lets me move more naturally. It sits slightly above the waist but this is probably where it becomes a little tricky. I noticed that the size is not consistent with the other types of shorts from this brand. Take note of this if you are buying online.
What We Like
Allows you to organize items in the pockets
Has heavy-duty design
Feels cool and comfy in the summer
Lets you clean and maintain easily
Allows you to move naturally
What We Don't Like
The shorts are not true to size
For workers like you and me, there is no such thing as too many pockets. If you need to carry some tools to free up your hands, then you will surely love these Carhartt men's shorts.
5. Dickies WR852BK 30 Relaxed Fit Work Short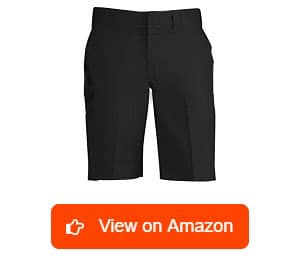 Boasting wrinkle and stain-resistant flex fabric, these men's work shorts are perfect for those who need to look clean throughout the shift while doing the "dirty job." Moreover, the time I usually spend doing the laundry is significantly reduced. Even without ironing, the shorts do not form any creases. In terms of style, the simple yet modern design makes it appropriate for workplaces, schools, and non-formal occasions.
Where functionality is concerned, let me highlight the brand's signature tunnel belt loops that are durable enough to hold loaded tool belts. Meanwhile, the shorts' relaxed fit promotes ease of movement. It should not come as a surprise since skaters love them so much. At work, this feature comes in handy as I move up and down the ladder or bend over.
However, it took about four washes before I managed to properly break in and get rid of the work shorts' stiffness. Since then, the fabric has become ultra-soft and comfy. Furthermore, I find that the front pockets are not sufficiently deep. When I put my phone inside, it slides out as I sit or crouch. If you use tool belts more than you use the pocket, then this will not be an issue.
What We Like
Lets you skip ironing
Allows you to clean the stain faster
Has durable belt loops
Ideal for work, school, and other occasions
Allows you to move easily
What We Don't Like
Needs a few washes to soften the fabric
The front pockets lack depth
Despite their simple design, these shorts can blend in any work, school, or casual outfit. With a fabric that's highly resistant to stain and creasing, you can look sharp without having to wash and iron your workwear too often.
6. Wrangler ZM6LSAH Relaxed Fit Cargo Short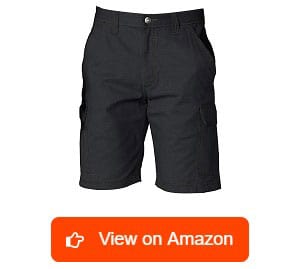 While this particular model is available in a wide array of fabrics and colors, these work shorts are collectively characterized by the same relaxed fit design. Both the seat and thigh are roomy yet not overly loose, which enables me to move with ease. Wearing these work shorts for hot weather makes the long shift feel less arduous.
Whether I choose cotton twill, denim, or ripstop cargo shorts, the reinforced construction ensures that the shorts will endure the demands of my job. Any of these choices are stylish and they go well with uniforms and casual attire. Just like other work pants, they offer ample storage in the pockets for assorted items. Even the back pockets are spacious enough to hold a thick wallet or a phone without slipping in and out.
Best of all, these men's work shorts are machine washable. After a long tiring day at work, I don't have to worry about handwashing them. However, keep in mind that they are not true to size. It can be quite inconvenient to return and exchange the item so be sure to familiarize yourself with the shop's policies. What I can assure you is that the long-lasting quality makes them worth all the trouble.
What We Like
Provides a nice roomy fit
Equipped with ample pockets
Offers different options for fabric and color
Ideal for hot weather
Ensures long-lasting durability
What We Don't Like
The shorts are not true to size
Available in a variety of colors and fabrics, you can choose any style and still get the same
heavy-duty cargo shorts.
Furthermore, the relaxed fit makes the shorts comfortable to move in, especially when you're working under the extreme heat of the sun.
7. Carhartt 103652 Flex Rigby Work Short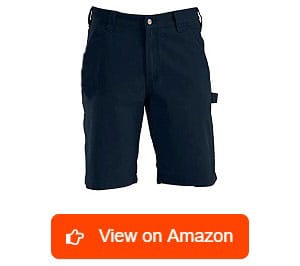 Combining spandex and cotton, Carhartt men's rugged flex work shorts can stretch yet maintain the shape of the garment. On top of that, the hard-wearing construction ensures that the seams do not rip despite years of regular use. Made with a relaxed fit, the roomy seat and thigh enable me to squat or climb ladders without feeling constricted. Comfortable for the hot weather, the fabric is fairly lightweight and gentle on the skin.
Aside from the left-leg hammer loop, the cargo shorts feature pockets that can fit various tools and gadgets. In addition, the durable belt loops can support the weight of a fully-loaded tool belt. Both the button and the metal zipper fasten the waistband securely. Hence, I find these shorts appropriate for carpentry, handyman, and similar jobs. Furthermore, they are available in six colors that can go well with any shirt and footwear.
Based on my observation, the sizes seem to run small, which can be a hassle for online shoppers. Apart from that, the oversized watch pocket makes it harder for me to retrieve a small item I drop inside it. Needless to say, these are just minor complaints. As a whole, I would say that these cargo shorts can perform just as terrific as any work pants.
What We Like
Able to stretch and maintain the shape
Made with a relaxed fit for better movement
Excellent cargo shorts for hot weather
Designed with sturdy pockets
Has strong belt loops
What We Don't Like
The shorts run small
The watch pocket is too deep
Offering the perfect balance between stretchability and durability, I would consider these the top-rated work shorts for physically demanding jobs. Meanwhile, the belt loops can hold the entire weight of your tool belt.
8. Dickies WR849BK Flex Work Short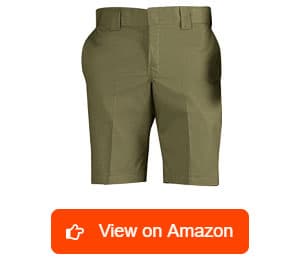 Excellent for the hot weather, these shorts feature moisture-wicking fabric. What this means for workers like me is that the textile lets me move freely while simultaneously keeping things dry and cool. Sporting a plain design, these work shorts for men can blend in well with any work or school uniform, as well as an everyday outfit.
When it comes to storage, these shorts have five pockets that can fit a wallet, small notebook, and cell phone. The space can hold the items securely so they do not slide out of the pocket if I squat. Although these work shorts fall under the slim fit category, it sits slightly below the waist while the seat and thigh are quite roomy. Besides, I can move naturally since the textile can flex.
Due to the fabric's wrinkle and stain-resistant properties, it's easy to stay sharp throughout the shift. As far as maintenance is concerned, these shorts are machine washable, and ironing them is optional. Also, I'm amazed that the seams can hold up to all the movement. My only complaint is that the texture of the fabric is not as soft as I thought. Even after washing these shorts a couple of times, the material still feels somewhat rough on my skin.
What We Like
Has moisture-wicking capabilities
Does not need ironing
Goes well with any uniform or everyday attire
Has pockets that can fit assorted items
Lets you move naturally
What We Don't Like
The fabric feels rough on the skin
Considering all their features, I can confidently say that this is one of the most favorite shorts for hot weather! On top of that, you don't need to put a lot of effort into making sure that they are in good shape.
9. Timberland TB0A12BTD02 Canvas Work Short
If you're looking for high-quality workwear for hot weather, you can never go wrong with Timberland. As expected, the brand's line of work shorts is among the toughest. After years of wearing these shorts regularly to work, the seams and the fabric do not show any sign of damage. Since my job involves squatting and using the ladder, the gusset-reinforced crotch seams help in keeping the shorts intact. Besides, the canvas fabric feels soft and comfy on the skin.
Both the length and the fitting around the waist, seat, and thigh are just right. Although it resembles more like a classic than a relaxed fit, I don't feel restricted when I move. Apart from the front and back pockets, the shorts include a right-leg pocket, all of which provide ample space to carry my tools and gadgets without letting them slip when I sit. At the same time, they are durable enough to carry the weight of the items.
Another reason why I love these shorts is that I can wear them whether I'm on or off duty. Let me just caution you that the dark wheat version is brighter in person. To me, it looks more like orange. That's why I like the regular khaki better since the color is more neutral and easier to match with most of my shirts. However, this is just my taste. If you like the color, then go for it!
What We Like
Appropriate for hot weather
Able to hold up to any movement
Provides superb fitting
Equipped with durable pockets
Soft and comfy on the skin
What We Don't Like
The dark wheat shorts look more like orange
Unlike cheap work shorts, these are highly durable and reliable for carpentry, construction, and similar types of jobs. If it were not for the issue that I had with the color, these shorts would get a perfect score.
10. Rdruko Men's Relaxed Fit Cargo Shorts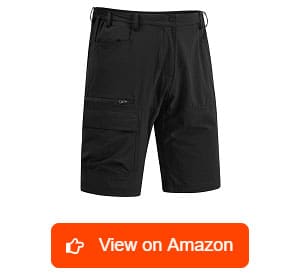 Lightweight work shorts are your most suitable option to combat the summer heat. Although these are advertised as men's cargo hiking shorts, the fabric's moisture-wicking and quick-drying capabilities are useful to work outside and those who want to play sports. Aside from drawing out the sweat, the combination of nylon and spandex maintains remarkable breathability. With these shorts, I can stay fresh all day.
Thanks to the semi-elastic waistband, I don't have to wear a belt to make sure that the shorts fit even when my weight fluctuates. Even after eating a full meal, the waistband does not cut into my stomach. If I need to put on a belt to attach some pouches, the loops are sturdy enough to hold them. Indeed, these are a great alternative to work pants. Furthermore, it comes with a nice selection of colors.
All the pockets provide enough space to store my tools. Since the front pockets are slanted, I can slip and retrieve small items quickly. On the other hand, the leg and back pockets are equipped with sturdy zippers to help prevent the phone from sliding and falling out when I sit or squat. Despite carrying a heavy load, the seams are intact. The only catch is that they are made of thick mesh, which may not be suitable for carrying nails.
What We Like
Great for sports and work
The zip pocket prevents items from slipping out
Guaranteed lightweight and breathable
Has semi-elastic waistband
Offers different color options
What We Don't Like
The pockets are made of thick mesh
Without a doubt, these are top-tier shorts for hot weather. Even when you spend long hours under the sun, the breathable fabric will wick away your sweat so you can stay fresh all day.
Wrangler 3W320VI Riggs Workwear Short (Outdated)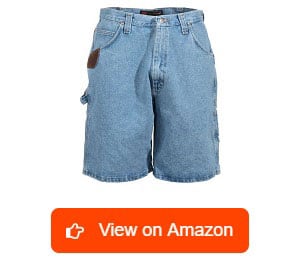 Say goodbye to workwear mishaps with these Wrangler Riggs Workwear Men's Carpenter Shorts. Much like their work pants counterparts, they feature a crotch gusset. Therefore, no amount of strain or pressure could ever bust the seams. Of course, you don't have to be a carpenter just to wear these shorts. I, for one, have found them convenient for repairs and DIY projects at home.
In addition to the Cordura-reinforced back pockets, the shorts have standard front pockets, a leg pocket specially designed for tools, a watch pocket, as well a utility loop. Each of them can handle quite a heavy load. For me, the leather overlay at the right pocket is a nice touch as it keeps it from getting dragged and torn by the hammer.
Aside from the sturdy functionality, these shorts flaunt a classic style that is easy to pair with any shirt. What's more, this model is available in dura shield denim, as well as neutral-colored khakis. Regardless of what you choose, I guarantee that they are breathable for the hot weather. That said, keep in mind that denim is not a stretchy material so be sure to get the size that provides you ample room to move.
What We Like
Has a durable gusseted crotch
Suitable for carpentry, repairs, or DIY work
Equipped with sturdy pockets
Excellent choice for hot weather
Available in denim and khakis
What We Don't Like
The denim material does not flex
When it comes to long-lasting durability and style, these heavy-duty cargo shorts for men are the true winner. Along with the convenient side hammer loop, the roomy pockets will let you store and access items while you move from one part of the workshop or house to another.
Red Kap PT4C Men's Work Short (Outdated)
Built with wear-resisting fabric, the color of these work shorts does not fade easily. In fact, I have worn them for years and the color remains vibrant. Speaking of colors, these men's black work shorts come in three neutral hues. Thanks to the simple yet versatile design, they match most of my shirts.
Besides that, these shorts can resist stains so I don't have to go through all the trouble to clean up the mess. With a blend of cotton and polyester, the garment remains lightweight and breathable. In hot weather, I would skip the work pants and wear these shorts instead.
More importantly, the seams are rock-solid. Even though I crouch and climb ladders often, they hold up pretty well. That's why I think these shorts are appropriate for those who are physically active and constantly exposed to the elements.
As for storage, these work shorts feature two hip pockets and front pockets that allow me to store and retrieve items quickly. On top of that, it has a cell phone pocket with a snap closure. The only problem is that it does not fit some smartphone models. If you ask me, this is not an issue since I put my phone in the front pocket or holster.
What We Like
Has versatile design and colors
Made of fade and stain-resistant fabric
Feels light and comfortable for hot weather
Appropriate for physically demanding jobs
Built with ample pockets
What We Don't Like
The phone pocket may not fit some smartphones
Indeed, these are the most favorite work shorts for those who are often exposed to the sun, dirt, and grimes. Fashioned with durable fabric, the color of these garments will not get stained or fade easily.
Dickies 42283ER 28 Loose Fit Work Short (Outdated)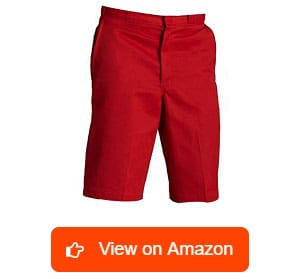 Well, I can give you several reasons why these Dickies work shorts rock. Like most of the workwear made by this brand, the fabric has wrinkle-resistant and stain-release capabilities. This makes life incredibly easier since you can always skip ironing. If your job constantly exposes you to grease and other chemicals, you will like these shorts even more because washing them is a breeze.
For storage, these shorts feature a right-leg multi-use pocket, welt pockets at the back for a flap-free look, and side seam hand pockets. Even if I fill them with nails and screws, none of the items can poke a hole. Apart from that, the design renders more room around the seat and waist, which enables me to move effortlessly. Alongside the hook-and-bar closure, the sturdy zippers ensure that the waistband fastens securely.
Style-wise, I love the color options as these shorts come in neutral and bright colors like red. However, I found them a little too long so I had to hem them. Moreover, I can't wear some of my wide belts because the loops are too narrow. But if you're going for comfort, let me assure you that the durable poly-cotton twill shorts will make you ready for summer.
What We Like
Made of wrinkle-resistant fabric
Allows you to clean the stain effortlessly
Provides ample pockets for your tools
Lets you fasten the waistband securely
Comes in a variety of colors
Ideal for summer
What We Don't Like
The length falls below the knees
The belt loops are narrow
These wash-and-wear work shorts are a time-saver. You don't have to iron the fabric or spend long hours removing stains. Best of all, the breathable design makes it appropriate for hot weather.
Wrangler ZM6BSAO Twill Cargo Short (Outdated)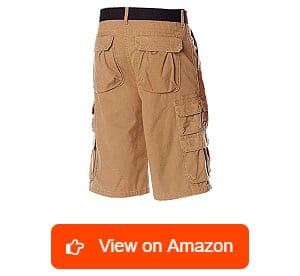 Offered in different colors, as well as camo versions, these affordable cargo shorts deliver a classic style. I can show off my style without having to blow up my savings. Regardless, the design can go well with my polo and sports shirts. In addition to the charming appearance, the cotton twill feels soft on the skin. At the same time, the fabric effectively maintains optimal breathability, which is why I like to wear them even outside of work.
As one would expect from this brand, every part of these shorts is durable. After more than a year, the button closure remains secure. Plus, I don't feel it digging into my stomach when I sit. Built with a relaxed fit, the shorts sit snugly on my waist while the spacious seat and thigh enable me to move freely. So far, the seams are holding up nicely even though I have been squatting and climbing ladders at work.
Along with the two back flap pockets and two slash pockets, both the right and left legs have two cargo pockets. In total, the shorts have eight pockets but none are big enough to hold hammers or screwdrivers. For smaller items like phones and pens, storage is sufficient. If you prefer using your tool belt, then there's no issue.
What We Like
Available in different colors and camouflage
Suitable for any job or casual occasion
Affordable classy work shorts
Designed with a relaxed fit
Provides plenty of pockets
What We Don't Like
The cargo pockets are not spacious
Whether you're working, gardening, or having barbeques with friends, these will easily become your staple work shorts for hot summer days. Despite being affordable, the brand does not cut corners in style, comfort, and durability.
What are Work Shorts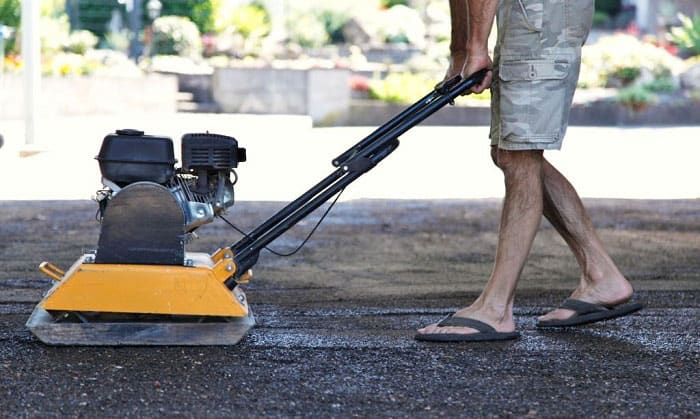 When we say "work shorts," the first thing that comes to mind is the classic cargo style. Granted, it is one of the most common designs but other types can fall under the workwear category. What sets work shorts apart is that they are built for tough jobs. Since they are more breathable compared to traditional work pants, many workers wear shorts in hot weather. More notably, their pockets and loops are strong enough to hold the weight of your tools.
How Does It Work
Workwear shorts are naturally more breathable than work pants due to their shorter length. Not only does it allow the air to flow, but it also makes it easier for you to move. With spacious pockets, you can store and retrieve assorted tools whenever you need them.
Each part of the garment is put in place for specific reasons. The choice of fabrics used to make work shorts have to be durable and comfortable. Furthermore, the roomy pockets and hammer loop come in handy when you need to access your tools quickly.
Since you will move a lot as you work, the seams will be constantly strained. Hence, industrial work shorts are reinforced by double or triple-stitched. You will also notice that some have crotch gussets as they are stronger than the traditional crotch seam.
Types of Work Shorts
As manufacturers and designers are constantly innovating to address every worker's needs, it's not surprising that you will find a wide array of work shorts. For sure, there will be new inventions in the future. The definition of the best work shorts will change over time. But as of now, these are shorts that are suitable for work:
Cargo shorts
Pirate shorts
Painter shorts
Gardening shorts
Hiking shorts
Construction work shorts
Tactical shorts
Why Do You Need Work Shorts
Experts agree that lightweight clothing can help prevent heatstroke. Perhaps, this is the most important reason for wearing work shorts when you have to complete a job on a hot day. Designed for specific jobs, these shorts offer unique features to help you perform better in different settings.
If you are a carpenter, you will find the durable pockets of the cargo or construction shorts useful since you need them for your tools. When your work involves long walks or hiking, you can opt for shorts with lightweight fabric. Besides this, you can wear your work shorts when you need to do some home improvement project or yard work.
Buying Guide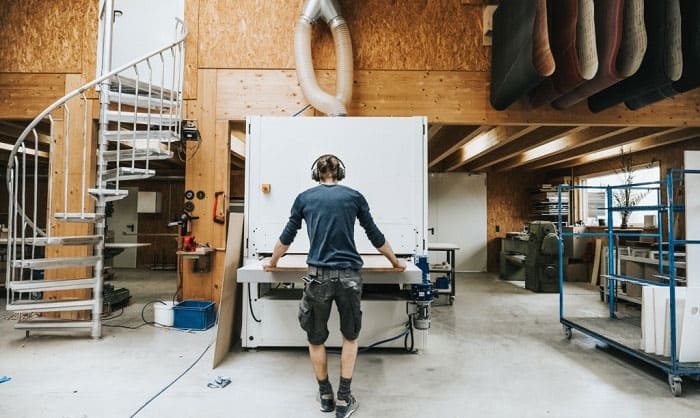 One of the challenges in selecting the right work shorts is that "best" is subjective. Unless the company that you are working for imposes a specific type of shorts to wear, you can choose whatever you like. Ironically, having this kind of freedom does not make it easier for us to decide. For that, let's discuss some of the things you need to consider when buying work shorts.
Durability
Loose threads or lifting at the backstitching are signs of weak construction. Yet most of us don't take the time to inspect the seams when we're at the shop. Once we find the shorts we like, we proceed to pay. A few months passed, a hole started to appear and we started regretting that we did not take the time to check the seams thoroughly before purchasing.
My advice is simple: break that habit of buying without inspecting the product. Regardless of the brand, make time to scrutinize the shorts inside and out. If you are buying online, familiarize yourself with the shop's return and exchange policies.
Appropriate for the job
Carpenter work shorts typically feature utility pockets and loops but they are not strictly for carpentry. A handyman or DIYer can also benefit from the same features. Still, it would be best to take note of your habits or safety precautions concerning your work. For instance, some folks prefer carrying items in tool belts rather than pockets. In that case, then you don't have to get shorts with multiple pockets. It all boils down to personal preference unless your employer says otherwise.
Comfort
If your employer gives you some leeway in choosing your work attire, then I strongly recommend taking advantage of this freedom. Go for the most comfortable shorts for hot weather. Beyond the choice of fabric, consider the fitting of the shorts. Tight clothes can prevent you from moving properly while baggy garments may get caught in machines.
Also, think about how the shorts will feel once you put on the tool belt or load the pockets with your tools. When putting some nails in the nail pockets, do you feel the pointy side poking or scratching your skin as you move?
Style
Workwear does not have to be boring. In this listicle, I've put together a dozen hard-wearing, breathable work shorts that are stylish. It is no secret that workwear is taking over the fashion scene. Dickies Clothing, for instance, is initially worn by those who hold blue-collar jobs. Years later, it became popular among skaters and eventually made kidswear. Whether you reserve your workwear strictly for work or use it for other occasions, it's all up to you. But it is certainly nice to have some shorts that you can wear anywhere.
Care and Maintenance
The cleaning method and frequency depend on various factors. Each brand uses different fabrics or a combination of textiles. Besides, some jobs are "dirtier" than others. That said, you need to read the manufacturer's recommendations before throwing your work shorts into the washing machine.
If you are not constantly exposed to grimes, oils, or dirt, then you can wash your shorts after wearing them two to four times. Washing the khaki or denim daily can cause the fabric to wear down faster.
Frequently Asked Questions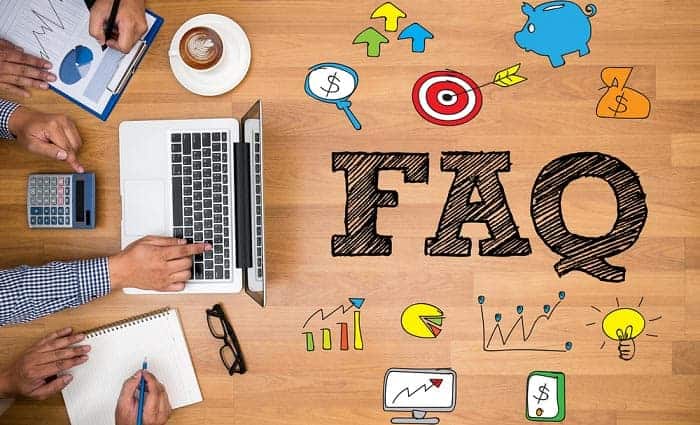 What do construction workers wear in the heat?
Protective clothing can feel hot and uncomfortable during the summer. To prevent this, workers can swap the heavyweight canvas pants for cotton paired with UPF 50+ sun protective shirts.
Another option is to wear lightweight polyester or nylon with moisture-wicking properties to help them with their sweat. More importantly, the clothes should be loose-fitting to help them move and stay cool.
For head protection, construction workers can opt for hard hats with vents and full sun brims. They should choose thinner high-visibility vests as well.
Note that the dress code will depend on the employer and job site requirements. In some cases, site managers allow shorts. If you're tasked to weld, then the job will require full-on protection, no matter the weather.
Is ripstop the same as nylon?
Ripstop is usually made from nylon. The process of manufacturing ripstop fabric involves weaving the synthetic fibers at specific increments, producing tiny square patterns. As such, this technique stops the rip from going past the first square and prevents tearing the entire fabric.
However, ripstop can also be made from polyester, meaning the fabric is not necessarily the same as nylon.
Is it unprofessional to wear shorts to work?
Dress codes vary from one company to another. In the corporate world, wearing shorts is a big no-no, although some companies have become more accepting in recent years.
For example, some companies now allow their employees to don good cargo shorts as part of their uniforms. Workers in the delivery services, for instance, use the cargo pockets to store missed delivery notices.
Likewise, some retail workers and fast food workers are given the freedom to choose between trousers and shorts as long as they wear their company-provided shirts. For coaches and gym instructors, wearing shorts makes more sense since their main goal is to perform exercises or demonstrate techniques to improve their athletes' performance.
In other industries, however, work pants remain an essential part of a worker's personal protective equipment. For instance, carpenters, construction workers, and plumbers don thick canvas or denim pants with reinforced knees or knee pad pockets to prevent knee injuries.
What are the most trusted work shorts brands?
All the brands I feature here make high-quality workwear. The Carhartt work shorts and Wrangler Riggs Workwear Men's have earned the approval of many employees and DIYers but I highly recommend trying out Dickies, Amazon Essentials, Red Kap, Timberland, and Rduko. Apart from the sturdy functionality, these are known for making a wide variety of shorts with reliable zippers, roomy cargo pockets, and other features that are useful for your job.
What is the top-rated material for work shorts?
Manufacturers commonly use pure cotton or ripstop fabric. These textiles can also be combined with spandex material, polyester, nylon, and so on to improve certain aspects, like comfort, stretchability, durability, or waterproof protection. Hence, there is no single top-rated material for work shorts since each fabric is made for specific purposes.
How to wash work shorts?
When you need to put them in the washing machine, don't forget to undo all buttons and turn your shorts inside out to retain the shape of the shorts. Refer to the manufacturer's recommendation for specific instructions.
In case you stained a small part of the pants, spot-clean the affected area immediately. Avoid rubbing the stain as it will push it deeper into the fabric. Instead, remove the excess substance with a knife or a card then use a paper towel to blot the area. Take another paper towel and blot the opposite side of the stain.
Next, apply some cleaning solvent onto a cotton swab and clean the opposite side of the splatter. Start from the center then work it to the center to prevent the stain from spreading. Repeat the process until it fades.
Conclusion
Classic workwear is designed to cover most of our body but staying outside for long hours during the summer can take a toll on our health. We can better protect ourselves by putting on some sunscreen, keeping ourselves well-hydrated, and wearing breathable clothing. Shorts are a practical option since designers have added crotch gussets, bellowed pockets, wide belt loops, and all the features that you need to perform your job comfortably.
By now, you know that cargo work shorts are just one option that you can wear to work. When you go to a shop or browse through different e-commerce sites, the choices are endless. Many of them claim to be the best work shorts but at the end of the day, we need to decide based on our job requirements, and more importantly, what is most comfortable for us.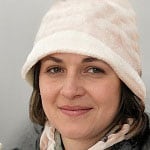 Veronica is our content editor. She is a talent in delivery. Her main work is editing and writing articles that are both informative and simple to follow. She is in charge of synthesizing our understanding of what personal protection equipment (PPE) is needed in each job, how to best apply it, and how to visualize that equipment.