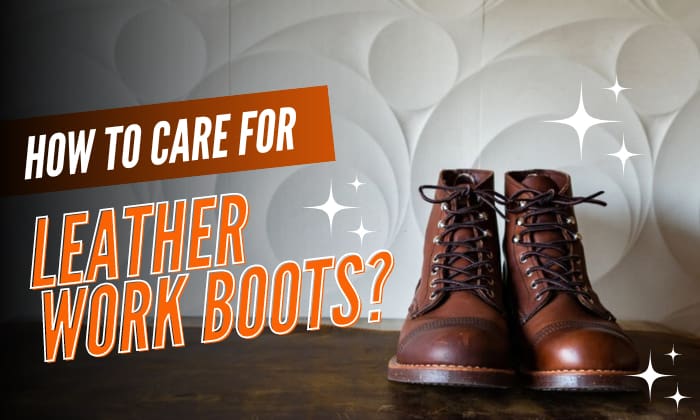 When it comes to work boots, you'd probably think that the challenge is finding the right pair. But actually, the real challenge is maintaining them in good condition, especially the leather ones.
Although all work boots should be cared for, leather work boots require special maintenance methods because of leather's delicacy.
Leather work boot care may sound intimidating at first, but this ultimate guide on how to care for leather work boots will surely make you feel confident about giving your shoes a longer life.
Step-by-step to Care for Leather Work Boots
Step #1: Break Them In
This is an essential step in taking care of a new pair of leather work boots.
There are several ways to break in leather work boots. These are:
Walking around with your new work boots at home
Wearing thick socks
Using Boot stretchers
Using Hair Dryer
Applying mink oil or leather conditioner
These breaking in methods lead to the relaxing or softening the fibers of the leather and helping them mold into the shape of your feet. This way, they become more comfortable and save your feet from pain and blisters.
Step #2: Keep your Boots Clean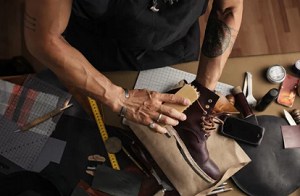 How you clean leather work boots depends on the dirtiness of the boots. You can do either light cleaning or deep cleaning.
Water
Clean cloth
Brush or old toothbrush
Cleaning solution for leather (for deep cleaning)
All you have to do is dampen the cloth or brush and use it to remove any dust or dirt on the surface of the leather. You can use the brush to reach the nook and crannies of the boots where dirt has settled in.
For more stubborn dirt, you may incorporate cleaning solutions for deeper cleaning. However, it is important that you only use a cleaning solution that won't damage the leather such as water-based cleanser or saddle soap.
Note: Saddle soap is harmful to suede and rough-out leather. But, it's applicable to other genuine leather.
Aside from the leather part, you should also wash the insoles and outsoles of the boots. Additionally, make sure to dry your boots after cleaning, and after every wear.
You may also check your boots' manufacturer for any special cleaning instructions.
For example, in order to clean Carolina work boots, you have to determine first if the pair that you have is waterproof, non-waterproof, or flesh out leather. This is because each boot type or material has different cleaning instructions.
Step #3: Condition Your Boots
After you clean and wash leather work boots, the next step is to condition them.
Using a work boot leather conditioner or oil is crucial in preserving and caring for your boots.
It restores the leather of the moisture it lost and prevents it from drying up. It also shields your boots from water, as well as harsh weather conditions and temperature.
There are several boot conditioner brands available in the market, but if you don't have access to commercial ones, you can still condition your work boots with household items as alternatives:
Mink oil
Olive oil
Coconut oil
Beeswax
Lanolin
To condition your boots, just apply the conditioner into the leather using a clean cloth, Remove any excess with another clean cloth to prevent oversaturation.
Now, if you ask, "should I oil my new Thorogood boots?" The answer is no.
It is an unspoken rule that you should not oil new boots, especially if they are not yet broken in. Even Thorogood itself only recommends oiling for old, stiff, and cracked leather boots.
If you break this rule, there is a possibility that your leather work boots will end up too soft and soggy.
Step #4: Waterproof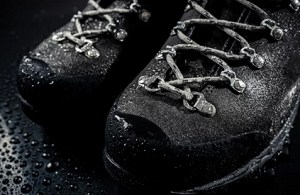 Waterproofing is a way of work boots protection to prevent water and moisture from penetrating. This is a necessary treatment for leather boots, whether or not they are waterproofed. This is in consideration that waterproofing treatment in some boots can wear out in the long run.
The best way to waterproof work boots is to use waxes and oils.
Here are the products that you can use for the job:
Mink oil paste
Shoe cream
Shoe polish
All you have to do is work thin coats of product into the leather. Allow the wax or oil to set before removing the excess.
Although there are waterproofing sprays readily available in the market, they are often not recommended by experts as they are usually made of silicone. Silicone-based sprays do a good job in waterproofing however, they are hard to remove and may suffocate the leather.
Nevertheless, you may use waterproofing spray to waterproof and care for suede work boots, which can be damaged by wax and oil.
Step #5: Storage Them Properly
The way you store your work boots also affects its life.
Avoid storing your boots in damp, moist, and unventilated areas. Don't forget that this kind of environment is the best breeding ground for foot odor-causing bacteria.
Additionally, some materials used in leather work boots can break apart when exposed to these conditions such as Polyurethane material.
Frequently Asked Questions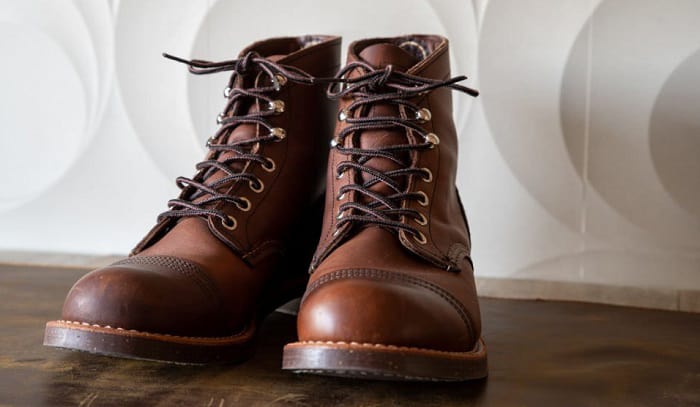 1: Why should take care of leather boots?
The reasons are simple as to why you should take care of leather work boots.
For one, you are probably getting your money's worth and making your work boots last for more than just a couple of wears, considering that their prices are around $100 to $200. In short, they are an investment.
It can also be because you treat them as your best friends as they protect you from hazards during long hours of heavy work. Thus, you would want them to preserve their quality and performance.
2: How often should you condition leather work boots?
The frequency of conditioning leather work boots are affected by these factors: the regularity of wear and the working conditions.
If you are wearing them almost on a daily basis and exposing them to harsh working conditions, conditioning should be done at least once a month.
Otherwise, conditioning every 3-6 months would be enough to keep your leather work boots in good condition.
3: How do you prolong the life of leather boots?
Prolonging the life of your leather work boots involves employing the steps mentioned here to care for them.
You should also invest in a leather care kit consisting of leather cleaners and conditioners and other supplies. Having such a kit will allow you to attend to the needs of your boots, especially in terms of its leather.
Conclusion
Since work boots are worn mostly in construction sites, you might think that it's pointless taking care of them and that it's their fate to get dirty and ragged.
However, this should be the other way around. These protective footwear should be preserved and cared for from the moment you buy them, until the very moment you decide that you can no longer wear them.
After all, they are designed to protect your feet, and when you know how to care for leather work boots, they can protect you for a longer time.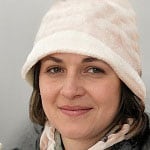 Veronica is our content editor. She is a talent in delivery. Her main work is editing and writing articles that are both informative and simple to follow. She is in charge of synthesizing our understanding of what personal protection equipment (PPE) is needed in each job, how to best apply it, and how to visualize that equipment.