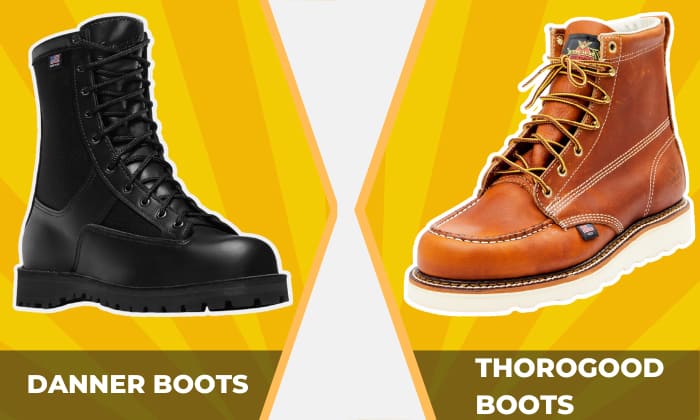 Thorogood work boots are synonymous with comfort. Danner is best known for its top-notch craftsmanship. Rest assured; you will not regret buying either of them as long as they fit your needs.
If you're struggling to decide between Danner vs Thorogood Boots, here are some pointers to consider:
Criteria
Danner
Thorogood
Design
Style Variety
Traditional and modern footwear for work and outdoor leisure
Focused on "job-fitted" boots
Uppers & Lining
Leather, hybrid of textile and leather.

Liners for waterproofing: Gore-Tex, Danner® Dry, or Thinsulate

Leather, rubber, leather-mesh combination.

Liners for waterproofing:

Thoro-dry, Infinity FD neoprene, X-Stream Waterproof™, or Thinsulate.

Toes
Safety-toe, moc-toe, and plain-toe
Safety-toe, moc-toe, rubber toe, and plain-toe
Outsoles
Wears down faster
Durable
Insole
Removable footbed with three layers (called OrthoLite)
Removable Ultimate Shock Absorption inserts
Fit and Comfort
Size
Length: US 5 to US 16 (half size available)

Width: Narrow, Regular, Wide, Extra Wide

True to size

Length: US 4 to US 16 (half sizes are also available)

Width: B, D, EE, EEE, M, W, XW

True to size

Average Break-in Time
Up to a month
A few days
Flexibility
Some are tougher
Generally flexible
Average Break-in Time
Up to a month
A few days
Flexibility
Some are tougher than others
Manufacturing
Contruction
Goodyear Welt & Stitchdown
Storm or Goodyear Welt
Price Range
$70 to over $500
$70 to $300
History of the Two Boot Brands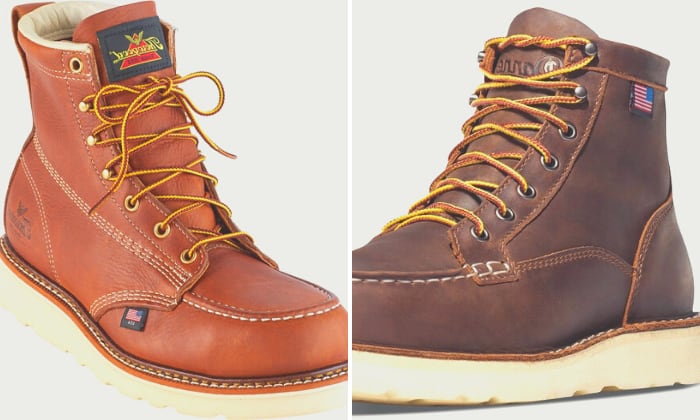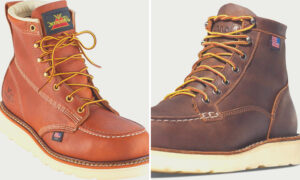 1. Danner
Founder Charles Danner established his company—Danner Shoe Manufacturing—in 1932. Four years thereafter, he moved the operation to Portland, Oregon, to cater to the works in the region's emerging timber industry. With Quarry Boots as its flagship product, his company became the top manufacturer of logging boots.
The company made history by securing a bid to supply the military with its footwear during World War II, designing its first 6490 hiking boots in the '70s, and eventually, inventing the world's first-ever waterproof hiking boots.
Since then, Danner has continued to innovate, releasing new products targeting various professionals and hikers.
Related topics:
2. Thorogood
It all began in 1892 when founder Albert Weinbrenner launched a cobbler shop in Milwaukee, Wisconsin. Even in its inception, the Weinbrenner Shoe Co. and Thorogood® Shoes specialized in making footwear for various tradespeople. However, it was not until 1917 that it customized job-specific designs.
Fast-forward to 1937, Thorogood ventured into creating safety shoes. Among its history's highlights include developing the official boy scout footwear and manufacturing the US Army's boots during World War II.
After the September 11 attacks, it supplied hundreds of work boots at no cost to those who worked at ground zero.
Danner Boots Vs Thorogood Boots – Their Similarities and Differences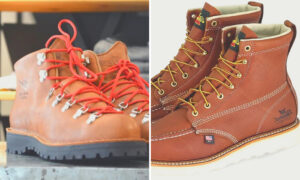 1. Design
Danner offers shoes for leisure and work in its catalog. Meanwhile, Thorogood remains focused on producing highly-specialized boots for professionals in construction, logging, farming, military, law enforcement, firefighting, hunting, and black uniform shoes.
Though you can find traditional and contemporary work boots in both shoe brands, Thorogood offers a wider selection of styles and color options for each style.
Just by comparing Danner moc toe vs Thorogood alone, the former has only 12 styles under the Danner Bull Run Cedar River collections. By contrast, there are about 15 styles of Thorogood moc toe boots on the market
Aside from that, Thorogood also offers cowboy boots and rubber boots for farming and ranching, which are not available at Danner's.
Danner and Thorogood fashion traditional work boots out of full-grain leather uppers. Though they used terms like "Crazy Horse" or "Oiled" in product descriptions, both can last 10 to 15 years under rough conditions.
Besides standard leather boots, these brands embraced new technologies and experimented with textiles and other types of leather to produce contemporary designs.
For outdoor work boots, Danner uses Gore-Tex or Danner® Dry, while Thorogood's Thoro-dry is found in some tactical boots and X-Stream Waterproof™ in leather boots. Performance-wise, linings from both brands can keep out water adequately.
However, in terms of waterproof footwear options, Thorogood is ahead of the game as it sells easy-to-clean waterproof rubber boots with Infinity FD neoprene for those who work in muddy conditions.
When it comes to winter boots, Danner and Thorogood both use 3M Thinsulate since they do not develop proprietary insulation.
While Thorogood has the upper hand in terms of style variety, it only offers steel and composite toes—no alloys. Therefore, Danner wins in this category as it manufactures work boots that give you all three options for toe protection.
But if you're looking for logging footwear with safety toes, you can find them on Thorogood logger boots. So far, we do not see such an option on Danner's.
Also read: Work boots vs logger boots
Danner includes Ortholite, a third-party insole manufacturer, in the boots it sells. Ortholites are lightweight yet effective in absorbing the shock in each step due to its triple-layer construction.
Thorogood has its very own "Removable Ultimate Shock Absorption footbed on Poron comfort cushion insole," garnering rave reviews.
Note that we can't comment more objectively on insoles because each individual has to choose specific designs that address the food conditions that they may have.
As for the outsole's traction, you can rely on these two competing brands. However, many users have observed that Danner's treads abrade faster.
2. Fit and Comfort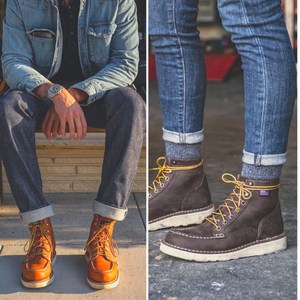 Do Danner boots run true to size? Do Thorogood boots run large or small?
Overall, both brands are true to size in length and width, but certain types of boots may be loose or snug by design. For instance, pull-on boots are slightly loose around the heels due to the lack of laces.
As for size range, Danner offers US shoe sizes from 5 to 16, whereas Thorogood provides a wide range – from US sizes 4 to 16. Both brands give the option of half sizes.
Boots from Danner and Thorogood come in adjustable widths as well, although the latter brand has more choices. To be specific, Danner has four width sizes (Narrow, Regular, Wide, and Extra Wide), whereas Thorogood has seven: B, D, EE, EEE, M, W, and XW.
Average Break-in Time & Flexibility
Another difference between Danner and Thorogood is that the latter is more flexible, requiring little to no break-in period. On the flip side, Danner openly admits that its boots are stiff. Several users report that they walked over 30 miles to break them in
3. Manufacturing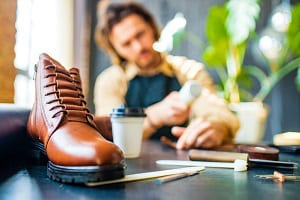 Both shoe brands utilize the Goodyear welt construction method for most of their footwear collection. This technique ensures long-lasting quality and allows their customers to get their boots resoled.
For the Danner Power Foreman and Mountain Light, however, the manufacturer used the "stitch-down method," which is more expensive than welt construction.
Plus, the stitch-down method offers better water resistance qualities. Also, it provides the option to prolong the lifespan of the boots by replacing the soles, fixing the leather, and redoing the stitching.
In case you're wondering who makes Danner boots nowadays, the brand is owned by a Japanese company called Lacrosse Footwear.
But don't let that confuse you since Danner remains "American," so to speak. Roughly one-third of its shoes are still made in their original Portland, Oregon factory, while others are manufactured in Italy, China, and Vietnam.
Thorgood outsources some of the shoe production in China and Guatemala but makes 60% of its boots in the US.
Most of Danner's and Thorogood's collections range from $70 to $300, but the former has a selection of high-end boots that costs $440 to $560.
Meanwhile, the vast majority of Thorogood's boots are more affordable for workers. Granted, its Power HV Bunker is over $400, but we did not include this model in our comparison since it no longer exists on the official website.
Our Top Picks
Danner
Photo
Name
Highlight
Pros
Cons
Price
Bull Run Moc Toe
Comfy for walking on hard surfaces
Pain-free break-in
Not for construction sites
$249.95 to $280.05
Mountain Light II 5"
Superb waterproofing
Optimal traction for various terrains
Outsoles wear down quickly
$439.95
Super Rain Forest
Highly durable thanks to the double-thick leather
Great for, walking kneeling, crawling, and climbing
Hard to break in
$450.00
Thorogood
Photo
Name
Highlight
Pros
Cons
Price
American Heritage 6″ Moc Toe
Suits outdoor, indoor, and industrial settings
Minimal break-in
Lacks traction
$244.95 to $250
Gen-Flex2 6″ – 804-4445
Oil and slip-resistant

Light yet durable
Not breathable
$184.50
GEN-Flex2 8" Wellington – 804-4440
Slip-on design with side zipper
Easy on-off

Heavy
$168.95
Frequently Asked Questions
Where can I buy Danner or Thorogood boots?
If you're in Wisconsin, you can buy from Thorogood's store in Merrill. Unfortunately, there are no Thorogood Boots Portland, Oregon branches, or any outlet in the United States.
On the other hand, Danner has official stores in Oregon, Colorado, Georgia, and Washington.
The good news is that both brands are available in local distributors like Boot Barn and e-commerce apps. For non-US residents, you can use your preferred brand's official website to locate a store abroad.
Conclusion
Whether you look at workwear blogs, Reddit, or product reviews on online shops, people always compare Danner vs Thorogood boots. After all, they both started in Wisconsin, expanded to help the US military, and maintained a big portion of their shoe production in their motherland.
The difference lies in their target market. Besides designing shoes and boots for adventurers and workers, Danner also has a line of lifestyle shoes. Whereas Thorogood is focused on making "job-fitted" shoes. Regardless, each one has something unique to offer.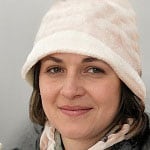 Veronica is our content editor. She is a talent in delivery. Her main work is editing and writing articles that are both informative and simple to follow. She is in charge of synthesizing our understanding of what personal protection equipment (PPE) is needed in each job, how to best apply it, and how to visualize that equipment.