Overall, we found that Carhartt's apparel is on the roomier side, and this is especially true with its line of heavyweight jackets. That's because outerwear is generally designed to account for the other pieces of clothing you layer it with.
For this guide, we will focus on answering the most frequently asked questions:
Do Carhartt jackets run big? How do Carhartt jackets fit? Which size Carhartt jacket should I get?
Carhartt Jacket Fit
In the table below, we gathered over a dozen jackets to see which ones fit true to size and which ones run larger based on the measurements found on Carhartt jacket sizing.
Here are some of the pointers to help you interpret the information in the table:
The list below is not an exhaustive one, but it covers both men's and women's Carhartt jacket collections.
We used Carhartt's product naming convention, which includes the "series" to which the jackets belong and the style number, e.g. "Rain Defender® Softshell Jacket 102199" or "Storm Defender® Heavyweight Jacket, 102382".
This way, you can find the specific models in the stores or online shops easily.
1. Model
Product Name
How it fits
Men's
Duck Blanket-Lined Detroit Jacket #103828
Most buyers consider this item true to size, but the arms are a tad too long.
Firm Duck Blanket-Lined Chore Coat #103825
Runs big even for 6 ft tall men with average weight; get your usual size for layering but otherwise, opt for a size down.
Firm Duck Insulated Flannel-Lined Active Jack #J140
A bit larger than conventional sizes, but it makes room for layers of clothing. Feel free to order your exact size if you need something loose or size down for a tighter fit.
Yukon Extremes Coat Arctic Quilt-Lined #C55
Roomy but true to size as it accounts for layering; get your normal size.
Rain Defender® #102208
The cut gives generous room for layering. I would consider normal sizing to work well, but for a slimmer fit, go one size down.
Super Dux™ Sherpa-Lined ACTIVE JAC #105001
True to size with a relaxed fit for average-sized folks. However, for slender 6' body types, the jacket may fit short but loose.
Montana Insulated Jacket #105474
If you're size L, you can fit in this medium Carhartt jacket comfortably. Unless you prefer a baggy look, go one size down.
Waterproof Coat #103508
Size M feels like L, so much so that the coat still feels roomy even if you size it down.
Washed Duck Sherpa-Lined Coat #104293
Roomy for layering, but one may still need to opt for a size down.
Women's
Super Dux™ Sherpa-Lined Jacket #104927
Perfect fitting with room for layering; stick to your size.
Rain Defender® Lightweight Coat #104221
This coat is an outlier among Carhartt's outwear—it runs small! Go one size up.
Rain Defender® Lightweight Insulated Jacket #104314
Fit is on point, though sizing up may be necessary for thick layers of clothing on very cold days.
Rugged Flex® Relaxed Fit Canvas Jacket, #102524
Fits average-sized women perfectly, but those with heavier torsos need to go one size up.
Montana Insulated Jacket #105457
Fits the body well, but the arm length is a tad short.
Storm Defender® Heavyweight Jacket #102382
Very roomy, but this might be a good thing for layering fleece and shirts; petite women may need a smaller size.
Washed Duck Insulated Active Jacket #104053
Offers ample space for layering over hoodies, but no need to go one size up.
Washed Duck Sherpa Lined Jacket #104292
True to size yet loose enough for layering. But if you prefer a slimmer fit, go one size down.
2. Style
Carhart offers several styles in their outerwear catalog. In its sizing guide, the brand breaks its jackets down into four categories: classic, coats and parkas, performance, and vest.
Carhartt Classic Jacket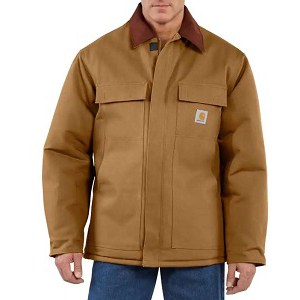 Designed to fit multiple layers of clothing underneath, the classic has a back length that spans 26" to 30". If you don't like oversized Carhartt jackets, you can get one size smaller than your usual to keep warm while working.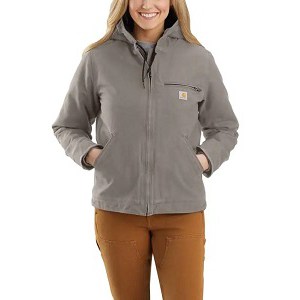 The women's classic jacket has a back length measuring 25.5" to 29", pretty similar to the men's. The bottom part of the fabric should fall somewhere below or on your hip and leave plenty of space for layering. If you don't like a loose fit, consider getting a smaller size.
Carhartt Coat and Parka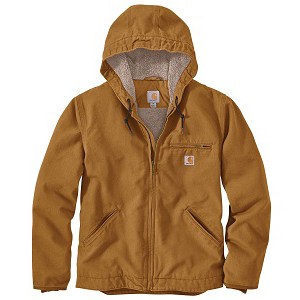 Measuring 30.5" to 36" at center back length, parkas, and coats are meant to keep your lower back warm. The design is meant to extend past the waist and hips.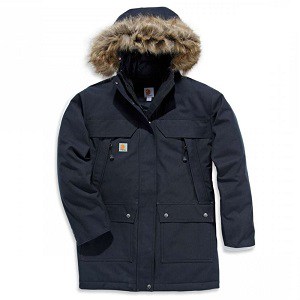 For women, these types of outerwear are about 33" to 36" long to allow for a roomy fit. Their sizes are what you would expect from a coat or parka—reaching past the waistline in most cases or long enough to cover the hips.
Carhartt Performance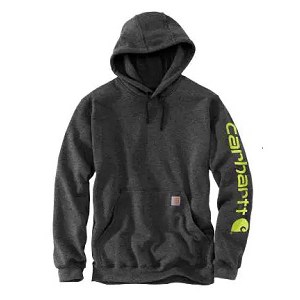 Opt for performance jackets if you like something a bit shorter and don't require additional coverage for your hips or lower body. Typically, jackets in this category feature a back length between 27" to 30".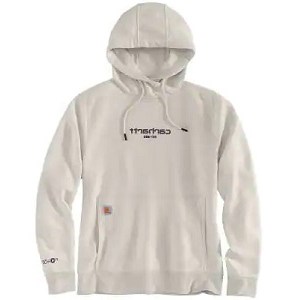 The ladies' performance jackets have a center back that only measures 25.5" to 29", which is the same as the classics.
Carhartt Vest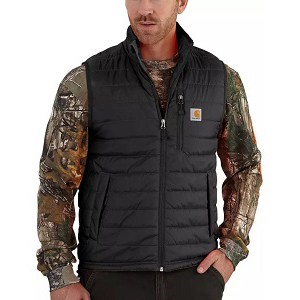 Vests are also meant for layering clothes, but they are the shortest of all four types of outerwear, measuring only 26" to 29". The bottom edge should rest above the hip.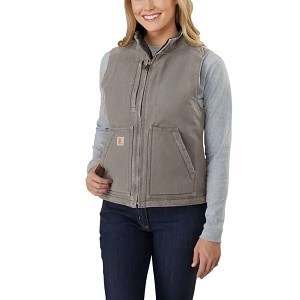 Constructed with a back length of 24" to 26.5", the lowest end of the vest should rest a little higher than the waist. You should be comfortable with the brand's actual sizing, though sizing down for a snug fit is possible.
3. Sizes for tall and short
For tall sizes, Carhartt's outer garments like jackets, coats, and parkas are 2" longer at the sleeves and torso than the regular sizes. If you're under 1.8m tall, a regular probably fits you.
Frequently Asked Questions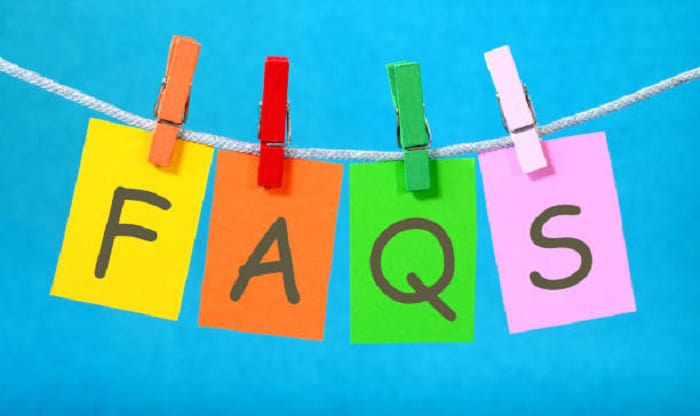 Why is Carhartt sizing so big?
Based on our findings, the majority of the Carhartt jacket measurements run large, though a handful of them are true to size, especially for women.
Design-wise, bigger cuts are intentionally built for layering clothes to keep you warm during winter. At the same time, this also ensures that workers can move freely and comfortably.
Since the brand positions itself as a workwear company, it needs to ensure that the workers can move freely and comfortably, which may not be possible with snug-fitting clothes.
What size should I get in Carhartt?
Some users find the brand's clothes generally true-to-size while others—including us—think they run large. You can't be sure unless you try the jacket on in person.
In any case, we recommend following Carhartt's size chart and measuring guide whether you're buying a shirt or a jacket.
Should I size down in Carhartt WIP?
Carhartt WIP focuses on fashion, and it targets the Asian and European markets. Nevertheless, its sizes remain the same as Carhartt's workwear brand. So if you're buying a Carhartt WIP jacket, expect a roomy cut.
Conclusion
In our research, we tried out jackets to write this "Do Carhartt jackets run big?" article. So far, we couldn't find a Carhartt slim-fit jacket, except for the snug-fitting 104221. Even if you go to its website's filters, the brand gives only two options: relaxed and loose.
Thankfully, it provides a comprehensive guide to help its customers find the right size! But if you want an honest review of specific models' fit, you can refer to the table above to see if the jacket you're looking for requires sizing up or down.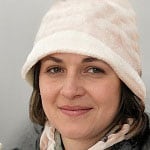 Veronica is our content editor. She is a talent in delivery. Her main work is editing and writing articles that are both informative and simple to follow. She is in charge of synthesizing our understanding of what personal protection equipment (PPE) is needed in each job, how to best apply it, and how to visualize that equipment.