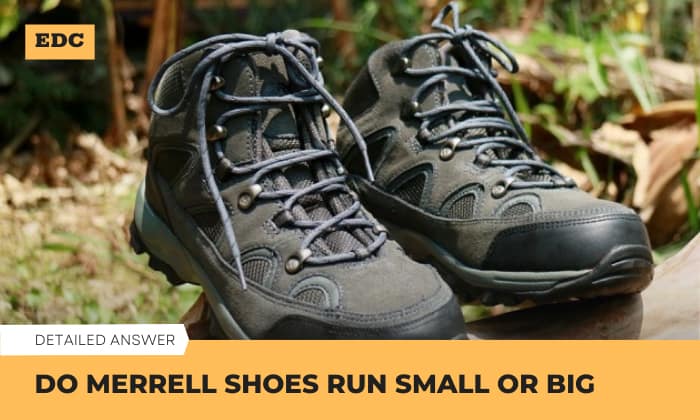 Most shoppers choose their actual shoe size when buying from Merrell. That's our short answer to everyone who asked, "Do Merrell shoes run small or big?"
But as an outdoor and workwear brand, Merrel manufactures various shoe styles that fit differently. In this guide, we will provide details about a handful of models, identify which of them conform to the Merrell sizing chart, and compare them with other name brands.
Merrell Shoes Size Up or Down? Are They True to Size?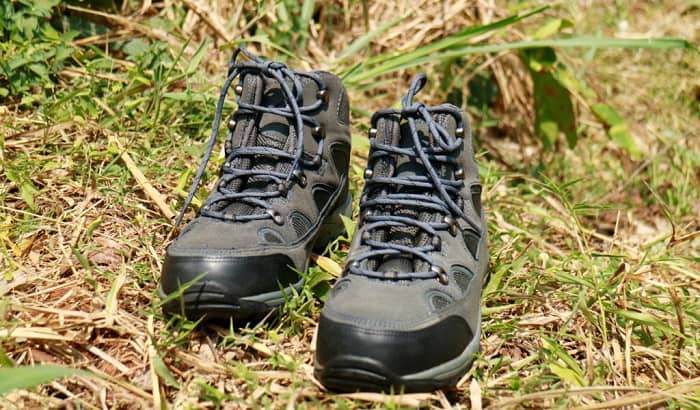 Before we compare and analyze each model, let's look at the two ways the term "true to size" is defined:
Definition #1
If the shoe's width and heel-to-toe length are consistent with the Brannock Device measurements, it is true to size.
But in real life, our feet are three-dimensional and are often unique in terms of thickness or height, which Brannock cannot account for. Not to mention, some toes are broader than others. Many people have feet measuring 12 inches long yet still get different sizes when shopping.
It is also important to note that size charts vary from brand to brand. This fact gives the term "true to size" a whole new meaning, which you will see below.
Definition #2
As such, many of us use the term "true to size" to mean that the shoe measurements are true to the manufacturer's size charts and specifications. In this sense, Merrell shoes run true to size, and this is the definition that we will go by for this article.
For the comparison, we looked at all shoes with a size 9 from different brands. In inches, size 9 US is 10.63 for men and 10.24 for women, per the Merrell shoe size chart.
Fitting Guide for Each Type
Moab 2
1. Men's Moab 2 and Columbia Redmond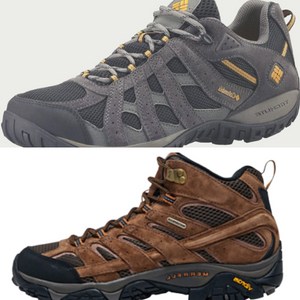 Generally speaking, Columbia runs smaller. When comparing the Moab 2 to Columbia Redmond, we see that the latter is slimmer and shorter by a hairline.
2. Men's Moab 2 and Nike Air Max Excee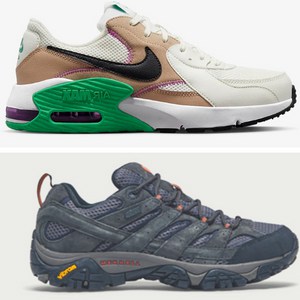 How do Merrell shoes fit compared to Nike?
Based on our observation, most Nike shoes run smaller and narrower than competing brands, including Merrell. In fact, men's US size 9 from Nike suits feet measuring only 10.3".
3. Women's Moab 2 and Columbia Redmond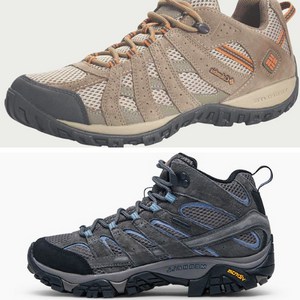 The Columbia Women's Redmond and Merrell Women's Moab look very similar. But according to Columbia's size guide, women's size 9 is suitable for feet that are 9.9" to 10.1" in length.
Meanwhile, Moab offers more room, which is why most users consider it true to size.
4. Women's Moab 2 and Nike Air Max 1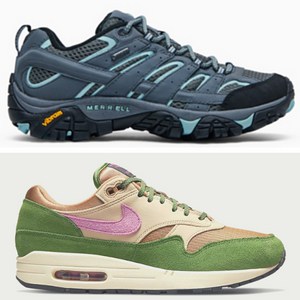 Compared to other Nike sneakers, the Air Max 1 is true to size for women. As you can see side-by-side with Moab, the two have the same length, more or less.
Unfortunately, we only see one width option for the Air Max. On the other hand, Moab is one of the models that have two options in the Merrell shoe width chart—medium and wide.
Vapor Glove
Men's Vapor Glove vs. Hey Dude Wally Sox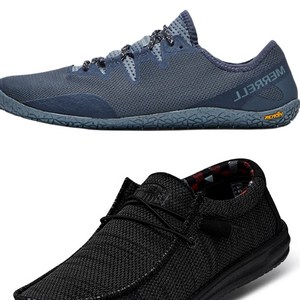 Wally and Vapor Glove are both categorized as minimalist shoes. The only difference is that the latter is intended for barefoot trail running, while the former is for traveling and casual wear. While they are form-fitting, they are both true to size.
II. Merrel Slip-on
Hydro Mo
1. Men's Hydro Moc and Crocs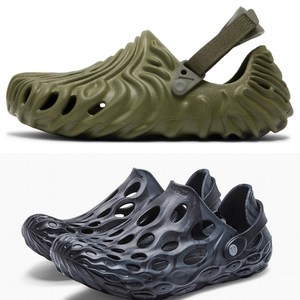 Hydro Moc and Crocs share one thing in common—they are available in a wide range of options, though Hydro Mocs do not have half sizes. Still, the two are loose-fitting, which means your feet will likely fit in comfortably if you go one size down.
That said, Crocs' US men's size 9 is only 10" in Crocs' size charts, which is smaller than Merrell's.
2. Women's Hydro Moc and Crocs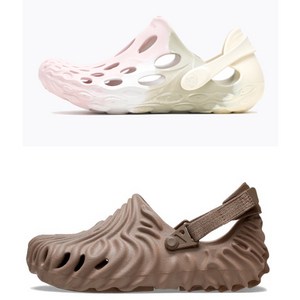 Per Crocs' website, US size 9 for women is apt for feet measuring 9.375", whereas Merrell offers the same size for feet measuring 10.24".
It's worth noting that many women suggest sizing down when buying Hydro Moc.
With Crocs, however, it can be tricky for those looking for half sizes. Several female users find the relaxed-fitting Classic Clog too small if they size down and too big if they size up.
Jungle Moc
In both width and length, Merrel Jungle Mocs fit true to size for men and women. The uppers feature elastic panels that stretch for easy on-off, and they ensure that your feet are locked into the shoes.
1. Men's Jungle Moc and Keen Targhee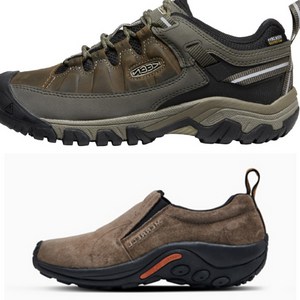 Merrell's size 9 shoes are 10.63" long, while Keen's are 10.24" long. Hence, Keen's sizing is about as large as Merrel's size 9 for women.
2. Men's Jungle Moc and Skechers Go Walk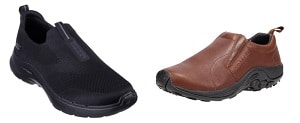 Both brands share the measurement in their size charts. Based on these, Go Walk and Jungle Moc are true to size.
3. Women's Jungle Moc and Skechers D'Lites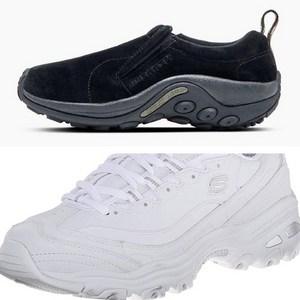 Looking at Merrell women's shoe next to Skechers, I conclude that they look pretty much the same.
If we check the numbers, Skechers US size 9 is 10.2" long, which is smaller by an increment compared to Merrells. Nevertheless, most Merrel and Skechers users agree that no sizing up or down is required.
4. Women's Jungle Moc and Columbia Redmond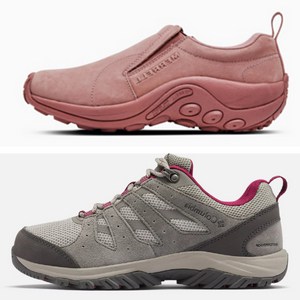 Earlier, we stated that Columbia's women's sizes run small. In fact, Merrell's women's size 9 is size 10 in Columbia's chart.
Hence, if you've worn mostly Columbia shoes, you will find that Merrells run big even though they are true to size.
1. Merrell Men's Nova Sneaker Boot and Nike Air Max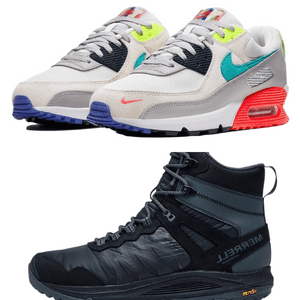 At a glance, the Nova may look bigger than Nike, but we were surprised that these Merrell boots run small. In other words, size 9 feels like 8.5.
By contrast, Nike shoes are narrower and shorter in length than competing brands. Its US size 9 fits feet measuring 10.325".
2. Women's Alpine Polar Boots and Nike Air Max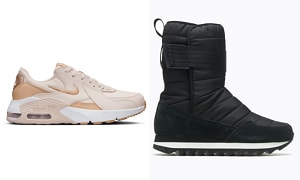 As with men's Nova, the Alpine Polar runs smaller. It may look like it has the same length as the Nike Air Max, but it fits half a size smaller than expected.
Men's Strongfield and Danner Moc Toe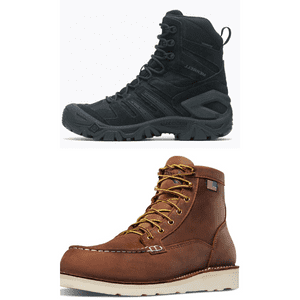 Whether you get the 6" or the 7" Strongfield boot, take note that several users find it bulky. Yet, both Danner and Merrell fit true to size.
Final Thoughts on Merrell's Sizing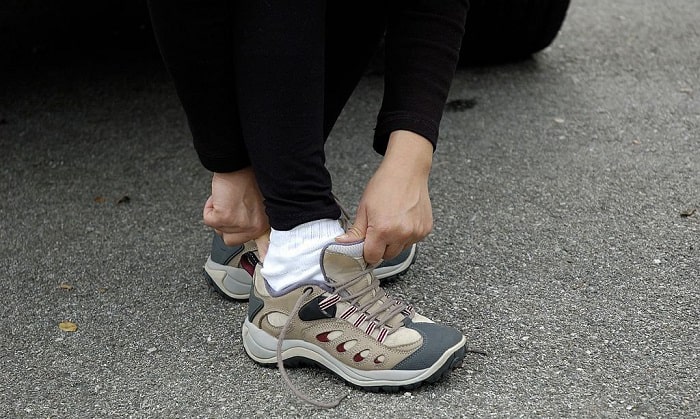 1. Hiking
Traditional Merrell hiking shoes have spot-on heel-to-toe measurements. Though they come in medium or wide widths, they are roomier than athletic shoes.
Meanwhile, the brand's minimalist trail running shoes fit like socks by design to give the wearer the feeling as though they are running barefoot.
2. Slip-on
When it comes to Merrell's line of slip-on shoes, we observe that the sizing is more varied. Both the Hydro Moc and Jungle Moc are a bit longer.
3. Winter
Surprisingly, the two snow boots we tried run smaller for both men and women, even by Merrell's standards. Consider sizing up.
4. Work
Length- and width-wise, Merrell's work boot collection is no different from its hiking boots. Due to the alloy or composite toe protection, however, the shoes are bulbous.
Frequently Asked Questions
Should you buy Merrell hiking shoes a size bigger?
Most of Merrell's shoes are on point with their sizing. Though you will not run into trouble when you get your actual size, a few models either ran big or small, which we flagged in the sizing review above.
Do you wear socks with Merrell shoes?
Minimalist or "barefoot" shoes like Merrell's Trail Glove series give users the option to wear them with socks or barefoot. That's because these types of footwear are intended to mimic the feeling of walking or running without shoes. Overall, I recommend wearing socks if the weather is cold.
As for Merrell's work and hiking shoes and boots, another layer of clothing is necessary to shield your feet against the rough and tough footwear material. Moreover, it also wicks away the sweat from your feet and prevents the growth of odor-causing bacteria and germs.
Is Merrell's shoe good for wide feet?
Yes! Merrell offers a plethora of wide-width work, athletics, casual, and outdoor footwear for women and men. The brand's website has dedicated pages for its wide-fitting shoe collections that you can find if you hover over the Men and Women tabs on its navigation bar.
Even better, you can select your preferred toe protection on the search filters to find work shoes and boots that have wide alloy or composite toe caps.
Conclusion
One cannot just judge the size by how big or small the shoes look. After testing each model to write this "Do Merrell shoes run small or big?" article, we found its line of snow boots runs small despite looking beefy, whereas its minimalist shoes are slimmer yet they are true to size.
Needless to say, the Merrell shoe size chart is straightforward and dependable for the majority of its hiking, slip-on, and safety-toe boots. If you are buying these styles online, you can expect to receive perfect-fitting shoes.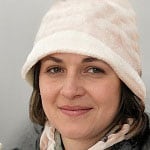 Veronica is our content editor. She is a talent in delivery. Her main work is editing and writing articles that are both informative and simple to follow. She is in charge of synthesizing our understanding of what personal protection equipment (PPE) is needed in each job, how to best apply it, and how to visualize that equipment.