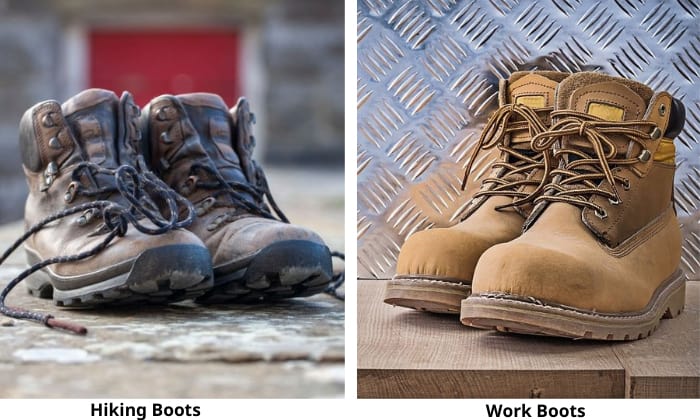 It is easy to get lost in the big world of footwear as brands keep pumping out new products daily. Is it necessary to buy boots for each singular activity? Or is it just a trick for brands to sell more? Once you dive in, you'll find that the details of each footwear are intentional and purposeful. The good news is you don't always have to buy new shoes. Some companies make boots that are suitable for both hiking and working.
Nonetheless, there are important differences between hiking boots vs work boots you should take note of: materials, flexibility, and safety features. In this article, besides comparing the two boot styles, we provide tips to check if your work boots can be used for hiking. Plus, we will recommend some boots that work both on the job site and hiking trail. Let's explore further!
Work Boots Vs Hiking Boots: Differences
Walking or hiking boots are specifically designed for foot protection and comfort during long hikes. People also wear them for other outdoor activities like climbing, backpacking, hunting, and mountaineering. They are one of the most crucial items of hiking gear. Regular trainers won't provide enough gripping onto rough terrain or enough comfort for an ultra-long day hike.
On the other hand, work boots refer to mandatory safety footwear at hazardous workplaces. They must meet Occupational Safety and Health Administration (OSHA) and American Society for Testing and Materials (ASTM) standards. Work boots protect people in risky jobs like electricians, mechanics, loggers, or offshore oil rig workers.
At first glance, the two boot styles may look quite similar. Both are constructed for rugged conditions using a combination of well-built uppers, rubber outsoles, cushioning footbeds, and even metallic materials to enhance safety. But each is built to serve its own purpose. The basic differences of hiking and work boots are the materials, flexibility, and safety features.
1. Upper materials
The signature feature of a hiking boot is the breathable and waterproof Gore Tex material. Gore Tex is a fabric that repels liquid water while allowing water vapor to pass through. It is one of the rare materials that can resist water while having good air circulation. As hikers walk through streams or rainy forests, the shoes won't get soggy.
Also, Gore Tex is highly moisture-wicking, so it will dry quickly after contacting water. A good hiking boot will have mesh for higher breathability and faster drying.
The popular materials used for safety boots are full-grain leather, suede, or nubuck. In general, full-grain leather is thicker and more sturdy. It is often for heavy-duty boots.
Some types of work boot upper materials can be shock-absorbing and cut-resistant, preventing injuries from falling objects, running chainsaws, or machines. Suede and nubuck are thinner and lighter. They are used to make light-duty work boots.
While providing maximal protection, the leather upper can be quite stuffy, stiff, and heavy. We always recommend people to spend time breaking in their safety boots before wearing them to work.
The upper materials of the two boot styles are distinctive. Gore Tex fabric can not absorb shock from a falling hammer at construction sites. On the flip side, leather won't feel comfortable when soaked in water.
However, as technologies develop, many manufacturers have come up with softer, more breathable leather materials while maintaining the thickness and protective functions. We will give specific recommendations of good work boots as hiking boots later in this article. Keep reading.
2. Boot sole materials
Though the soles can look a bit different, they are actually from the same materials and technologies. Both are designed to grip firmly on multiple surfaces. Hiking boots perform amazingly when encountering snow, ice, and rain.
On rough mountain paths, a good rubber sole will never cause slippage. Likewise, you can see work boots marked as slip and oil-resistant. Trips, slips, and falls are the most common injuries in busy worksites. Hence, manufacturers really pay attention to this feature.
In addition, you can find both boot styles are usually made of Vibram® soles. If you don't know, Vibram soles are the first shoe soles created with a rubber lug design. The name Vibram is after the founder of the company.
Invented back in the 1930s, the sole design was so unique and effective in resisting slips that it is still popular nowadays. The materials of Vibram soles are foam and rubber. They are the combination of the springiness of foam and the durability of rubber.
3. Safety features
You might be surprised at how manufacturers curate the tiny details to maximize a shoe's protection and support level. A work boot is more about safety while a hiking boot leans to the comfort side. Some features you will find in work boots include:
This is a protective reinforcement inserted in the toe box, making it harder and more sturdy than regular leather toe boxes. The safety cap will prevent the toes from suffering when impact or compression is applied.
Materials used to make this protective reinforcement can be steel, alloy, or composite. Among these, steel provides the highest protection while alloy and composite are more comfortable.
This is similar to the idea of a safety toe. But instead of protecting the toe area only, these come with a metal or composite reinforcement that extends from the tip of the toes to the metatarsals.
This footwear type will offer complete protection for the entire foot. Though the metatarsal guards can be bulky, weighty, and uncomfortable, they are crucial in severe working conditions.
Don't be naive to think a hard rubber outsole is enough to keep your feet safe from sharp object penetrations. Manufacturers have invented boot shanks to maximize protection against punctures.
Similar to the toe cap and metatarsal guard, a shank can be made from steel, alloy, or composite materials. It is impossible to penetrate a steel shank. Besides, the shank can give you immensely balanced steps while acting as an arch support that diminishes tension on the arches and knees.
Hikers can benefit from this feature too. The shanks absorb the added impact of a loaded backpack on the feet, helping them to walk more easily, especially when you hike on stiff ground like rocky trails or moraine. To minimize the shank weight, hiking shoes are built with half to three quarter shanks from composite materials (aluminum or carbon fiber).
Obviously, you shouldn't go hiking in work boots that have heavy metallic metatarsal guards. But if you own a pair of work boots that are lightweight, featuring composite shanks and safety toes, they can be worn as hiking boots. Hiking in steel toe boots must be considered carefully though. A steel toe only weighs a few ounces. But after walking for several miles, that little weight can feel like a lot on the feet.
4. Flexibility
With all of the protection functions, work boots are generally more rigid than hiking boots. Some work boot features, such as puncture-resistant outsoles, sturdy uppers to withstand heavy falling weight, and high necks, are not needed in hiking boots. In fact, they would add unnecessary weight and bring discomfort. A heavy-duty work boot can weigh up to five pounds. That is a relatively large amount of weight on the feet.
On the contrary, most hiking boots are about minimal weight, comfort, and mobility. But they still maintain a certain level of sturdiness to protect the feet. A hiking boot usually weighs around two to three pounds. Heavier hiking boots can provide more support on rocky ground.
Are Work Boots Good for Hiking
The answer is it depends. To know whether you can wear your work boots as hiking boots, consider the following:
Your work boot properties
Are they lightweight enough to walk several miles? We suggest only wearing the shoes if they are under three pounds per boot. They have to be flexible and mobile. If you hike with friends, you don't want to be left behind and slowing down the whole team.
Also, the boot soles must be slip-resistant. Unlike work sites, the ground conditions in natural environments are highly unpredictable, you never know what you are going to get. Slips and trips on mountain trails, river banks, and waterfalls can be life-threatening.
Hiking in light work boots once in a while is fine, but if you intend to do it regularly, you should wear hiking boots. Hiking is meant to be enjoyed. It is time for you to relax and immerse yourself in nature. You shouldn't be irritated or annoyed by the gear during a beautiful hiking trip.
If you hike in water areas, like a river, waterfall, or stream, don't wear work boots. Clunky safety boots once soaked in water might take up to a day to dry. You don't want to hike with heavy, soggy boots.
The similar idea applies if you intend to hike under wet weather conditions like on rainy, snowy days, or in the forests. However, you can wear light work boots as hiking shoes on a nice sunny day in the nearby park. Again, the weather is unpredictable. Always be careful when wearing work boots to go hiking.
Top-rated Work Boots for Hiking
Fortunately, you don't need to buy a pair of boots for each activity. Some brands create boots that can be used both for working and hiking. Here are some of the best ones.
1. Red Wing's TruHiker
This light-duty boot combines the high neck to support the ankle. It is the comfort of a hiking shoe and the toughness of a work boot in one place. The TruHiker comes with a steel safety toe that will protect the feet up front and full-grain Red Wing leather to provide protection for the upper areas.
To learn more about the materials, watch this video on Red Wing Shoes. However, the boots aren't waterproof. Avoid wearing them if you hike around water.
2. Thorogood's CrossTrex – Waterproof – Mid Cut Safety Toe Hiker
This is a more affordable option. The CrossTrex comes with composite toe caps and shanks, making them excellent lightweight hiking boots while ensuring safety for the feet. The outsoles meet ASTM F2913-19 slip resistance standards. Most importantly, the shoes are waterproof and highly breathable.
Conclusion
Working and hiking are activities that require extra protection. Take time learning about the boot properties to optimize their potential. Don't hesitate about buying two pairs of boots if necessary. At the end of the day, your safety and comfort should always come first.
Hope you like this article on hiking boots vs work boots. If you need anything else, let me know in the comment section below.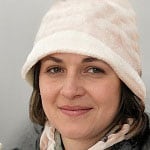 Veronica is our content editor. She is a talent in delivery. Her main work is editing and writing articles that are both informative and simple to follow. She is in charge of synthesizing our understanding of what personal protection equipment (PPE) is needed in each job, how to best apply it, and how to visualize that equipment.