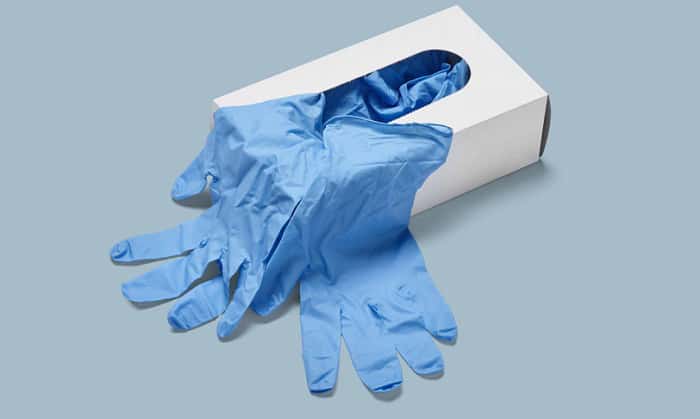 Gloves have become a huge demand due to the pandemic. Yet, some folks take advantage of this crisis. That said, it is crucial to know how many nitrile gloves in a box.
While most boxes contain 100 gloves, you might end up getting fewer than the number indicated on the packaging if you don't buy from legitimate distributors. If you are assigned to do the purchasing or check the inventory in your workplace, then you will find this article helpful.
How Many Nitrile Gloves Are There in a Box?
A medical gloves box typically contains 100 pieces of non-sterile gloves or 50 pairs. However, other manufacturers are now selling boxes of 200 (100 pairs) or 400 pieces (200 pairs). Packs of 1,000 and 2,000 gloves are also available.
Glove manufacturers and suppliers, such as SunLine Supply and Henry Schein Medical indicate the quantity both on the website and packaging.
You will also notice that some glove's boxes weigh slightly heavier than others. For instance, a box of nitrile gloves that contains 100 weighs around 1.2 pounds while the one that contains 1,000 gloves weighs 9.1 pounds.
There will be instances where the actual number of the gloves in the box is fewer than what the label says. Although this is rare, it happens due to human or machine error.
If you bought directly from an authorized retailer, you can return the item and ask for a refund. When you complain, they will surely attend to you.
If you bought from a scammer, then you probably won't get your money back.
How Can I Tell if the Glove Supplier Is Legit?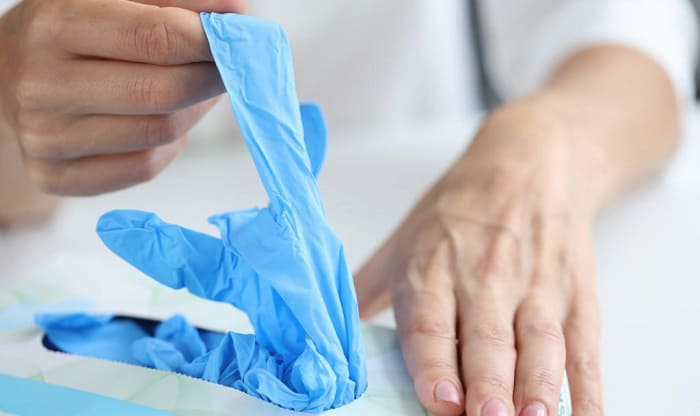 Even for the smartest people, knowing whether or not they are being duped can be very difficult.
Modern technology has given all of us many advantages, but it has also enabled scammers to manipulate images or information on the packaging.
Still, there are ways for you to avoid transacting with these crooks. Here are some tips:
Research everything. If you plan to sign a deal with a supplier, do a background check of the individual or company. Also, take the time to scrutinize the packaging and the gloves as suggested by gloves.com.
When in doubt, stick to well-established distributors. These days, it is quite common to find online reatilors that offer a half-priced box of nitrile gloves. While this may seem enticing, you just don't know how many you are getting until you open the carton.
Do you know the name of the manufacturer or supplier? If you are unsure, my advice is to avoid sending money right away, especially when buying in bulk. For further information, I recommend reading the FDA's website.
Check the known brand's official website for announcements. Most big brands already know that their products have counterfeits. If you want to avoid buying counterfeits, I highly recommend going to their websites.
Normally, they provide tips on how to spot fake products and ways for you to report. To give you an example, let me direct you to the websites of 3M and Cranberry Global.
Conclusion
If your workers need hand protection daily, knowing how many nitrile gloves in a box will make it easier for you to plan your purchase.
By checking the authorized distributors' e-commerce sites and the packaging of the gloves, you can determine the quantity of each box. While most manufacturers pack 100 gloves in a carton, some also provide boxes of 1000 or 2000.
In any case, I encourage you to buy only from legitimate sources. Besides getting the correct number of gloves, you can be sure that your employees get high-quality protection.
Furthermore, you can explore knowledge on nitrile gloves, such as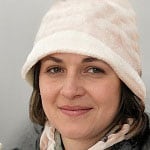 Veronica is our content editor. She is a talent in delivery. Her main work is editing and writing articles that are both informative and simple to follow. She is in charge of synthesizing our understanding of what personal protection equipment (PPE) is needed in each job, how to best apply it, and how to visualize that equipment.