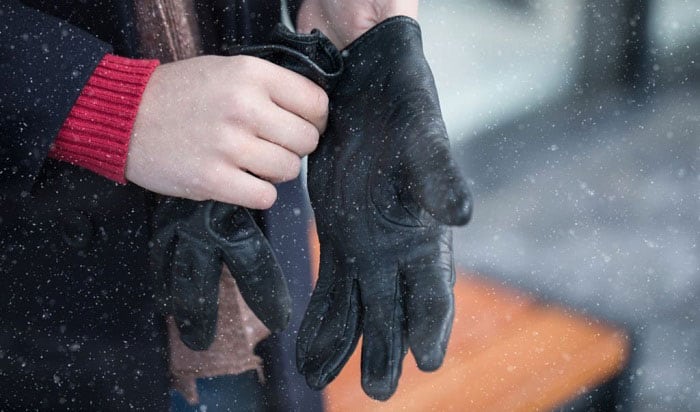 How to dry wet leather gloves? Can you put leather gloves in the dryer? Regardless of how durable and sturdy leather appears, it is a delicate material. You can't randomly throw leather gloves in the dryer with other clothes and expect them to maintain superb quality.
You should dry leather gloves properly to maintain their top shapes and lifespan using these steps:
Dry with a towel
Apply leather conditioner
Apply waterproof wax
What You Will Need
If you get caught in a rainstorm, don't leave your gloves soaking wet for too long. Bacteria and mold will quickly develop and leave your gloves smelling bad for a few days. That's not even mentioning the leather and stitches deterioration yet.
But rest assured that drying leather gloves is not difficult once you've learned the right tips and tricks. Quickly gather the following to proceed.
1. Soap and water
If your gloves are soggy, we recommend washing them first because natural sources of water might not be clean. Drying dirty gloves is no better than leaving them soaking wet. The dust, pathogens, and residues will irritate your skin or bring about rashes. In that case, you will have to rewash your gloves anyways.
Don't clean your leather gloves with clothes softener, alcohol, or any harsh detergents. Just grab some soap and clean water. Saddle soap is preferable but any mild soap will get the job done (think dish or bar soap).
2. A towel or microfiber cloth
Since leather gloves can't be near external heat sources, it will take longer to dry them compared to other clothes. You will need to get rid of all the moisture before leaving them to air dry. A clean towel or microfiber cloth will help absorb the excess water.
3. Leather conditioner
Water takes away the leather's natural oil. You should restore its oil and softness with a leather conditioner.
4. Waterproof wax
An extra step you can take is to apply waterproof wax. The wax will keep your gloves moisture-free and fresh under humid weather conditions. Each time the leather gets soaked, it becomes a bit more brittle, and will eventually crack. Prevention is better than cure. So, consider purchasing waterproof wax, especially if you live in a rainy place.
Steps to Dry Wet Leather Gloves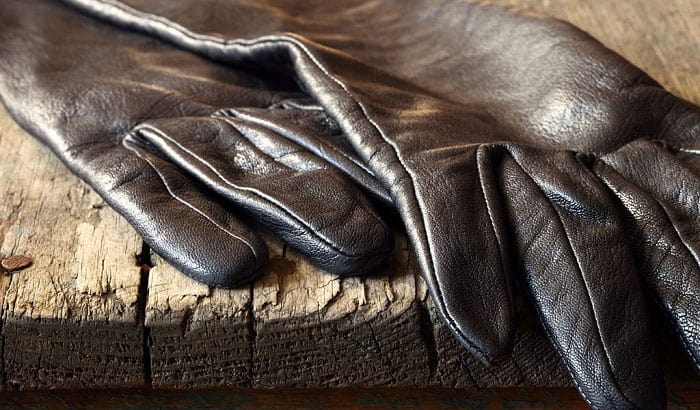 Step 1: Wash the gloves
To begin, put a small amount of saddle soap on a damp cloth and gently rub the leather surface. If your gloves are dripping, press them to remove the excess water before washing. To avoid wrinkling or cracking your gloves, don't wring, twist, or soak them in water to wash.
Then, wipe off the soap with a clean cloth. Repeat the process until your gloves are nice and clean. If your gloves have liners, remove and wash them separately with soapy water.
You can check out this video for a visualization of the step:
Step 2: Dry
Cover your damp gloves with a clean towel and press it so that the towel absorbs as much moisture as possible. Afterward, turn the gloves inside out and repeat.
You should hang leather gloves in a ventilated place and let them dry naturally. Don't apply any external heat source. As they are drying, slightly pull to unwrinkle the folds. You can also put them on and stretch your fingers several times.
Don't leave your gloves out in the open air for too long or the leather will dry out and harden. Regularly check on them and store them in your cabinet once they dry.
Step 3: Apply leather conditioner
Rub the leather conditioner into your gloves with a cloth. Pay attention to the cracks and seams. If you choose to use spray or liquid conditioner, follow the instructions to apply. After that, you need to wait for the conditioner to dry before moving on to the next step.
Step 4: Apply waterproof wax
Put a generous amount of wax on the gloves and rub it in. You can use a cloth, brush, or your fingers. Let it sit for at least five minutes. Finally, wipe off any excess with a damp cloth. And now, you have waterproofed leather gloves!
What to Avoid When Drying Leather Gloves
The Internet can contain a lot of misleading information. Always read your gloves' label carefully before applying any drying method. Care for leather gloves properly and never dry them:
Over a radiator
Close to a fireplace
In a tumble dryer
With an iron
Under bright sunshine
In an airing cupboard
Conclusion
Caring for leather gloves should not feel like a chore. Remember that the more effort you put into them, the more they'll pay you back. Thus, save this article on how to dry wet leather gloves so you can easily access the instructions whenever you need them. Feel free to leave us a comment if you have any further questions. We will reply promptly!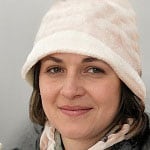 Veronica is our content editor. She is a talent in delivery. Her main work is editing and writing articles that are both informative and simple to follow. She is in charge of synthesizing our understanding of what personal protection equipment (PPE) is needed in each job, how to best apply it, and how to visualize that equipment.