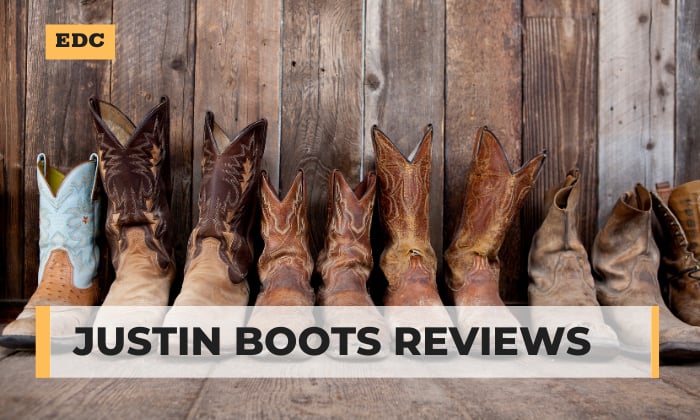 Designed for ranchers and equestrians, the Justin boot style is distinctively American. To date, the brand remains highly competitive in the footwear industry as its dedicated boot-makers develop technologies to adopt the present-day workers' needs.
But do their customers have good Justin Boots reviews of their footwear? Besides sharing our honest take on the company's best-sellers, we will dive deep into its history and recent technologies to learn what they have to offer.
Overview of Justin Boots
1. History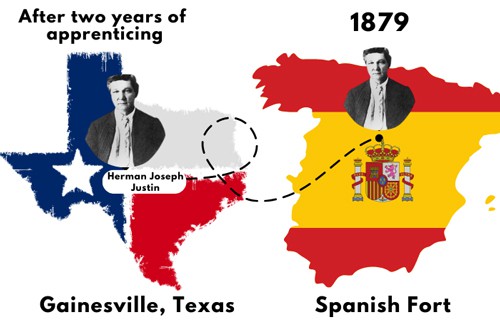 After two years of apprenticing for a cobbler in Gainesville, Texas, Herman Joseph Justin moved to Spanish Fort in 1879. There, he saw the cattlemen's poorly-made shoes, which inspired him to set up a repair shop within Frank See's barbershop.
Claiming that he could make the best boots on the entire planet, See gave him $35 to start a boot-making business. Using the money, H.J. created his first boots, and he gave them to See.
Soon, H.J. started crafting more boots with intricate designs and invented the roper boots for calf ropers that featured rounded toes, shorter shafts, and heels, which became Justin Boots' flagship products.
Even as he started a family, H.J. 's wife and his three sons got involved in the business, contributing to over 140 years of heritage selling boots in Northern America, Cuba, Mexico, and Australia.
2. Materials and Craftsmanship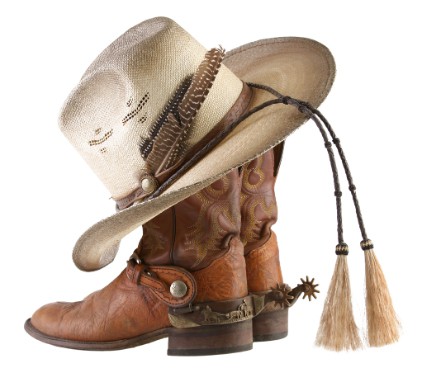 A team of boot-making experts selects the best cowhide, hand-crafting them into high-quality boots using Goodyear welt or cement construction techniques. The company's innovation led to patented three features that set its competitors:
The Grip on Demand – A sole that improves the boot's grip on the stirrup
J-Bar – A tanning treatment that makes the leather resist barn-yard acid
Justin Stabilization Technology – A dual-density foam that stabilizes the foot even while moving
3. Fit and Comfort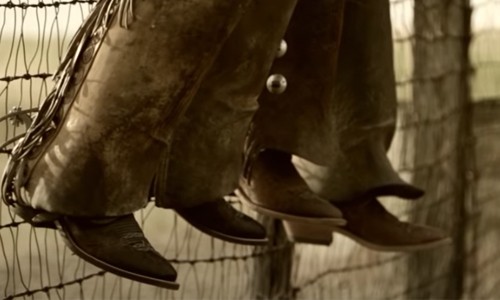 Although some of its shoes and boots are equipped with Ortholite insoles, Justin Boots developed its original J-Flex® covered insoles and triple-density insole board. Besides that, the brand also created a multi-layer leather and rubber outsole called Caliber Comfort System.
In terms of fitting and sizing, the boots are generally roomy. Perhaps this would not be an issue if you need to wear thicker socks and insoles and tuck your pants in the boots.
4. Durability and Performance
Despite its affordable pricing, Justin Boots can last decades. Nevertheless, the longevity depends on the construction method, the conditions they were subjected to, and the kind of care that the owner puts into maintaining them.
Goodyear welted boots are more durable and long-lasting. The process involves stitching the leather uppers to the soles—an elaborate process that increases the price of the boots. However, the construction makes the shoes more waterproof and re-solable.
Cheap Justin work boots are typically manufactured using cement construction, which basically glues the uppers and soles together. While it lowers the overall cost, the soles could fall off due to wear and tear—and hard to re-sole!
5. Style and Design
The brand does not shy away from decorating some of its cowboy boots with decorative stitchings and colored shafts. One such example is the Justin Driller boot and Punchy Western boot collections.
On top of that, it also released a line of casual boat shoes constructed from eco-friendly materials.
6. Customer Service
Justin Boots' products have a 1-year warranty. If your boots have defects, simply call their customer service and they will instruct you how to ship the item back to their facility. Based on our observation, the company's customer reps are easy to deal with.
That said, bear in mind that the warranty does not apply to altered or misused boots. Likewise, it does not cover worn-out soles.
Best Justin Boots
1. Most Affordable Work Boots: Stampede
Justin Stampede work boots receive near-five-star ratings from a total of an estimated 1900 customer reviews on a popular e-commerce site, praising them for their comfort and durability.
What lies underneath those beautiful stitching patterns are ASTM F2413-tested steel toes, fully-capable of protecting your feet against the impact of falling objects. Priced at $150-$160, it is one of the cheaper boots in the collection.
Pros:
Reliable toe protection
Gorgeous stitchings
Roomy fit
High-traction EVA outsoles
Cons:
Harsh break-in period
A tad too roomy
2. Best Waterproof Boots: Discroll
Another crowd-favorite is the Discroll, which is part of the Justin Commander boots collection. At $234.95, it's far more expensive but it is packed with essential features like electrical safety, slip-resistant Vibram outsoles, and comfy Ortholite inserts.
While its product description does not state that the boots are waterproof, many users say that their Discrolls kept their feet dry under wet conditions.
Pros:
Grippy on slippery floorings
Offers electrical hazard protection
Comfortable out of the box
Decorative western-style patterns
Cons:
3. Most Versatile: Rush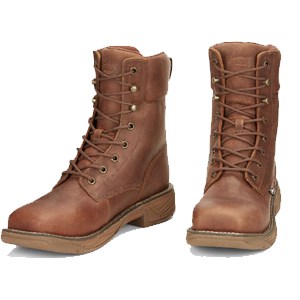 With a $194 price tag, these waterproof lace-up work boots feature slip-resistant outsoles, electrical hazard protection, and nanocomposite toe caps—all of which are apt for farming, construction, and other industrial jobs.
Yet despite that, several users love that the Rush is light and comfy, making it their favorite all-around footwear. It would not look out of place when you're wearing them outside of work.
Pros:
Lightweight and comfy
All-purpose boots
Can be worn at work or on any occasion
Equipped with safety features
Cons:
How to Maintain a Pair of Justin Boots
Here's the proper way to take care of your Justin boots to make them last as long as possible:
1. Deep Cleaning
Using a soft shoe brush, remove the superficial dirt from the boots.
Damp a soft cloth and spread the saddle soap across the leather surface. Take the time to scrub the stains.
Get another clean damp cloth to remove the saddle soap, making sure that no residue is left then air-dry your boots in a shaded area.
Apply leather conditioner, cream polish, and waterproofing agent once the boots are fully dried.
2. Regular Cleaning
Check the manufacturer's website to learn more about the best care and maintenance practices for your boots as each time of leather requires different cleaning strategies.
Brush away the dirt from your boots every 3 to 5 wears.
Store your boots away from heat sources and moisture to prevent damaging the leather.
Things to Consider When Choosing Justin Boots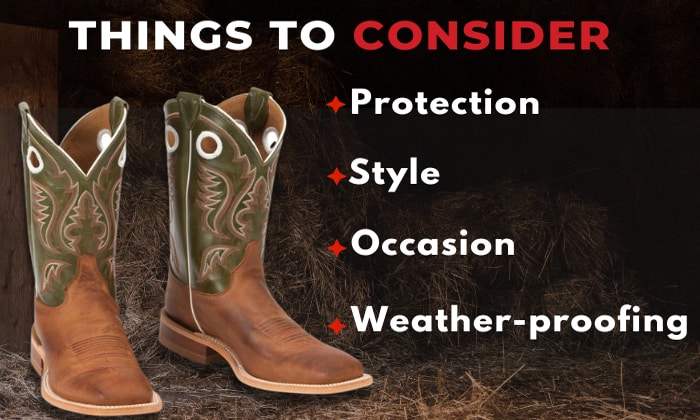 1. Protection
Steel, alloy, and composite toe caps are necessary for working in hazardous work sites but they increase the boots' weight making them feel uncomfortable. Still, it's better than wearing no protection at all. You can always switch to comfier footwear after your shift!
2. Style
Lace-up boots are excellent for walking on slippery terrains as they are designed to hug your feet and ankles. For muddy conditions, we recommend Wellington boots as they save you the trouble of having to wash the laces.
3. Occasion
Cowboy boots are appropriate for casual parties, horseback riding, farm work, or outdoor adventures. For job interviews, however, you would appear more professional with dark-colored leather shoes.
4. Weather-proofing
The last thing you want is to have your feet drenched in your boots when you work under wet conditions. If your work exposes you to a lot of moisture, choose waterproof boots!
Alternatives of Justin Boots
1. Ariat
Ariat offers more stylish boots that made it to the fashion scene while Justin Boots are more utilitarian but are built to last. In terms of pricing, their $150-to-$300 price tags are more affordable for the general public.
See now a detailed comparison between Justin and Ariat work boots here!
2. Lucchese
Lucchese is the go-to brand for exotic leather costing upwards of $900. Besides cowhide, they make ostrich and alligator leather boots. As tough as Justin Boots are, the brand only has ostrich in its exotic leather collection.
Frequently Asked Questions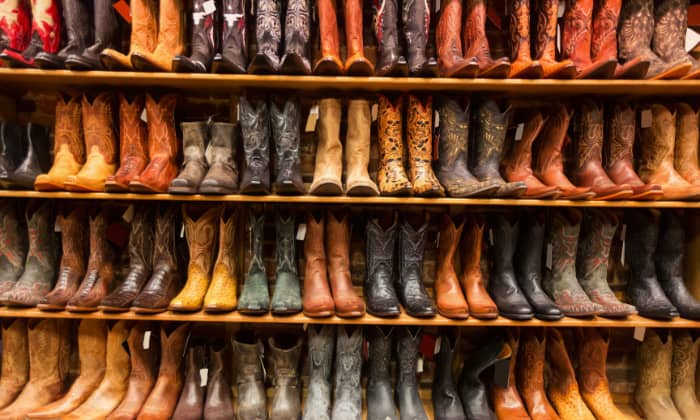 Who uses Justin boots?
Justin cowboy boots are popular among farmers, ranchers, and cattle show workers but the brand has expanded its collection to include construction boots and casual boat shoes.
How do I know which size of Justin boots to buy?
Justin Boots are true to size but some models run larger. We recommend trying the boots in person to get the right fit.
Are Justin Boots good for work?
Absolutely! The first pair of shoes H.J. designed and sold footwear for cattlemen. The longevity of his business stands as a testament to the quality of Justin's work boot's collections.
Where is Justin Boots made?
Today, about 75% of Justin Boots's footwear is made in Mexico and China. To the US-made boot collection, click the "Made in USA with global parts" on the website's navigation.
Where can I buy Justin logger boots and Justin H2o boots?
The Justin 446 and the H2o are no longer available on the brand's website. But, you can still find H2o in third-party online shops.
Conclusion
At an affordable price, you can get a pair of boots that can last years—that's what Justin Boots is all about. But as with any name brand, we found a mix of good and bad Justin Boots reviews from their customers. To be fair, they are mostly positive!
Rest assured, there is no risk in buying anything from Justin Boots. The company makes up for it with sterling customer service.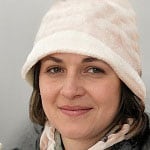 Veronica is our content editor. She is a talent in delivery. Her main work is editing and writing articles that are both informative and simple to follow. She is in charge of synthesizing our understanding of what personal protection equipment (PPE) is needed in each job, how to best apply it, and how to visualize that equipment.