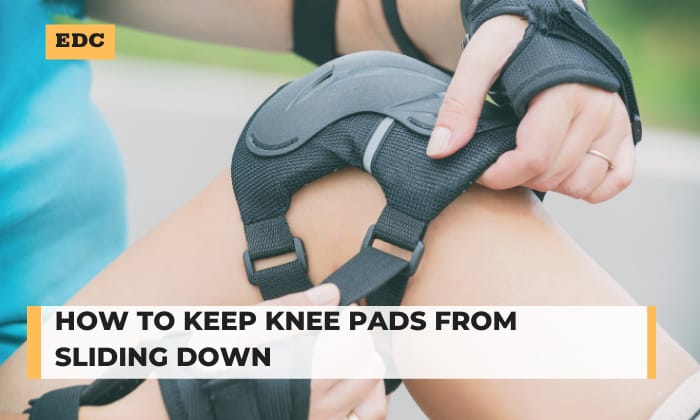 Knee pads are necessary items for volleyball, football, and basketball players or workers. The braces protect their legs or calves from hurt and pain. And "How to keep knee pads from sliding down" is their common question.
Keeping your knee pads in a fixed position on the leg will avoid unwanted injuries during movement. Furthermore, this creates a comfortable feeling when moving.
Ways to Keep Knee Pads From Sliding Down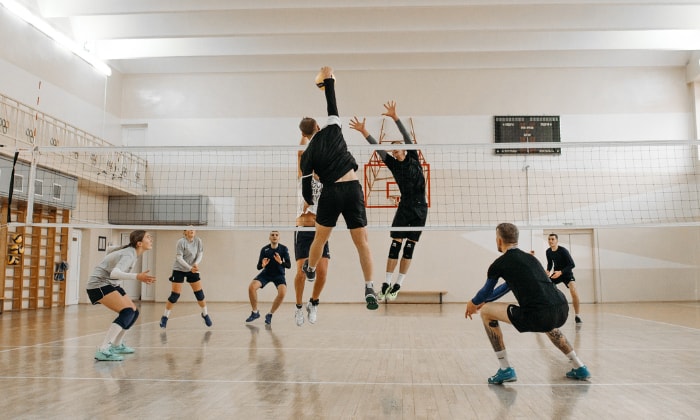 Knee pads are essential in volleyball or basketball because they help players prevent knee injury. Nevertheless, sliding knee pads is a common problem annoying athletes. Below are some useful ways to stop it.
1. Look for a suitable size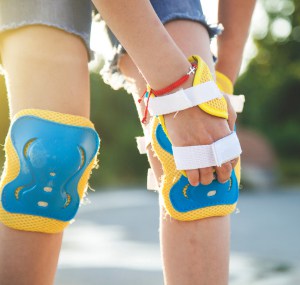 Finding the appropriate sizes is important to stop pads from slipping. Picking knee pads that don't slide down means ones snug and fixed when you run or move.
Besides, don't purchase too tight pads because they make you feel uncomfortable in a volleyball match. For those with thin legs, picking knee pads with a smaller number than bulk is a smart option.
2. Use grippy-based material pads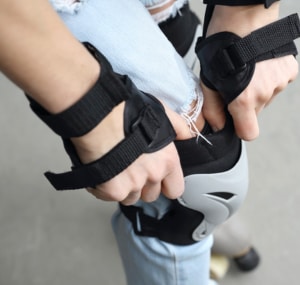 Another way to prevent knee pads from sliding down is to buy products made from non-slip material inside, including silicone or PVC, that have excellent slip-resistant properties.
In fact, you can find grippy-based material in work knee pads or construction knee pads because the silicone or PVC grippers inside can protect workers' legs better.
3. Use leggings or leg sleeves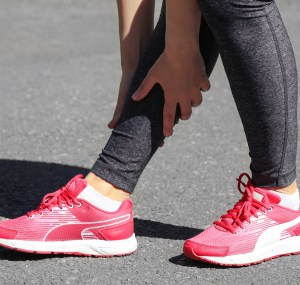 You can look more fashionable with leggings or leg sleeves underneath the knee pads. Besides, they make the pads difficult to slip during movement. Wearing the second layer also makes you feel more comfortable.
Also, wearing leggings or leg sleeves helps players avoid skin irritation caused by knee pads.
In case the knee braces slip during the sports, the thin fabric of the leggings allows you to pull the pads back to their original position with ease.
4. Medical tape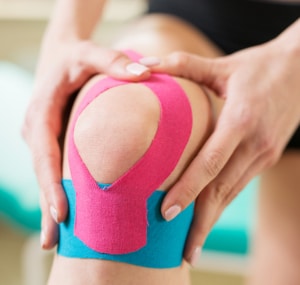 If my knee brace keeps slipping down, I try to keep it in stability with medical tape. Furthermore, the tape helps limit injuries caused by vigorous exercise. Compared to other tapes, the medical one doesn't cause skin irritation.
You'll wrap the tape around the knee and wear knee pads. With this method, it's best to shave the hair on your leg to give the best grip. Also, you won't feel pain when pulling off the tape.
A disadvantage of this method is the high cost. Also, the tape is easy to loosen because of the sweat.
5. Pick knee pads with high-quality straps
Most knee pads are designed with straps. Remember to choose knee braces with high-quality straps to keep them from slipping. Products with great clipped, typing, and Velcro straps are good recommendations.
Knee pads are less likely to slip with multiple straps. In addition, the position of the straps is another criterion you must keep in mind. Knee pads are more stable when the straps are located in the middle and at the bottom top of it.
6. Choose breathable knee pads
As I mentioned, knee pads are easy to slip if your legs are wet due to sweat. Therefore, pads made from breathable material allow air to pass through them quickly.
Breathable knee pads keep the skin under the pads dry for a long time. This ensures the knee pads stay in their original place on your legs while you play volleyball, basketball, or football.
7. Keep The Knee Pads With Strips
How about using strips to keep the knee pads better? All you need to do is to place the soft strips in the socket and snug it carefully, and properly.
8. Wash and dry the knee pads correctly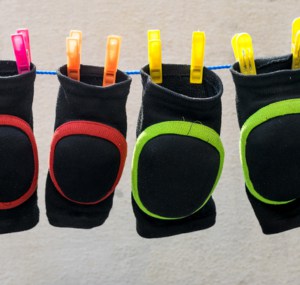 Knee pads will stretch after a long time of use, so they often slip. To solve this problem, try washing them because the pads make them shrink and hold your knee better.
There are 2 common ways to wash your knee pads properly and safely, including splashing by hand and washing machine.
To machine-wash the pads, make sure to select a low temperature and slower speed cycle to keep the knee pad structure better.
9. Use knee braces that don't slip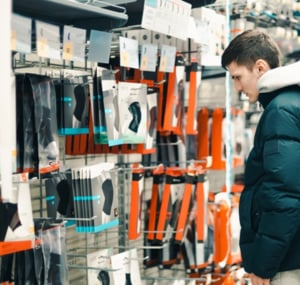 On the market, you can find knee pads that don't slip while using. Here are some effective products you can purchase for great stability.
Air-filled knee pad: This wonderful type is equipped with air-filling to fit your leg. In addition, this filling brings a comfortable feeling for users.
Gel-filled knee pad: This type also has a filling layer that is similar to the above category. However, manufacturers use gel instead of air.
Hinged knee pad: You can find a hinge in the center of the pad that will help the pad move with the movement of your legs smoothly.
Professional knee pads: This type includes knee pads that have extra cushions, gel, air, or foam layer for high protection, like goalie knee pads for hockey players' legs and knee pads for construction workers.
What Causes of Sliding Down on Knee Pads?
A thin leg is one of the popular causes of slipping on knee pads. In this case, the knee brace will not fit perfectly with your legs, so sliding down is inevitable. Remember that the greater the knee pads are than your legs, the easier they slip.
Sweat is another reason that makes your knee pads move out of their original place. Sweat creates a layer of moisture between the pads and skin that makes the skin more slippery and leads to the sliding down of the knee brace.
In terms of physics, gravity also causes knee braces to slide down. Although the effect of gravity is not too great, it's enough to pull the knee pads down for a long time (all day)
Frequently Asked Questions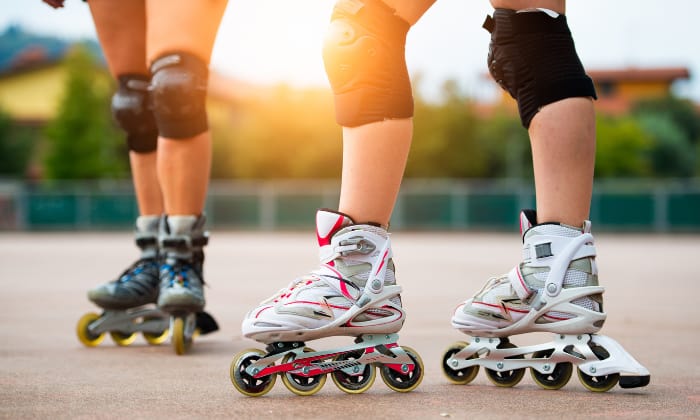 Are knee pads supposed to be very tight?
An important rule of thumb you must remember when you pick knee braces is the pads should fit your leg and aren't very tight. Knee pads supposed to be tight will make you feel uncomfortable and cause hurt to your skin.
How do you know if your knee pads are too big?
To identify whether your knee pads are too large, you should try them on. If you find them easy to slide down, up, or rotate, that shows they aren't suitable for your legs.
Extra tip, in case you feel the blood circulation of your legs is stopped, that means the knee braces are too small.
How to make your knee pads less tight?
Unfortunately, if you purchase very small knee pads, you can make them less light by stretching and curling them around the big shoes overnight.
Conclusion
How to keep knee pads from sliding down? I believe that you found the answer after reading this valuable article. If you know other effective ways, don't hesitate to show them via comments.
In general, the ways to stop your knee pads from slipping are diverse, but finding the most suitable knee braces that fit your legs is the most important. I hope you'll buy the best one to protect your legs well. Thanks for your time!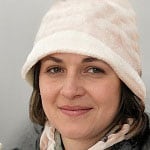 Veronica is our content editor. She is a talent in delivery. Her main work is editing and writing articles that are both informative and simple to follow. She is in charge of synthesizing our understanding of what personal protection equipment (PPE) is needed in each job, how to best apply it, and how to visualize that equipment.