"Good boots take you good places," that old Cavender's adage might have been intended to be taken literally by whoever thought of it. But come to think of it, it can be taken figuratively, too. After all, aren't boots also able to extend their transportive powers to a more mental, pleasure-oriented level? Especially those that fit to a T and impart heavenly comfort.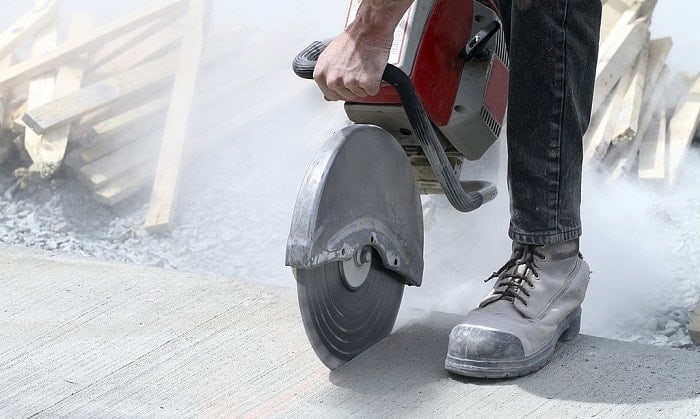 Have you ever worn safety toe boots that cushion and give plenty of room for your feet like it's a dainty princess while safeguarding it from harm? The most comfortable steel toe boots for standing all day. It's the kind that ticks all boxes for these work boots: their trademark all-in protection, ergonomic support, insulation, and unassuming aesthetics.
Whether you have (and miss it a lot) or haven't (and are now green with envy), no worries! Read this review, and you might be wearing one soon enough.
Most Comfortable Steel Toe Boot for Standing All Day Reviews of 2023
1. Caterpillar P89586 Second Shift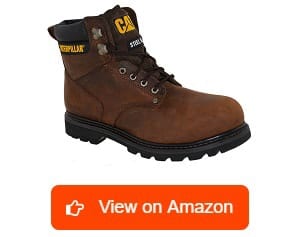 Caterpillar's Second Shift is one of the most widely praised work boots available today. Even now, people still consider it as one of the products that define the Caterpillar brand's reputation.
Where to begin? It's almost a given that I would fall in love with the heavy-duty sole. It's both slip-resistant and oil-resistant and doesn't make use of janky rubber that tends to peel away in no time.
I also like the extra thick leather. When I looked at its material and quality after I got it, I immediately knew it could protect me from most work hazards. I've used these boots in my share of DIY woodworking endeavors and even a demolition project I helped my buddies with. In the latter, I almost always had to rely on the safety toe to kick various debris out of the way. And so far, it's still good.
It's not difficult to rain praises on its style as well. The classic leather work boot has embedded itself in the consciousness of the working man. And this Caterpillar offering capitalizes on that to great effect.
Sure, the laces aren't that great and Caterpillar just used glue on the insole, but it's still above average. When taken as a whole, these kickers remain a total bargain for the sheer amount of pros it has. Also, considering this product's price range, it would be a long shot to expect to have everything.
What We Like
Heavy-duty protection
Durable oil- and slip-resistant sole
Great stability
Adequately stylish
Surprisingly affordable despite its notable quality
What We Don't Like
Subpar laces
Glued in insole
That said, if you want the best steel toe work boots for standing all day and don't want to break the bank, Caterpillar's trademark creation should be on the top of your list. It's fairly obvious from the facts I stated above that its designers KNOW what safety toe boots should be able to deliver.
2. Keen 1007024 Pittsburgh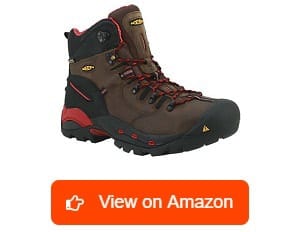 Remember what I said about boots that treat your feet right – to the point of spoiling it? I'm going to go ahead and say that I was pleasantly surprised that Pittsburgh utility boots managed to do that.
Don't be fooled by its seemingly rough, tank-like exterior. These shoes are fluffy on the inside, and that's almost always what you want in safety toe boots for standing all day. Heck, I remember the first time I put on these shitkickers to try them out. I ended up walking for more than an hour! The flexibility can be felt with each step. And we have Keen's metatomical footbed technology to thank for that, I think.
The time and thought invested in making these boots exceeded my expectations, to say the least. Most of the kickers' protection is solid on all parts, especially the toe, except for the ankle, and is composed of superb nubuck leather. It's the kind of leather that earns that "breathable" label extremely well. And, if you know me, I'll take comfort above design any day (although that's not to say that these fall short in the latter).
I wear these shoes usually for my carpentry gigs and, believe it or not, the little farming I do on the side. Both almost always expose these boots to various kinds of terrain, and it holds up pretty well in protecting my foot from the usual dust, grime, mud, and muck involved in these activities.
The height of the shaft hits the sweet spot for me — not too high. The massive outsole readily exudes a "give me all you got" vibe and offers oil and slip resistance, too. I use the shoes on asphalt and wet grass, and the outsole always manages to provide a good grip and balance.
Do take note that these Keen utility boots are a little on the heavy side, and that's in terms of men's work footgear already. You'd better think twice before you even consider running with these safety shoes on. But that's the sole downside I've seen so far, and that's a great sign.
What We Like
Topnotch comfort
Hard-gripping outsole
Above-average protection
Satisfactory durability
Offers dust and slip resistance
What We Don't Like
Heavier than most work boots
For its comfort, I won't hesitate to recommend these to people looking for steel toe work boots for standing on concrete all day.
3. Timberland TB033034214 Pit Boss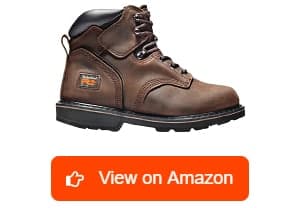 Timberland's Pit Boss lives up to its name because it feels at home in the Works, in elbow-grease jobs that leave men with immense satisfaction as they collapse in bed (or the sofa) after a hard day's work. I know because I've experienced it myself when I wore these safety toe boots in one of my home construction projects once.
I've seen footgear that cracks and become worn out once you begin regularly exposing them to abuse, and I can safely say that these kickers can take a beating because of the extra thick leather. It's almost perfectly complemented by the very solid-looking, double-density rubber sole. Also, the Goodyear welt undoubtedly lends itself to the shoes' durability and comfort. I've been using these shoes for a while now (about two years) and have yet to see any significant wear and tear.
What's doubly pleasant is that these steel toe boots aren't just tough as nails. The urethane footbed feels very soft, too, so much so that I haven't ever experienced my foot getting those usual sores from having to walk and stand for long hours while wearing it. Timberland states it guarantees 24/7 comfort with its Suspension technology, and I might just have to agree based on my arguably already extensive experience with these boots.
The hefty leather build, which is not waterproof, is considered a double-edged sword by some. But I'll be more than willing to counter them with the fact that this is precisely what makes it the reliable, long-lasting footgear that it is. And it's that same leather that gives these kickers that old-school aura style-wise that doesn't ever really lose its appeal to the working man. But that's just me, I suppose.
What We Like
Outstanding durability and protection
Exceptional comfort
Decent grip and balance
Traditional style
Highly resistant to abrasions and wear and tear
That said, these safety shoes do shine the most in the durability and comfort department, effectively making it a top choice for people in heavy-duty jobs (and I mean HEAVY) and as excellent alloy toe boots for standing all day.
4. RockRooster AK222 Work Boots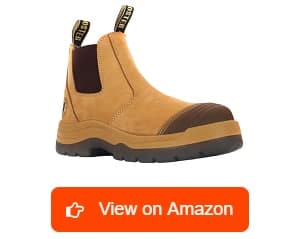 RockRooster's slip-on work boots made of breathable leather mixes no-nonsense accessibility with comfort and sufficient protection.
I'll be lying if I say that the slip-on feature doesn't contribute to these shoes' overall value. The moment I slipped it on, it dawned on me the time I've wasted (though is that too strong a word to use?) tying laces. Every time I use these work boots I get the feeling that I'm always a step ahead, so, naturally, it has become my go-to footwear if I'm running late.
And the comfort level? Exceptional, to say the least. Mind if I become too candid a bit? It's just that I can't help but get used to the feeling of slipping these kickers on in (literally) seconds and savoring the way its bed meets my feet's soles. Very few safety footgear I've worn have managed to impart this pleasant effect, so I just had to say it — and I have reason to believe it's because of the boots' anti-fatigue COOLMAX technology.
They make good steel toe boots for walking all day, that much I'm certain, and I attribute this to these kickers' lighter weight, besides, of course, its comfort. The PORON steel toe and water, oil, and slip-resistant nubuck leather give enough protection, making it ideal for most kinds of heavy industry jobs. Not as notable as others but still belongs in the top-tier department in my book.
On the whole, I think these safety toe shoes are swell because they fit me right. That said, you'll have to be mindful of the fit because it's noticeably narrower than most work shoes I've worn. This is a given if you want to maximize its comfort.
What We Like
No extra hassles when putting on thanks to the slip-on feature
Very comfortable for walking and standing
Comparatively lightweight
Very reasonably priced for the perks you get
What We Don't Like
Not as wide as most work boots
For all the pros mentioned, I won't hesitate to recommend RockRooster's work boots for people who don't want to have to shell out too much dough for reliable steel toe footwear. Just be mindful of the fit.
5. Caterpillar P90936 Threshold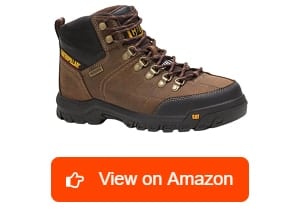 Maximally ergonomic and brimming with straightforward masculinity, Caterpillar's Threshold industrial boots are an obvious incarnation of time-tested expertise in work boot design.
The Threshold is very versatile — so versatile that I don't mind regarding it as my primary "outdoor footwear". I've driven my car with these kickers on, and I didn't notice any difference in comfort compared to when I wear my driving sandals. Also, the cushion extends to the ankles, which is always a welcome surprise.
The breathable leather of the shaft and the steel toe itself is smooth enough to readily affirm the waterproof feature. I tested the boots immediately for their waterproof claim by running it through tap water. The leather, while it maintained a bit of moisture afterward, does repel water efficiently and keeps the interior nice and dry. The steel toe protection, on the other hand, is enough for most carpentry, woodworking, and other manual jobs.
Durability is excellent on my part (I've had it for close to 3 years now), though I make it a point to clean it regularly. Most work shoes last only as long as their owners are willing to maintain them, especially their leather exteriors. This boot surely belongs to that group, so I highly suggest you take the time to clean and polish it regularly to make the most out of it. The only con I can think of is the weight, but to me, it's still manageable.
What We Like
Great hiker boots style
Features ankle cushioning
Adequately waterproof and protective
Relatively more durable than other work boots in its price range
The Caterpillar Threshold is all about the fundamentals of work footgear. It's a solid mix of protection, comfort, and style. And it's hard to find faults in it simply because it manages to deliver everything you need in work boots. It may not be able to pull it off spectacularly in key areas, but it covers them well enough.
6. Larnmern Steel Toe Boots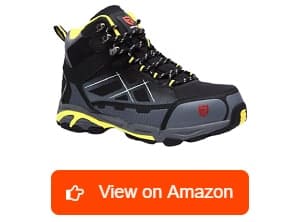 The China-made Larnmern safety toe boots exceed expectations in their comfort, unheavy build, and protective capabilities simply because their price range falls in the low-end spectrum.
This Larnmern footwear's design calls to mind sporty rubber shoes, and I knew when I glimpsed it for the first time that it's designed with comfort as a priority. In fact, it's very comfortable! And, mind you, this is coming from someone who has had a fair share of work boot-related foot pain in the past. I wasn't expecting the pads to be as soft and cozy the first time I put these boots on, but it's nothing less than that.
And did I mention they're lightweight, too? I'm confident that I'll be able to run a mile with these on, especially if I'm feeling more energetic than usual. I've tried it before and the usual heft you feel with each step from average safety toe work shoes is just non-existent.
Additionally, resistance to slips and slicks should be elementary, and these shoes have plenty of it. The steel toe feels really tough and solid; hence, I trust that these boots can guarantee great anti-smashing and anti-puncture. It gives extra protection against the usual sharp, rigid objects encountered in most heavy industry settings. Considering the price and the fact that it also repels static electricity, it's already a bargain for me.
If we're going to dive into the aesthetics, I definitely like the strips of yellow outlining the primarily black and gray hue of the shaft and outsole. I understand that there are other color options, but the standard black/yellow combination gives a contemporary, energetic impression that doesn't look out of place in construction sites and other heavy-industry venues.
I'm not too sure about the durability, though. With the price in mind, I'm not betting that these will last long without consistent maintenance.
What We Like
Comfort exceeds expectations
Wonderful design
Strong slip resistance
Competent steel toe protection and electric resistance
Very affordable
If you're a little strapped for cash but still need ideally comfortable, work-ready steel toe shoes for standing all day, this Larnmern product should be right up your alley.
7. Timberland TB0A1KJ8231 Work Shoes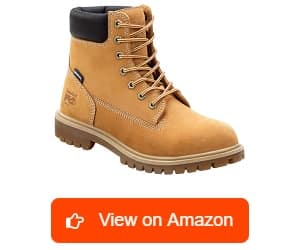 The Timberland PRO direct-attach women's work shoe is as snazzy as it is comfy, with years of production mileage under its belt, punctuated only by its still rising popularity.
Very rarely do I describe work shoes as "heavenly", but I feel that there's no other, more appropriate term to describe the comfort that this Timberland PRO creation imparts. Ever wanted women's steel toe boots for standing all day? Know that women like to wear these kickers to work daily because of the double paddings, cavernous interior, and direct-attach design (responsible for out-of-the-box comfort).
It's also blatantly obvious once you get a feel of the surface of the leather that it is chemically treated to be waterproof. Despite the category it falls under, these boots actually belong outdoors, when you have to put up with more wetness than usual — like when it's snowing and you have the usual puddles and iced roads to deal with. It doesn't hurt that it has non-skid features, too, so it really won't be out of place on your next hiking trip.
As for durability, it's none the worse for wear. At best, you'll only be needing to replace the insole and outsole in a year or two — and that's not considering any care you render as you wear it. As for the style, it's almost a given that I'd love the design. It looks like your average nubuck leather boots but it has no shortage of class. The leatherwork and the seams exude a superior quality that screams classic.
Do take note, though, that I've experienced firsthand that these boots don't do well against nails. I accidentally stepped on one while doing demolition, and it pierced right through the sole. Though, I have to admit that it was a rather large nail (which thankfully only led to a mild foot scratch).
What We Like
Unrivaled comfort
Strong traction
Classic stylish design
Holds up well after years of use
The Timberland PRO women's work shoe is well worth the price for those who can't get enough work footwear that proactively addresses their main downside: sore feet.
8. Keen 1022106 San Jose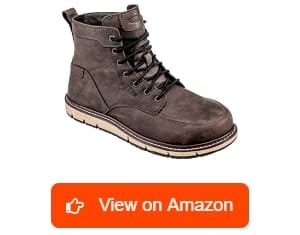 Keen's utility work boots, San Jose, are consistent in their flexibility and making your feet feel comfortable at most. They sport a darker look that cuts a fine figure for those who prefer more rugged-looking work boots.
I've had these boots for more than 2 years and have subjected them to numerous types of battering, moisture, mud, debris, and dirt — the whole nine yards of abuse, in short. Admittedly, I wasn't too invested in keeping it in top shape. But with that in mind, the fact that I'm still using it speaks volumes about its durability.
Regarding comfort, the one I own is definitely way past its prime, but these boots never compromised on it. This boot is the very definition of that coveted feeling of being able to "let your feet breathe". My feet simply feel right at home every time they are encased in these boots' roomy inside. The flex and stability are just right, too, and complement the boots' overall light build well.
Make no mistake, these shoes are waterproof. I once waded for 30 minutes through a flooded basement with these bad boys on, and they still managed to keep my feet water-free. It's just that my boot's toe eventually wore off and started to show cracks at the seams (I have myself to blame for that for not taking care of it better).
The only things I had to replace after around 6 months of continuous use are the laces. I've seen better laces in composite toe shoes with cheaper price tags attached to them.
What We Like
Rugged-looking work boots
Can take a beating
Consistently comfortable
Flexible and light
Topnotch waterproofing
What We Don't Like
Laces needed replacing too soon
The San Jose may be nowhere near the premium category of work boots, but its uncanny ability to pamper your feet is something only a few kinds of these shitkickers can boast of having.
9. Thorogood 804-4200 Moc Toe Boots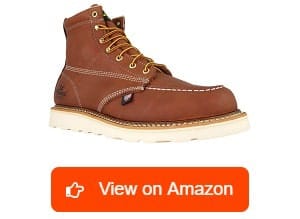 Thoroughly hipster-friendly and aesthetics-centric, Thoroughgood's moc toe boots achieve the pinnacle of style in work boot terms. Even so, it still easily takes its place in the average construction site with its full-length protection made possible by electric shock-resisting soles, powerful slip resistance, and well-designed steel toe.
Being the product of a footwear company that has been in the industry for more than a century naturally warrants hype. Do these shoes live up to it? I'm going to go ahead and say yes because I've yet to wear a better eye-magnet than this. I've never had to struggle to pair this footwear with most of my clothing. It's also one of the few I've worn that has been freely (and generously) praised by colleagues — so you can say it's an A+ in style.
You'll notice that the sole is flatter than most work boots, and that's great because it means more comfort with each step. With that in mind, I won't hesitate to label these as the most comfortable steel toe work boots for standing all day. I use this footwear as much for work as when I go outside for a leisurely stroll in the nearby mall or park now and then. Without a doubt, the removable Poron cushion is primarily responsible for the relative bliss (for lack of a better term) I feel when my feet get into these kickers.
These moc toes also incorporate a wider Goodyear storm welt which almost always immediately translates to a sturdier and more water-resistant shoe (though it's not actually waterproof). This feature only gives a good clue about the abundant space your feet will enjoy. I also like the fact that it didn't skimp on the laces by using Teflon as a primary material.
What We Like
Top-tier comfort
Eye-catching polish and overall look
Top-notch craftsmanship
High-quality, long-lasting Teflon laces
Provides complete foot protections
What We Don't Like
Not specifically designed to be waterproof
Thorogood's moc toe shoes wipe the floor with the competition thanks to its second-to-none flair and the technically sound way it keeps the feet feeling pleasant throughout the day. It's what you'd expect from a brand with decades of boot crafting experience.
10. Oristaco JUBANG907 Steel Toe Boots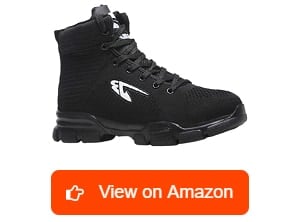 Economical and well-rounded, Oristaco's safety toe boots give bang-for-the-buck advantages you normally can't enjoy from footgear in this price range.
Initially and frankly, these kickers' main pull for me was their price. They cost less than half of the best sellers out there yet can still go toe-to-toe in certain fundamental elements. It delivers more than what you'd expect from work shoes this cheap.
It's built like the behemoth most shoes of this kind are expected to be built. It shrugs off the force and any other kind of strong impact quite impressively. Considering I once had a steel pipe fall directly on its steel toe (and I didn't feel a thing!), I'm going to have to commend the European-made upper for its stalwart and sturdy protection.
I also feel quite safe stepping on glass and nails with these on because of the Kevlar midsole. The sole is really where I'm directing my thumbs up. It's said to be made of polyvinyl chloride. I'm going to have to be on the lookout for that specific outsole material from now on because this shoe's traction can wow even the pickiest work boot pundit out there. No slippage, whatsoever.
The comfort level is adequate — nothing too stellar worth mentioning yet shouldn't entirely be overlooked. It's the type of work boot that meets everyone's average standard of comfortability simply because it doesn't leave your feet feeling sore even after long hours of wearing it. That's still a noteworthy feat for steel toes, to say the least.
You'd better hold back tying its laces too tightly, though, as it could cut into your ankles (happened to me once). Another thing I dislike is that the manufacturers seem to have made no effort to make it waterproof.
What We Like
Outstanding damage and puncture protection
Excellent traction
Doesn't leave your feet sore
Budget-friendly and cost-effective
What We Don't Like
Too tight laces
Not waterproof at all
Oristaco's work shoe meets everyone's requirements but doesn't go overboard with the price tag. For this, it beats boots that cost twice or thrice more but turn out to be all flash and sizzle.
11. Timberland TB0A1JYQ001 Powertrain Sport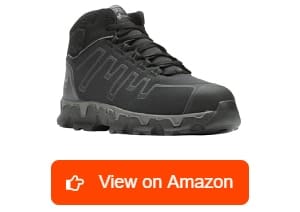 Showcasing pliability and softness rarely seen in work boots, the Timberland PRO Powertrain Sport extends its versatility to its various protective capabilities, not least of which is high resistance to damage and electricity. These shoes slickly provide these benefits like a well-oiled machine, as polished as its ever-modern design.
It's super bendable, which practically makes it a worthy paradigm of comfort as far as construction shoes are concerned. I honestly wasn't expecting it to be this flexible, but its "Sport" tag is well-deserved. The moment I took my first step with it on and noticed the flex, I immediately knew that it would be light as well. Comfy strides are almost guaranteed with these kickers on.
I also especially like the fact that it's spacious inside and that the sole is softer than most work boots I've worn so far. I think these footwears will be perfect with custom insoles (like a memory foam one), all the more so if you order the wide version (which I did). That said, the comfort really arises from its heady mix of the semi-soft sole, lack of extra heft, and the additional room afforded by the wide variety.
I also recommend this to anyone looking for protection that pulls no punches. You get 18KV electrical hazard resistance paired with an unyielding alloy safety toe. I've worn this in most electrical, carpentry, and construction jobs I've handled. In all those times, I never doubted its ability to keep me from harm from the usual hazards.
I'm a little iffy about the grip. I feel that it's weaker than most. That's the only "major" qualm I have about it.
What We Like
Light and flexible build
Offers plenty of breathing room for the feet (wide version)
Relatively softer sole than most
Equally reliable in durability
Great safeguarding features against electricity and impact
I do my best not to favor an alloy toe footwear over another, but considering the pleasant qualities of this footwear by Timberland PRO, it's hard not to rank it high among the best steel toe boots for standing all day.
12. Ariat 10024983 Groundbreaker Chelsea
"Groundbreaking" is a lofty word to associate with, and this Ariat offering easily lives up to it with its superior construction — truly, a standard for excellence.
If there's a single product that can grab the title of most comfortable steel toe boots for standing all day without any reservation or shame, the Groundbreaker Chelsea could very well be it. I mean, it's blatantly obvious that Ariat took extra time and care in designing this beauty. The high-caliber craftsmanship practically shines in the stretchy goring panels, Western influence, and the slick 90-degree heel.
The 4LR technology four-layer footbed, combined with the breathable mesh lining, pretty much delivers that one-two punch of comfort every man is looking for in a work boot. The cushion is more comfortable than I would care to admit — it's that extra softness that leaves your feet feeling all warm and tingly. It knows how to cradle a foot, that much is certain.
Though I'm often leery when it comes to getting these beauties wet, I've had them on during the numerous times when I've had to walk in the rain. And I can safely say that this is the alloy toe kicker to beat in terms of waterproofing features. It repels water extremely well and no moist spots tend to last long on its smooth surface.
The slip-on feature only serves as the icing on the cake for convenience. And the midsole bends enough to give me the kind of support and comfort with each stride. It imparts all the secondary perks I want in my boot, in short.
My only concern about these shoes is the fit. It could be a struggle to find the perfect size. To me, they felt larger, but that's not so bad because I didn't get to experience the user-complained tightness of the steel toe.
What We Like
First-rate craftsmanship
Unmatched comfort
Adequate flex and support
Slip-on feature boosts convenience further
Superior waterproofing
What We Don't Like
Difficult to find the right fit
With the price considered, these shoes are certainly one of the higher-end items on this list. High-end doesn't always translate to quality but with these kickers'' aptly groundbreaking perks in mind, they're one of the few that truly deserve recognition.
Why You Need Steel Toe Boots for Standing All Day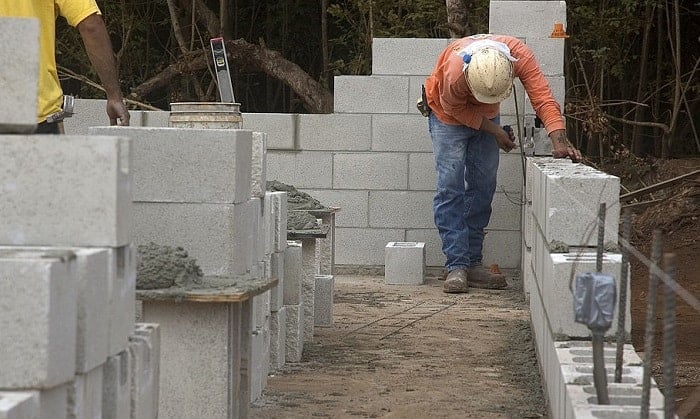 Unlike most white-collar employees who are, more or less, bound to their desks, blue-collar workers tend to be on their feet day in and day out. At most, these are the people who work in agriculture, chemicals, construction, mining, manufacturing, steelmaking, and pretty much any other heavy industry.
The preference for safety toe footgear stems from the fact that this footwear provides the necessary protection against any kind of work-related hazard inherent in the heavy industry sector. The hard, reinforced toe is designed to effortlessly absorb the impact of any kind of compression or falling debris and other objects.
More often than not, the designers of these boots also go all the way in adding other nifty features that heighten their risk reduction capabilities. For example, you'll also find plenty of shoes that meet the standards for electrical hazard (EH) safety. Certain composite or alloy toe boots often absorb electrical shocks, up to a certain extent, making them ideal for those working in jobs (like demolition men or linemen) that expose them to static electricity and other forms of electricity.
Many shoes of this caliber also pay more attention to the soles by making them puncture-proof and slip-resistant.
The fact that alloy toe footwear provides the ultimate protection you need for work settings that have various hazards should tell you all you need to know about how efficient and dependable they are.
Of course, just because they are called work boots doesn't mean that they're all about the daily grind. We can't deny the fact that some of these shitkickers are very stylish, too. This is why you can never really expect these boots' popularity to dip.
The Matter of Comfort
If you have no other choice but to wear safety toe footgear or simply can't get enough of their unique appeal, then one of your main concerns should be comfort. There's no shortage of people who lament their less-than-satisfactory experiences with these boots, especially when it comes to the said factor.
The culprit? Oftentimes, it's the poor cushioning and inadequate support, though other factors come into play as well (such as the fit, which often leads to sore toes and feet — we'll talk about that in the FAQ section below). If you don't wear the right kind of work footgear and have to stand all day with them on, chances are you'll be suffering from foot fatigue regularly. Believe it or not, chronic lower back pain and headaches can even be traced to the kind of footwear you are using!
These are the primary reasons why people are encouraged to be specific when deciding which work boot to buy. As much as possible, it should be based on how you will be using it and your habits while wearing this kind of footgear. More importantly, the shoes should contain features that proactively lend support to keep the said issues at bay.
They have to be exact, in short: the best composite toe boots for standing all day — no more, no less. And their designers and feedback should readily attest to their ability to function as such.
Buying Guide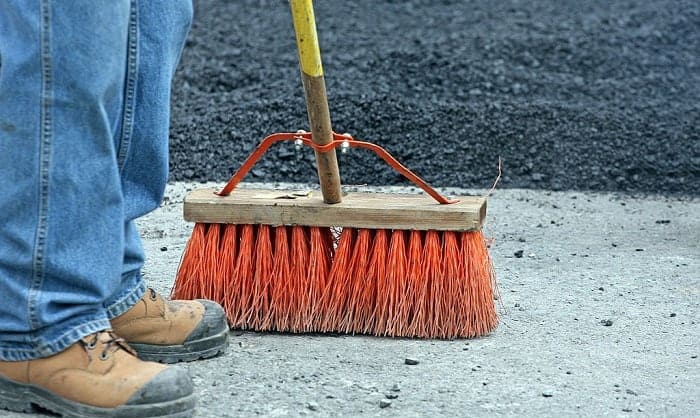 Since we are discussing steel toe boots for standing all day, we need to pay more attention to comfort when deciding which one to buy. But, of course, we can't ignore the essentials of this footgear (i.e. their foot safeguarding properties) as well.
Aesthetics should also never be overlooked. After all, what's the use of wearing safety footwear that leaves you looking awkward and out of place in the workplace? But this is obviously more of a subjective topic so we leave it up to you.
Striking a balance between the three should hit the sweet spot, so to speak, so it won't hurt to take the time to weigh and try out your options.
On the whole, gauging safety shoes isn't rocket science. You only need to look at each important factor carefully and tie them up with your specific requirements.
Factors that Determine Comfort
Padding – The cushion of the inner sole is where all the comfort (or lack thereof) will come from, so prioritize it as much as possible. Not to mention the fact that it also determines the support that each boot can provide. Aim for cushions with breathable fabrics and other materials.
As said above, most shitkickers allow you to freely modify the footbed and insole into something you're comfortable with. A lot of people use specific gel insoles and memory foam insoles to get the kind of cushioning they want. You may even consider removable multi-layered footbeds to heighten softness (and, in turn, pleasure) further.
Fit – You don't want your feet to brush against the steel toe as much as possible. Nor is it a pleasant experience having your ankles scrape against a rough-textured tongue once you're laced up. The same goes for heels that are too tight. At best, the roomier the inside of the boot, the better, but be sure to not go overboard!
Weight – These work footwear, due to their steel toes and shanks, thick leather, and bulky soles, tend to be on the weighty side. Having to lug around heavy kickers all day will most likely not be doing your feet any favors, so be mindful of this factor, too.
Flexibility – We are all aiming for strides that don't put too much stress on the feet. And more often than not, this is achieved by shoes with more flex. Obviously, the amount of flexibility is subject to preference, too, so this is something that falls more in your hands to decide.
Factors that Dictate Protection
Toe Protection – What use will a steel toe boot be without its basic protective facet? Steel toe doesn't always mean steel is the sole material used. You'll find composite varieties as well that use the lighter Kevlar, for instance, which has high-grade toughness and electrical resistance. The more traditional steel, on the other hand, tends to weigh more but often does a better job in handling punctures. Other materials used range from fiberglass and plastic to carbon fiber.
Water Resistant – Not all steel toe footwears are automatically waterproof. Some are either water-resistant or not at all. If the leather is treated with oil or wax then that should give you a good sign that its designers deliberately made it waterproof. Certain welts like the Goodyear welt not only raise durability but also keep the footgear more secure against interior wetness, in case you have to walk through flooded areas.
Insulation – Working in conditions where your feet are subject to cold or moisture underlines the value of steel toe footgear with adequate insulation. Look to weight when gauging the level of insulation each boot has. The higher its value, the warmer the interior of the boots is likely to be.
Electrical Safety – Steel toe footwear made of materials that don't conduct electricity can often be considered as footwear that meets safety guidelines already. Most that do are often EH-rated. Take note that being EH-rated doesn't necessarily mean that you will be completely impervious to most electric shocks. Certain conditions and factors like wear and tear, humidity, voltage strength, and overall wetness might render the protection weaker if not altogether ineffective.
Slip/Oil Resistance – Whether it's water, oil, or any other liquid that can cause slippage or fire risks (especially petroleum), most steel toe footwears go to the limit in keeping their wearers free from these hazards. Certain sole components (rubber being the most widely used) give the kickers a better grip, regardless of what surface they are on. Even the patterns of the treads serve a practical purpose of keeping fluids from building up below the outsole.
Care and Maintenance
Keeping your steel toe boots as good as new not only preserves its eye-pleasing look but does wonders to its durability, too. You'll encounter many users online that complain about their boots not lasting more than a year (while others don't even make it to 6 months). Chances are, they never took a single hour (or minute) to polish their footgear — settling, instead, on buying 3 or 4 more of the same product. Don't be like them.
Taking the time to maintain your footwear pays off for you in the long run because you only get to make the most out of every purchase. Won't you also find ample gratification in knowing that your boot served you well for a long time?
General Cleaning Tips
Regardless of the kind of leather the boot is made of, using a water-based cleaner or something more specific like a leather cleaner are safe options. Apply these cleaning agents as instructed onto the leather parts of the shoe then start wiping the surface with a clean cloth.
Most safety footgear comes with removable insoles. Be sure to take them off before washing the boots' interior, along with the laces. Use a special cleaning solution or soap for shoes to clean this part with any clean rag. Wait for the kickers to dry completely afterward before doing any other maintenance-related step.
If you have time, it won't hurt to condition and polish them further. Mink oil is popular because it is often consistent in giving leather an attractive finish every time. Certain shoe oils will do as well as these are often manufactured with leather conditioning in mind. These not only give boots the shiny look we can't get enough of but keep their durability in the green as well.
How to Care for the Leather
A lot of these footwear use different kinds of leather, the most common of which are nubuck and suede. You may need to rely on regular brushing to keep dust from settling on these types of leather. Brushes with a rubber tip are preferred because they always manage to pick up the most specks and particles for a more thorough cleaning.
Keep in mind that there are conditioners that are specifically designed for nubuck leathers only. Settling for anything other than that might end up damaging the material or other botched results.
Usage Tips to Slow Down Wear and Tear
Don't let mud or other dirty elements sit on them for long. These will only end up quickening the rate of deterioration. Treat your boot like a living pet that needs protection from rot and contamination, and you will be rewarded in turn.
Remove the shoes immediately after each day of use and examine it for any notable dirt, mud, or dust build-up. Take a few minutes to dust them off or clean them if there are any such presence.
Just because they're built like a tank doesn't mean you should treat them like the elements won't take their toll in the long run. There should be a limit to the amount of abuse that you should be willing to allow your footgear to endure.
Frequently Asked Questions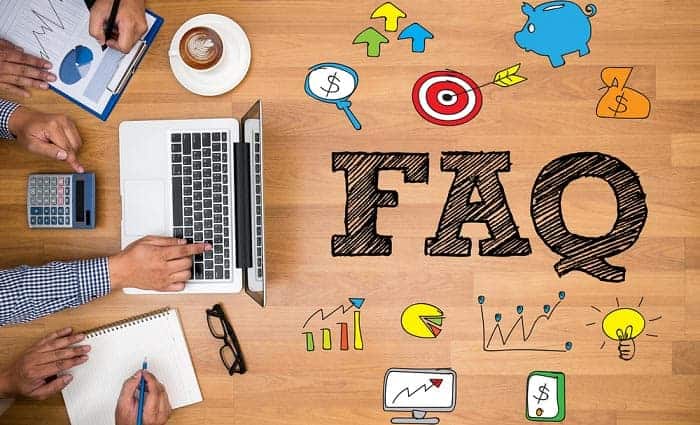 What are the most trusted steel toe boots for standing all day brands?
I can safely say that all the products included in this list are great for standing and working all day. My reviews of each one, if you read them all, should make this obvious. But since I'm a sucker for maximum comfort in my work boots, I can't help but favor Ariat's Groundbreaker Chelsea, Caterpillar's Threshold, Thoroghgood's moc toes, and all the Timberland PRO offerings.
Timberland PRO is a go-to brand for beginners and experienced boot enthusiasts alike. Pretty much all their products can achieve the right kind of balance between the crucial elements I stated above. Most of their prices fall within the average cost of this kind of footwear as well. You also won't run out of options as far as style is concerned.
Caterpillar and Thorogood both have respectable historical mileage in the boot making industry. You can bet your money on their experience, which is only proven by their models that have been a perennial part of their catalogs for years (if not decades).
More high-end options like Ariat often know how to deliver what people look for in boots of this category. If you think your present shoes are comfortable, wait till you try one of their products!
Why do my feet hurt with steel toe boots?
It's either you have the wrong fit and your toes keep brushing on the edge of the shoes, the footwear is too narrow, or the shoes have hard, uncomfortable cushions and not flexible enough (leading to faster fatigue build-up with every step).
How do I keep my feet from hurting in steel toe boots?
First, always make sure that the product is the right fit and have footbeds that actively reduce foot fatigue and stress. Shun footgear that doesn't leave room for your feet.
Next, refrain from tying your laces too tightly. It might only cut your ankles, or worse, lead to poor circulation, which only means more pain down the road.
With the right boot, you don't have to rely on socks to add extra cushioning. But it is worth investing in them for their ability to keep your feet dry, especially during the colder months.
Where to buy?
There's no better place to start than Amazon. Of course, you can also check out the official online stores of each brand. You can also relay any inquiry you might have easier that way.
Conclusion
As long as you keep these facts and our tips and reviews in mind, you'll never have to put up with the usual head-scratching rooted in not knowing how to make the most out of this kind of safety footwear.
With all things considered, the most comfortable steel toe boots for standing all day are something all shoes with steel protection should aspire to. Why? They literally erase the primary issue of these types of shoes while still managing to lend their invaluable protective powers.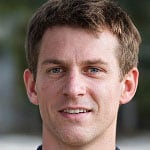 Having worked in the field of personal protective equipment for over two decades, Andrew Carnegie is a specialist in the field.
At EDC, he strives to improve performance efficiency and promote workplace safety for EDC's readers and customers. He also researches the most up-to-date equipment that has earned relevant accreditation for use in a wide range of industries and specialties.