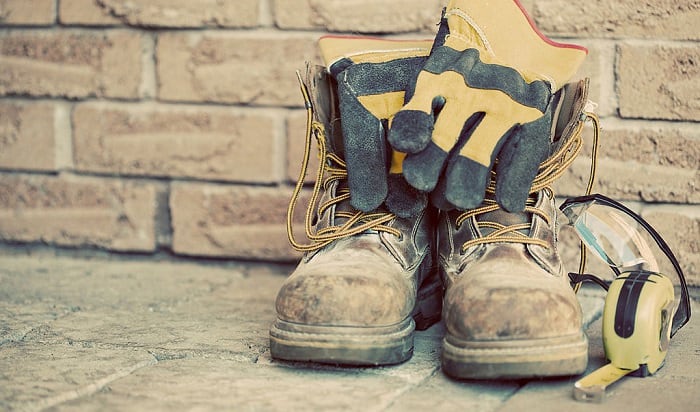 Back in the day, steel toe boots were painful to wear but much has changed in recent times. Thanks to modern technology, manufacturers are now able to invent new materials and improve designs to make protective footwear comfier.
Yet, there is no one-size-fits-all approach to finding the most comfortable steel toe boots. After all, each pair of feet comes in different shapes and sizes. At any rate, these are the three key aspects that make steel toe boots pleasant to wear:
Size: The steel toe boots you're eyeing may have all the features you want but, with the wrong size, they will feel uncomfortable. Unlike soft-toe shoes, safety boots have steel toe caps that cannot stretch and expand. If the toe box is too snug, your toes will hit the steel or clump inside. Likewise, it will be difficult to walk if the toe cap is too large. Ideally, the fit should be neither tight nor loose.
Moisture management: Under subzero temperatures, perspiration that gets trapped inside the footwear can make our feet feel colder. During summer, sweat can feel sticky and uncomfy. Wearing boots with good moisture-wicking capabilities can address this issue. If you spend more time outdoors, check if the footwear's waterproof features are appropriate for your job.
Padding and cushion: While there are steel toe boots that are comfy straight out of the box, most full-grain leather boots take a week or two to break in. It's a small inconvenience that we all have to temporarily endure. As with most industrial jobs, standing and walking all day is the rule rather than the exemption. For an easier break-in period, get safety footwear with a padded collar and shock-absorbent soles.
Although this article's primary focus is comfort, I'm also covering different functions and weighing the pros and cons of each pair of steel toe work boots in the product review. If you need some advice in choosing the right footwear, feel free to jump over to the "Buying Guide" section.
Most Comfortable Steel Toe Work Boots Reviews
1. Timberland PRO TB033034214 Steel Toe Work Boot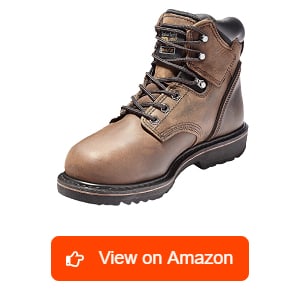 There is no better way to kick off this review than to start with these Timberland Pro men's steel toe boots. This pair is a prime example of well-designed protective footwear without compromising comfort and durability. Made of nubuck leather, the upper is tough yet bendy. Moreover, its velvety texture looks and feels nice. I don't always get plenty of colors to choose from so I appreciate seeing that this one is available in brown, wheat, and black.
With top-notch safety features, these work boots can keep my feet safe from all sides. Besides having steel toes that meet the ANSI standards, the outsoles are resistant to slippage, heat, and abrasion. On top of that, they serve as protection against electrical hazards. Despite their ruggedness, the soles can move with me. Consequently, I don't exert too much effort just to make them flex.
While working, the footwear's moisture-wicking lining takes care of my sweat. Thanks to the antimicrobial treatment, it also fights off the odor. The only downside I see is that the Pit Boss is not built with anti-fatigue technology. For someone who spends most of their shift walking, the insoles feel flat. The good news is that they are removable! Feel free to replace them with your favorite inserts.
What We Like
Tough yet flexible nubuck uppers
Available in three color options
Has ANSI-compliant safety features
Keeps your feet sweat and odor-free
Has heat, abrasion, and slip-resistant outsole
What We Don't Like
Lacks anti-fatigue technology
When it comes to safe and comfortable men's work boots, this brand is ahead of the game! If this pair is on your wishlist, let me reassure you that you're in for a treat. Apart from dependable protection, it can keep your feet fresh and odor-free.
2. KEEN 1007024 Utility Steel Toe Work Boot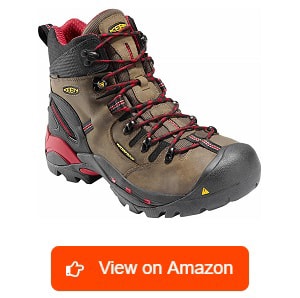 KEEN is the best option for those who need asymmetrical left and right steel toes. Furthermore, the toe box gives enough room for the toes to spread naturally. Beyond that, the brand takes comfort to a whole new level with its top-tier waterproof leather uppers and breathable membrane. So far, they have kept my feet dry and sweat-free throughout all four seasons. However, keep in mind that they are not insulated but they are warm for light snow.
Besides comfort, this work boot offers stability and support as I walk on uneven terrains. At the same time, the sole can bend whenever I kneel and provide superb traction on slippery surfaces. As for safety, this pair provides ASTM-compliant electrical hazard protection and steel safety toes. Ergo, it is highly recommended for anyone who works in landscaping, construction, transportation, and maintenance.
However, I've spotted two minor hiccups. First, the insoles lack cushioning for long hours of walking. Second, the work boots need more time to soften up. Once you replace the footbeds and spend some time breaking them in, I promise you that this pair will be one of the comfortable men's steel toe boots you'll ever own.
What We Like
Complies with ASTM-standards
Suitable for various industrial jobs
Offers asymmetrical steel toes
Ideal for walking on uneven surfaces
Has flexible and slip-resistant outsole
Great for any weather
What We Don't Like
The insoles are not soft enough
Needs more time to break-in
Given its excellent waterproof system, this is one of the
top-rated steel toe work boots
for those with asymmetrical feet. More than that, they can repel water and help you walk safely on rugged terrains. Hence, they are preferred by those who work outdoors!
3. CAT Footwear P89135 Steel Toe Work Boot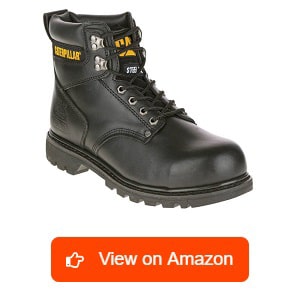 Caterpillar boots are the mainstay in the construction, mining, and similar industries partly because the brand is known for its superior engines and machines. Whether it's the workwear or equipment, you can trust the quality of its products. For instance, this work boot's steel toe cap can withstand the impact of falling objects. Plus, it is rated safe against electrical hazards of up to 600 volts in dry conditions.
What I like the most is the removable PU sock liner, which keeps me energized when walking for long hours. During the break-in period, the padded collar prevents blisters. Even with full-grain leather uppers, the nylon mesh lining enhances the shoe's breathability to keep my feet cool throughout the day.
Because of the grippy outsoles, I wear these steel toe work boots to trek any terrain. Built with Goodyear welt construction, they can last long but resoled can extend their lifespan.
Considering the toughness that the work boots exude, I find the shoelaces surprisingly frail, prompting me to replace them with my go-to brand. Another thing to note is that the toe area seems narrow even for their wide sizes. I know online shops can sometimes offer you great deals but I highly recommend fitting them in person.
What We Like
Includes comfy sock liners
Does not cause blisters when breaking in
Has ASTM-rated protective features
Ensures long-lasting durability
Excellent breathable design
Equipped with slip-resistant outsoles
What We Don't Like
The shoelaces are not quite strong
The design runs narrow
If we factor in all the features, this pair is probably one of the most comfortable steel toed boots. Breaking in can be a daunting task but the padded collars will keep your ankles from getting blisters!
4. Thorogood 804-4208 Steel Toe Work Boots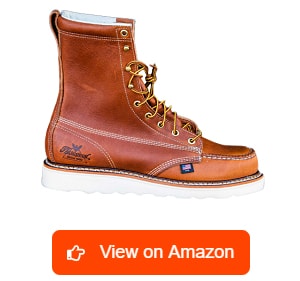 Comfortable by design, moc toe boots flex better because of their stitching. Such is the case of this steel toe work boot from Thorogood Men's American Heritage collection. With oil-tanned leather uppers, it can bend easily when I squat, crouch, or kneel. Despite all that movement, the footwear proves to be extremely durable due to the Goodyear storm welt.
On the other hand, the Poron comfort insole feels like soft pillows. More than just a cushion, it absorbs the shock in every step. If you need a specific type of arch support, you don't have to stack two layers of footbeds since the insoles are removable. Aside from that, these work boots offer reliable steel toe protection. Constructed with a fiberglass shank, the soles support my feet and stay straight when I step on the rung of a ladder.
Designed with wedge soles, these work boots distribute the weight more evenly across my feet and optimize the shock absorption. In terms of slip resistance, I would say that heeled soles fare better than this one. Another issue that I found is that the collar takes a while to soften up. During the first few weeks, it kept digging my ankle. If it were not for the full cushion socks, I would probably have gotten blisters.
What We Like
Has cushy and shock-absorbing insoles
Equipped with steel toes
Highly durable construction
Has fiberglass shank to support the feet
What We Don't Like
Slip resistance needs improvement
The collar feels stiff at first
Without a doubt, the moc toe design makes this pair one of the
most comfortable men's boots for walking
or standing all day. Meanwhile, the wedge soles ensure that the pressure does not concentrate on the high-impact areas.
5. Skechers 77009 Relaxed Fit Steel Toe Boot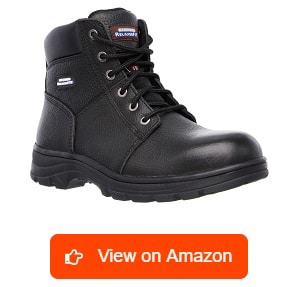 Financial constraints can affect our decisions but you don't have to sacrifice safety and comfort. You can get both from these Skechers steel toe boots! Aside from the toe protection, they are tested and proven safe against electrical hazards. On slick surfaces and rugged terrains, the high traction outsoles help me maintain my balance. Despite its affordable price, I don't see any difference in terms of quality.
Comfy straight out of the box, these steel toe boots are well-padded around the collars. Yet, they also keep my ankles from twisting when I trek on uneven surfaces. Although the uppers are flexible, I find them to be hard-wearing just like other work boots. Moreover, the midsoles are pretty good at absorbing the shock whenever I walk. What I like about them the most is that they are lightweight.
The memory foam insoles are both the highlight and the weakest link. On one end, I like that they follow the contours of my feet and provide a much-needed cushion to endure long hours of work. Sadly, they flatten out after a while. Also, the steel toe boot is wider than what I'm used to and this observation is true for many workers. To get an accurate size, my advice is to hold off that online purchase and try these work shoes in person.
What We Like
Affordable steel toe boots
Has ASTM-certified steel toes
Offers protection against open circuits
Lightweight and comfy design
Provides a strong grip on slippery surfaces
What We Don't Like
The memory foam insoles wear out over time
Has a wider fit even for regular sizes
There is no need to blow up your budget to get these comfy boots for work. Best of all, they provide protective features that meet the ASTM standards.
6. ROCKROOSTER Work Boots for Men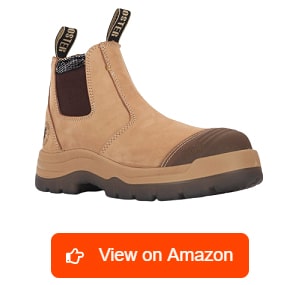 Here's another pair of budget-friendly yet comfortable safety toe boots. Besides its static dissipative capabilities, it offers ASTM-rated steel toes and slip-resistant outsoles. Granted, most work shoes have these features but what sets them apart is the interiors. Lined with a fabric made with COOLMAX technology, it wicks away the sweat and keeps my feet cool on a hot day. When it's cold, it acts the same as warmer.
At the same time, the PORON Xrd enhances the protection against impact but the material itself is breathable. Together with the Anti-Fatigue memory foam insoles, they keep my feet from getting sore after a long shift. Unlike the other safety toe boots that I featured here, this one sports a pull-on design with an elastic gusset that allows me to stretch the opening wider to slip my foot in. Then, it snaps back to hug my ankles securely.
Honestly, I don't see any problem with the footwear. What's confusing is the size charts as I know some folks ended up receiving smaller or bigger steel toe boots. If you've made up your mind about getting these, be sure to read the return and exchange policies. In any case, this is just a minor inconvenience. At the end of it all, you will not regret choosing this.
What We Like
Low-cost comfortable steel toe boot
Complete with ASTM-rated protection
Suitable for any weather
Allows you to don and doff quickly
Keeps the feet from getting sore
Arguably one of the most comfortable steel toe slip-on boots in the market, this affordable pair can be worn all year round without toasting your feet. More importantly, it gives you maximum protection in hazardous environments.
7. KEEN 1022098 Utility Mid Steel Toe Boot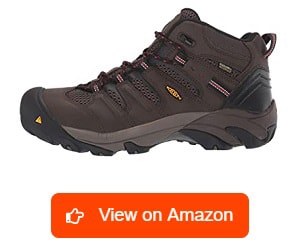 If you need support around the ankles but hate the tall shaft, then check out these steel toe shoes. Wearing them feels like I'm in my sneakers as they allow for a wider range of motion. Aside from their flexibility, they weigh incredibly light, making long walks more bearable. When I need to run, they do not slow me down.
Of course, this pair offers asymmetrical toe caps that cater to unique foot shapes. The steel cap is spacious enough to prevent my toes from hitting or rubbing on them even when I squat or kneel. Boasting an outstanding waterproof design, these steel toe work boots ensure that my feet are dry whenever I cross the puddles while the moisture-wicking lining deals with the sweat. Like most safety boots, the steel toes and electrical hazard protection meet the ASTM standards.
While the product description says that the outsoles are slip-resistant, I still find it lacking traction on greasy or icy surfaces. If the floor in your workplace is dry, I don't think it will cause harm. Another issue is that the insoles are uncomfy. However, they are removable so you can use your go-to inserts. Once you've sorted this out, I guarantee that these are the best steel toe boots to wear for physically demanding jobs.
What We Like
Designed with asymmetrical toe caps
ASTM-certified steel toes and electrical safety
Exceptional waterproof system
Suitable for physically demanding jobs
Enables you to move with ease
What We Don't Like
Lacks traction on greasy or snowy surfaces
The insoles are not comfy
Renowned as one of the most comfortable work boots for men, this pair is designed to enable your feet to move freely. Despite having steel toes, you will be surprised by how light they are.
8. Skechers 77143 Burgin-Tarlac Steel Toe Boot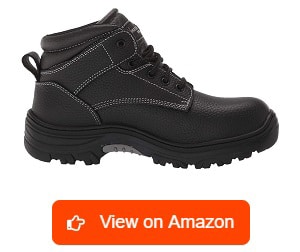 Whether you're a construction worker or an engineer, these steel toe work boots will keep your tootsies safe and comfy all day long. In addition to electrical safety and hard-wearing toe caps, they provide underfoot protection against punctures. Furthermore, the outsoles are slip-resistant so you don't slide and fall when walking on slick surfaces. As for me, they help maintain my balance in different terrains.
That said, I assure you that these steel toe work boots will not hurt your feet. Speaking from experience, I didn't even have to break them in. Both the uppers and the outsoles can flex when I crouch or kneel. Since the collars are padded, I never have to suffer from blisters. Meanwhile, the spacious toe box prevents compression around the forefoot and toes.
Like most Skechers work boots, this pair has memory foam insoles that can take the shape of my feet. More importantly, they serve as shock-absorber to alleviate the pain that comes with long hours of standing and walking. I just wish that they can retain their quality a little longer. While the safety boots are durable, the insoles thin out after a couple of months. Admittedly, I also have mixed feelings about the fitting as some folks might fight them a tad too wide.
What We Like
Protective features meet ASTM standards
Has puncture-proof soles
Grippy on most types of surfaces
Ensures blister-free walking
Has soft memory foam insoles
What We Don't Like
The insoles tend to wear down faster
A little wide for some folks
Working in industrial settings can take a toll on your feet but this can be prevented with the right footwear. If you're looking for options, let me just say that this pair right here is the most comfortable steel toe boots for standing all day.
9. Timberland PRO TB0A11RO214 Steel-Toe Work Boot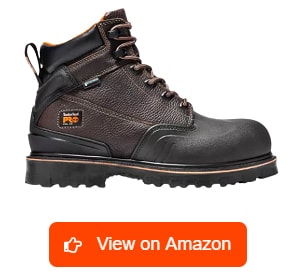 Setting the bar high, these Timberland steel toe boots are specifically designed with extra-grippy outsoles for workers in the oil and gas industries. That said, anyone who deals with wet, greasy floors at work can also benefit from them. On top of that, the rubber outsoles are heat and abrasion-resistant. Concerning steel toe and electrical safety, the work boots comply with the ASTM standards.
Aside from protection, the steel toe boots ensure that I don't injure my toes or hurt my legs. Their insoles are made with Anti-fatigue Technology, which is known for absorbing shock while simultaneously providing cushion and support in every step. Although the soles flex when I walk, the steel shanks keep them straight when I climb ladders. Plus, they shield my feet when I walk on debris.
No doubt, these work boots can take a beating. The uppers are sturdy yet they require only a short break-in period. Whether it's raining, flooding, or snowing, they effectively repel water. On that note, I hope the manufacturer figures out a way to make them more breathable. To be fair, my feet do not sweat nor smell due to moisture-wicking lining and odor control. Ergo, this minor trade-off is manageable.
What We Like
Top choice for workers in oil and gas industries
The outsoles are slip, heat, and abrasion-resistant
Has ASTM-certified protective features
Comfortable for extended periods of walking
Short break-in period
Impressive waterproof system
Among the Timberland Pro men's collection, this pair is not only the most suitable steel toe boots for walking all day but also the grippiest on greasy surfaces and rough terrains. Perfect for wet conditions, the design ensures that no water can penetrate the footwear.
10. CAT Footwear P90935 Waterproof Steel Toe Boot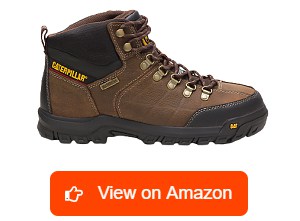 If you need reliable steel toe boots for work and DIY projects at home, this one fits the bill. With a mid-cut design, I can easily take them on and off. More importantly, they allow for a wider range of motion and provide ankle support at the same time. As such, I can kneel, crawl, and crouch without feeling any stiffness. Yet, the work boots also help me maintain my balance on uneven surfaces.
On wet floors, the rubber outsoles give me good traction to walk safely. Aside from the steel toe caps, the work boots also safeguard my feet against open circuits of up to 600 volts in dry conditions. Unlike the old clunky protective footwear, this one ranks high on my list of the most comfortable steel toe shoes because of the brief break-in period. Their waterproof system seals every inch of the shoe to keep water out while maintaining an optimal level of breathability.
Another reason to like these work boots is that the midsoles are great at absorbing shock but they do not add too much weight. Their only weakness, in my opinion, is the insoles. By all means, they are not the worst. Yet, they are not the most comfortable or supportive ones. You may not notice that at first but you can tell once you start walking in them longer.
What We Like
Supports a wide range of motion
Easy to wear and remove
Helps you walk on uneven or wet surfaces
Keeps your feet safe against work hazards
Excellent waterproof steel toe boot
What We Don't Like
The insoles are neither comfy nor supportive
Once you replace the factory insoles, I'm sure you will love these steel toe work boots. Considering their features, they are suitable for different kinds of professions that need protection, comfort, and a dependable waterproof system.
11. ORISATCO 907 Steel Toe Boots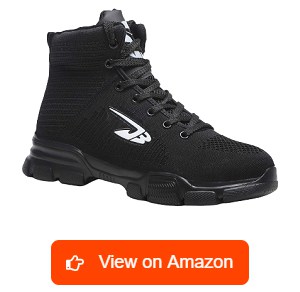 Do you hate the way traditional steel toe work boots look? Well, this one looks, feels, and performs like athletic shoes. At an affordable price, the model is available in fun, stylish colors like black, green, and red. By the way, it also offers a fur-lined version for the winter and a more breathable design for the summer. Either way, I find this pair very light and comfy. So much so that I sometimes forget that I'm wearing steel toe boots.
Just like any expensive protective work boots, the steel toe can withstand the impact of falling or rolling objects. Moreover, their puncture-proof midsoles function as underfoot protection against sharp debris. Yet, they bend nicely when I squat or kneel. Together with the flexible PU foams insoles, the shoes relieve me from the pain and discomfort that come with long hours of walking. Besides being true to size, the boots are suitable for both men and women.
Compared to leather, the fabric uppers are stretchable, requiring zero break-in period. Their only weakness is that they are not entirely weatherproof. Hence, I don't recommend wearing these steel toe work boots when it's raining or snowing. If you work indoors or in dry environments most of the time, this will not cause any issues.
What We Like
Comes in stylish colors
Available in breathable and fur-lined versions
No break-in period needed
Comfortable for long walks
Has reliable protective features
Fits men's and women's feet
What We Don't Like
Not suitable for snow or rain
Although they feel like sneakers, these boots protect like armor. Despite their affordable price, the brand manages to produce one of the lightest and most comfortable steel toe work shoes in the market. Indeed, they are suitable for physically demanding jobs.
12. Timberland PRO TB026002713 Attach 8″ Steel Toe
Since we started the review with a safety toe boot from the Timberland Pro men's collection, it is only fitting to end it with another one. After all, this brand is best known for its protection, comfort, and durability. This particular model performs spectacularly in these criteria. What makes it different is that it is insulated. Alongside the waterproof system, this work boot keeps my feet well-heated and dry during winter.
Built with a taller shaft, the padded collar adds warmth and ensures a blister-free break-in period, which only takes less than a week. Inside, the boot is lined with a moisture-wicking material that creates and maintains a sweat-free environment. To top it off, the design includes anti-fatigue technology and a comfort system, which is responsible for absorbing shock whenever I walk. At the end of the shift, my feet do not feel sore.
Moreover, these boots meet the industry standards for impact and compression, as well as electrical safety. No doubt, they are highly dependable but the steel toes seem a little narrow even for a wide size. Just fit them in a physical store and buy there instead. For those who prefer online shopping, make sure to read the manufacturer or distributor return and exchange policies.
What We Like
Has a top-notch waterproof system
Has shock-absorbent midsoles and insoles
Provides ASTM-compliant protection
Promises short break-in period
What We Don't Like
The steel toes are narrow
In cold conditions, these insulated steel toe boots will keep your feet warm and sweat-free. Apart from that, their midsoles and insoles absorb the shock in each step to help minimize foot fatigue. Plus, you don't have to put up with a long, agonizing break-in period.
Why Do You Need Steel Toe Boots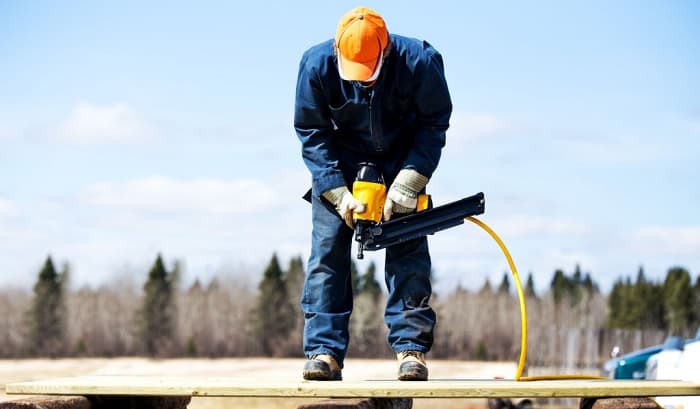 As the name implies, this work boot is fitted with a steel toe cap mainly to keep the worker's feet safe. Often, this type of footwear is worn by those who are frequently exposed to work-related hazards. Aside from shielding your feet against falling objects, the steel toe work boot is also equipped with safety features like electrical hazard protection and slip-resistant outsoles.
Protection is just one of the concerns that manufacturers aim to address when designing steel toe boots. For one, steel adds weight to the footwear. For another, your toes hurt when they hit or rub the steel toe caps.
With this in mind, designers enhanced the work shoes as they explored new materials to make softer paddings and cushions to prevent blisters and absorb shock when you walk. They also improved the footwear's waterproofing systems to keep the feet dry.
Buying Guide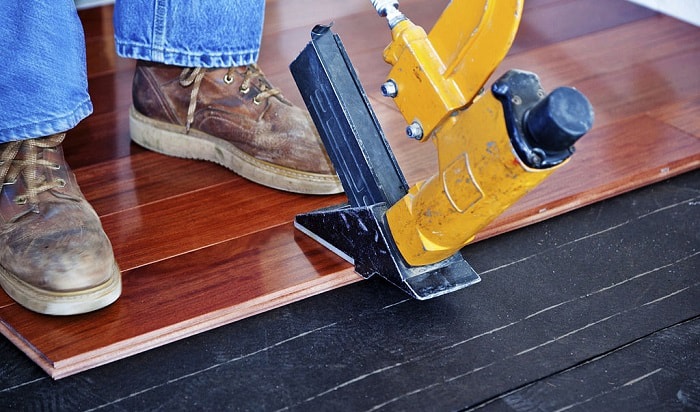 "Are steel toe boots comfortable?" you asked. You have probably come across conflicting opinions in several blogs, reviews, and Reddit. When choosing the right steel toe boots, there is no short answer to the question. Read the pointers below so you can find the work boots that are most suitable to you.
Steel safety toe caps
Earlier, I discussed how the size can affect the comfort that safety shoes provide. Finding the right fit is a lot more complicated mainly because our feet are either in between sizes or wider than average.
Lucky for us, steel toe boots brands are aware of this. Many of them offer steel toe boot models that come in wide and extra-wide options. Some even offer asymmetrical safety toes. As a rule of thumb, make sure that the footwear gives you some wiggle room even if you wear socks.
Insoles
Work boots are designed with insoles but not all of them are removable. While many shoe manufacturers are coming up with comfy and supportive insoles, they may not always resolve specific foot conditions.
Those with plantar fasciitis or flat feet may need specialized footbeds with good arch support. Moreover, the insoles often thin out after months of daily use. If you have to customize your steel toe shoes, choose a model that allows you to replace the footbeds, insoles, or sock liners. Avoid stacking two footbeds as this will make the footwear feel tighter.
Midsoles and Outsoles
In your quest for the comfiest steel toe boots, don't forget to check the footwear's midsole and the outsole. Your feet are not the only ones that will suffer if you spend all day walking and standing on concrete. Without good shock absorption at the soles, you will run the risk of experiencing pain and discomfort around your knees, legs, and back.
By now, you have probably seen steel toe boot designs with wedge soles and heels. The choice will depend on the type of job that you have. Heels are the best option for those who need more traction. If your job involves long strolls on flat surfaces, wedge soles will help distribute the pressure more evenly across your feet.
Durability
In the product review, you have probably encountered the term "Goodyear welt construction." It is a construction method whereby a leather strip called the "welt" is stitched to the work boot's upper. A canvas strip is then cemented onto the insole, where the sole will be attached. Now, the space enclosed by the welt is stuffed with cork or other porous materials, while the outsole is sewn and cemented onto the welt.
Because of the lengthy process, Goodyear welt footwear is generally more expensive but they are built to last long. Besides enhancing the waterproof system and breathability, it allows for easy resoling, helping you save money in the long run.
Other construction methods involve stitching, gluing, vulcanizing, or cementing. This makes the price of the safety toe boot a lot more affordable but this comes with a caveat: It will be harder for you to resole when it wears down. In some cases, you will be left with no choice but to throw them away.
Usage
Steel toe work boots are made for high-harm jobs but let's not lump them all in one category. Case in point: A construction worker and a rancher will need toe protection but their jobs are very different. Both workers are constantly on their feet but the latter is often exposed to harmful chemicals, animal manure, and urine.
As such, the rancher will wear shoes that are built to resist chemicals. Meanwhile, those in the construction business may need a combination of slip-resistant outsoles and electrical safety alongside the steel toes. If you work in a relatively drier and warmer environment, waterproof work boots may not be necessary as they will only make your feet feel toasty.
Care and Maintenance
Any durable pair of steel toe work boots will deteriorate at a faster rate when they are not properly maintained. Furthermore, the leather fabric will harden and crack, making the footwear less comfier to wear. Since each brand makes boots from different materials, it is best to read recommendations on the manufacturer's website or ask their salesperson if you're shopping in one of their local distributors.
Also, learning more about the materials can help you determine the cleaning agents and methods to apply. Not all saddle soaps and leather conditioners are compatible with nubuck or suede. Furthermore, each cleaning product may provide different instructions for maintenance and deep cleaning.
Generally speaking, it is a good practice to remove small rocks that are stuck in the outsole's treads and wipe off the superficial dirt after each shift. This will prevent the dirt and debris from building up and lodging in the hard-to-reach areas. At least once a month, do a deep cleaning. Once every few weeks, apply mink oil or wax to condition the leather. If your boots are caked in mud, wash them immediately when you get home.
Frequently Asked Questions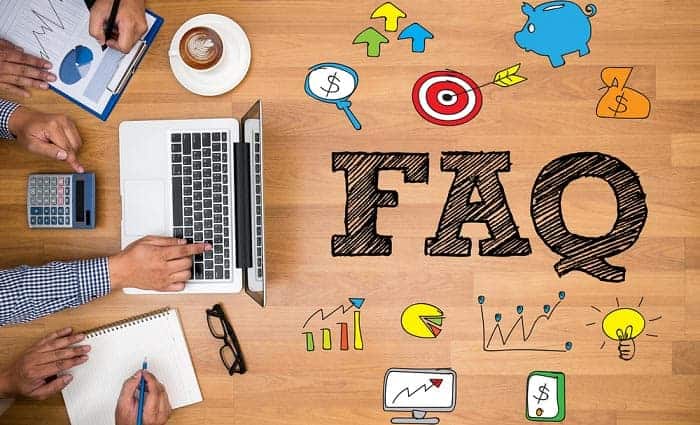 What are the most trusted steel toe boots brands?
Since this article is all about comfy steel toe boots, I'm recommending brands that are best known for their shock-absorption, waterproof system, supportive design, and other aspects that make the work boots comfortable and protective. I'm talking about Timberland PRO, KEEN, CAT, Thorogood, Skechers, ROCKROOSTER, and ORISATCO. If you search "comfortable steel toe boots women's" on Google, I'm sure these brands will pop up in the results.
How comfortable are steel toe boots?
Modern steel toe boot designs have undergone many iterations, making them comfier than their predecessors. As long as you are wearing the correct size, your toes will have ample room to spread without bumping on the steel while you move.
Also, keep in mind that authentic full-grain leather uppers often feel stiff at first so you will need to break them in thoroughly. Once they soften up, I guarantee that the steel toed boots can be just as comfortable as any other work or hiking boots.
What is better? Composite or steel toe?
It depends on where you intend to wear the work boots. Composite toe caps are made of materials like plastic, Kevlar, carbon fiber, and fiberglass, which decrease the weight of the footwear. Due to its non-metallic toe protection, you don't have to remove the safety shoes when passing a metal detector.
However, some experiments have shown that composite toes can crack when smashed by an extremely heavy object. In this aspect, sturdy steel toes outperform composite toes. Regardless of the material, check if the safety toe boots have undergone rigorous testing from the American Society for Testing and Materials (ASTM) and American National Standards Institute (ANSI). As with many cheap products, some unknown brands do not follow regulations.
Where can I buy steel toe boots?
Most workwear brands make their work shoes and boots available both on their websites, physical stores, and local distributors. Alternatively, you can check e-commerce websites and apps.
Conclusion
If there's one key takeaway from this article, it's that even the best steel toe boots can feel stiff when you put them on the first time. As with most leather fabrics, it takes some time for it to break in.
Since steel safety toes are extremely tough, choosing the right size in both length and width reduces the risk of injuring your toes and forefeet. Still, remember that the most comfortable steel toe boots can easily turn into the most uncomfortable footwear if you don't do your part in maintaining them.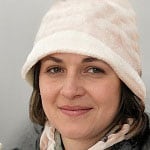 Veronica is our content editor. She is a talent in delivery. Her main work is editing and writing articles that are both informative and simple to follow. She is in charge of synthesizing our understanding of what personal protection equipment (PPE) is needed in each job, how to best apply it, and how to visualize that equipment.