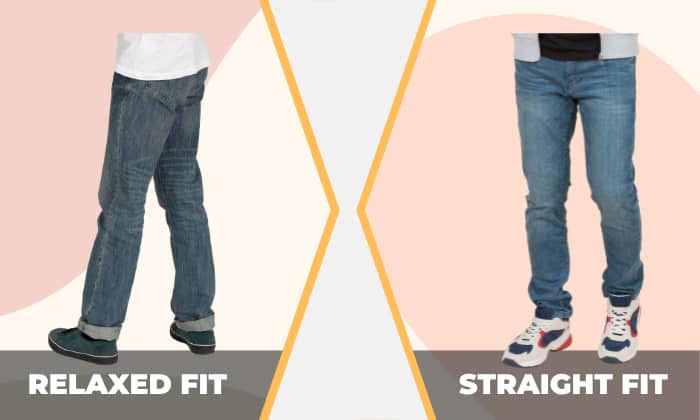 Pants that are designed with a "relaxed fit" are roomier than regular but snugger than loose pants. On the other hand, "straight fit" is self-explanatory as the term describes the shape of the pants. From the thighs down to the leg openings, the circumference remains consistent.
If you're shopping for pants online without understanding the differences between relaxed fit vs straight fit, you'll have a hard time selecting the style that suits your body, since you won't get to try it. But don't worry, we're here to help you tell them apart!
Definition
What is a Relaxed fit?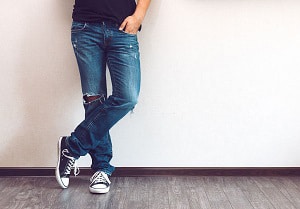 The relaxed jeans definition is better understood if we compare it to the other types of "pant fit" around the seat and thigh.
When looking at regular or classic fit vs relaxed fit side-by-side, the latter is more spacious.
But when comparing relaxed fit vs loose fit, you will notice that relaxed-fitting pants are not as baggy as loose-fitting ones.
Thanks to the extra room around the waist and hips, these types of pants are great for physically-demanding jobs as it allows the wearers to move freely. Not to mention, a relaxed fit is comfier for those with muscular and heavier bodies, especially around the thigh area.
The difference between "regular fit" and "classic fit" is discussed in the FAQ section.
What is a Straight fit?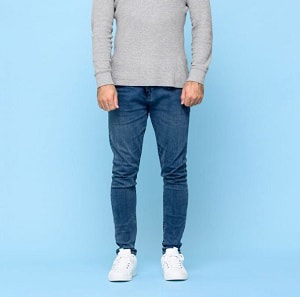 In some cases, manufacturers use the term "straight fit" to describe pants with regular-fitting seats and thighs, and straight cuts. As a result, people tend to use the terms "straight fit" and "straight cut" interchangeably.
But by definition, a "cut" refers to the upper leg to ankle portion. Unlike flares or tapered cuts, a straight fit (or cut) does not taper nor widen at the bottom.
Regardless of the body type, the straight cut can make the legs look longer. Plus, styling a pair of dark-colored straight jeans with a slim or regular fit is easy compared to other types of cuts and fits.
Because they are a bit more form-fitting around the waist and hips, they go well with suits or button-down shirts and leather shoes to achieve a smart-casual look. For a casual vibe, you can pair lighter-colored straight jeans with any shirt or sneakers.
Differences Between Straight Fit vs Relaxed Fit
1. Seat and thigh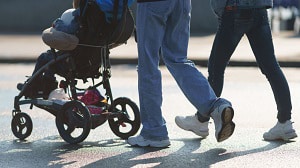 Regardless of the cut, relaxed-fit pants let you move without restrictions. They have more room in the section above the legs than straight-fit designs, so expect more space in the butt and thigh areas.
That said, a straight cut can have a slim-, regular-, or relaxed-fit seat and thighs. If you choose to wear slim- and regular-fitting straight-cut pants, the pants will feel a bit snugger around the waist and hips.
2. Upper leg to ankles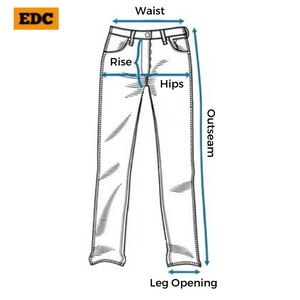 Relaxed-fitting pants can come with bootcut, straight-cut, flared, or tapered bottoms. In contrast, straight-fitting pants have a uniform width and circumference from the leg through the ankles.
3. Leg opening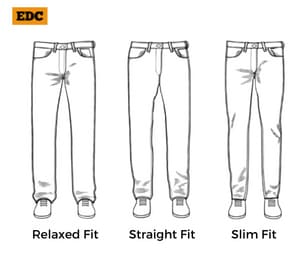 Standard straight-fit pants can have leg openings as small as a diameter of 11 inches or as big as 18 inches. Either way, the pants will fall under this category if the upper leg to ankle areas are consistent in measurement.
As for relaxed-fit trousers, the diameter varies depending on the cut's style. For instance, boot cuts typically feature leg openings that measure anywhere from 18 to 22 inches. Meanwhile, the leg opening for flare pants is around 21 to 27 inches big.
4. Rise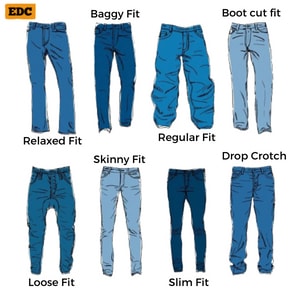 "Rise" refers to the entire length that runs from the pant's waistband to the crotch and generally comes in three types:
Low rise – The pants sit more than 2" below the navel.
Mid-rise – Below the navel
High rise– On or above the navel
Generally speaking, most men's pants are constructed with a mid-rise. But nowadays, both low-rise and high-rise are making a comeback, so you can expect to see straight- and relaxed-fit pants with a high rise, too.
Categorizations aside, though, relaxed-fit pants tend to sit lower on the waist than straight-fit ones—or possess a lower rise, so to speak.
Relaxed vs Straight Jeans—the Good and the Bad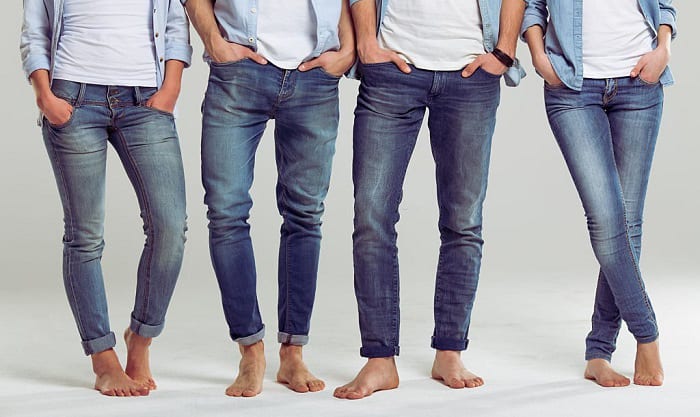 1. Relaxed Fit
Lets the wearer move with ease
Suitable for work and casual attires
Apt for athletic and plus-sized frames
Too baggy for formal occasions
Does not appeal to everyone's taste
2. Straight Fit
Appropriate for diverse body types
Never goes out of style
Excellent for serious, formal events
Limited options in the market for larger sizes
3. Which is better?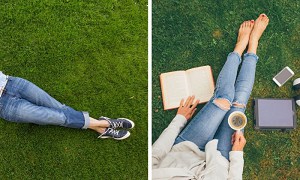 You can go for trousers that feature a relaxed fit or a straight cut if that suits your body type or if you want some wiggle room around the seat and thigh. What matters is that you feel comfortable and that your outfit is appropriate for the occasion.
Frequently Asked Questions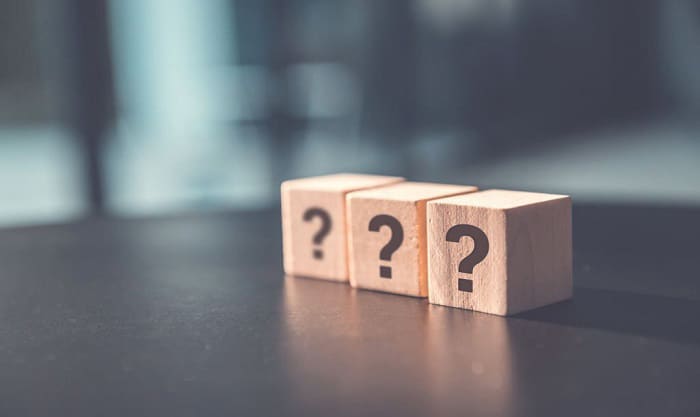 Is regular fit the same as classic fit?
Brands like Dickies use the term "regular" instead of classic. Other sources argue that these terms are different in that regular-fitting pants tend to sit below the waist while the classic ones sit exactly on the waist.
The bottom line is: Check the brand's size and fitting guidelines to see how they interpret the slim, classic, regular, or relaxed fit meaning when you're shopping for pants. This way, you can determine the differences between the manufacturer's classic fit or regular fit vs relaxed fit.
What's the difference between regular fit vs straight fit?
Regular-fit pants are neither tight nor loose around the seat and thigh. Plus, they can come in tapered, flared, straight, or bootcut versions.
As explained earlier, straight-cut pants are characterized by the same width from the top down to the ankles. These trousers can come in a slim-, relaxed-, or regular fit but the legs do not taper or flare.
Conclusion
The main takeaway of this article is that "relaxed fit" refers to pants with roomy seats and thighs, while "straight fit" refers to the shape of the bottom half of the pants. If you're going to wear pants to walk, kneel, or climb ladders, choose the former. For dressier occasions, opt for the latter.
But when you're shopping online, reading the description alone does not always help you in getting the correct size, even if you know the difference between relaxed fit vs straight fit. The only way to understand how they look and feel when worn is by trying out the trousers in person.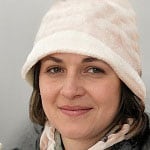 Veronica is our content editor. She is a talent in delivery. Her main work is editing and writing articles that are both informative and simple to follow. She is in charge of synthesizing our understanding of what personal protection equipment (PPE) is needed in each job, how to best apply it, and how to visualize that equipment.